本文由 IDEO+VERSO 授权mooool发表,欢迎转发,禁止以mooool编辑版本转载。
Thanks IDEO+VERSO for authorizing the publication of the project on mooool. Text description provided by VERSO.
VERSO 是全球范围内第一所由IDEO公司进行概念设计的国际学校项目,IDEO是一家来自旧金山的全球知名设计创意公司。受到设计的影响,VERSO给予受众的体验具有高度的创造性,并以学生为中心。在这里,学习是跨学科的、以项目为基础的,而且更加地个性化。
VERSO is the first international school in the world to be conceptually designed by IDEO, the globally renowned design and innovation company from San Francisco. Driven by design, VERSO offers a highly creative, student-centered experience where learning is interdisciplinary, project-based, and increasingly personalized.
▼校园生物多样性庭院 Biodiversity courtyard

设计思维的过程渗透进我们的实践当中,"像设计师一样思考"贯彻整个校园的理念体系。VERSO国际学校采用符合纽约州教育标准的定制美国课程模式,该校期望获得西部高校联盟评鉴委员会(WASC)的完全认证。
The rituals and processes of Design Thinking are embedded in our practice. Thinking like a designer is a key mindset across the school. VERSO uses a customized American curriculum model aligned with New York State Education Standards. The school anticipates full accreditation by the Western Association of Schools and Colleges (WASC).
▼校园大厅 VERSO

新颖的教学方法 Innovative teaching approach
摒弃传统的"一刀切"课程,VERSO将每个学生都置于自己学习的中心位置。学生们被混龄分成不同的小组,并与学习型设计团队一起工作。我们重视好奇心、自我导向和独立性,帮助学生像设计师一样去思考问题。我们重新设计了教学日,这样学生就有更多的时间去深入学习,真正让他们参与进来。
Moving beyond a traditional 'one-size-fits-all' curriculum, VERSO places each student at the center of their own learning. Students are organized into mixed-age groups and work with a team of learning designers. We value curiosity, self-direction, and independence and help students to think like designers. We have redesigned the school day so we can give students more time to dig deep into learning that truly engages them.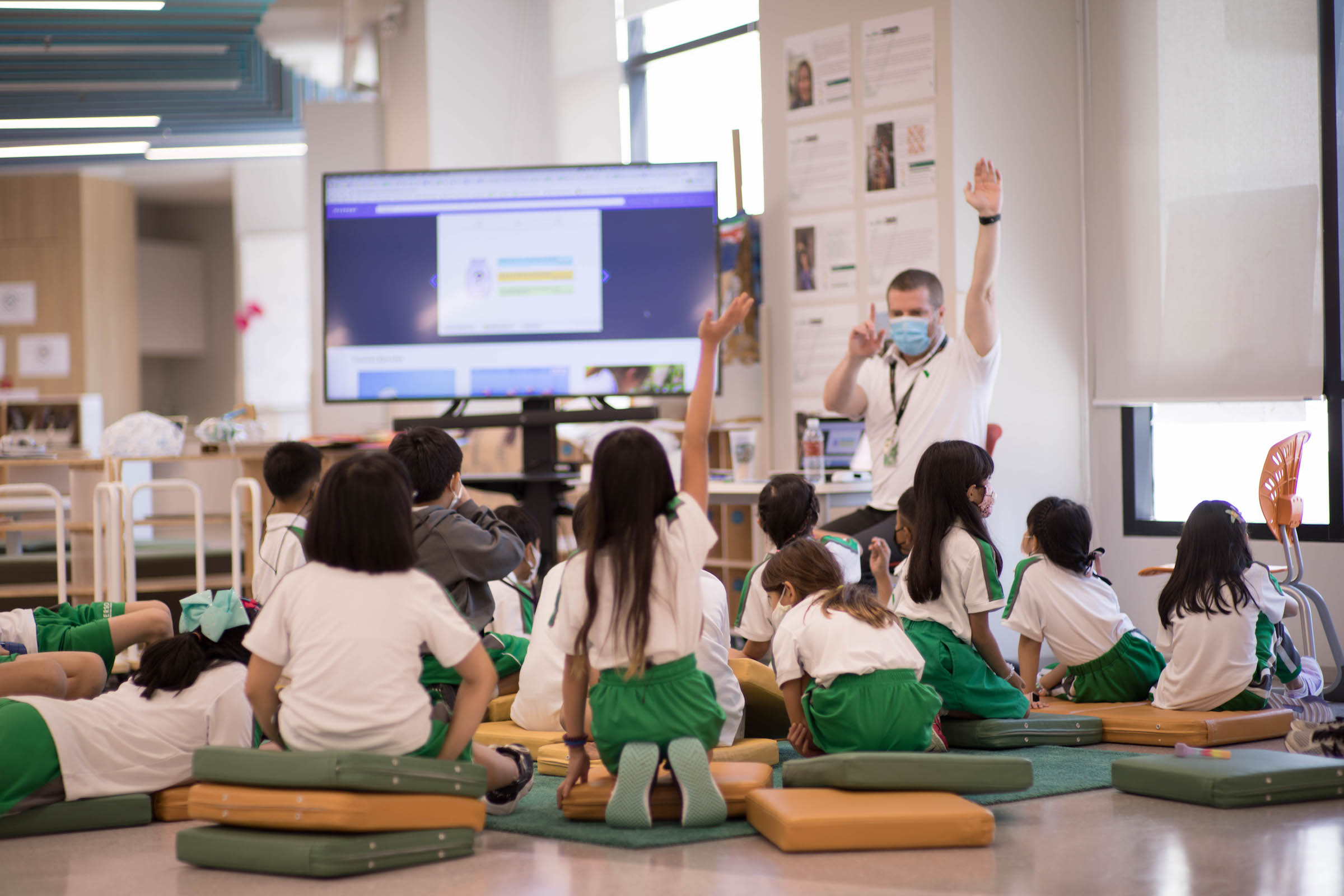 灵活的学习空间 Agile learning spaces
我们标志性的"环"旨在为学习带来乐趣感、律动感和互动感。传统的教室被现代的学习空间所取代,这些空间灵活而积极能够适应学习者的需求。我们把整个校园看作一个学习空间,经常可以在墙外玩耍和学习。
Our iconic 'Loops' are designed to bring a sense of fun, flow, movement, and interconnectedness to our learning. Traditional classrooms are replaced by contemporary learning spaces that are flexible, agile, and adaptive to the needs of our learners. We consider our whole campus as a learning space with frequent opportunities to play and learn beyond its walls.
▼下环庭院 Lower loop courtyard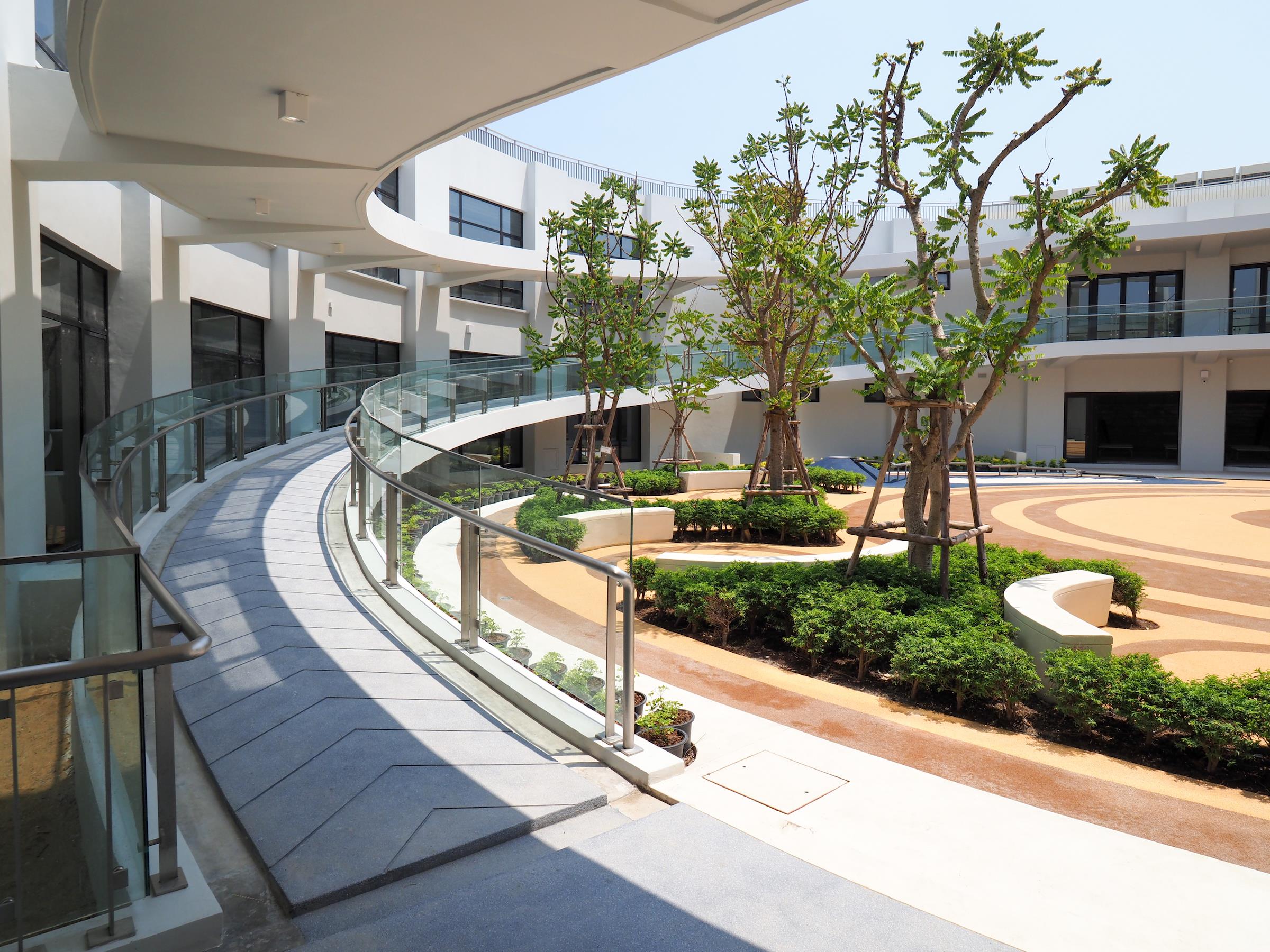 ▼中环庭院 Middle loop courtyard

▼上环庭院 Upper loop courtyard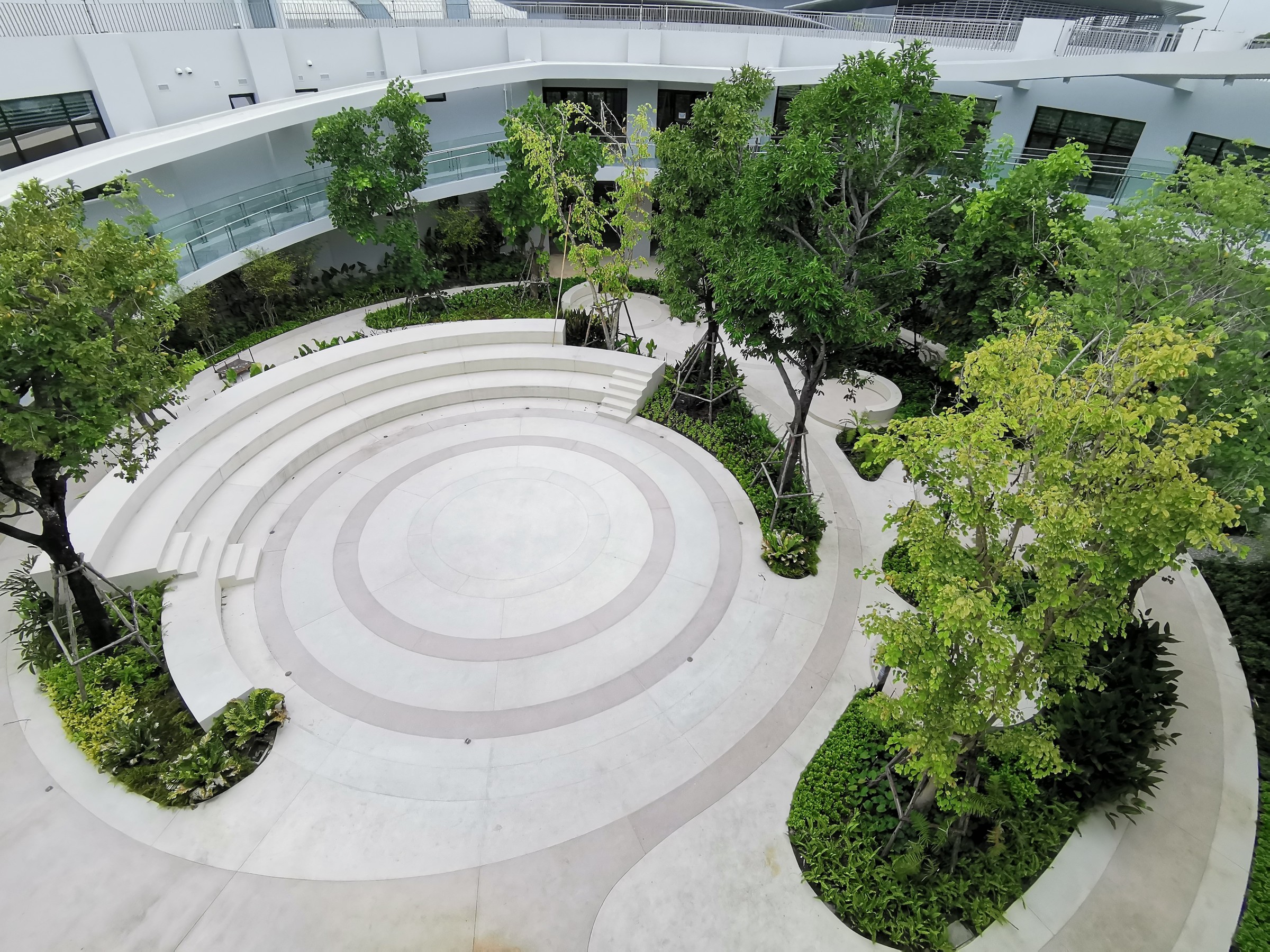 ▼中环室内游乐空间 Fun&Play space at middle loop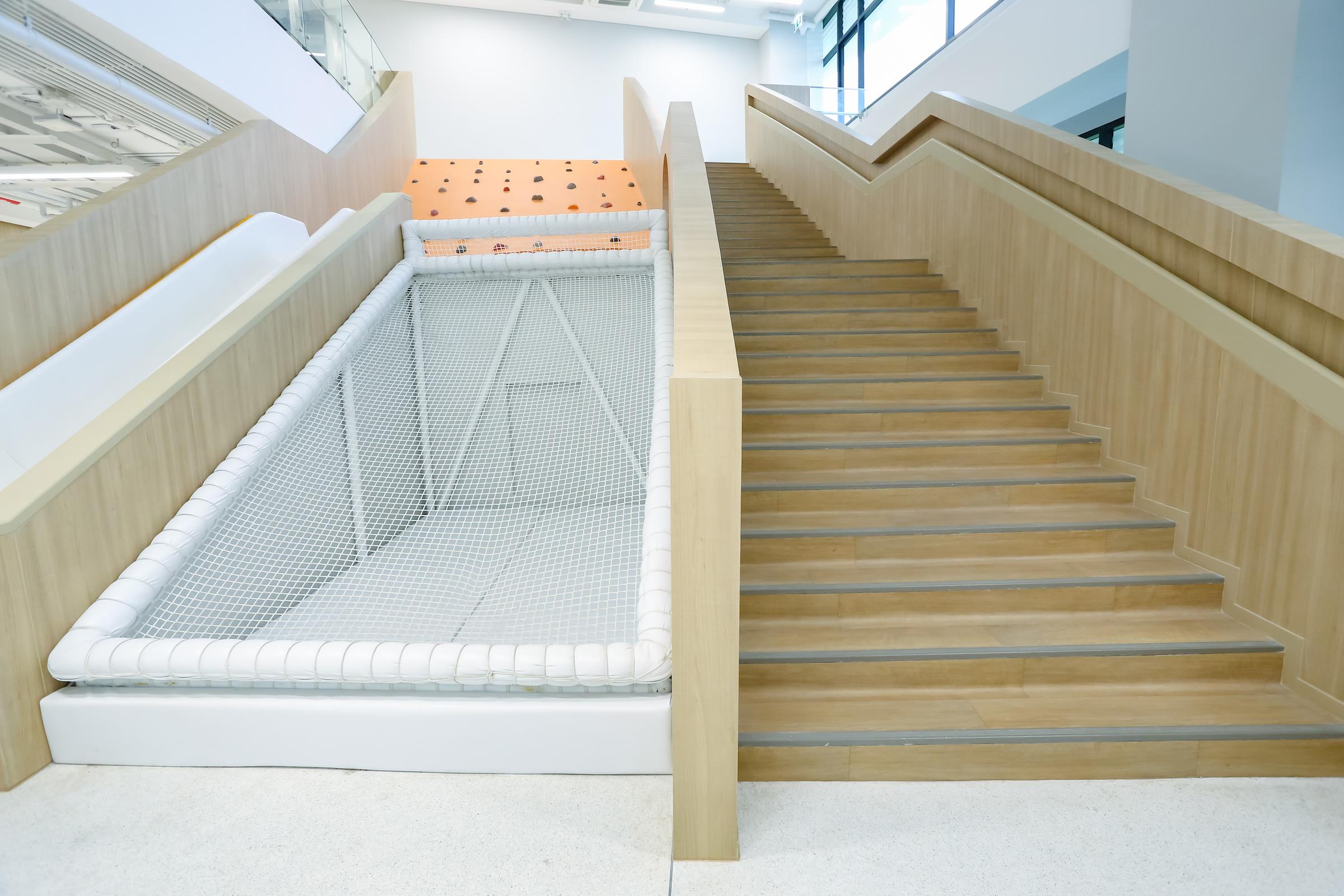 ▼下环室内游乐空间 Fun&Play space at lower loop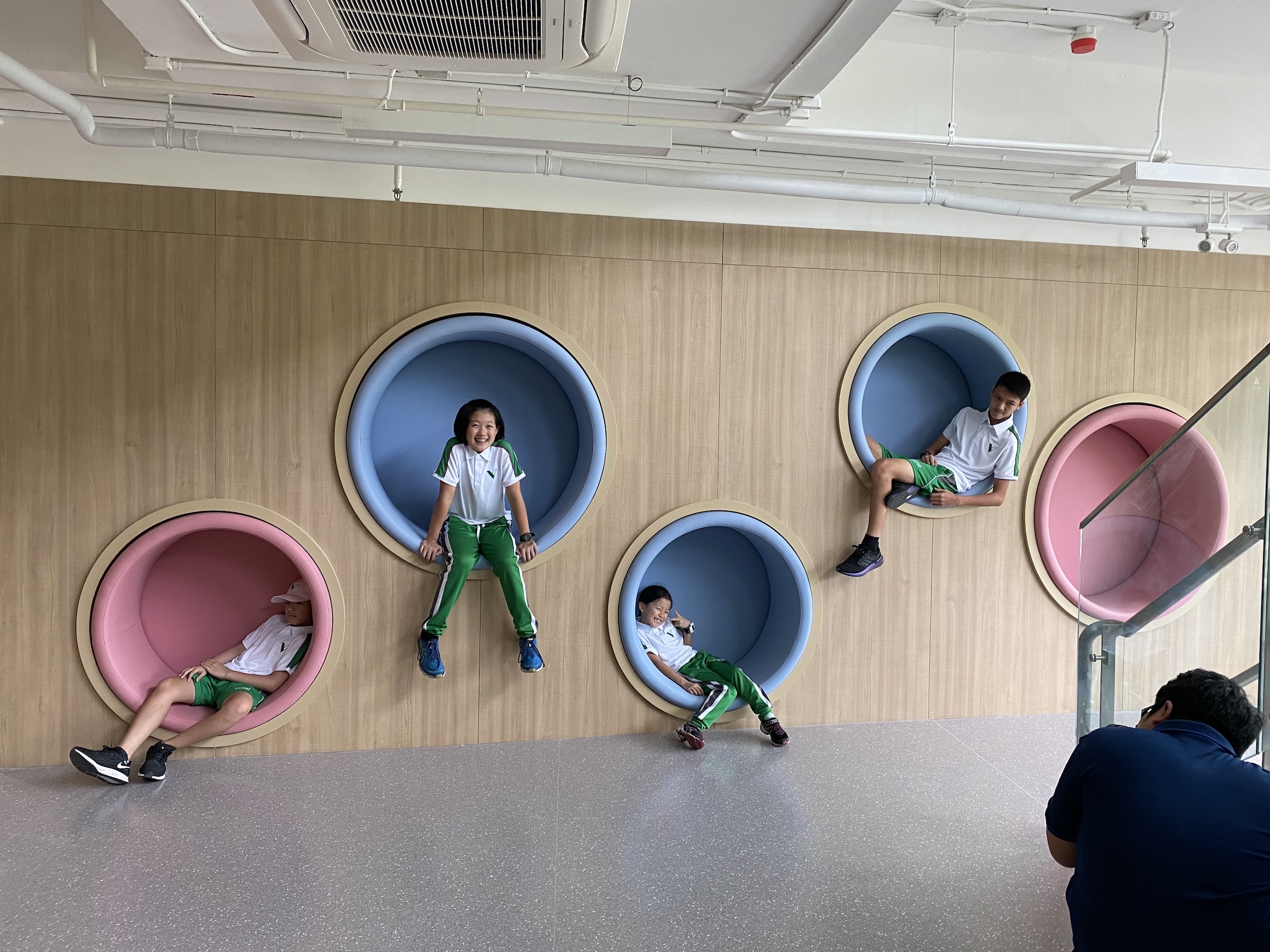 ▼下环教学空间 Lower loop classroom
▼实验室 Lab room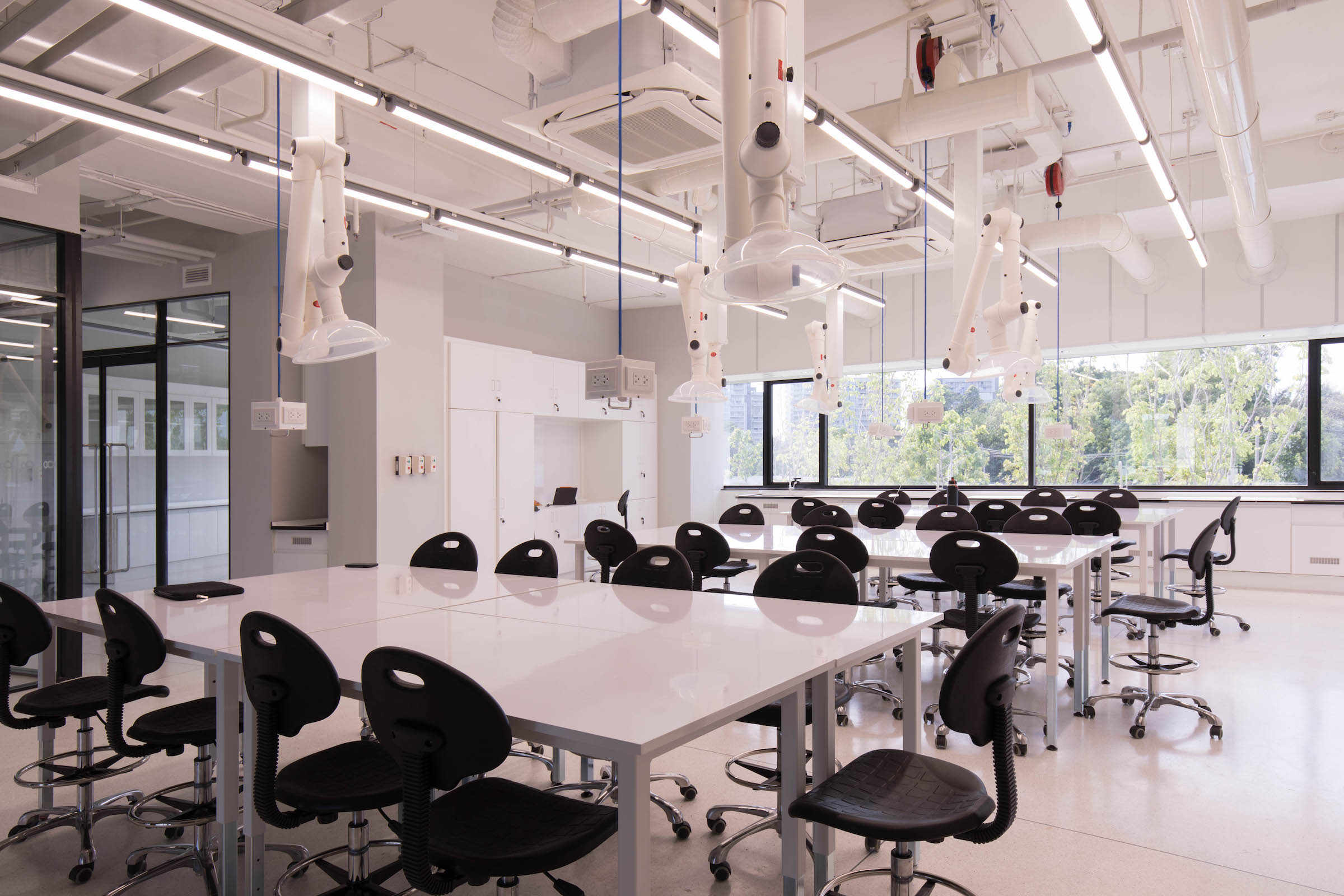 ▼混合草地足球场 Hybrid grass soccer pitch
▼雨林游乐场 Rainforest playground

充满激情的学习型设计团队  A passionate learning design team
我们有意将老师称为学习设计师。他们是高技能的教育工作者,与学生密切合作,共同创造出富有吸引力的学习体验。
We intentionally call our teachers Learning Designers. They are highly-skilled educators who work closely with our students to design deeply engaging learning experiences.
与自然相连 Connected to nature
宽敞的校园被设计来补充其自然环境中的生物多样性。与环境景观专家密切合作,VERSO校园旨在打造出一个欣欣向荣的生态系统,使我们的社区每天都能与自然联系在一起,从而加深对自然界的理解,以及我们应该做些什么来保护它少受伤害。
Our expansive campus has been designed to complement the rich bio-diversity of its natural surroundings. Working closely with environmental and landscape specialists, VERSO's campus is designed to support a thriving eco-system that allows our community to connect with nature on a daily basis to develop a deeper understanding of the natural world and what we all need to do to protect it.
▼户外学习花园 Learning garden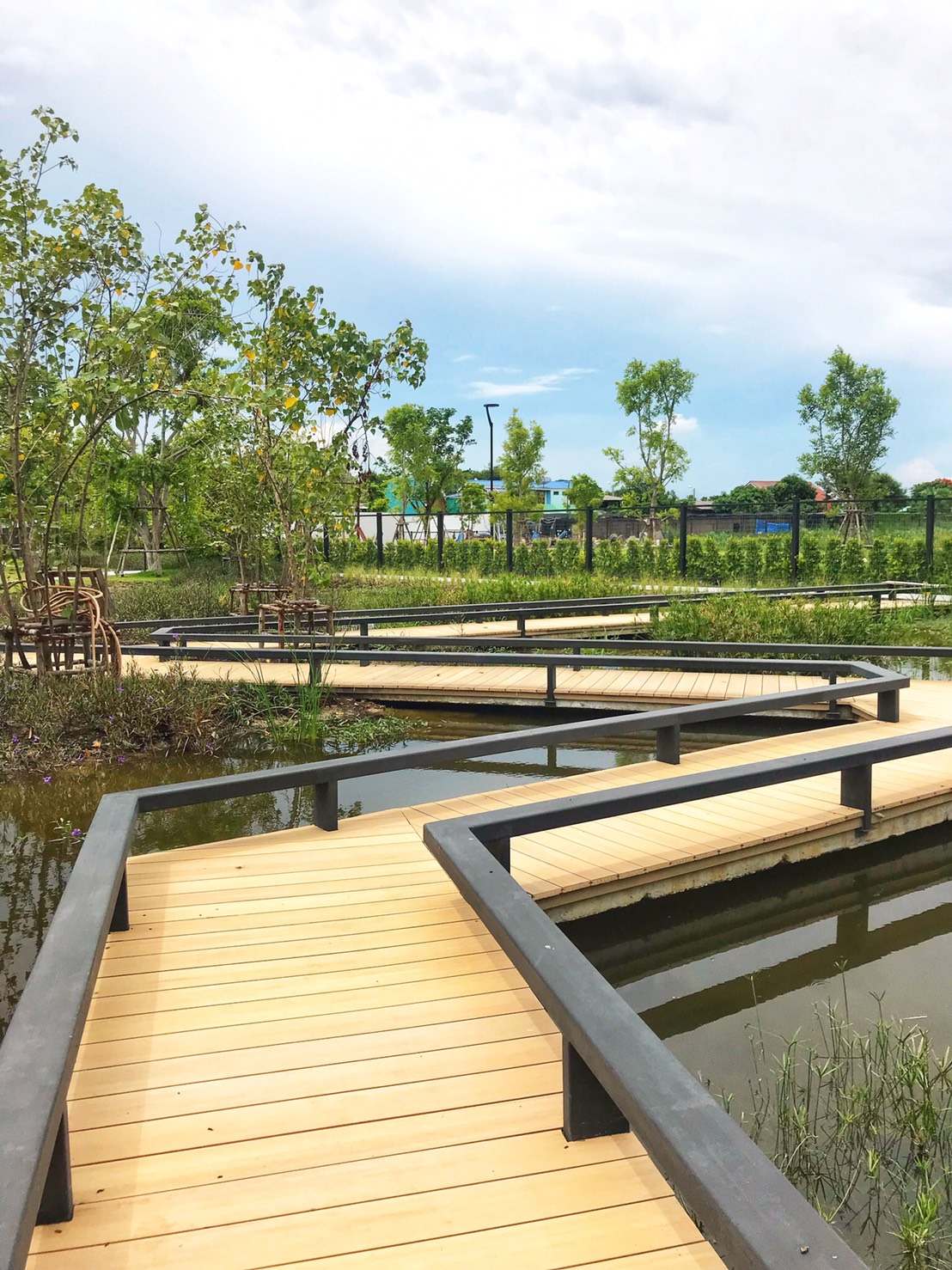 项目名称:VERSO国际学校
完成年份:2020年
项目地点:泰国北榄府
建筑设计:Palmer & Turner(泰国)
室内设计:泰国August设计咨询
景观设计:P Landscape Co.,Ltd
承包商:泰国HHT建设
面积信息:
项目总面积:68英亩,VERSO是曼谷都会区最大的学校
校园室外面积(实际面积):46英亩
总绿地:60%
学校区域:32英亩
学校网站:www.verso.ac.th
联系邮件:hello@verso.ac.th
Project Name: VERSO International School
Completion Year: 2020
Project Location: 198, Moo 4, Soi Sarasetthasiri, Suvarnabhumi 3 Road, Bangchalong Bang Plee Samut Prakan 10540
Architect: Palmer & Turner (Thailand) Ltd.
Interior Designer: August Design Consultant Co., Ltd., Thailand
Landscape Architect: P Landscape Co.,Ltd
Contractor: HHT Construction Limited, Thailand
Size:
Total project space: 168 rai (68 acres), making VERSO the largest school in the Bangkok metro area.
Total outdoor area within the school (actual space): 116 rai
Total green space: 60%
School area (as registered): 79 rai
Website: www.verso.ac.th
Contact e-mail: hello@verso.ac.th
更多 Read more about:VERSO,  IDEO