VIA Botani是Sukhumvit Soi 47的中型公寓,被认为位于曼谷市中心。该网站从早期开始就处于一个宁静的私人住宅开发区。对于独特的场地特征贡献最大的一件事是一棵完全成长,壮丽的雨树,高高耸立在这片土地的中间。这个雨树是整个故事开始的地方。
VIA Botani is a medium size condominium at Sukhumvit Soi 47, which is considered to be right at the heart of Bangkok. The site is in a tranquil neighborhood of private housing development from early time. One thing that contributes the most to the unique site character is a fully-grown, magnificent rain tree that stands tall in the middle of the land. This rain tree is where the whole story begins.
设计团队同意雨树必须作为一种生活特性来保持,以确保开发的成功。从那时起,设计过程和开发围绕着雨树展开;从可行性研究开始,建筑布局贯穿整个施工过程。保持一棵大树活着并且处于建筑工作的中心是非常困难的,但是非常值得。最后,这棵树自豪地站在那里,像英雄一样,让每个人都会记得它的存在。
design team agrees that the rain tree must be kept as a living feature to ensure success of the development. Since then, design process and development revolves intensely around the rain tree; starting from feasibility study, building layout all the way through construction process. Keeping a large size tree alive and well at the center of construction work is extremely difficult, but well worth it. In the end, the tree stands proudly as heroic-scaled, approaching feature that everyone will remember.
景观工作的另一部分是第二个庭院,包括游泳池和泳池甲板区。沿着建筑立面概念"幻觉",景观特征源于虚幻的线条,形式,图案,并成长为一个密集而多彩的庭院;功能齐全,但非常悦目。OPNBX的理念是协调建筑和景观。虽然建筑范围是由另一家设计公司,但密切协调将建筑和周围的概念结合为一体,更有力地追求相同的概念。正是这个概念成长为价值,保护一棵树的价值。
Another part of the landscape work is the 2nd courtyard that consists of swimming pool and pool deck area. Following the architectural façade concept, "Illusion", landscape features arise from illusive lines, forms, patterns, and grow into an intensive and colorful courtyard; fully functional, yet very pleasing to the eyes.OPNBX's philosophy is about harmonizing Architecture and Landscape. Although the Architecture scope is by another design firm, close coordination unite the concept of building and surrounding into one, pursuing the same concept more powerfully. It is the concept that grows into value, the value of conserving one single tree.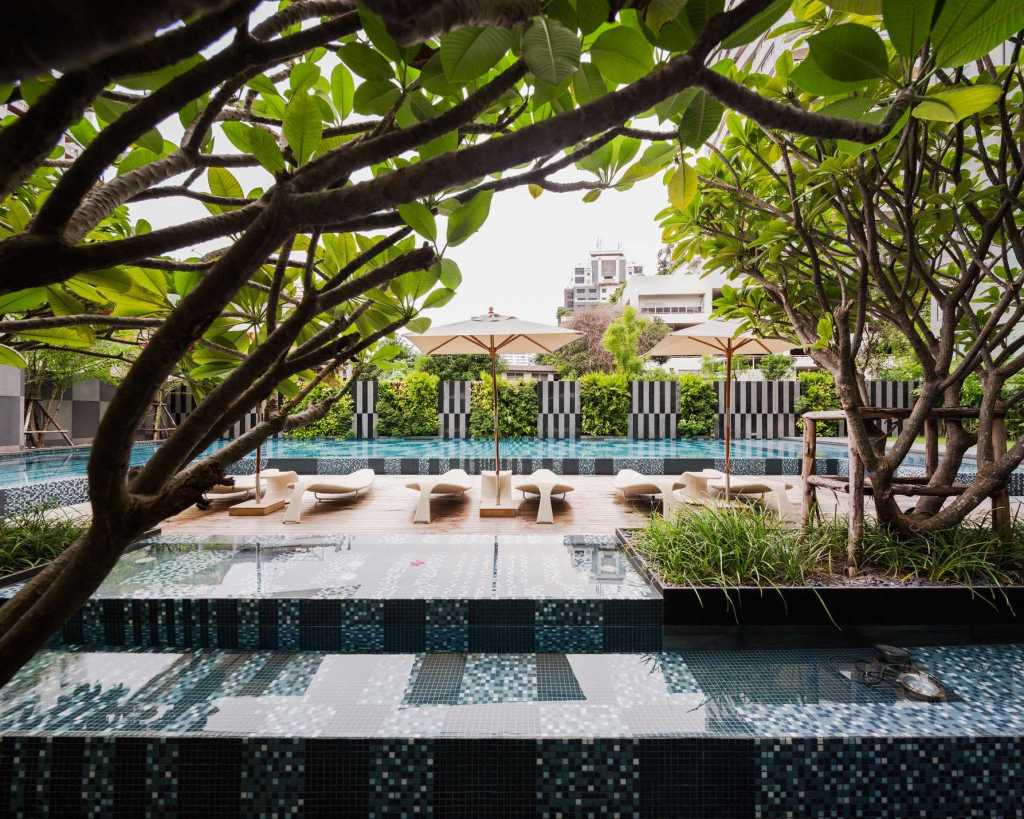 位置:普吉岛
面积:约18000平方米
时间:2011
建筑师:dhevanand
客户:sansiri
Location: Phuket
Area: about 18000 ㎡
Time: 2011
Architect: dhevanand
Client : sansiri