本文由 XSiTE Design Studio 授权mooool发表,欢迎转发,禁止以mooool编辑版本转载。
Thanks XSiTE Design Studio for authorizing the publication of the project on mooool.
Xsite Design Studio :  2015越南房地产大奖最佳景观建筑设计奖得主。"以越南美景为灵感的景观设计"。
项目位于越南胡志明市,高层住宅。设计以稻田、西贡河的美丽曲线和农业田园风光为灵感,创造一个现代而实用的景观设计。在西班牙语中,Verde指的是绿色,因此使用了各种热带种植。景观设计的目的是创造一个郁郁葱葱的绿色景观与现代元素,为居民带来自然的交响乐。
Xsite Design Studio :  The Winner of Best Landscaping Architectural Design Awards from Vietnam Property Awards 2015 "Landscape Design Inspired by the Beautiful Scenery of Vietnam"
‍‍
The rice paddy field, beautiful curve of Saigon river and agricultural field sceneries are being captured and used as the inspiration to create a modern and practical design for landscape at VISTA VERDE. In Spanish, Verde means green, so by the use of various tropical planting, landscape design aims to create a lush green landscaping with modern elements in order to bring a symphony of nature to the residents.
‍‍‍‍‍‍ ‍‍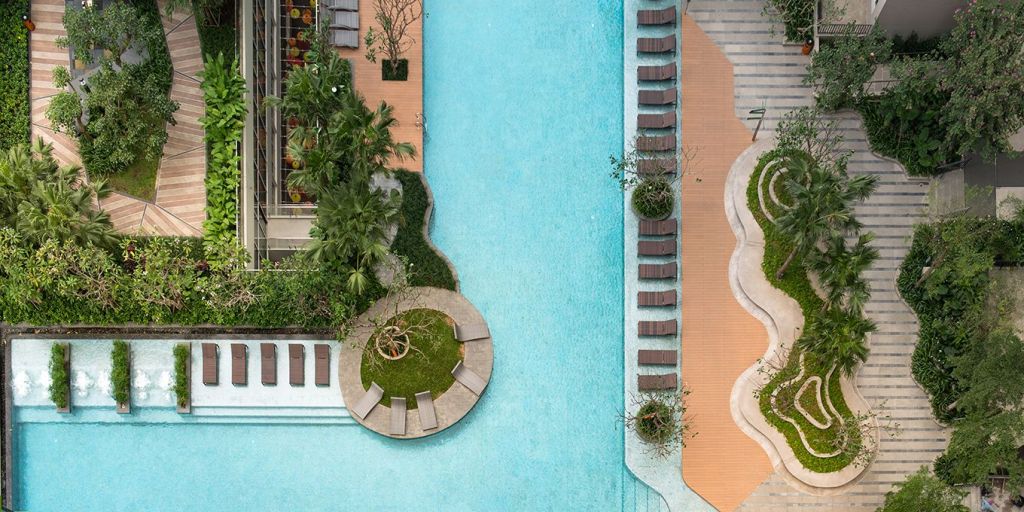 整体视频
‍‍‍‍‍‍ ‍‍
项目名称:胡志明市高层住宅
项目类型:公寓住宅
地点:越南胡志明市
完成年份:2017
项目面积:25295㎡
景观设计:XSiTE Design Studio
客户:越南嘉德置地
Project name: Vista Verde
Project type:Apartment
Location: Ho Chi Minh City, Vietnam
Completed:2017
Area: 25,295㎡
Landscape Architect: XSiTE Design Studio
Client: Capitaland Vietnam Holdings Pte. Ltd