本文由metrostudio迈丘设计授权mooool发表,欢迎转发,禁止以mooool编辑版本转载。
Thanks metrostudio for authorizing the publication of the project on mooool, Text description provided by metrostudio.
迈丘设计:仁恒·梦公园作为仁恒在深圳打造的百万产城综合体项目,地处龙岗回龙埔,融合总部办公、商业、居住等多种功能于一体,自带9万㎡商业,属于仁恒全新的国际公寓产品系,项目秉承集团一贯高品质水准,引入新加坡花园城市设计理念,做符合新一代年轻群体生活需求的产品。设计以流畅延续而具有律动的折线语言描绘勾勒出梦想的形状,丰富细化设计形态,创造梦想栖居,时尚简约的线条设计,营造新一代梦想栖居地。
Metrostudio:Yanlord Dream Park, as Yanlord 's multi-million-product-city complex project in Shenzhen, is located in Huilongpu, Longgang, which integrates various functions of headquarters office, business and residence. It is a new international apartment product of Yanlord, including commercial of 90,000㎡ . The project upholds their consistent high-quality standards and introduces the design concept of Singapore Garden City to meet the Life needs of a new young generation. The design draws the shape of dream in fluent, continuous and rhythmic folding language, enriches and refines the design form, creates dream dwelling. The fashionable and simple design creates a new generation of dream dwelling.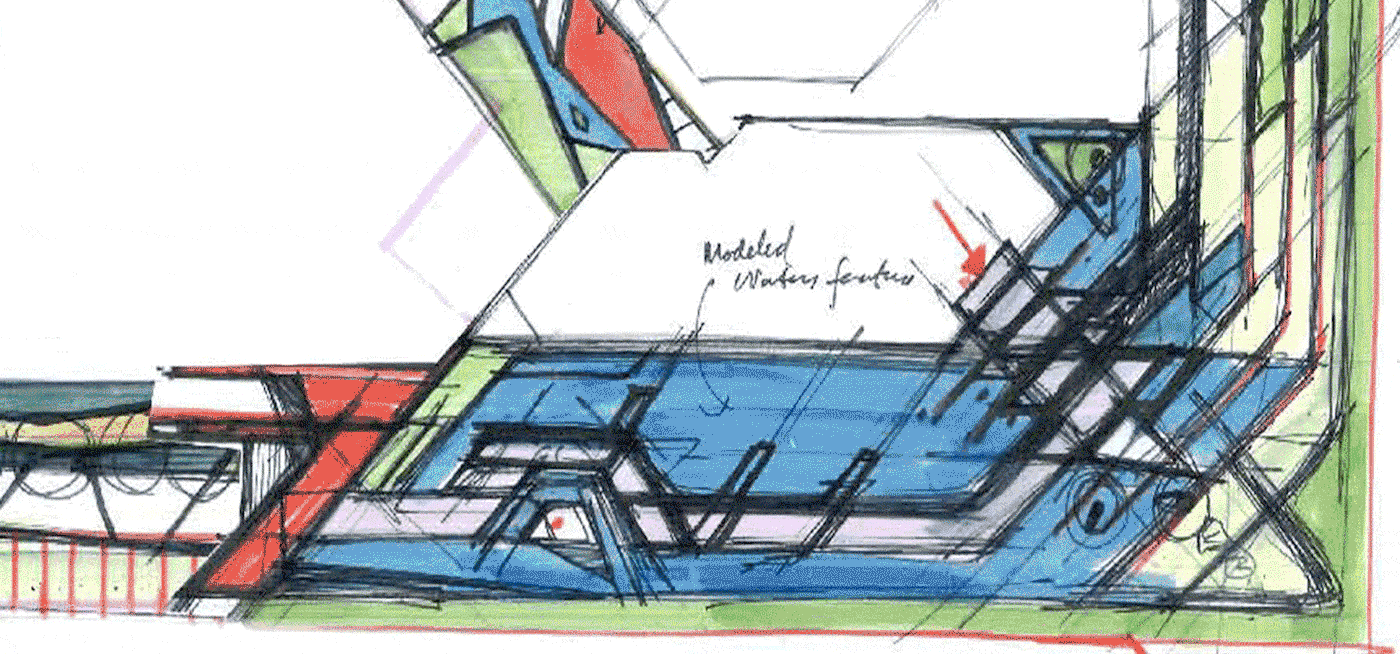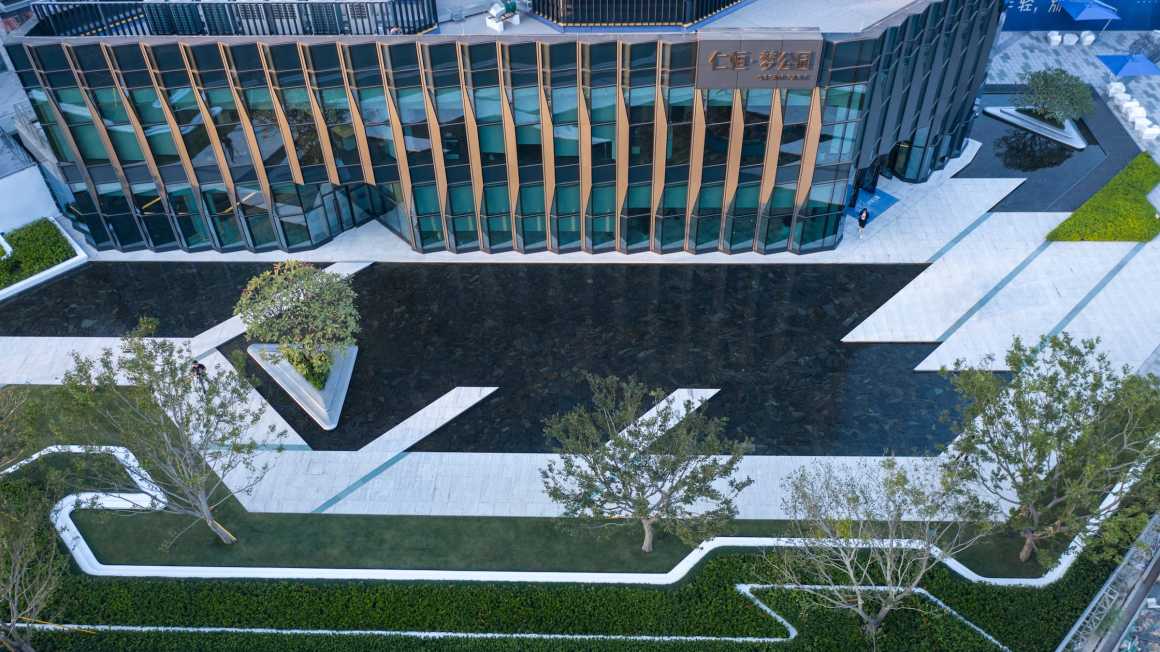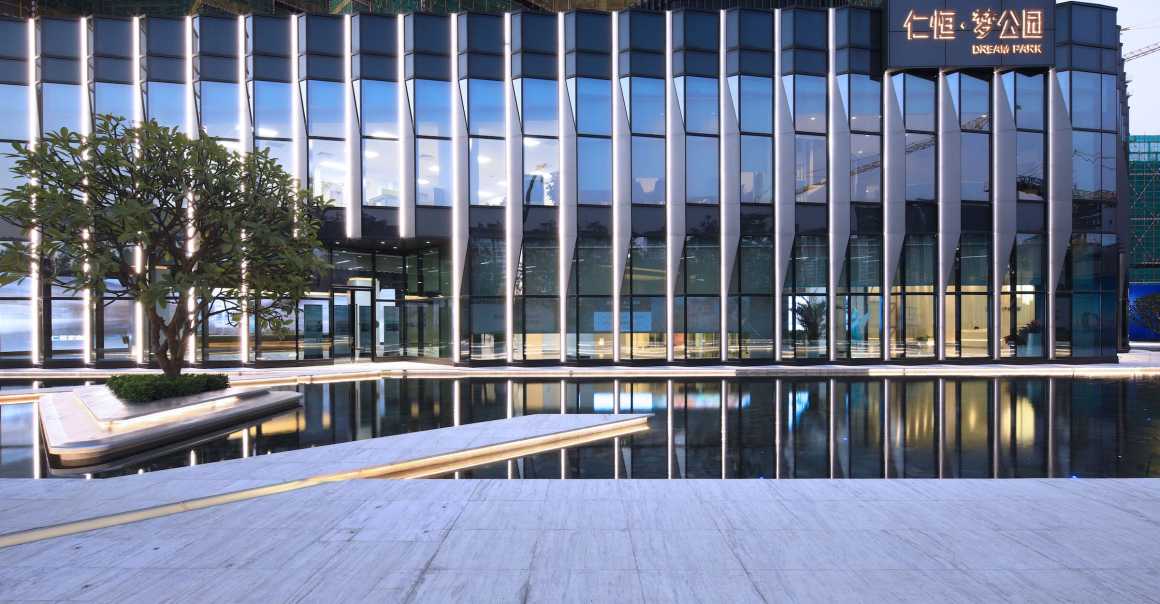 林荫大道
示范区由简洁明朗的林荫大道引入,清爽的种植风格,折线分割的跳色地被呈现出清新活力的色彩感受。序列的迎宾空间以素简开放的界面迎接来客,引导人们离开喧嚣的城市,向内寻找惊喜。
The demonstration area is introduced by the simple and clear avenue, with a refreshing planting style, and the different colors cut by folding lines show a fresh and vigorous color feeling. Sequential greeting spaces greet visitors with simple and open interfaces, guide people to leave the noisy city and look inward for surprises.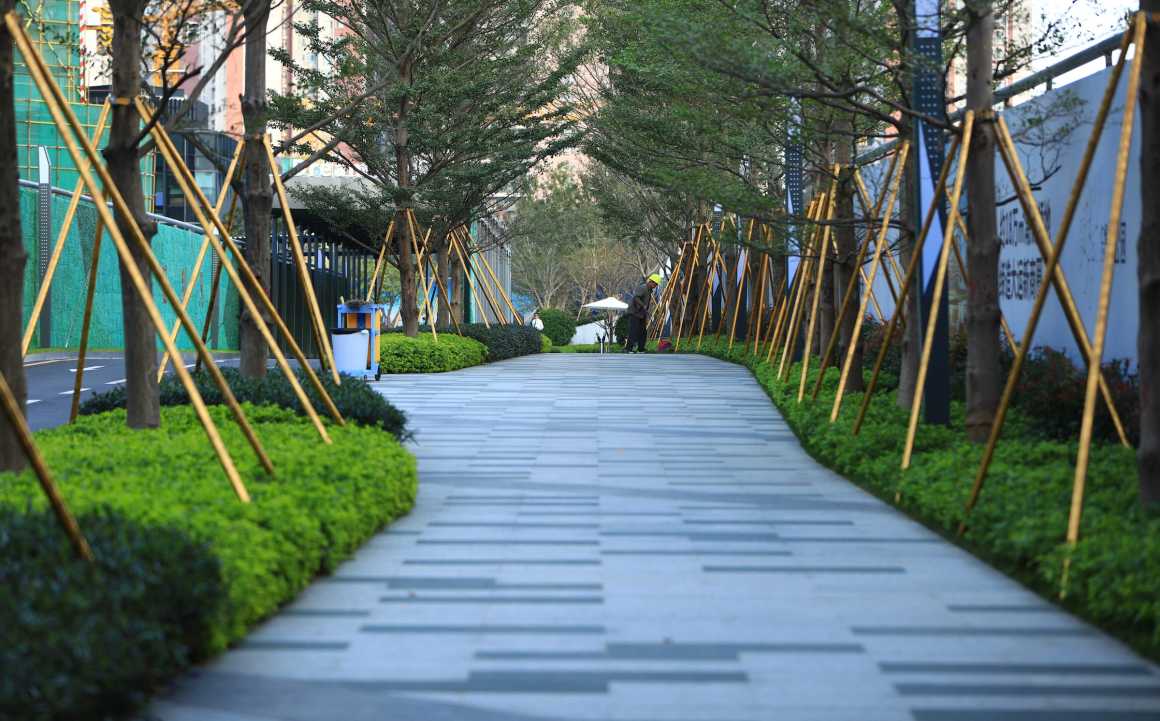 序列折线空间
明快而富有科技感的折线空间序列和景观空间组织彰显时尚的设计语言,斜面水景激活空间,以活力的姿态迎接来客,为精彩绽放预热。
Bright and technological folded space sequence and landscape space organization highlight the fashionable design language.Inclined waterscape activates the space, welcomes visitors with vigorous gesture, and prepares for brilliant blooming.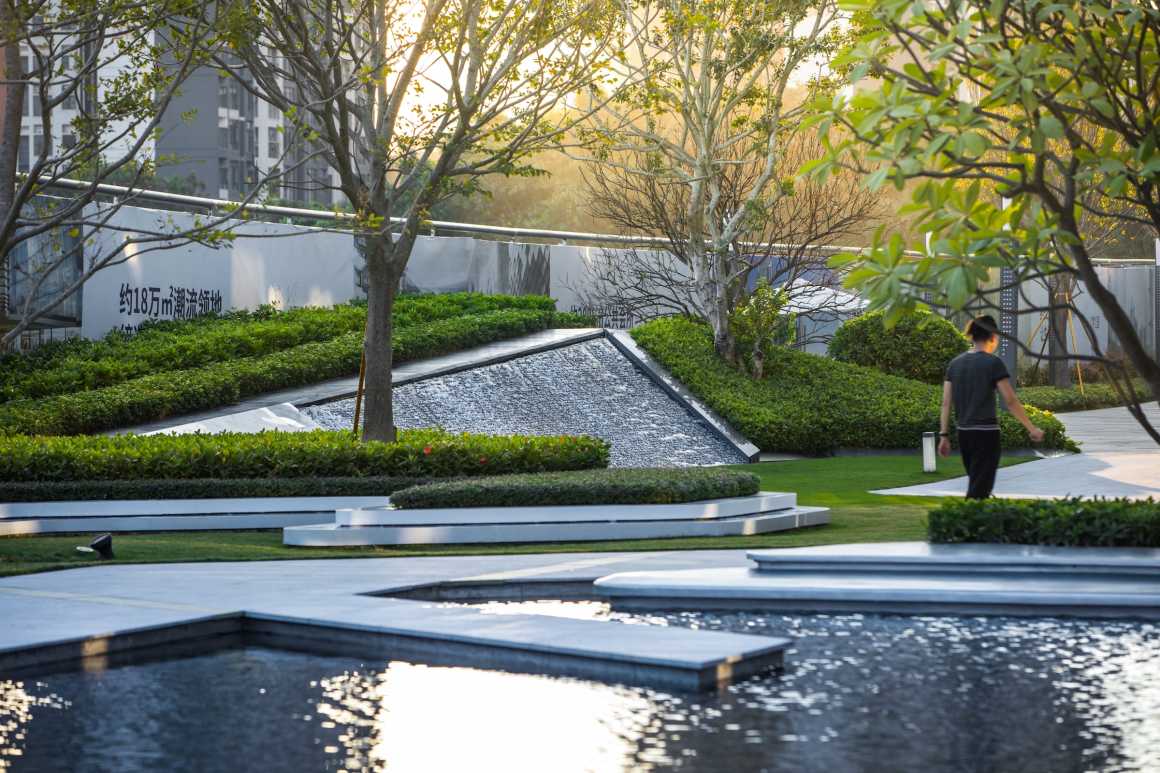 水苑入口
核心景观空间
大面积的镜面水景创造出一个类似艺术馆场景的空间,纯净的玻璃体建筑倒映在水面,黑色片石置于池底,在波光中闪现自然的肌理变化,大面积的水景和草坪空间营造开阔明朗的空间体验和视觉感受。特色银色树池,点缀在水中,金属的色泽和质感点缀了黑白搭配的纯净空间。
A large area of mirror waterscape creates a space similar to the art gallery. Pure glass buildings are reflected on the water surface. Black flakes are placed at the bottom of the pool. Natural texture changes are flashed in the waves. Large area of water scenery and lawn space create open and bright space experience and visual experience. Featured silver tree pool, embellished in the water, metal color and texture decorating the pure space of black and white.
销售中心建筑,晶莹剔透富有折线的棱角造型,超大面积落地玻璃,将室内的视野全面打通,我们希望生活是没有边界的,室内外相互投射照映,感觉非常透明纯净同景观相融合。
Sales center building, sparkling and transparent with folded edges and corners, super large area of floor glass, will fully open up the indoor vision, and we hope that life is no boundaries, the indoor and outdoor projection of each other, letting them feel transparent and pure.
▼效果图 Perspective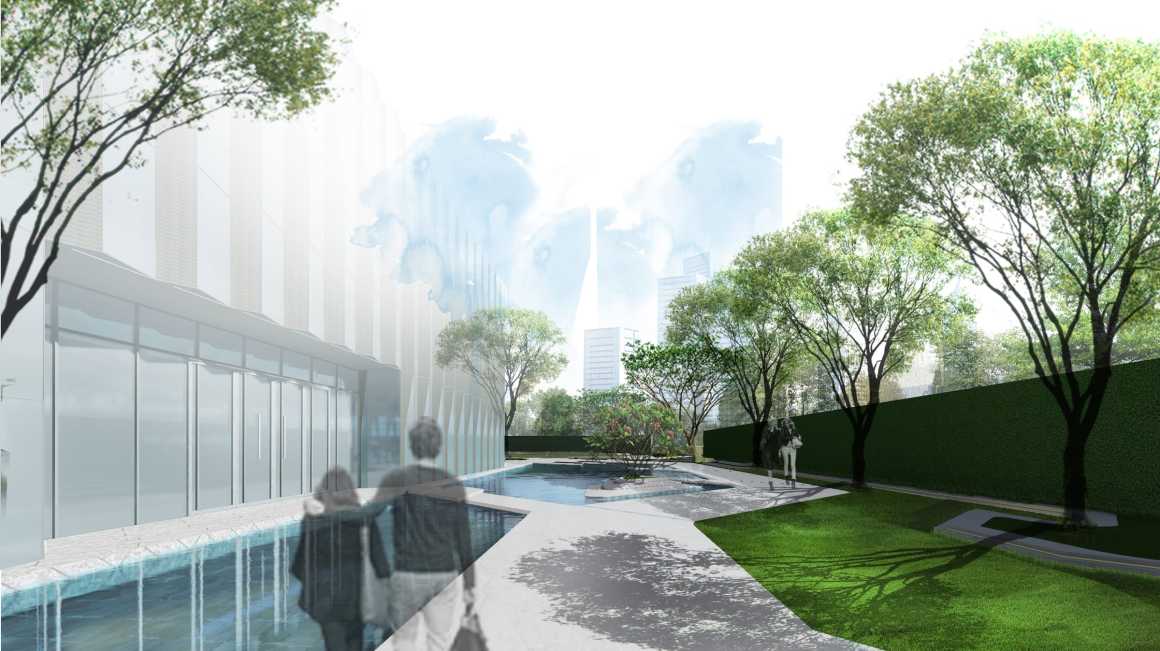 示范区中大量使用了"白色石材"与"黑色石材"与"银色金属质感"的光泽质感及色彩的搭配。在选材上希望通过纯净的黑白银三色,营造出简洁纯粹空间,更贴近年轻群体的审美风格也更好的展现现代感与时尚感。
In the demonstration area, a large number of "white stone", "black stone" and "silver metal texture" are used to match the texture and color. In the selection of materials, we hope that through the three colors of pure black, white and silver, we can create a simple and pure space, which is more close to the aesthetic style of the young generation in recent years, and better show the sense of modernity and fashion.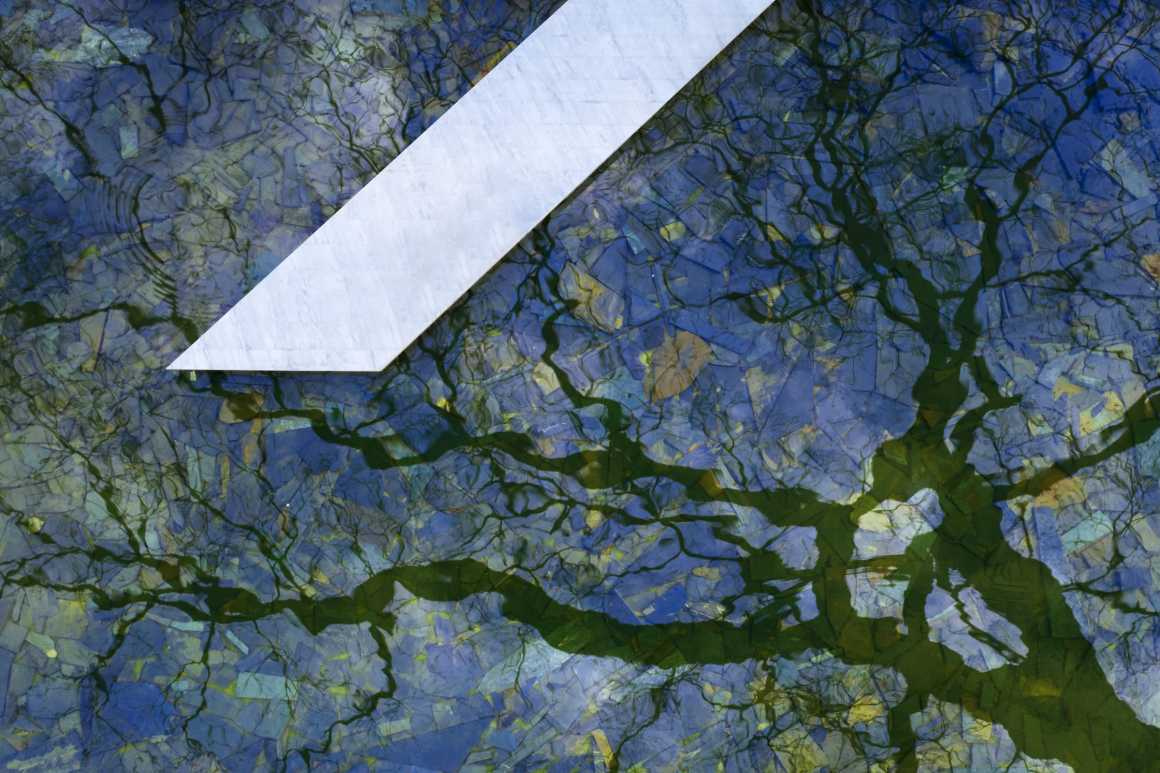 镜面水景中穿行的的特色地面石材,经过多轮的挑选最后选择了河流白,能够跟黑色片石水面有形成纯净的色彩对比。远观洁白、纯净,近观自然、细腻。
The featured ground stones in mirror waterscape, after many rounds of selection, a kind of stone of River White is finally selected, which can form a pure color contrast with the black flake stone. It is white and pure in the distance, natural and delicate in the close view.
▼平面图 Master Plan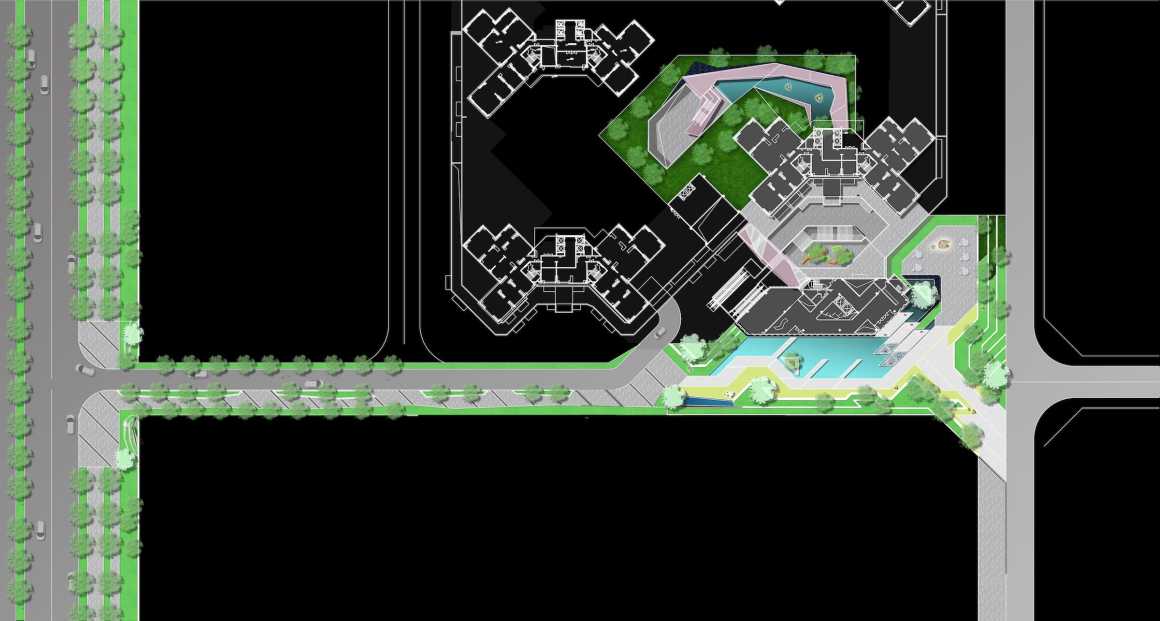 ▼实景鸟瞰图 Aerial view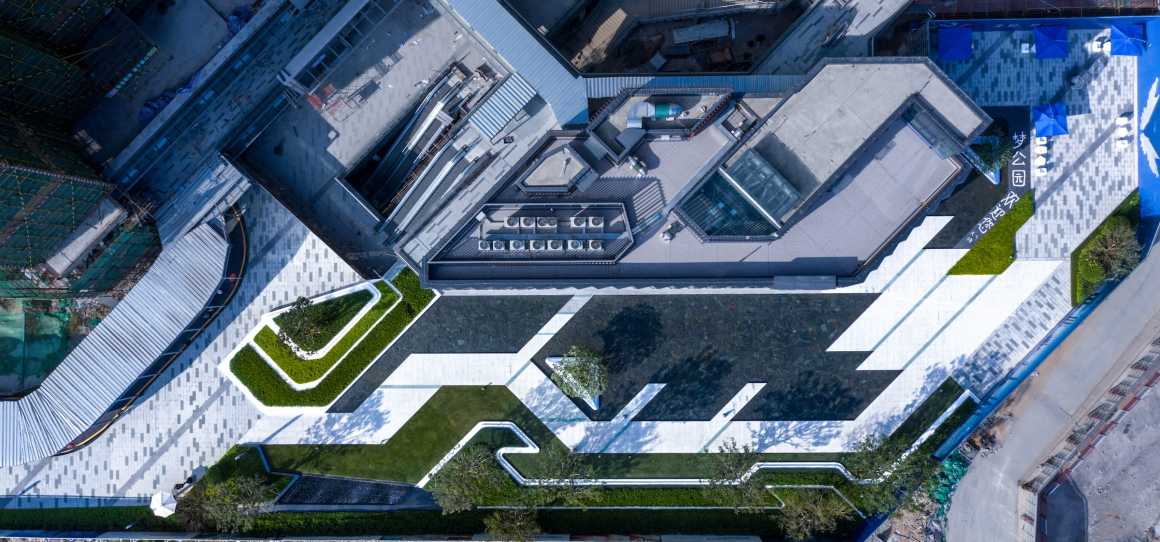 设计:Metrostudio 迈丘设计
客户名称:仁恒置地
项目地点:广东深圳
景观面积:35000平方米
设计年份:2018年
Landscape Design: Metrostudio
Client: Yanlord Land
Location: Shenzhen, Guangdong
Landscape Area: 35000 m2
Design Year: 2018
更多Read more about:Metrostudio 迈丘设计