本文由 阿穆隆设计 授权mooool发表,欢迎转发,禁止以mooool编辑版本转载。
Thanks AML Design studio for authorizing the publication of the project on mooool, Text description provided by AML Design studio .
阿穆隆设计:乡村庭院餐厅是当下乡村文旅盛兴后的周边配套,我们有幸参与其中。
AML Design studio: Since the flourishing development of rural cultural tourism, the courtyard restaurant has become part of the supporting facilities in villages. We, as designers, feel fortunate to participate in this process.
▼项目视频 Video

此次的设计任务我们希望能保留住乡村的活力,何为乡村活力?活力,就是生长性,既要有文脉,又得有创新。这个创新要真正的基于文脉,而不是基于文脉的形式……
Our purpose of project is to retain the vitality of the countryside, which is the growth of the village that requires both cultural heritage and technical innovation. Such innovation should truly respond to its site and cultural context, not just the form.
▼改造前场地现状-废弃的院落,杂草丛生 Abandoned courtyard, overgrown with weeds
▼项目整体鸟瞰 Overall bird's eye view of the project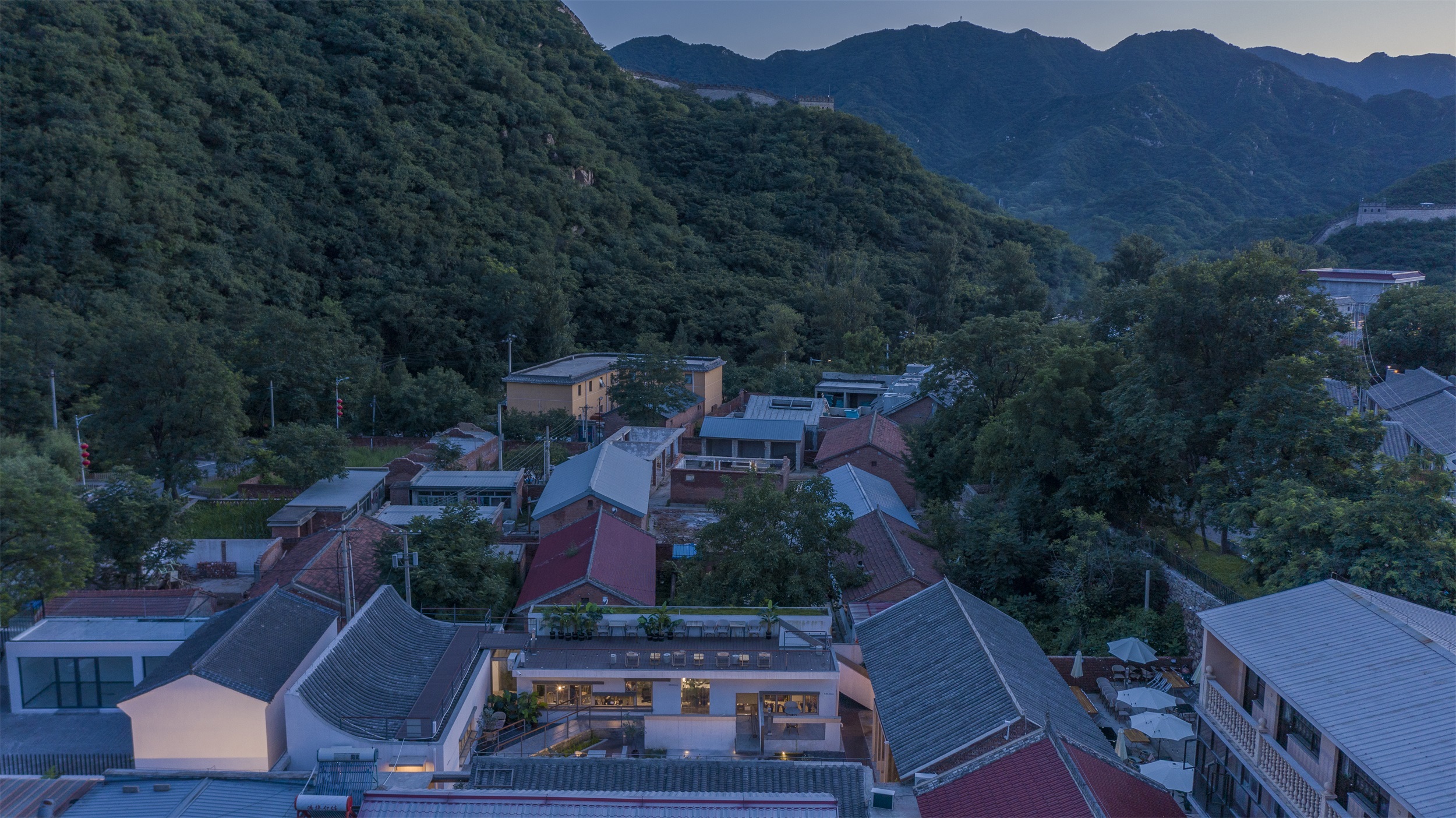 ▼餐厅鸟瞰 Aerial view of the restaurant
建筑的形成是这块儿场地的成长过程,是数月里的时间见证,无论是粗糙还是精致,无论是孤独还是温暖它都是中立的,也是在处理自己与自己或是自己与外界的关系,是建筑与长城的对话,也是自己与自己的对话,发现自己并接受自己,这样的孤独或温暖也都会变得如此美妙。
The formation of buildings is closely tied to the development of the site, which is witnessed by the time. Whether the building is situated in a lonely or warm land, or made of rough or delicate material, it will speak for itself in a neutral tone while dealing with the relationship between itself and the outer world.The generation of our building is inspired by a dialogue between architecture and the Great Wall, a dialogue between one and himself/herself. The design is about discovering and accepting oneself, and learning to appreciate the beauty of loneliness or warmth.
▼入口空间改造前后对比 Comparison of entrance space before and after renovation
▼餐厅入口 Restaurant entrance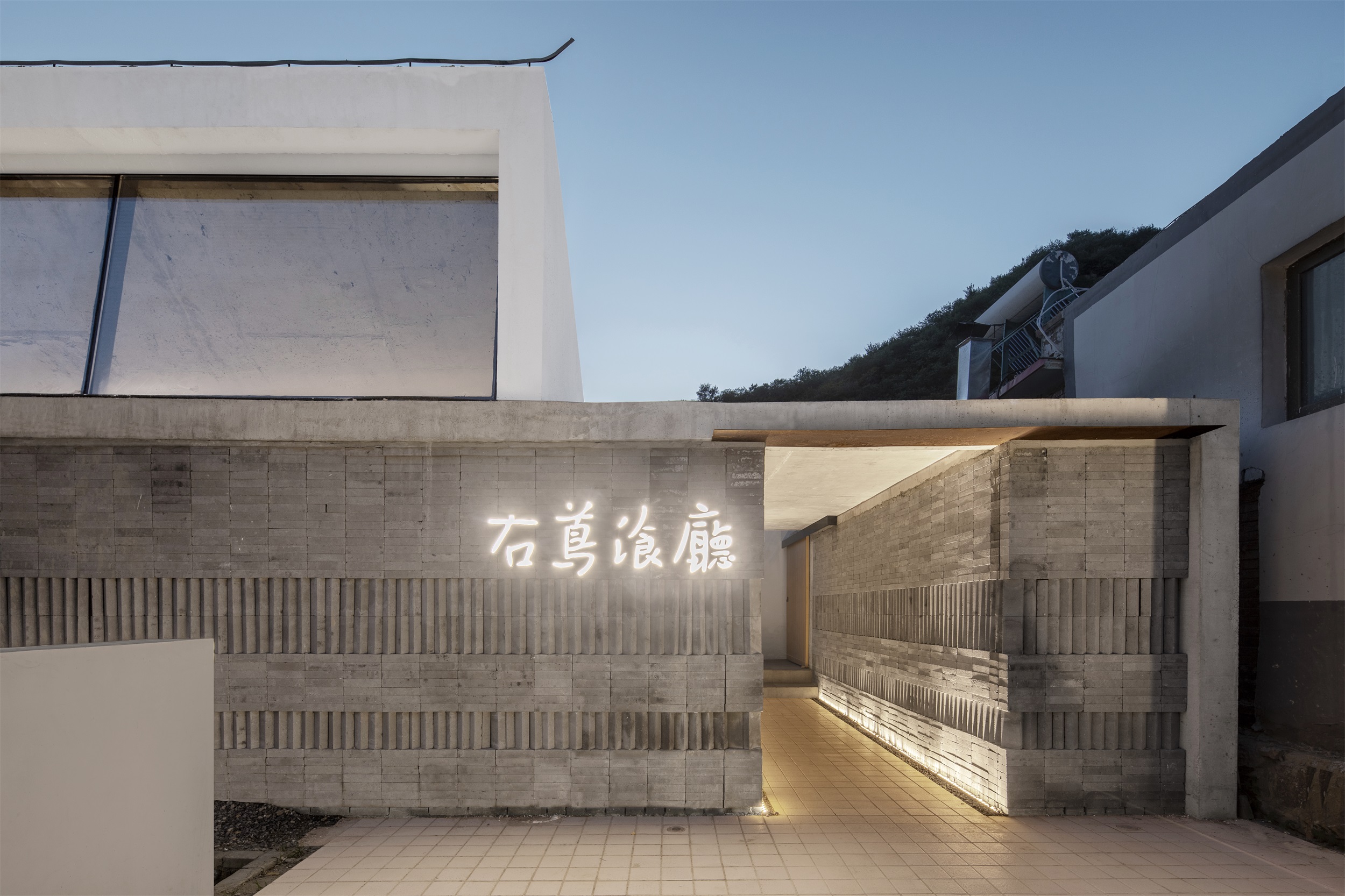 ▼入口LOGO景墙 Entrance LOGO view wall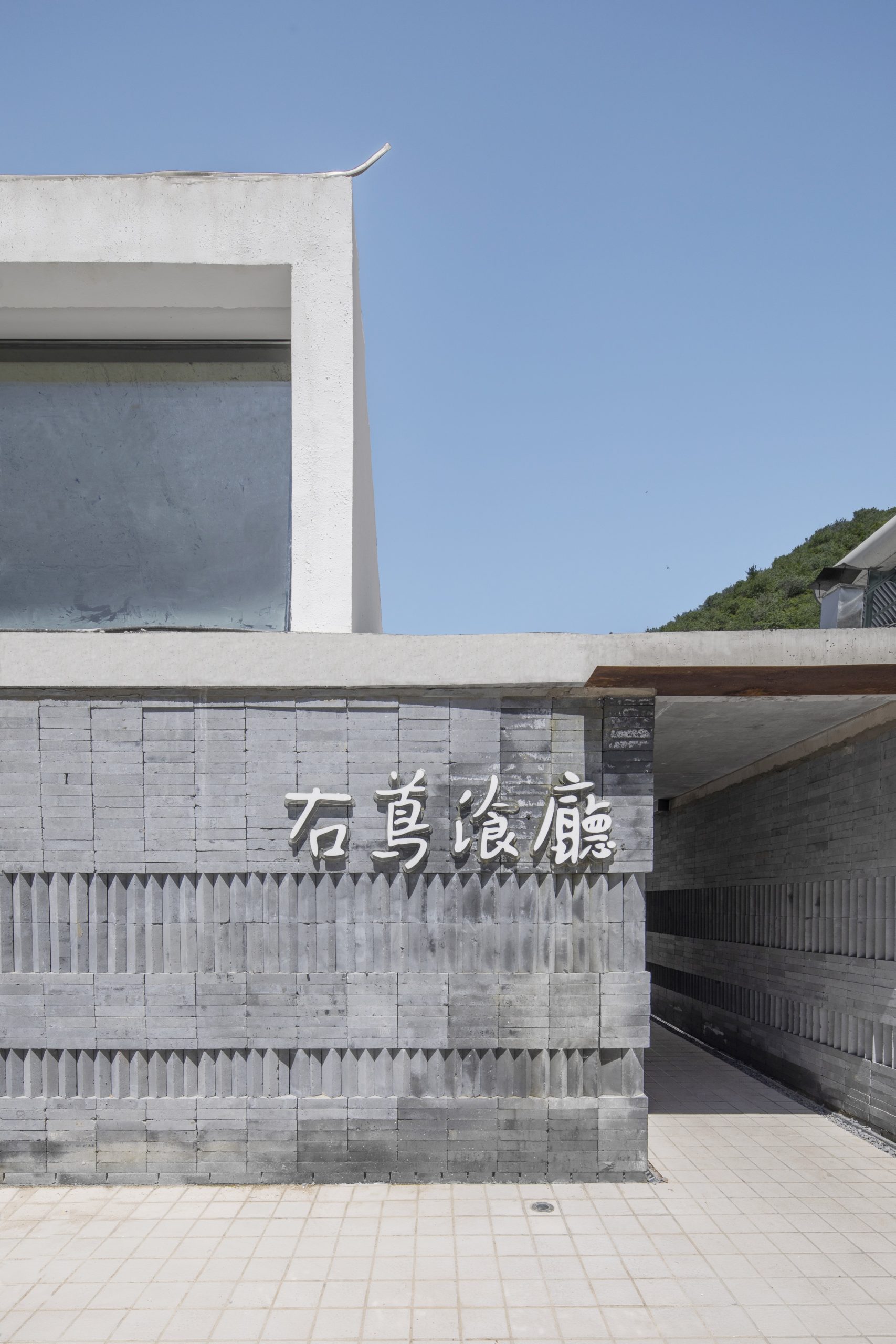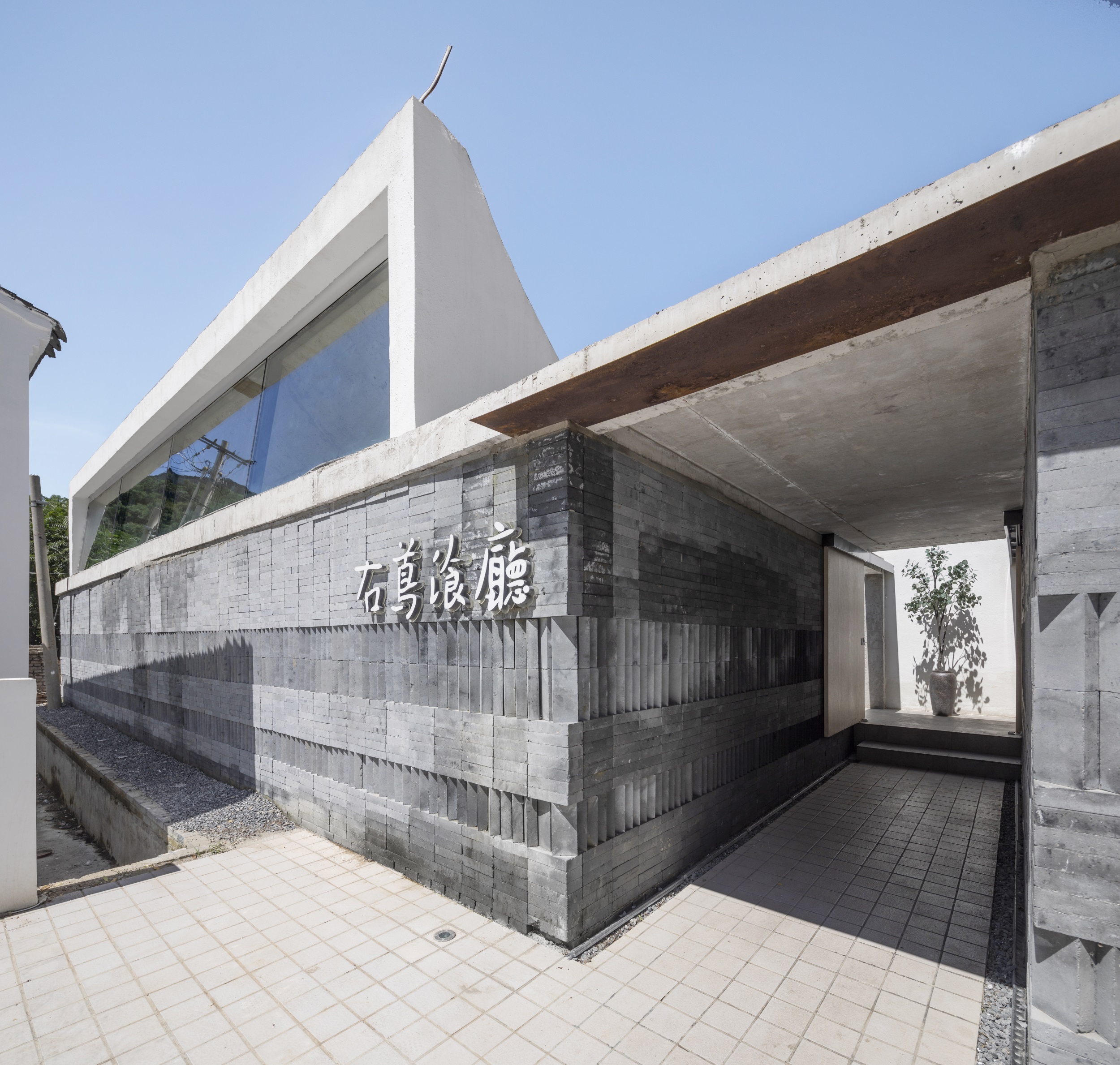 ▼进深的入口空间感 Deep sense of entrance space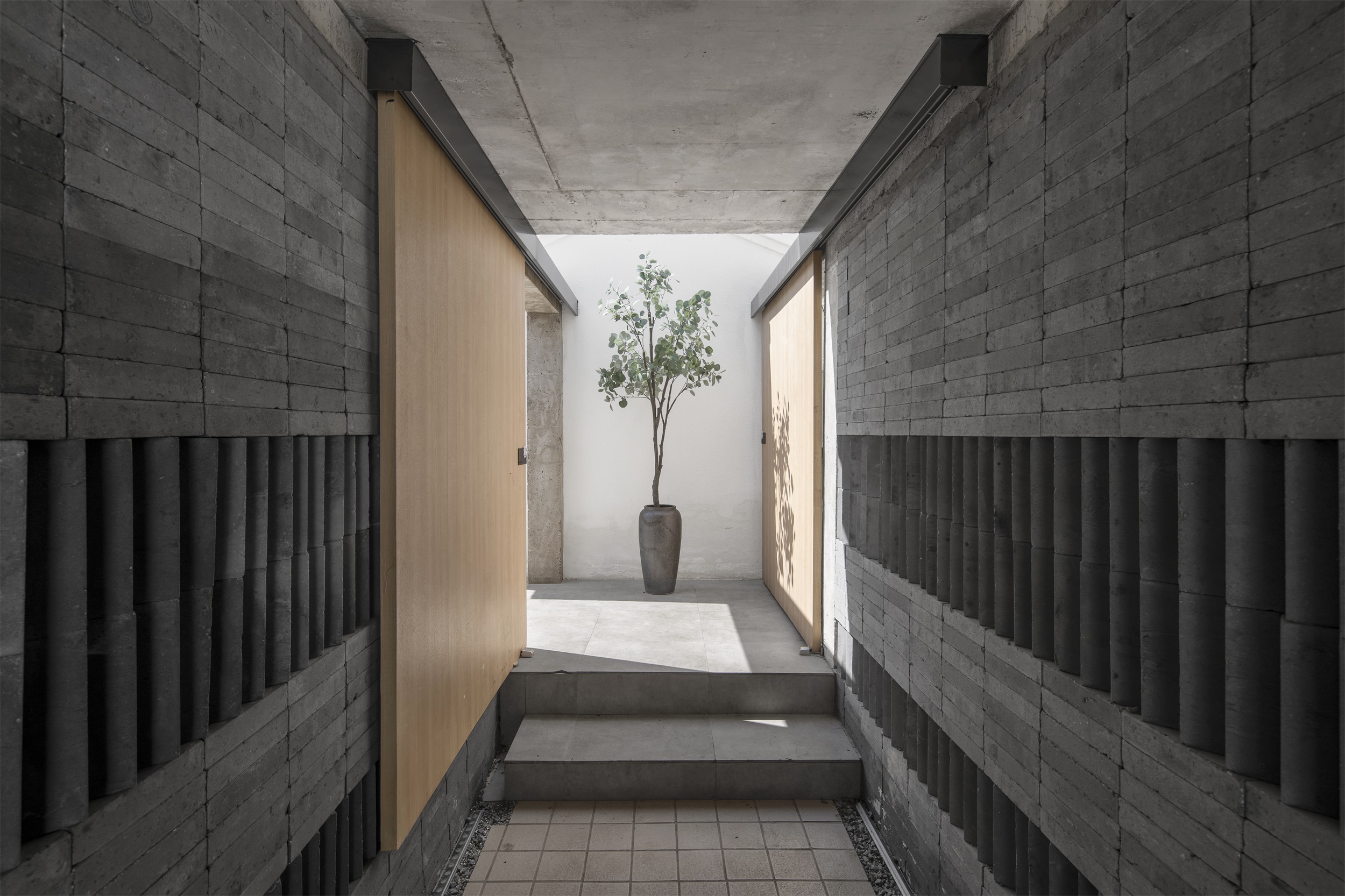 ▼细部材料处理 Detailed material handling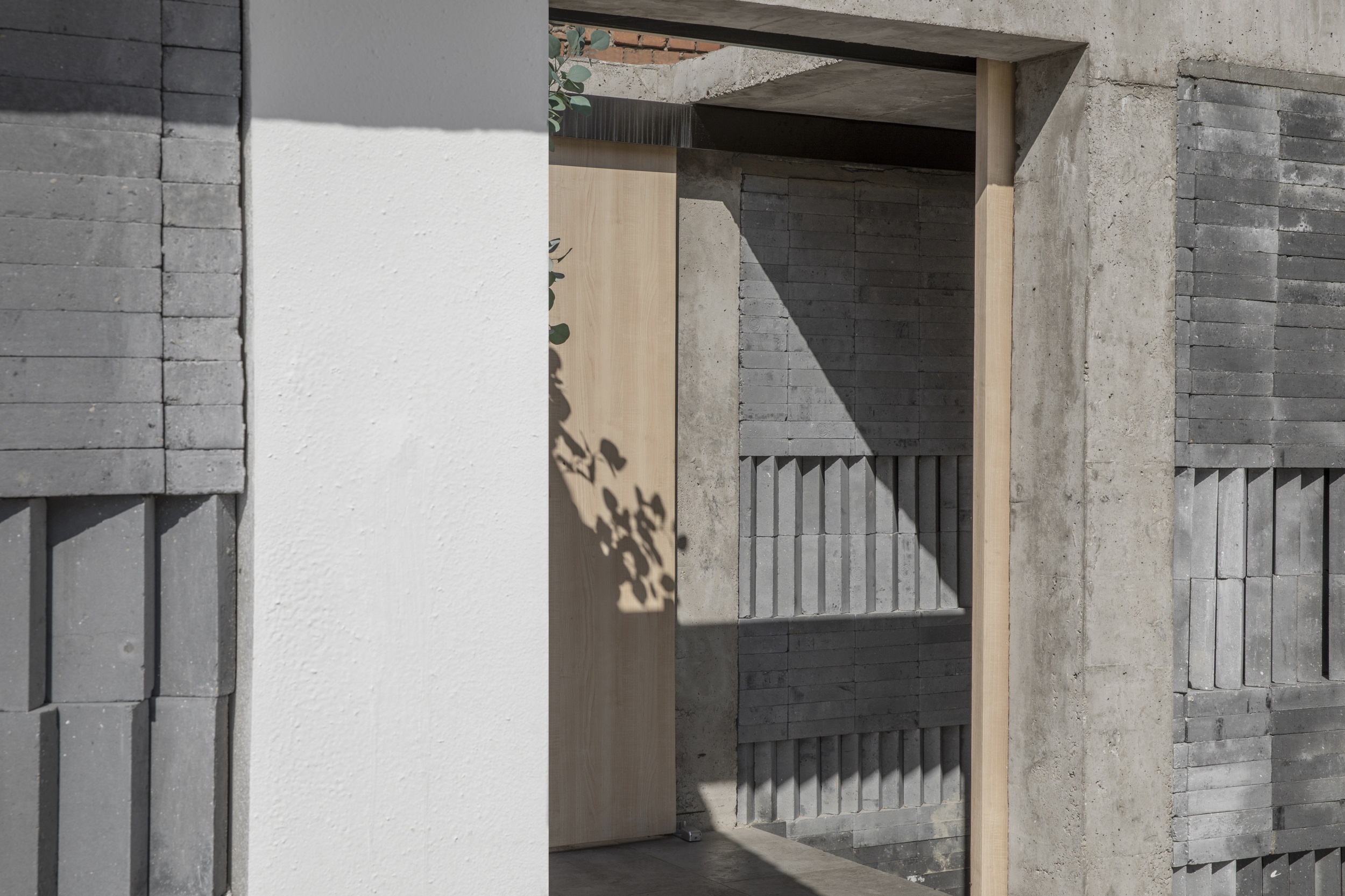 空间描述说明|Spatial Design Description
墙面铺贴蓝绿色瓷砖作为墙裙,强调空间整体性。波浪形矮墙使用水刷石作为饰面,与地面平整光滑的淡黄色水刷石,形成粗粝与平滑的材料对比。
The walls are covered with blue and green tiles as a skirting, emphasizing the integrity of the space.The wavy low wall uses water-brushed stone as the veneer. The light-yellow water-brushed stone is flat and smooth on the ground, forming a contrast between rough and smooth materials.
▼庭院局部鸟瞰 A partial bird's eye view of the courtyard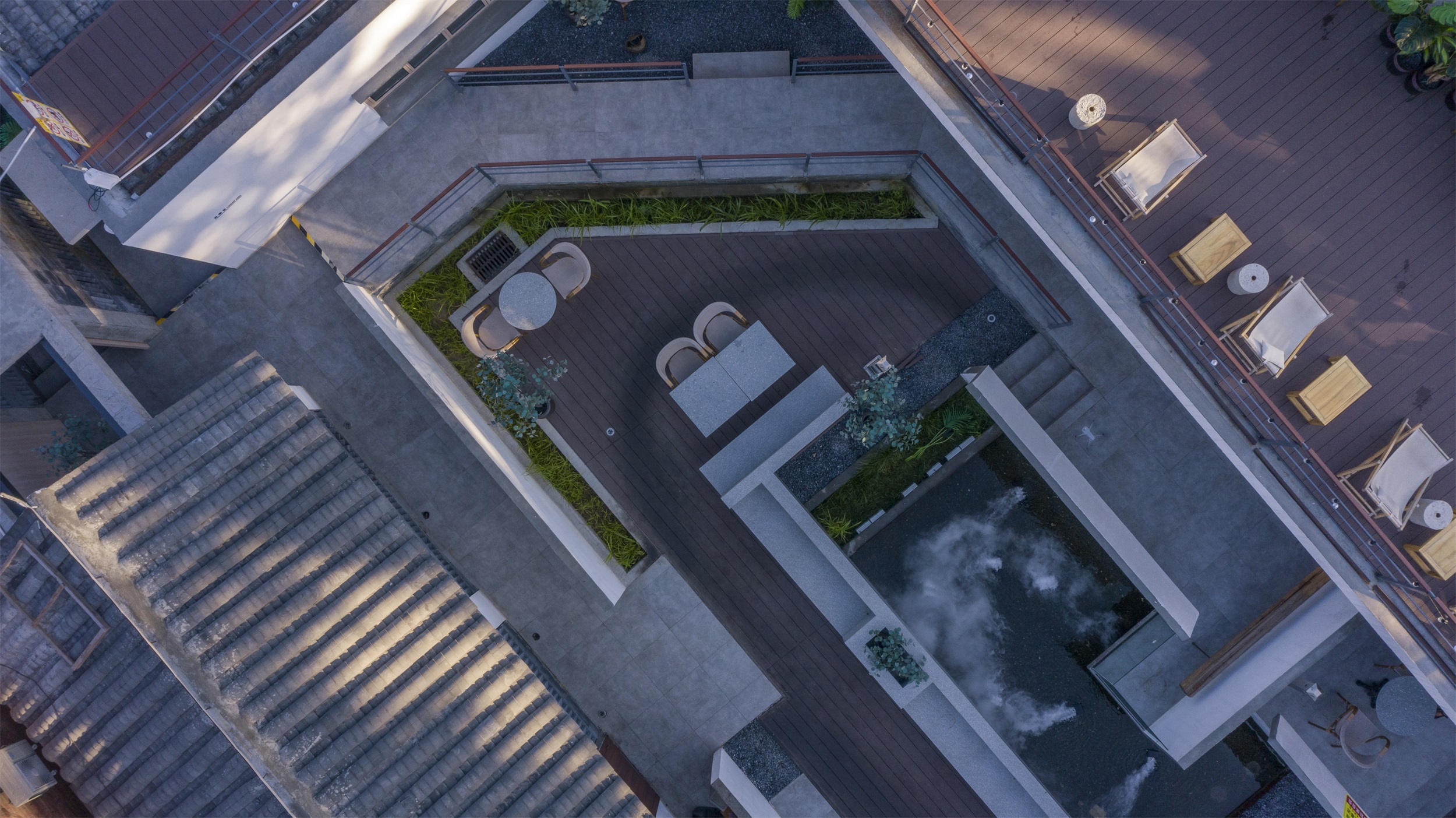 ▼庭院空间 Courtyard space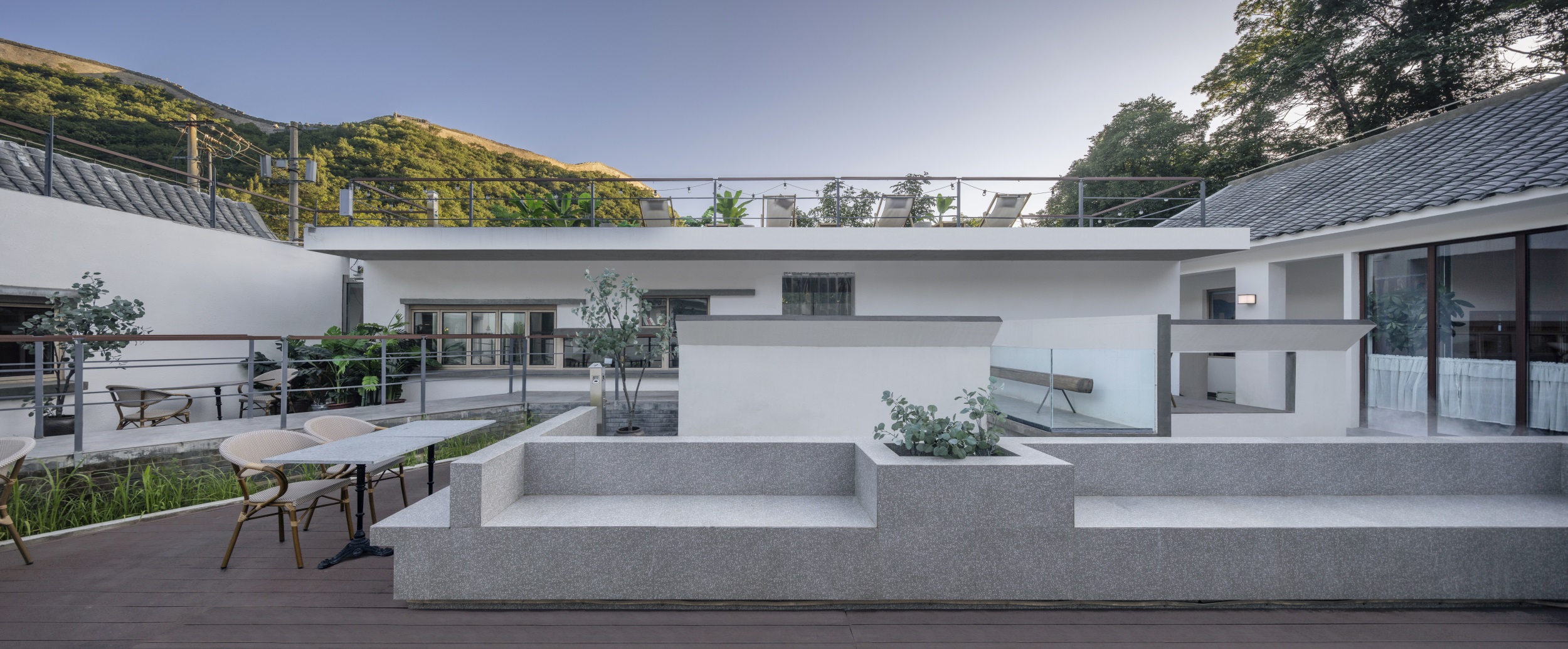 ▼简洁的水刷石饰面休闲坐凳 Simple leisure stool with brushed stone veneer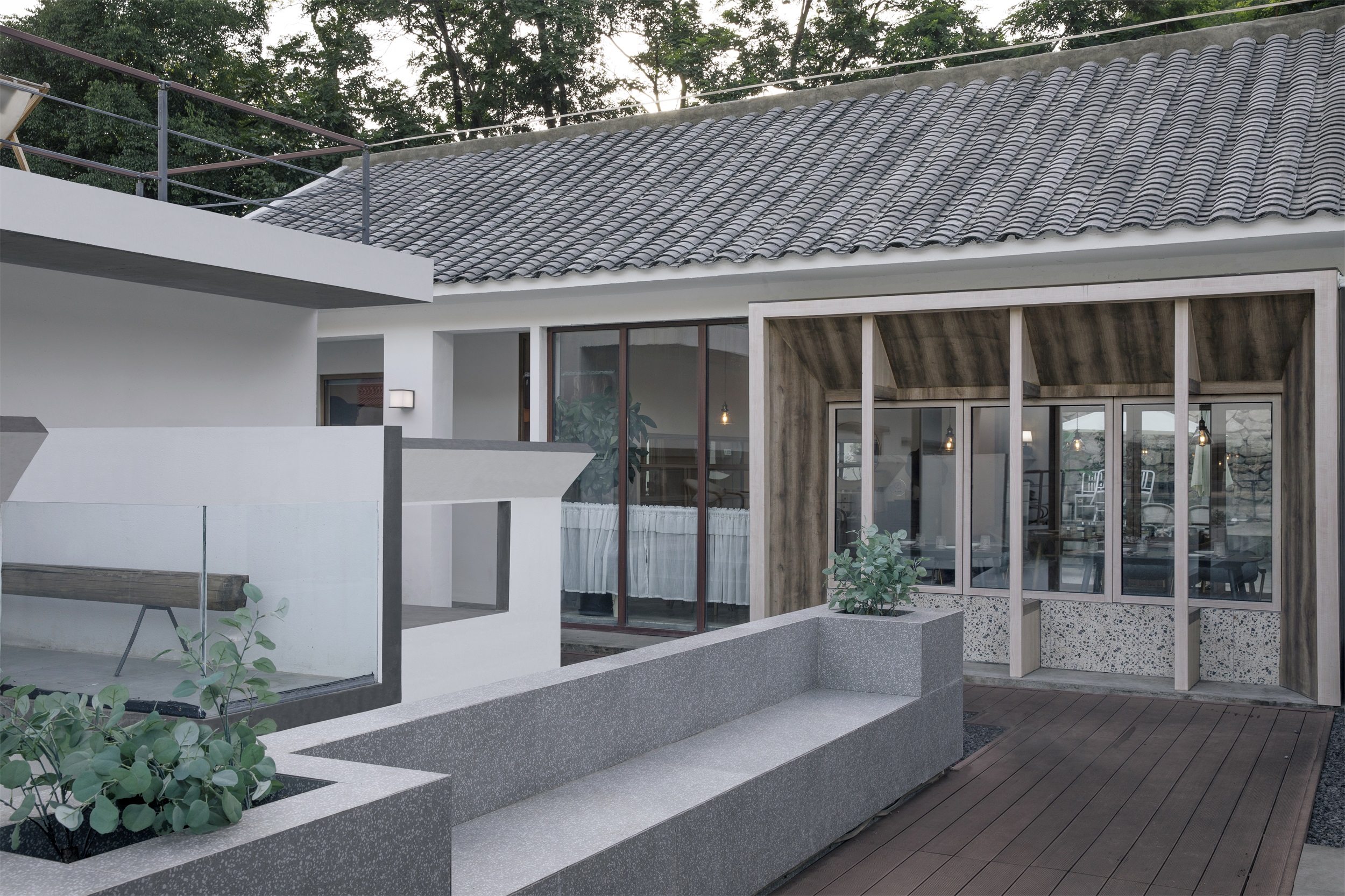 ▼围合的水院空间 Enclosed water courtyard space
▼水院挑台与木质休闲长凳设计 Design of Water Yard Canopy and Wooden Leisure Bench
▼连接露台的楼梯 Stairs connecting to the terrace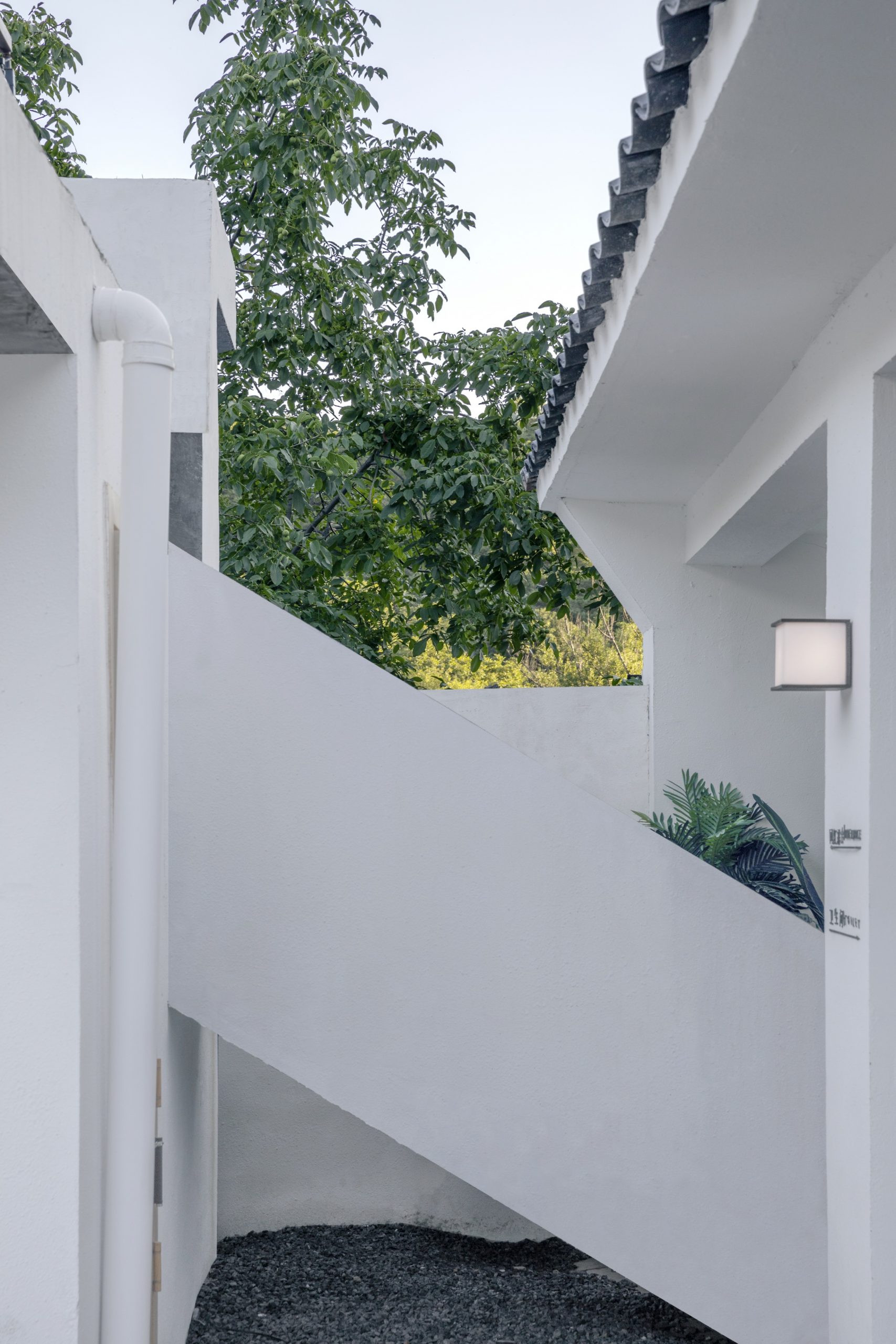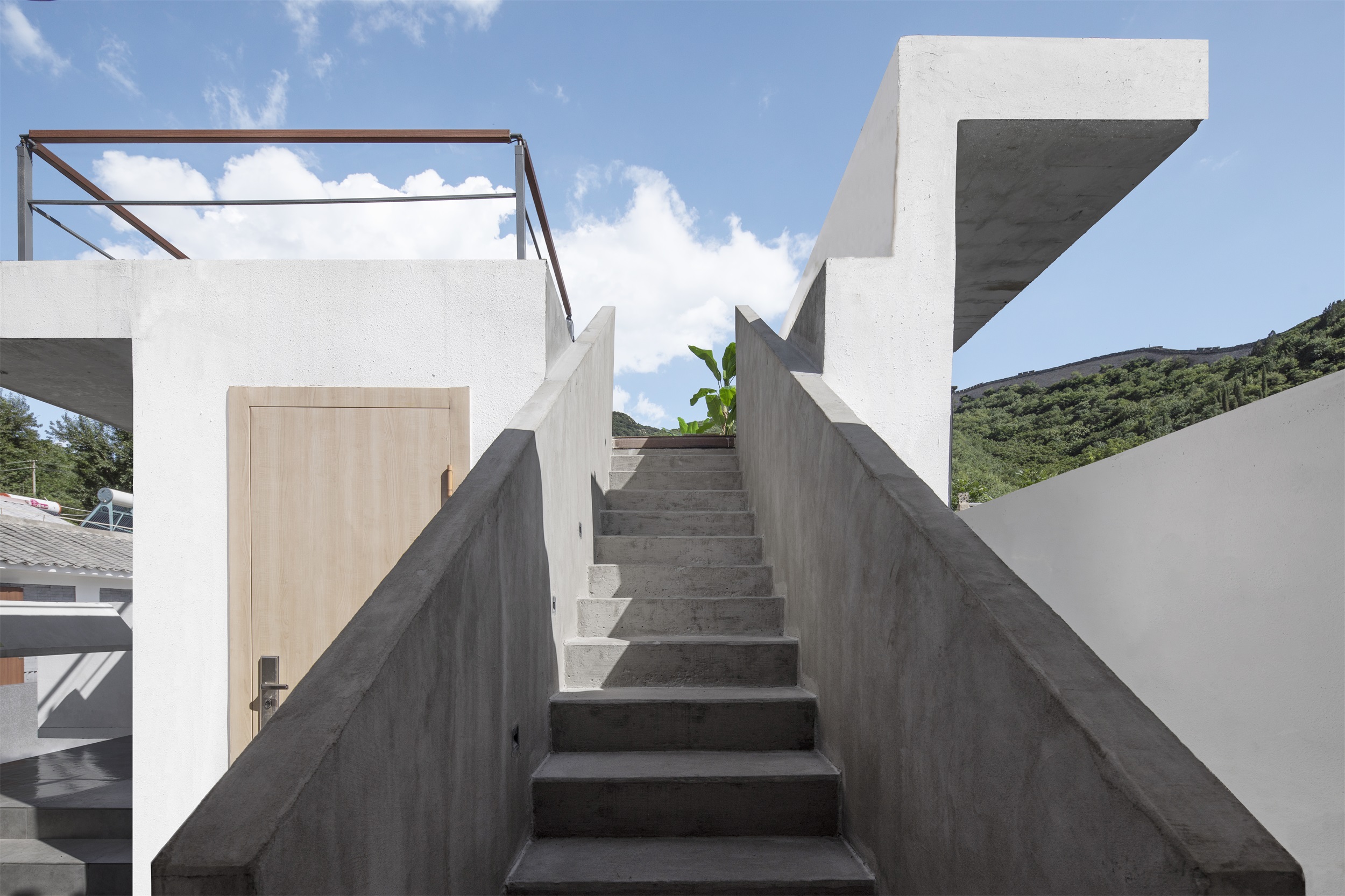 ▼静谧舒适的夜景氛围 Quiet and comfortable night view atmosphere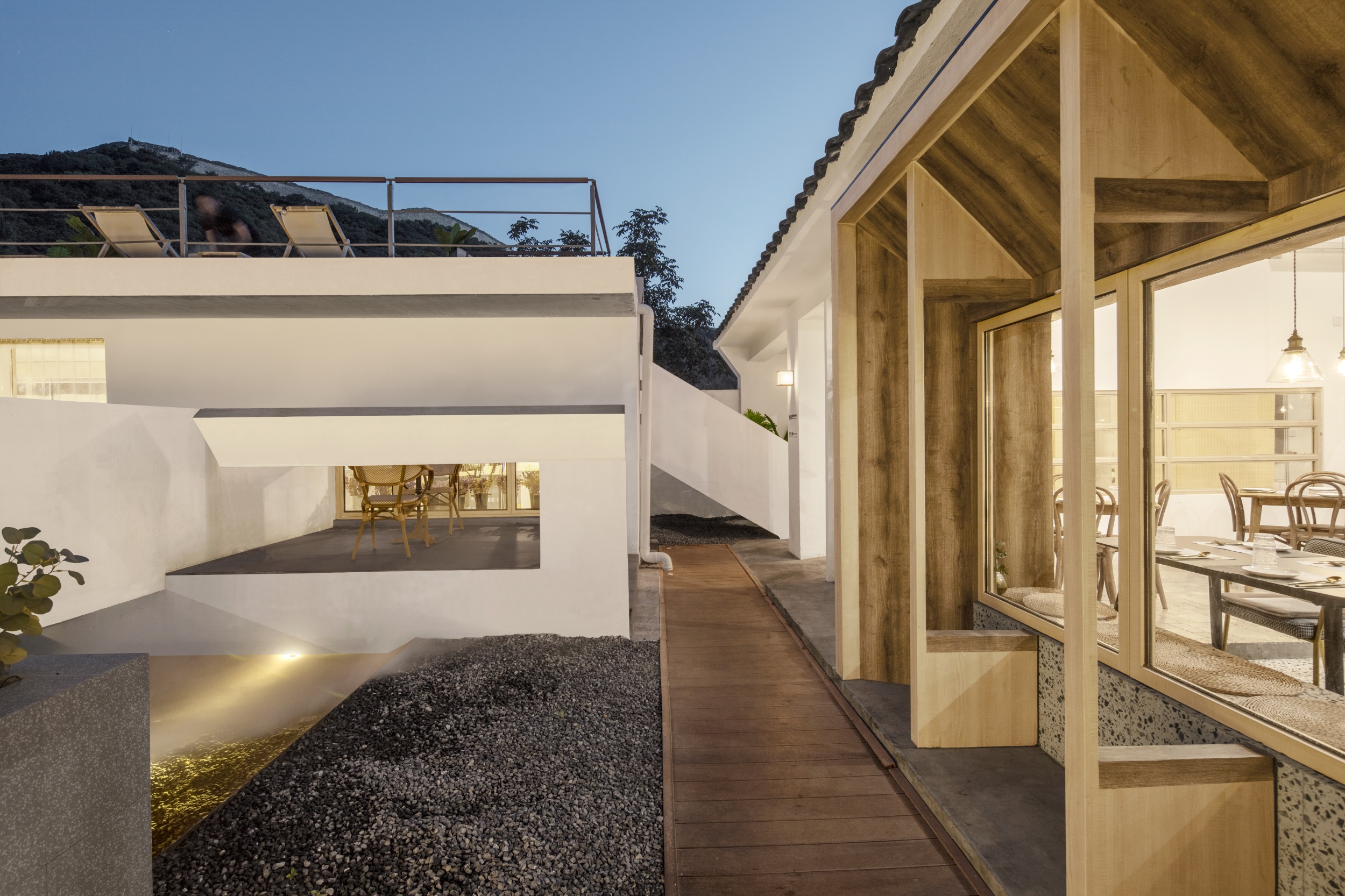 屋顶整面混凝土浇筑,梁柱间的衔接显示出结构间的力量感。
The entire roof is poured with concrete, and the connection between the beams and columns demonstrates the sense of strength between the structures.
▼餐厅内景 Restaurant interior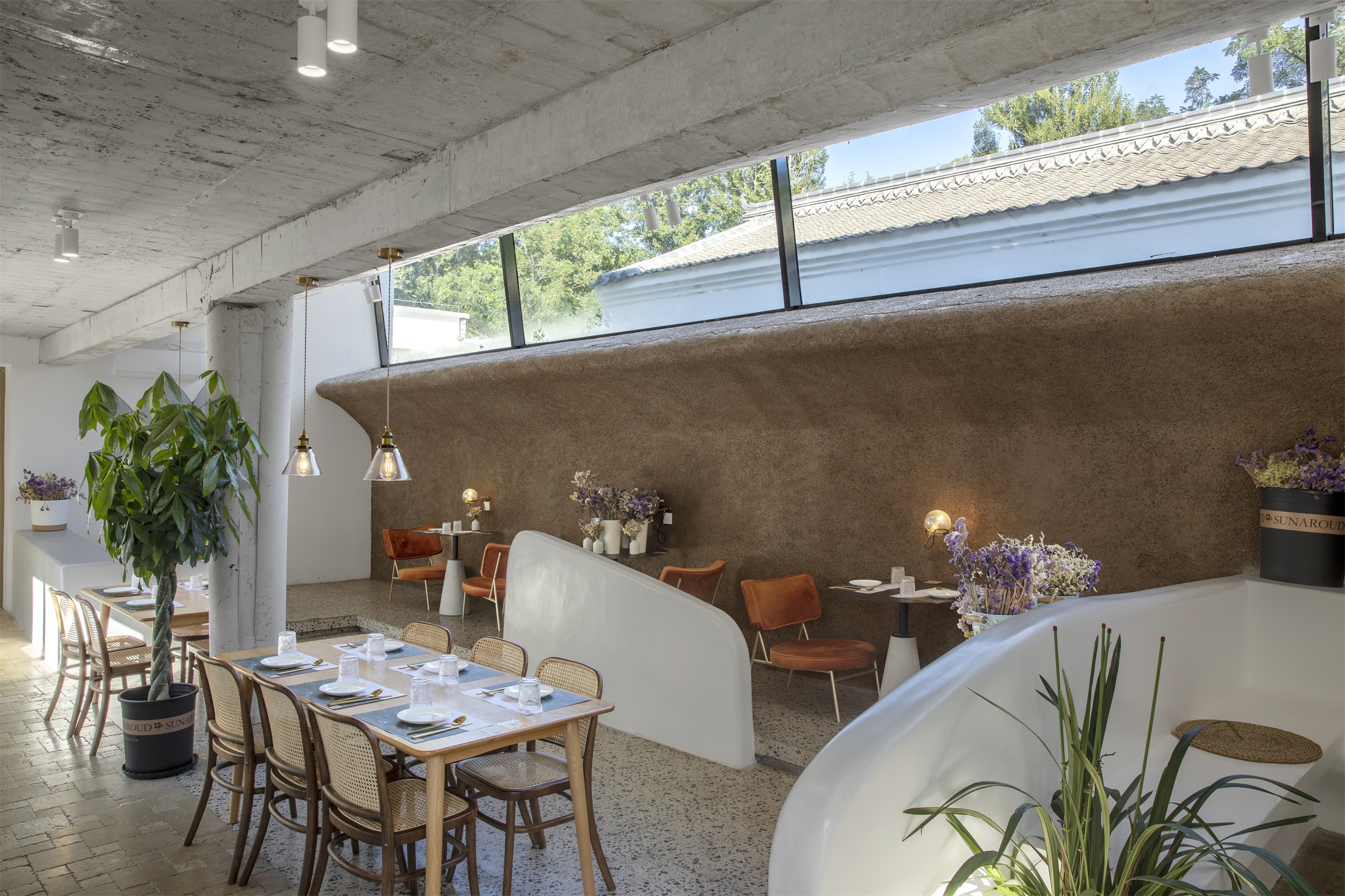 ▼充满结构感的弧面屋顶 Curved roof full of structure
矮墙上方的长条窗,允许更多光线进入室内,同时为每一位就餐的客人提供开阔的视野,欣赏水关长城景区独特的建筑、自然景观。
The long stripe-shaped windows above the low wall allow more light to enter the room, meanwhile providing a wide view for every guest to appreciate the unique architecture and natural landscape of the Shuiguan Great Wall scenic spot.
▼长条窗将自然光和景色引入室内 Glass windows that introduce natural light and scenery into the room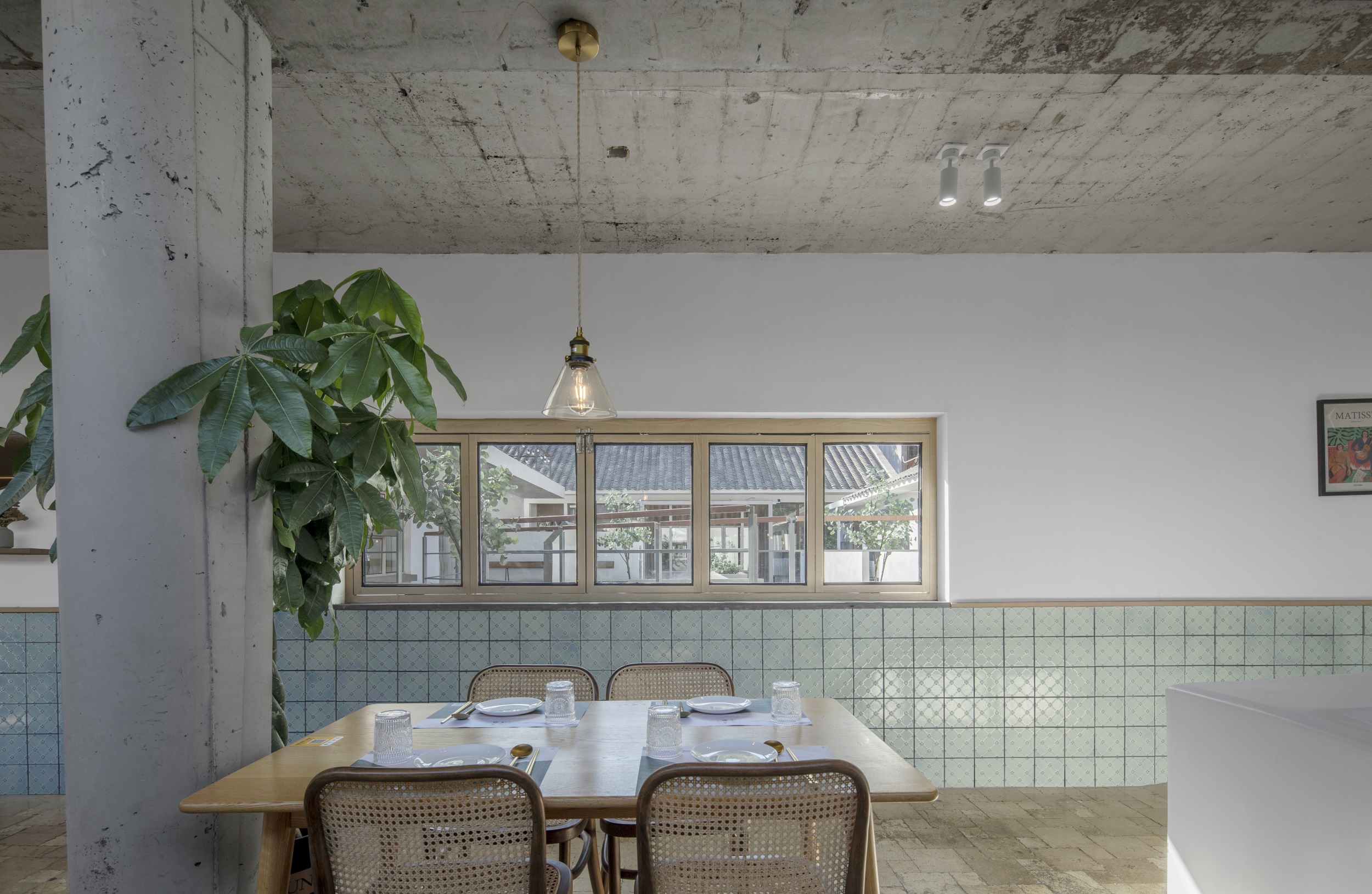 ▼享用美味的就餐空间 Enjoy a delicious dining space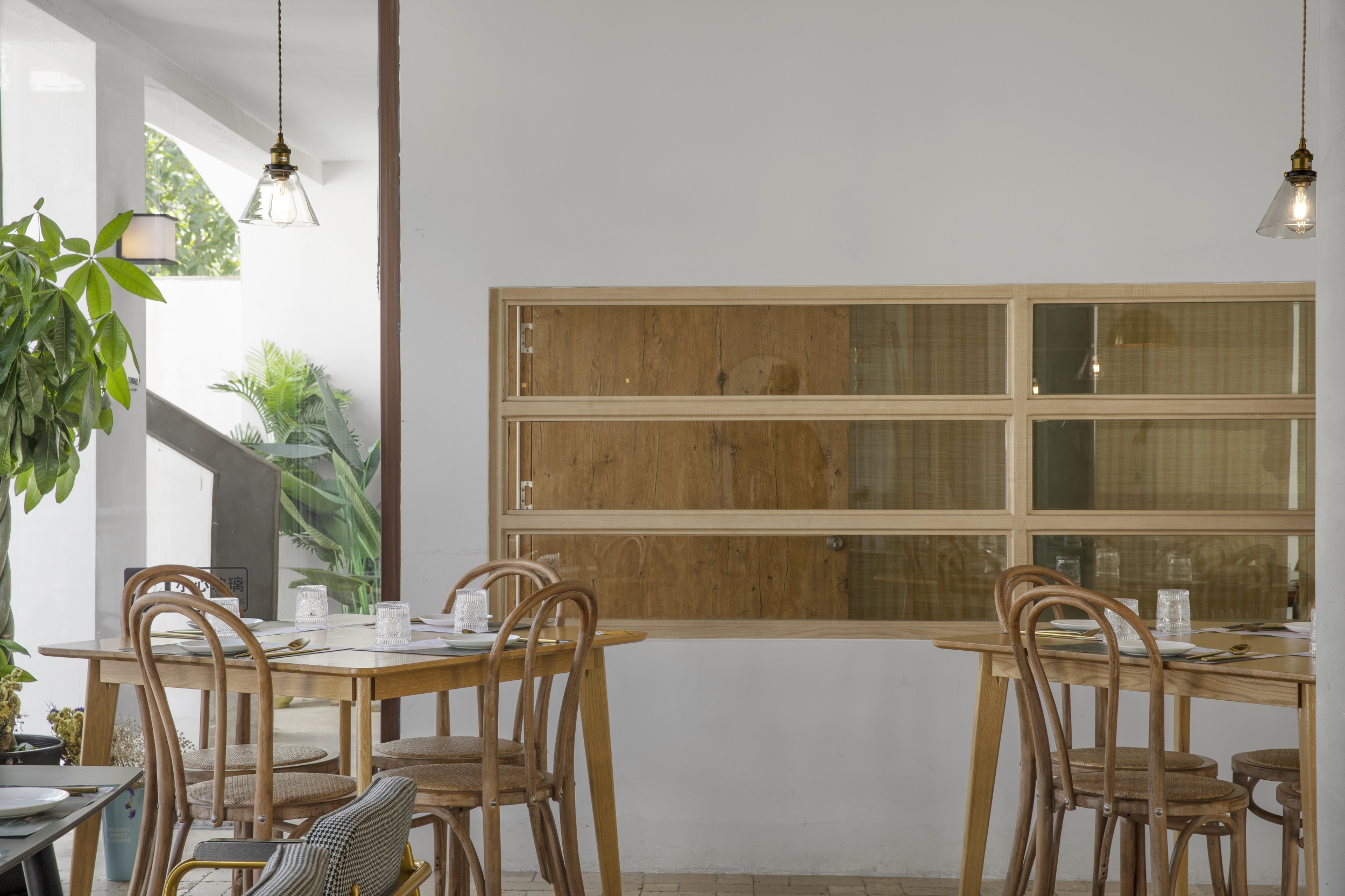 情趣在此之重要,远甚技巧与方法。 ——童寯
The importance of sentiment lies far beyond skills and methods.  ——Tong Jun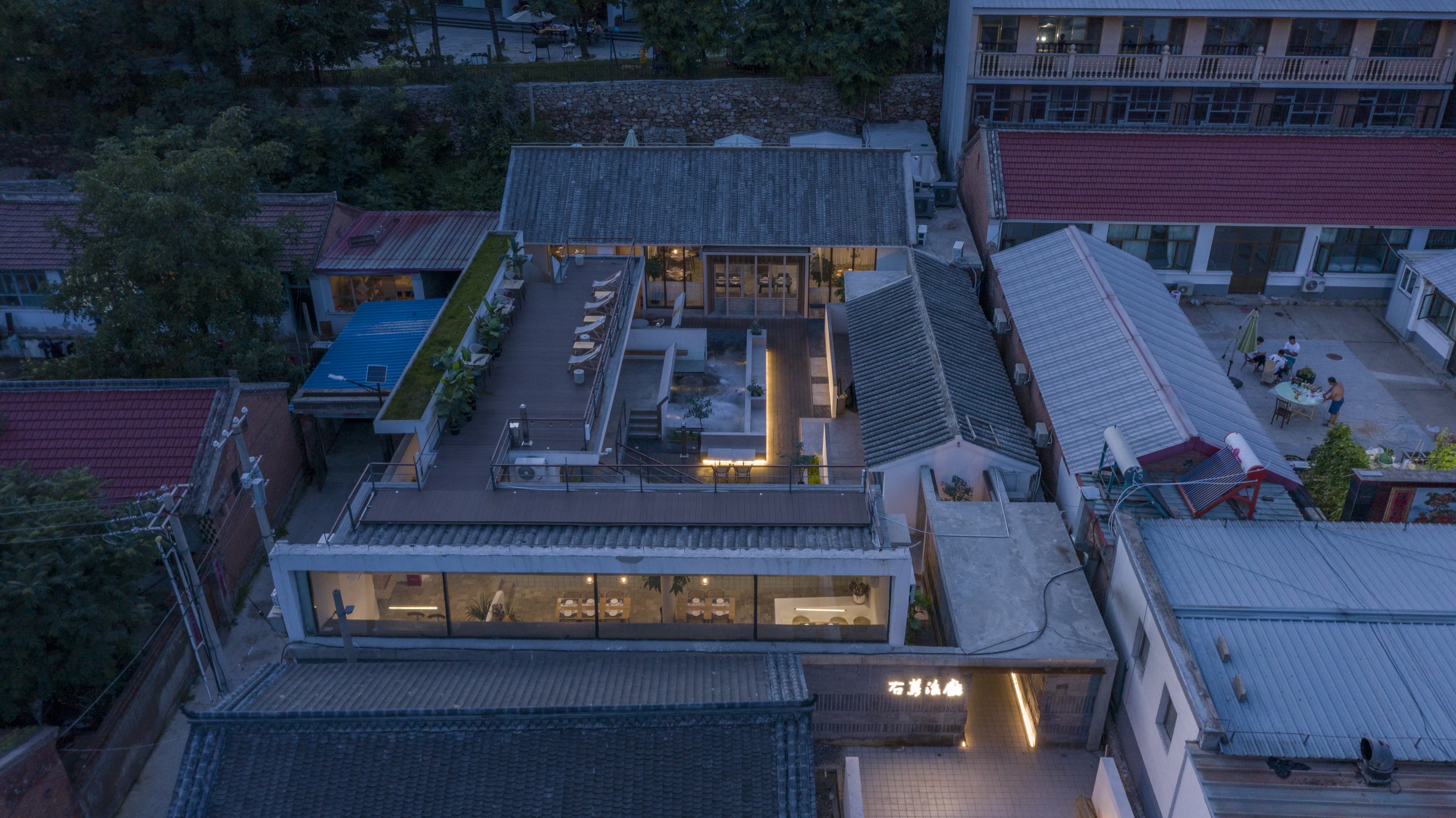 ▼平面图 Plan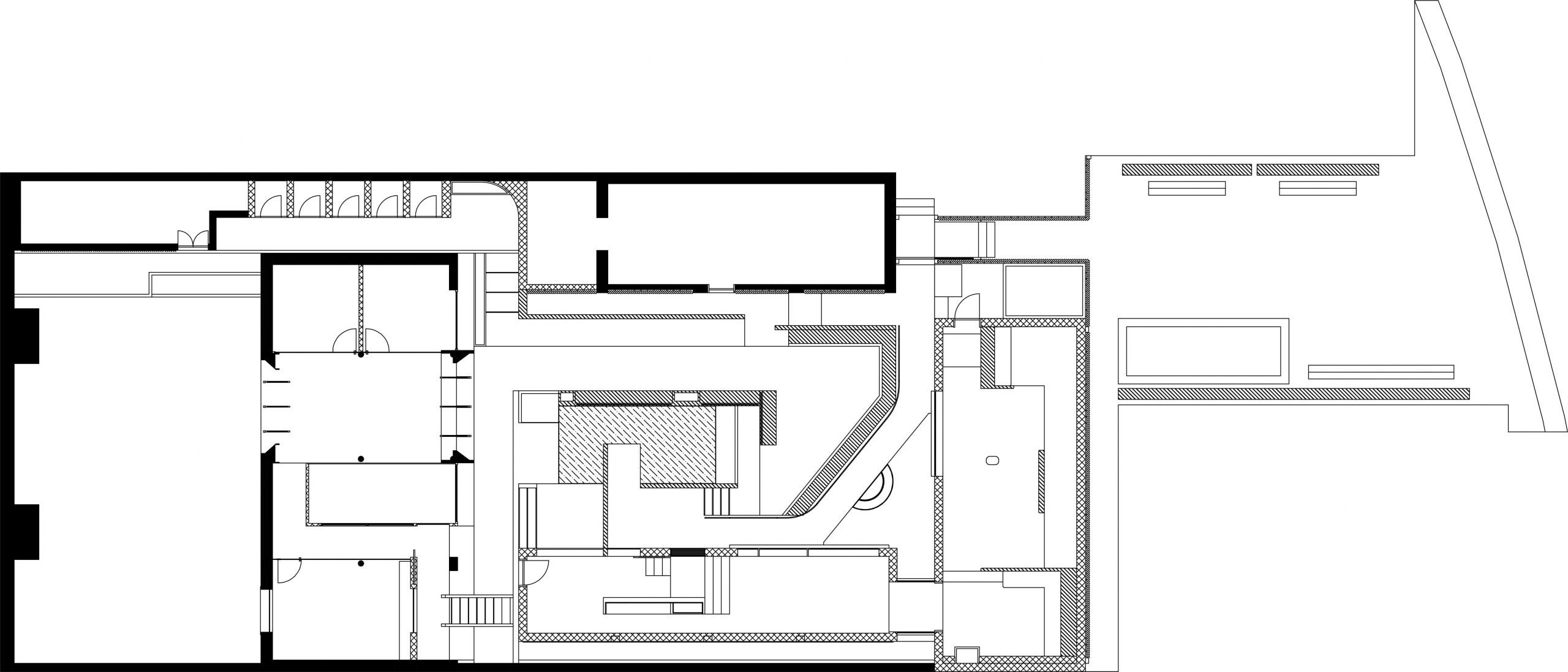 ▼设计分析图 Design analysis diagram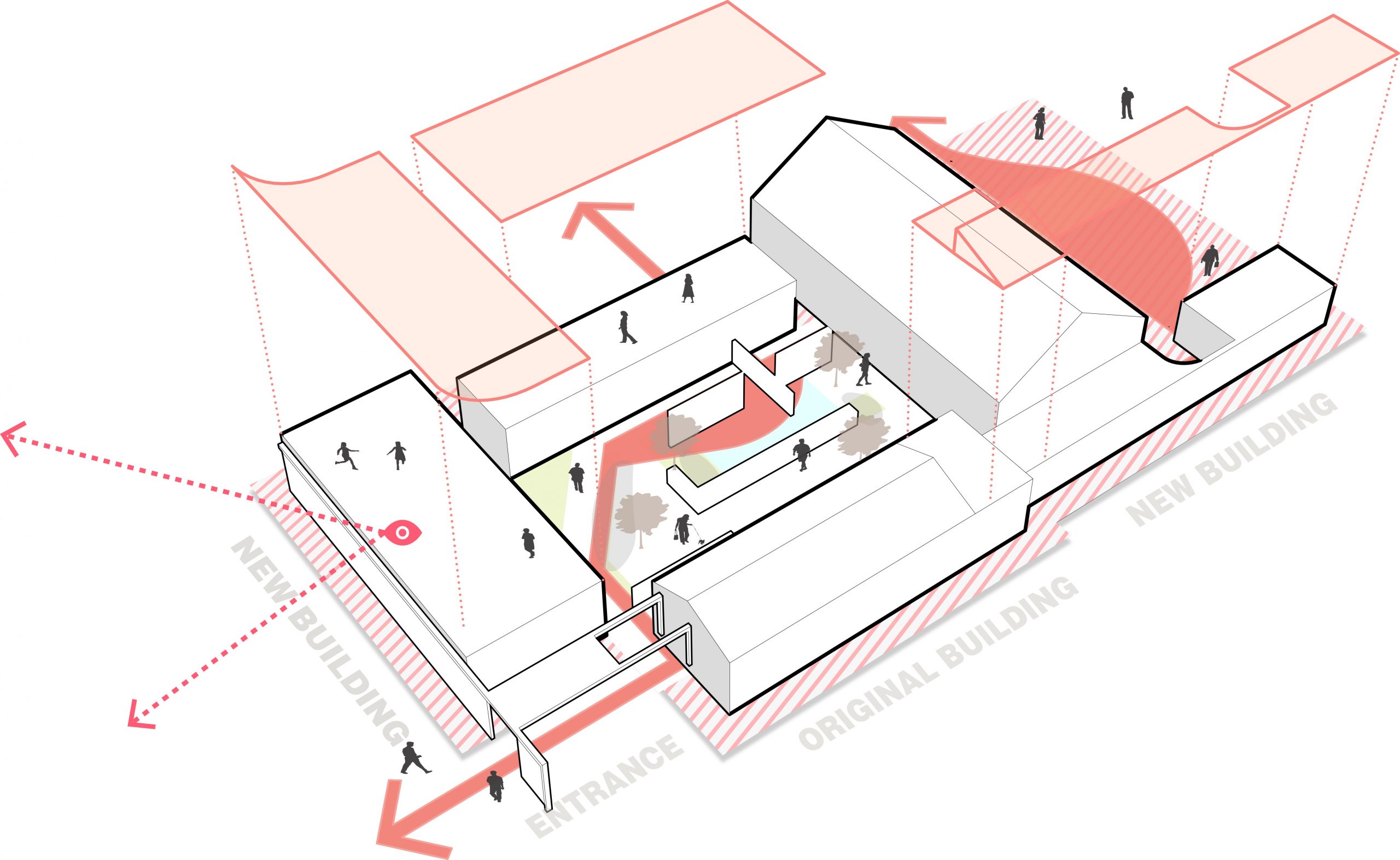 ▼轴测图 Axonometric drawing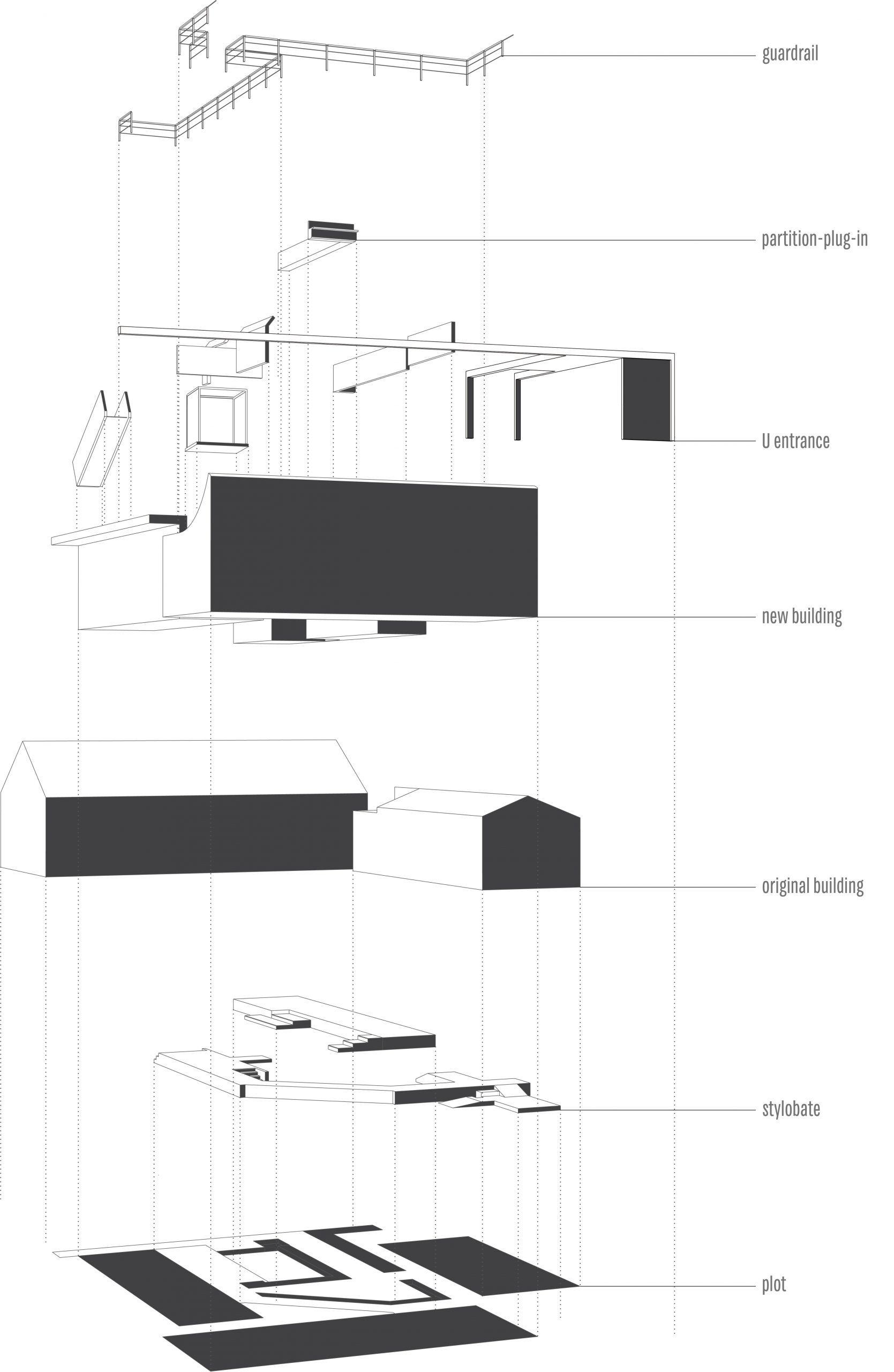 项目名称:右蔦乡村庭院餐厅
建筑设计:阿穆隆设计工作室
景观设计:阿穆隆设计工作室
联络邮箱:13522430436@163.com
工作室网站:http://www.amoolone.com
公司所在地:北京市朝阳区草场地艺术区256号
项目完成年份:2021.08
建筑面积:340㎡
项目地址: 北京市延庆区八达岭镇石佛寺村
设计团队:阿穆隆、宋小友、刘宠
照片拍摄:金伟琦
视频拍摄/剪辑:南迪
Project Name: Yousu Country Courtyard Restaurant
Architectural Design: AML Design studio
Landscape design: AML Design studio
Contact email: 13522430436@163.com
Studio website: http://www.amoolone.com
Company location: No. 256, Caochangdi Art District, Chaoyang District, Beijing
Project completion year: 2021.08
Building area: 340㎡
Project address: Shifosi Village, Badaling Town, Yanqing District, Beijing
Design team: Amulon, Song Xiaoyou, Liu Chong
Photo shooting: Jin Weiqi
Video shooting/editing: Nandi
---
" 以在地性的设计,景观在建筑中衍生,整体上营造粗糙与细致的对话。"
审稿编辑:王琪 -Maggie
更多 Read more about:阿穆隆设计