本文由PALMA授权mooool发表,欢迎转发,禁止以mooool编辑版本转载。
Thanks PALMA for authorizing the publication of the project on mooool, Text description provided by PALMA.
PALMA: AROS是由城市实验室和墨西哥市政府委托举办的"城市玩具"竞赛的获奖方案。竞赛场地是墨西哥城历史中心洛雷托广场上的一个临时游乐场。
PALMA: AROS is a winning proposal for the "Urban Toys" competition that was commissioned by Laboratorio para la Ciudad and the Mexico City government. The objective of the competition was to develop a sort of temporary playground in the historical center of the city, specifically in Loreto square.
▼视频  Video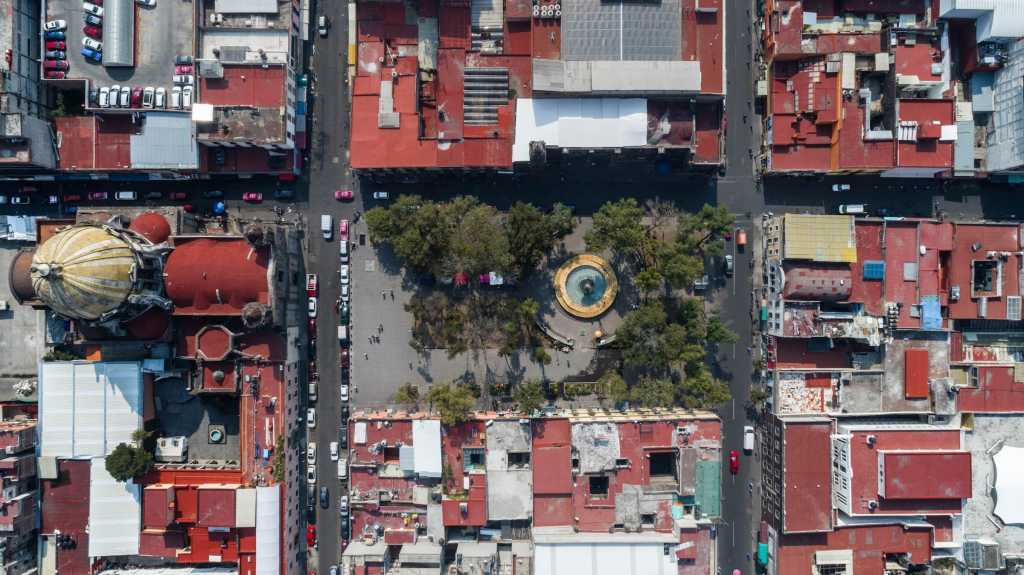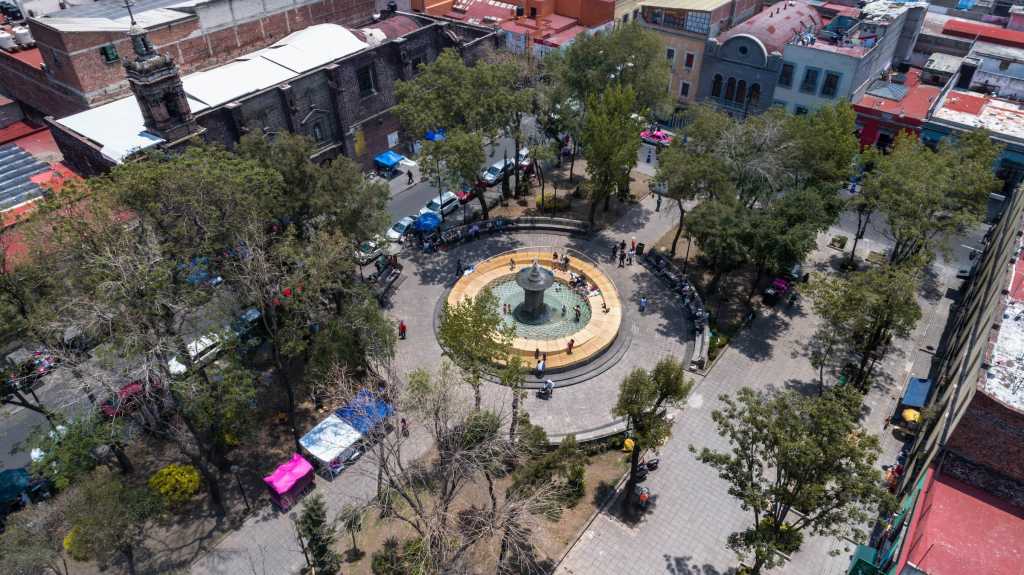 利用场地容易产生自发性游戏的优势,将喷泉放置在标志性的广场内。此外,这个广场能避免干扰人们的日常活动流线和活动行为。通过利用广场上已经存在的元素,比如长凳,设计师创造了一个安全的可见性强的环境,让孩子们可以自由探索。
By placing the project within the confines of the iconic plaza fountain, we take advantage of the spontaneous play that already takes place. In addition, we avoid interrupting the everyday flow and activities of people
on this square. By using the preexisting elements of the square such as benches we create a safe and visible environment where children can explore freely.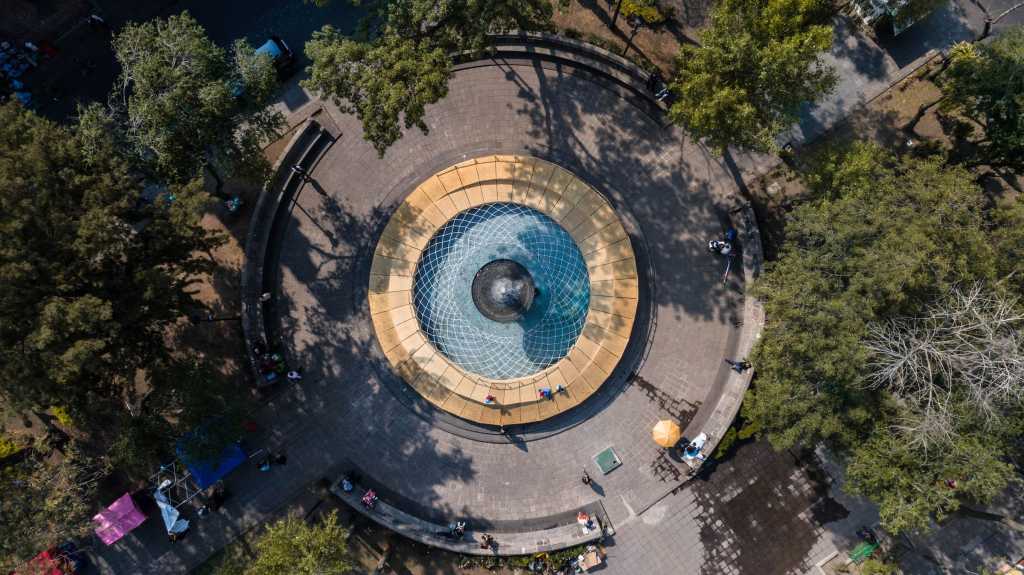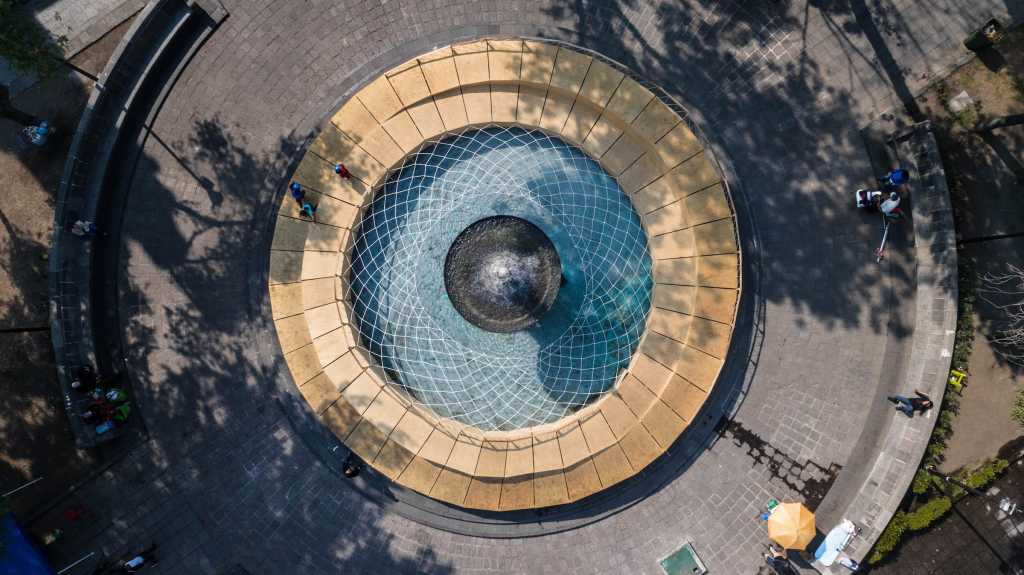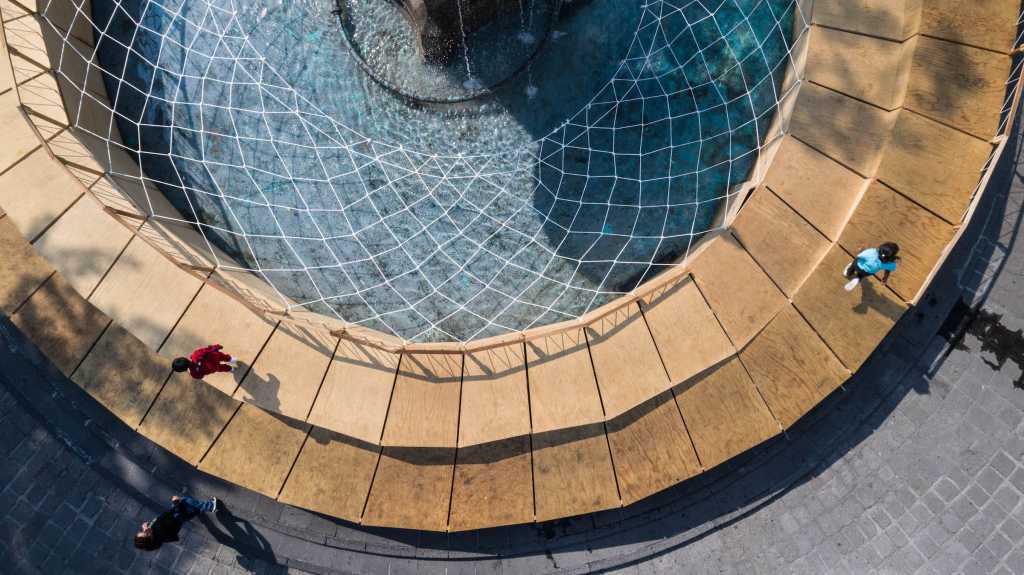 设计是围绕不同类型的游戏而设计的,而游戏又受到孩子们周围空间的影响。尤其在体育比赛中,这种关系是最强的。两个斜坡相对的圆形坡道同心放置,使水平向发生了有趣的变化。这些障碍与水元素和白色网格一起产生了一定程度上的游戏"风险",但能够鼓励孩子们互动和激发动态的游戏。该方案的同心圆设计也创造了一系列亦幻亦真的参与感受。通向第一环的通道在最低点是开放的,但是如果要到达第二圈,孩子们必须绕圈走至少四分之一的路。孩子们必须克服水和白色织网所带来的障碍。所有的元素使得游戏更加能够振奋人心。
The design is built around the different types of play which are influenced the most by the physical space around the child. In the case of physical play, this relationship is the strongest. Two circular ramps with opposite slopes are placed concentrically, which results in playful level variations. Together with the water element and the net, these obstacles produce moments of moderate risk which encourage interaction and dynamic play. The concentric nature of the proposal also creates a series of thresholds which can be real or imaginary. Access to the first ring is open at the lowest point. However, in order to get to the second ring, the child must walk at least a quarter of the way around the circle. From here, the child must overcome the third obstacle; the water and net. All these layers, thresholds and observation points are great for made-up rule play and socio-dramatic games.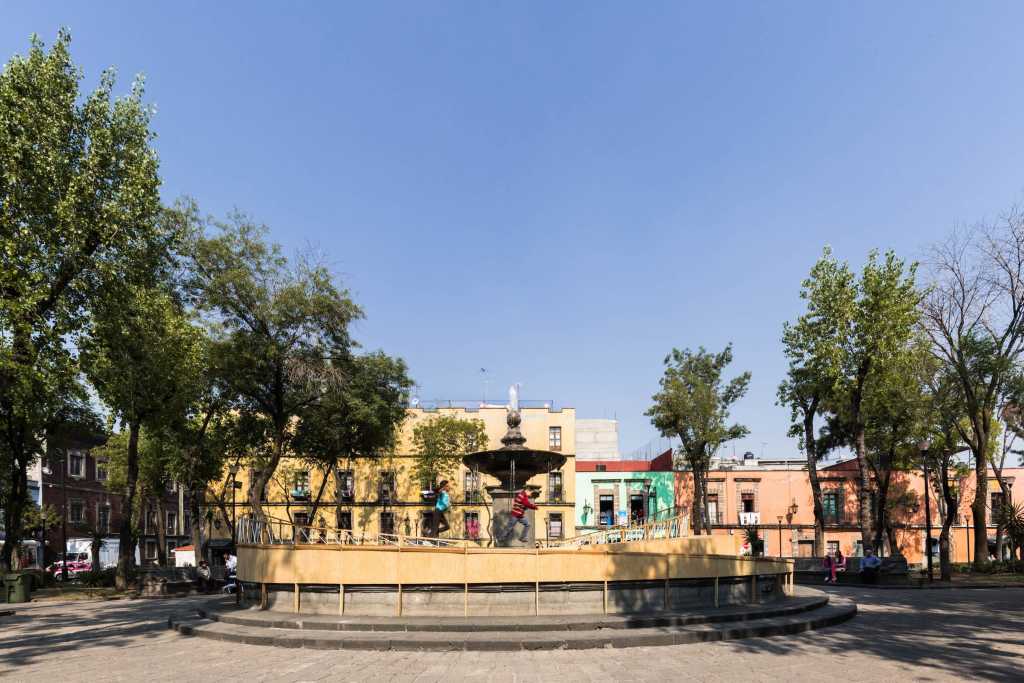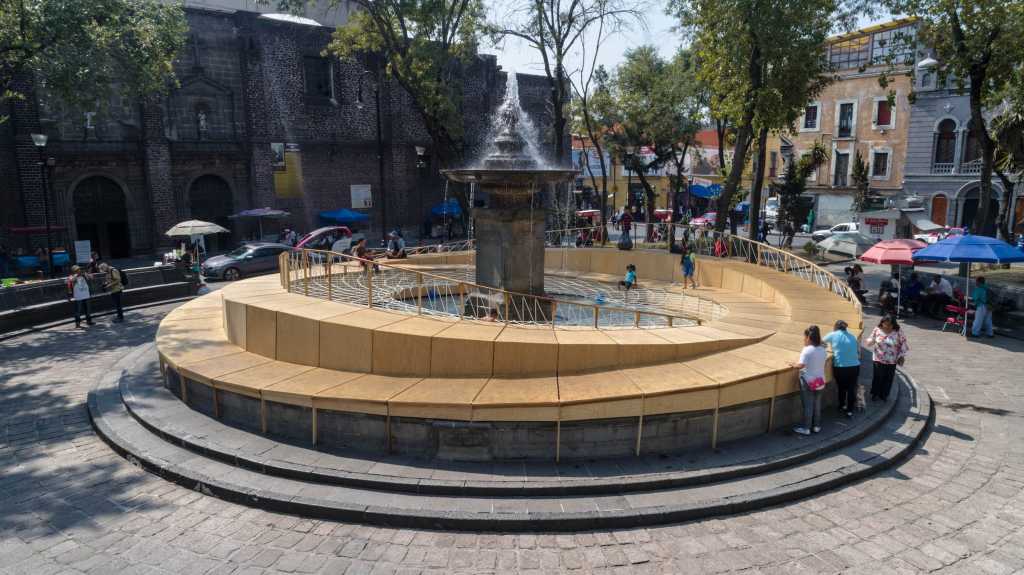 斜坡环绕着喷泉,当喷泉打开时,便创造出了一种与水感官体验;当喷泉关闭时,也可以用来开展没有水的活动。其多功能性使得它的用途超越了普通的游戏场地,同时能够加强与社区的互动联系,有时甚至会被用作一个小的论坛空间。
The ramps temporarily envelop the fountain which creates a sensory experience when the fountain is on but can also be used as a dry game. This versatility allows for its use to go beyond a simple playground game in order to connect with the community and even be used as a small forum space.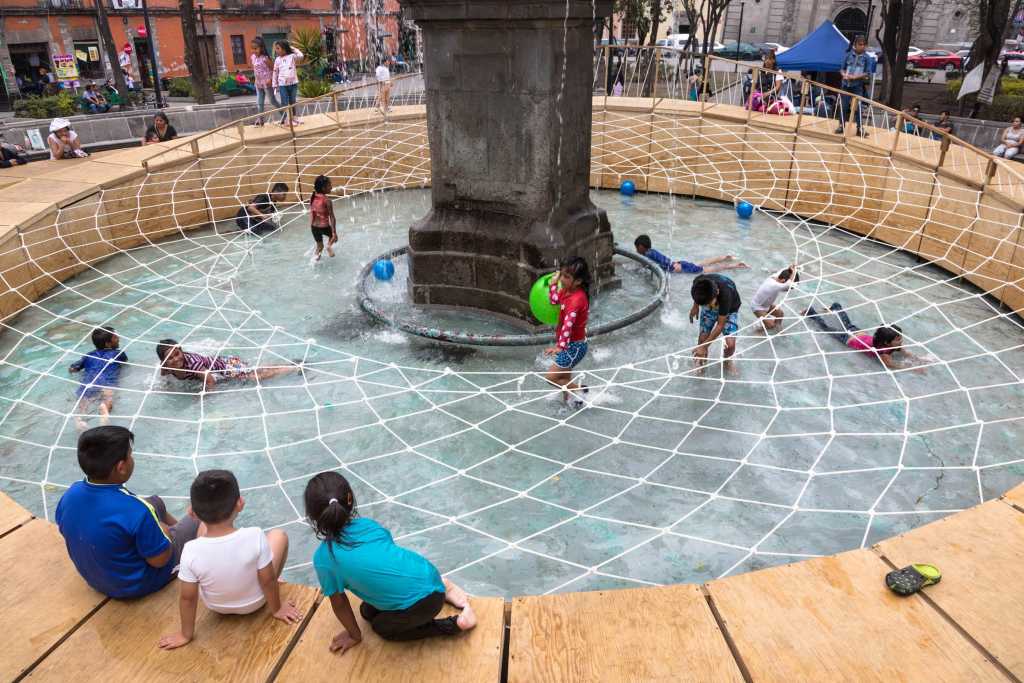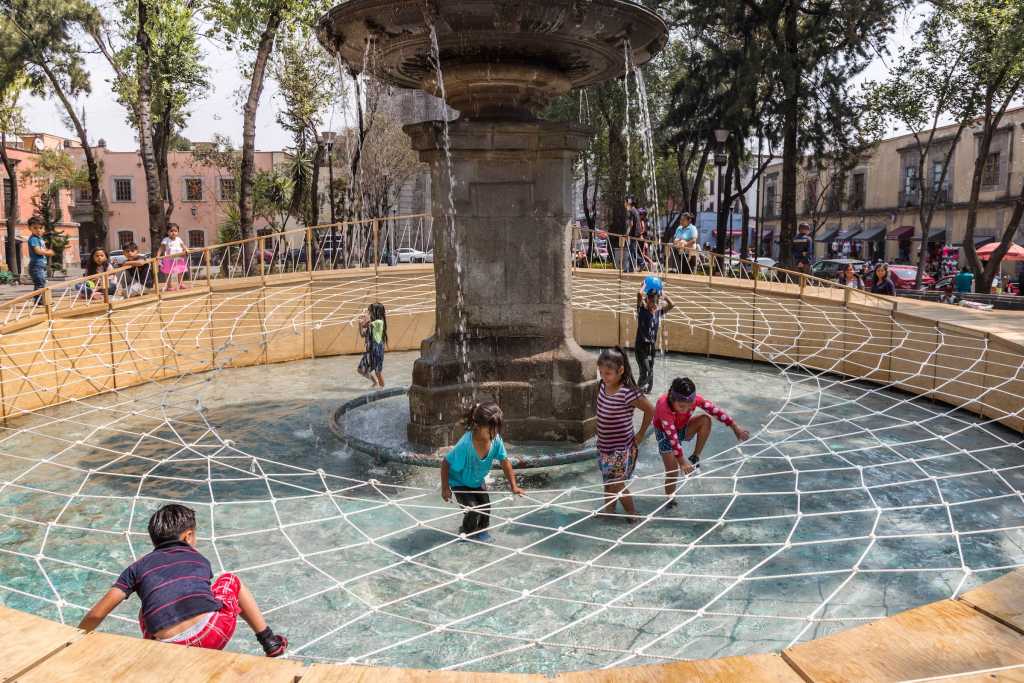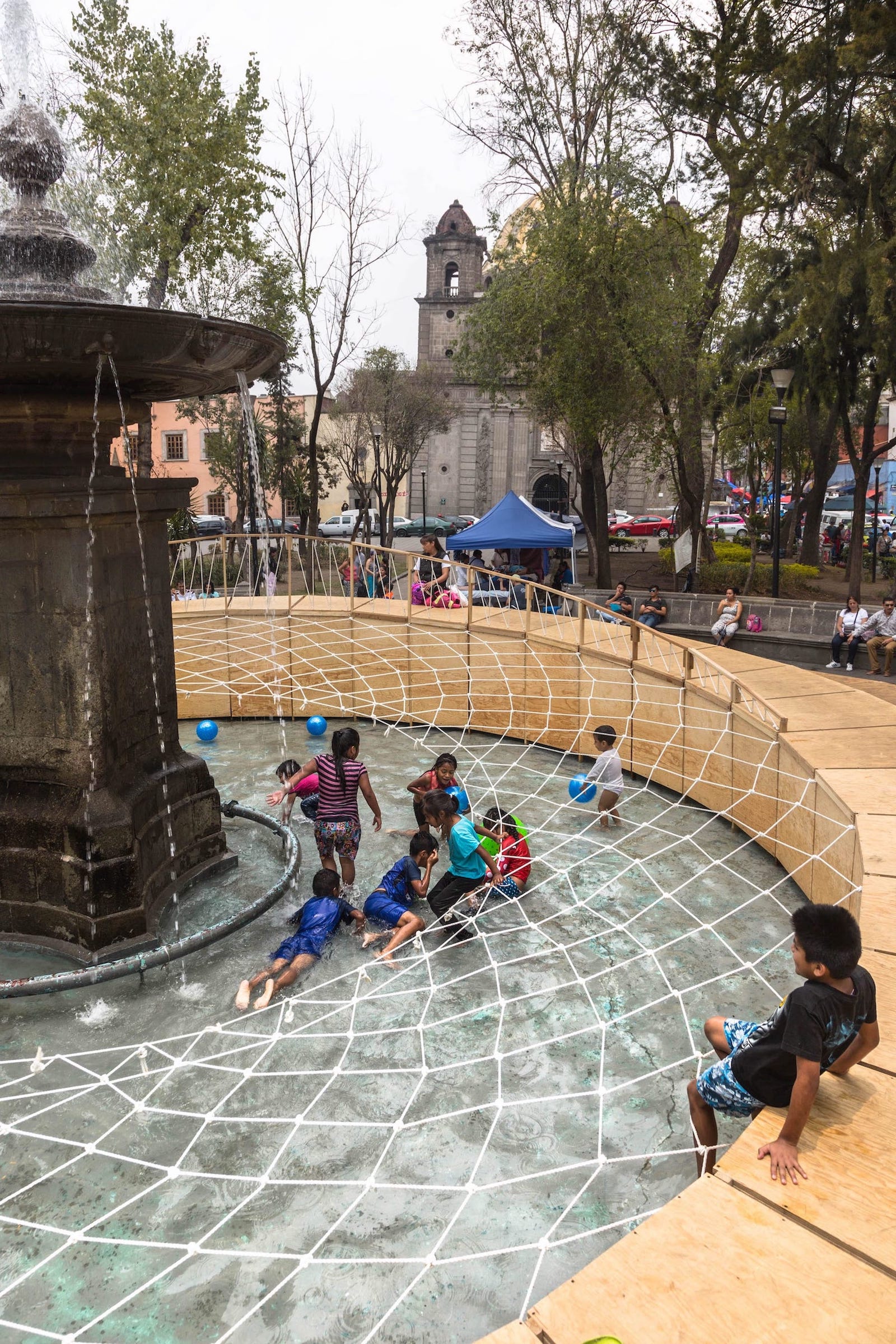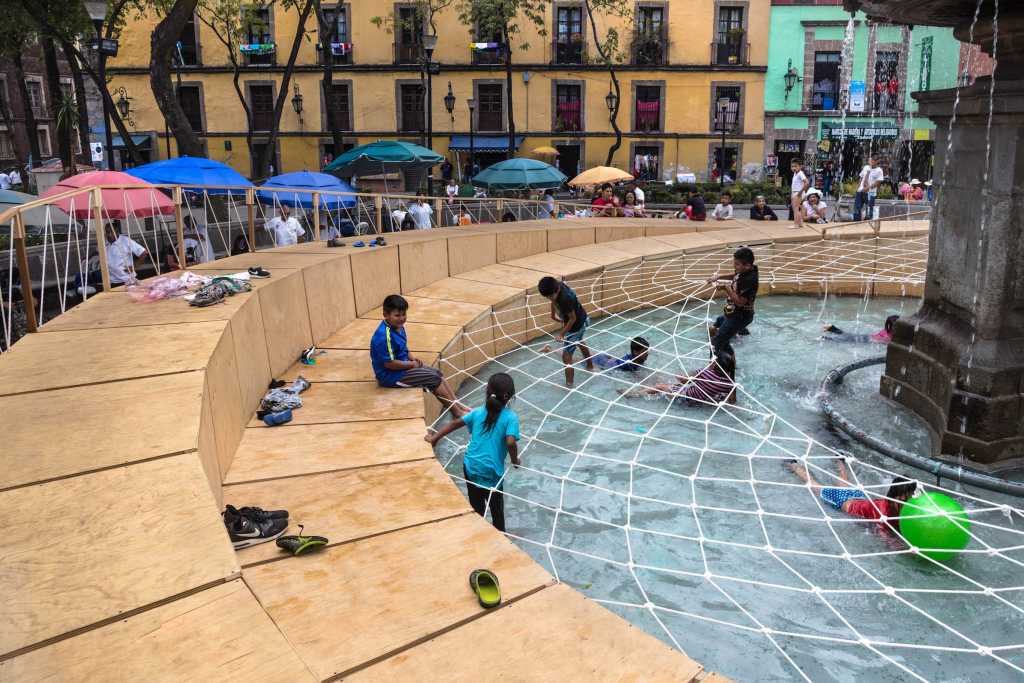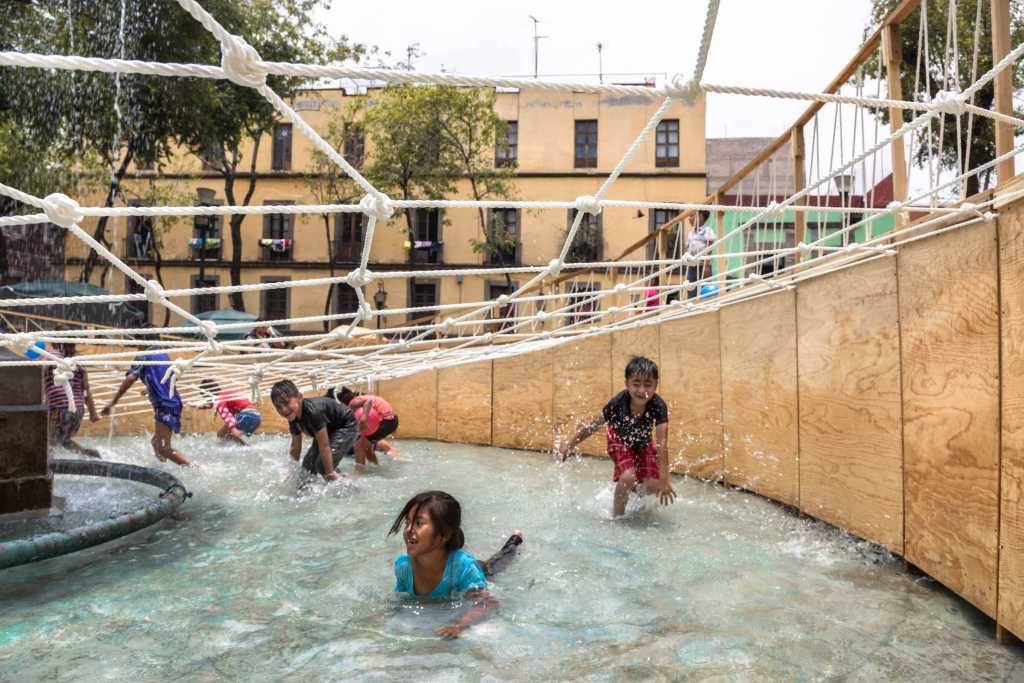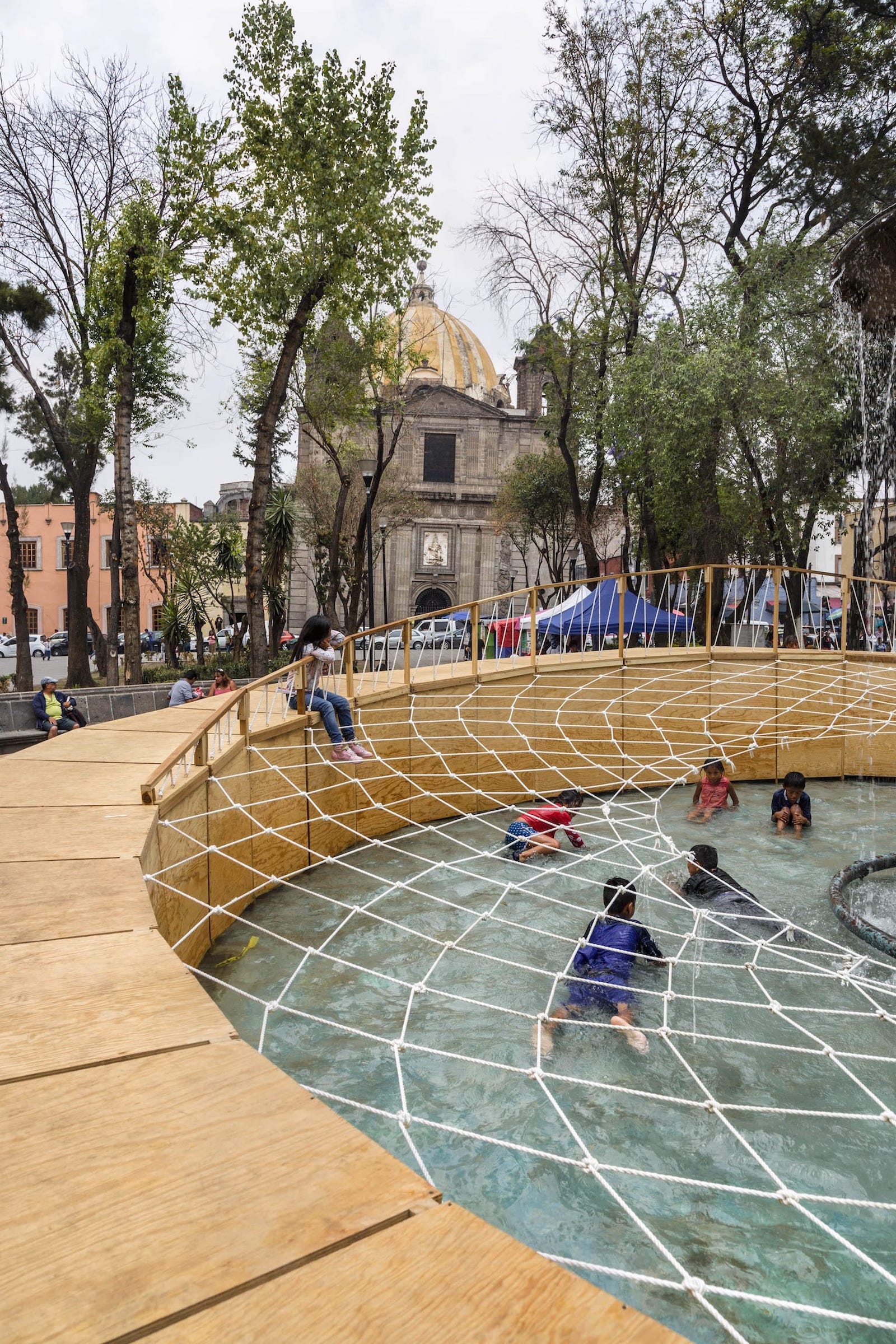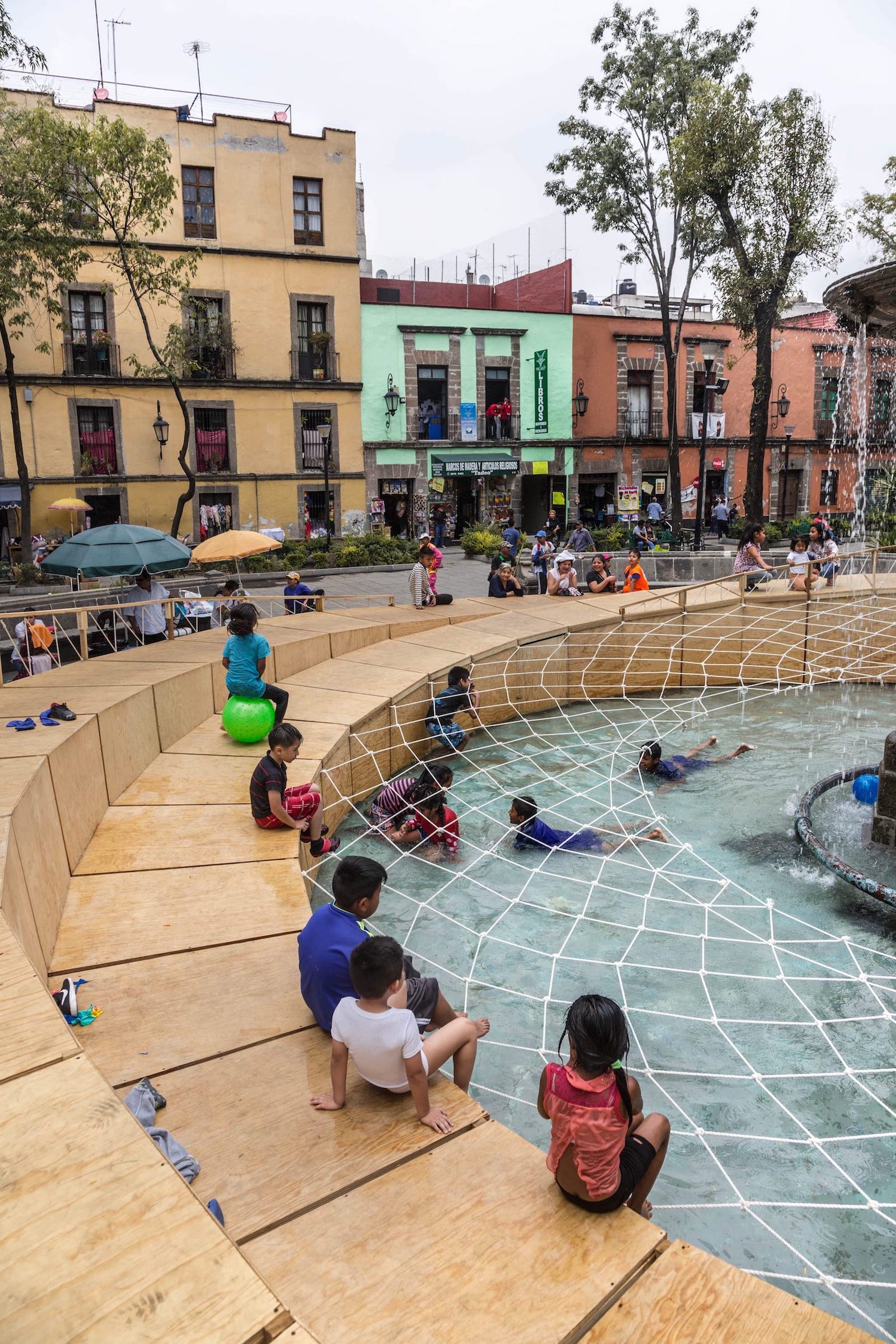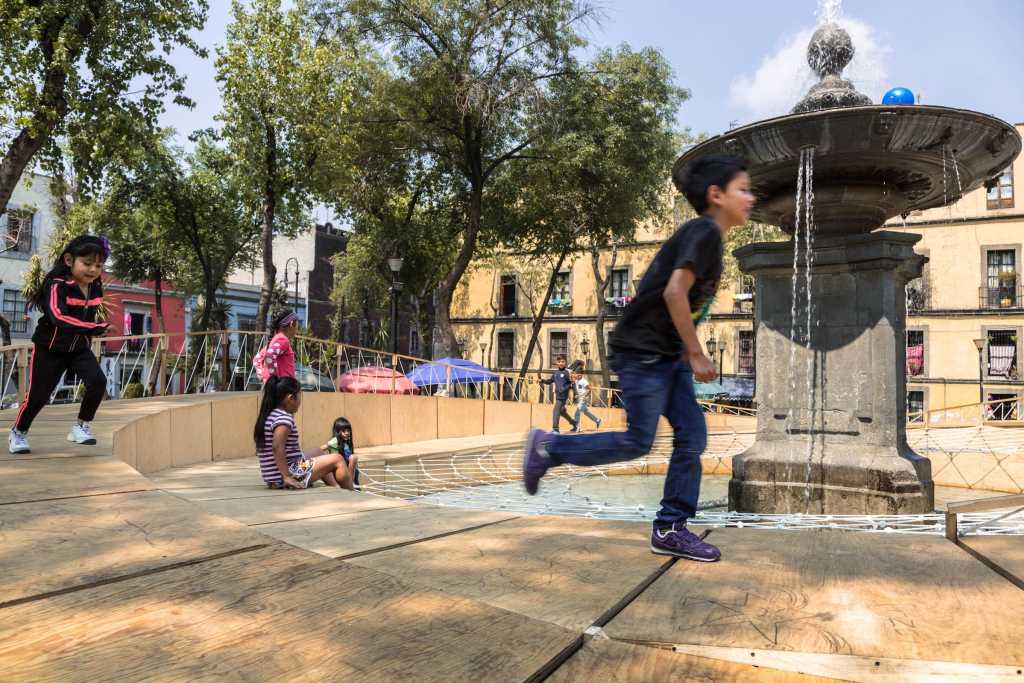 轴测图  Axonometric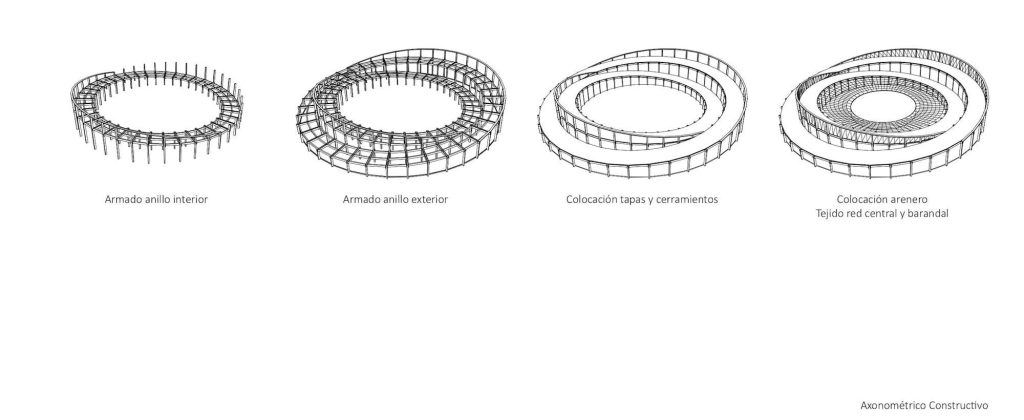 立面图/剖面图  Elevation/Section
细节  Details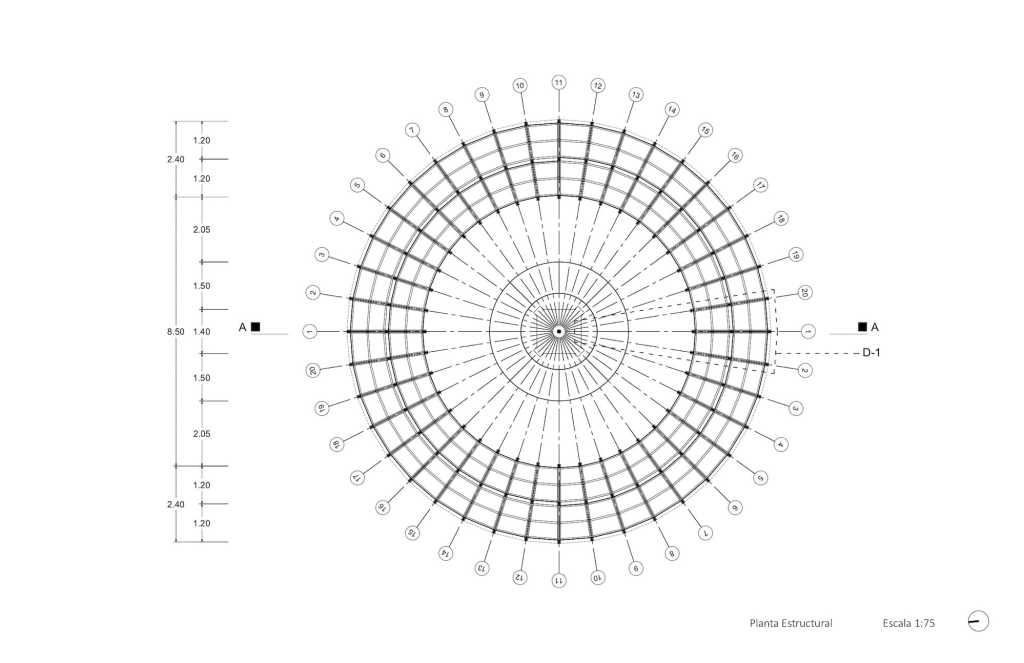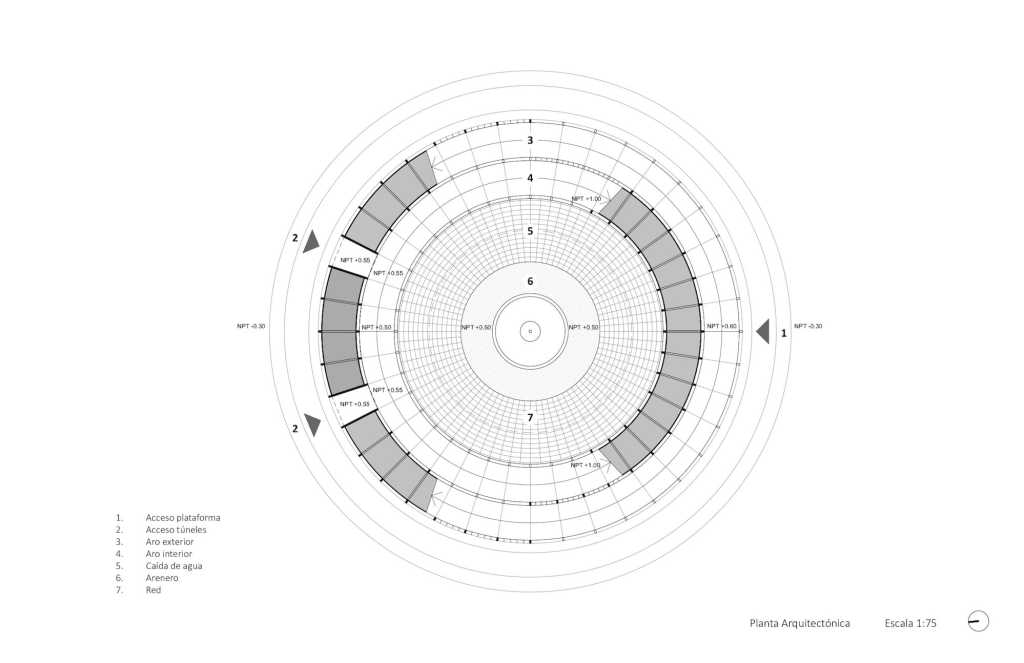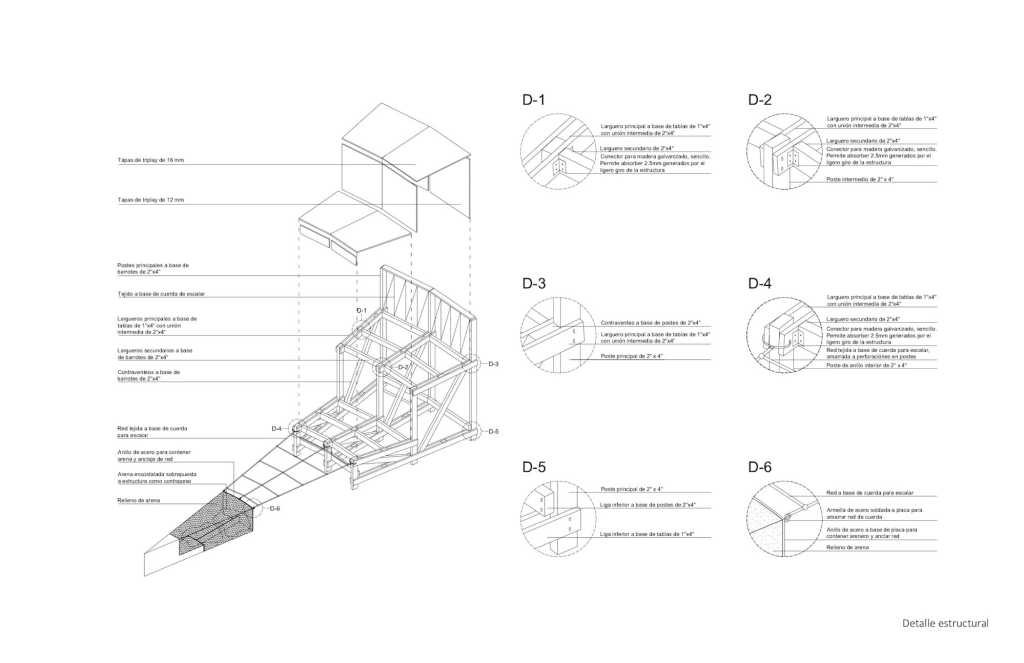 Project design: PALMA (Ilse Cardenas, Regina de Hoyos, Diego Escamilla, Juan Luis Rivera)
Teams: Tonatiuh Armenta
Contractor: La Invencible
Photography: Onnis Luque
Location: Loreto Square, Historic Center, Mexico City
Year: 2018
Area: 140m2