2012年,Sanitas Studio受Sansiri PLC的委托,在泰国华欣的Khao Takieb附近为低层共管公寓做景观设计。场地面积约4 000㎡,与2栋楼、4层和7层楼互补。每个建筑都是L型的,以矩形的形式构成一个巨大的开放空间或中心庭院。地点离海约500米,没有任何与海滩相连的边界。这个网站最有潜力的地方就是从高层体验全景视角。你可以从东方触摸蓝天,深蓝的大海,从南方欣赏高尔夫球场的绿色风光,继续往西看大山。
In 2012, Sanitas Studio  was commissioned by Sansiri PLC to do landscape design for low-rise condominium  near by Khao Takieb ,Hua Hin, Thailand. Site area is about 4 Rai that complementary  with 2 buildings, 4 and 7 storey. Each building is in L shape and composed in form of rectangular to create a great open space or center court.  Site location is far from the sea about  500 m. and no any boundary connected to the beach. The most potential of this site is the experience of panorama view from high level. You can touch the blue sky with deep blue sea from the East and delight  with green  view of golf course from the South and continue to the big mountain at the West.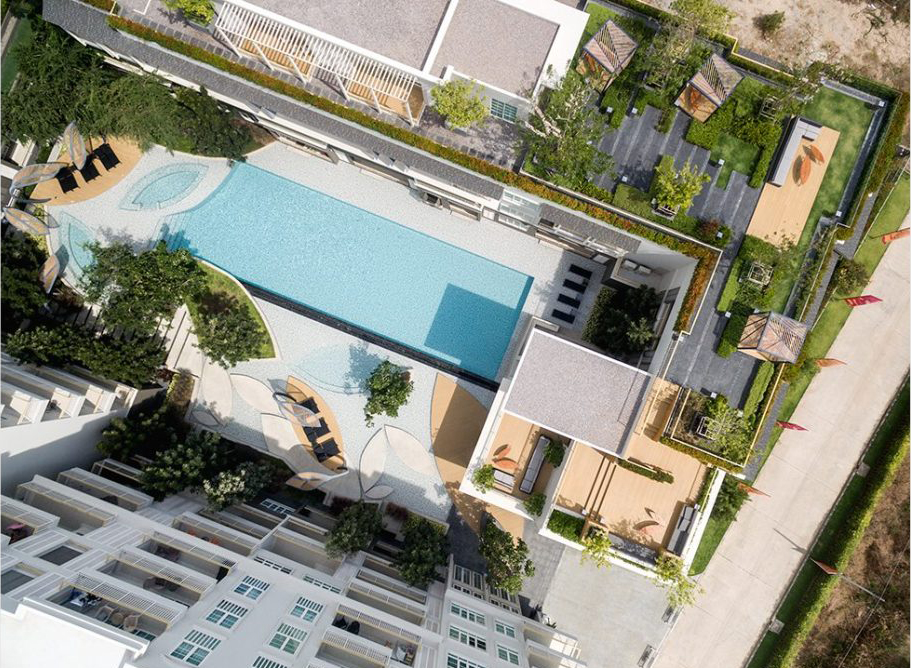 从项目名称"秋"这一意指秋季,Sanitas Studio用秋季的落叶的重复来诠释其独特之处。落叶的氛围成为景观设计的主要概念。我们建议在一楼提供场地,为居民提供足够的停车区域和大的落差,美丽的中央庭院,营造舒适的氛围,以及在建筑上的后花园,以安全的考虑。4层甲板上的屋顶花园是每个居民的公共空间,提供了一个相当寒冷的空间,全景视角是本网站的亮点。
From project name, "Autumn" that mean falling season, Sanitas Studio interpret the unique  with repetition of  falling leave in autumn. The atmosphere of falling leave were became the main concept of landscape design. We proposed to provide the area on ground floor to serve the resident with enough parking area and the grand drop off, beautiful center court that create an comfortable atmosphere, and the back garden in strip shape along the building that considerate with security. Roof garden on 4th storey deck is public space for every resident, provided a pretty chill out space with panorama view that is the highlight of this site.
Autumn Huahin公寓景观场地平面设计图,叶片堆积在水面上形成的有趣的图形和地面,发展为空间和元素的细节。利用叶片这一设计语言贯穿景观各个元素,包括场地、铺装、亭子、座凳、灯具以及任何元素的实体图案。
The plan for the landscape site of Autumn Huahin apartment, the interesting graphics and ground formed by the accumulation of leaves on the water surface, develop into the details of space and elements. The design language of leaves is used throughout the various elements of the landscape, including the site, the shop, the pavilion, the stool, the lamps and lanterns, and the solid patterns of any elements.
Photos by Wison Tungthunya.
项目名称:泰国华欣"秋叶"公寓住宅景观
项目类型:公寓住宅
位置:泰国
面积:4000平方米
开发商:Sansiri
完成年份:2013
设计公司:Sanitas Studio
Project name: Autumn Huahin
Project type: Roof Garden
Location: Thailand
Area: 4000㎡
Client:Sansiri
Completed: 2013
Designer: Sanitas Studio