本文由 Marianne Levinsen Landskab 授权mooool发表,欢迎转发,禁止以mooool编辑版本转载。
Thanks Marianne Levinsen Landskab for authorizing the publication of the project on mooool, Text description provided by Marianne Levinsen Landskab.
Marianne Levinsen Landskab:自行车道、小径和花坛将巴勒鲁普大道从一条交通繁忙的道路转变为一个休闲绿地。林荫大道是城市发展的主干路径,从长远来看,它将成为一条重要的绿色走廊。
Marianne Levinsen Landskab: Bicycle lanes, paths and flowerbeds have transformed Ballerup Boulevard from being a heavy traffic road to being a recreational green space. The boulevard is the backbone of a larger city development and will in the long term serve as an important green corridor.
▼顶视 Top view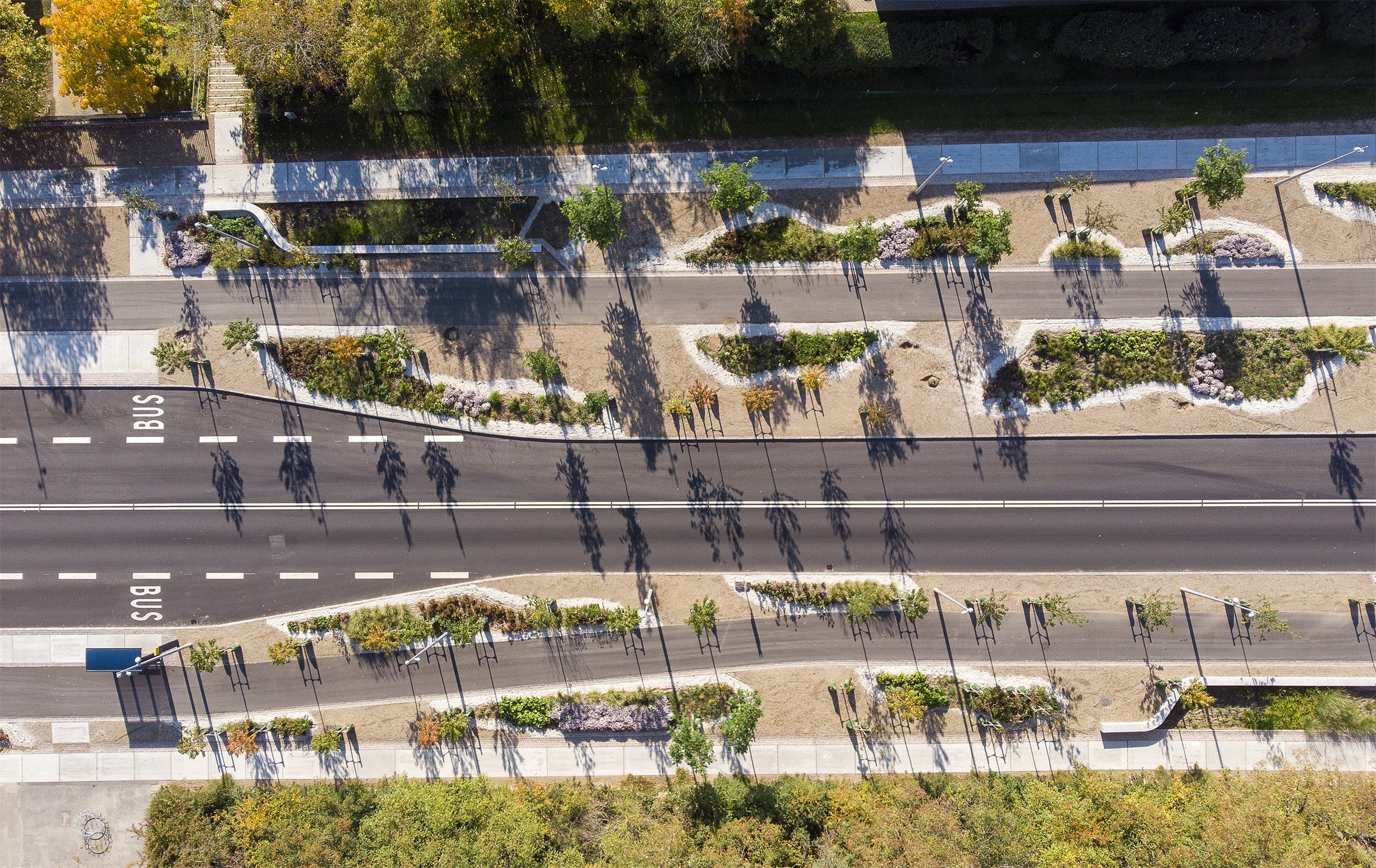 巴勒鲁普大道从一条交通繁忙的道路转变为一个具有强烈叙事特征的城市绿色空间。这条路从四车道缩减为双车道,变成了一条绿色的林荫大道。
Ballerup Boulevard is converted from being a road with heavy traffic to being an urban space with a strong narrative and green identity. The road is narrowed from four to two lanes and has become a green boulevard.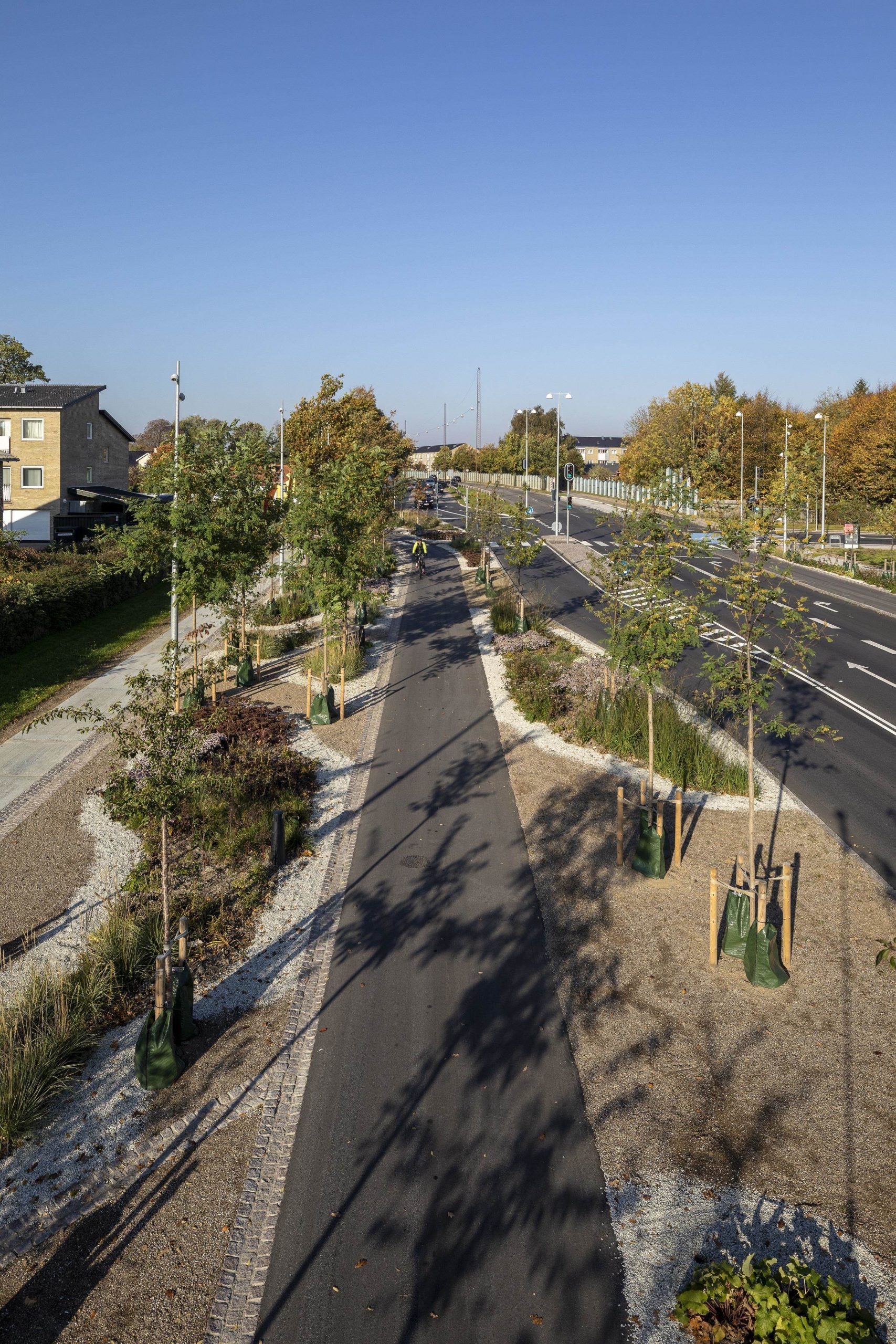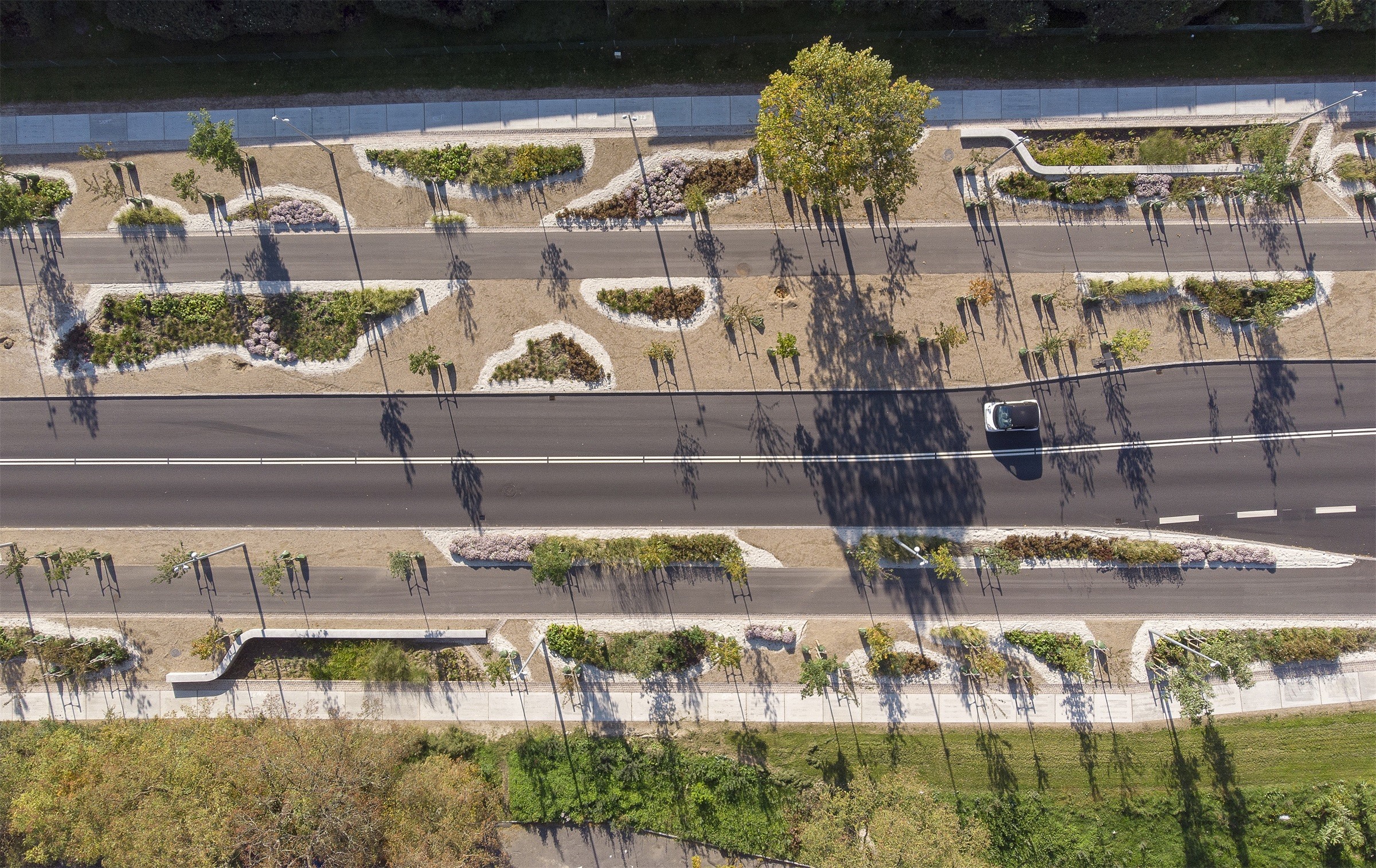 原来的小路被改造成用于休闲的绿色空间,有开放式水处理系统(LAR)、树木和广阔的花坛,绿意盎然。人行道和自行车道旁设有长凳,营造出许多街边小空间。
The former lanes are transformed into a recreational green park with open water treatment (LAR), trees and extensive flowerbeds. The greenery creates small spaces with benches along the pavements and bicycle lanes.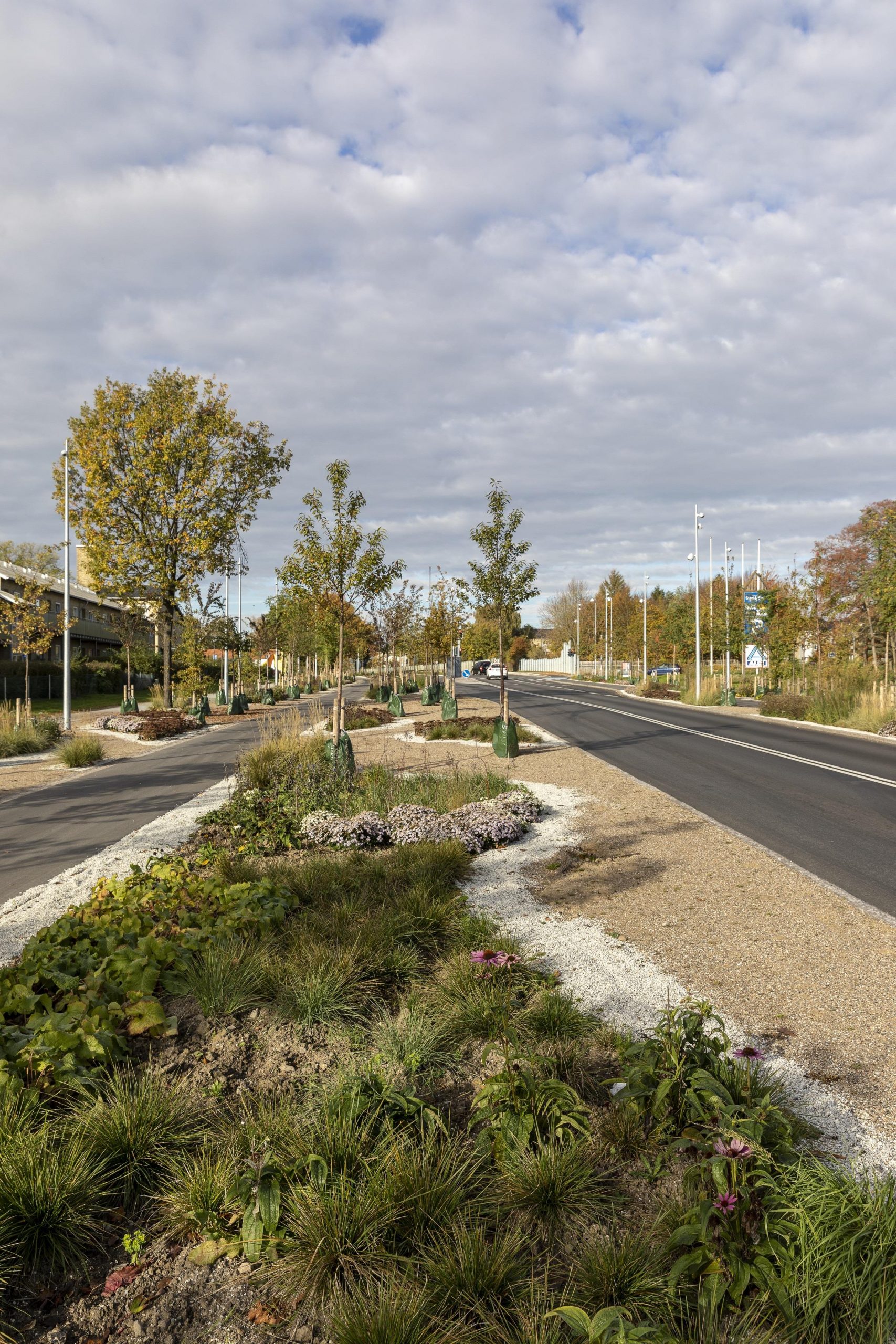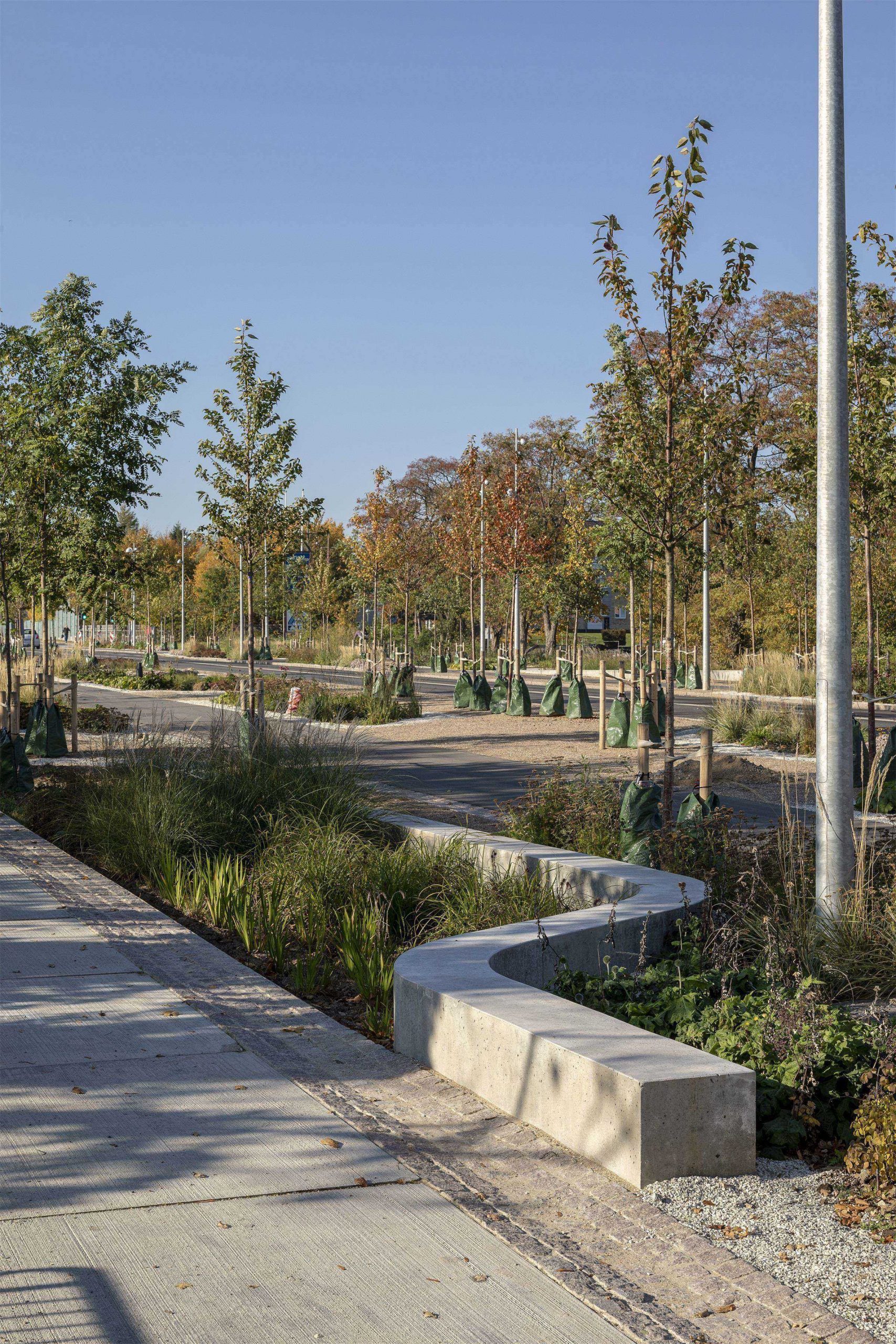 该设计在城市领域赋予了巴勒鲁普大道一个新的身份。巴勒鲁普大道的改造是一个战略性的城市规划项目,象征着这一区域城市可持续性发展策略的启动。从长远来看,大道上种植的众多树木会给这里带来郁郁葱葱的绿色景象,这条林荫大道将成为城市发展的中枢轴线。
The design has given Ballerup Boulevard a new identity in the urban realm. However, the transformation of Ballerup Boulevard is a strategic city planning project and symbolizes the "beginning" of an extended development. The number of trees will in the long term give the Boulevard a lush and a green character. The green corridor will serve as the backbone of the city which is about to develop along the boulevard.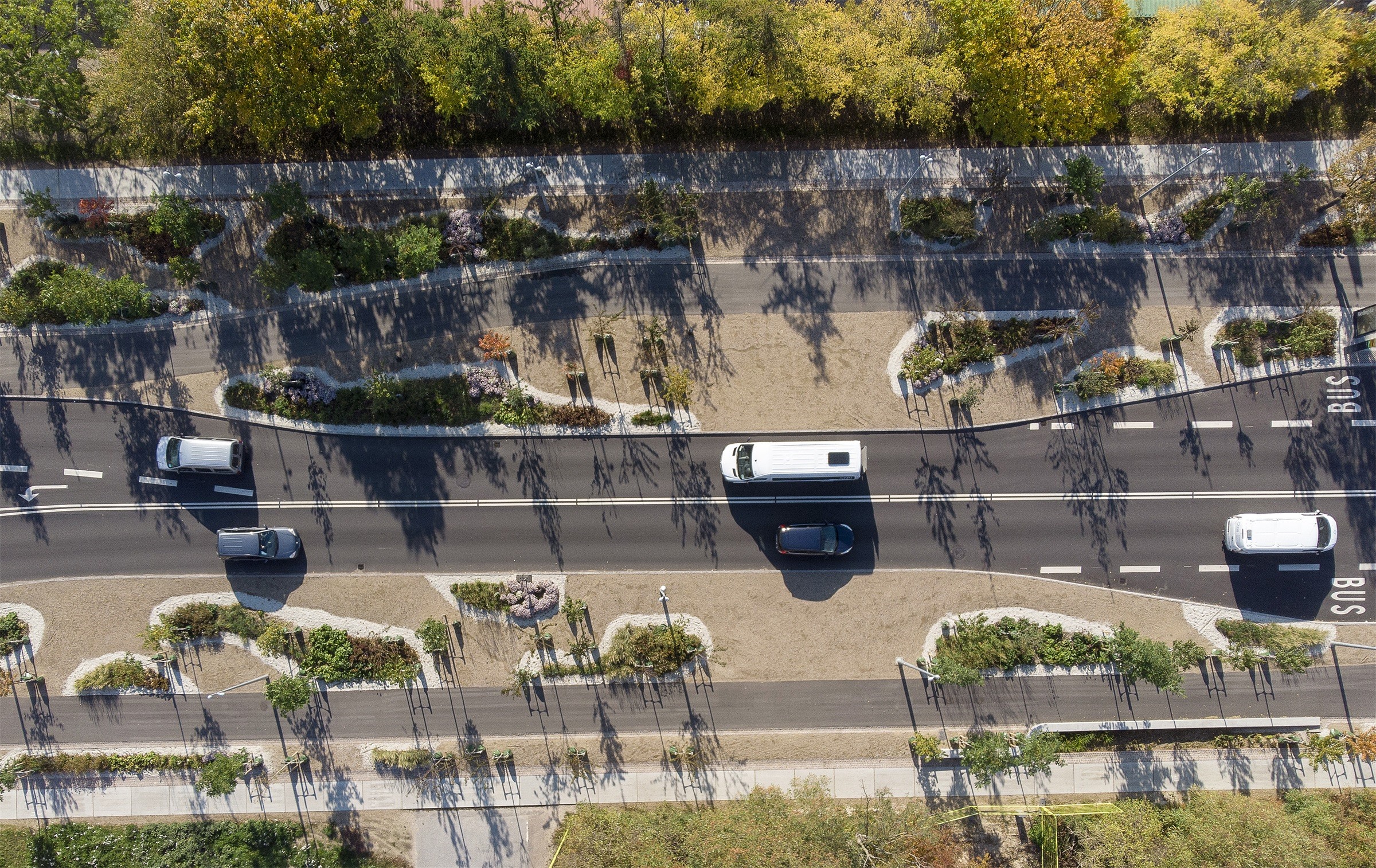 ▼总平面图 Master plan
▼巴勒鲁普大道平面图 Plan of Ballerup Boulevard

项目名称:巴勒鲁普大道
竣工年份:2018
项目地点:丹麦巴勒鲁普
景观/建筑公司:Marianne Levinsen Landskab ApS
网址:www.mariannelevinsen.dk
联系邮箱:Ml@mariannelevinsen.dk
主创:Marianne Levinsen
客户: Ballerup Kommune og Forsyniningen Ballerup
合作者:Jesper Kongshaug(照明)
照片来源:Torben Eskerod
摄影师网站:www.torbeneskerod.com/
Project name: Ballerup Boulevard
Completion Year: 2018
Project location: Ballerup, Denmark
Landscape/Architecture Firm: Marianne Levinsen Landskab ApS
Website: www.mariannelevinsen.dk
Contact e-mail: Ml@mariannelevinsen.dk
Lead Architects: Marianne Levinsen
Clients: Ballerup Kommune og Forsyniningen Ballerup
Collaborators: Lighting by Jesper Kongshaug
Photo credits: Torben Eskerod
Photographer's website: www.torbeneskerod.com/
---
"留白、裸露的砾石与混栽的植物形成独特的基底图案,可以享受行走其间与停留休憩的乐趣。"
审稿编辑  HOU
更多 Read more about: Marianne Levinsen Landskab