本文由Group Three Design授权mooool发表,欢迎转发,禁止以mooool编辑版本转载。
Thanks Group Three Design for authorizing the publication of the project on mooool, Text description provided by Group Three Design.
Group Three Design:位于曼谷大道的Sathorn-Pinklao 2是泰国曼谷的现代化豪华住宅开发项目,占地25英亩。这是一个关于"河边的北欧人"的伟大构想,因为它位于海滨城市克朗马哈索瓦。景观设计主要通过连接河流、空间网络、细线过渡这三个主要设计概念来进行考虑。
Group Three Design:Bangkok Boulevard Sathorn-Pinklao 2 is the 25-acre modern and luxury housing development in Bangkok, Thailand. It comes with the big idea of "The Nordic by the River" since it is in waterside location, Klong Mahasawat. Landscape design is considered through 3 main design concepts, which are Connection Flow, Space Networking, and Slim Line Transition.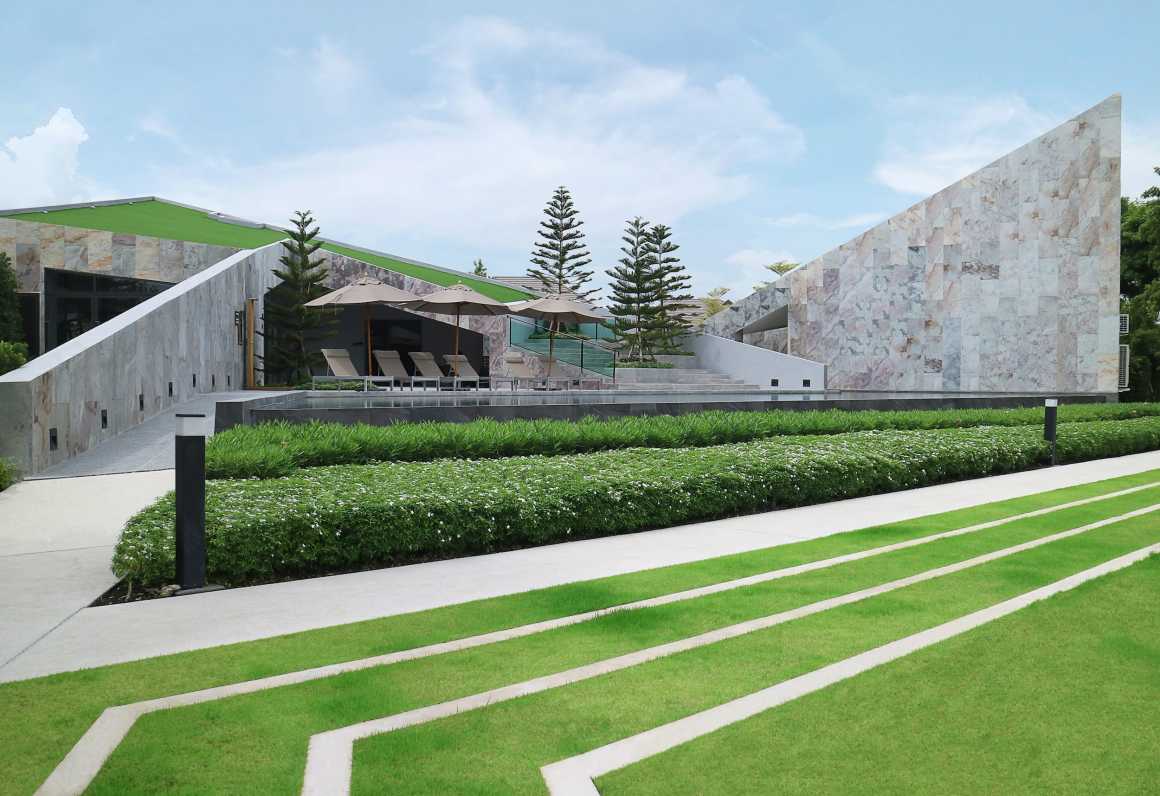 ▼设计灵感 Design Concept

▼会所平面图  Club House Plan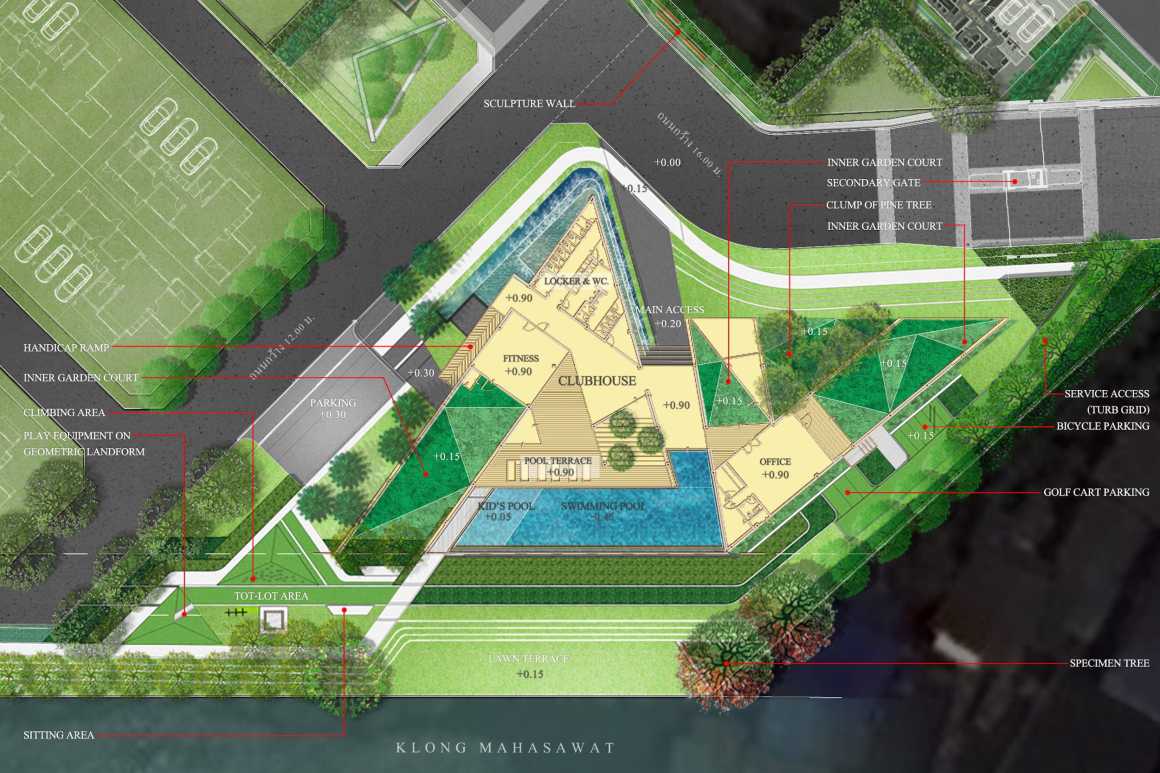 当居民第一次进入主干道时,他们会从树冠和五彩缤纷的灌木组成的秋季花园中感受到一种轻松的氛围。此外,带有青铜巨鲨鱼群雕塑的水景也似乎是在迎接从停车场过来的人,引导他们走向大门和安检点。
When the residents first entry to the main access road, they would find a relaxing atmosphere from tree canopy and autumn garden with mixed colour shrubs. Moreover, the water feature with bronze jumping fish herd sculpture is also ready to welcome them at the motor-court, towarding to the main gate and security checkpoint.
在滨水会所,松树作为建筑的一部分,让居民感受到北欧的氛围。占地1英亩的水边公园,包括草坪露台、育婴室和带休息区的小空地,通往水边的道路被透明栅栏包围,这样居民在公园里休闲时可以与外面的自然运河互动。几何形状在这里也起着重要的作用,尤其是作为景观元素,如几何形的铺路石、停车场和长椅,这些元素都与会所形成统一。
For the waterfront clubhouse, Pine trees are added as a part of the architecture to make the residents recognize Scandinavian (Nordic) atmosphere. The 1-acre waterside park, including lawn terrace, woo den daybeds, and tot-lot with sitting area, is enclosed by the see through fences to the water way, so the residents could interact to the natural canal outside while they are having leisure time in the park. Geometric form also plays an important role, especially as the landscape elements, such as paveway, tot- lot and benches, in order to be blend together with the clubhouse.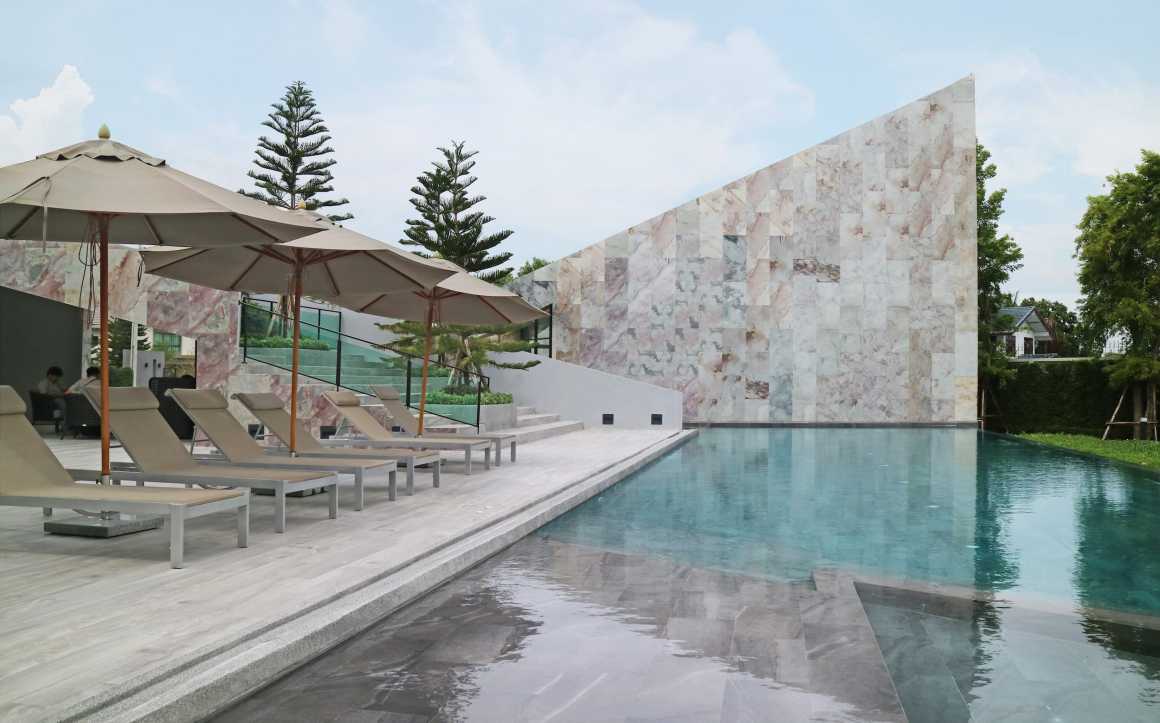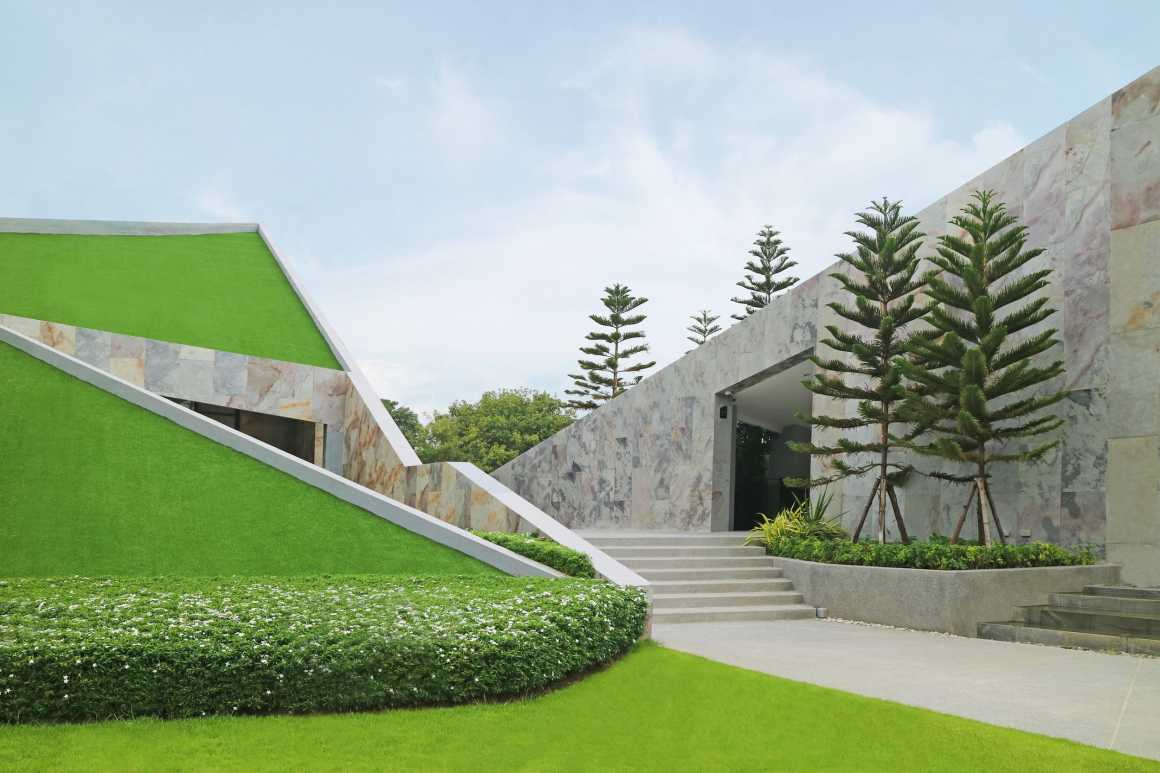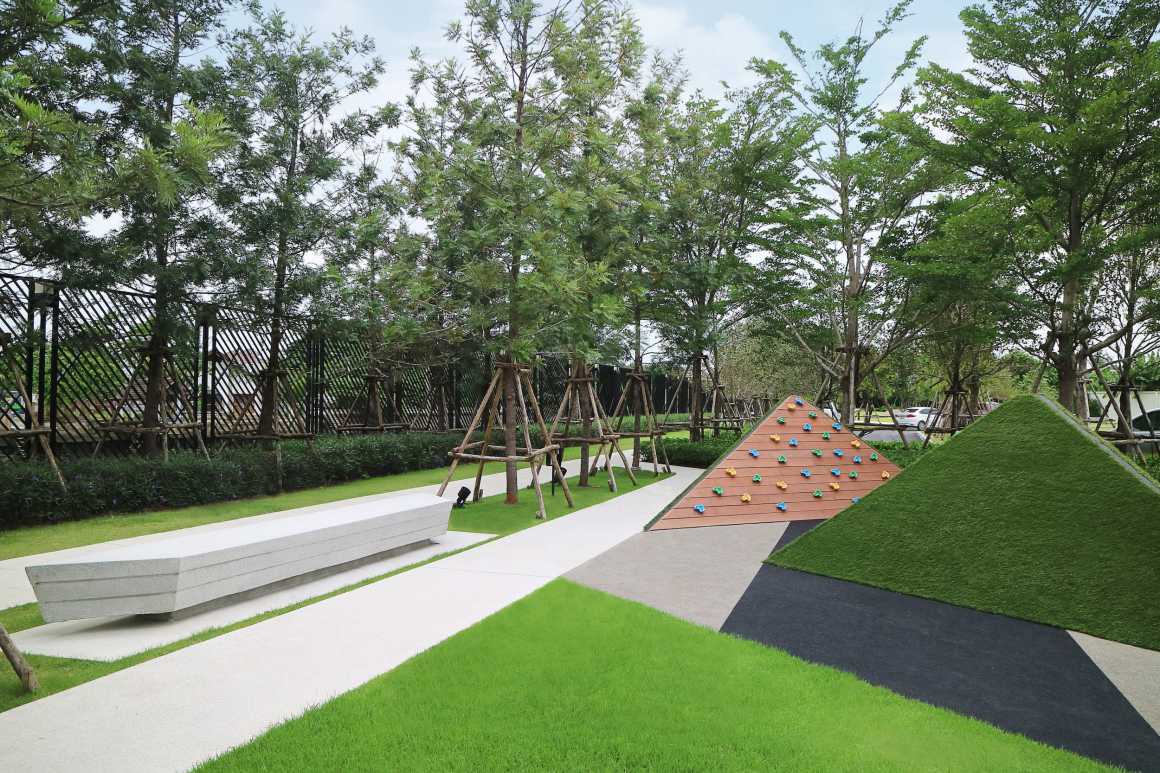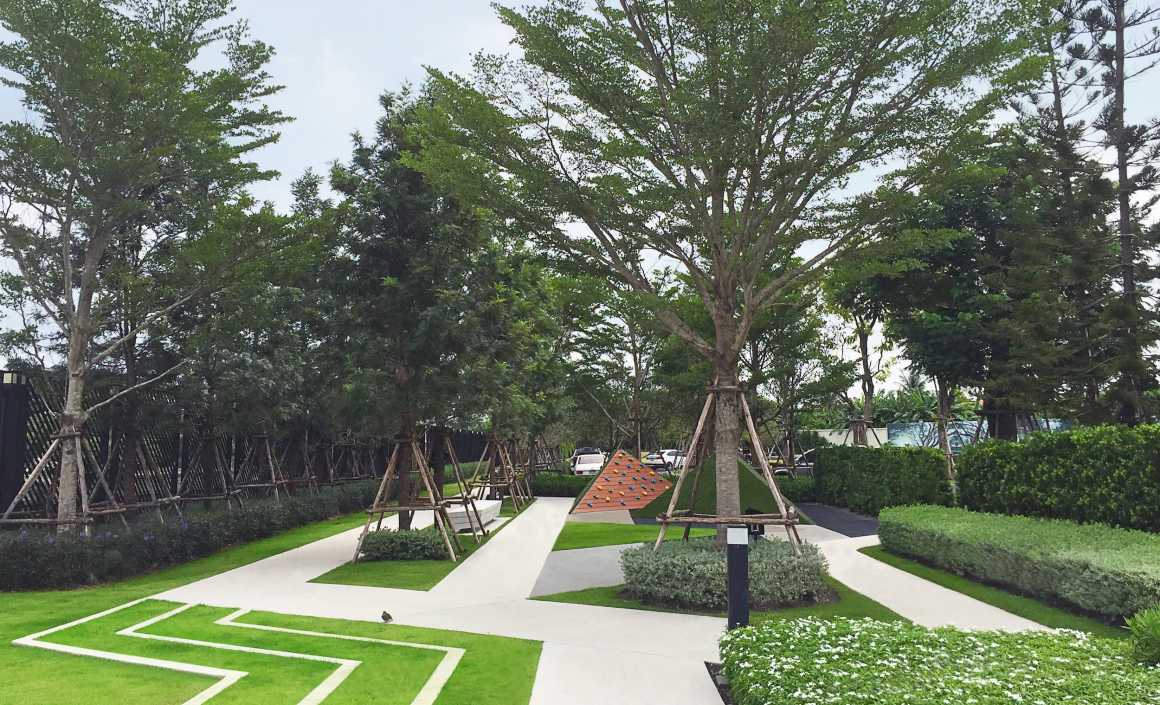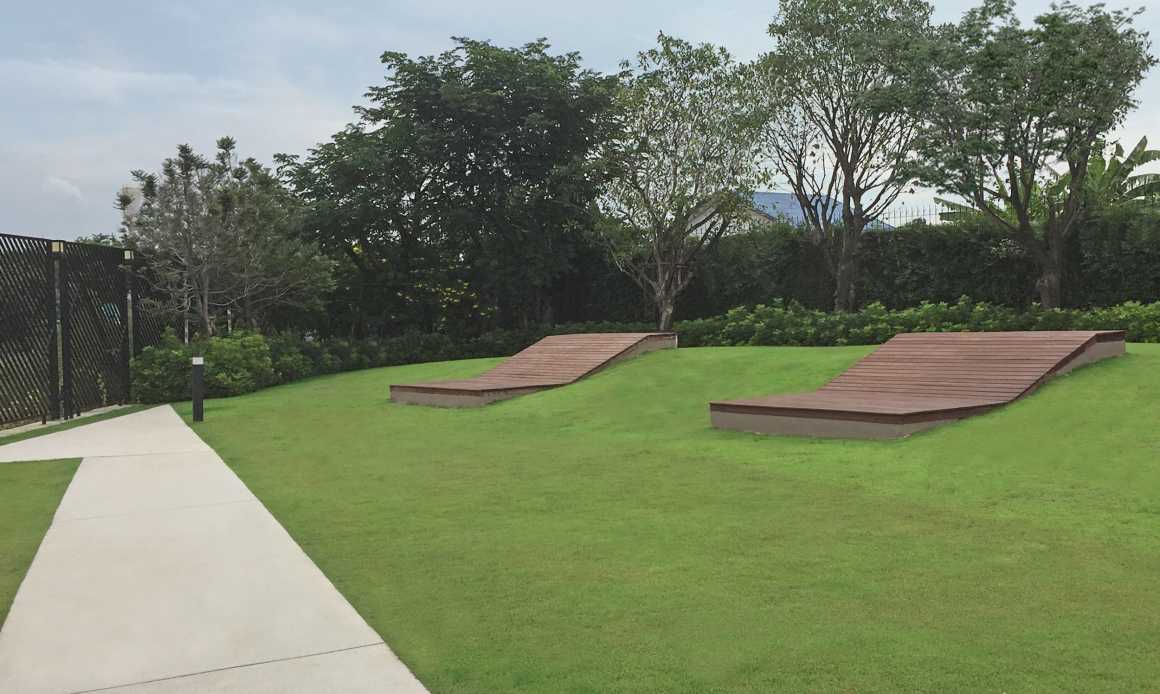 主体公园的设计理念是由水、土丘、草地等许多自然元素组合而成。此外,我们还增加了高架露台,以便人们获得较高的视野。所有的居民都可以从这个社区开放空间的每个区域获得不同的氛围。有趣的线条和形式创造出整个项目场地的和谐,同时公园给居民带来放松和快乐。
The main park's design concept is compounded from many natural elements, such as water, mound, meadow, etc. In addition, the elevated terrace is also added to take a high view. All residents could get various atmospheres from each zone in this neighborhood open space. Interesting lines and forms are used to create harmony of the entire project site while the park could provide relaxation and enjoyment to the residents at the same time.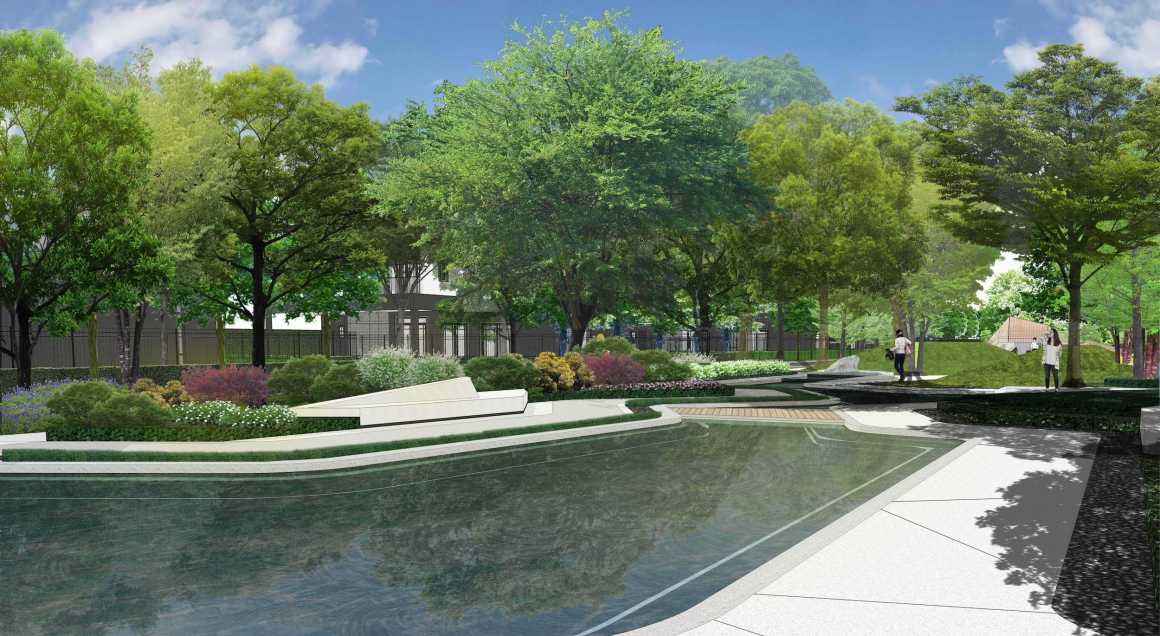 松树、攀缘灌木和其他植物带给人们冬季的感觉,斯堪的纳维亚特色的植物种植在展示房屋的室外平台。此外,我们放置木制家具和其他装饰品是为了使一切看起来更温暖,居民可以放松享受他们的户外生活。
Pine trees, topiary shrubs, and other plants that provide the feeling of winter and Scandinavian characteristic are used for the outdoor terrace of show houses. Moreover, wooden furniture sets and other ornaments are chosen in order to make everything look warmer and the residents could enjoy their outdoor living.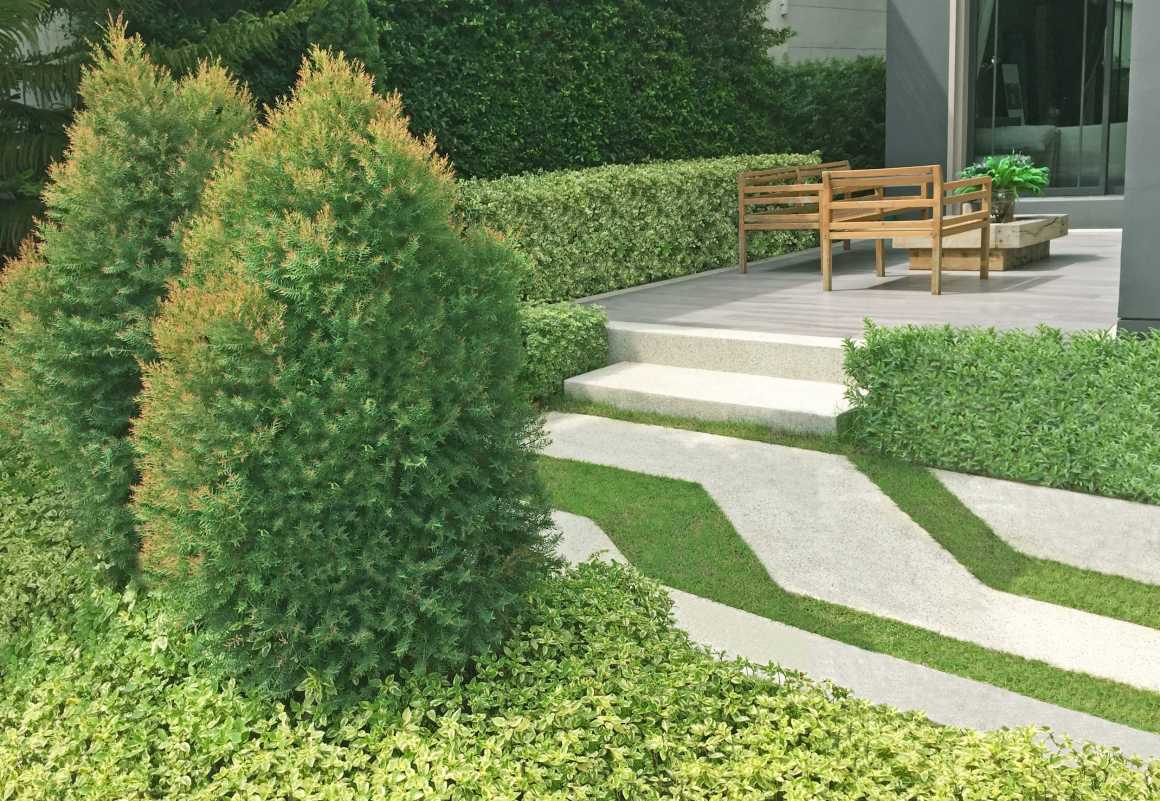 © Group Three Design
开发商: SC Asset Corporation PLC.
景观设计: Group Three Design,Architectural Design| IDIN Architects
摄影: G3D Photo Group
地点: 泰国曼谷拉查普瑞克路
Client: SC Asset Corporation PLC.
Landscape Architectural Design: Group Three Design,Architectural Design | IDIN Architects
Photography: G3D Photo Group
Location: Ratchaphruek Rd., Bangkok, Thailand
更多 Read more about: Group Three Design