本文由El Equipo Mazzanti授权mooool发表,欢迎转发,禁止以mooool编辑版本转载。
Thanks El Equipo Mazzanti for authorizing the publication of the project on mooool, Text description provided by El Equipo Mazzanti.
El Equipo Mazzanti:巴兰卡体育中心和公共空间位于哥伦比亚桑坦德的巴兰卡韦梅哈的一个有着大量社会问题历史的地区。于2014年开发设计,2016年完成施工。它为社区提供了1000平方米的建筑面积,并辅以7,000平方米的公共空间,为该镇创造了一个新的城市中心并带来了社会活力。
El Equipo Mazzanti:Barranca Sports Center And Public Space is located in Barrancabermeja, Santander, Colombia; in an area that has a large history of social issues. With a design period developed in 2014 and a construction period completed in 2016, it offers the community a 1.000 m2 constructed area complemented with 7.000 m2 of public space, creating this way a new centrality and social dynamics in the town.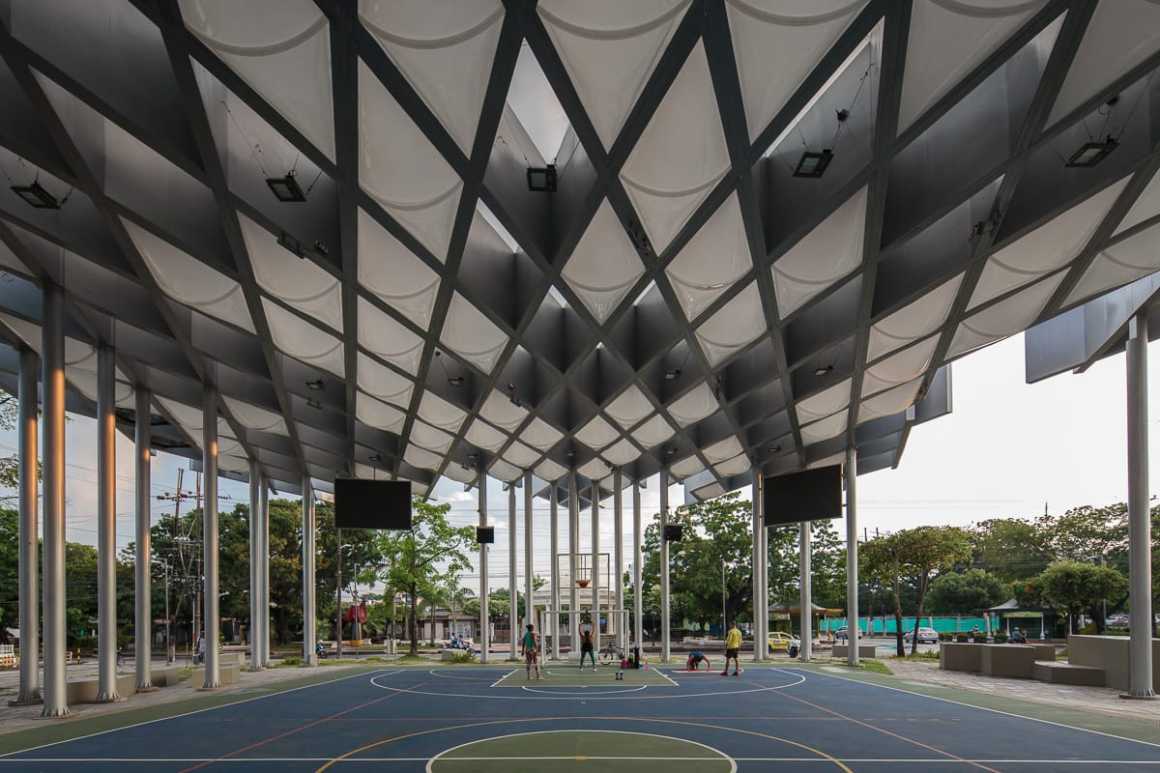 该项目的目的是创造一个开放的空间,真正发挥社区在城市建设中的作用。这里的组件系统由一个个细长的菱形块组成,这些菱形块在基本模块或互补模块中相互作用结合,形成一个适应性强、能够不断增长和转换的结构。慢慢的,一个巨大的生成性的天花板从一系列连接和凸起的组件中浮现出来,这些组件能让其位置的现有和独特的真实事件反映渗透到内部。一系列基于自然因素的物理感知,如湿度、热量、寒冷或亮光,伴随着受控元素,如光过滤、风扇和喷雾器,或声音和水的影响,创造了一种自发的氛围,让人们对自己的身体与自然的关系有所感知。
The project's aim is to create an open space that gives true relevance to the role of the community in the construction of a city. A modular system is composed from an elongated rhombus type piece that multiplies and unites in a base module or a complementary module, making an adaptable and progressively growing and transforming structure. A vast generative ceiling emerges from a series of connected and raised pieces that allow existing and unique realities of its location to infiltrate within its interiors. A sequence of physical perceptions based on natural factors such as humidity, heat, cold or luminosity accompanied by controlled elements like light filtration, fans and aspersers, or sound and water implementations, create a spontaneous atmosphere that make people sensible to their own bodies relationship with nature.
▼视频 Video  © Alejandro Arango / Mauricio Velasquez – Pequeño Robot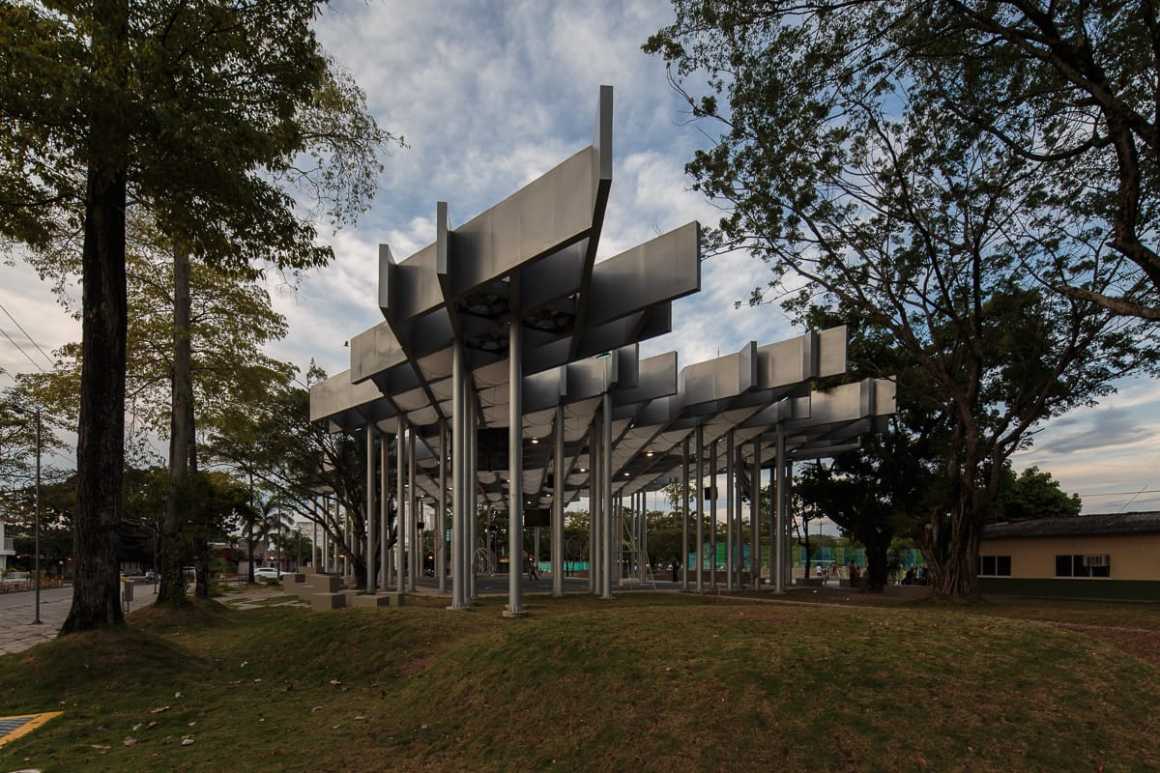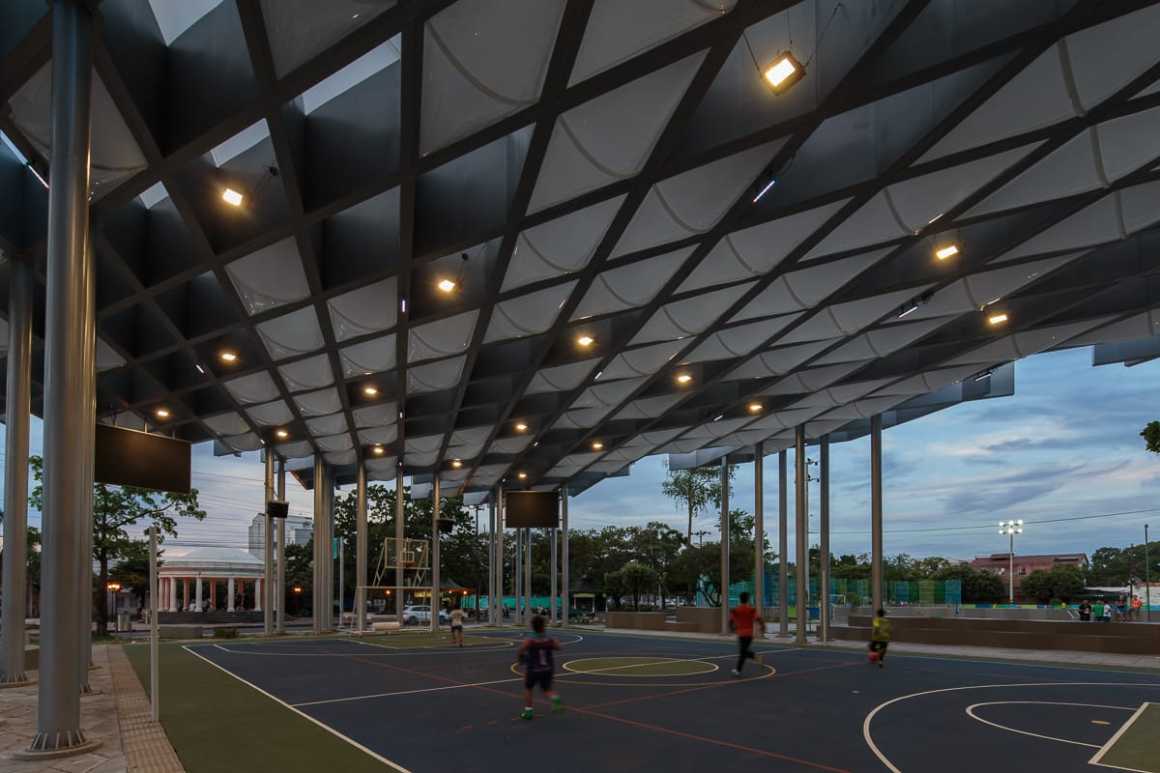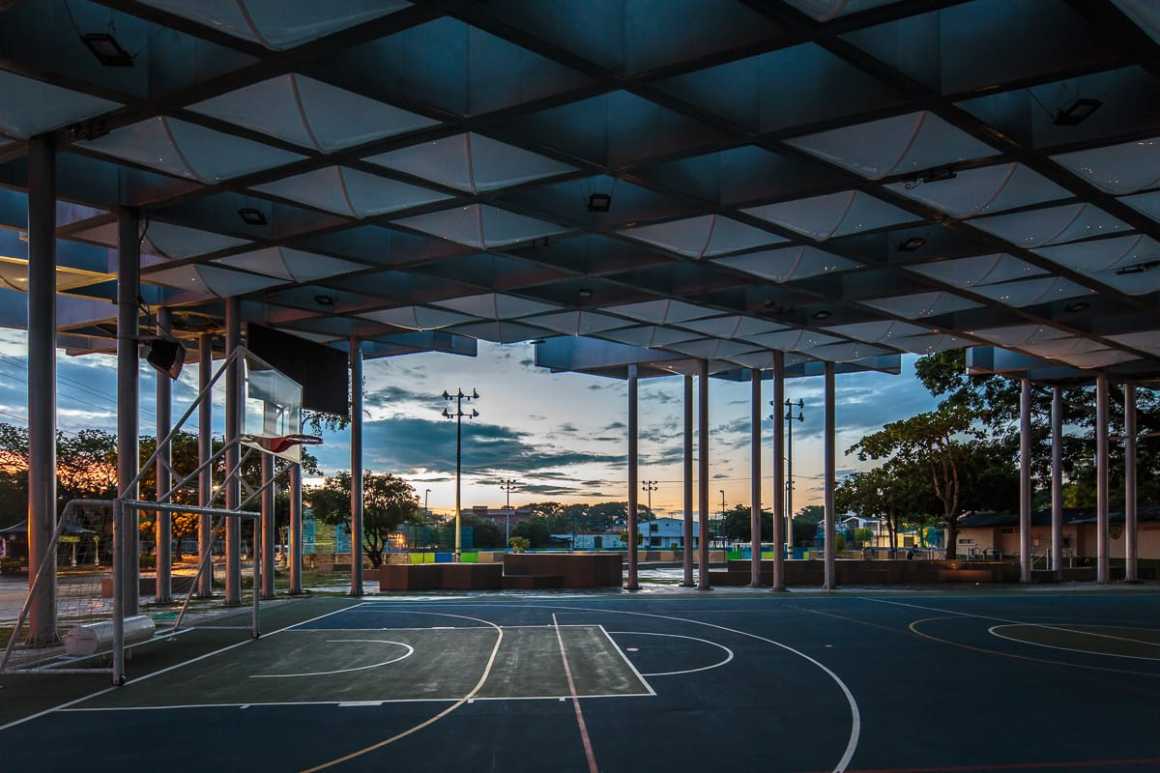 该结构可以作为一种促进从体育、旅游、经济、学术和文化到社交等任何类型活动的工具,利用其开放性来促进人与人之间以及人与自然之间的互动。设计是根据树木和灌木的形状来定义的,这些形状决定了结构是弯曲、膨胀还是环绕。
The structure acts as a tool for promoting any sort of activities ranging from sportive, ludic, economic, academic and cultural, to social, taking advantage of its open kind that suggests interactions between people and with nature. The design is defined by the trees' and bushes' shape, which determine if the structure bends, expands or wraps around them.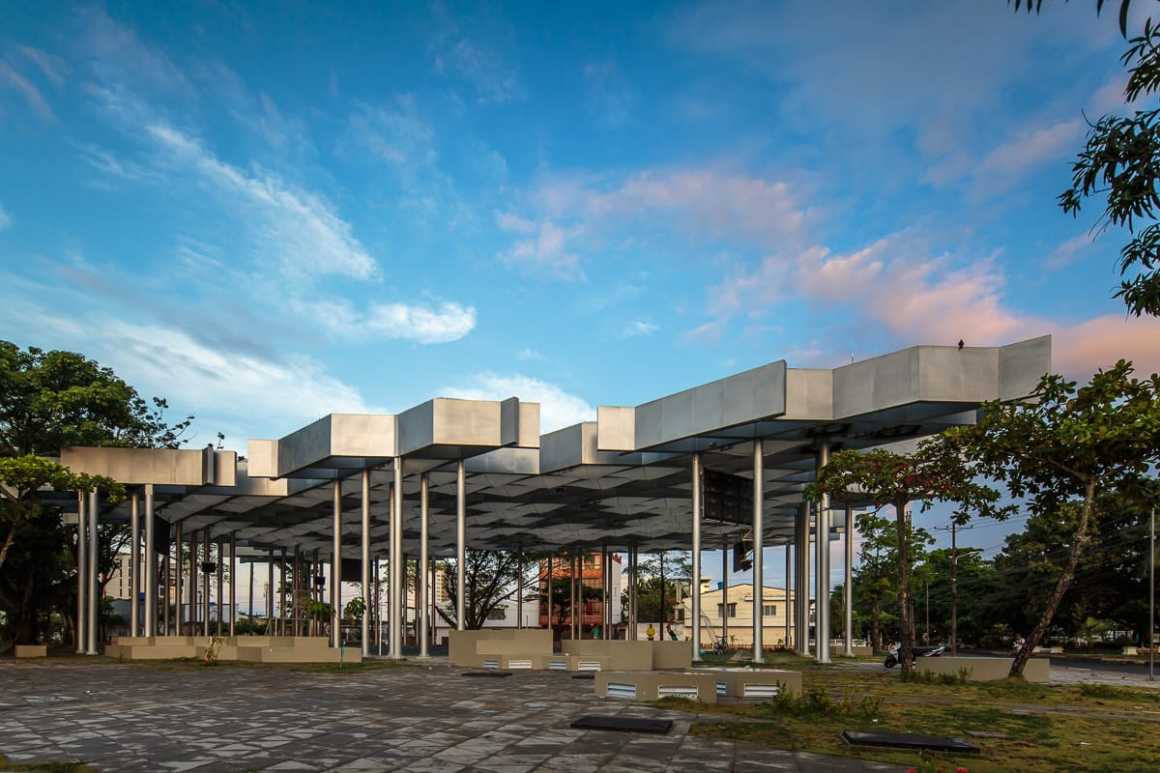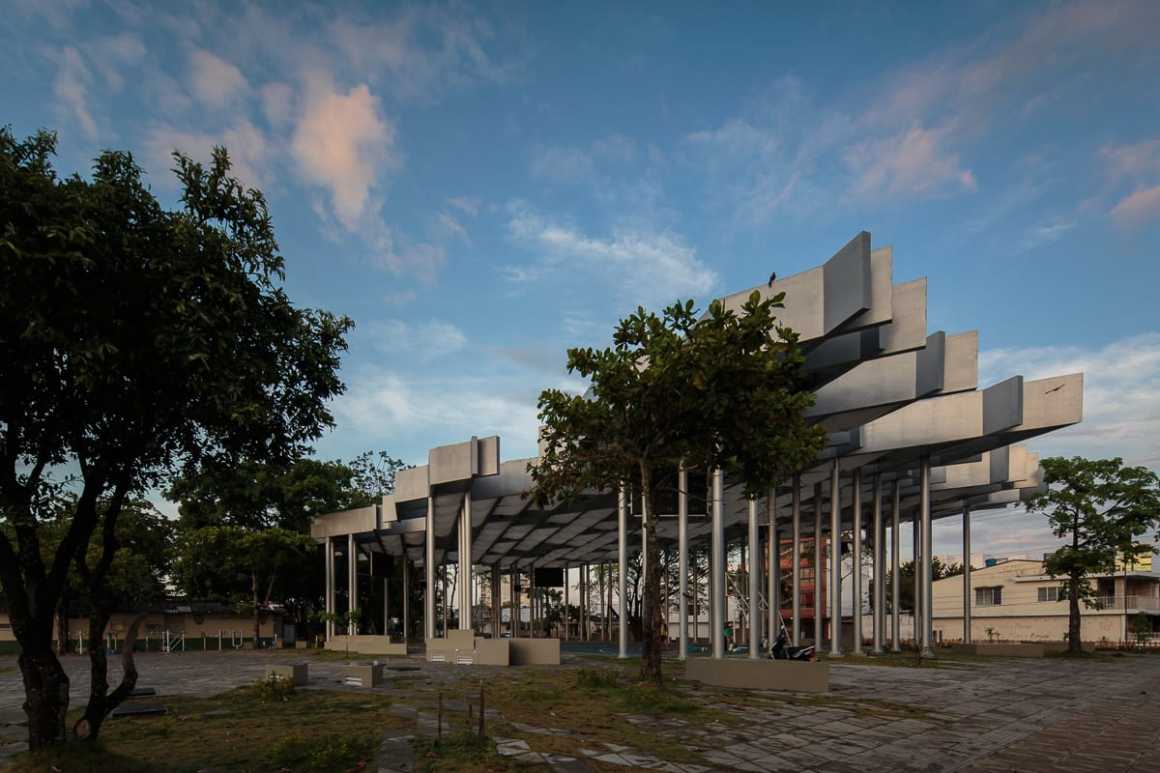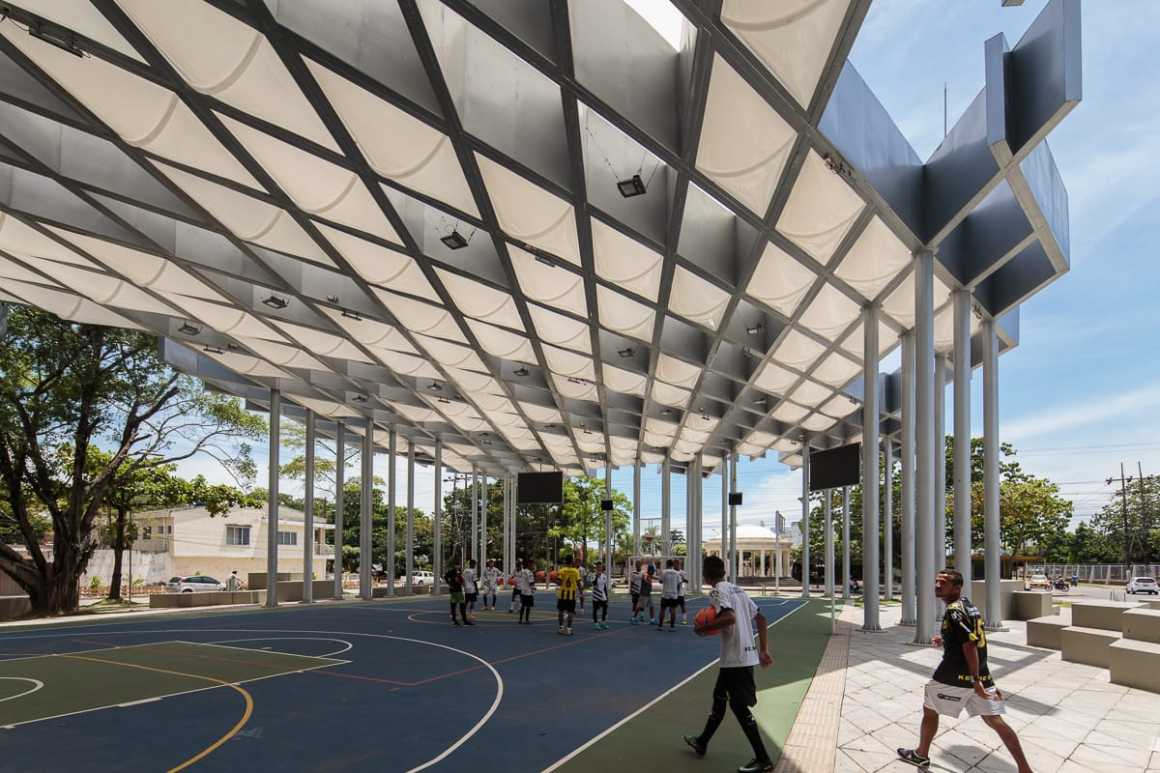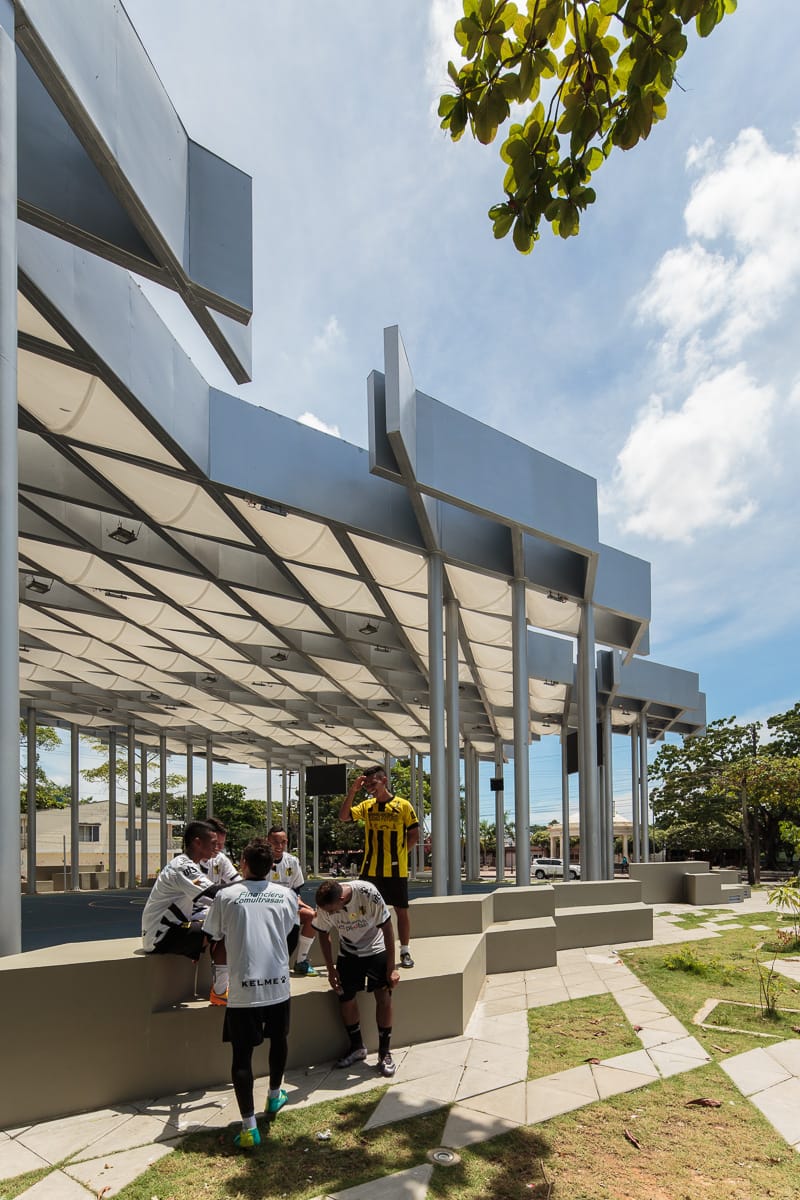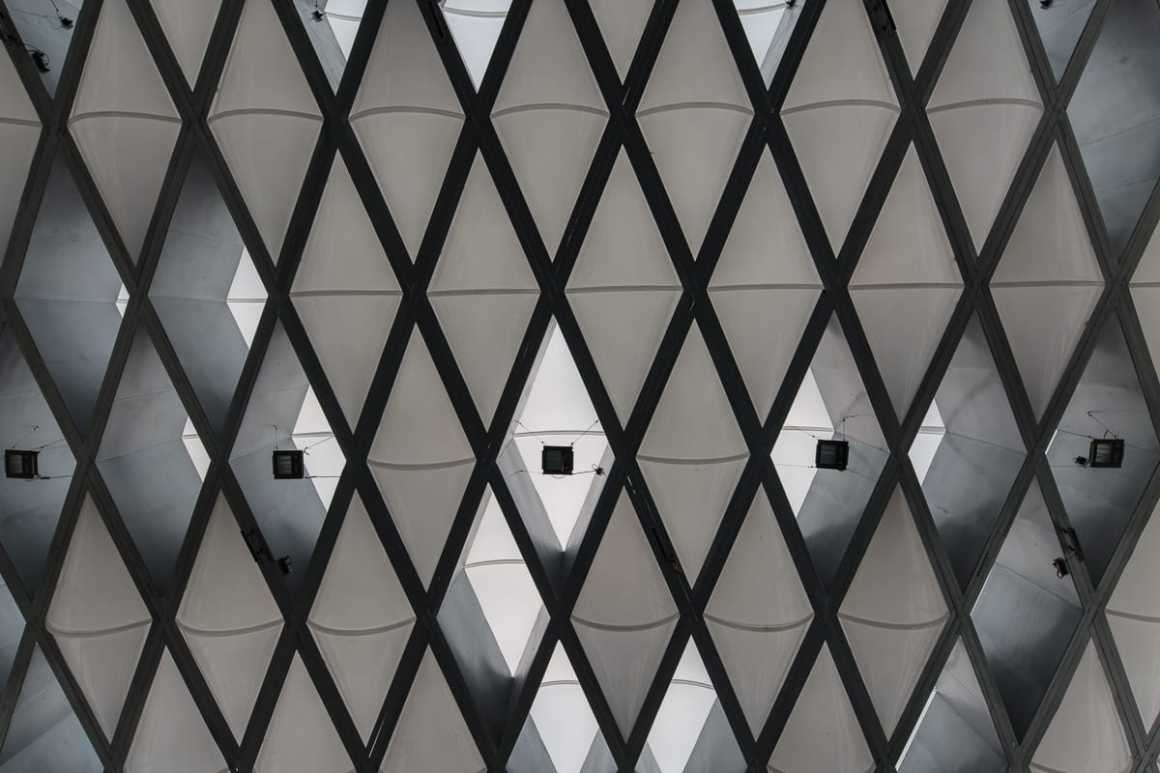 ▼ 设计图 Drawings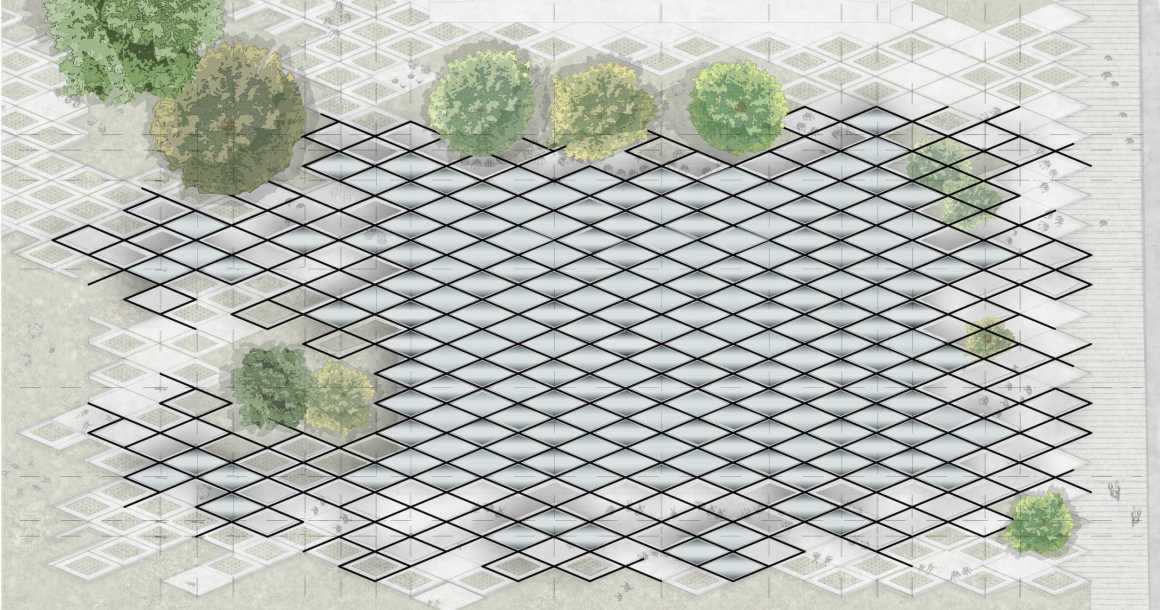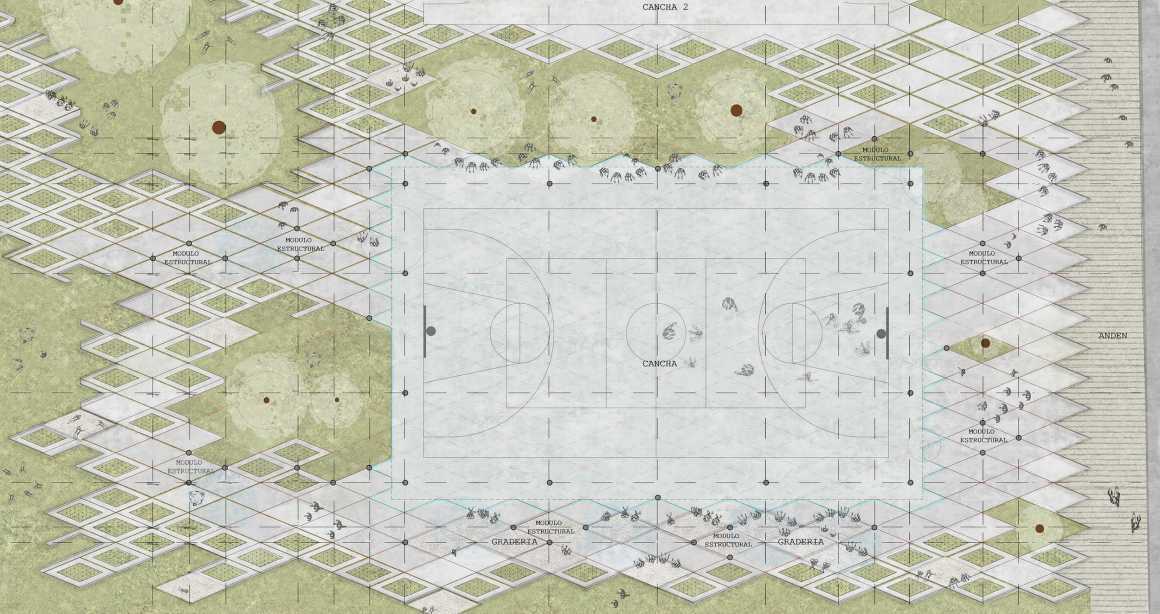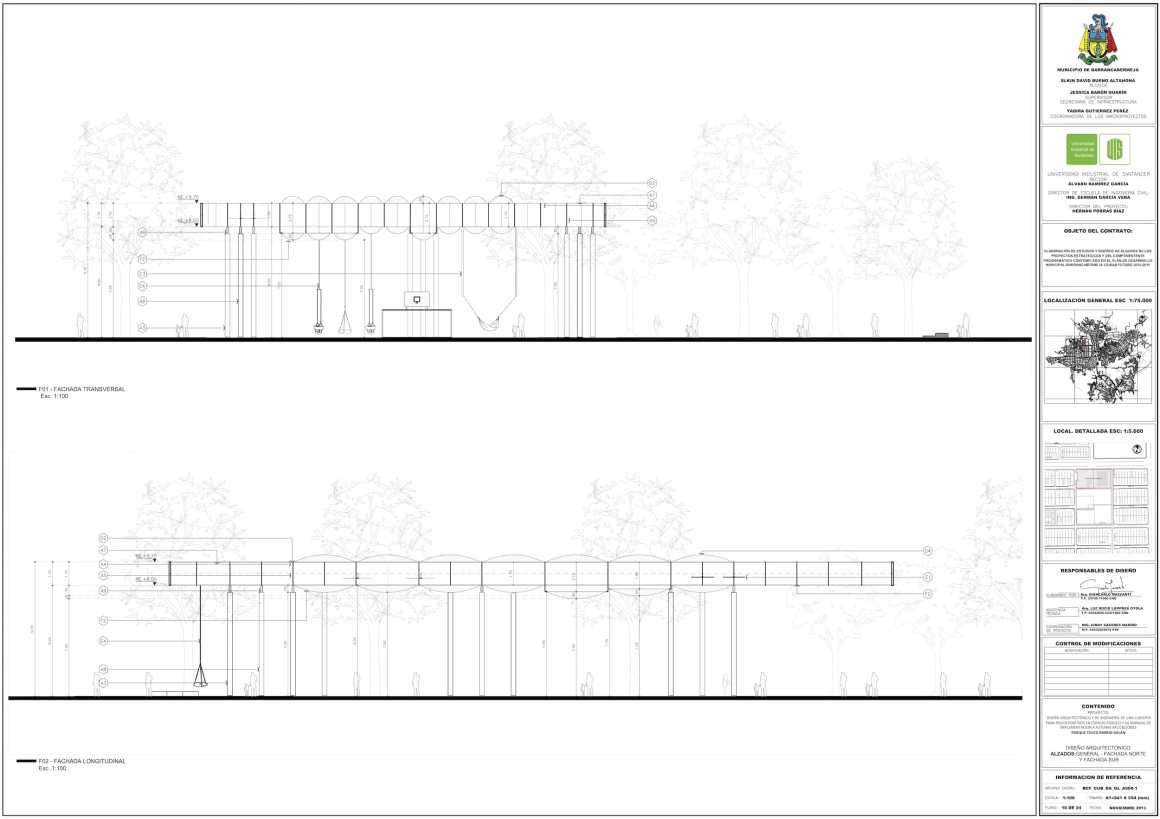 ▼ 效果图 Renders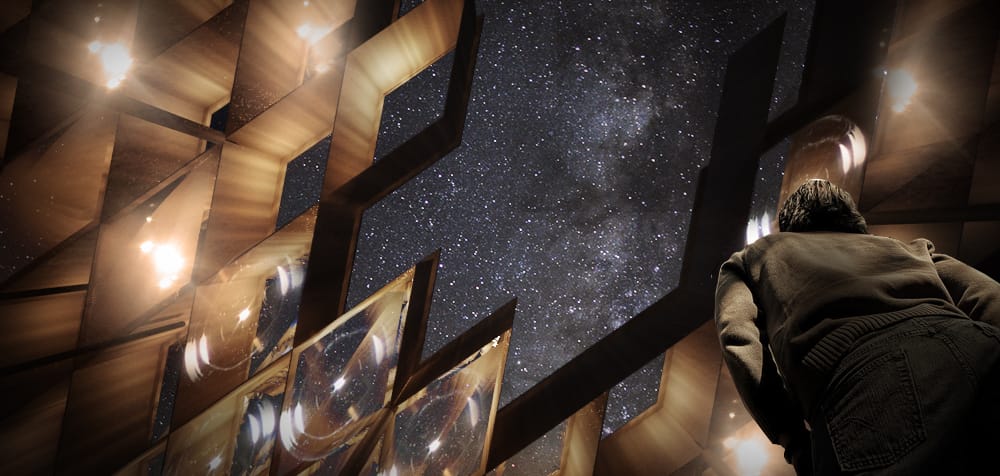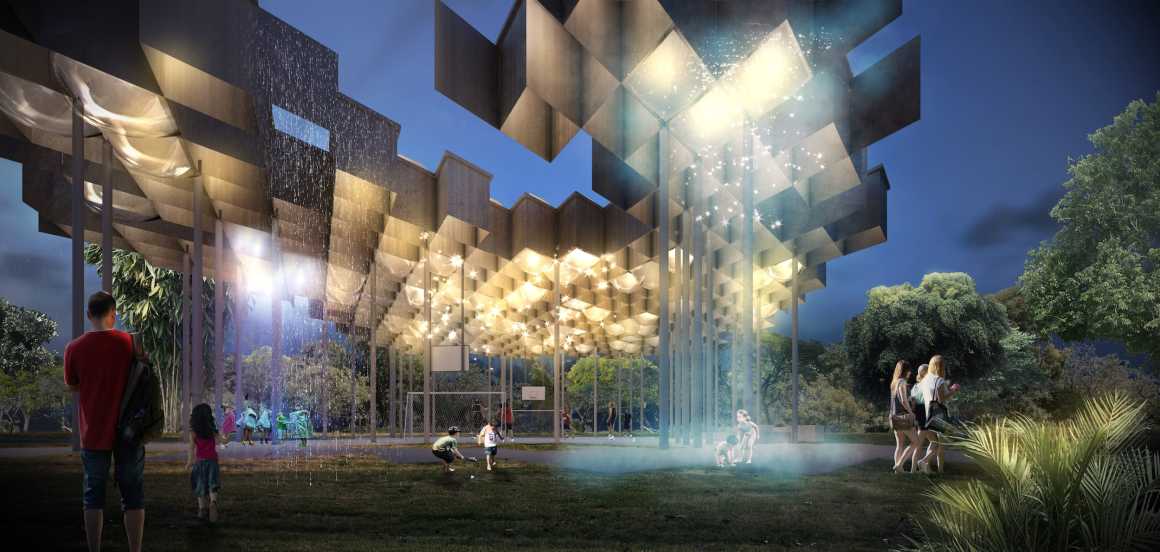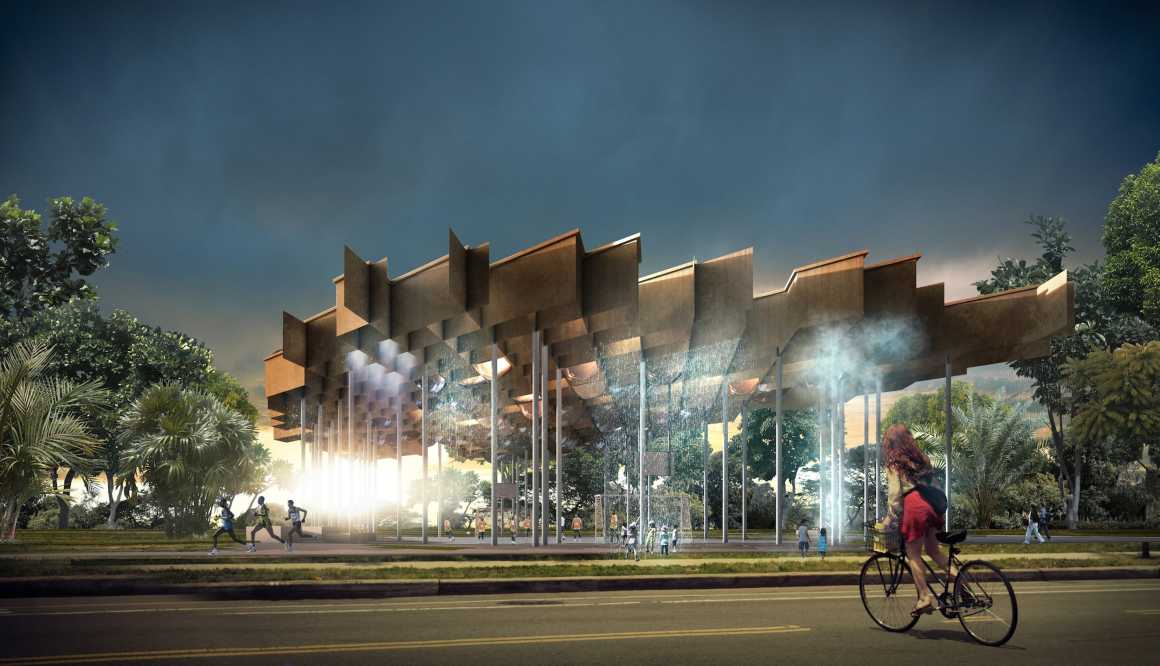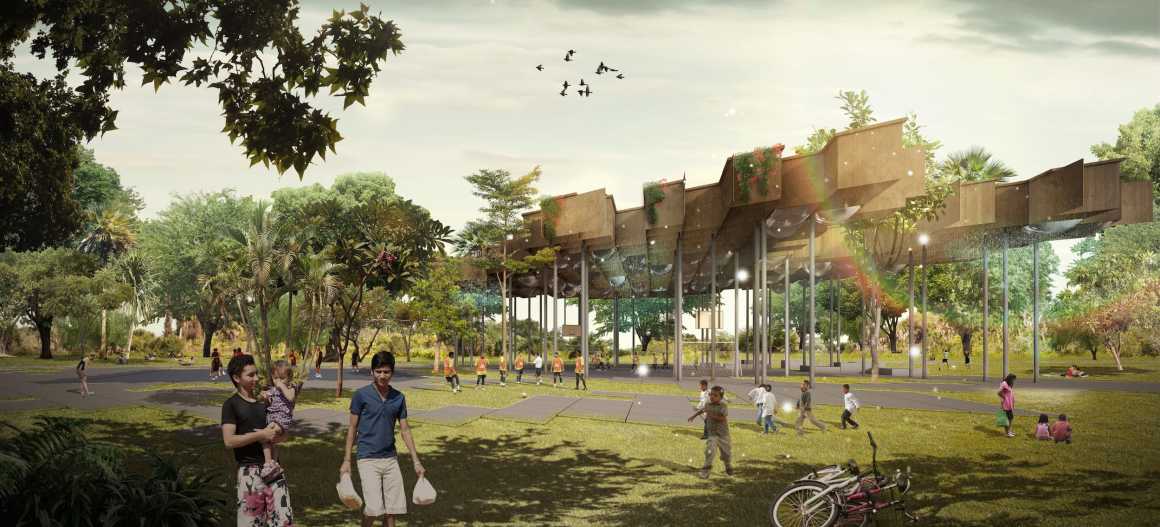 项目名称: 体育场馆和公共空间的原型
客户: Barrancabermeja市
设计周期: 2014年
建设周期: 2015-2016年
状态: 已完成
建筑面积:1000平方米
公共空间面积:7000平方米
地点:哥伦比亚Barrancabermeja
主要建筑师:吉安卡洛·马扎蒂
合作方
竞赛与概念化: Carlos medellin, Humberto Mora, simon Escabi, Juan Carlos Zapata
开发: rocio Lamprea, Juan Carlos Zapata, Laura pachon, Lorena Mendoza, Manuela Dangond, andres Melo, Juan Esteban Parra, Julian Quiroz
实习生:Pablo Maal
结构工程: Nicolás Parra
照片版权: Alejandro Arango – Pequeño Robot
摄影总监: Mariana Bravo
视频版权: Alejandro Arango / Mauricio Velasquez – Pequeño Robot
Project: Prototipo de cubierta para espacios deportivos y espacio público.
Client: Municipio de Barrancabermeja
Design Period: 2014
Construction Period: 2015-2016
Status: Finished
Constructed Area: 1.000 m2
Public Space Area: 7.000 m2
Location: Barrancabermeja, Colombia
Main Architect: Giancarlo Mazzanti
Collaborators
Contest and conceptualization: Carlos Medellín, Humberto Mora, Simón Escabi, Juan Carlos Zapata
Development: Luz Rocío Lamprea, Juan Carlos Zapata, Laura Pachón, Lorena Mendoza, Manuela Dangond, Andrés Melo, Juan Esteban Parra, Julian Quiroz
Intern: Pablo Maal
Structural Engineer: Nicolás Parra
Photo Credits: Alejandro Arango – Pequeño Robot
Director of photography: Mariana Bravo
Video Credits: Alejandro Arango / Mauricio Velasquez – Pequeño Robot
更多 Read more about: El Equipo Mazzanti