本文由 Avoid Obvious Architects 授权mooool发表,欢迎转发,禁止以mooool编辑版本转载。
Thanks Avoid Obvious Architects for authorizing the publication of the project on mooool. Text description provided by Avoid Obvious Architects.
Avoid Obvious Architects:Circle of Life是一种将建筑视为建筑场地生命周期一部分的建筑方式。试想一下,如果建筑能像生命体一样自然地生长、开花和死亡,会随着时间变化,而不是留下一个永久的、不可改变的印记,那将会是怎样呢?建筑仍将服务于栖息地,只不过它将颠覆传统意义上的永久性结构。建筑将以碳的形式永存,材料中的碳永远不会离开场地,而是从一种形式循环到另一种形式。那么这个自然过程要完全根据物质循环科学,这将会是艺术与科学相结合的设计摇篮。
Avoid Obvious Architects:Circle of Life is a method of construction that treats architecture as part of the life cycle of the building site. What if architecture can grow, blossom and die naturally just like a living organism? Instead of leaving a permanent footprint, what if it morphs over time? Architecture will still serve the purpose of habitat but it will overcome the traditional sense of a permanent structure. Architecture will become permanent in the form of carbon. The carbon that is stored in the material never leaves the site. It recycles on site from one form to the next. This natural process will fully embrace the science of material cycle. It is a cradle to cradle design that combines art and science.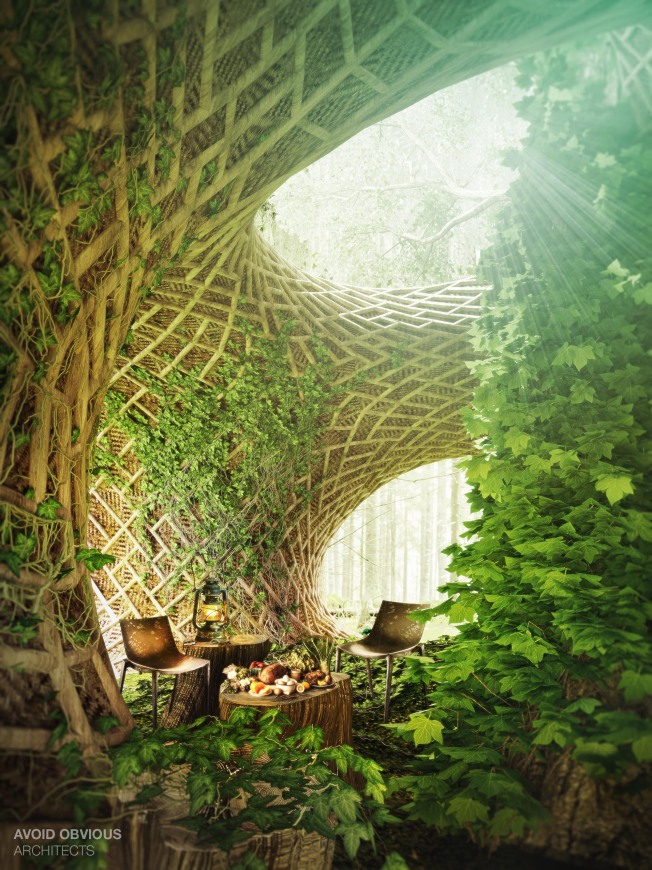 过程 Process
Circle of Life可以看作是为致敬艺术、自然和科学而建造的一系列可持续建筑。我们的设计想法是激励人们把大自然当作游乐场来欣赏,然后在墨西哥森林里建立一个自然学习中心来证明我们的想法,让人们可以把自然的衰败看作建筑美的一部分。它正在改变人们的新旧观念。这个已完成的中心并不是一次性的,而是下一个生命的开始。以下是打破这个循环的7个步骤。
1. 寻找并收集倒下的树木
2. 制作木材产品
3. 现场使用木制品
4. 撒种和施肥
5. 建立保护
6. 生长和栖息
7. 分解和回收
Circle of Life can be seen as a collection of sustainable buildings made to celebrate art, nature and science. We prove our concept by proposing a natural learning center inside a forest in Mexico. Our idea will inspire people to appreciate nature as playground. People can see natural decay as part of the beauty of architecture. It is changing people's concept of old and new. The finished center will not be the one-off result but a beginning of the next life. Below are the 7 steps to break down the cycle.
1. FIND & COLLECT FALLEN TREES
2. MAKE WOOD PRODUCTS
3. USE WOOD PRODUCTS ON SITE
4. SEED & FERTILIZE
5. BUILD TO PROTECT
6. GROW & INHABIT
7. DISINTEGRATE & RECYCLE
▼自然学习中心平面图 Master Plan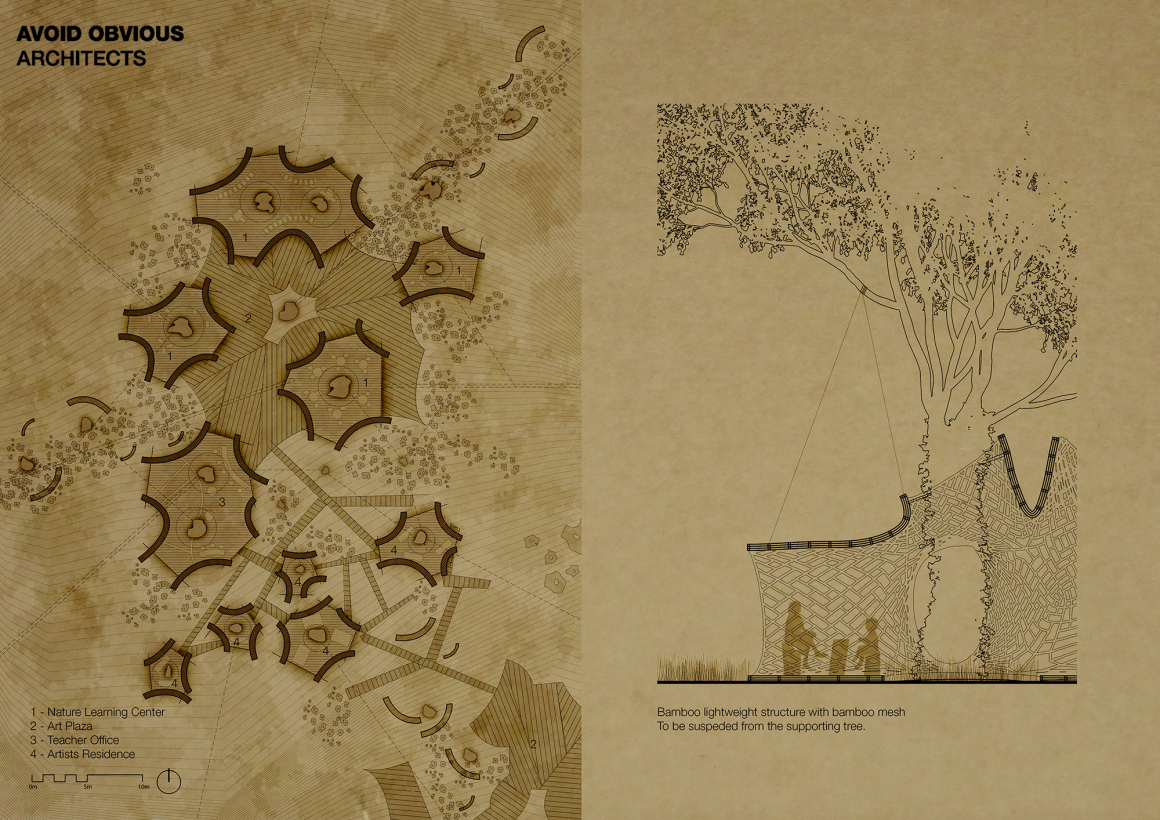 ▼有机生活创建步骤 How to build with nature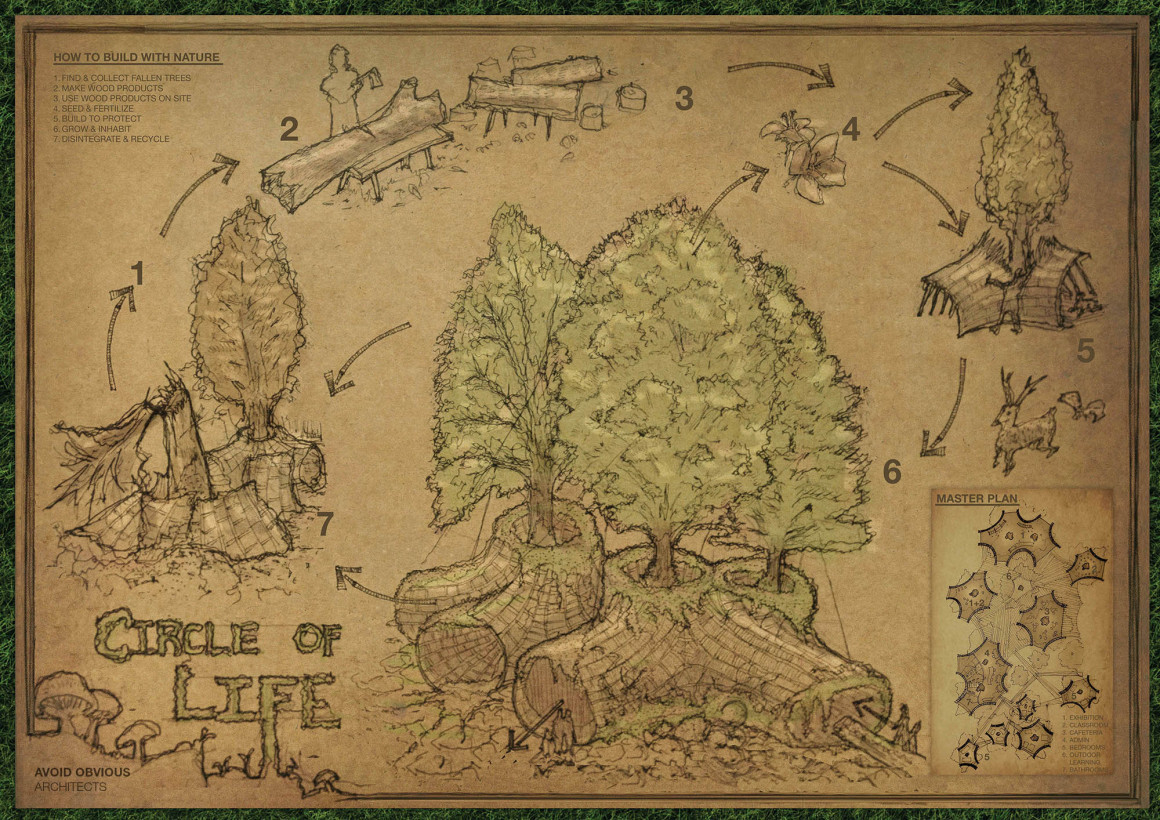 营销 Marketing
"Circle of Life"将会推广给对生态旅游和慢生活感兴趣的人群。该项目会为城市居民提供另一种生活方式,同时提升周边发展的地位。它向游客展示了,如果在能够对社会和环境负责的情况下发展,那么旅游业就能蓬勃兴旺。为了使居住设计多样化,我们还将做一个挑战,让当地艺术家居住在这样一个用森林中的材料建造的新构筑中。这种私人和公共参与将使设计更加多样化、民主和不断改进,会有更多的理由吸引游客再次过来。
Circle of Life will be promoted to people interested in eco-tourism and slow living. This project will provide an alternative lifestyle to city dwellers who are caught up in the urban speed. The creation of this project will simultaneously elevate the status of surrounding development. It showcases to visitors that tourism can bloom if the development can become socially and environmentally responsible. To diversify the living design, we will also challenge local artists to reside in the project by making new pavilions with materials found in the forest. This private and public engagement will make the design more diverse, democratic and ever changing. Visitors will have more reason to come back again.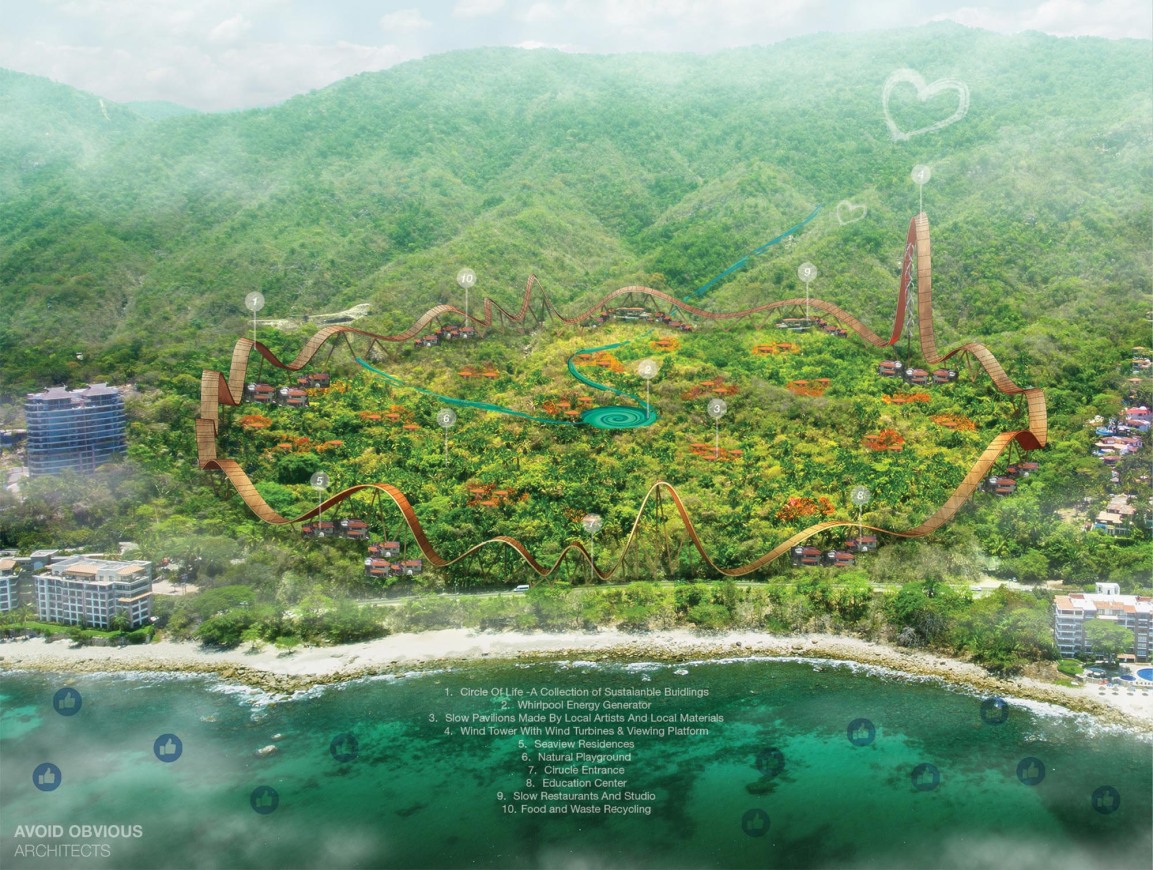 奖项:
2018伦敦创意大赛-Circle of Life-入围
2017年仿生建筑设计
团队:
创意与指导:Erica Wong,结构工程师
3d打印和制造:gCreate and Gordon Laplante, RA, Architect
生态旅游品牌化:Matisse Design Ltd.
建筑师:Vicky Chan, Krystal Lung, Melissa Chan, Daewook Lee, Ava Chow
Awards:
2018 London Creative Competition – Circle of Life – Shortlisted
2017 Bio-mimicry Design
Credits:
Inspiration and Critique: Erica Wong, PE, Structural Engineer.
3d Printing and Fabrication: gCreate and Gordon Laplante, RA, Architect.
Branding for Eco-tourism: Matisse Design Ltd.
Architecture: Vicky Chan, Krystal Lung, Melissa Chan, Daewook Lee, Ava Chow
更多 Read more about: Avoid Obvious Architects