本文由Perkins&Will授权mooool发表,欢迎转发,禁止以mooool编辑版本转载。
Thank Perkins&Will for authorizing the publication of the project on mooool, Text description provided by Perkins&Will.
Perkins&Will:Condomínio São Luiz建于1984年,是圣保罗的建筑地标,由著名建筑师Marcello Fragelli设计,其花园由全球知名的景观设计师Roberto Burle Marx设计。该广场被混凝土墙封闭了将近四十年,经过Perkins&Will工作室的改造,终于向公众开放。
Perkins&Will:São Paulo, March 2021 – Built in 1984, Condomínio São Luiz is an architectural landmark in São Paulo. Besides the remarkable architecture, signed by Marcello Fragelli, the building is also known in the city for its gardens created by worldwide distinguished landscaping designer, Roberto Burle Marx. Surrounded by concrete walls for almost four decades, the verdant squares were finally opened to public access, thanks to an intervention by Perkins&Will Sao Paulo studio.
▼改造前 Before
设计师对大楼的底层进行了翻新,将原有的两个接待处合并为一个通向四塔内部的中央通道。"我们重新分析了大厦的人流量和空间用途,尤其是一楼由Burle Marx设计的这个美丽的但是未被充分利用的广场",项目经理Fernando Vidal解释说。 "我们将现有的接待处变成了一个中央大厅,接待到访人员并将其分配到大楼的垂直循环中"。
The global architecture and design studio renovated the building's ground floor, merging the former two receptions into one central access to the four towers' interiors. "We revisited the edifice's flows and space uses, especially on the ground floor, which had these beautiful, underused squares signed by Burle Marx", explains architect Fernando Vidal, Managing Director in Perkins&Will's São Paulo studio. "We transformed the existing receptions into one central hall, distributing users and visitors flows to the vertical circulations".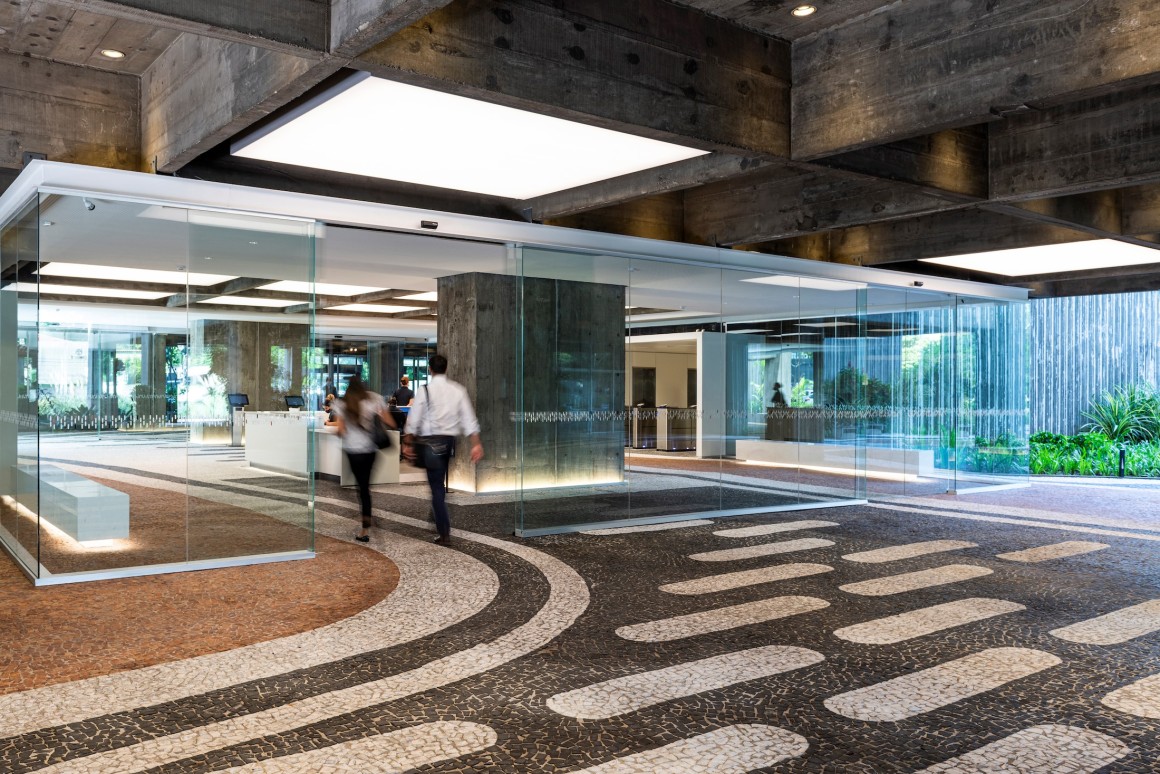 接待处被更新为一个透明玻璃围合的空间,带金属构架,对原始建筑的影响降低到最小。设计师说:"我们的目标是发挥原有结构的潜力,而不是横加干涉"。整个项目保留了Burle Marx标志性的地面铺装。接待处的玻璃盒被稍微抬离地面,防止损坏地板。
The reception renovation included a metallic framed box with transparent glass partitions, interfering as least as possible in the original design. "Our goal was to potentialize, not to interfere", affirms the architect. The entire project was thought to preserve the building's iconic flooring, also signed by Burle Marx. The box that contains the new reception, for instance, is slightly elevated from the floor to avoid damaging it.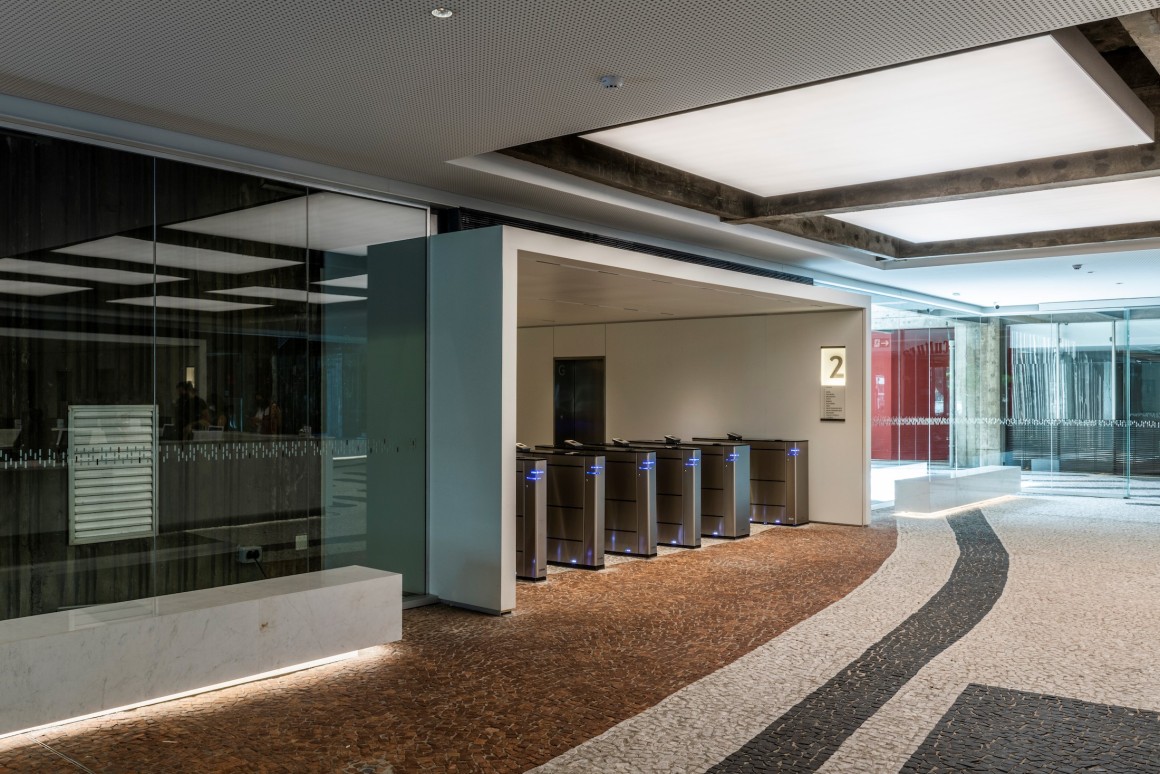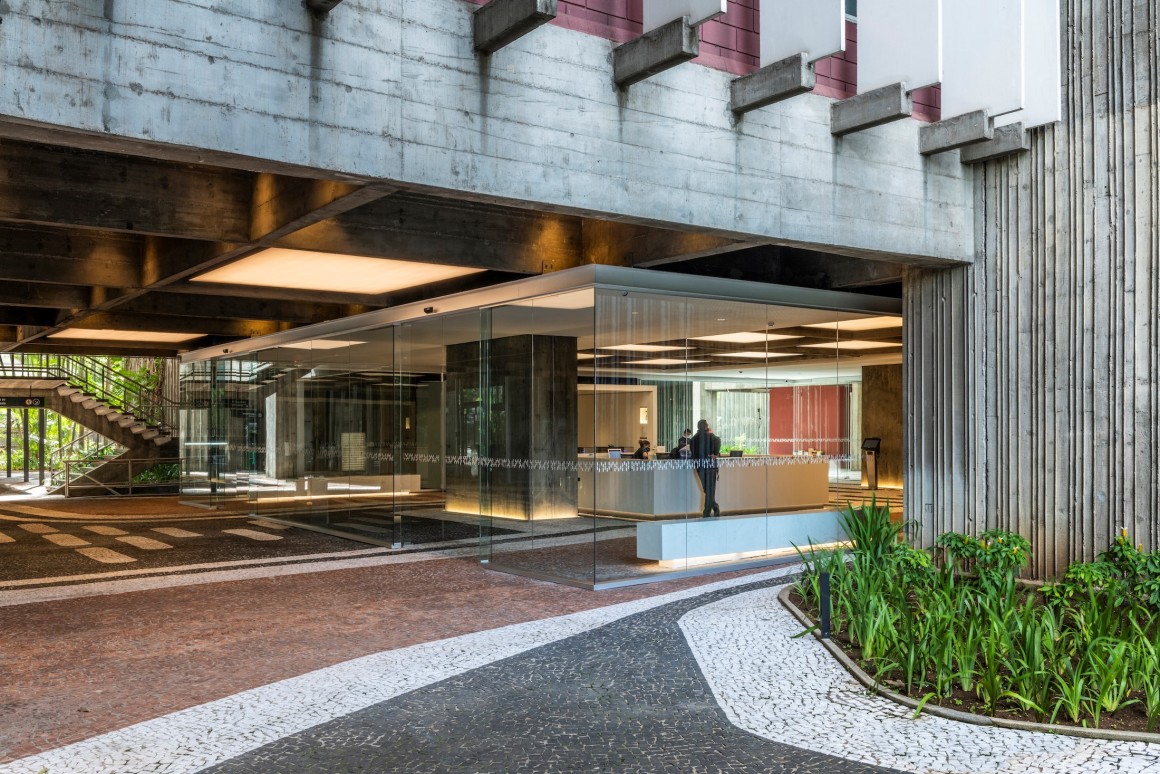 ▼标志性地面铺装 Iconic flooring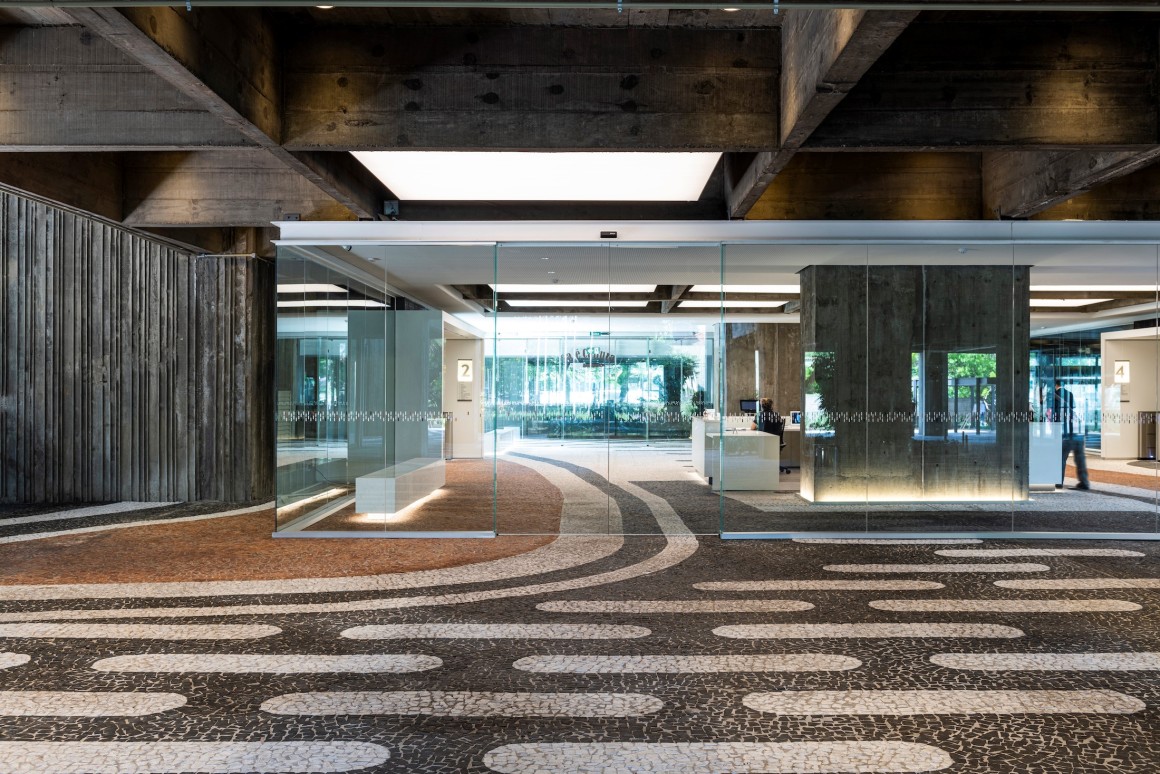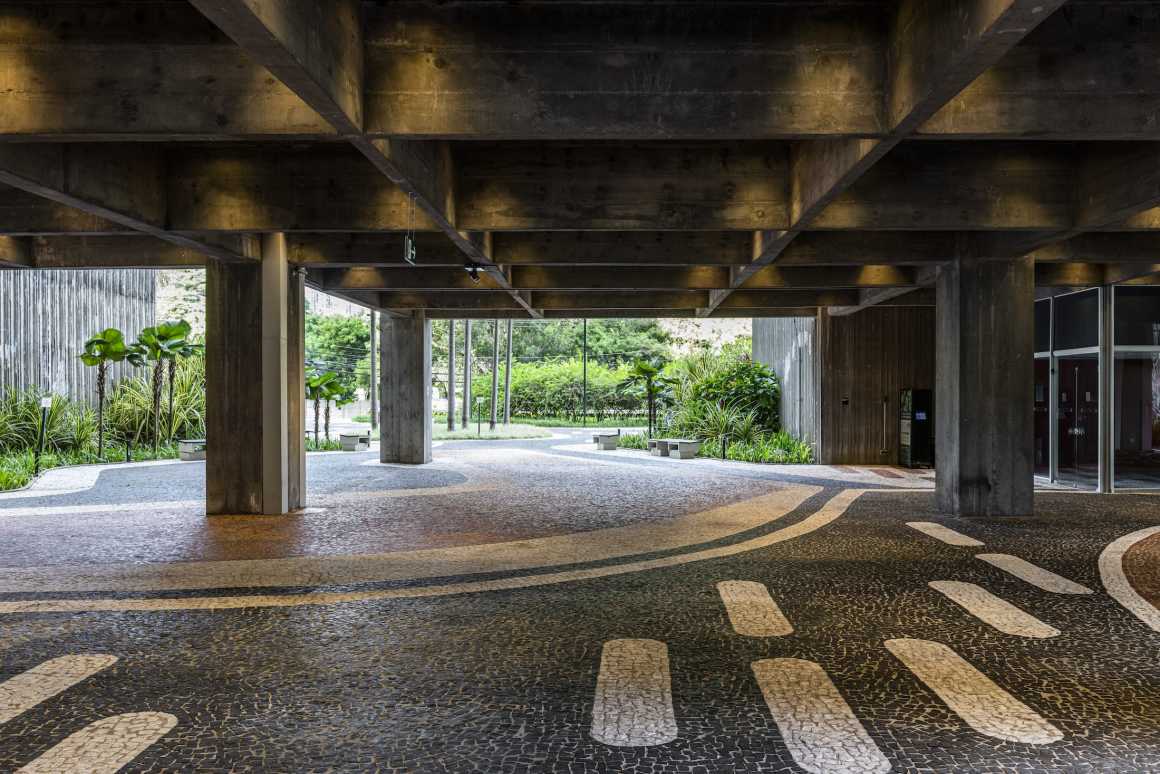 该项目将Burle Marx设计的广场向城市市民开放。"我们增加了更多的行人通道,创造停留节点,提高了原有建筑结构的质量,建筑内原本仅对大楼内部人员开放的的餐馆、咖啡店等现在都向所有市民开放。"
The project allowed the public opening of the Burle Marx squares to the city. "We added more pedestrian accesses, creating fruition and improving the quality of the pre-existing structures, such as restaurants, coffee shops, and others – which were also exclusive to the building's visitors and users, and are now opened for everyone", explains Vidal.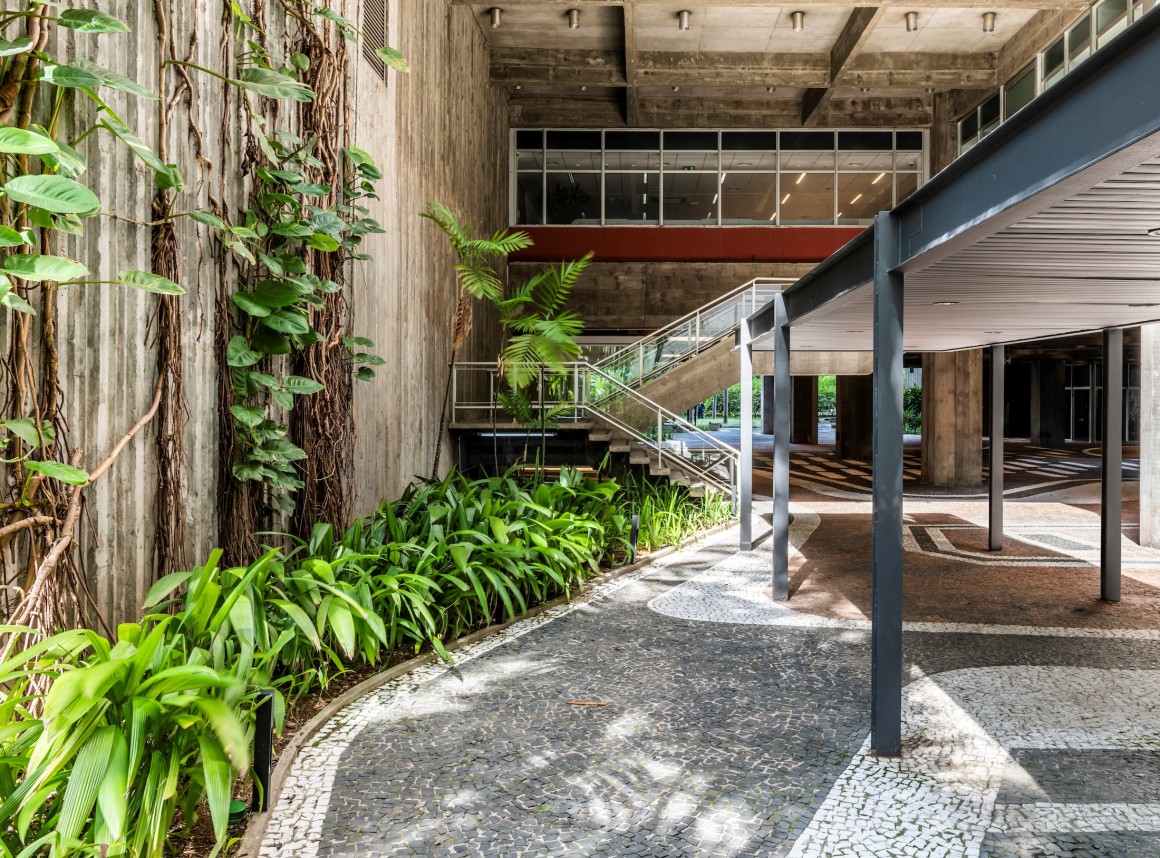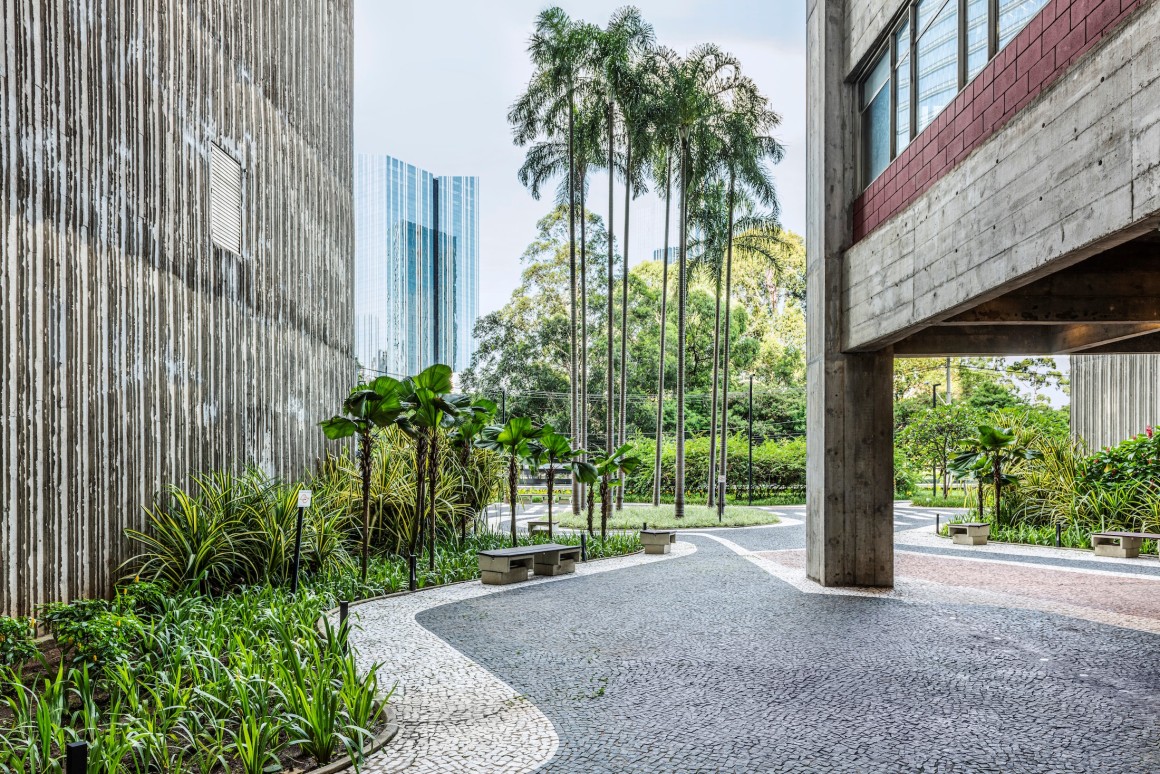 Burle Marx的景观设计备受称赞,因此设计师与其合作,将广场景观植物恢复为了原来的物种,其中包括一些来自大西洋森林的稀有物种。
Burle Marx's art was also praised in the greenery as the designer's landscaping office was asked to collaborate by restoring the project with the original species, even some rare ones from the Atlantic Forest.
该改造项目十分巧妙得体,不仅通行效率提高了,还将私人区域转变为半公共区域,使每个公民都可以在这个城市地标享受、沉思和互动。
The retrofit's subtlety and lightness permitted more efficiency in the access and contributed to the transformation of a private area into a semi-public one, where every citizen will be able to enjoy this space for rest, contemplation, and interaction, next to important urban points. It is a gift to São Paulo", affirms the architect.
项目名称:Condomínio São Luiz
项目地址:巴西圣保罗
完成时间:2021年3月
设计公司:Perkins&Will
摄影师:Renato Navarro
Project name: Condomínio São Luiz
Location: São Paulo, Brazil
Complete year: March, 2021
Design firm: Perkins&Will
Photo: Renato Navarro
更多 Read more about: Perkins&Will