本文由 DP Green Pte Ltd 授权mooool发表,欢迎转发,禁止以mooool编辑版本转载。
Thanks DP Green Pte Ltd for authorizing the publication of the project on mooool. Photos provided by DP Green Pte Ltd.
DP Green Pte Ltd:新加坡德威学校是专为不同年龄段学生而设计的。这里所有的设计都是在创建安全、可靠和积极环境的前提下,遵循学校"孩子为先"的指导思想。景观在其空间规划、景观设计和材料选择的各个阶段,也都围绕着孩子们从幼年到初中和高中的需求而设计。
DP Green Pte Ltd:The Dulwich College Singapore campus was designed to cater to students of varying ages. All design aspect follows the college's guiding statement of 'Children Come First', when it comes to providing a safe, secure and stimulating environment. Throughout the stages of spatial planning, landscaping and material selection, the landscape designers worked with the fundamental concept that revolves around the needs of the children from early years, through junior and senior school.
▼校园总体规划 Overall Plan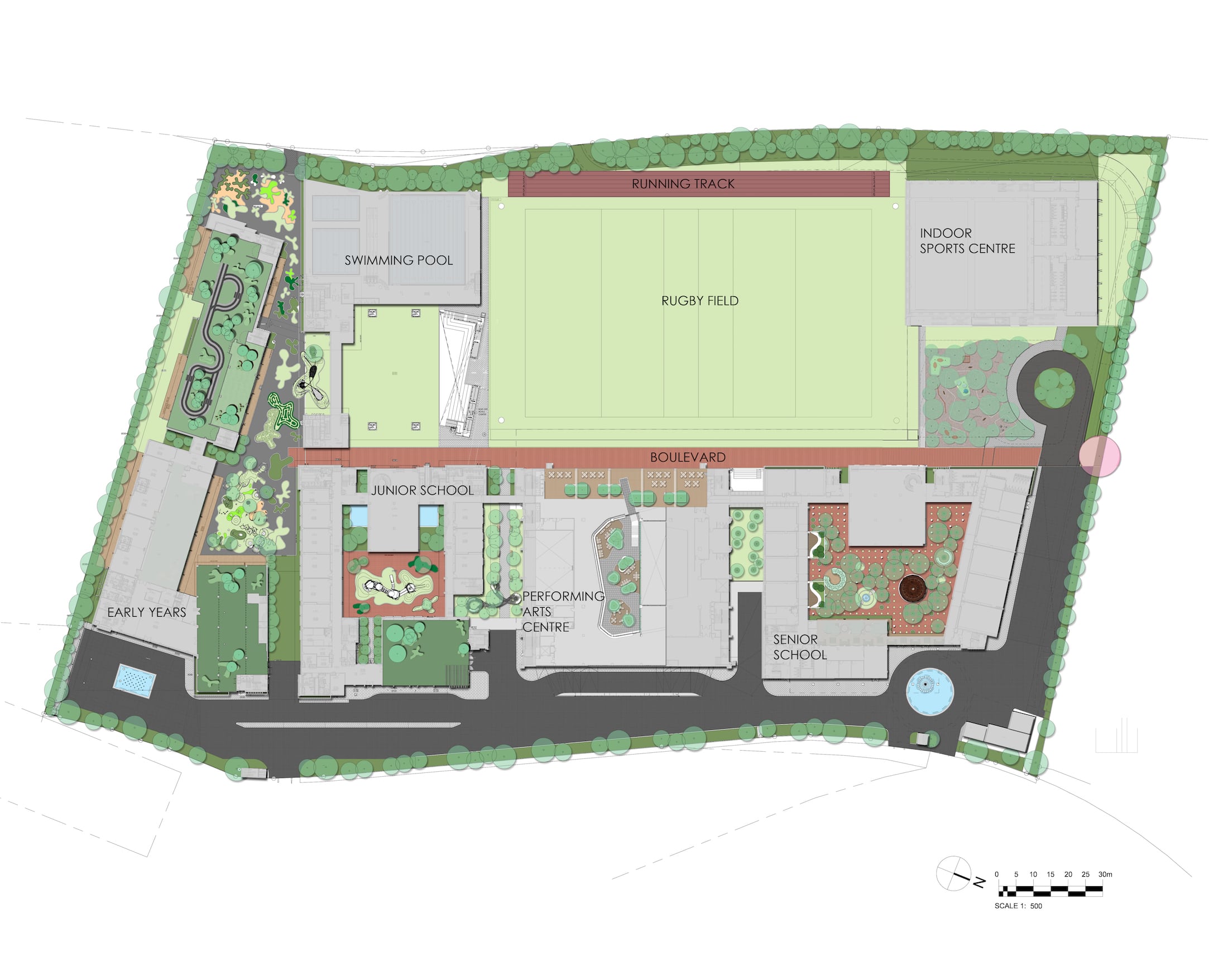 自由运动设计原则 Design principle of Free Movement
为了形成和管理一个与学校课程目标相协调,以及满足孩子们成长需求和兴趣的景观环境,我们与教育工作者一起就游戏教学法开展了为期三个月的研究和强化讲习班。此景观环境设计旨在支持儿童成长过程中游戏和教育的发展需求,让孩子们可以在这个固定而无形的空间内做出自己的选择。我们将变形虫似的设计线条融入幼儿及小学段的景观设计中,让孩子们自由的使用其灵活的空间。这种符号化的游戏,同时也有助于提高孩子们的社会能力和认知技能。
Research on play-based pedagogy and intensive workshops were conducted over three months with the educators to formulate and curate a landscape environs that is in synergy with the school's curriculum and goals, while growing with children's changing needs and interest. The landscape environs are designed to support the evolving nature of play and education as children grow; allowing children to make own choices within fixed, invisible spatial boundaries. Amoeba-like form is elementally employed as a design generator for the landscape design of the early years & junior school. The flexible spaces are open to interpretation on how they can be used. This supports symbolic play and provide spaces for the development of social competence and cognitive skills.
▼设计概念 Design Concept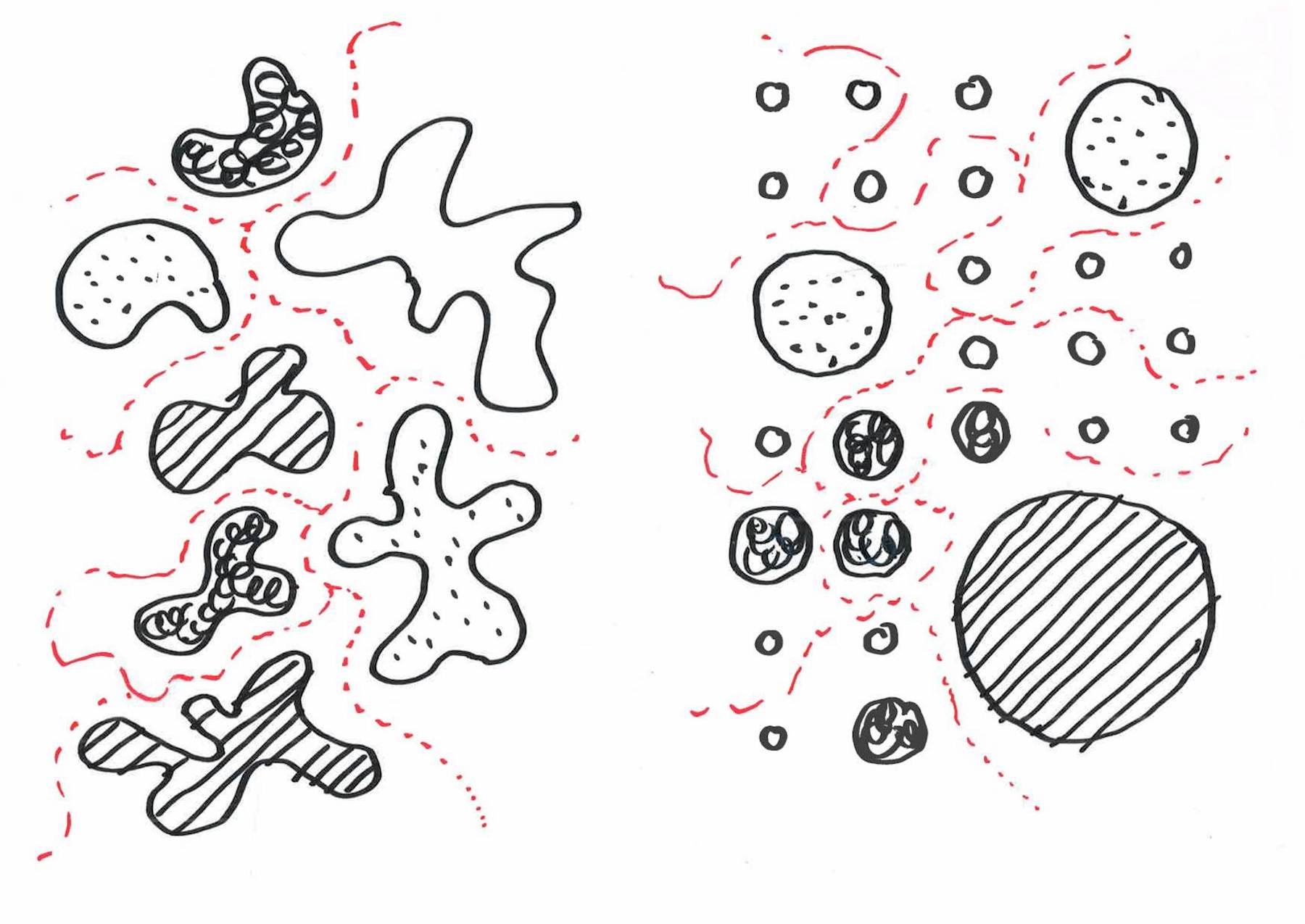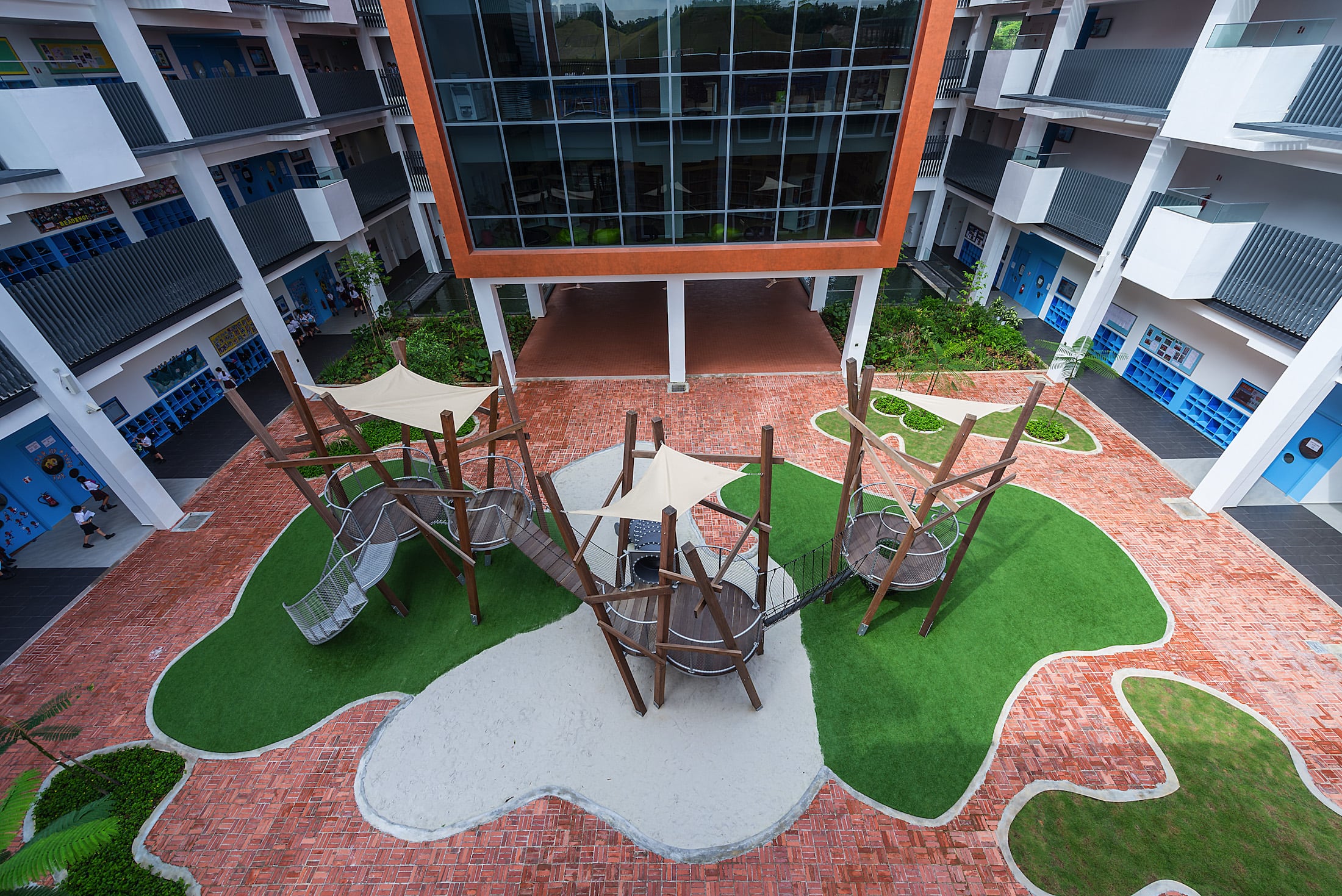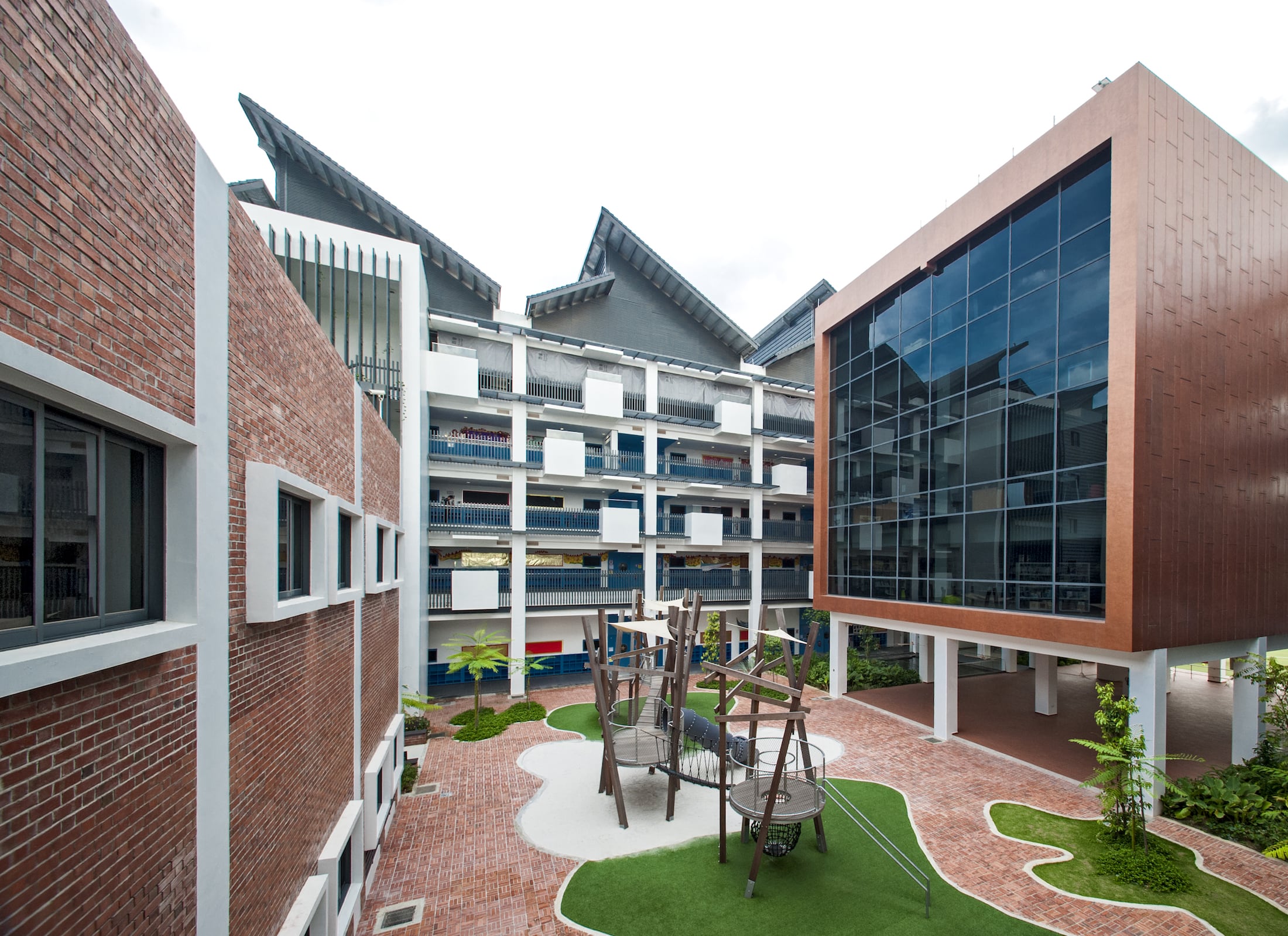 中学段的景观空间完全满足自由活动需要,但我们还在其空间增加了一个纪律性使用方法。这样,在为较高年龄段的孩子们提供必要探索空间的同时,也满足了为成长中的青少年设定界限的需要。
The landscape design of the senior school, allows free movement yet adds a disciplined approach in spatial use. This caters to the needs for set boundaries for growing teens while still providing explorative space.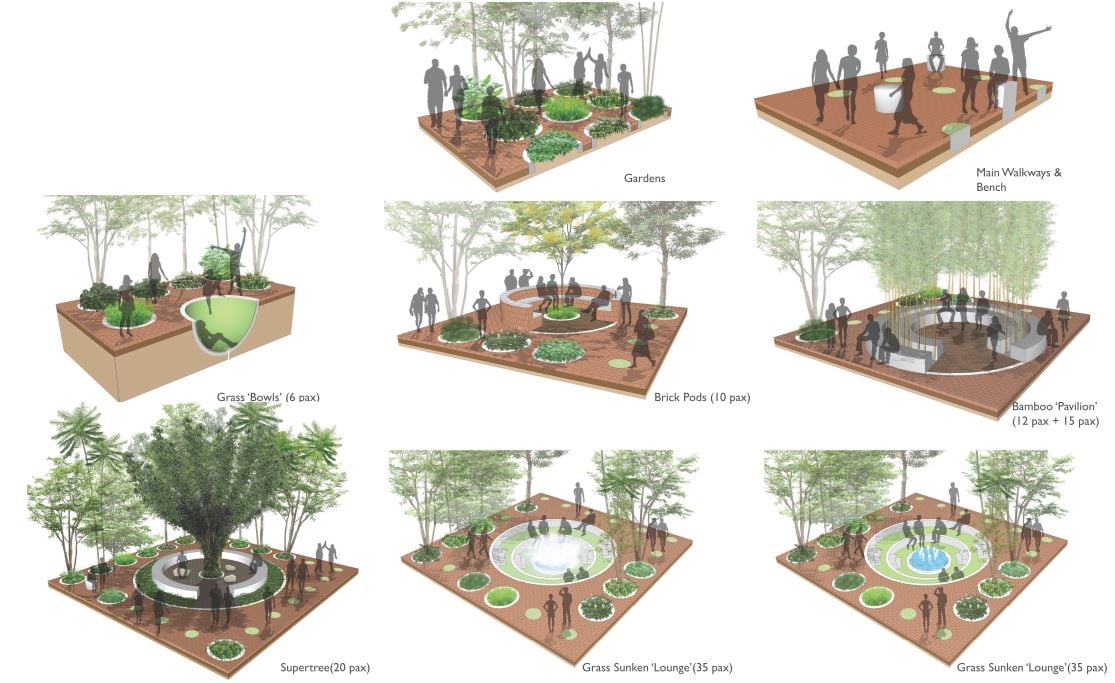 幼儿活动区(2-7岁)Early Years (2 – 7 Years Old)
幼儿年龄段所接触的一般是与触摸、视觉和声音相关的个人实验性游戏,而且最好是在成人的监督下进行玩耍。当他们在发展自身心理运动技能时,会非常喜欢参与带有抽象元素的活动游戏,而当他们逐渐开始拥有社会意识,团体游戏空间的使用频率也会随之越来越高,从而培养了孩子的人际关系和社交能力。为这个年龄段设计的景观空间,旨在促进社交和运动技能的发展。室外教室、二层至四层的操场和屋顶交通规则教育花园的设计理念主要是自由运动和抽象游戏。各种景观主题的地形小岛也旨在鼓励孩子们进行探索和社会互动。
In early childhood years, individual play with adult supervision is preferred and often with experimentation on touch, sight and sound. As they develop psycho- motor skills, enjoy activities with abstract elements. With the onset of social awareness, group play takes place more frequently, thereby fostering interpersonal relationships and sociability. The landscaped spaces designed for this age group, are meant to facilitate social and motor skill development. The outdoor classrooms, playfields on 2nd-4th storeys and the rooftop Traffic Rule Garden were designed with the concept of free movement and abstract play. Mounded islands of various landscape themes were designed to encourage exploration and social interaction.
▼室外教室 The outdoor classrooms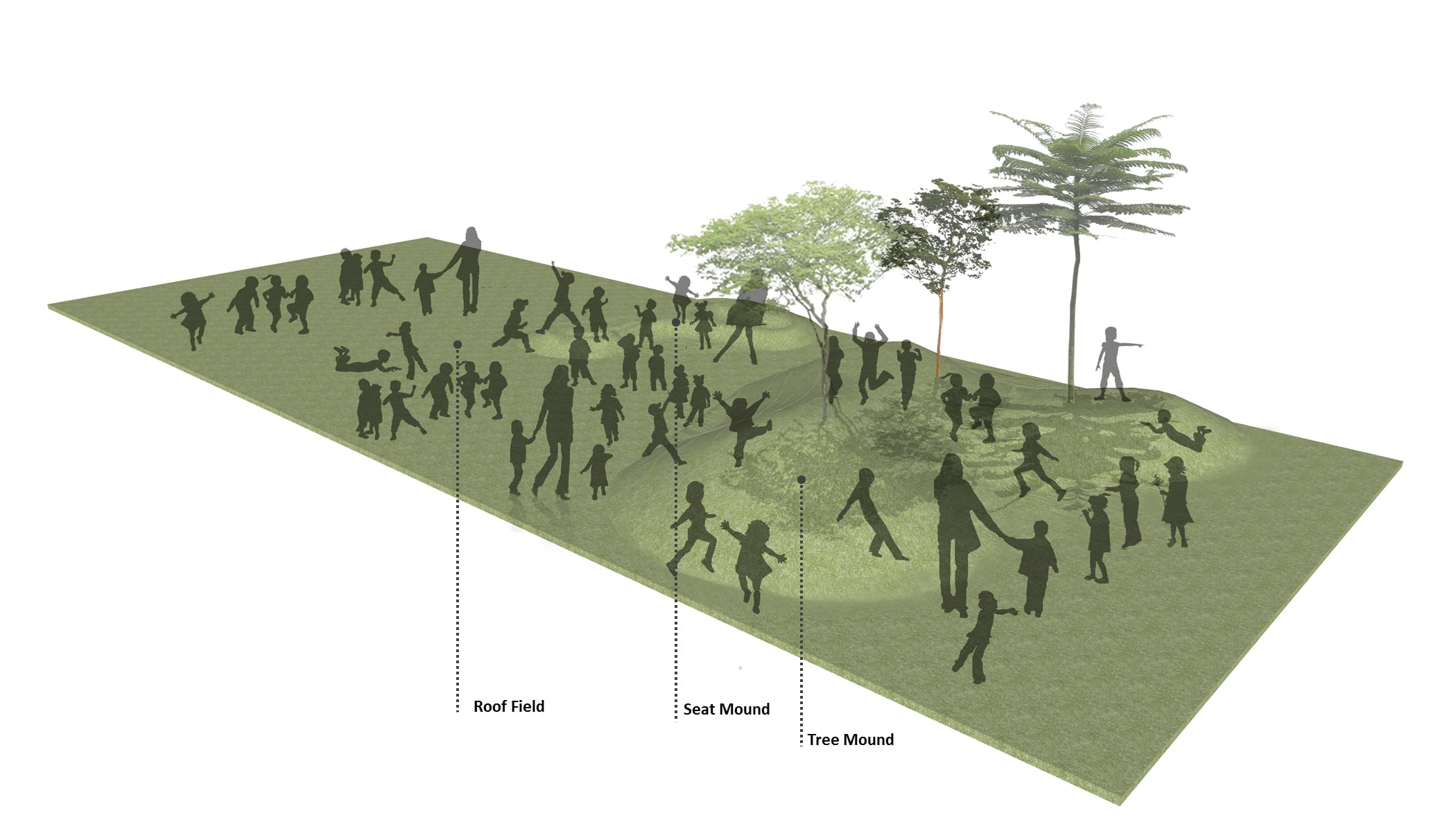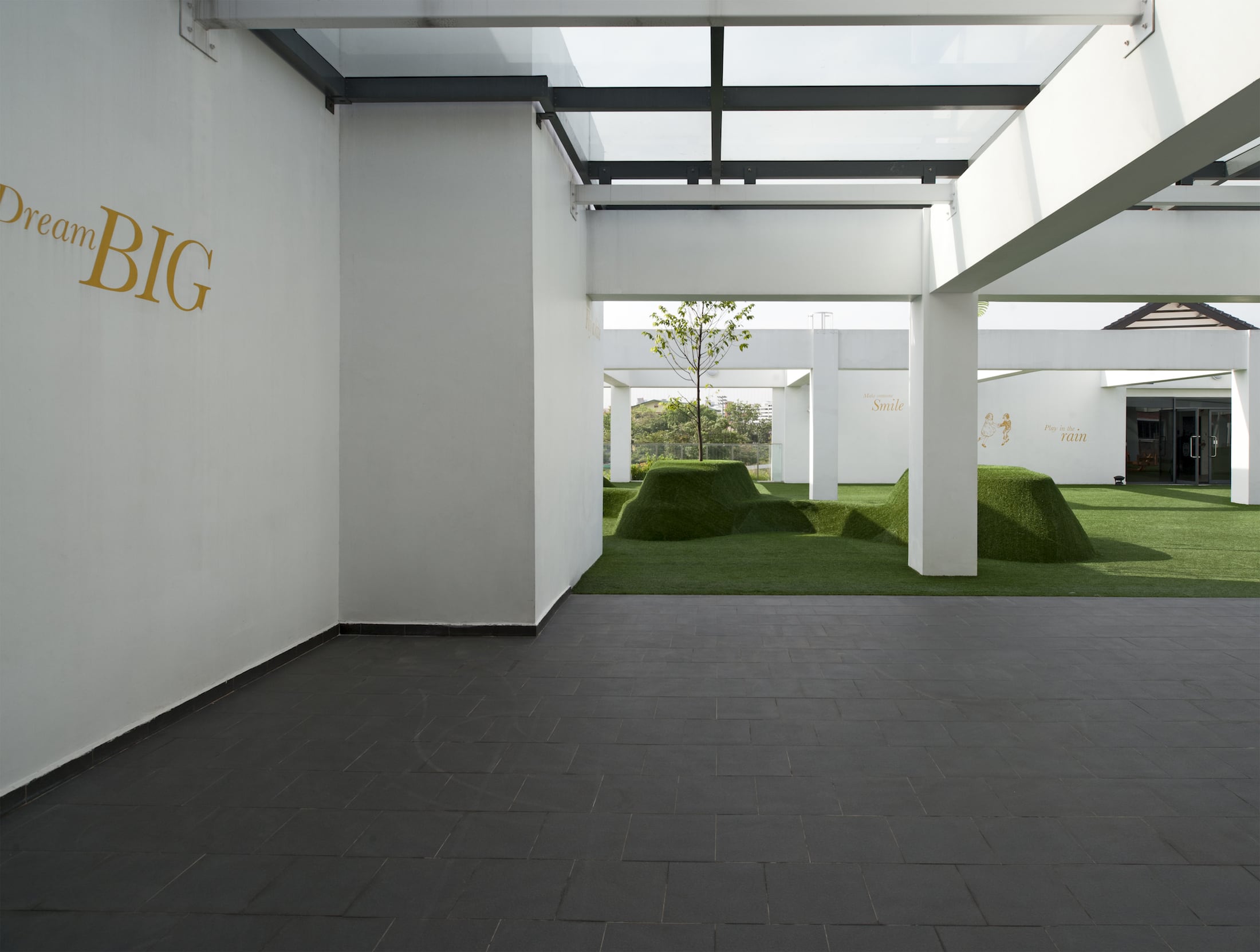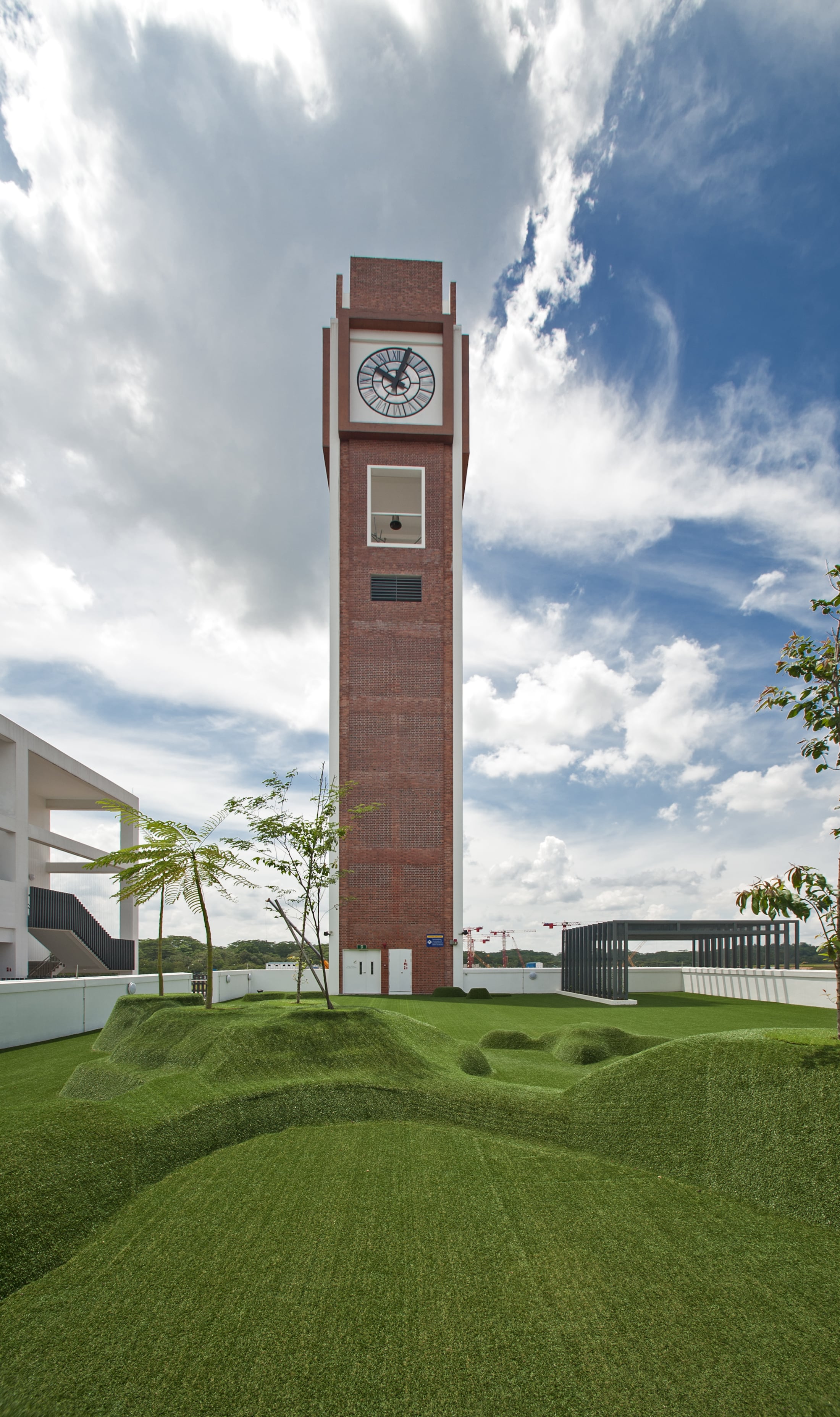 ▼屋顶交通规则教育花园 The Rooftop Traffic Rule Garden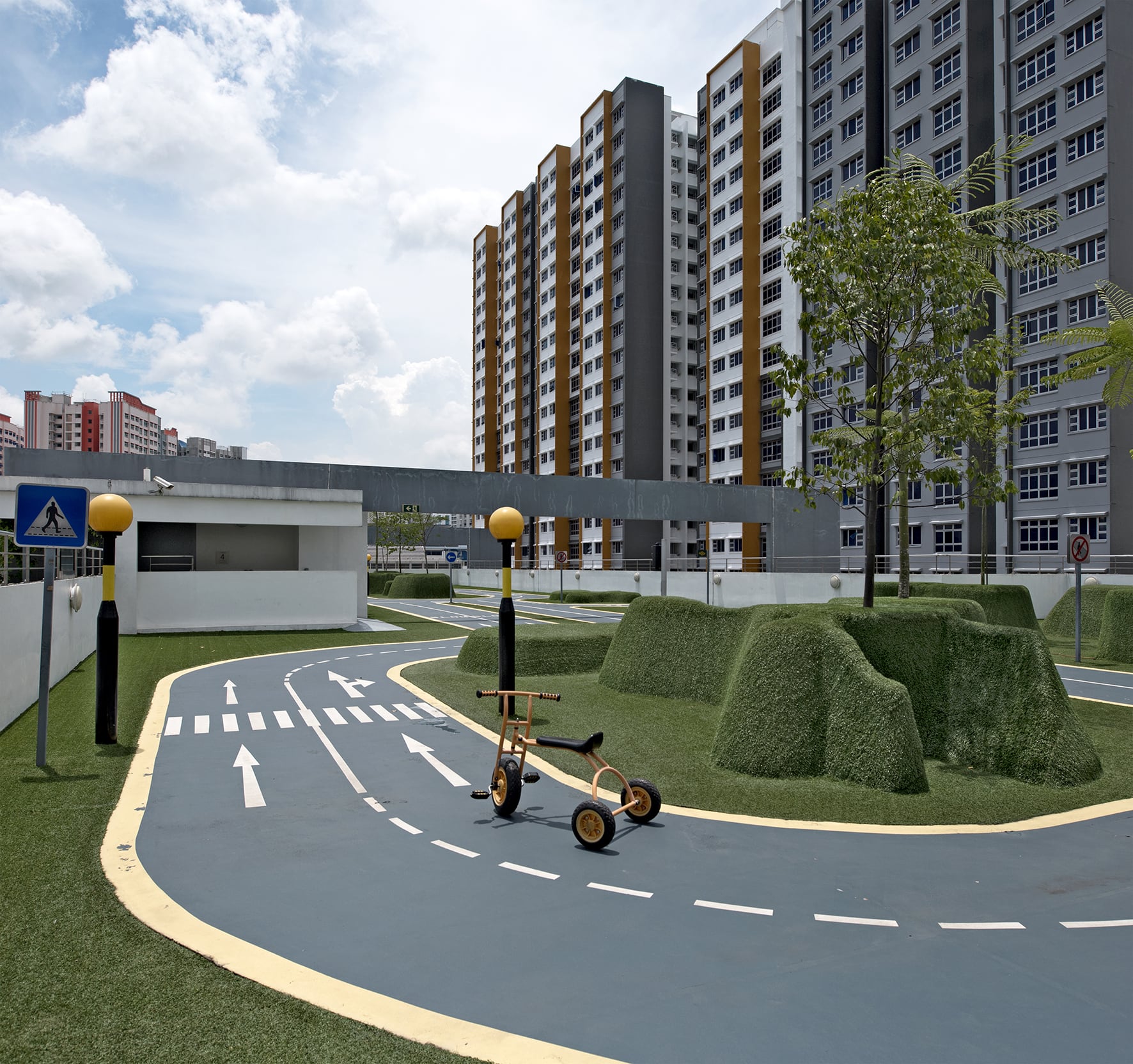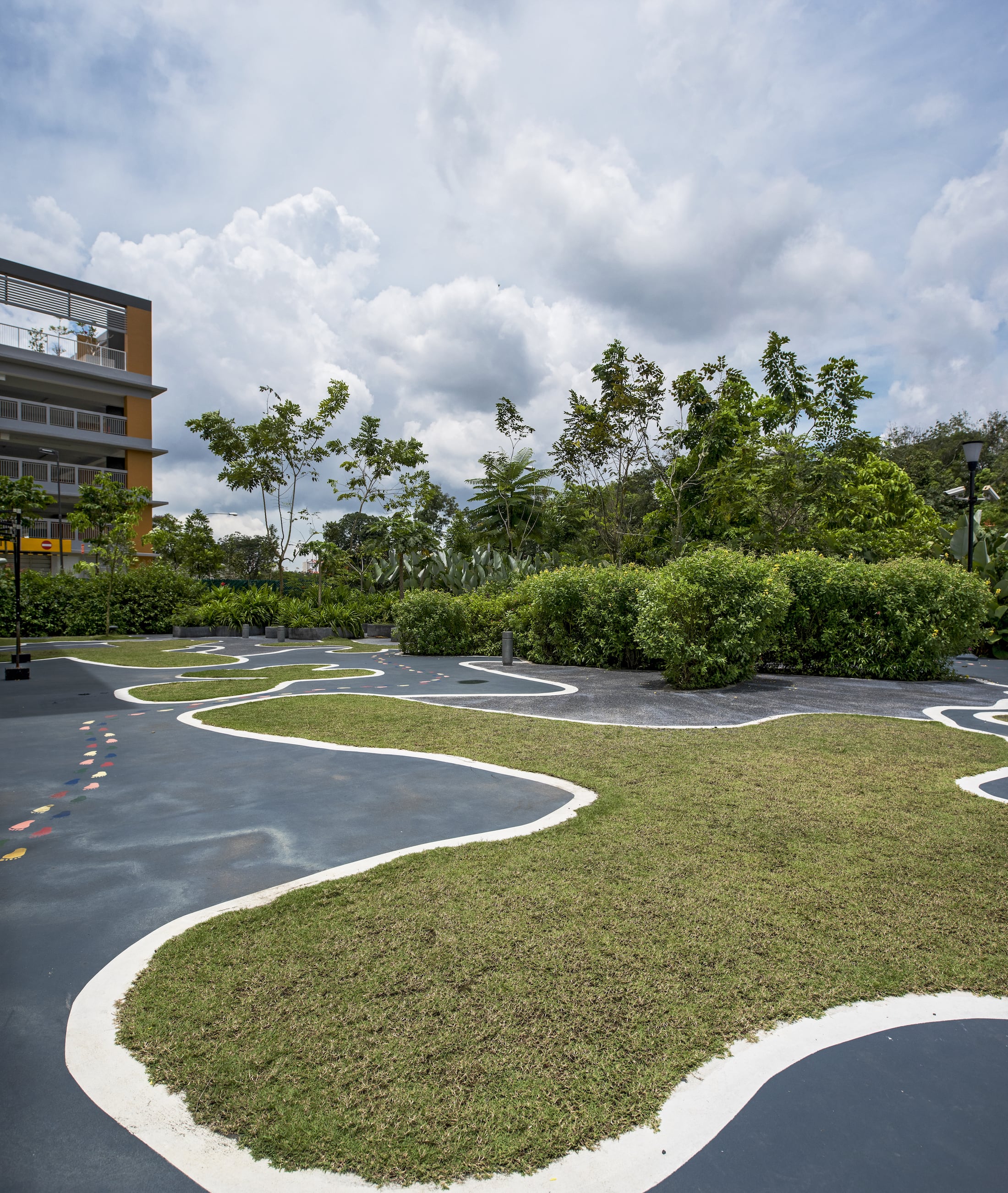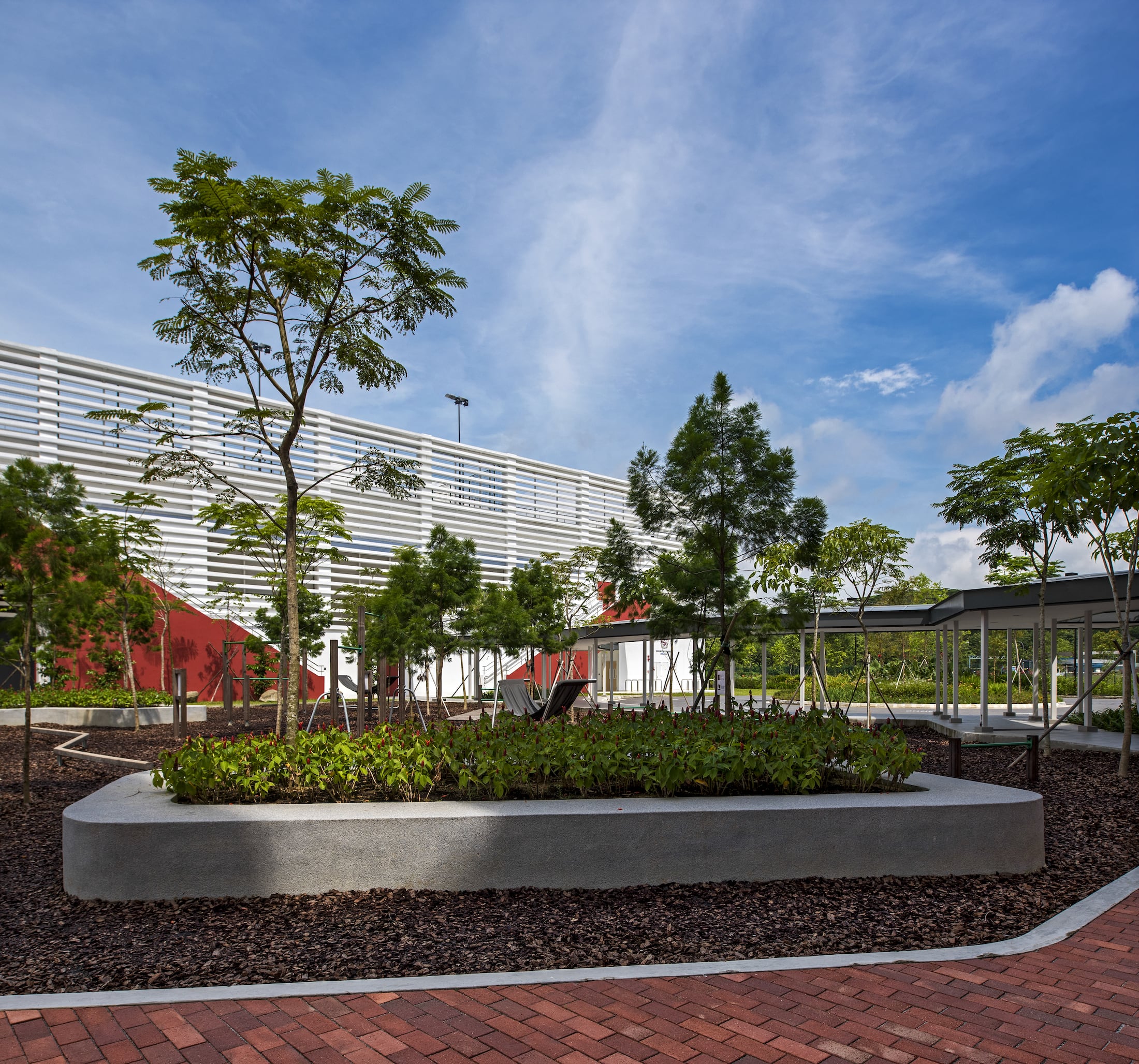 小学(7-11岁)Junior School (7 – 11 Years Old)
这个年龄段的孩子更倾向于运动和行动相关的活动,即发展组织和身体技能。他们喜欢用不同的运动方式来测试攀爬网和其他复杂结构的灵活性。在进入青春期前,他们喜欢在没有成人监督或年幼孩子干涉的情况下进行分组游戏,展示他们的平衡和协调能力。在小组或团队中进行的有客观规则的结构化游戏,往往在这个年龄段中占主导地位。
Children of this age group gravitate towards activities involving movement and action, namely developing organisational and physical skills. They enjoy testing dexterity with elements such as climbing nets and other complex structures using different motor responses. As they move towards pre-adolescence, they opt for grouping together without adult supervision or interference from younger children. They also like to demonstrate their power of balance and coordination. Structured games with objective rules, played in groups or teams, tend to predominate for this age group.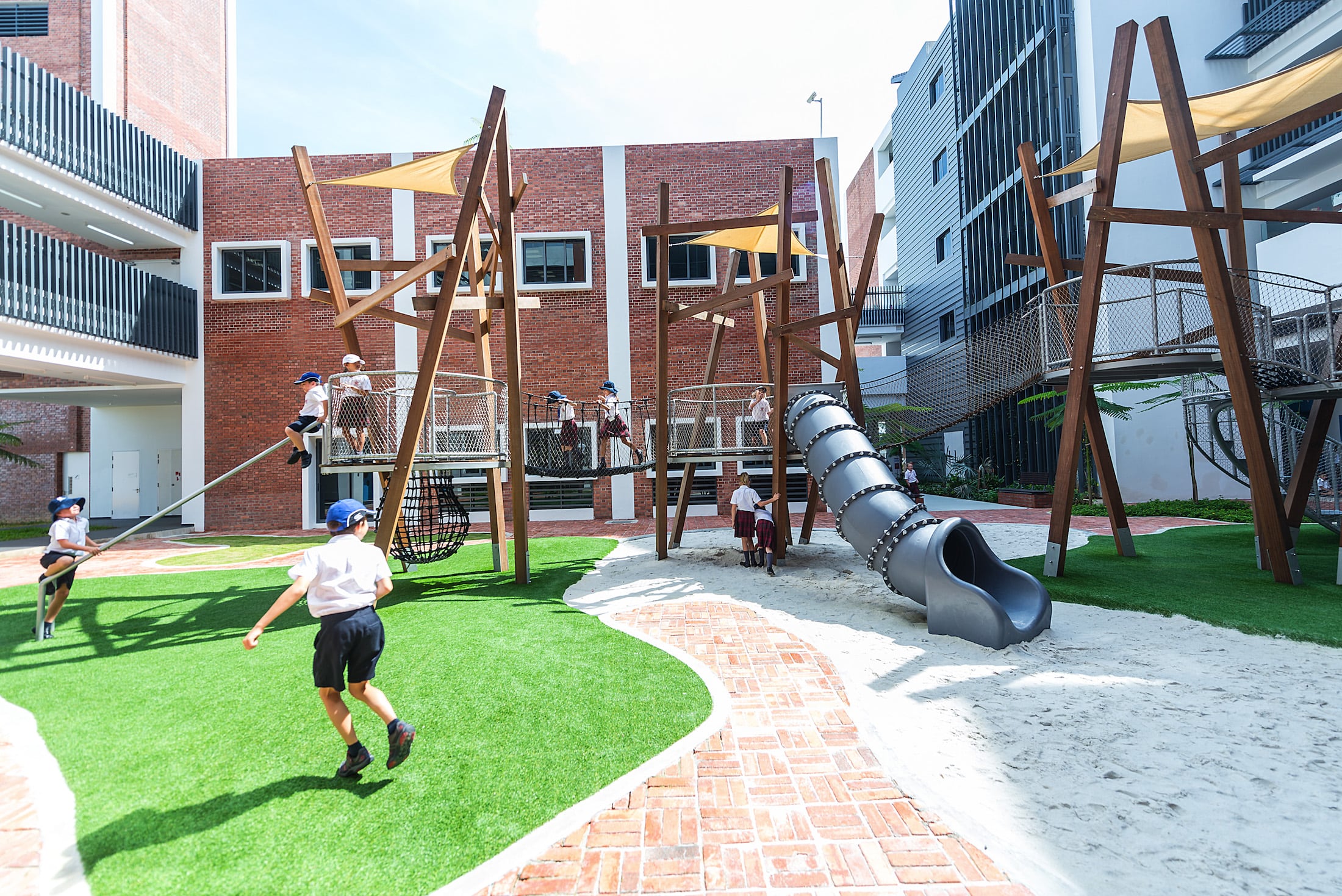 为鼓励学生们积极参与以及互相联系,景观节点和项目都主要集中在共享庭院中。像游戏旋度和树屋这种独立的游戏结构是专为初中儿童设计的,将橄榄球场和运动场置于附近,也是为了方便组织比赛。
The landscape nodes and programmes are centrally placed in the shared courtyard to encourage active participation and bonding. Independent play structures such as the Play Curl and Tree House are designed for children in the junior school. The Rugby Field and play field are located nearby to facilitate playing of structured games.
▼独立游戏结构 Independent Play Structures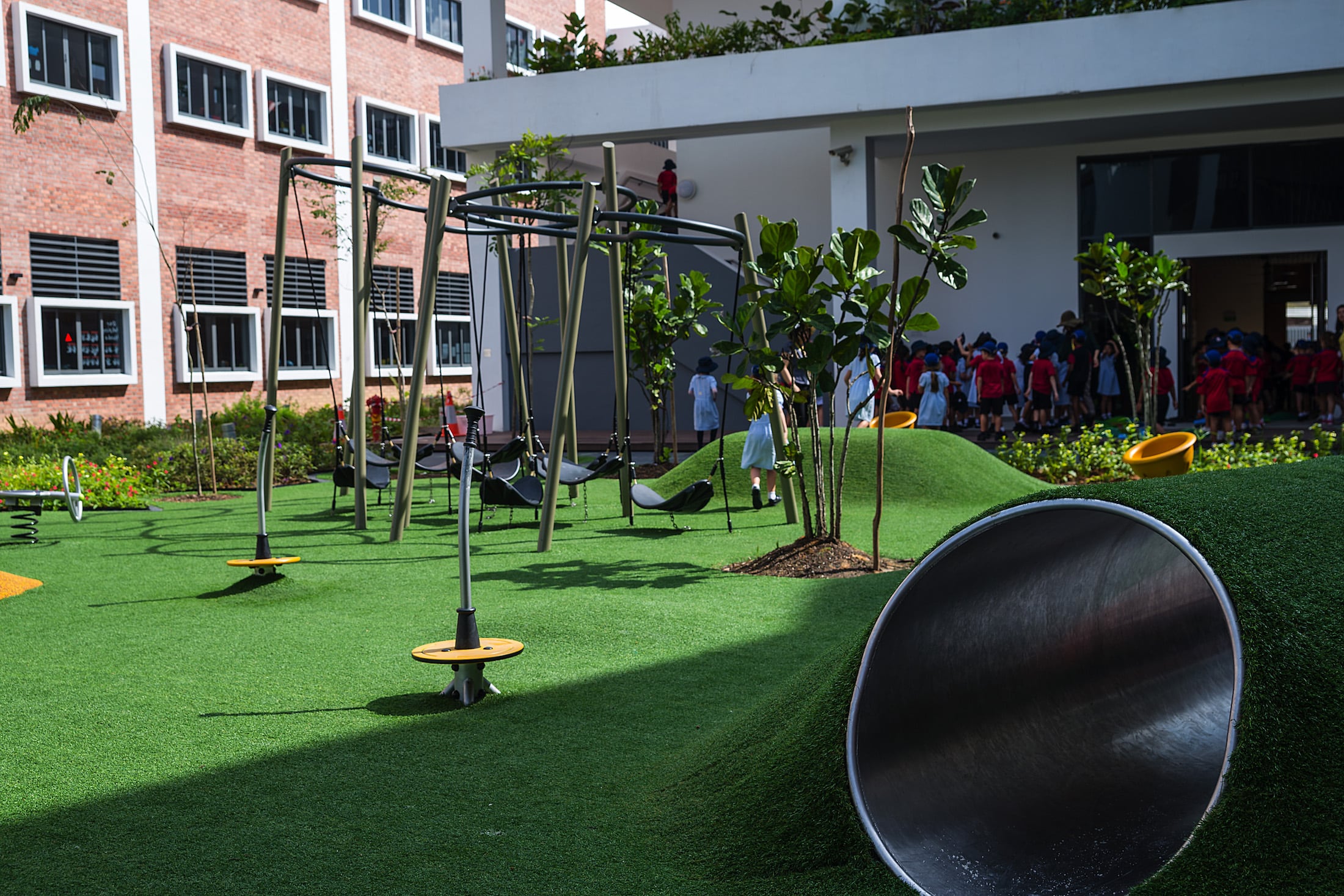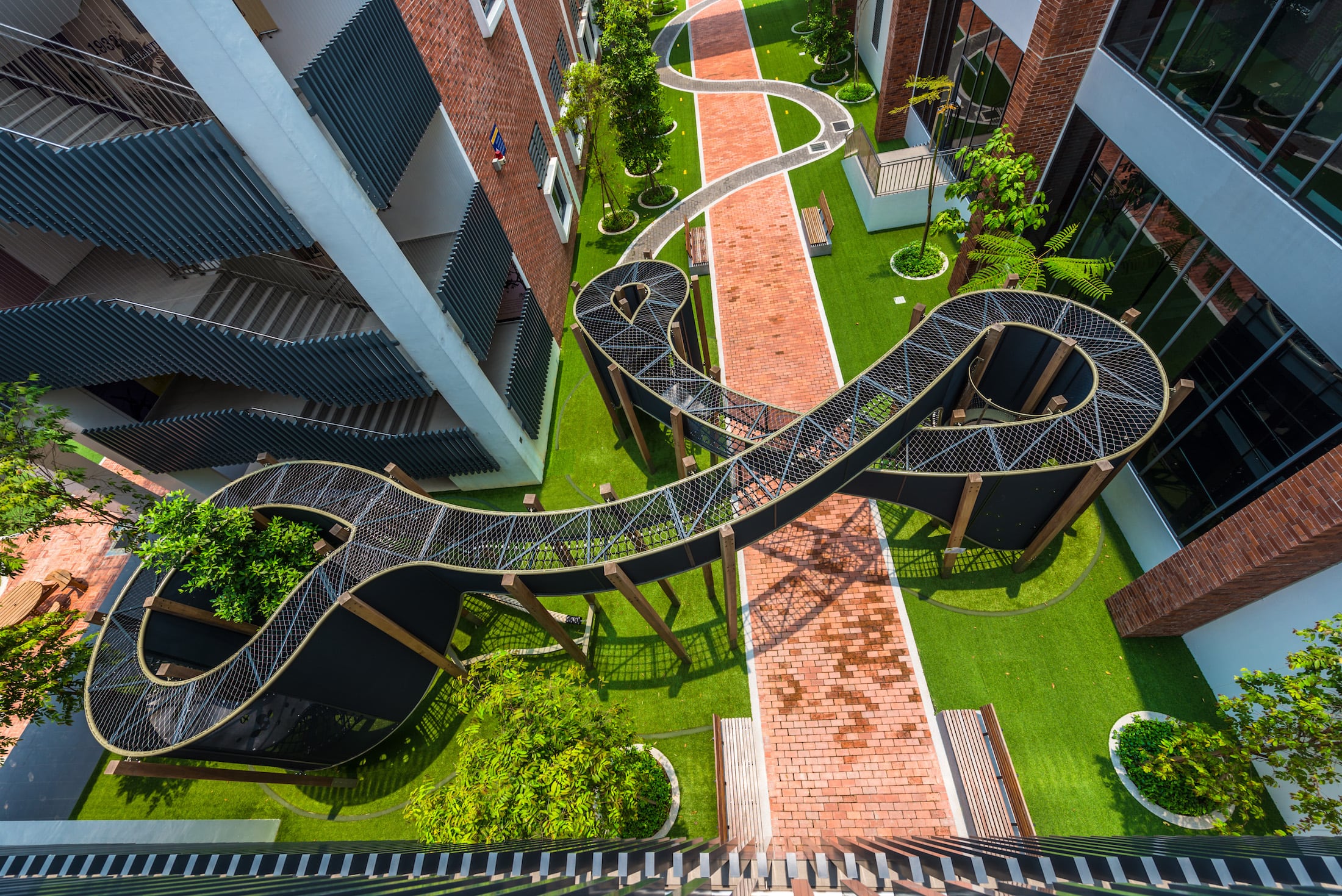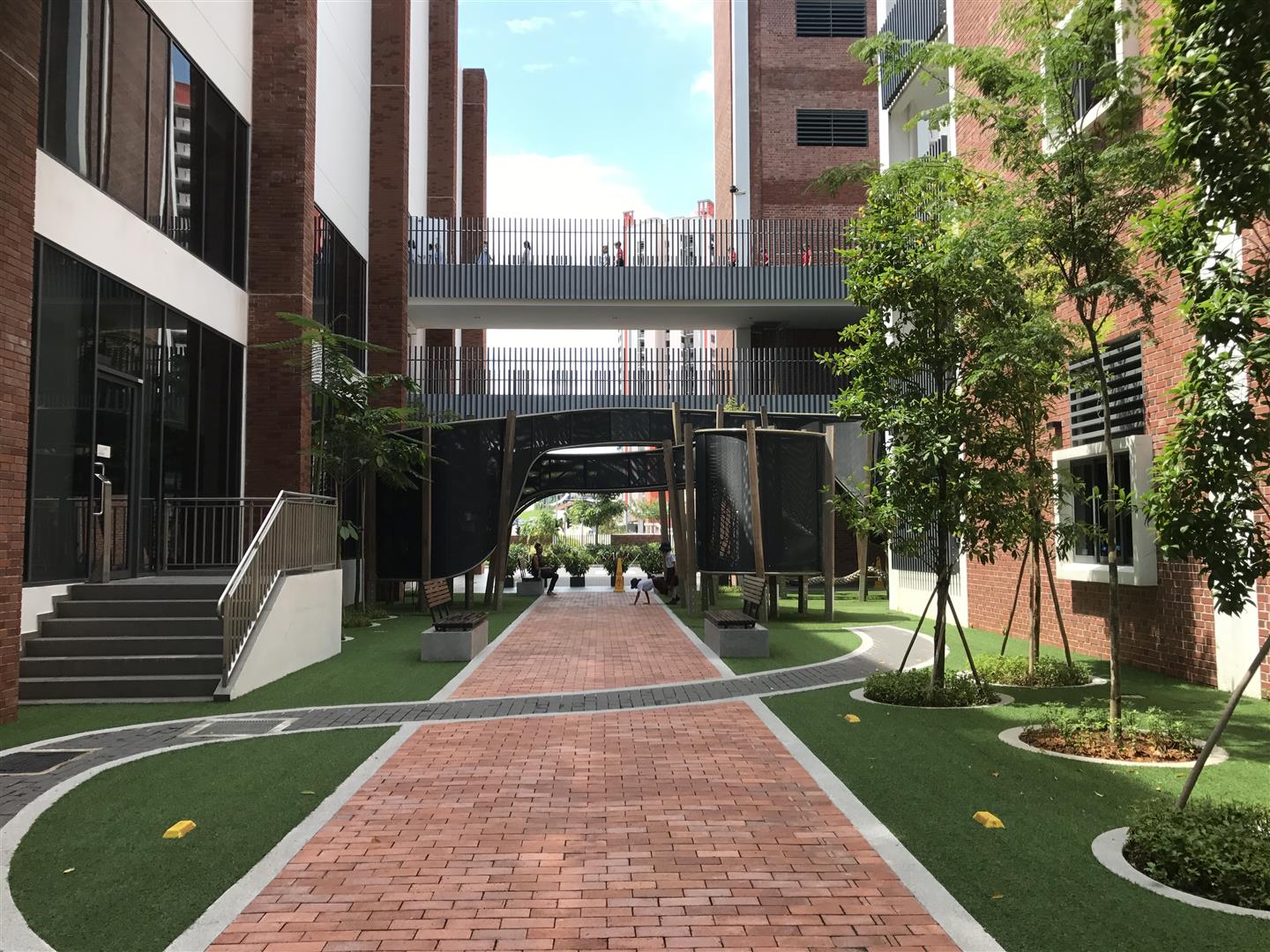 中学(11-18岁)Senior School (11 – 18 Years Old)
青少年的游戏主题主要围绕社会活动和互动。随着孩子独立意识的增强,其自我认同感同时也在发展。景观设计在保证了其可进行自由活动的同时,还在空间使用上增加了严格的使用方法,即在创建探索空间的同时,创建了一系列的边界。各种用于互动或独处的社交空间都经过精心设计布局。这个庭院的景观设计形态就如一个简单的社会活动空间,学生们可以在课堂之外自由互动,发挥他们的思维。每个人在庭院里都有一个属于自己的特殊空间,孩子可以选择在这里安排进行个人或群体形式的各种活动。庭院硬质景观的"圆点"或圆形种植孔种植的是同一树种,可作为用于教育和兴趣的单一植物群,同时这些树木也为孩子们界定了活动范围,营造有益的活动氛围。
In the teenage years, play revolves around social activities and interaction. A sense of self-identity is developing with increased feelings of independence. The landscape design while still allowing free movement, adds a disciplined approach in spatial use, creating a set of boundaries while fostering room for exploration. Various social space sizes for interaction and/or solitude are carefully located. The landscape design curated at this Courtyard presents a graphic collection of socio-activity pods, allowing students to interact freely and develop their minds outside the classroom. The Courtyard has a special place and space for everyone with its pods allowing a myriad of activities for an individual or as a group. 'Dots' or circular planting holes in the Courtyard hardscape are planted with mono- species, as a flora collection for education and interest, whilst trees define activity circles and create a conducive atmosphere.
▼中学区庭院景观 Senior School courtyard landscape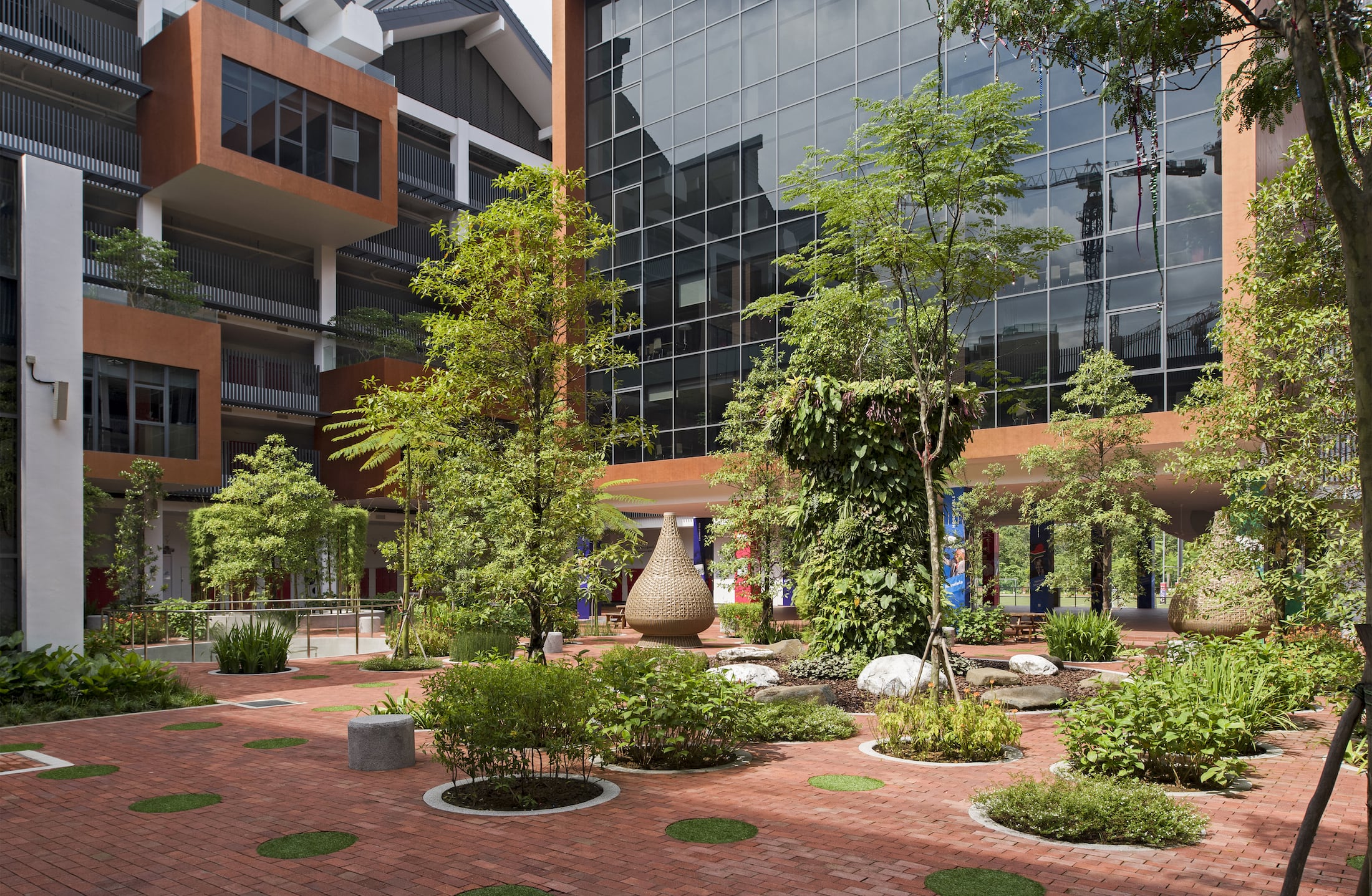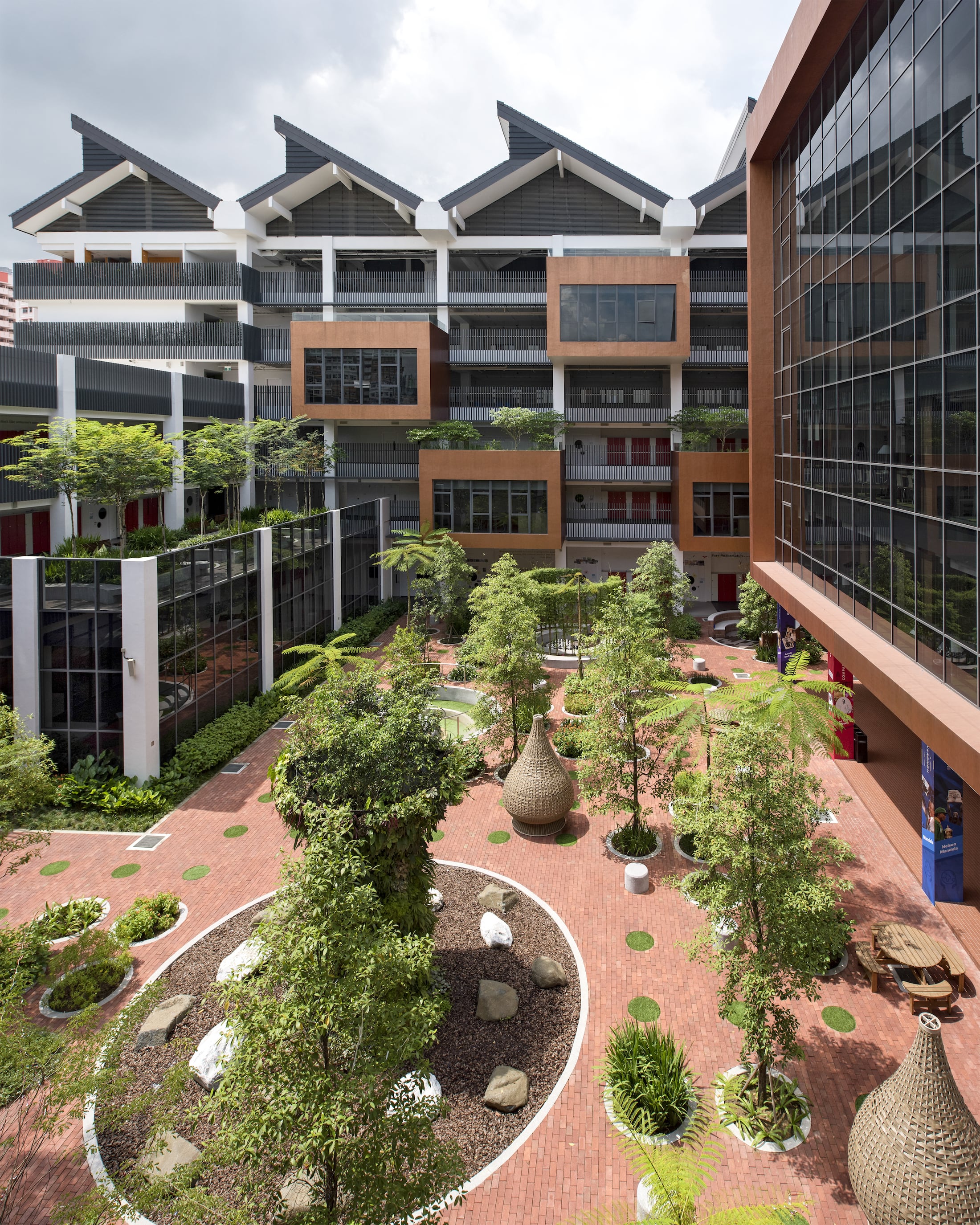 种植策略 Planting Strategy
孩子是我们未来的地球管家。要让孩子们在户外感到舒适,就要让他们置身于大自然的奇观之中。整个植物景观设计的灵感来自热带森林及其栖息地,孩子们可以在这里找到100多种不同大小、颜色和质地的植物。在生物多样性高的腾格里森林和句容湖区的附近,引进的蝴蝶和鸟类吸引植物物种,有助于丰富校园的生物多样性。这片郁郁葱葱的绿色校园的5公顷的土地上,叶面积指数达到了22公顷以上,绿色容积率达到了4.9。
Children are our future stewards of earth. Enabling children to be comfortable with the outdoors is to surround them with the wonders of nature. The overall softscape design is inspired by the tropical forest and its habitats where children can discover a myriad of 100 flora species of different sizes, colours and textures. Close proximity to high biodiverse Tengah forest and Jurong Lake district, aids to enrich the school's biodiversity by introducing butterfly and bird attracting plant species. The Leaf Area Index achieved is at least 22ha on a 5ha site, with a 4.9 green plot ratio creating a lush verdant campus.
▼植物设计效果图 Plant Design Rnderings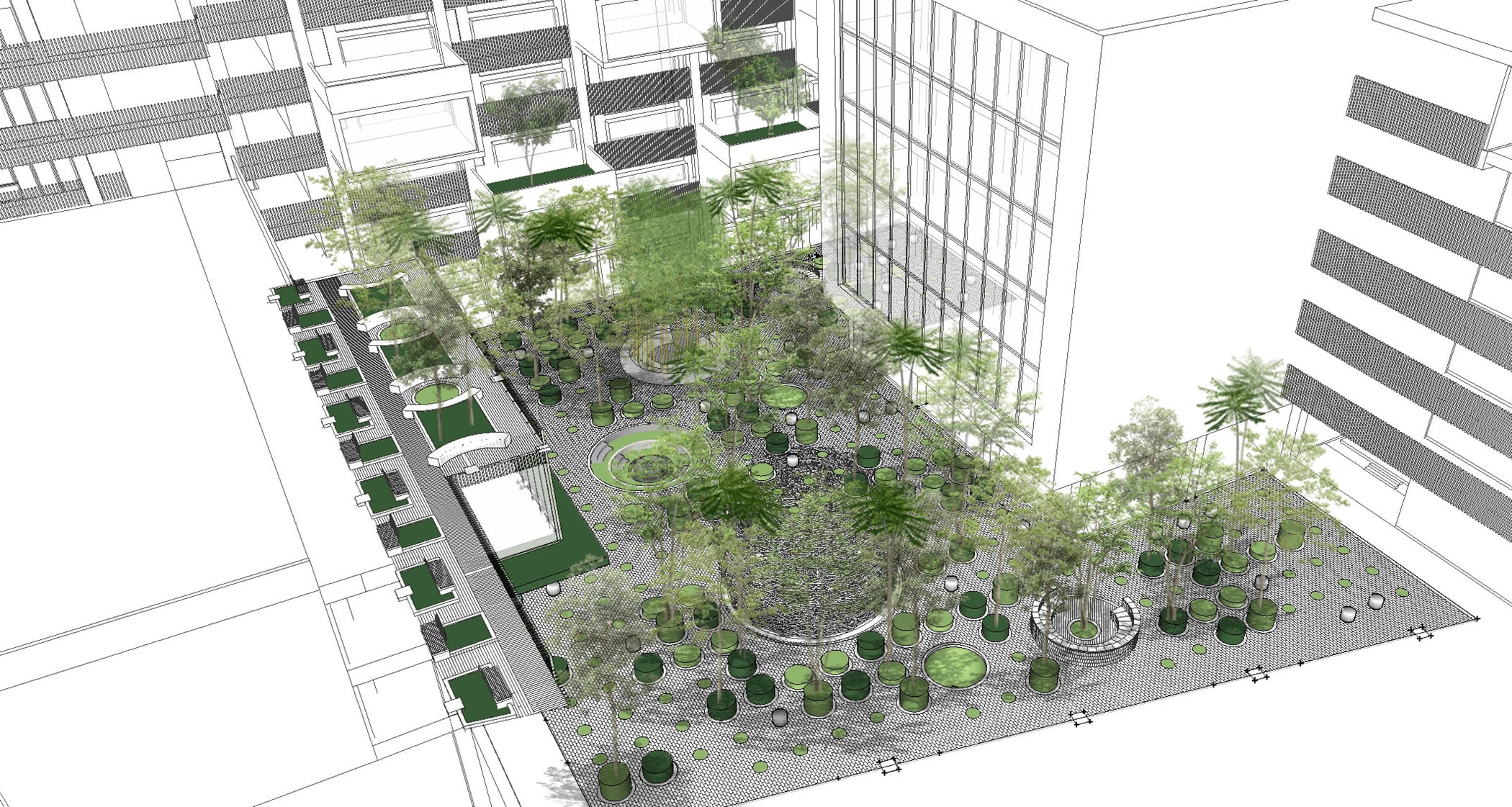 ▼绿色校园 A Lush Verdant Campus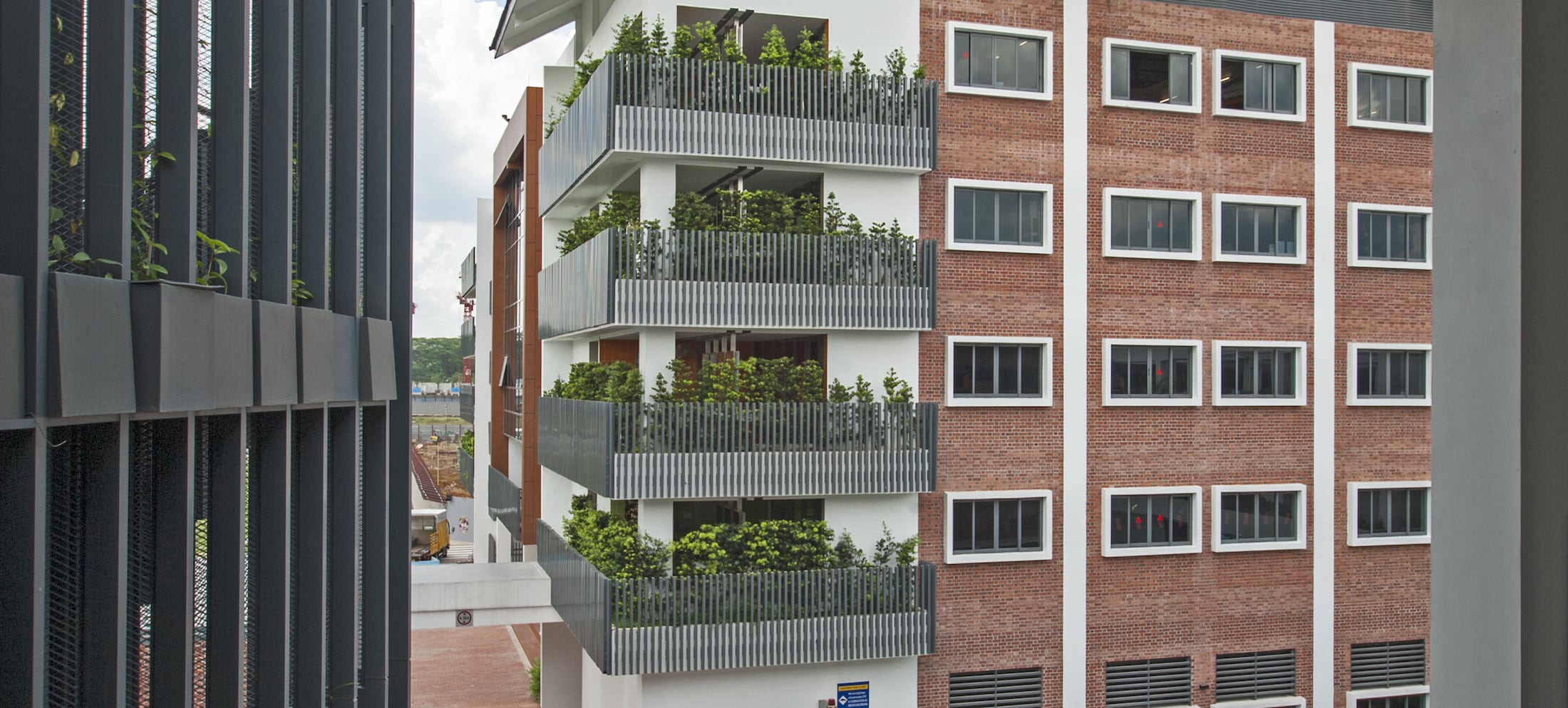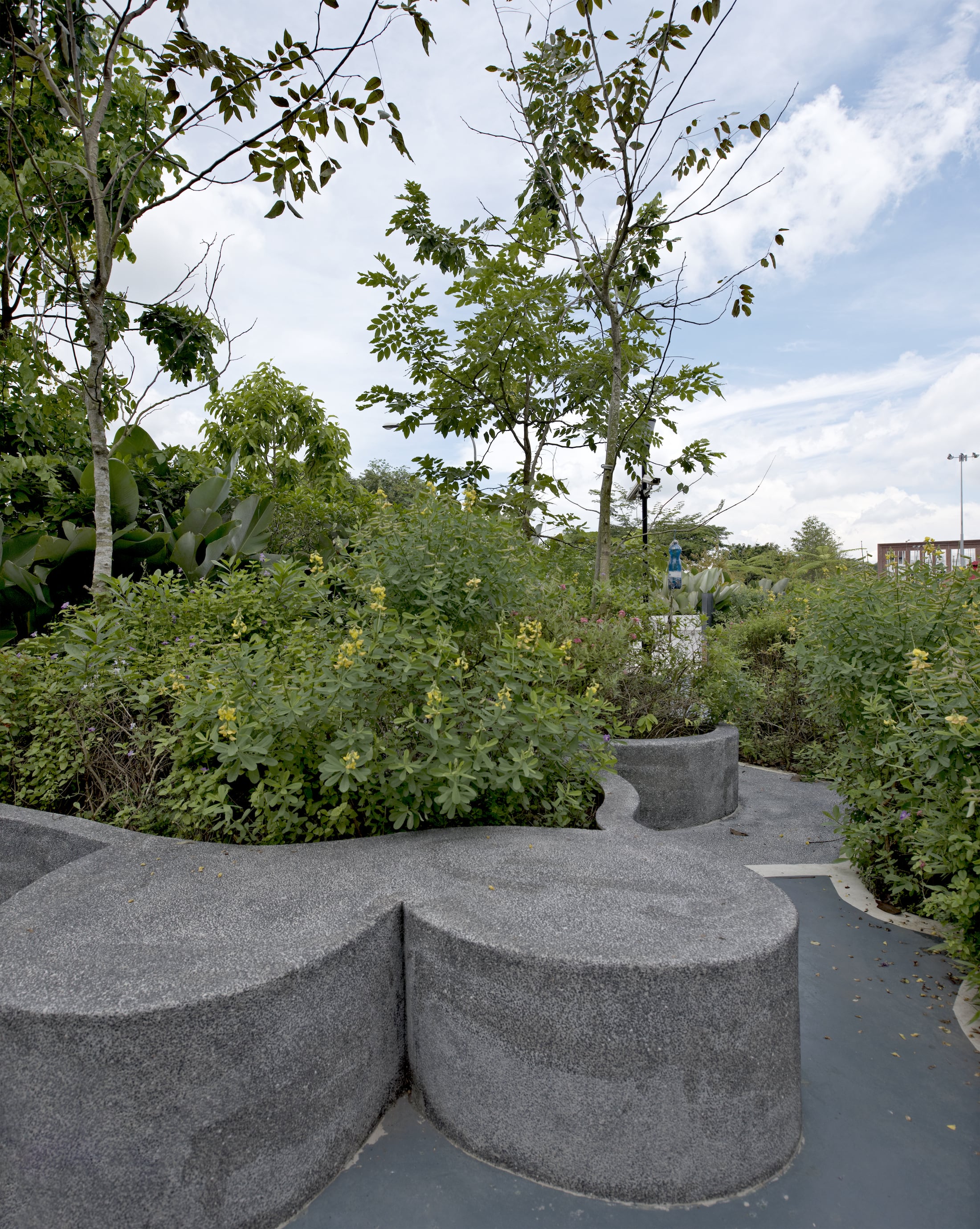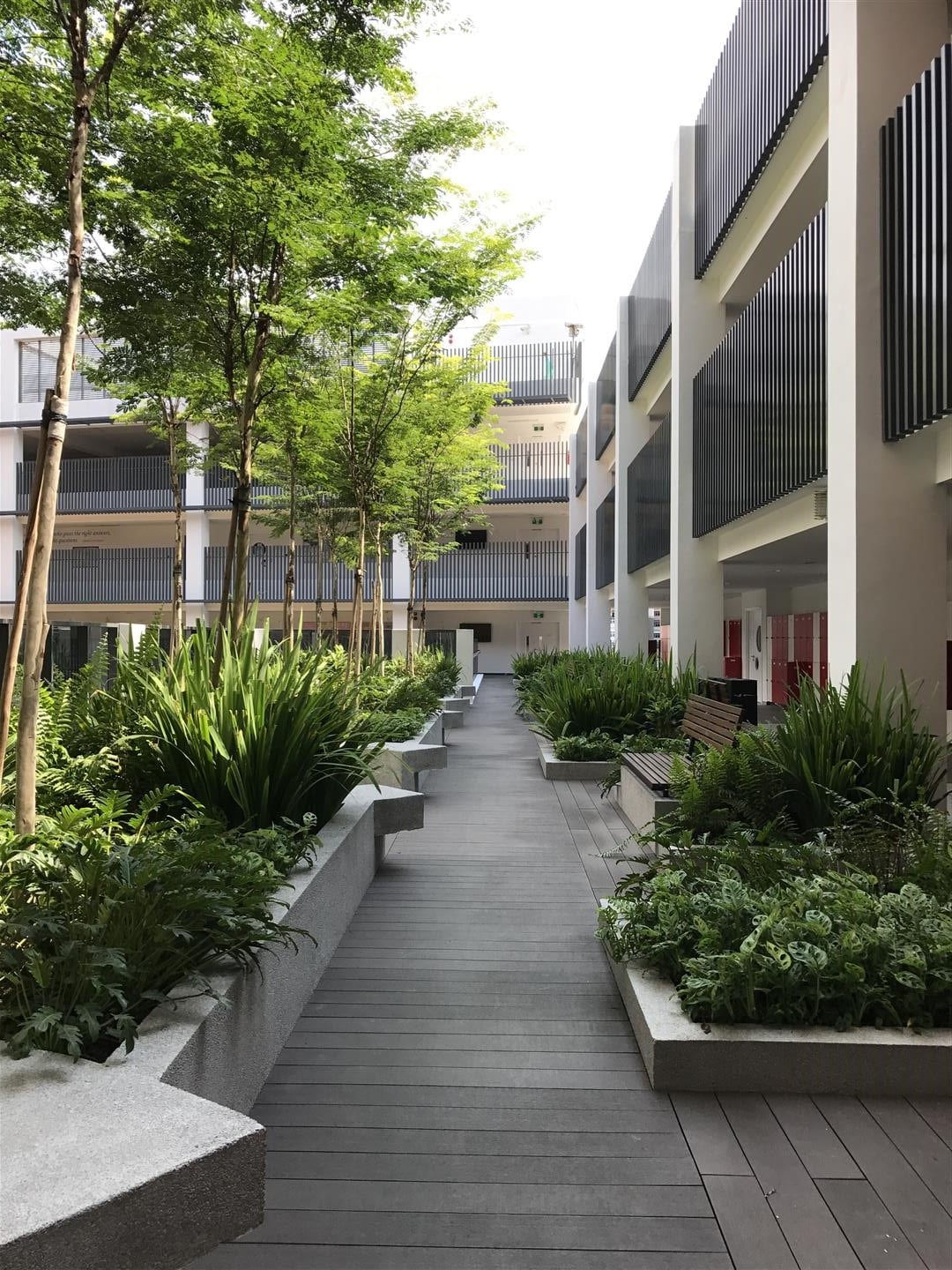 共享自助餐厅处有一个大受欢迎的露天用餐平台,平台上有一片青松树林和一堵40米长、6米高的绿化墙面提供遮阴。随着夏季到来或季风季节的变化,孩子们会接触到各种各样为景观增添了许多不断变化的纹理和色彩趣味的植物种类。
The shared cafeteria has a welcoming alfresco dining terrace shaded by a tree grove of Caesalpinea trees and a 40m long by 6m high green wall. With the changing seasons from summer or monsoon, children are exposed to varied flora species range that add much texture and colour interest in the ever- changing landscape.
▼绿墙立面图 Greenwall Elevation

▼露天用餐平台 Alfresco Dining Terrace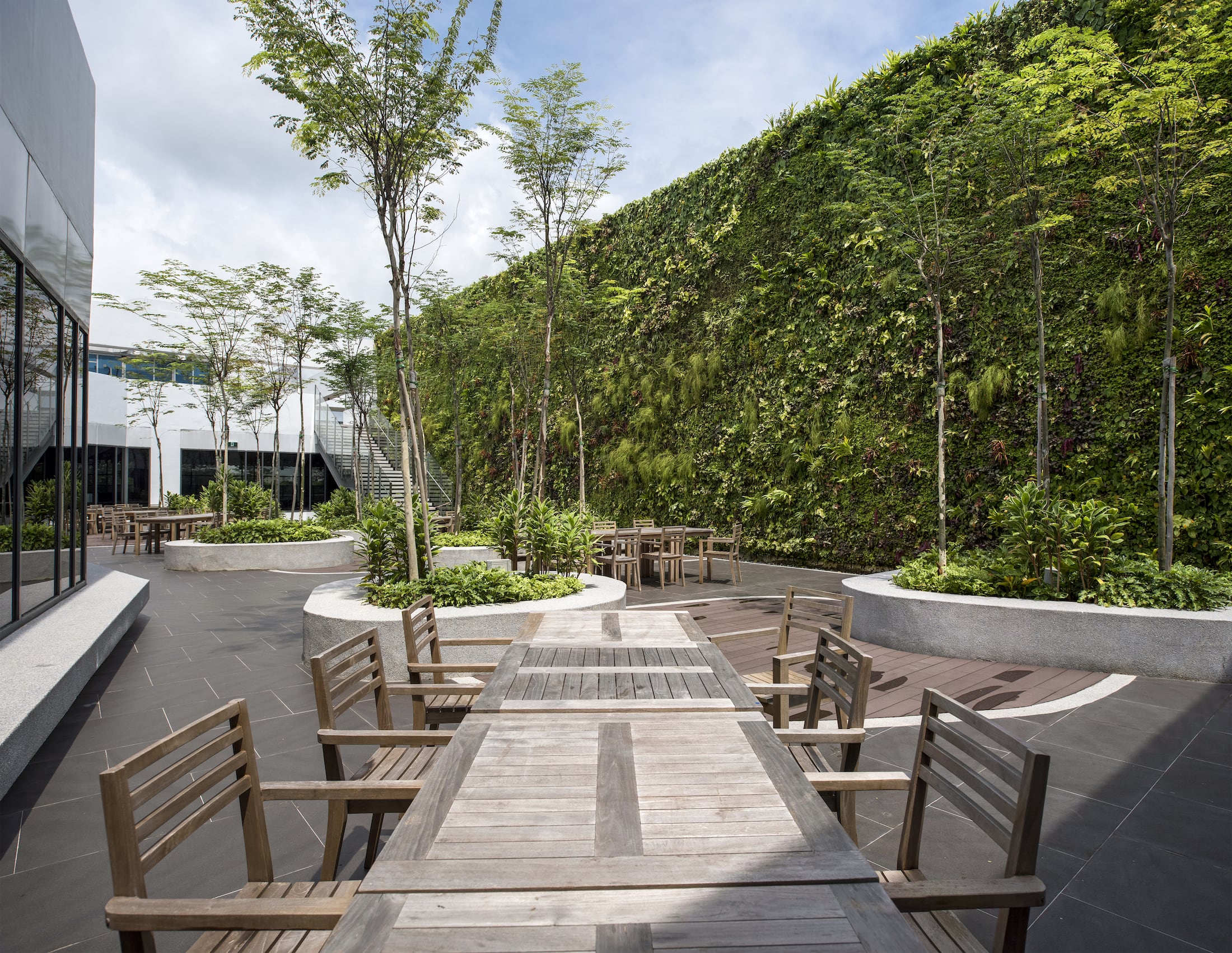 景观设计:DP Green Pte Ltd
建筑设计:DP Architects Pte Ltd
游乐场设计:Playpoint(新加坡)Pte Ltd
墙体绿化顾问:Greenology Pte Ltd
项目地点:新加坡
面积:2932平方米
完成:2014年
图片:Tuckys摄影,由DP Green Pte Ltd提供
Landscape Architect: DP Green Pte Ltd
Architect: DP Architects Pte Ltd
Playground design: Playpoint (Singapore) Pte Ltd
Greenwall Consultant: Greenology Pte Ltd
LOCATION: Singapore
AREA: 2,932sqm
COMPLETION YEAR: 2014
IMAGE CREDITS: Tuckys Photography courtesy of DP Green Pte Ltd
更多 Read more about: DP Green Pte Ltd