本文由 Martha Schwartz Partners 授权mooool发表,欢迎转发,禁止以mooool编辑版本转载。
Thanks Martha Schwartz Partners for authorizing the publication of the project on mooool, Text description provided by Martha Schwartz Partners.
Martha Schwartz Partners:公园坐落于重庆市沙坪坝凤鸣山,占地面积约16000平方米。公园南面为旧住宅小区,北部为华誉城项目,西侧是上桥路,东侧是枫溪路。公园作为示范区于2013年春天向公众短暂开放。设计意在打造一个独具特色的示范区公园和城市公共空间,促进周边区域及未来市场的发展。
Martha Schwartz Partners:The project is located in Fengming Mountain area in Shapingba District, Chongqing, extending south to the old housing quarter, north to Huayu City Project, west to Shangqiao Road and east to Fengxi Road. The net site area of the project is approximately 16,000 sqm, opened in Spring 2013.The brief was to design a demonstration park and urban public realm to express a unique identity in order to market the future development.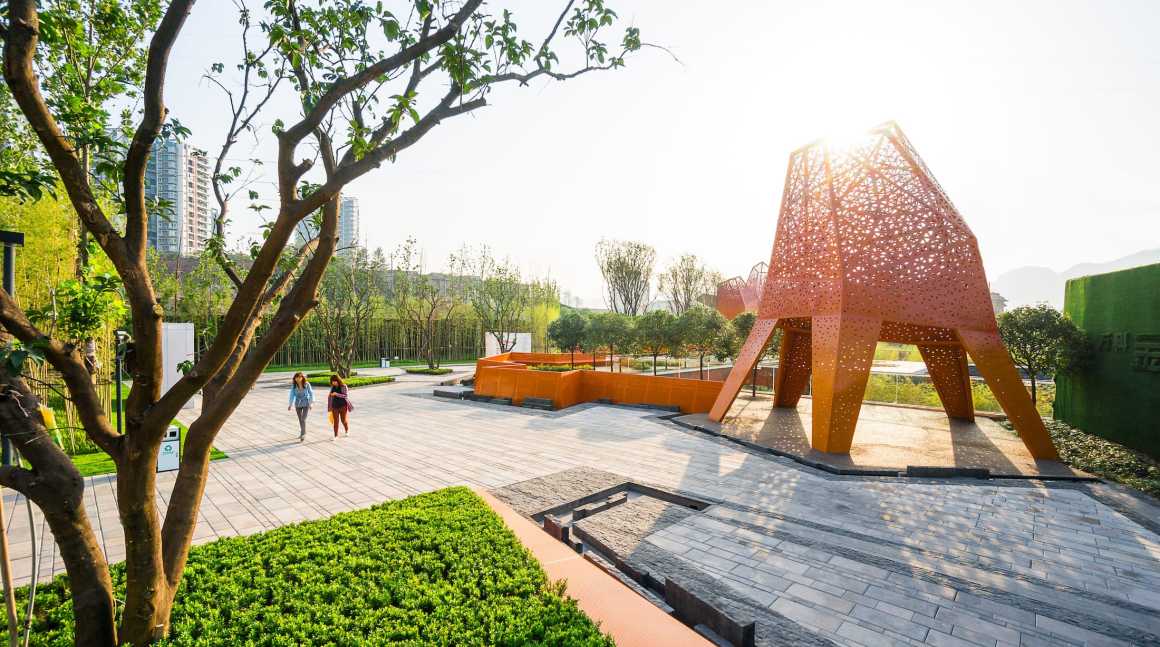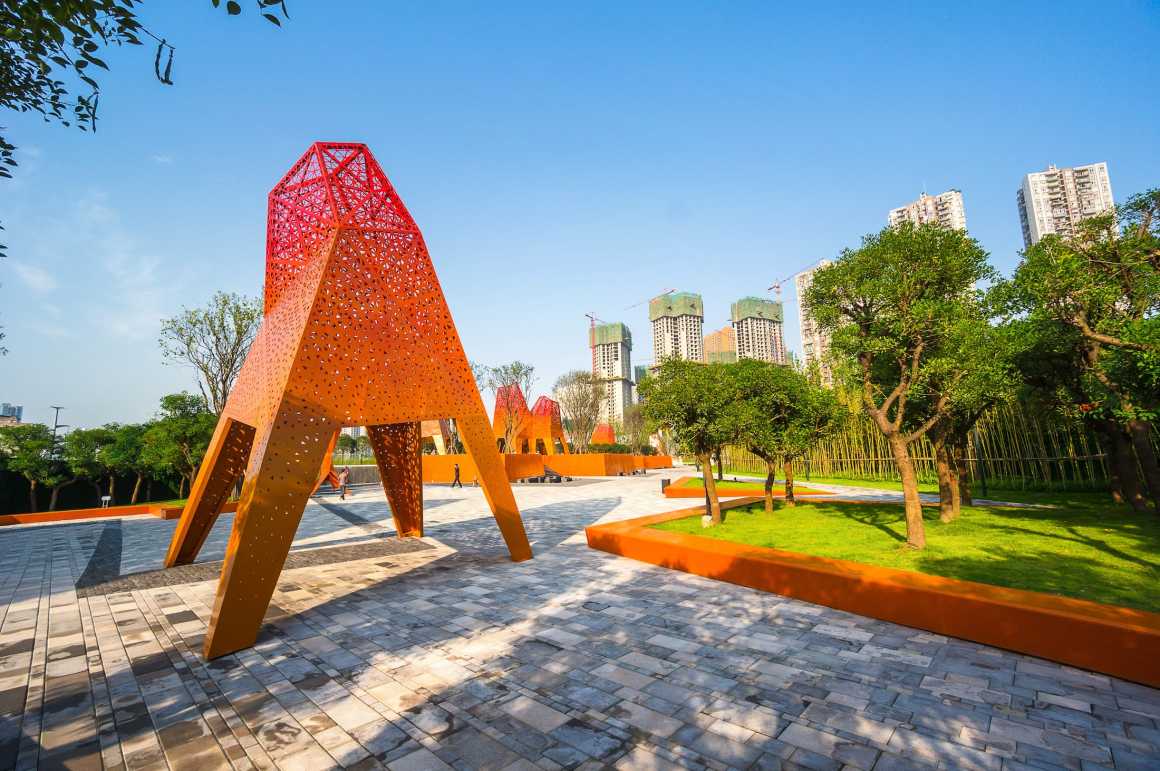 设计灵感来源于重庆独有的景观、气候和文化,如薄雾,细雨,山峦,峡谷,河流和梯田。设计师从中这些元素中提取概念,设计了公园的地形,雕塑,"Z"形步道,并运用与蔚蓝天空形成鲜明对比的橙色作为主色调,使整体景观脱颖而出。
The vision has been inspired by the unique landscapes, climate and cultural of Chongqing; Mist and Rain; Mountains and Valleys; Rivers and Terraces. These elements provide the inspiration for the mountain pavilions, zigzag patterns, orchestrated terrain and the use of vivid colours (to contrast against the sky).
▼总平面图 Master Plan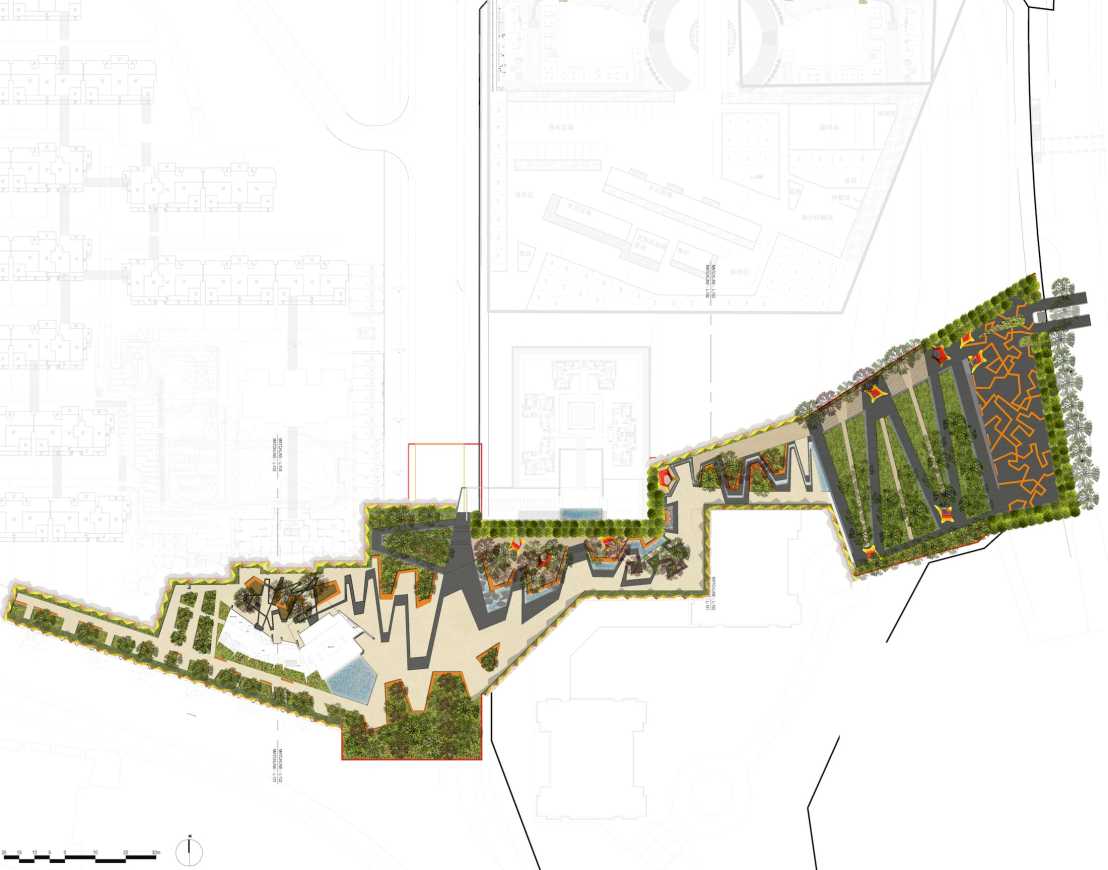 考虑到场地高差明显,设计师打造了一条蜿蜒下行的步道,又在其中铺设了一条 "z"字型小道,宛如喷绘于步道上的艺术涂鸦,吸引着人们,抵达水景,广场以及最终目的地:万科销售中心。
The site is extremely steep, using a broad zigzag path to provide mobility down the slope, this strong form enables a sequence that is used throughout the scheme to continue a pattern language as your arrive; as painted art on the pavement; down the zig zag path; into meandering water features; through plazas and then to the final destination at the Sales Centre.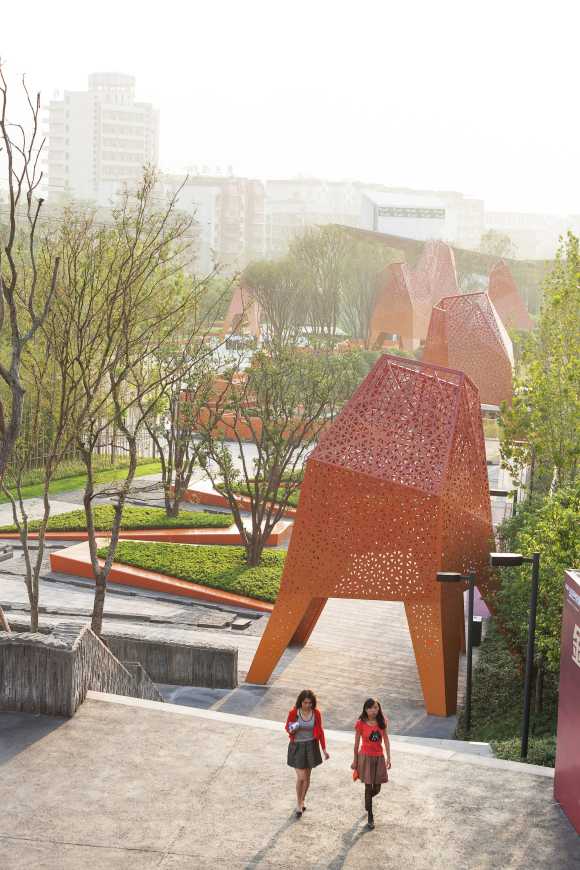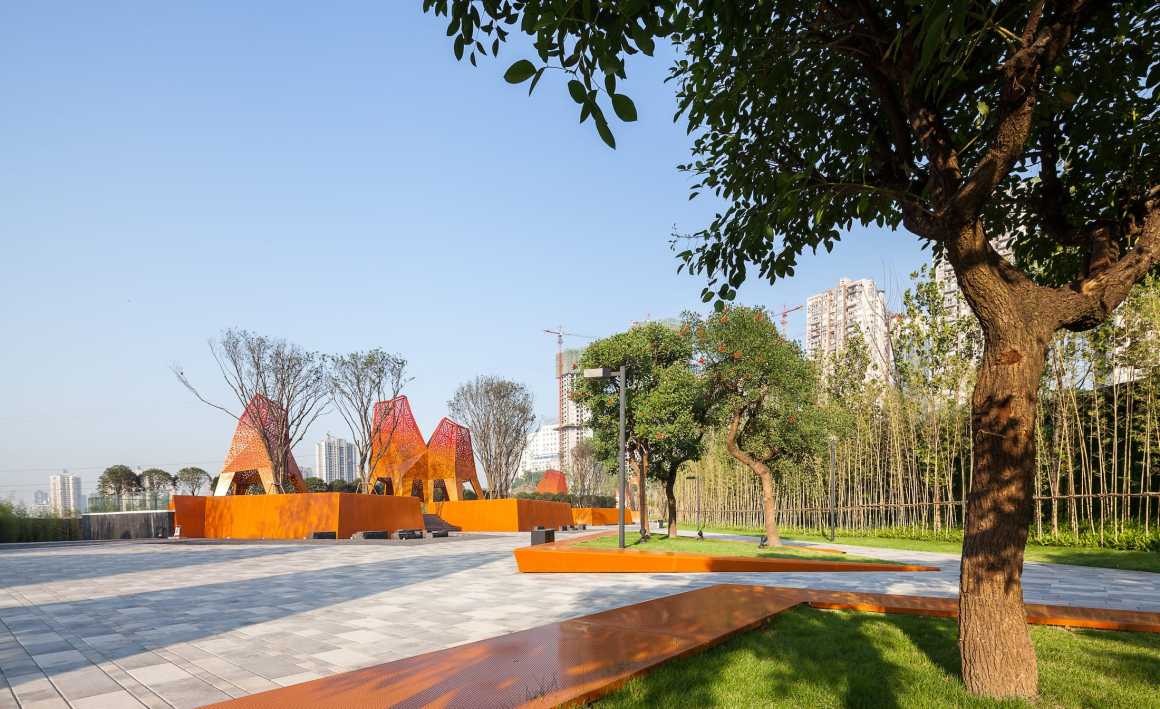 在入口广场有优雅灵动的雕塑活跃气氛,将驾车的人们带领至广场的停车场。而与广场相连,屹立着的亭阁,仿佛重庆连绵的山峰,分布于步道的每个角落,在提供阴凉庇护的同时,也引导着人们缓步"下山"到达售楼中心。到了夜间,亭阁会被内置灯光点亮,又化身为一个个橙色的巨型"灯笼",随地形此起彼伏,为步道照明,引来者前行。
The projects experience is immediately brought to life with dancing sculptures lining the entrance to draw people arriving by car into the arrival plaza. Pavilions designed to reflect the mystical mountains of the region are located with the arrival plaza, and are strategically positioned along the path, leading pedestrians down the 'mountain' into the Sales Centre area. The pavilions are also important to provide shade and relief along the journey. The pavilions provide shade during the day and at night, are lit to create a spectacular glowing lantern effect.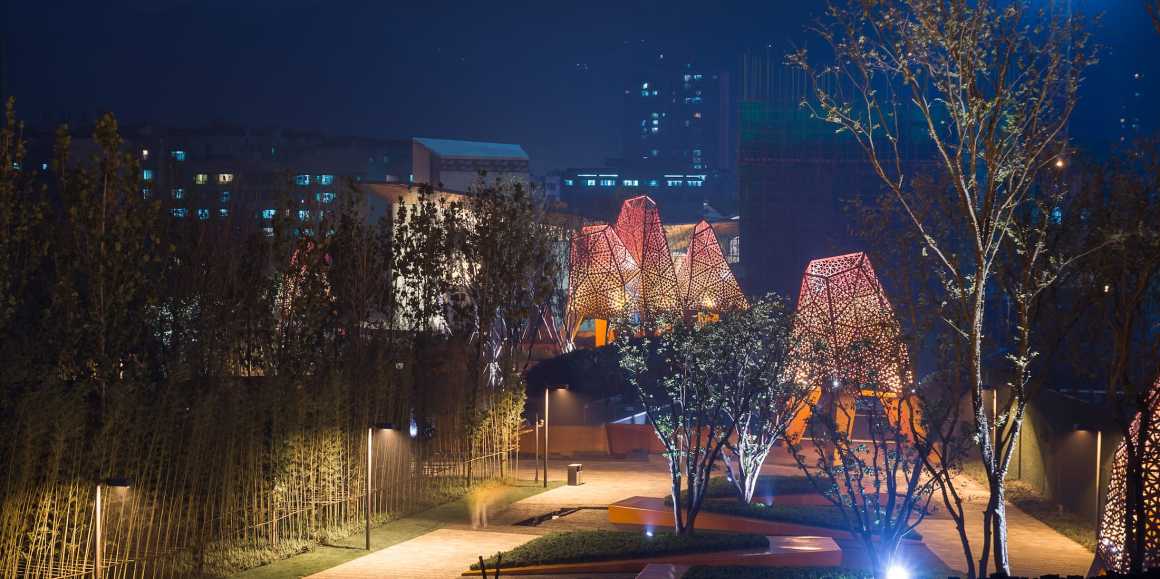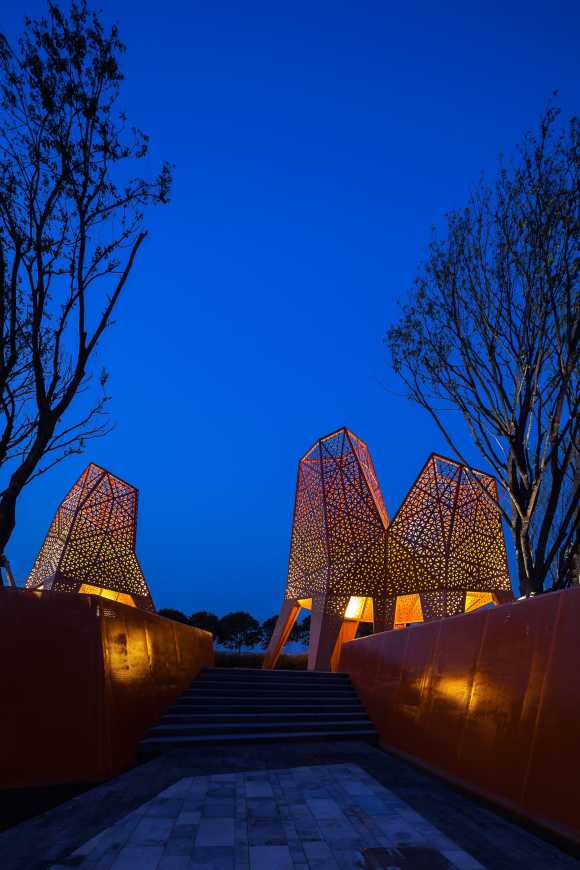 当最终来到万科售楼中心,线性的图案变换成座椅,彩色的铺装和灯光又带来新的感官体验。
At this point, the pattern intensifies into raised benches, coloured paving and lights to provide a crescendo of excitement.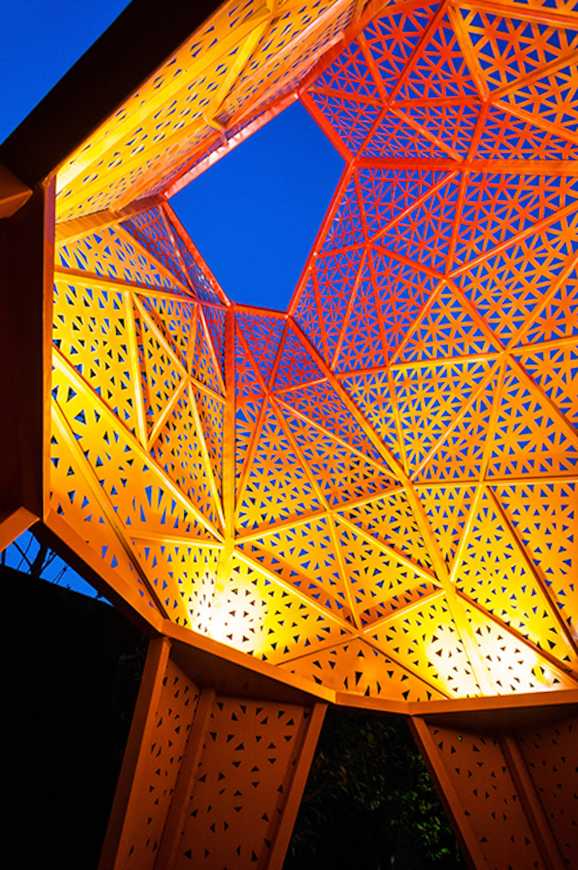 水是园内一大亮点,以"流动的水"作为主题,从入口广场到售楼中心,分别有水渠、水池、喷泉等多种形式的水景,潺潺的水声,宁静的氛围,在为周围环境降温的同时,也营造出层次丰富的景观体验。
The presence of water is a major part of the Chongqing and is expressed as a 'flow' of water from the arrival plaza to the sales centre, using a variety of different water effects, such as: channels, pools and jets to assist with cooling, provide sounds and atmosphere to what is a captivating landscape.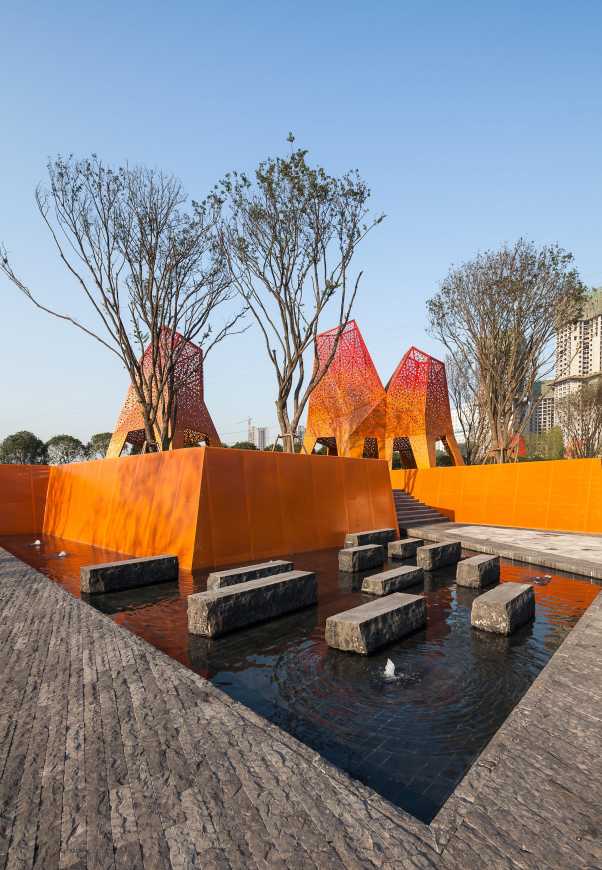 ▼场地剖面图 Section

项目名称:重庆凤鸣山公园
客户:重庆万科
项目地址:重庆(示范区项目,已拆除)
完成年份:2013
设计面积:16000平方米
设计公司:Martha Schwartz Partners Ltd
设计团队:Martha Schwartz,Markus Jatsch ,Nigel Koch,Jasmine Ong,Christabel Lee,Aigars Lauzis,Ignacio Lopez-Buson,Ceylan Belek-Ombregt,Gilles de Wever
摄影:Terrence Zhang
Project name: Chongqing Fengming Mountain Park
Client: Chongqing Vanke
Location: Chongqing, China (Project for demonstration, it has been dismantled.)
Completion: 2013
Design area: 16,000 square meters
Design firm: Martha Schwartz Partners Ltd
Design team: Martha Schwartz,Markus Jatsch ,Nigel Koch,Jasmine Ong,Christabel Lee,Aigars Lauzis,Ignacio Lopez-Buson,Ceylan Belek-Ombregt,Gilles de Wever
Photography: Terrence Zhang
更多 Read more about:Martha Schwartz Partners