本文由 AZC 授权mooool发表,欢迎转发,禁止以mooool编辑版本转载。
Thanks AZC for authorizing the publication of the project on mooool, Text description provided by AZC.
AZC:已于2017年举办的柏林IGA展(国际花园展)旨在庆祝花园这一主题,并且,基于栖居于自然的艺术,以及自然带来品质生活的理念,展览将探索花园的各种形式。此等活动的传播需要一个夺人眼球的效果,以捍卫自然在在我们当今社会的角色。设计主旨为通过视觉和传播手段来激发公众的焦点,从而阐明花园的主题。
AZC:We propose a Pavilion which is visually and aesthetically engaging. It is capable of providing an ideal contemporary space offering a sense of tranquility, beauty and an exceptional aesthetic value at the very heart of the Museum Gardens in London. Peace is one of the highest human ideals.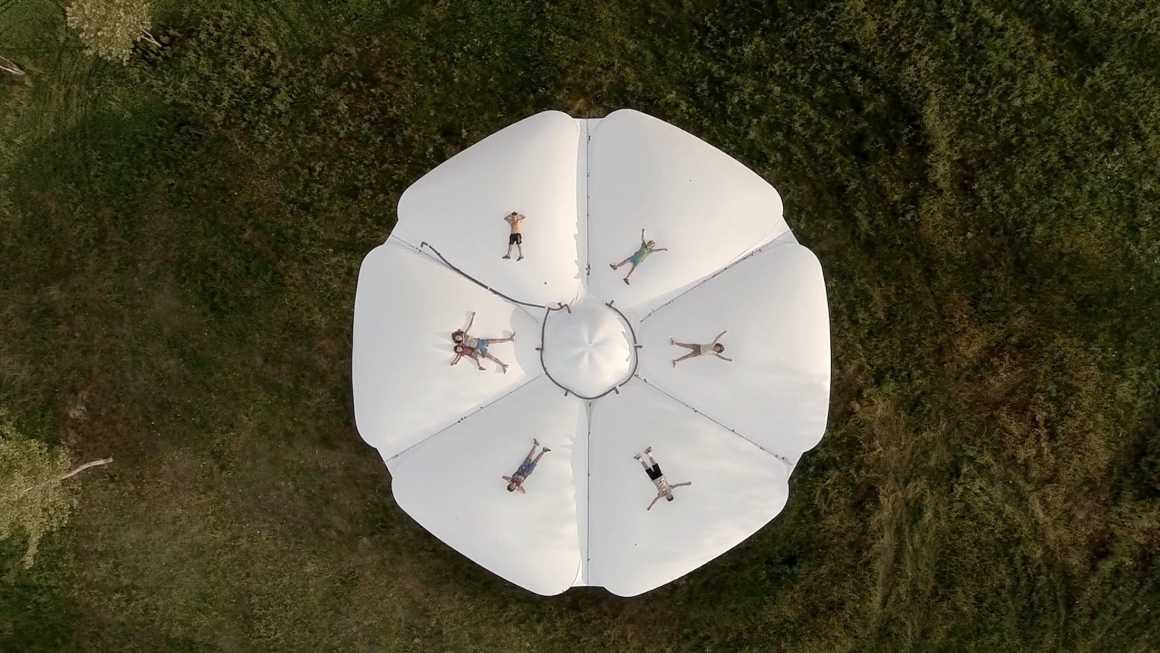 设计出发点为赋予展馆一个鲜明的形式,简洁而具普适性。我们选择了花朵这一明朗而易于辨别的形式。从而,展馆被具象为一个个巨型花朵,让人过目难忘,且让公众在活动中体验亲切和惬意感。
展馆在造型上满足灵活组合的特点求,也契合了任务书的要求。装置受花朵的构造所启发,从而基本模块为一个花瓣,可以与其它花瓣组合以形成一个完整的花形展馆。
It is a state of equilibrium; it means NO WAR, but also harmony, silence, pureness, kindness, happiness, appeasement, calm, reconciliation, serendipity, tranquility… To express these ideas, we have created a perfect and symmetrical sculpture, obtained by a precise geometrical manipulation. The beauty of the shape lies in its perfect symmetry and fluidity; the pavilion speaks to everyone.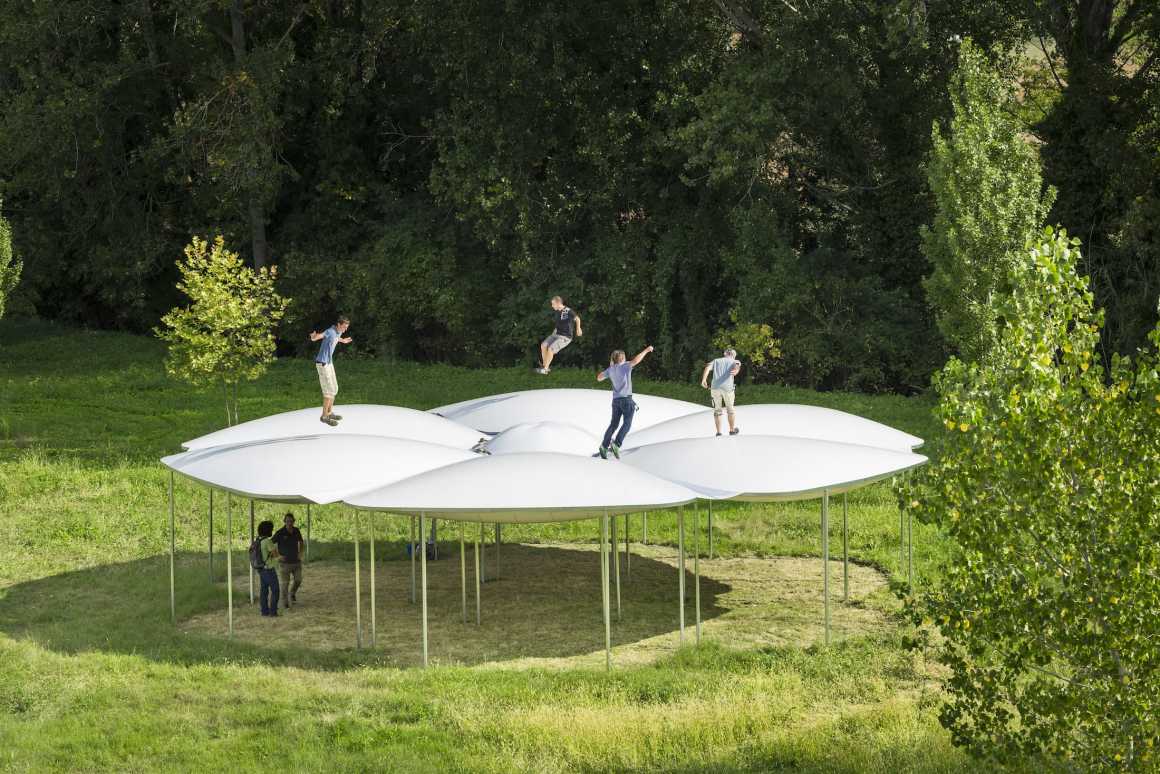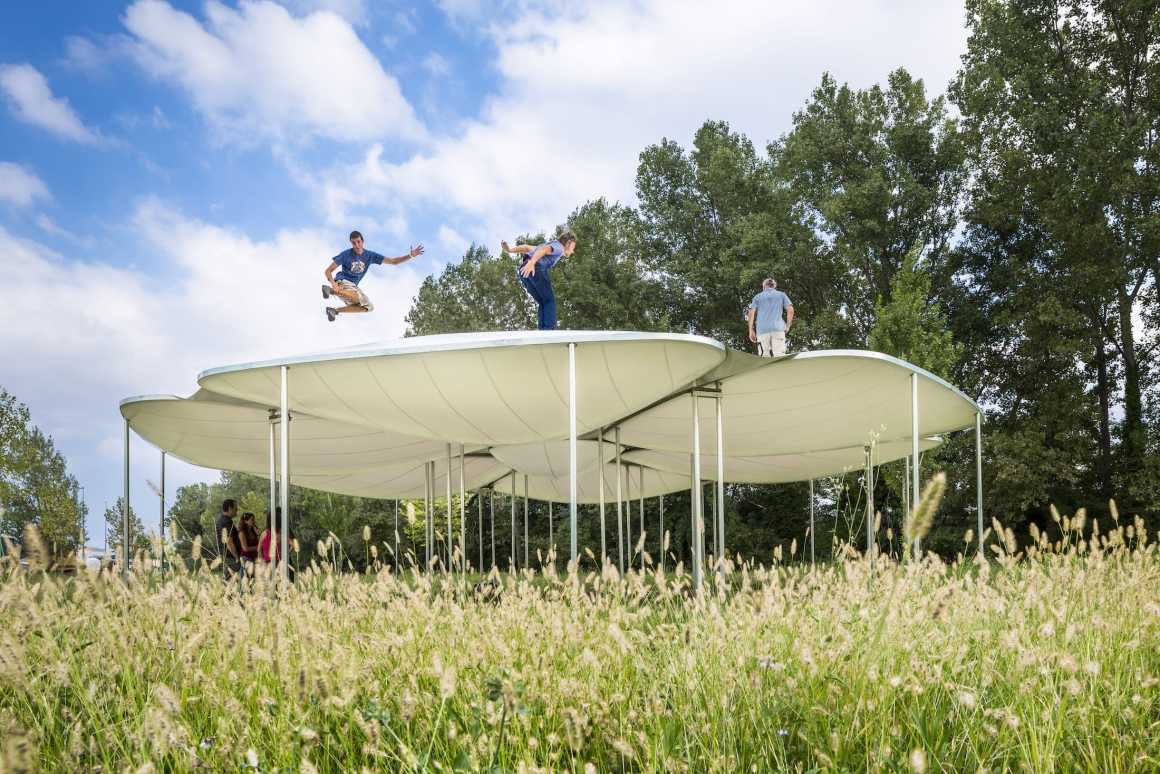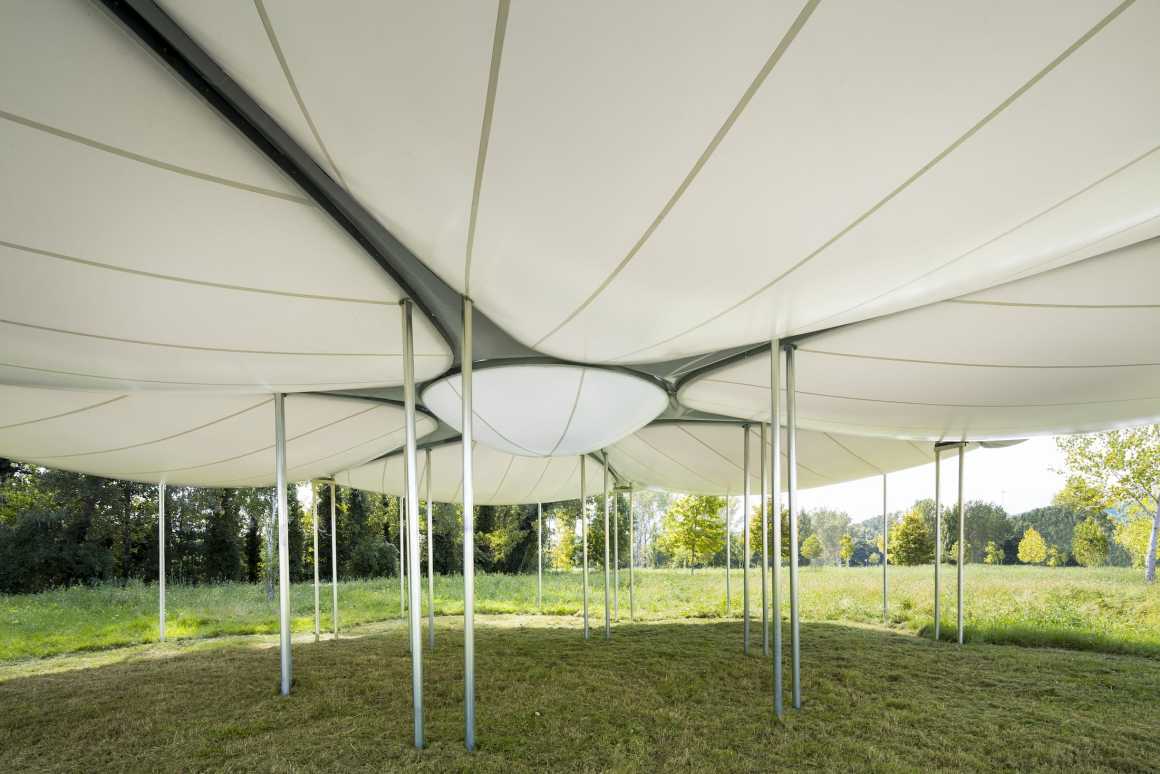 为了增加展馆的视觉冲击力,我们提议一个可增生的系统,伴随着功能的衍变,能像村落般扩张发展。为了实现增生效果,展馆的组装设备被模块化。
单个模块主要由一个充气的屋顶构成,被空气 –这个世界上最经济且可再生的元素填充。充气的形式恰如其分地适应了临时展览的需求。它便于运输、组装迅速、且牢固持久。一个展馆由六朵花瓣(模块)组成,在意象上与花朵呼应。
充气膜由形似花瓣的白色PVC膜构成。弧形屋顶使雨水滑落到模块的外缘。金属柱从表面插入地面,向外展开的柱头支撑着充气屋顶。柱子为中空的,内部整合了所有电力和通风设备。展馆的顶端,一盏灯给模块内部和外部提供人工照明。展馆的照明旨在增强设计的视觉张力,并把它转化为一个城市符号。
展馆通透且反光,由花形轻盈的充气物所庇护,周边环境渗透其中。项目允许模块独立或组合使用,展馆将分散遍布整个举办IGA会展的公园。它们展示了周边的自然景致,并沿着游客参观路径,作为一系列建筑节点,给人呈现惊喜。
The geometry of the pavilion blurs our notions of inside and outside, the simple act of moving through the exterior and interior spaces bring an understanding to the visitor.
Our project is a self-supporting structure with 4m in height and 62m2 in area, designed entirely with lightweight materials – 149,1m2 of PVC membrane and 47.4m3 of air. To achieve such an APPARENTLY complex shape, we unite advanced tools of parametric design: in the study of tensile membranes and in the geometric conception of double curved surfaces, and digital fabrication: in the accurate manufacturing of the pavilion using CNC cutting machines.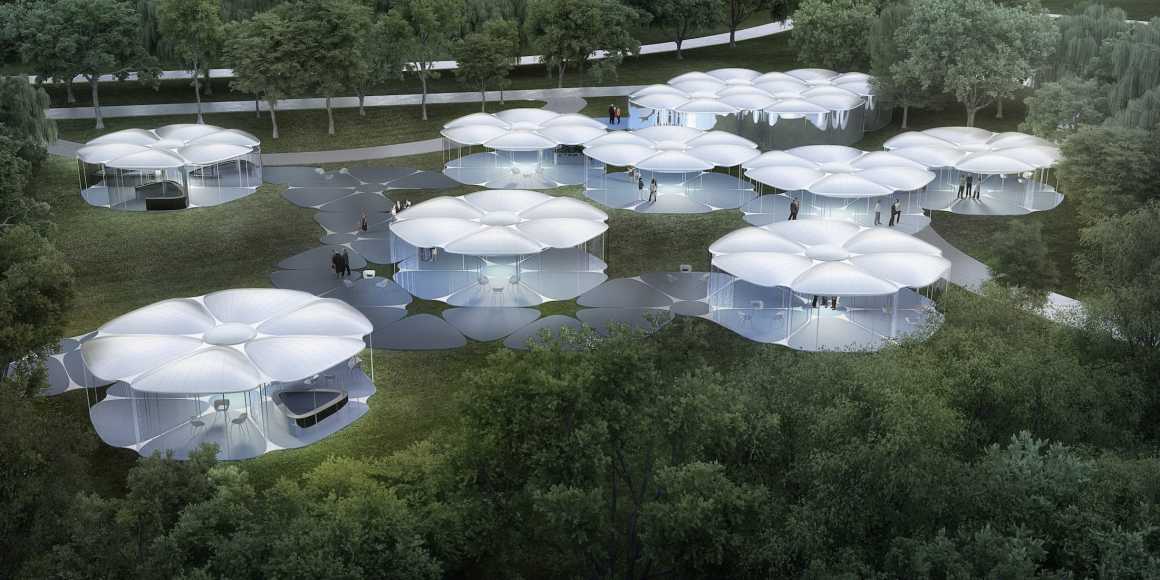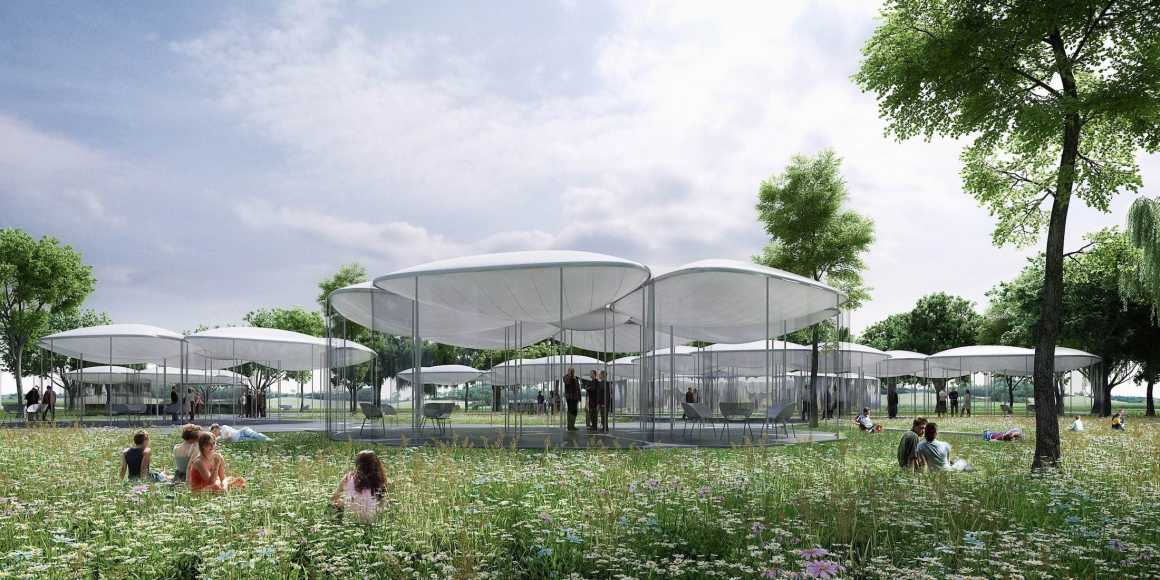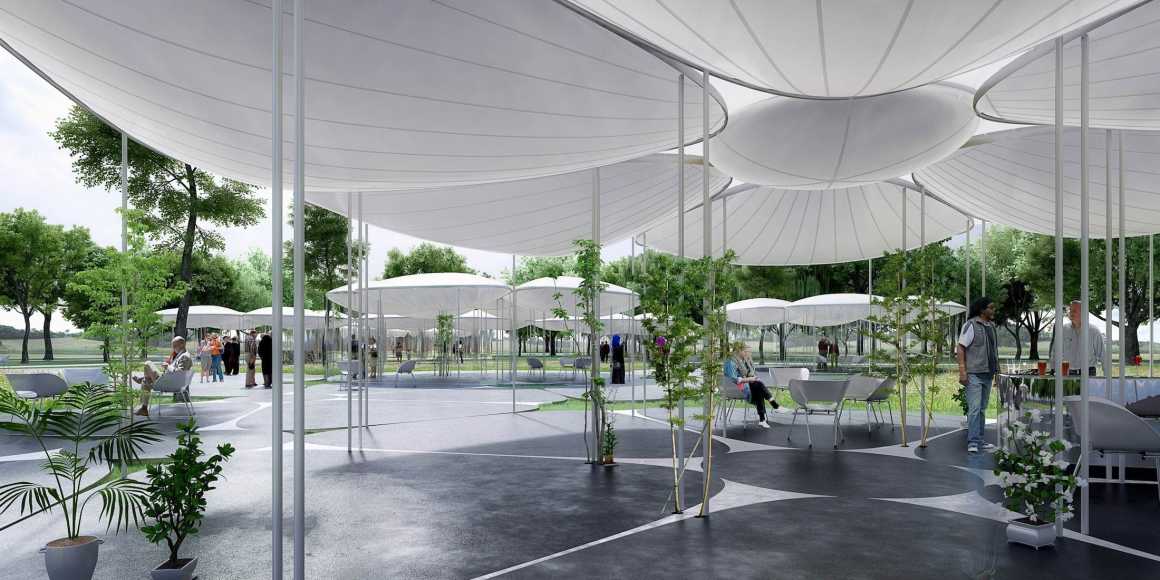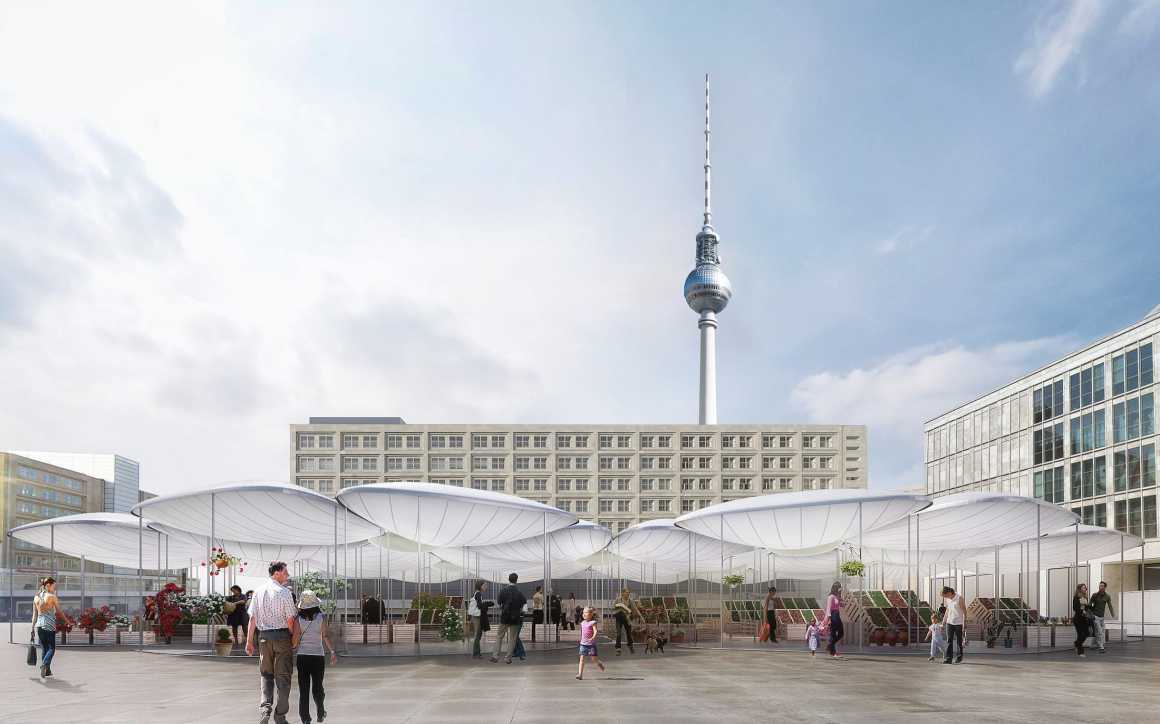 项目名称:花形展馆
活动地点:2017年IGA展馆
地点:德国柏林
客户:IGA Berlin 2017 GmbH
建筑设计:AZC
AZC团队:Irina CRISTEA, Grégoire ZÜNDEL, Roland OBERHOFER, Bogdan CHIPARA, Gaëlle MARTIN
合作伙伴:TP ARQUITECTURA I CONSTRUCCIO TEXTIL
Project Name: FLOWER PAVILION
Programme: Pavilions for IGA exhibition 2017
Location: Berlin, Germany
Client: IGA Berlin 2017 GmbH
Architect: AZC
AZC team: Irina CRISTEA, Grégoire ZÜNDEL, Roland OBERHOFER, Bogdan CHIPARA, Gaëlle MARTIN
Partners: TP ARQUITECTURA I CONSTRUCCIO TEXTIL
更多 Read more about: AZC