本文由 S&P Architektura Krajobrazu 授权mooool发表,欢迎转发,禁止以mooool编辑版本转载。
Thanks S&P Architektura Krajobrazu for authorizing the publication of the project on mooool, Text description provided by S&P Architektura Krajobrazu.
S&P AK:该大型住宅综合体Forum City,位于俄罗斯叶卡捷琳堡市中心的一个典型城市街区。S&P AK景观事务所在LEVS 建筑公司的城市规划和建筑设计中,融入了其广泛的景观规划。他们的新设计不仅恢复了原有的街区格局,更创造了引人入胜的街道氛围,将城市规划、建筑和景观结合在一起,解决了当今城市生活面临的一些最紧迫的问题。
S&P AK:Forum City is a large residential complex occupying a typical city block in the centre of Ekaterinburg in Russia. Within the urban plan and architectural design by LEVS Architecten, S&P Landscape Architecture realised an extensive landscape plan. The new design restores the original block pattern, while creating an engaging street-level atmosphere and brings together urban planning, architecture and landscaping, to solve some of the most pressing problems facing inner-city life today.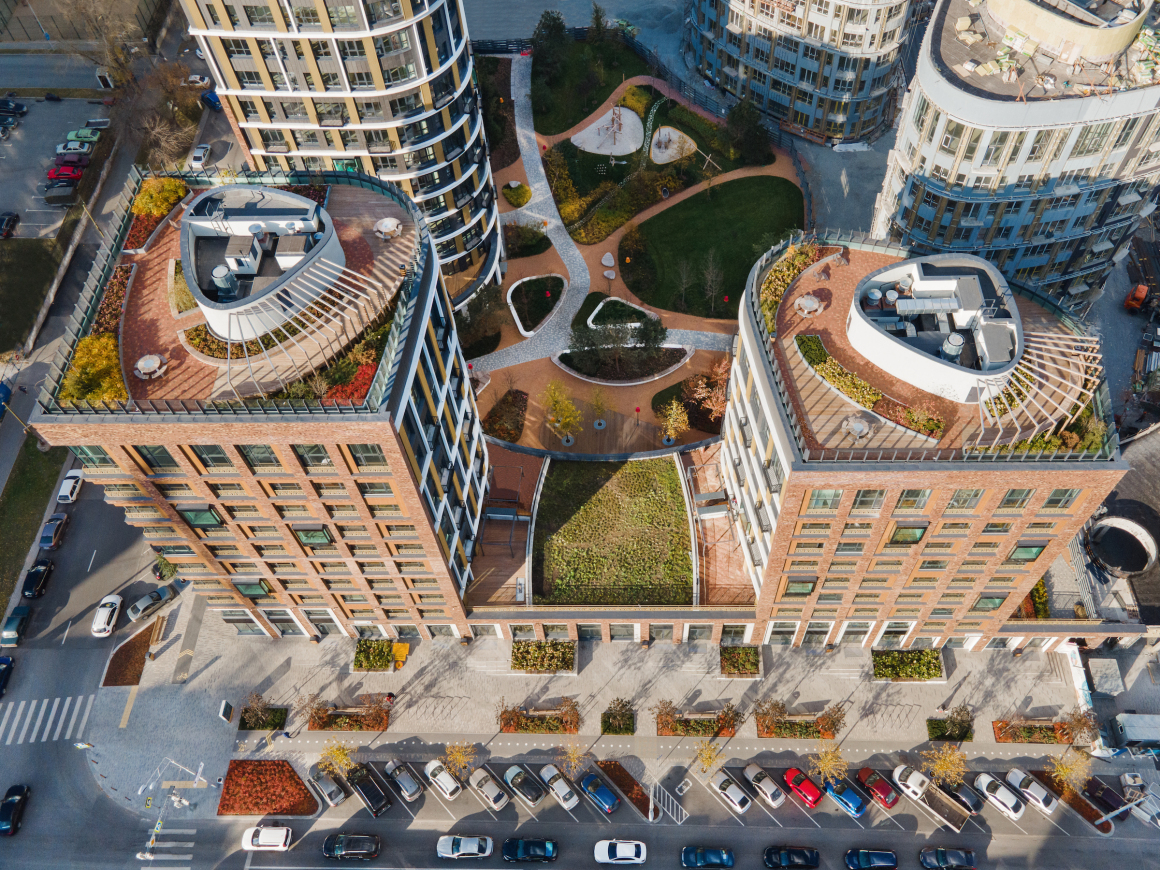 城市修复 Repairing the City Plan
叶卡捷琳堡是斯维尔德洛夫斯克(Sverdlovsk)地区的首府,拥有超过200万居民。该市面临的问题之一是缺乏人性化的尺度和碎片化的公共空间。原有的城市布局,已经被后来的变化和修改所打破,导致城市形态与其功能之间失去了联系,这在许多中心住宅区尤为明显。当建筑物与道路无法对齐时,布局的清晰度就变得模糊,一条街道的体验就很难与另一条街道区分开来,空间变得遥远和不吸引人,没有特色的开放空间和无处不在的停车场就是典型的例子,再加上缺乏连贯的街道绿色基础设施,就会给人一种荒凉感,特别是在寒冷的乌拉尔冬季,寒风吹拂,气温远低于-25摄氏度。同样,在夏季,来自中亚的大陆空气会把温度升高到30摄氏度,缺乏遮荫和无处不在的混凝土会让街道变得非常不友好。这也是Forum City目前所面临的难题。
直线网络规划是城市发展的一个重要历史特征,但由于后续的更新通常都不会遵循这种模式,这种古老的城市规划已经逐步遗失。Forum City引入的沿着103000平方米地块周围的大道延伸的线性立面,就旨在修复叶卡捷琳堡历史悠久的城市结构网络,并由此创造出了这样一个以城市绿洲为核心的欧式大都会体验。
One of the problems in the centre of Ekaterinburg, a capital of Sverdlovsk region with over 2 million residents, has been lack of human scale and fragmentation of public spaces. The original city layout, has been broken by subsequent changes and modifications, resulting in loss of connection between urban form and its functions. This became especially visible in many central residential neighbourhoods. When buildings do not align with roads, and the clarity of the layout becomes blurred, one street experience can be difficult to distinguish from another. Spaces become distant and uninviting, marked by characterless open spaces and omnipresent car parks. Combined with apparent lack of coherent green street infrastructure it can create a bleak experience, especially during cold Ural winters with harsh winds blowing the air that reaches temperatures well below -250C. Equally in summer when continental air from central Asia can elevate temperature to blistering +300C, lack of shade and omnipresent concrete can make the streets very unwelcoming. This was the case in the area of Forum City.
The straight grid is a key historical feature of the city-plan development. But often it has been lost because subsequent modifications did not follow the pattern. Forum City attempts to repair Ekaterinburg's historical urban grid structure, through an introduction of a linear facades that stretch along the thoroughfares surrounding the 103.000 m2 plot. As a result, the designers created a European-style metropolitan experience combined with a green city oasis at its core.
▼设计概念 Concept
▼大楼设计概念 Concept Towers

▼场地总平面 Site Plan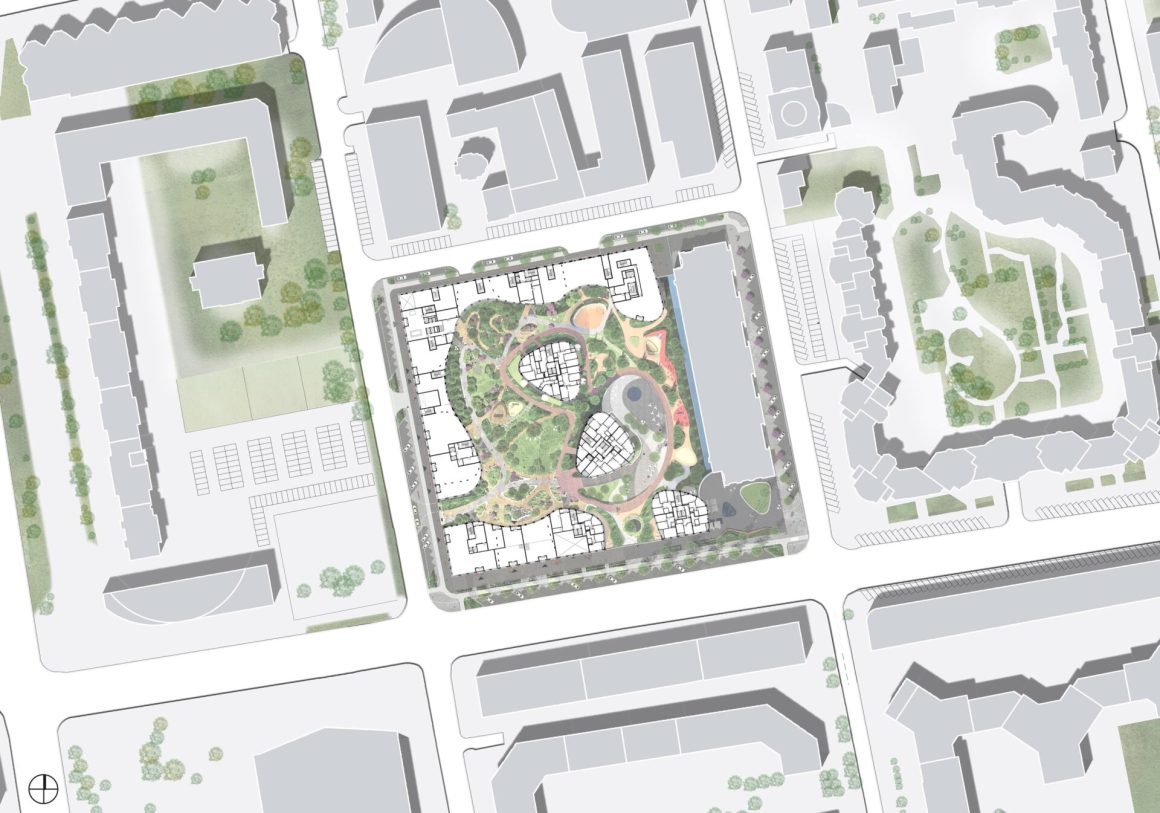 历史元素:砖砌和市场 Historical elements: brickwork and market
建筑设计反映了叶卡捷琳堡的历史。19世纪时,这座城市主要是砖砌建筑,到处都是精致的砖结构,有着令人印象深刻的外观。到了20世纪,许多这样的建筑被钢筋混凝土和玻璃覆盖的高楼所取代。这次的设计反映了从过去到现在和未来的转变。建筑外立面是笔直的红砖,这种砖砌结构最多延伸到第10层,在这之后,近100米的高层塔楼则以铝和玻璃幕墙为主,而建筑内部,面向内部绿色庭院的立面又是弯曲的,收获塔楼之间的对角线景观,以及周围城市的天际线视野。这便是融合了未来新都市生活的城市景观:一个生活、休闲和工作无缝融合的动态环境。
多年来,项目所在地一直是该市主要的开放市场之一,现在这一理念也被融入到了城市设计中。沿着地块东侧延伸的现有狭长型小购物中心,将直接连接到一个有植物、长椅和喷泉的半公共庭院,居民和游客可以在这里坐下来喝一杯放松身心。位于两者之间的半室外美食广场在暗喻该场所过去作为市场功能的同时,也满足了现代都市人对舒适、安全就餐体验的渴望。
The architectural design reflects Ekaterinburg's history. In the nineteenth century, the city was predominantly brick-built, with impressive facades, and detailed brickwork everywhere. Many of these were replaced over the course of the twentieth century with concrete high-rises, cladded in steel and glass. The design reflects the transition from past, to present and into the future. The outside facades are straight and of red bricks. The brickwork extends to the tenth floor at most, after which the taller towers climb up to a height of 100 meters, with mostly aluminium and glass fasades. On the inside, the facades facing the inner green courtyards are curved. It allows diagonal views between the towers to open towards the skyline of the surrounding city. This is the cityscape of a new metropolitan lifestyle: a dynamic environment where living, leisure and work blend seamlessly.
The site of Forum City was for many years, the site of one of the city's main open markets. This idea has also been integrated into the urban design. The existing elongated small shopping mall that extends along the eastern side of the plot will be directly connected to a semi-public courtyard with plants, benches and a fountain, where residents and visitors will be able sit down and relax with a drink. The covered food-court that lies in between is simultaneously a hint at the site's past function as market and an answer to the modern urbanite's desire for comfortable, safe dining experiences.
▼效果图 Impression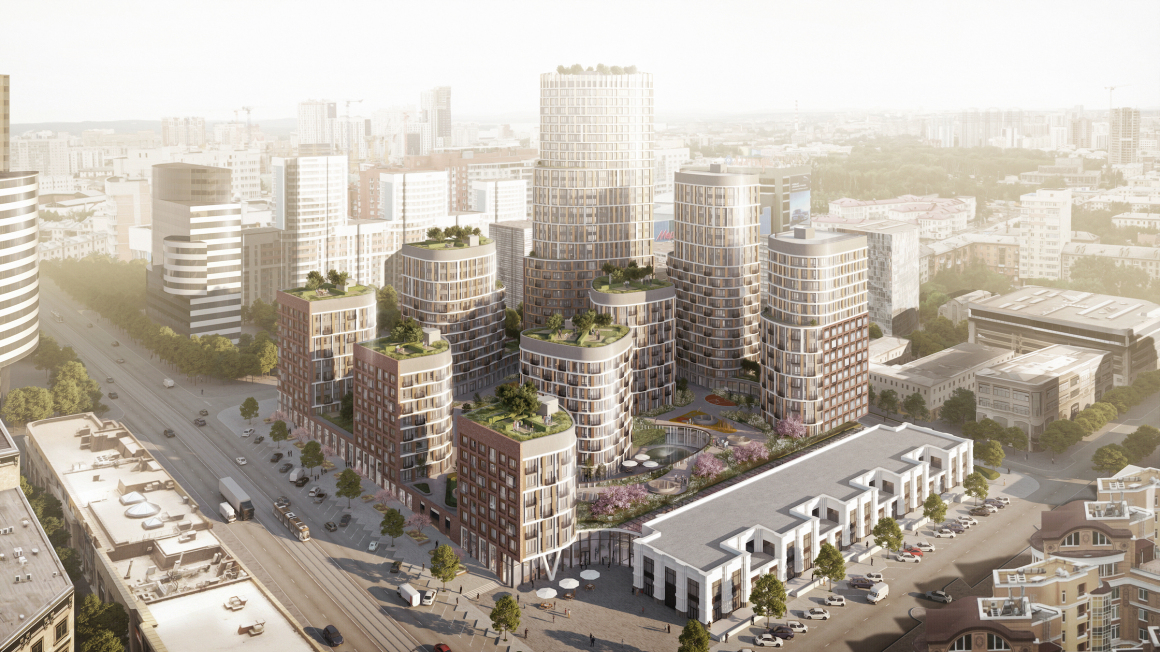 ▼总平面图 Plan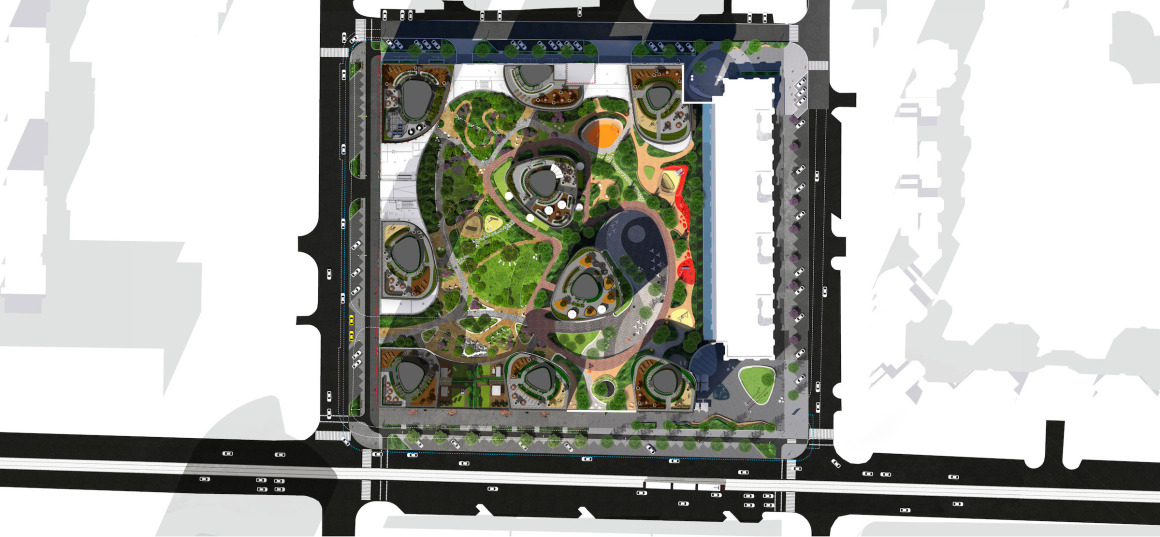 美化城市景观 Greening the urban landscape
即使按照欧洲的标准,为这个项目创造的绿色空间也是不容小觑的。阿姆斯特丹事务所LEVS Architecture与波兰景观工作室S&P landscape Architecture(在华沙和叶卡捷琳堡同时设有办公室)合作完成了这个项目。两家公司都希望将建筑与景观的强烈融合为一种设计方法,以解决解决人口密集城市化地区的生物多样性、气候变化和生活质量问题。
这次的项目建设将在庭院、露台和屋顶上种植150棵成熟树木,成千上万的灌木和多年生植物。通常,这些植物都会先种植幼树,需等待几年才能成熟,但我们直接种植树龄达25年的成熟树木,将有两个重要的优势,首先是它们可以立即改善社区空气质量,其次是到了明年夏天,第一批租客就能够享受树荫和周围大面积绿地带来的凉爽效果。
Even by European standards, the green spaces created for this project are ambitious. Amsterdam practice LEVS Architecture worked together on this project with a Polish landscape studio S&P Landscape Architecture – with offices in Warsaw and Ekaterinburg. Both companies share the ambition to use strong blend of architecture and landscape, also as a design method, to deal with concerns over biodiversity, climate change, and quality of life in densely urbanized areas.
In Forum City project, a total of 150 mature trees will be planted, and thousands of shrubs and flowers will be spread out over the inner park, terraces and rooftops. These are commonly planted as young saplings, that still need quite a few years to mature. Planting mature trees, in this case up to 25 years old, will have two important advantages. Firstly, their contributions to the air-quality of the neighbourhood will be immediate. And come next summer, the first renters will be able to enjoy the shade of trees and the cooling effects of large amounts of green surface areas around them.
种植了各种各样的树种之后,公园的色彩全年都在不断变化。从常绿的银松、加拿大铁杉和山松灌木,到秋季红叶的枫树,以及提供深深浅浅绿色的酸橙树,它们在秋天会变成黄色、橙色和深红色。一年到头、随时随地都有各种趣味景观供人们探索。另外,夏季开花的绣球花和玫瑰,以及冬季各种山茱萸和柳树的不同树皮颜色,也会增加颜色范围。
这里的所有树木都将来自荷兰或德国的苗圃,他们专门培育具有发达而紧凑根系的大型标本,以保证它们能够在种植前忍受长距离运输。这种紧凑的根系会带来很多优势,尤其下面就是一个3-4层的地下停车场,生长条件有限。通常在其他项目中,这种屋顶结构只能种植草坪,简单覆盖一些灌木。但在这里,最新的绿色屋顶技术可以为集约种植,创造稳定的土壤条件,供大树茁壮成长。
By planting a wide variety of tree species, the park should have an ever changing colour palette year-round. From evergreen silver pine trees, Canadian hemlock and shrubbery mountain pines, to different shades of green provided by several species of maple and lime, that will turn yellow, orange and scarlet in Autumn. There will be interesting landscapes to explore twelve months a year. The colour range will be enhanced by flowering hydrangeas and roses in summer, and different bark colours of various dogwoods and willows in winter. All trees will come from nurseries in Holland and Germany, specialized in growing large specimens with well-developed yet compact root-systems, making it possible to transport them over long distances before planting. Importantly, the courtyard landscape hides 3-4 story underground car park. Often, in other projects, such structures only allow for some grass and shrub cover. But here, the latest green roof technology have been used to ensure that a stable soil conditions will be created for intensive planting, in which big trees will thrive.
在建筑外,周边街道沿线原本总被汽车占据的地方,已经被改造成了绿色的林荫大道和广场,行人和骑自行车的人将共享一个公共空间,树木和植物也将成为会见朋友或休息的理想场所。种植了椴树和观赏山楂的线性林荫道不仅增加了开发的视觉吸引力,还帮助将周围的公共区域组织成适合不同类型用户的区域,使绿色空间更安全,更有吸引力。
Outside the buildings, places along the surrounding streets, that would otherwise typically host cars have been transformed into green boulevards and squares, where pedestrians and bikers will share a public space and where trees and plants will mark ideal sites to meet a friend or take a break. Linear avenues planted with linden and ornamental crab apples not only add to the visual appeal of the development, they also help to organize the surrounding public areas into zones suitable for different types of user, making the green spaces safer and more appealing.
梦想成真之地 Where dreams become reality
S&P欧洲办公室参与这种大型城市改造项目并非巧合。这次的俄罗斯项目是一个很好的机会,它有机会显著改变人们的生活质量,包括建筑内部,以及周围的住宅和城市公共环境。设计师们能够从他们在欧洲的工作经历中汲取重要的经验,毕竟欧洲有着将大城市的活力和活力与僻静社区的亲密关系相结合的悠久传统,而Forum City的许多未来居民同样渴望两者兼得的生活空间。
项目塔楼之间的开放空间和亲密的分层公园,可以轻松地从半公共区域过渡到私人区域,也是旨在促进融合这两种互补的生活方式,方便居民从家到工作地点、休闲活动、日托中心和百货店之间的步行移动。街区的各种功能区域步行范围都控制在15分钟内,而且连接建筑群中所有这些元素的景观充满了可供探索的小径和私密场所,整个项目布局就像一座城中之城。
It is not a coincidence that European offices has been involved in this type of large inner city transformation project. One of the great opportunities while working in Russia, is to be given opportunity to transform significantly peoples quality of life, not only inside the buildings, but within the surrounding residential and public urban environments too. The designers were able to draw significantly from their working experiences in Europe where there is a strong tradition of combining the dynamism and activity of a large city with the intimacy of a secluded neighbourhood. Many of the future residents of Forum City aspire to having both.
Open spaces between the towers and the intimate, layered park with easy transitions from semi-public to private areas, are intended to facilitate the mixing of these two complementary lifestyles. It is designed to make it possible for residents to move around, from house, to work, to leisure activity, to day-care centre, to grocery shopping, all on foot. A 15 minute neighbourhood, where all functions are within an easy reach. The landscapes that connect all these elements in the complex are full of small paths and intimate places to explore. Outside the block, along the streets, places that would otherwise typically host cars are have been turned into squares, where pedestrians and bikers share public spaces and where trees and plants mark ideal spots to meet up or take a break. The plan functions like a small city within a bigger city.
从小型公寓到豪华顶层公寓,从空中酒吧到公园的长椅。从自行车站到树下停车场,从医疗中心到周日市场,在市中心建设新型大都市、可持续生活环境的梦想正在成为现实,同样,放眼整个俄罗斯皆如是。
From compact apartment to luxury penthouse, and from sky-bar to a bench in the park. From bicycle stand to parking below the trees, and from medical centre to Sunday market. Dreams for a new type of metropolitan, sustainable living environment in an inner city are becoming reality, also in Russia.
地点:俄罗斯,斯维尔德洛夫斯克地区,叶卡捷琳堡
项目名称:FORUM CITY
客户:FORUM Group
建筑与城市规划:LEVS Architecten,阿姆斯特丹(www.levs.nl)
景观概念、设计和施工图:S&P Architektura Krajobrazu,华沙、叶卡捷琳堡(www.sztukaipartnerzy.pl )
设计周期:2017 – 2020年
一期工程完成:2020年
图表和效果图:LEVS Architecten
摄影:S&P Architektura Krajobrazu
Location: Yekaterinburg, Sverdlovsk Region, Russian Federation
Name of the Project: FORUM CITY
Client: FORUM Group
Architecture & Urban Planning: LEVS Architecten, Amsterdam (www.levs.nl)
Landscape Concept, Design & Construction Documentation: S&P Architektura Krajobrazu, Warsaw, Ekaterynburg (www.sztukaipartnerzy.pl)
Design: 2017-2020
1st Phase completed: 2020
Diagrams and Visualisations: LEVS Architecten
Photographs: S&P Architektura Krajobrazu
更多 Read more about: S&P Architektura Krajobrazu