项目位于滨海湾花园的两个凉爽温室为参观者提供壮观的视觉和空间体验,讲述植物在全天候"寓教于乐"空间的故事。
The two Cooled Conservatories at Gardens by the Bay offer a spectacular visual and spatial experience for visitors, telling the story of plants in all-weather 'edutainment spaces'.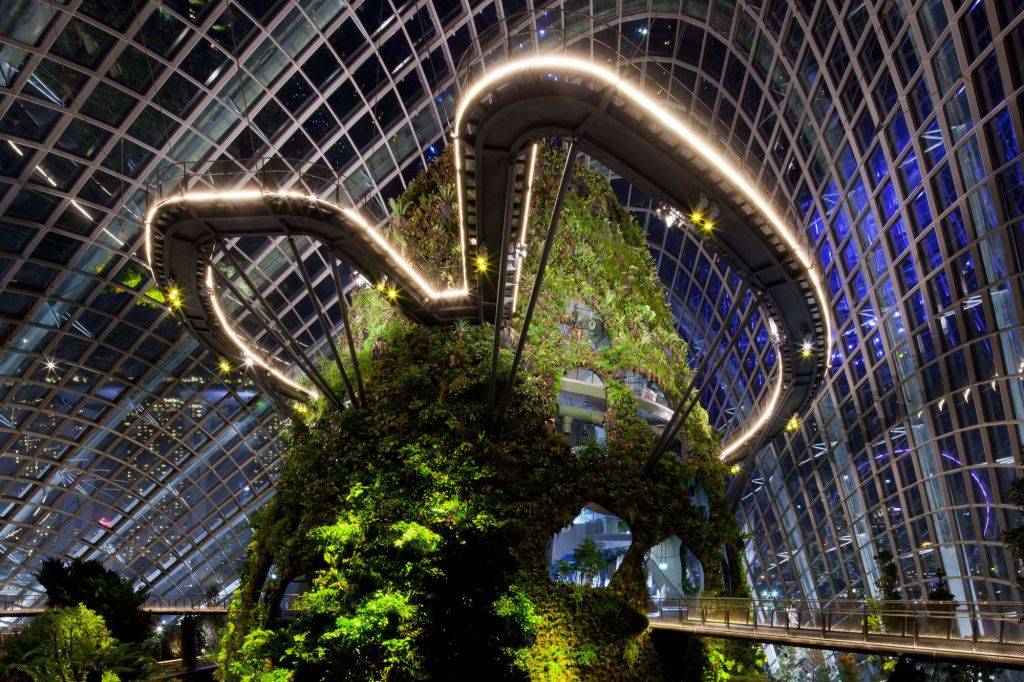 由Grant Associates领导的协作设计团队创建,Flower Dome和Cloud Forest结合了Wilkinson Eyre Architects的惊艳建筑,Atelier One和Atelier Ten的巧妙结构和环境工程,Land Design Studio对醒目的品牌的创新演绎,托马斯以及园艺团队合作的富有远见的景观设计。
Created by a collaborative design team led by Grant Associates, the Flower Dome and the Cloud Forest combine stunning architecture by Wilkinson Eyre Architects, ingenious structural and environmental engineering by Atelier One and Atelier Ten, innovative interpretation by Land Design Studio, striking branding and signage by Thomas Matthews and visionary landscape design with planting procured by the Gardens by the Bay horticultural team.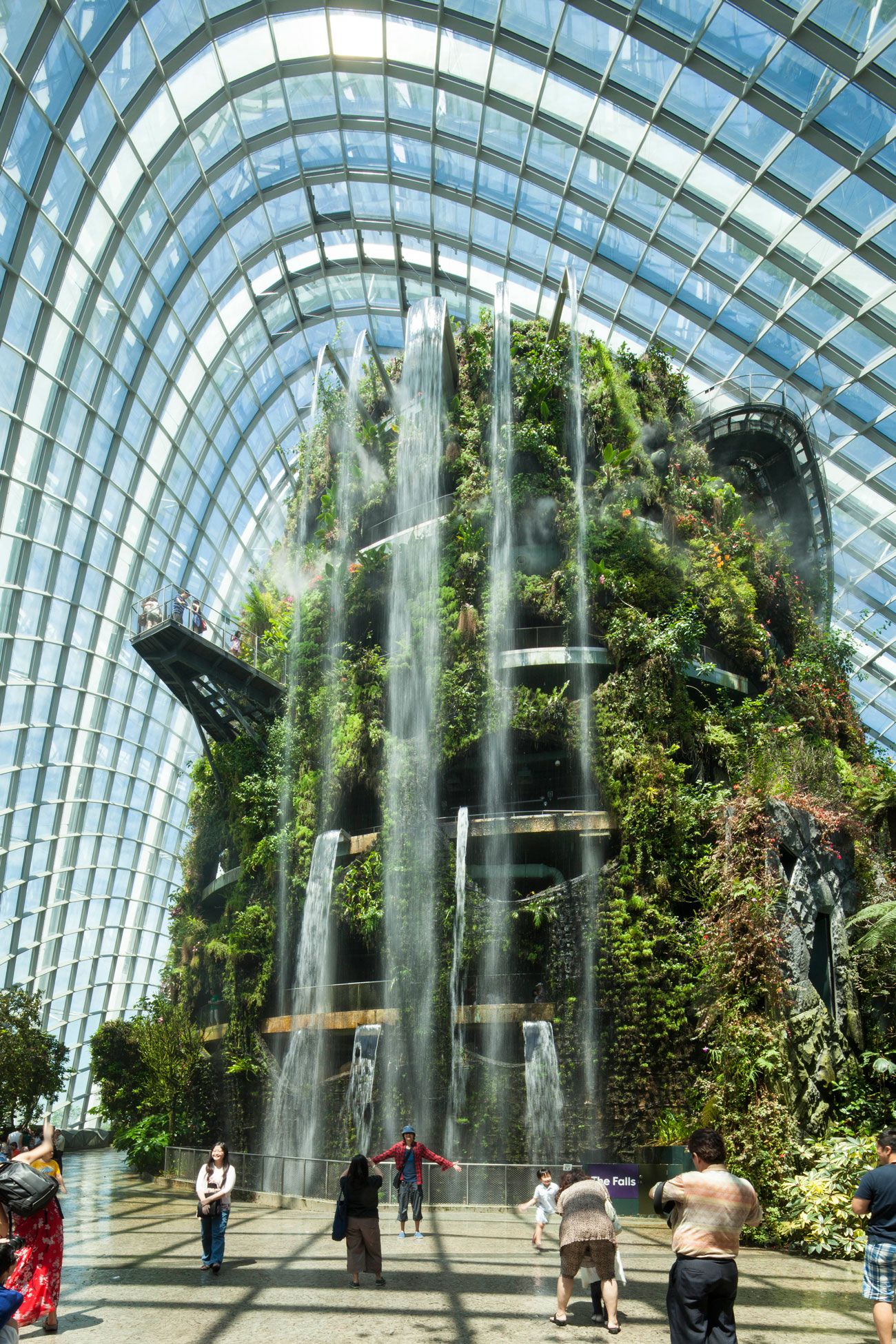 他们在视觉和环境方面与巨型树种和谐相处,作为花园内的中心目的地。
They work in harmony with the Supertrees, both visually and environmentally, acting as centrepiece destinations within the Gardens.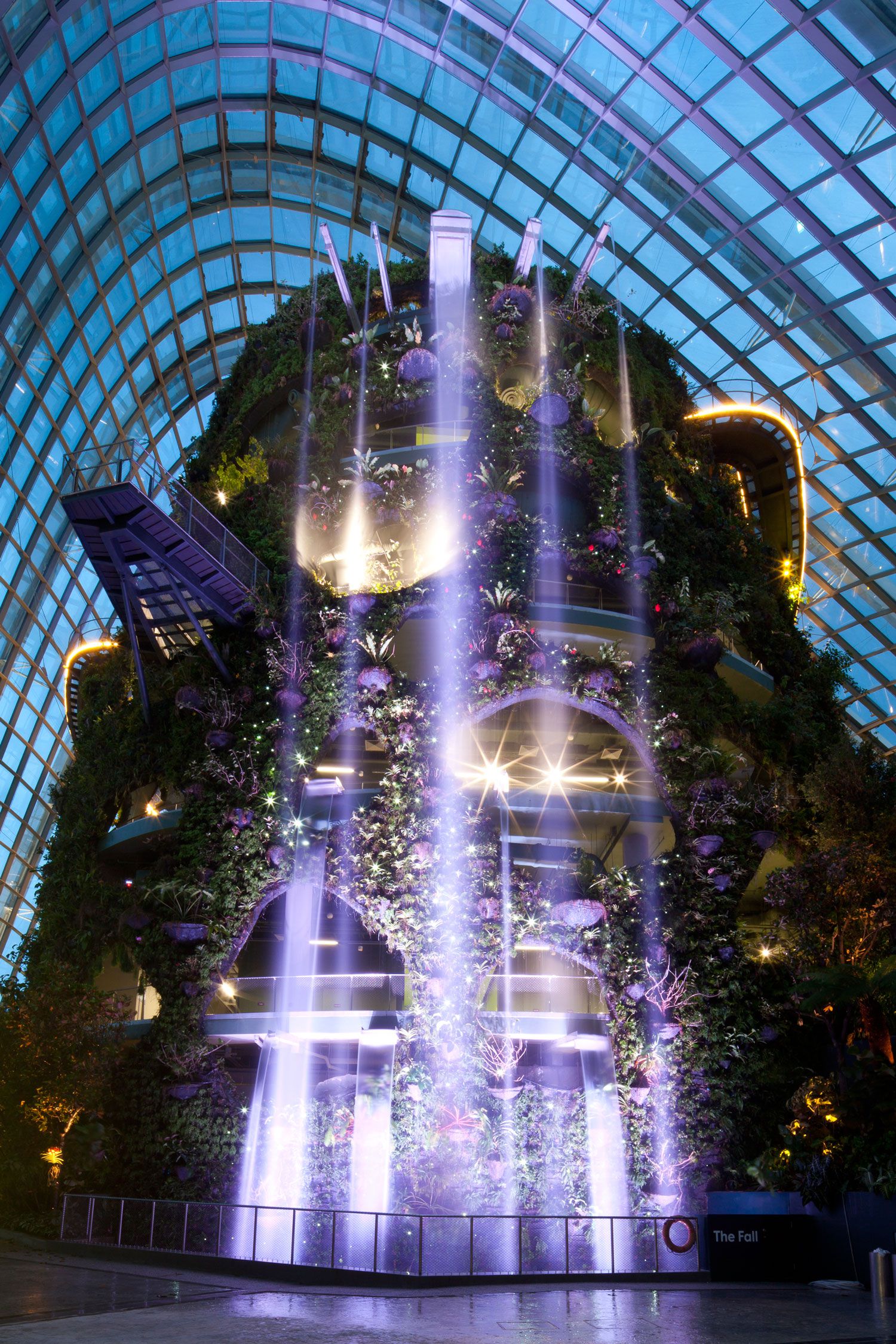 设计细节:
凉爽的温室可容纳来自除南极洲以外的每个大陆的226,000棵植物,1.2公顷的花穹再现凉爽干燥的地中海气候,巨型花田展现着季节性的变化,高架人行道可以探索发现异国情调的种植,0.8公顷云雾森林再现热带山地地区凉爽潮湿的气候,35米高的附生植物山与瀑布,山上有许多画廊和一个以"气候变化和栖息地丧失"为主题的黑匣子媒体展览馆,它通过园艺垃圾能高效去腐化和热分层,可持续地提供动力。
Design details:
Cooled Conservatories house 226,000 plants from every continent except Antarctica 1.2 hectare Flower Dome replicates a cool-dry Mediterranean climate.Giant flower field with changing seasonal displays.Raised walkways to explore exotic planting 0.8 hectare Cloud Forest recreates cool-moist climates of Tropical Montane regions 35 metre high epiphyte clad mountain with waterfall.The Mountain houses galleries and a black box media exhibition themed around climate change and habitat loss.Powered sustainably via horticultural waste, efficient de-humification and thermal stratification.
项目名称:新加坡世界级超级温室花园
项目类型:花园
位置:新加坡
完成年份:2012
面积: 540000平方米
顾客: 国家公园委员会
建筑设计:Wilkinson Eyre Architects
景观设计: Grant Associates
Project name: Gardens by the Bay – Conservatories
Project type: Garden
Location: Singapore
Completed: 2012
Area:540000㎡
Client: National Parks Board
Architecture:Wilkinson Eyre Architects
Landscape: Grant Associates