本文由 A-I-R Architects 授权mooool发表,欢迎转发,禁止以mooool编辑版本转载。
Thanks A-I-R Architects for authorizing the publication of the project on mooool, Text description provided by A-I-R Architects.
A-I-R Architects:幽灵住宅位于亚利桑那州天堂谷驼峰山北侧的小山坡上。场地两侧是两个沙漠冲刷带,城市山顶的雨水通过它们转移到下面的山谷中。两条细长的滚磨砖墙平行于东、西自然冲刷带景观,创造了第三种地形条件,即沿着场地中心的"幽灵谷"。
A-I-R Architects:The Ghost Wash House is located along the lower hillside on the north side of Camelback Mountain in Paradise Valley, Arizona. The site is flanked by two desert washes that move storm water from the top of this urban mountain into the valley below. Two long, thin tumbled brick bars run parallel to the east and west natural washes framing a third topographic condition or "Ghost Wash" that runs down the center of the site.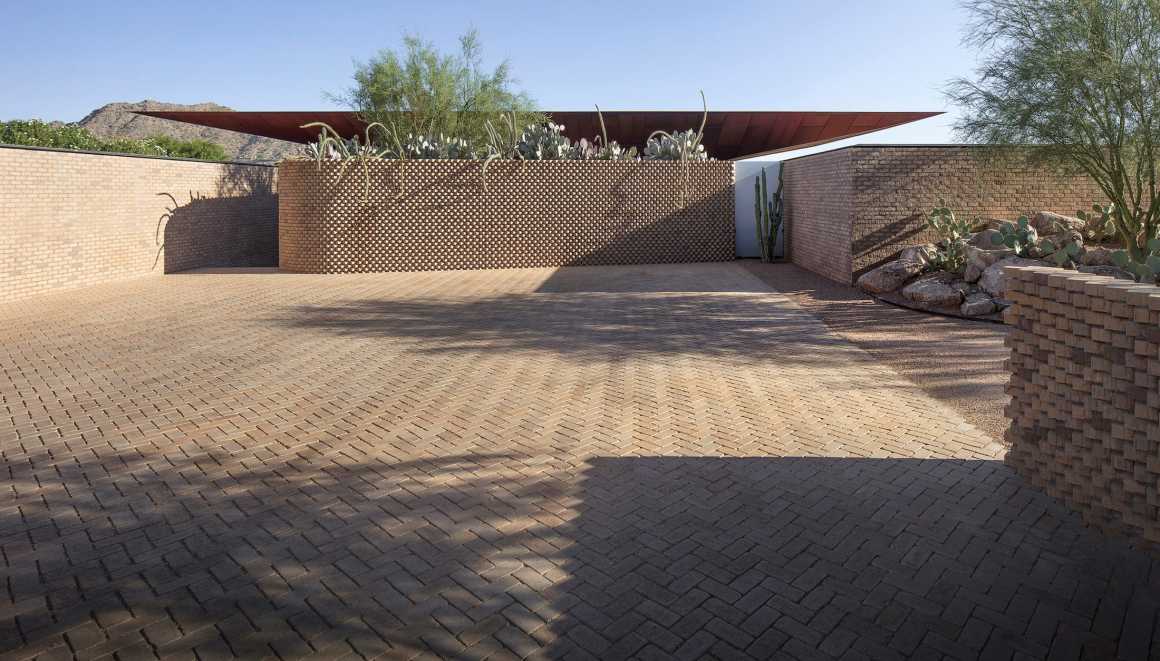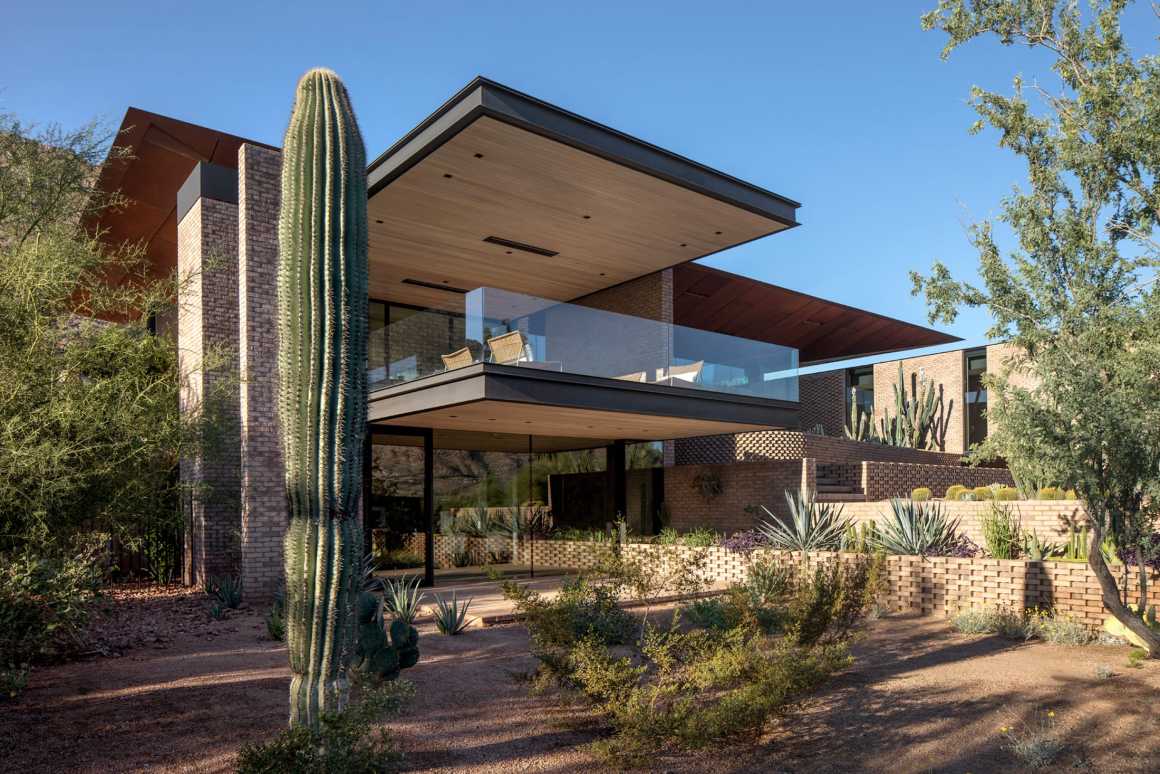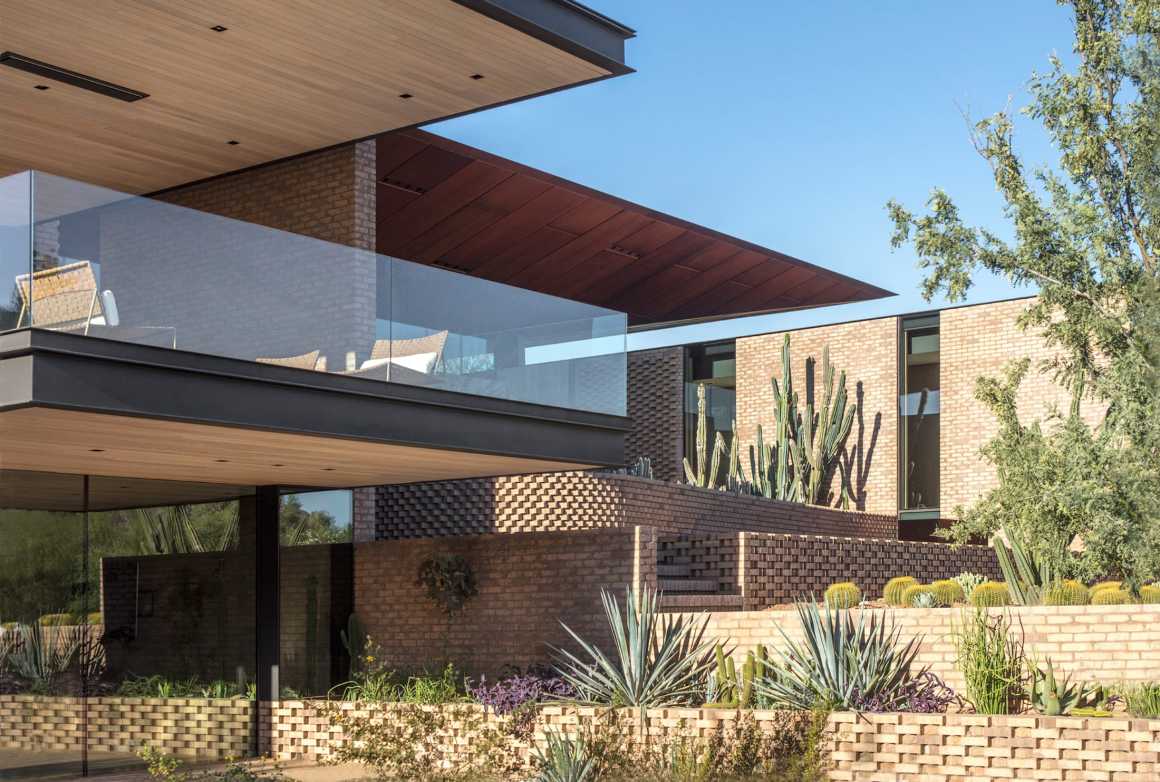 东侧的住宅保护了这片建筑免受早晨低垂的沙漠阳光的照射。这边的住宅提供了多个公共空间:车库、厨房、办公室和家庭餐厅。西边的住宅可在日落山谷时,保护居民免受强烈炎热的夕阳照射,这边创建了多个家庭私人空间:卧室、家庭娱乐室和其他娱乐空间。
The east bar protects this architectural wash from the low desert sun that streams across the mountain in the morning. This bar houses the public 'support' programs of the house: garages, kitchen, office, and family dining room. The west bar shields the occupants from the intense hot low west sun as it sets in the valley. It houses the private programs of the home: bedrooms, family room, and recreation space.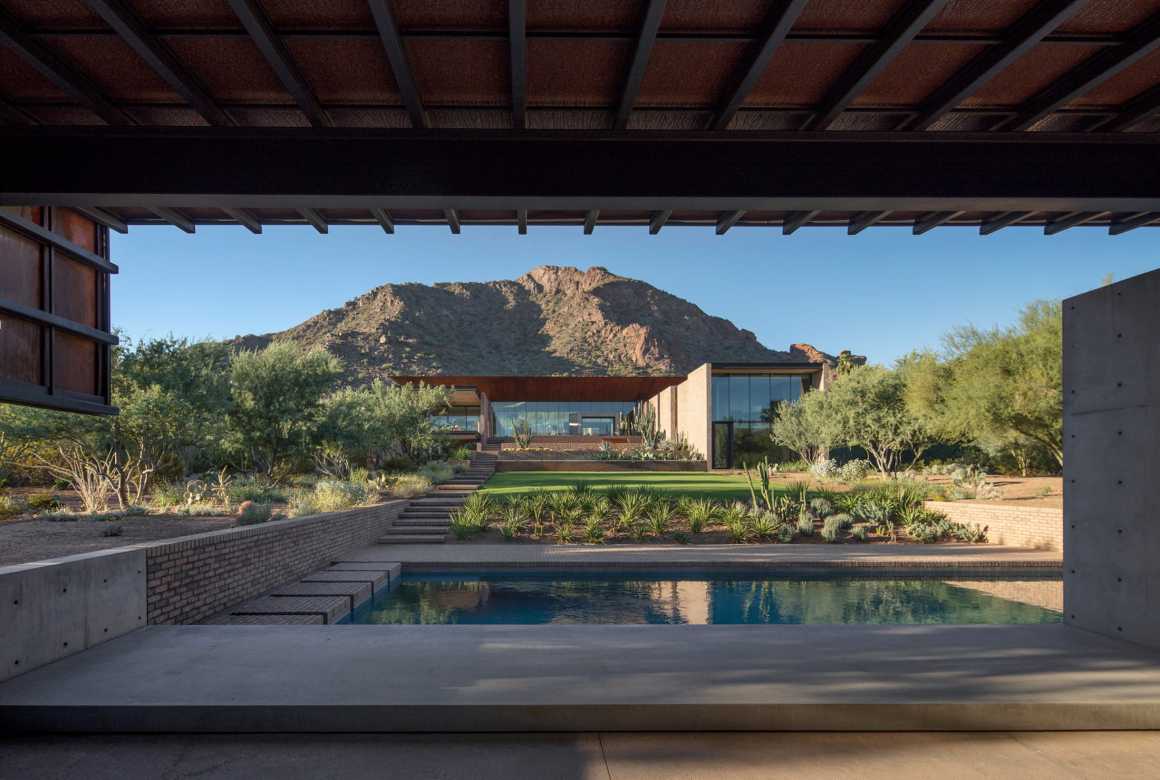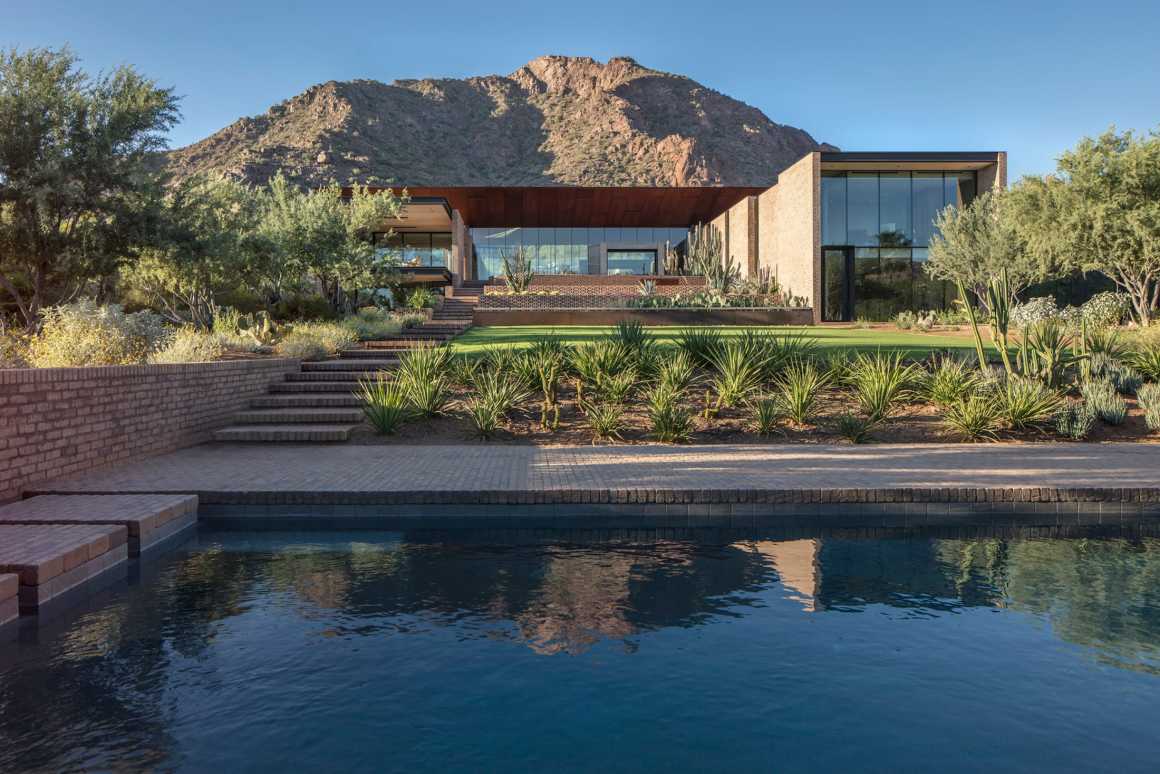 庭院、花园和游戏区域构成的长形序列空间内部就是客厅和餐厅,这些长形序列区域创造的线性舒适,沿着幽灵之水从南入口一直延伸到北面的泳池住宅,最后被一个巨大的浮顶所打断,这个屋顶为8500平方英尺的空间的房子和景观提供了雨水收集和太阳能发电的基础设施。
The living and dining room make up the interior of long sequence of courtyards, gardens, and play areas that unfold along the Ghost Wash from the south entry to the north pool house. This linear amenity is punctuated by a massive floating roof that provides the infrastructure of storm water collection and solar power to the 8,500 sq.ft. house and landscape.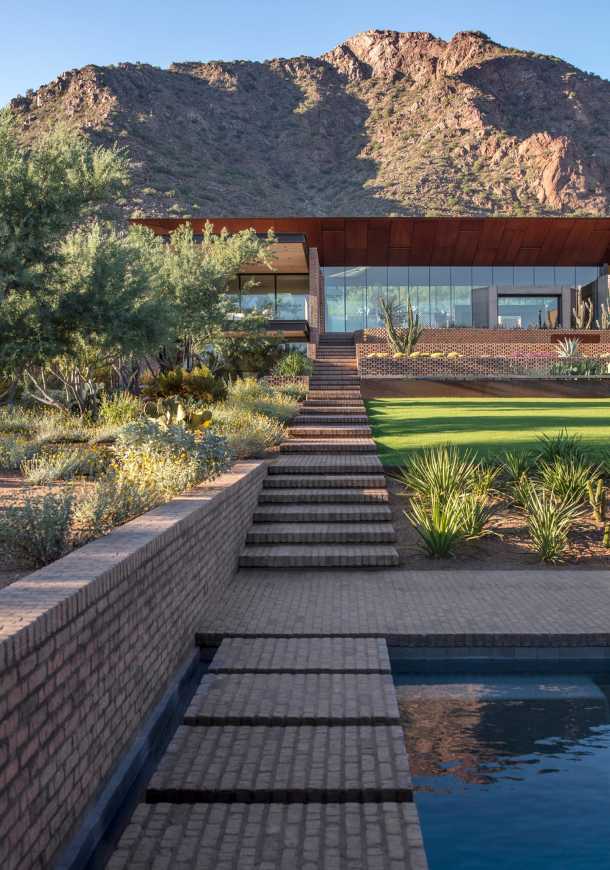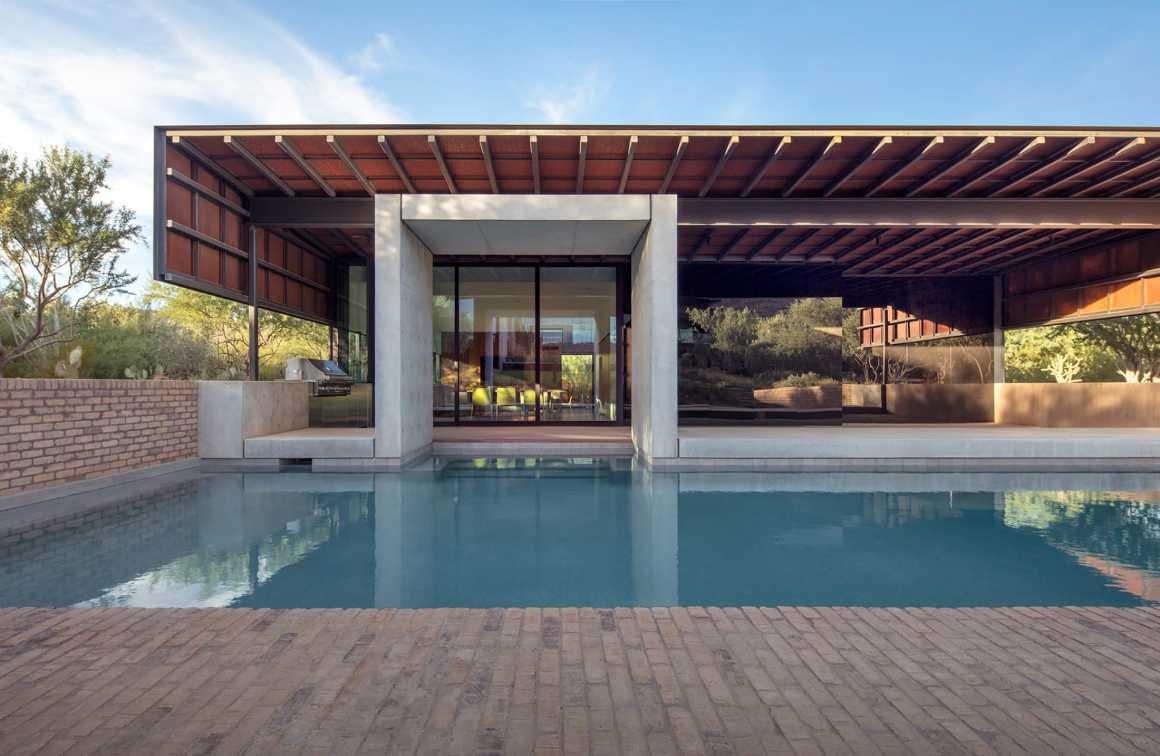 作为住宅的主要组织设备,这个中央舒适性基础设施从索诺兰沙漠的自然环境中得到启示。与保护仙人掌免受酷热和阳光伤害的护士树相似,大屋顶保护着房子里的主要生活空间(厨房、餐厅、客厅和家庭室)。它的阴影、力量和水在物理上和象征上都滋养着房子。就像沙漠冲刷带提供了一个栖息地和一个促进沙漠生活和连接的生态系统一样,幽灵住宅保护、连接,并促进住宅的室内和室外生活。幽灵住宅不是沙漠中的住宅,而是真正的沙漠住宅。
As the primary organizing device for the house this central amenity infrastructure takes its cues from the nature of the Sonoran Desert. Similar to the nurse tree that shields a young cactus from the extreme heat and sun, the large roof protects the primary living spaces of the house (kitchen, dining room, living room, and family room). Its shade, power, and water both physically and symbolically nurture the life of the house. In much the same way that desert washes provide a habitat and an ecosystem that facilitates desert life and connectivity, the Ghost Wash protects, connects, and facilitates the indoor and outdoor life of the residence. The Ghost Wash House is not a house in the desert, but a house of the desert.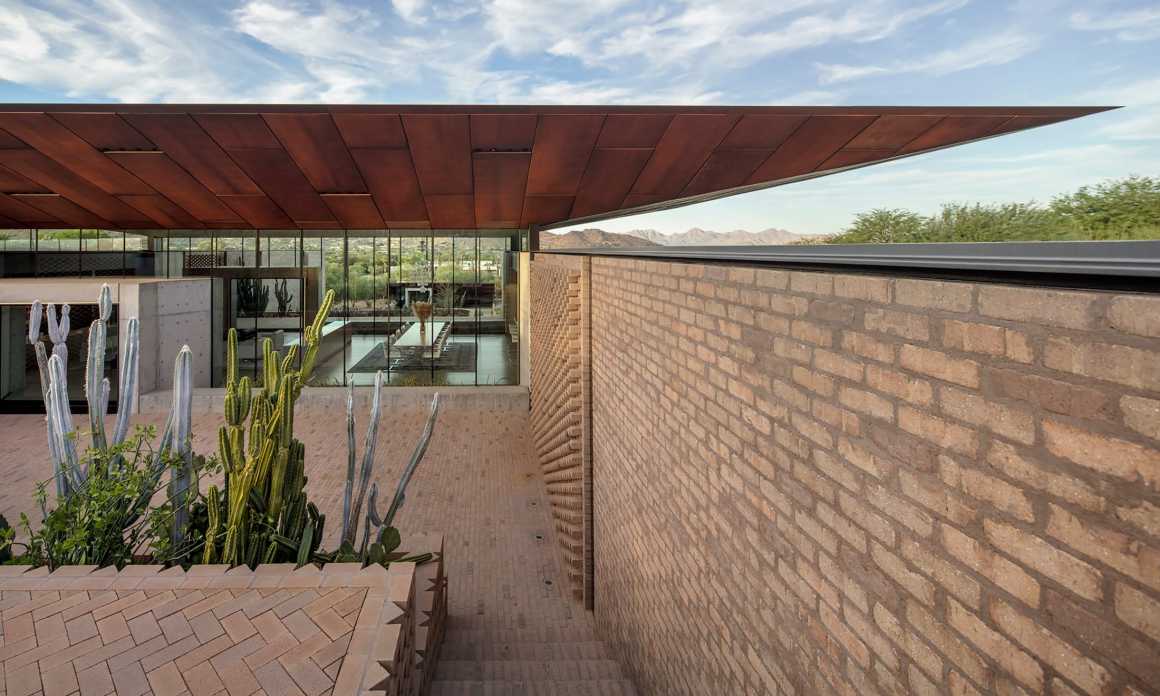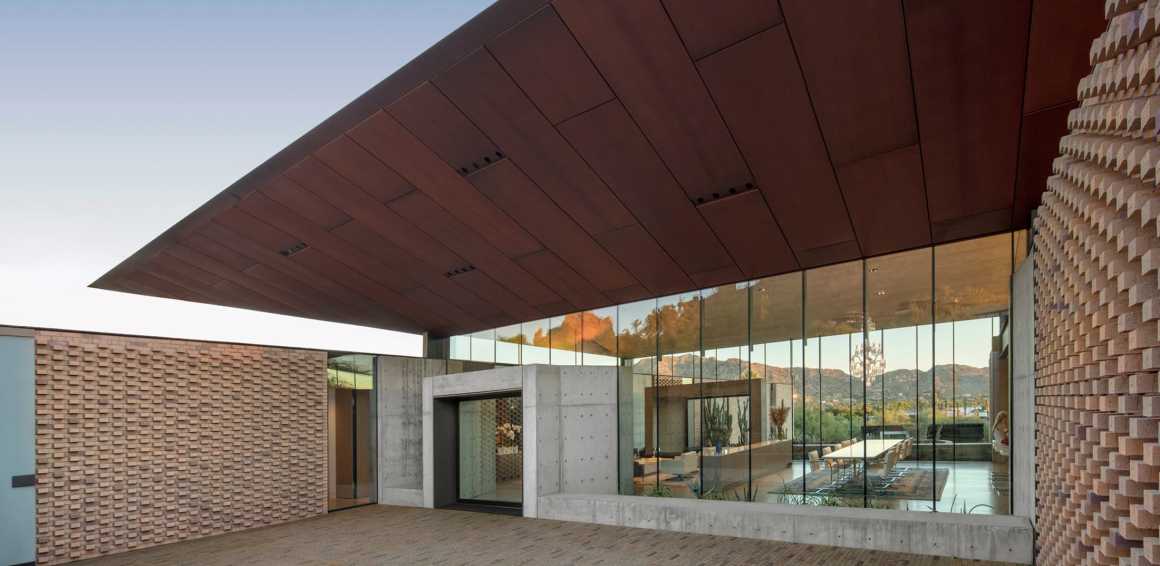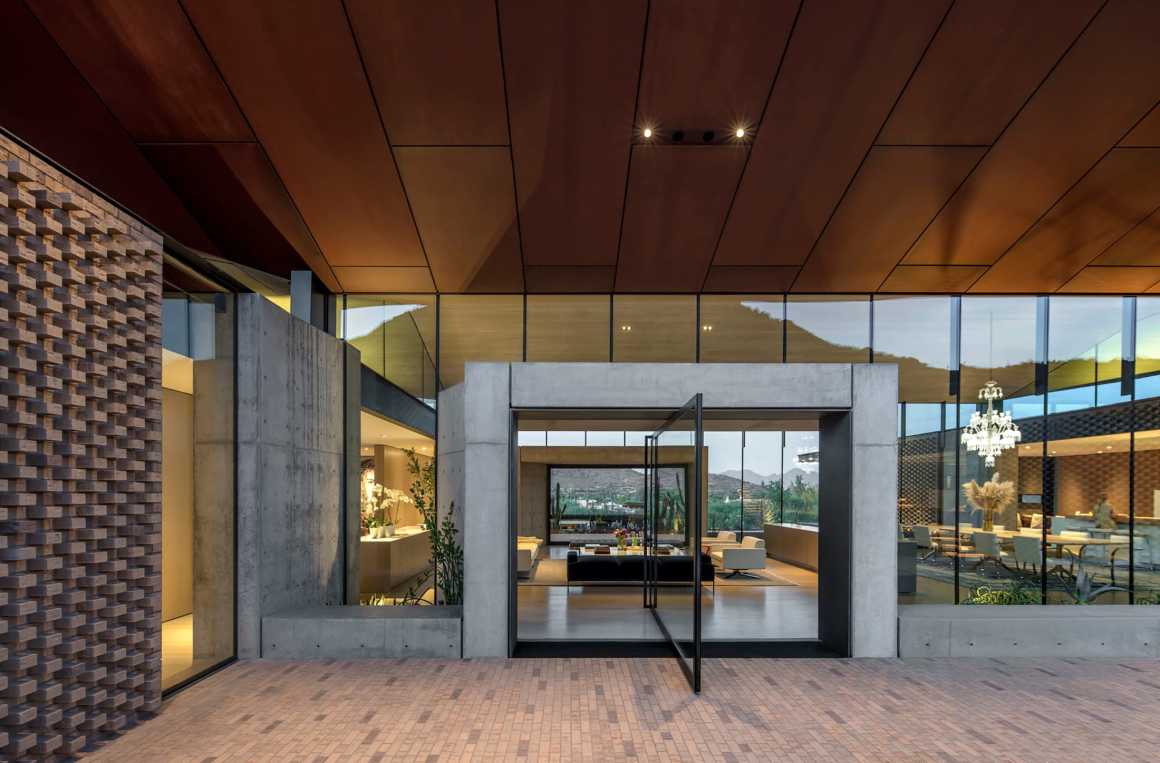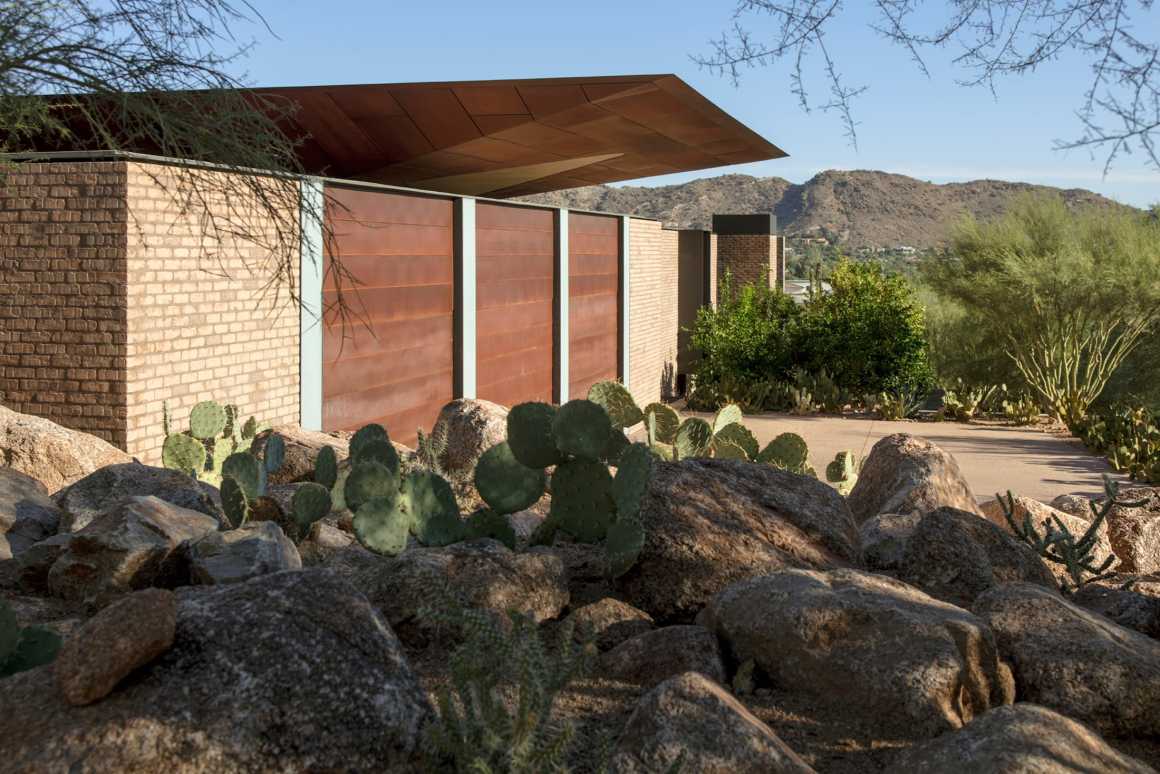 ▼室内观景空间 Interior Space for view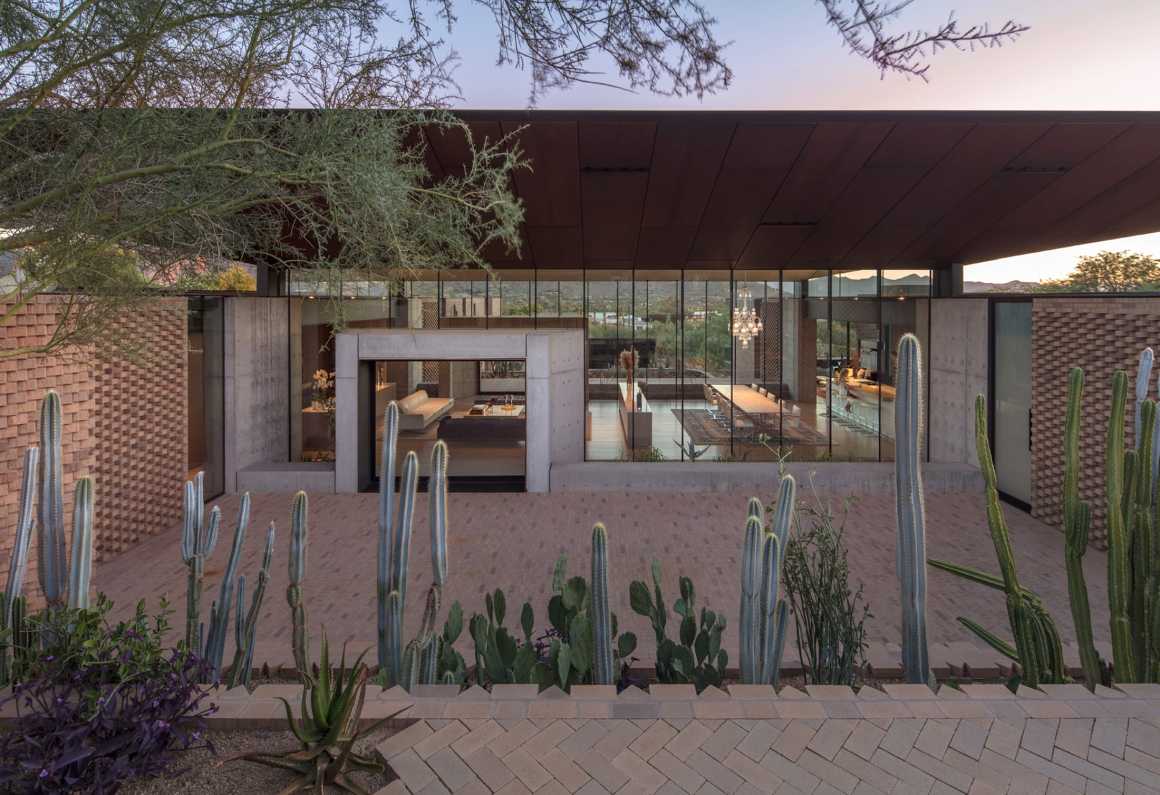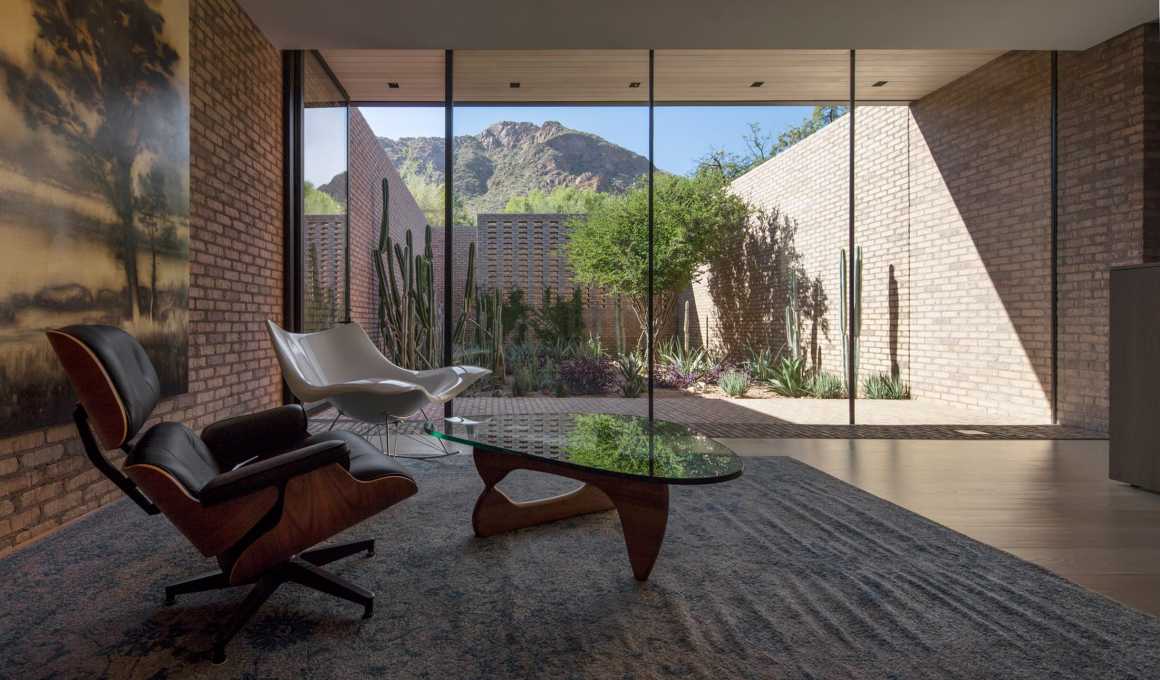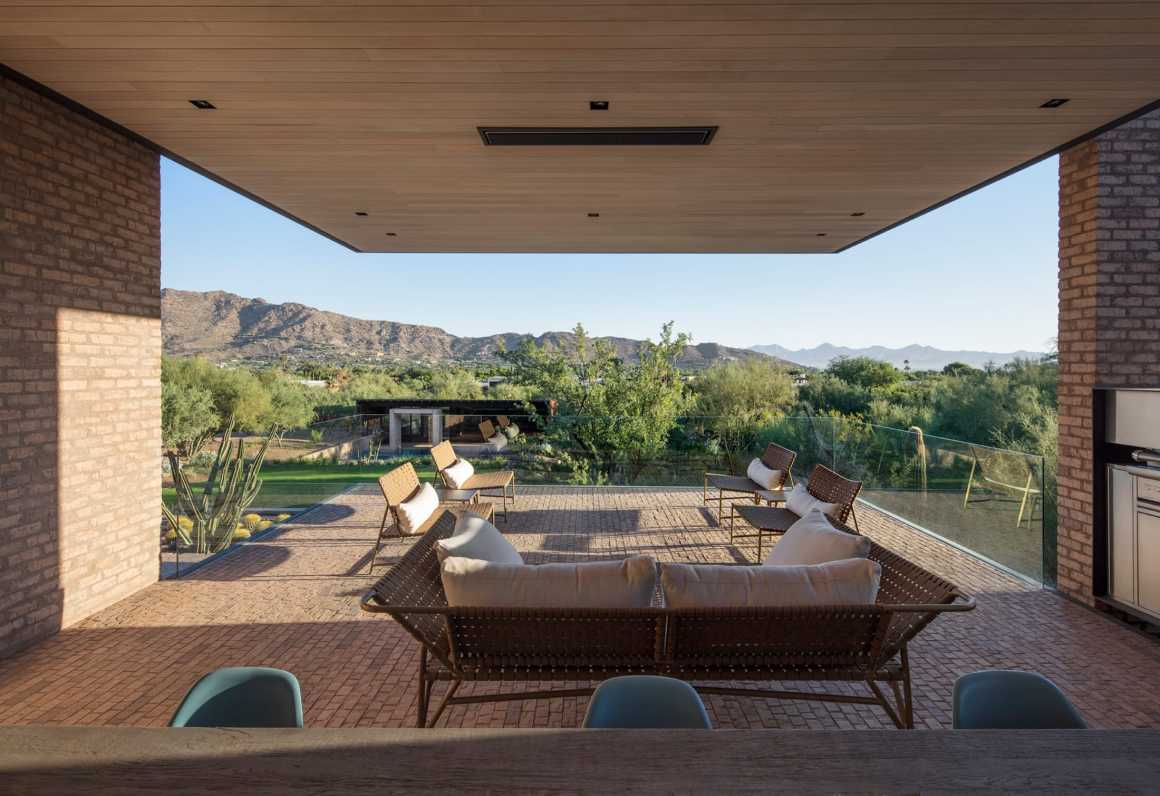 ▼室内空间 Interior Space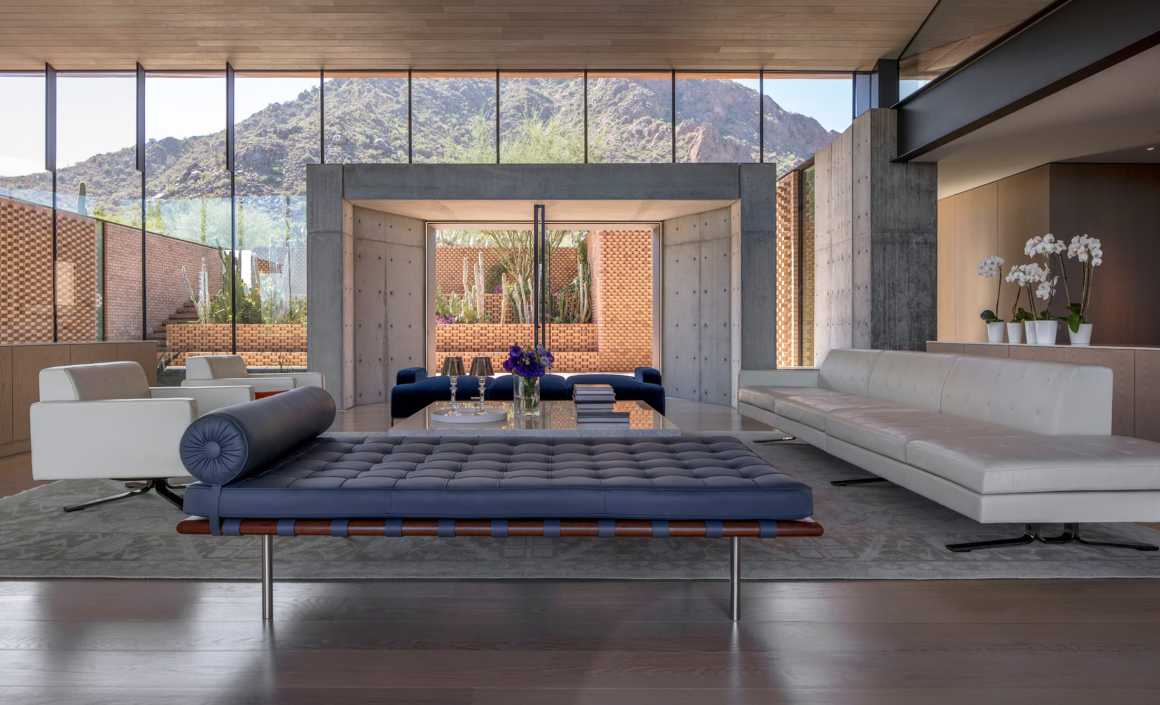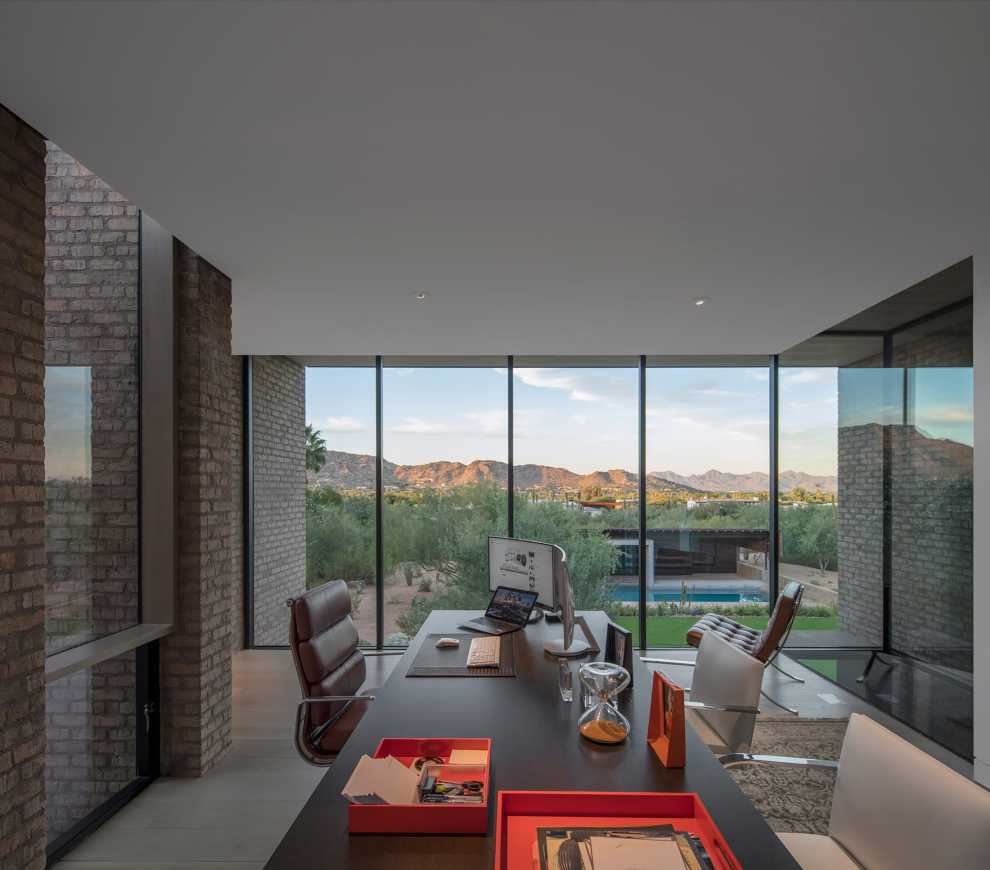 ▼墙壁细节 Detail
▼夜晚的住宅 Night House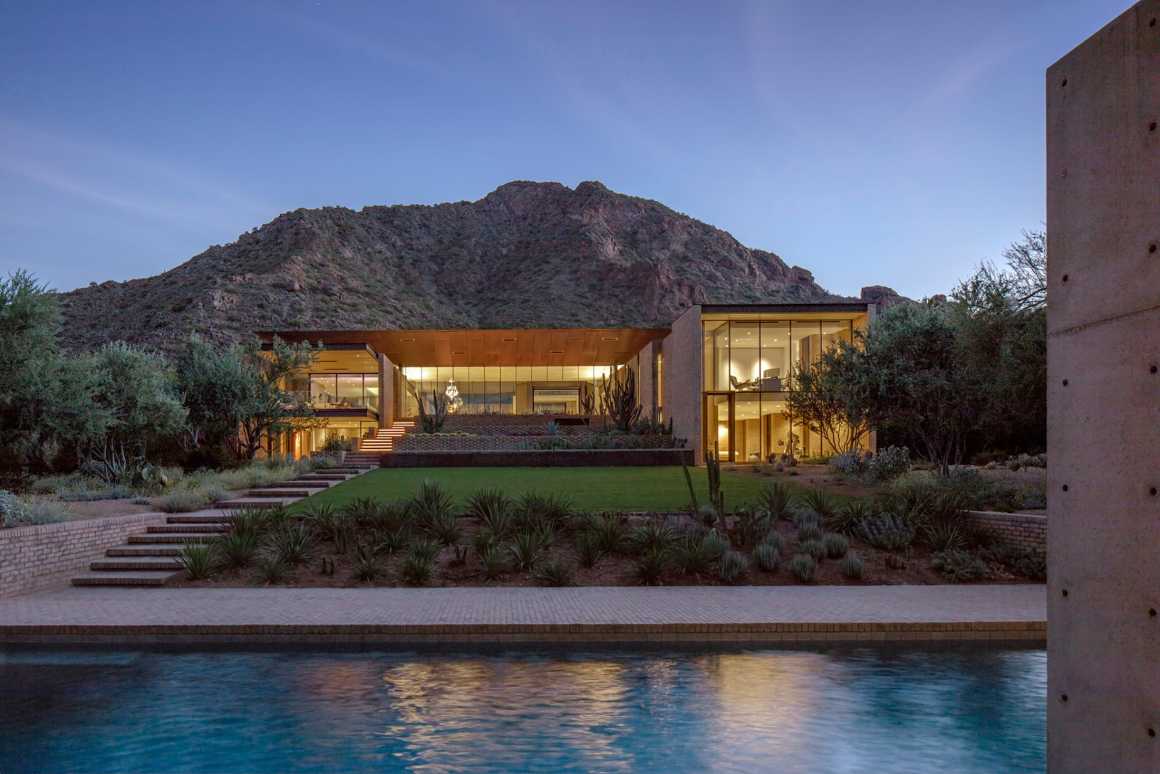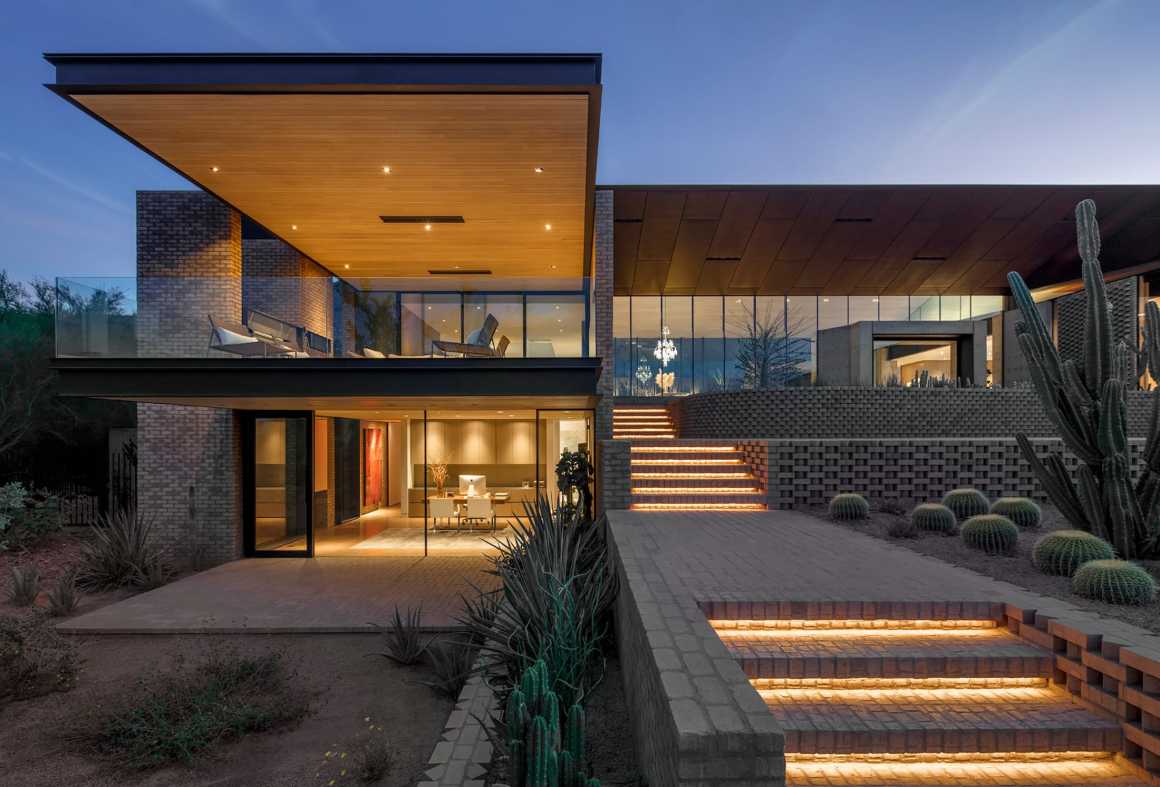 ▼住宅轴测图 Ghost Wash Drawing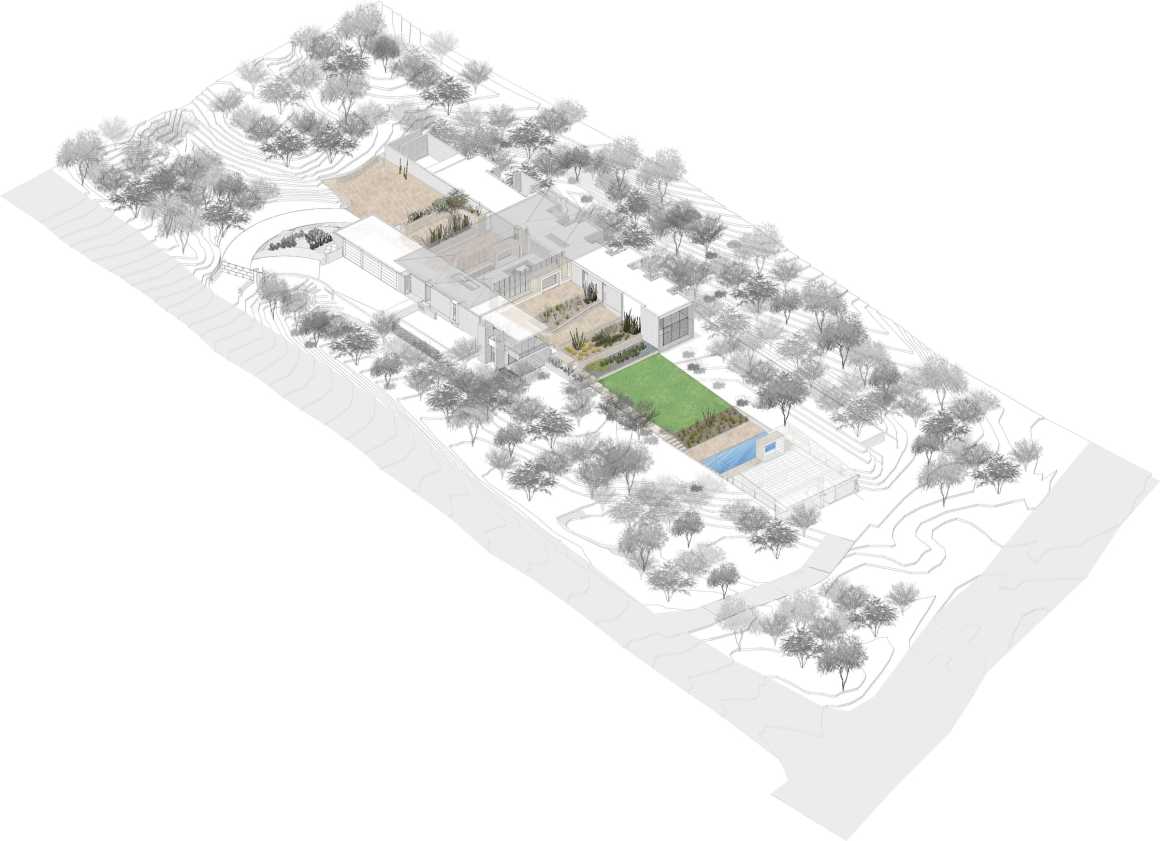 ▼住宅一层平面 Ghost Wash House Lower Plan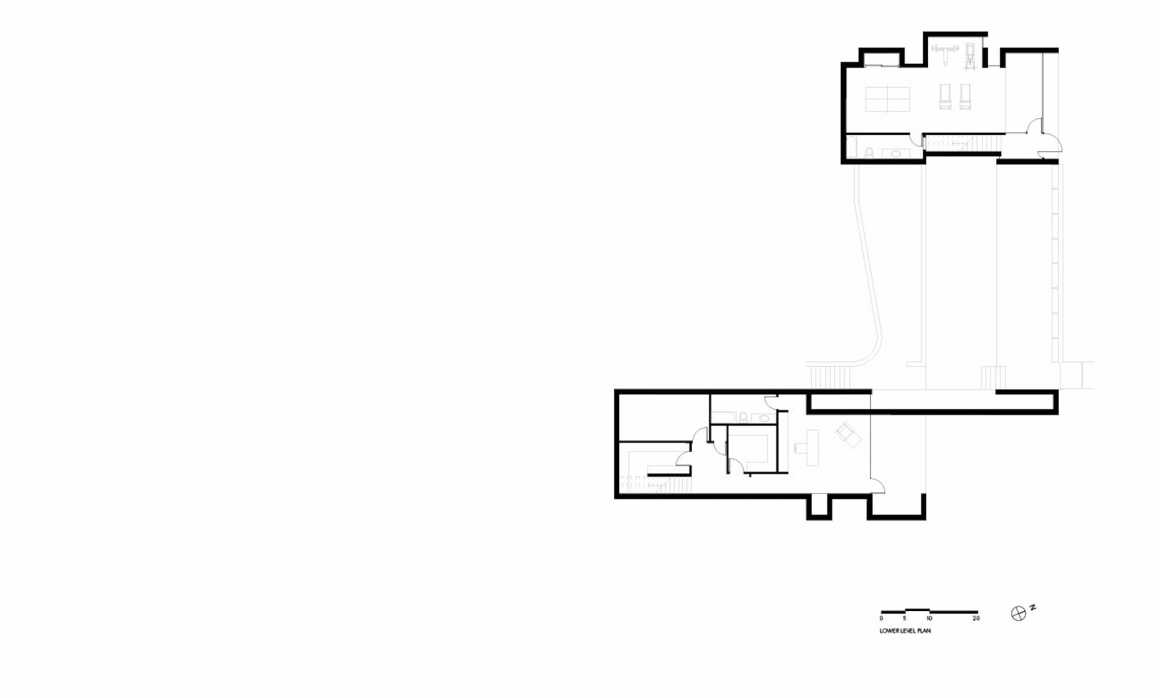 ▼住宅二层平面 Ghost Wash House Upper Plan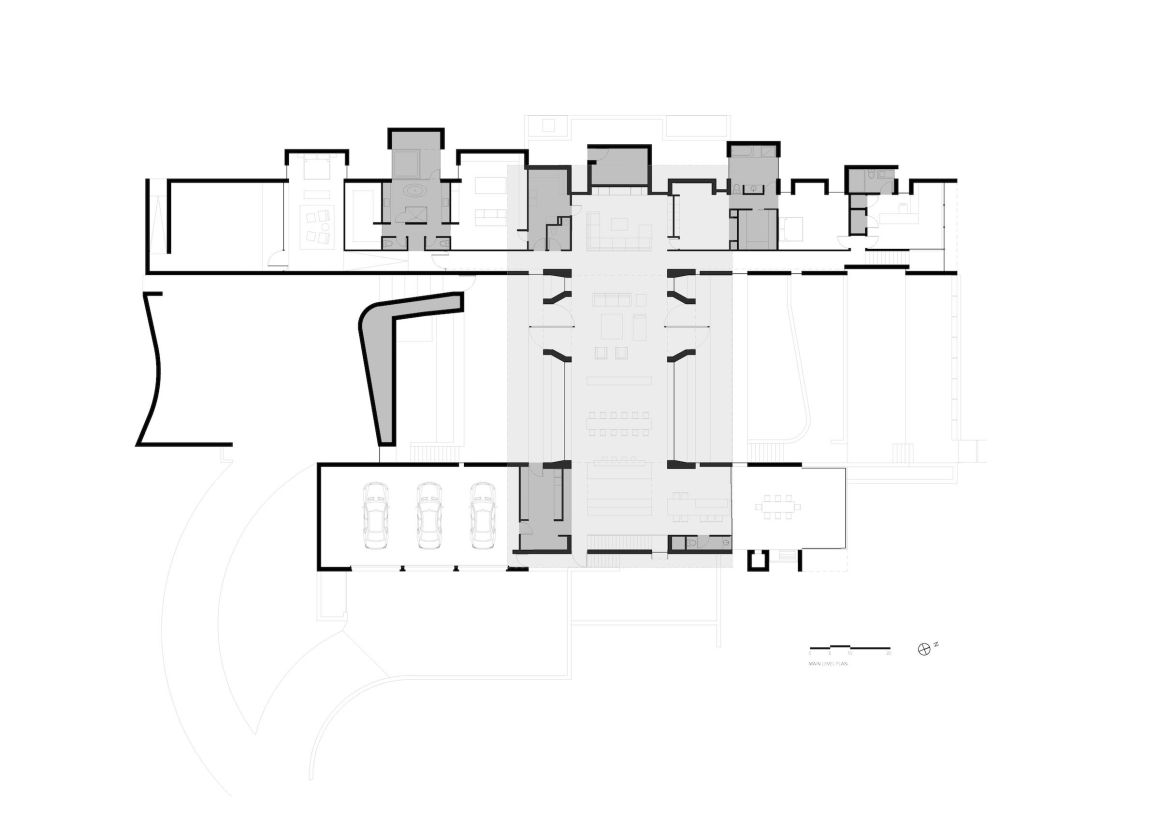 ▼住宅剖面图 Ghost Wash House Section

项目名称:幽灵住宅
地点:美国亚利桑那州天堂谷
客户:私人
完成年份:2017年
Project name: Ghost Wash House
Location: Paradise Valley, Arizona
Client: Private
Project year: 2017
更多 Read more about: A-I-R Architects