本文由 Förder Landschaftsarchitekten 授权mooool发表,欢迎转发,禁止以mooool编辑版本转载。
Thanks Förder Landschaftsarchitekten for authorizing the publication of the project on mooool, Text description provided by Förder Landschaftsarchitekten.
Förder Landschaftsarchitekten:位于德国杜塞尔多夫的Heinrich-Hertz-Berufskolleg是一所专注于化学研究的技术学院。日前其现有的学校综合体新扩建了一座建筑,所以其室外设施作为此次建设的一部分,也进行了同步更新。
Förder Landschaftsarchitekten:The Heinrich-Hertz-Berufskolleg in Düsseldorf is a technical college for technology with a focus on chemistry. The existing school complex has been extended by a new building. As part of this construction, a redesign of the outdoor facilities has also taken place.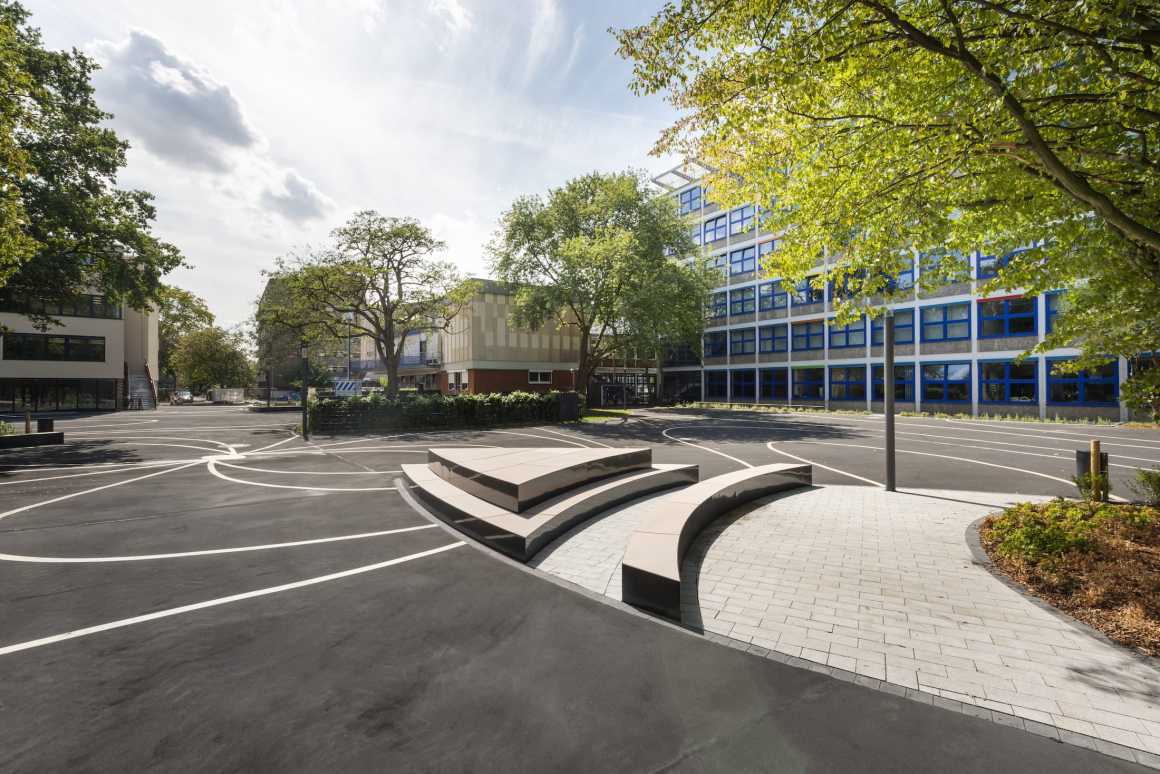 将现有建筑与扩建部分,通过中心位置的新庭院与邻近的franz – jurgen – berufskolleg连接起来,创建了一个连贯的校园空间。这幅与"Heinrich Hertz"职业学院同名的超大沥青图案"赫兹偶极子"——用于信号传输的电磁波——装饰着整个校园。
Through the centrally located, new schoolyard, which connects the existing buildings with the extension and the neighboring Franz-Jürgens-Berufskolleg, a coherent school campus has been created. Following the namesake of the "Heinrich Hertz" vocational colleges, an oversized asphalt graphic of the "Hertzian dipole" – electromagnetic waves for signal transmission – adorns the entire schoolyard.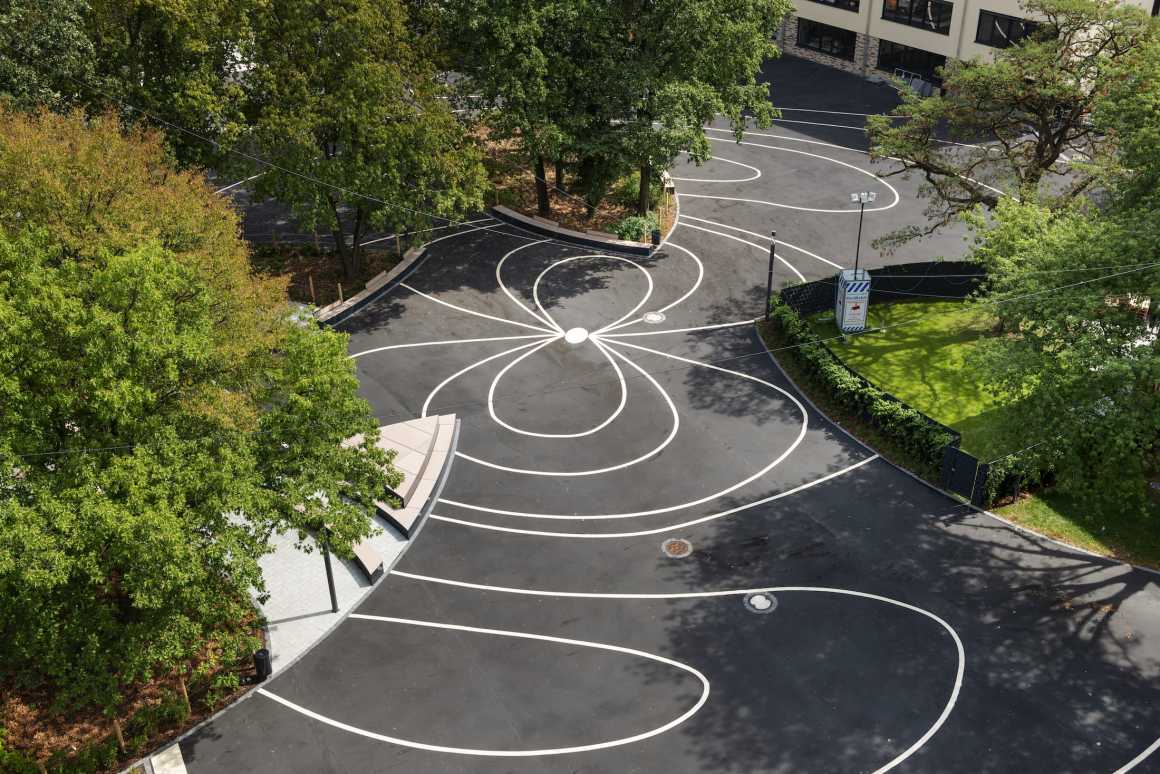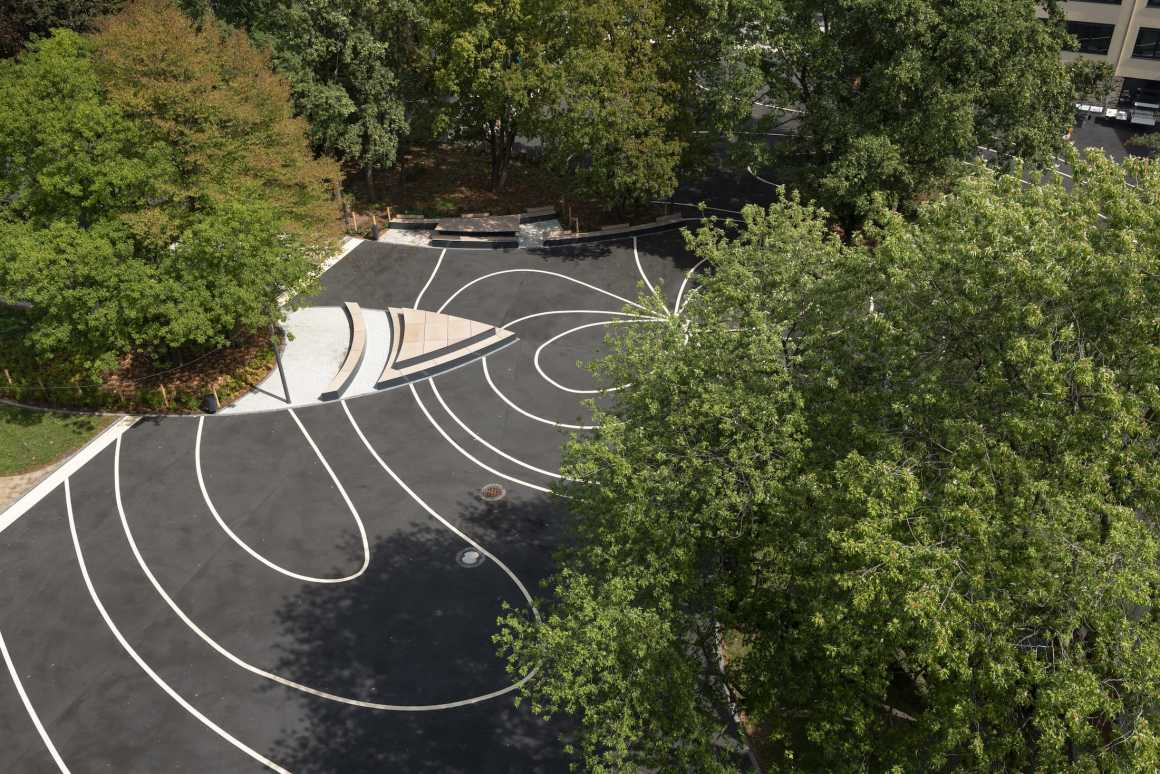 现场树木的树池是风格化的叶子形,其扩展的边缘可为用户提供座位(长椅、看台、带桌子的休息区)。这些座椅由一种主要由自然资源制成的可持续材料Planera制作而成。
The existing trees are staged by tree framing of stylized leaf shapes. The tree surrounds expand in some places to seating (benches, grandstand, sitting area with table) for the users. Those seats are made of Planera, a sustainable material mainly made from natural resources.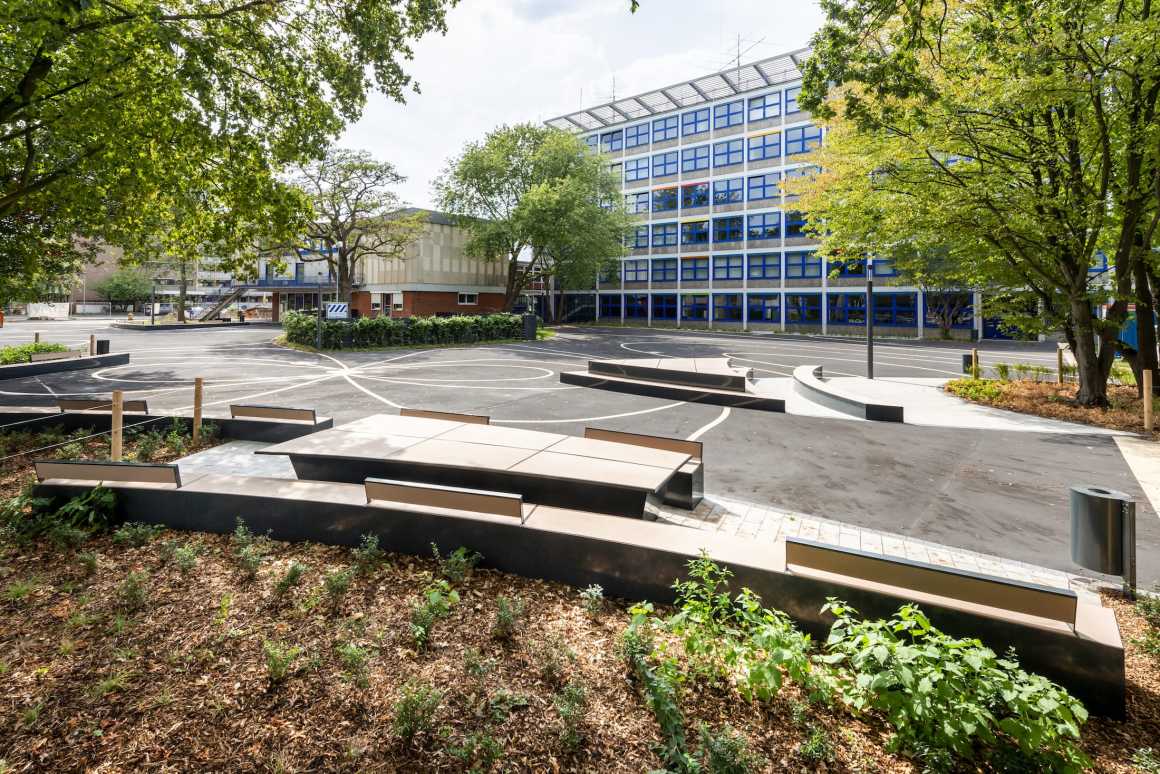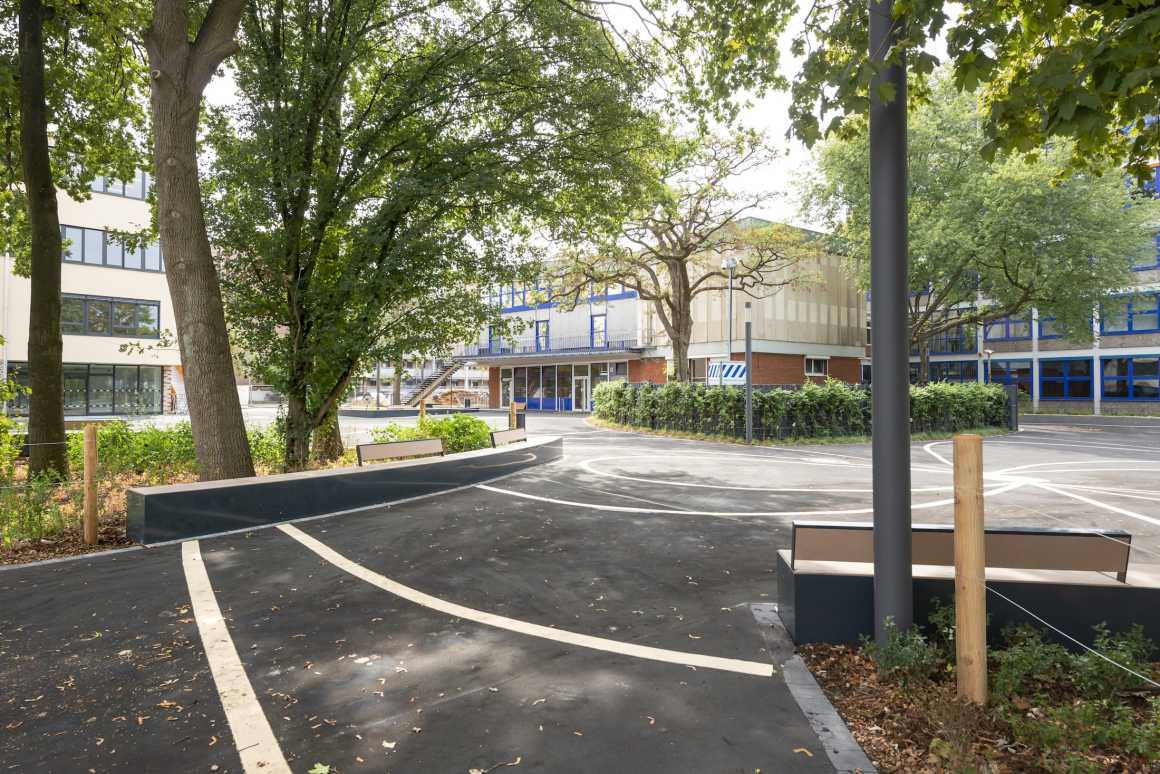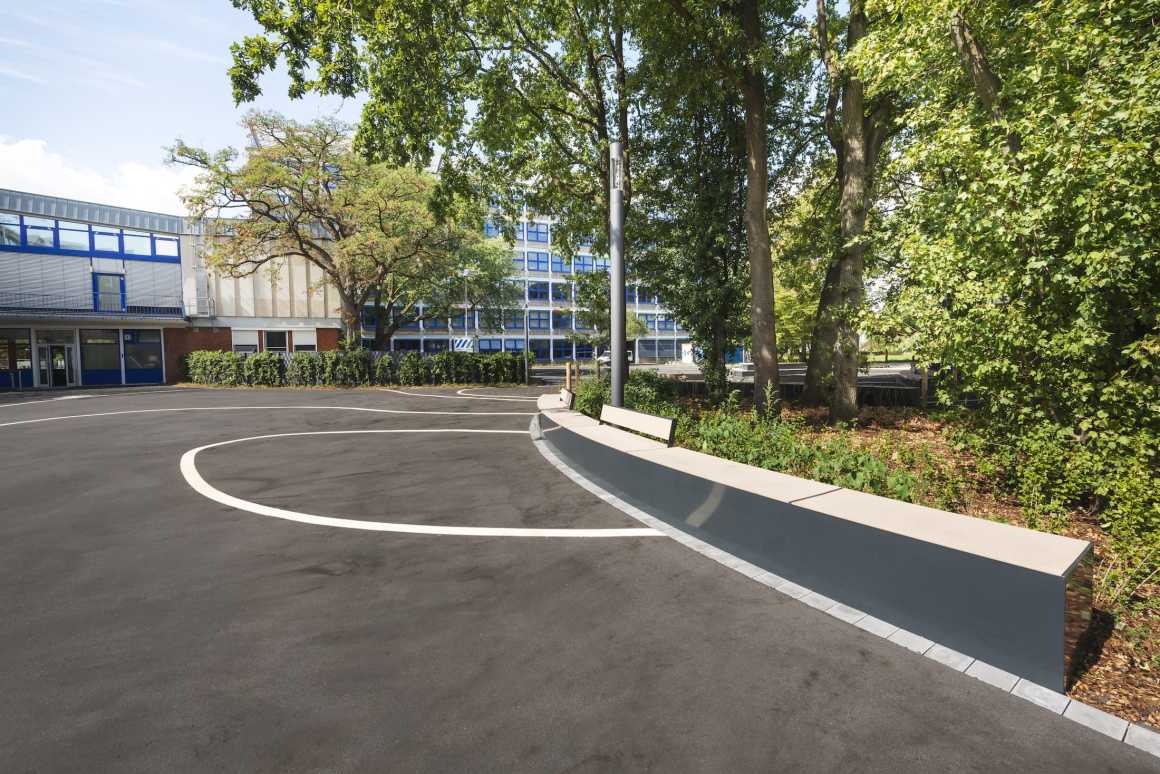 除了作为居住和交流场所,校园的各个区域还可以作为学生和教师的"绿色教室"使用。校园附近的室外区域由植物种植池、教师停车场(有30个停车位)和一条嵌入模拟草坪区域可通往邻近电车车站的通道组成。
In addition to its function as a place of residence and communication, individual areas of the schoolyard can be used by the pupils and teachers as a "green classroom". The schoolyard is supplemented by the outdoor areas near the building consisting of plant beds, the teacher's parking lot with 30 parking spaces and an access road to the adjacent tram stop – embedded in a modeled lawn area.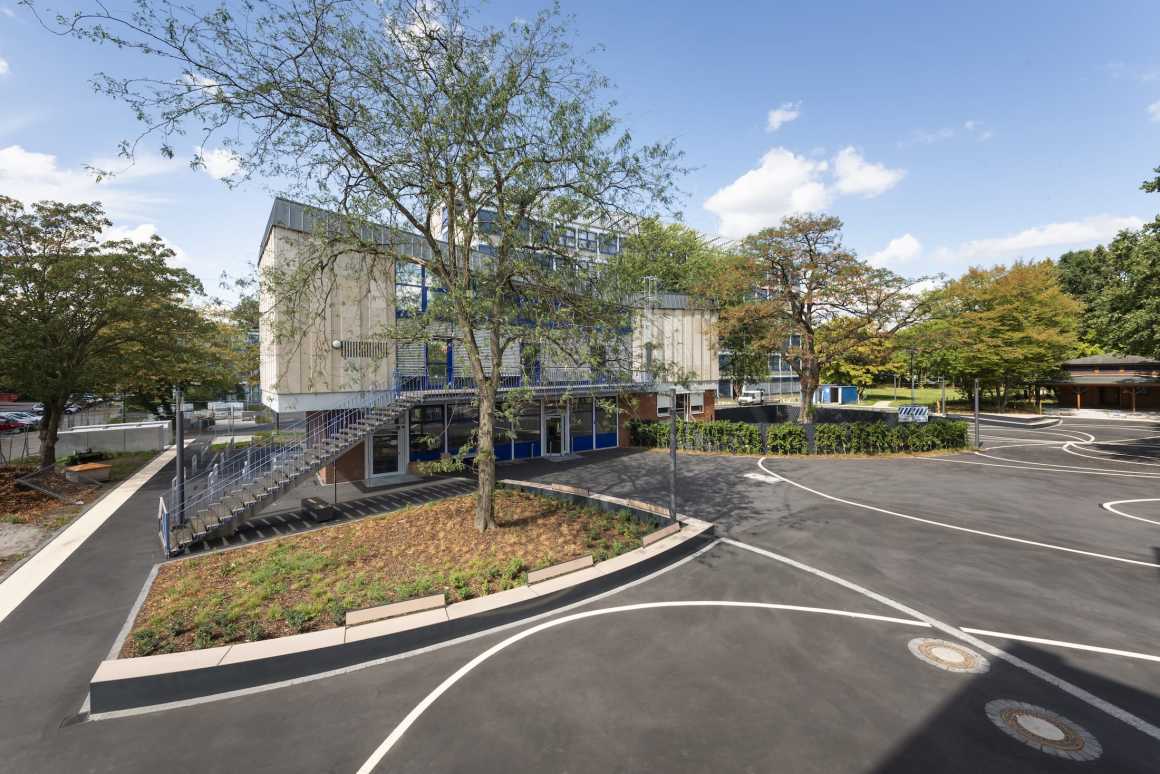 项目地点:德国 杜塞尔多夫
面积:10000 m²
时间线:2012-2018年
建设时间:2017 – 2018年
合作建筑师:Heuer Faust Architekten
图片:LiF Freiraumobjekte e.K.
Location: Düsseldorf
Area: 10.000 m²
Periode: 2012 – 2018
Realisierungszeitraum: 2017 – 2018
Partner Architecture: Heuer Faust Architekten
Photos: LiF Freiraumobjekte e.K.
更多 Read more about: Förder Landschaftsarchitekten