PLAN:B: 这所学校的用地由其独特的地形决定,设计师希望以此来进行项目设计。设计师把年幼孩子的教师设置在被原生森林环绕的山坡上,把年长孩子的教室设置在可以看到开阔景色的山坡上,在中部高地周边设计了自助餐厅和图书馆,其顶部就是一个巨大的自然操场。
PLAN:B:  The lot available for this school was mainly defined by its particular topography and we wanted that to determine the program. On the hillside closed by native forest we located the classrooms for the younger children, on the hillside that had an open view of the landscape, the classrooms for the older children, and in the perimeter of the central plateau we placed the cafeteria and the library.  The top of the central plateau was left as a large natural playground.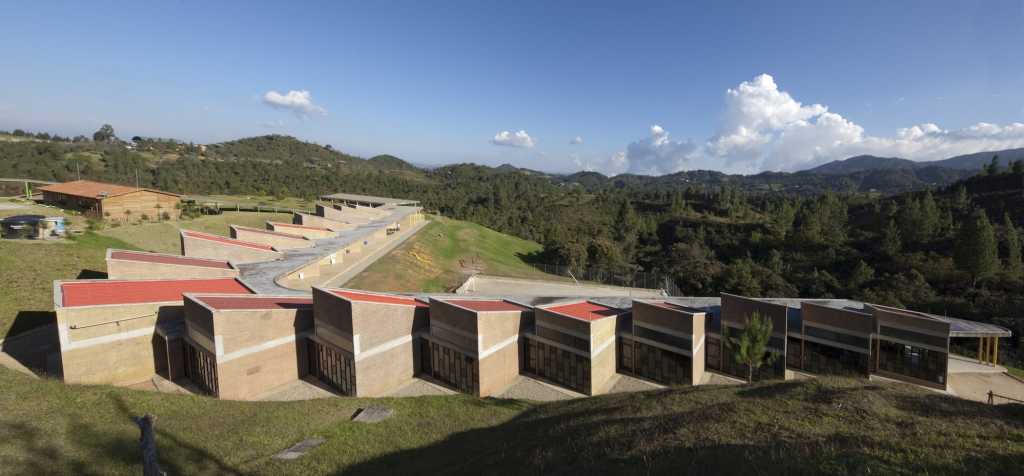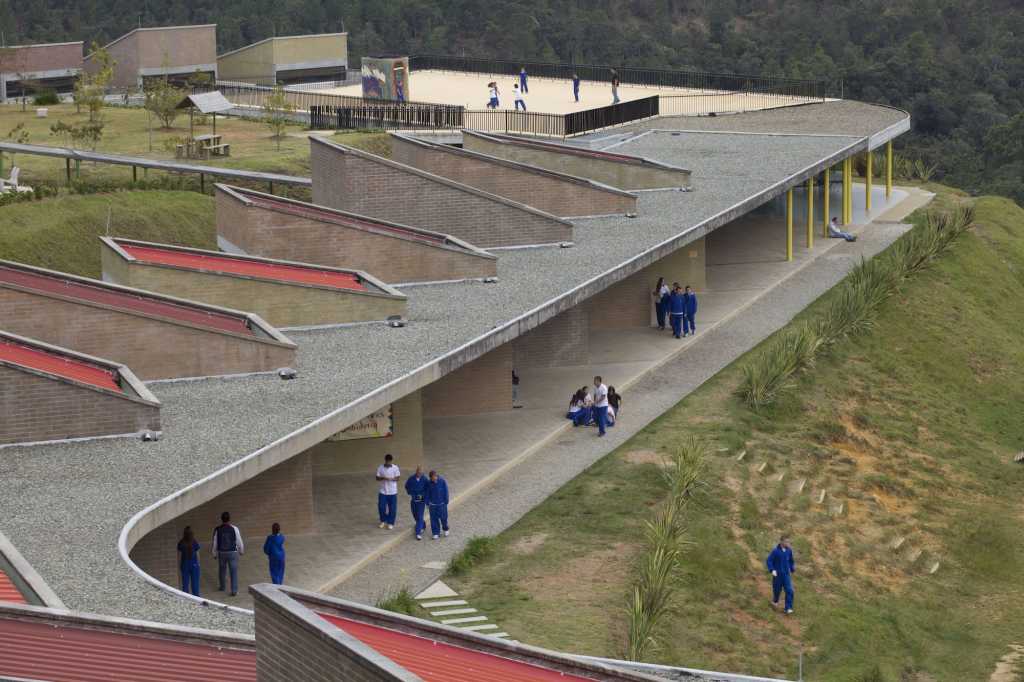 从一开始,设计师就想把景观或地形的多样性与孩子的成长结合起来,随着年龄的增长,周边的地形环境也会发生变化。将时间和位移与景观融合在一起,这样孩子们就能感知到年轻和靠近森林的关系,以及长大和获得更多开放空间的关系。
Since the beginning we wanted to mix the landscape or topographic diversity with the kid's growth, and the fact that they changed classrooms across the landform as they got older. Merging time and displacement with the landscape, in a manner that the kids could perceive the difference between being young and near to the forest, and growing older and acquiring a more open relationship with the environment.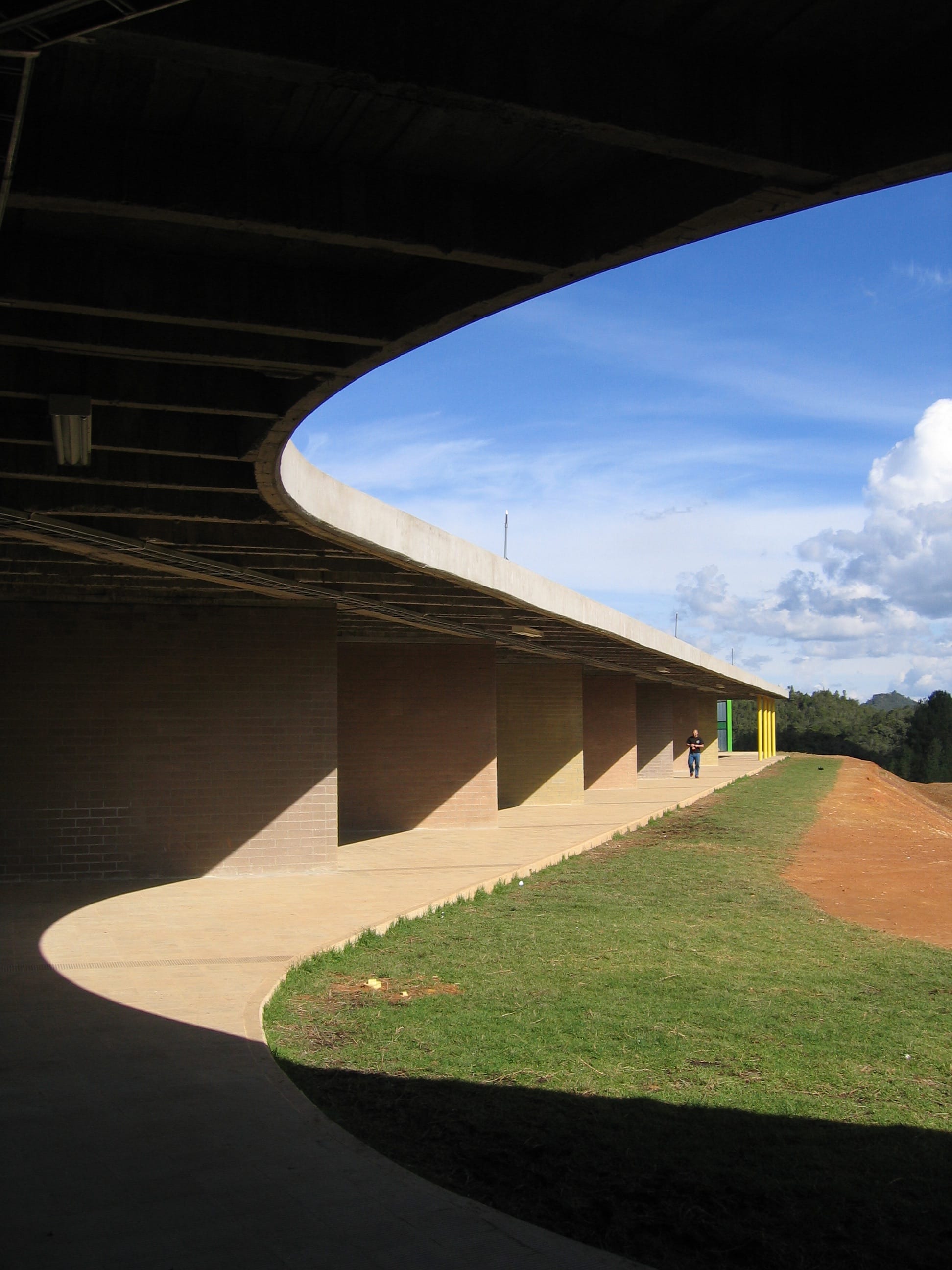 在这个特殊的项目中,土方工程在建造中起到了重要的作用,因此在建造时依据地形做了一个纵向的场地,一边移动一边填充,尽量减少对土壤的侵蚀。通过这种方式,所有的教室都建在同一层,避免了楼梯的大量建造,让有学习或者运动困难的孩子们通过坡道到达他们想去的地方。
In this particular project, the earthworks had a starring role in the construction, reason for which we decided to make a longitudinal land terrace following the topographic forms: by moving a little and filling in a little, and trying to be as less aggressive to the soil as possible.  This way, all the school was constructed on the same level, avoiding flights of stairs, for the children with learning and/or motor difficulties to move around from the upper ramp with no problems.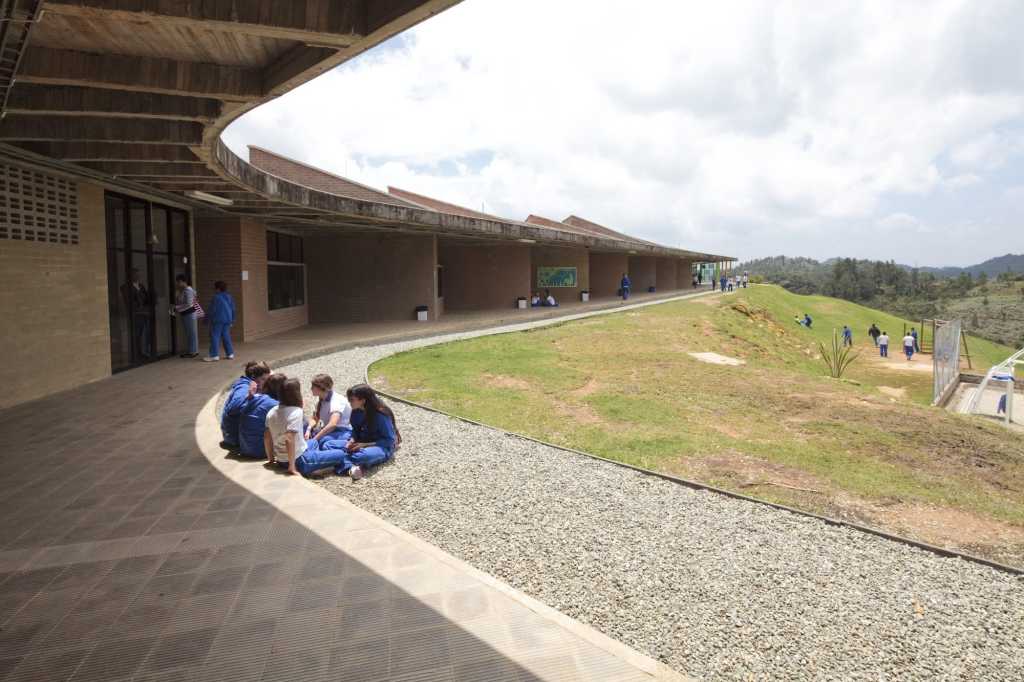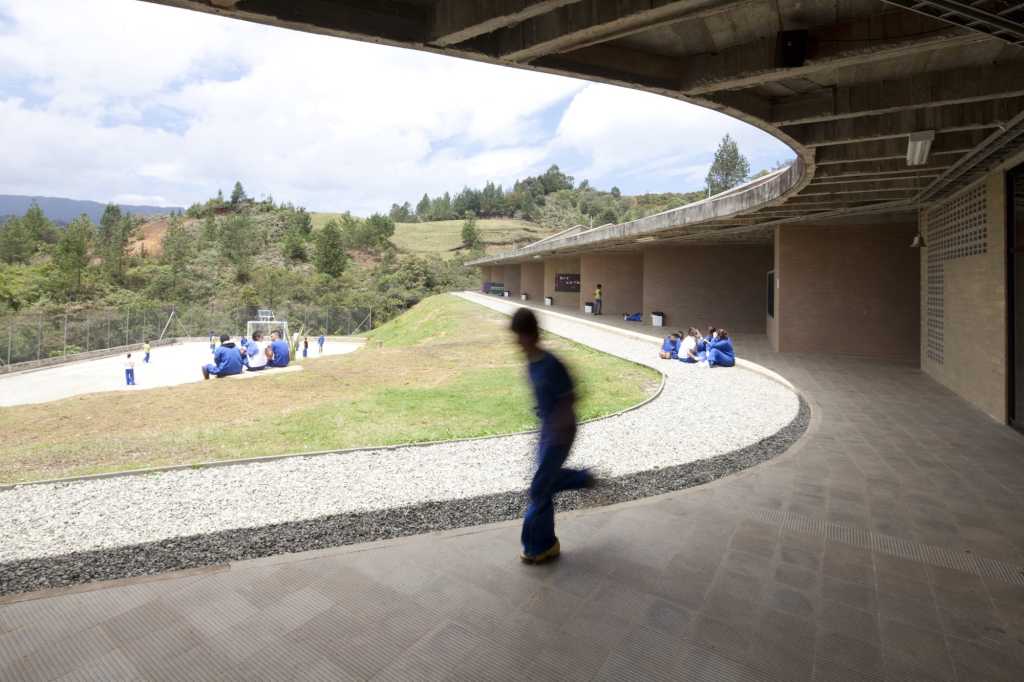 L: Courtesy Veronica RESTREPO+Felipe MESA / R: ©Sergio Gomez
这所学校必须分阶段发展。考虑到这种情况,设计师建议在第一阶段建造一个大的、一层的露台作为操场使用,同时为学校的发展留出空间。
这个项目有一个模块化或是说关系型的建设模式,在这种情况下,矩形的教室就可以与露台相适应。第一阶段包括一个后院和一个面对着景观的前走廊,走廊和流通区通过平顶盖板相互连接,这样可以遮挡雨水和阳光,是良好的庇护所。
This school had to grow by stages. In view of this circumstance, we proposed to make a large, one-leveled land terrace that could function as a playground during the first stage, while leaving space available for the school to grow without trouble.
This project has a modular or relational pattern, which is in this case, a rectangular classroom that adapts to fit the land terrace. The module includes a backyard and a front hallway that faces the landscape. In this case the modules have been connected by a flat cover that defines the hallways and circulation areas, providing shelter from natural elements such as rain and direct sunlight.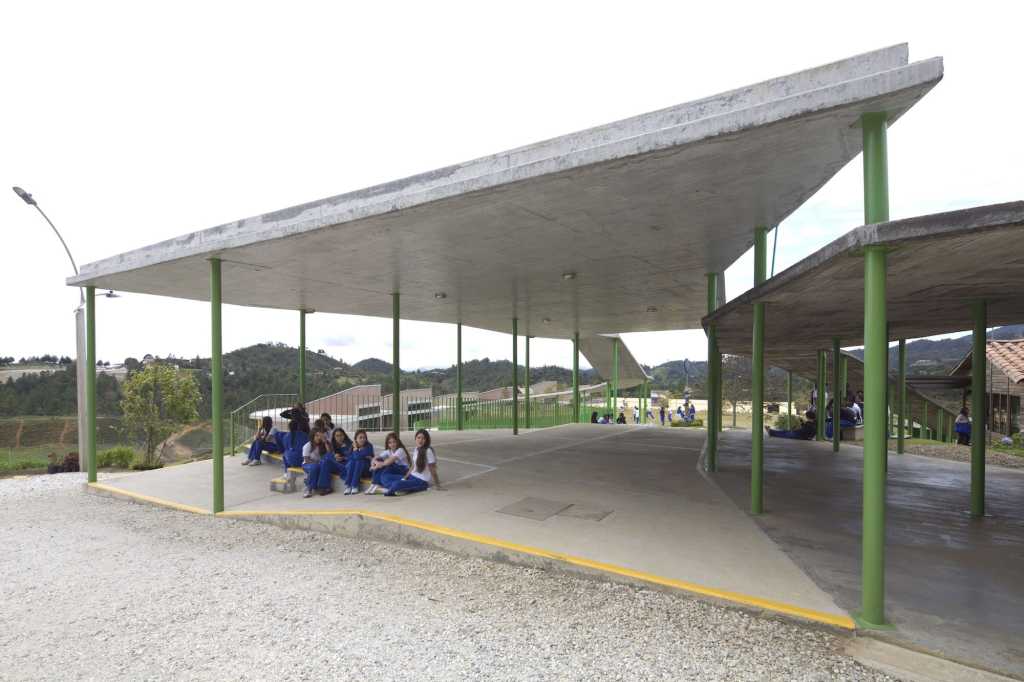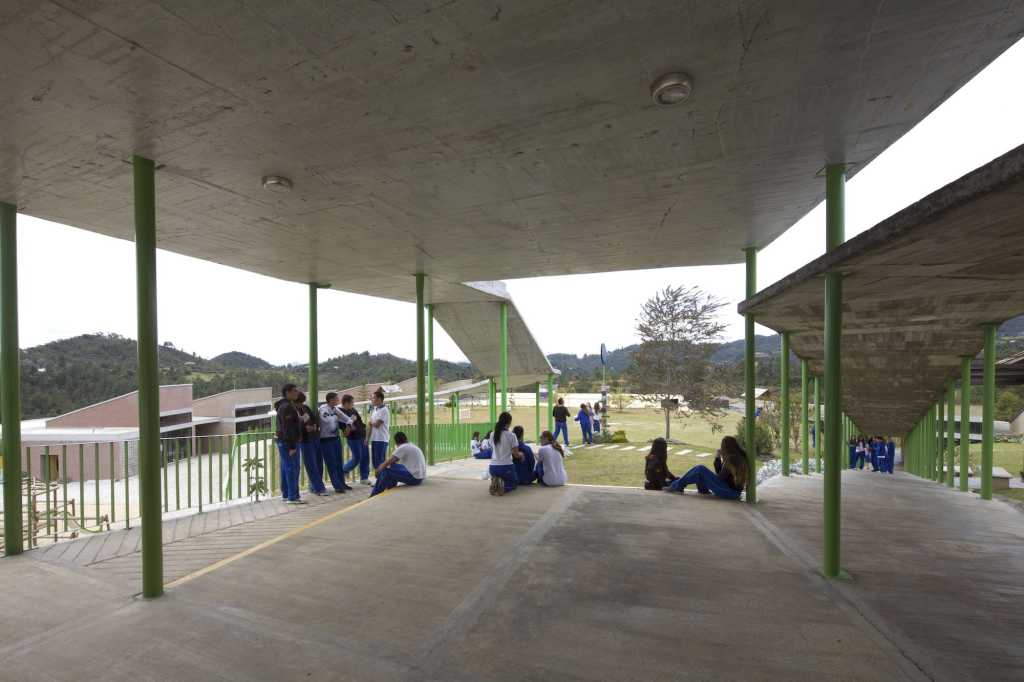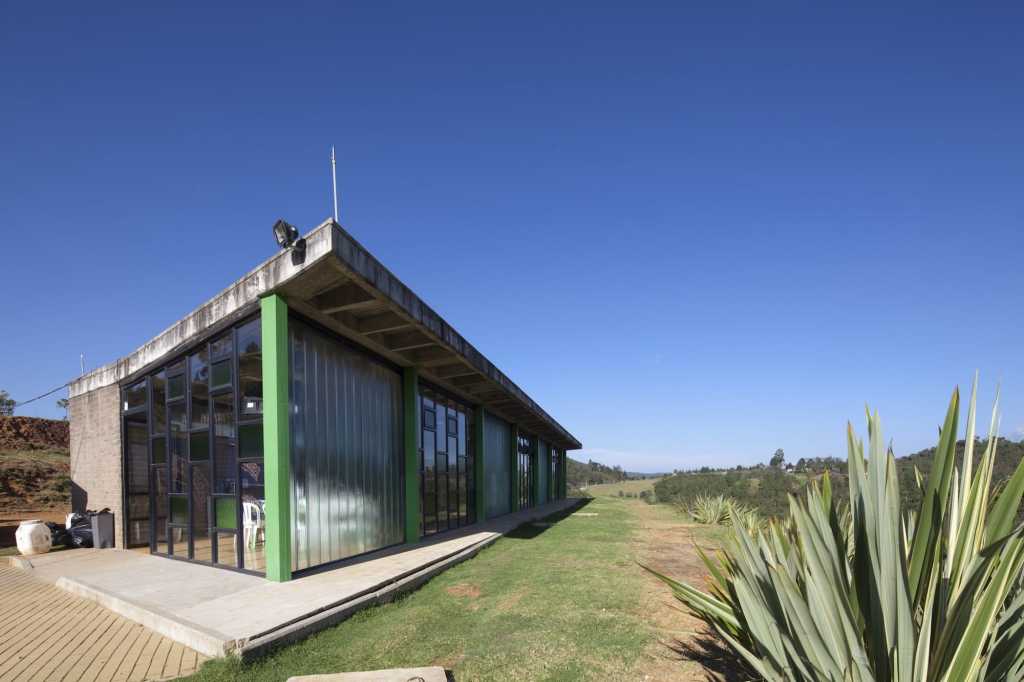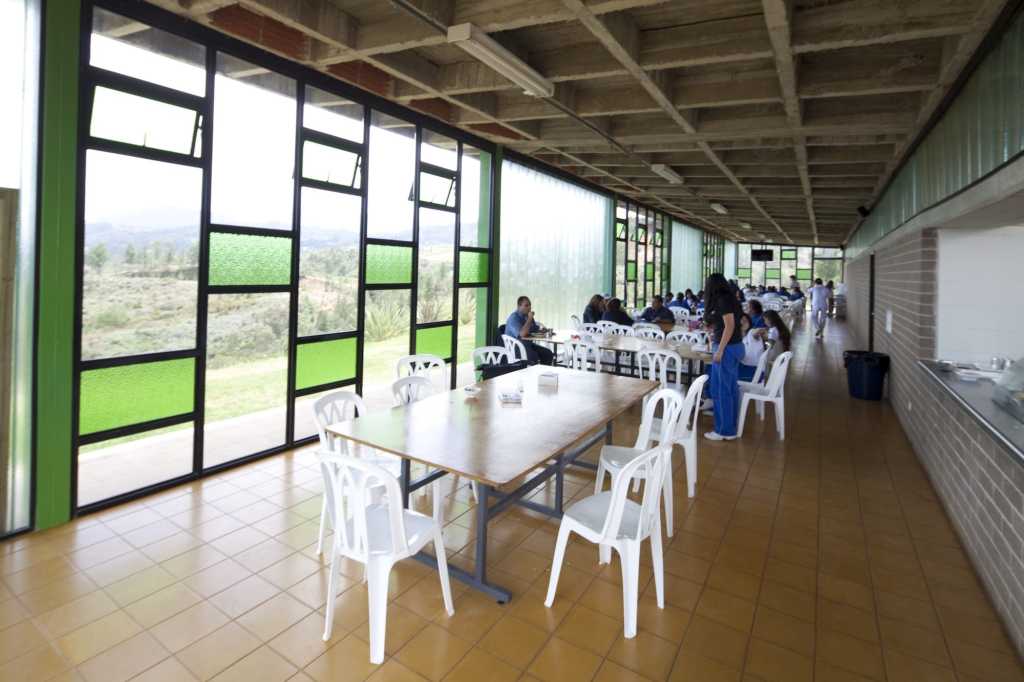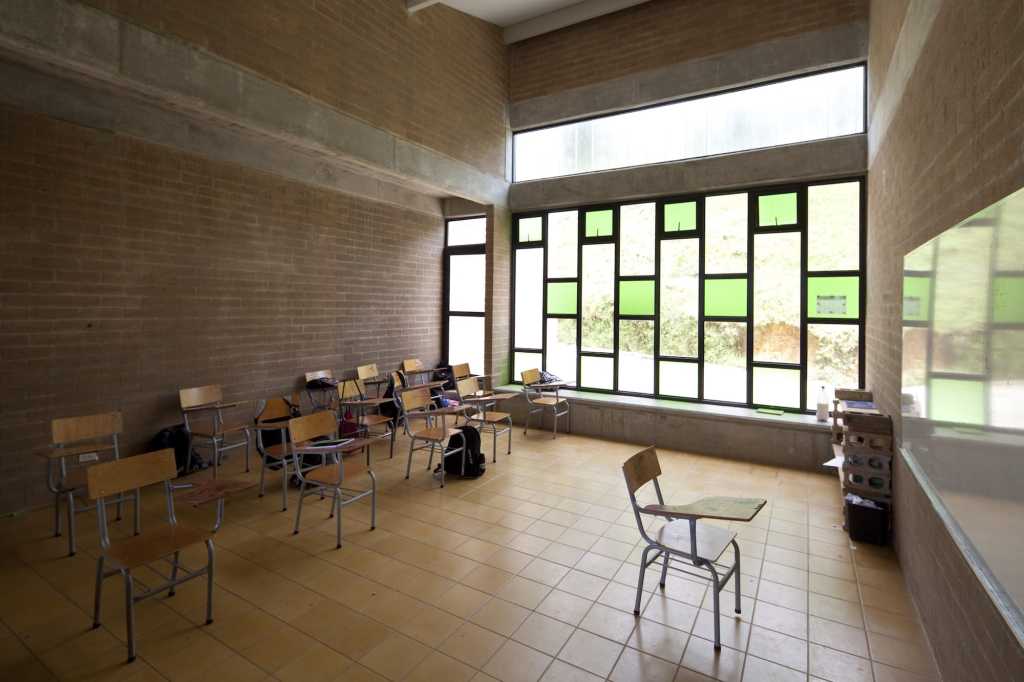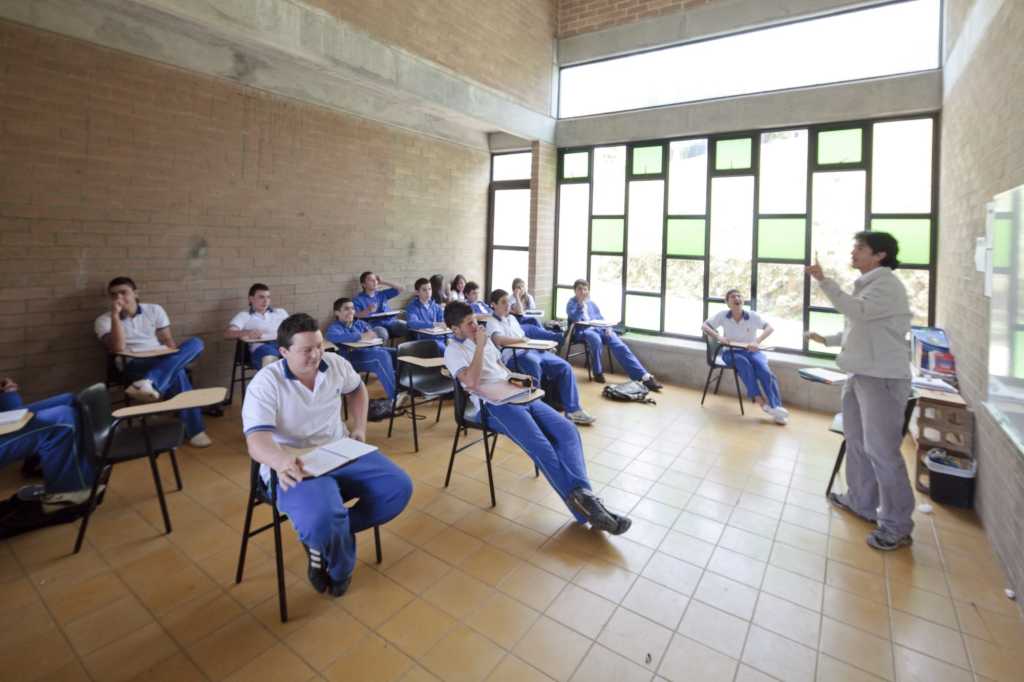 L&R: ©Sergio Gomez
项目名称: Hontanares教育机构
用途: 供1000名学生就读的私立学校 (有些学生有身体/学习困难)
年份: 2005年 (第一阶段),  2012年 (第二阶段)
面积: 2000平方米 (第一阶段),  2268平方米 (第二阶段)
每平方米价格: 450美元
地点: 哥伦比亚麦德林
朝向: 南
风向: 南北向
结构: 混凝土砌块墙
材料: 混凝土砌块、水泥瓦、雕刻玻璃、钢瓦。
建筑设计: Plan:b (Felipe Mesa + Alejandro Bernal)
项目经理: Felipe Mesa + Alejandro Bernal
工作团队: Camilo Restrepo Villa, Jorge Buitrago, Federico Mesa, Juan David Diez, Andrés Benitez, José Cárdenas, Isabel Dapena, Sergio Escobar, Julián Bahena
客户: Evolucionar SA
摄影师: Sergio Gomez, Veronica Restrepo, Felipe Mesa
Name: Hontanares educational institution
Use: Private school for 1000 children, some facing physical and/or learning difficulties
Year: 2005 (phase 1), 2012 (phase 2)
Area: 2000m2 (phase 1), 2268m2 (phase 2)
Price per square meter: US$ 450
Location: El Retiro, near Medellín, Colombia
Facing: South  
Direction of wind: North -South 
Structure: Walls in concrete blocks.
Materials: Concrete blocks, cement tiles, engraved glass, steel tiling. No linings or ceilings. 
Architects: Plan:b (Felipe Mesa + Alejandro Bernal)
Project Manager: Felipe Mesa + Alejandro Bernal
Work team: Camilo Restrepo Villa, Jorge Buitrago, Federico Mesa, Juan David Diez, Andrés Benitez, José Cárdenas, Isabel Dapena, Sergio Escobar, Julián Bahena
Client: Evolucionar SA
Photographer: Sergio Gomez, Veronica Restrepo, Felipe Mesa
更多  Read more about:  PLAN:B