本文由metrostudio 迈丘设计授权mooool发表,欢迎转发,禁止以mooool编辑版本转载。
Thanks metrostudio for authorizing the publication of the project on mooool, Text description provided by metrostudio.
迈丘设计:项目位于惠州惠城区城市主干道。惠州,亚热带气候,自然资源丰富,集山、江、湖、海、泉、瀑、林、涧、岛为一体。景观设计从"海"与"岛"获得灵感,整体营造现代、简约的风格。设计采用了感性优美的线条和简约大气的造型突出了项目时尚、典雅、静谧的气质。设计抽象提炼出流动的几何线条和独具韵律设计符号,韵律 、流动、静谧,在展示区层层递进,营造多重体验景观。
Metrostudio:The project is located in the main road of Huizhou, surrounded by convenient transport and rich natural resources. The overall design is contemporary and simple and the graceful lines and simple shape endow the project with the fashion temperament. Inspired by the concept of Boat, architectural design through clean and simple lines, echoes the landscape design of Sea and Island and forms a completed system to show the simple, fashionable and comfortable modern life. The large mirror waterscape design, reflecting the concise and simple building, shows the landscape concept of Sea and Island.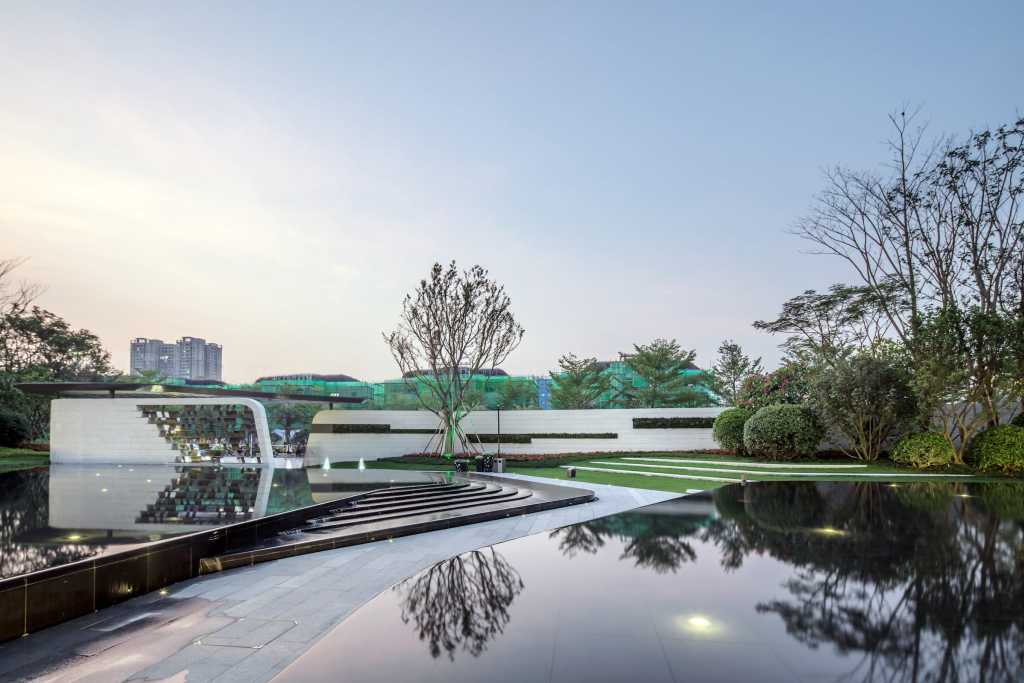 总平面图  Master Plan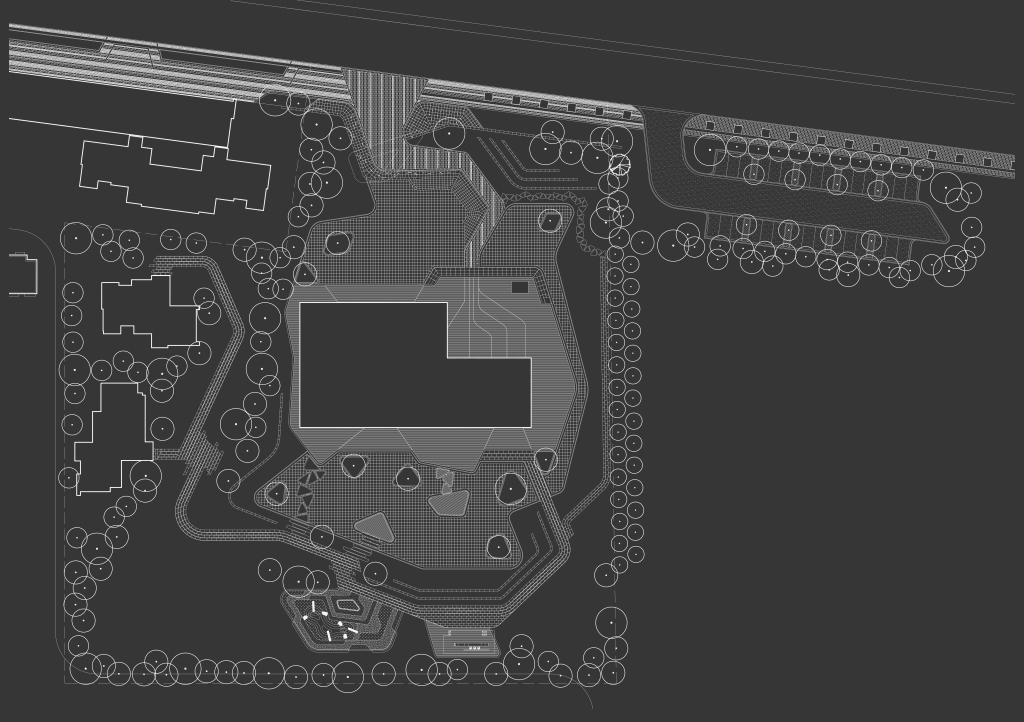 用万能支撑器的做法打造水景区域,使整个建筑倒映在景观的"海洋"中。大面积的镜面水池,平和宁静,与阶梯跌水,动静结合,设计简约而趣味倍增。错落有致的艺术草阶,在铺装形式上采用明快的流线感串联整个示范区,水磨石汀步结合卵石。
Forming the fashionable style of modern and concise, reflecting the whole buildings in the sea of landscape. Large area of mirror pool, peaceful and quiet, and combine with stairs drop water, simple design but fun multiply.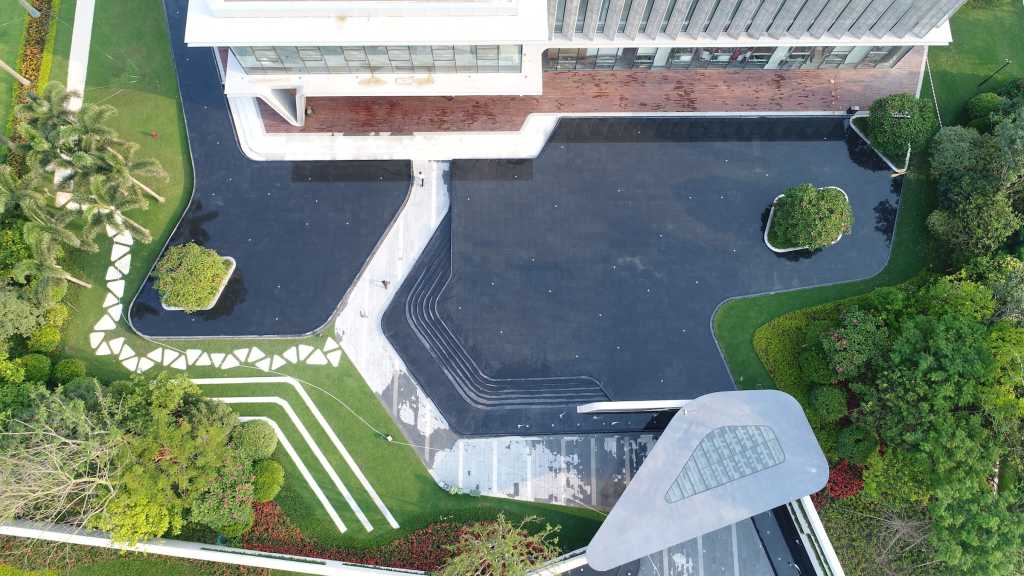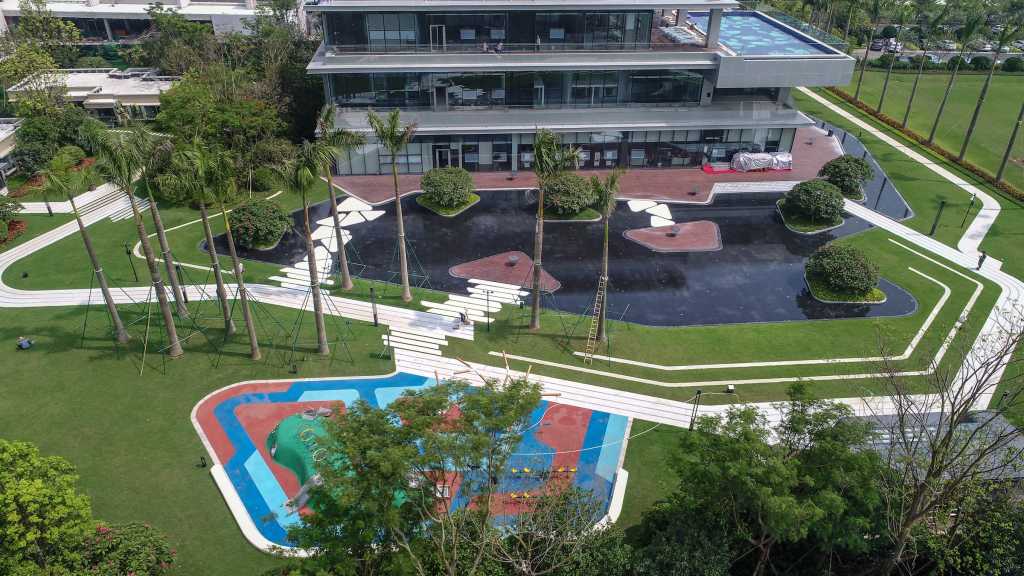 入口广场,简洁大气,尊贵典雅。设计师用简洁大气的流线感呼应整个项目的风格。在入口处通过流线型的门廊、特色景墙、水景等元素打造礼仪空间,将景观从外向内进行延伸。采用异形的钢构顶加上干挂石材来打造流线型的设计。迂回曲折的入口通道,拉长了进入内部空间的时空距离,创造出步移景异,渐入佳境。入口涌泉水景与雕塑配合,活泼灵动,更添艺术效果。
The demonstration area are divided into entrance gate area, central waterscape, backcourt landscape area, which the featured entrance and the central waterscape adopts concise and simple line to echo the design style of the whole project.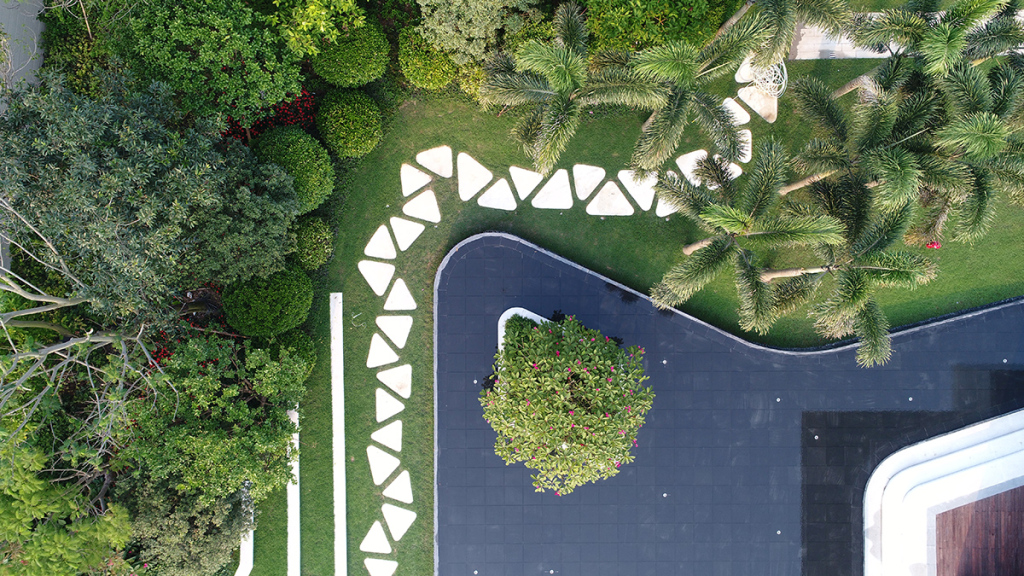 后场景观区包括:水上会客厅,休闲观景平台,亲子互动体验,阳光开敞草坪,层层递进,在体验空间,惊艳释放。在草坪空间保证大草坪的干净整洁,良好的地被曲线勾勒,弯曲流畅,草坪中不需布置任何植物。休闲水吧的设计造型呼应整个建筑的设计风格,利用钢构的做法来打造,功能上融合了"水吧"的休闲体验。在西面紧邻亲子儿童乐园,方便停留在"水吧"的父母看护子女,不仅提供了一个亲子娱乐的场所,并且融合景观"海"的设计理念将整个亲子活动区打造成一个"海洋"世界。
The backcourt landscape area includes: water reception hall, leisure viewing platform, parent-child interaction experience, sunshine open lawn, layer upon layer progressive. In the lawn space, it is ensured that the large lawn is clean and tidy, the good ground is outlined by smooth curves. There is no need to arrange any plants in the lawn. The design style of the leisure water bar echoes the design style of the whole building. It is made of steel structure and functionally integrates the leisure experience of " water bar". Close to the parent-child paradise in the west side, parents who stay in the " water bar" to take care of their children conveniently. It's not only provide a place for parent-child entertainment, but also integrate the design concept of " sea" to make the whole parent-child activity area a " sea" world.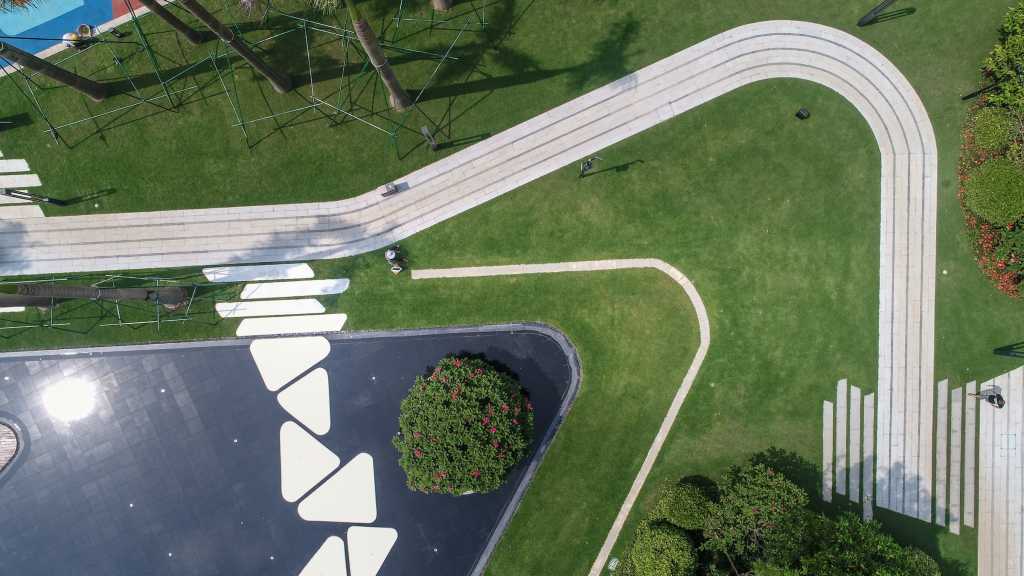 设计手稿  Design Sketch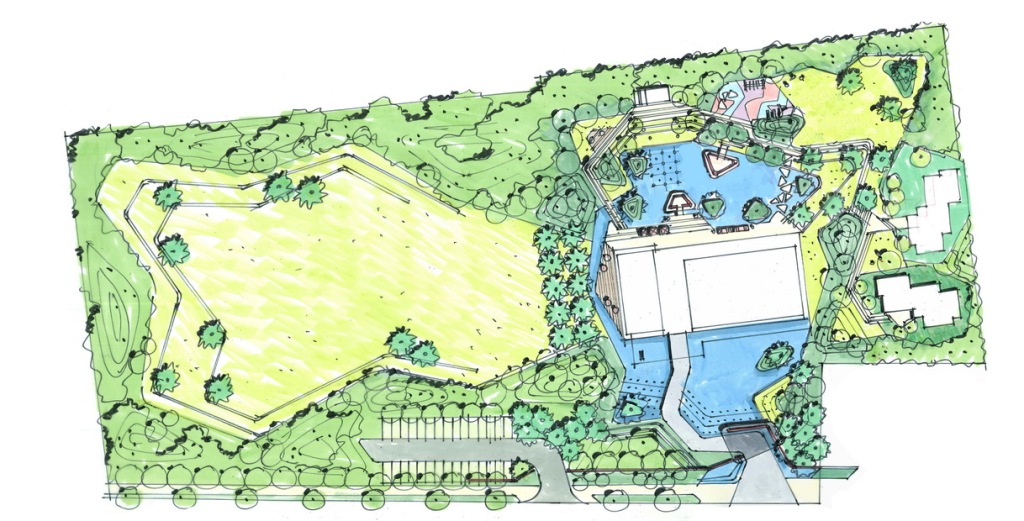 业主单位:新力集团
景观设计:Metrostudio 迈丘设计
项目地点:广东惠州
景观面积:样板区面积(14865 ㎡ );大区面积(93622 ㎡)
设计周期:2017年3月-8月
摄影师:林绿
Owner: Sinic Group
Landscape design: Metrostudio
Project Location: Huizhou, Guangzhou
Landscape Area: Sample area(14865 sqm);Residence area(93622 sqm)
Date of Design: March. 2017 – Aug. 2017
Photography: Lin Lv
更多More:Metrostudio 迈丘设计