本文由 VVdesine 授权mooool发表,欢迎转发,禁止以mooool编辑版本转载。
Thank VVdesine for authorizing the publication of the project on mooool, Text description provided by VVdesine.
VVdesine:硬质景观利用泰国传统材料和现代材料,在颜色和表面处理上做文章,充分体现了"反差与和谐"的主题,旨在向穿梭于世界各地的宜必思酒店的客人宣扬古今泰国文化。
VVdesine:Hardscape design is playing with "Contrast and Harmony" of Ancient Thai and Modern Thai material, color and finish, aim to promote Integration of Thai Culture during old time and present time to Ibis hotel guest traveling worldwide.
广场的设计充分考虑了来自BTS、人行天桥和附近公交站的行人流线,入口尽可能靠近这些流线的终点,以便有更多的空间作为入口广场、座位和休闲使用。
Ground floor plaza is designed by analysis accessibility of the guest from BTS, crossing bridge and the bus stop near by, the entrance located as close as possible to these factors allowing more space in front to be used as arrival plaza, seating and relaxation area.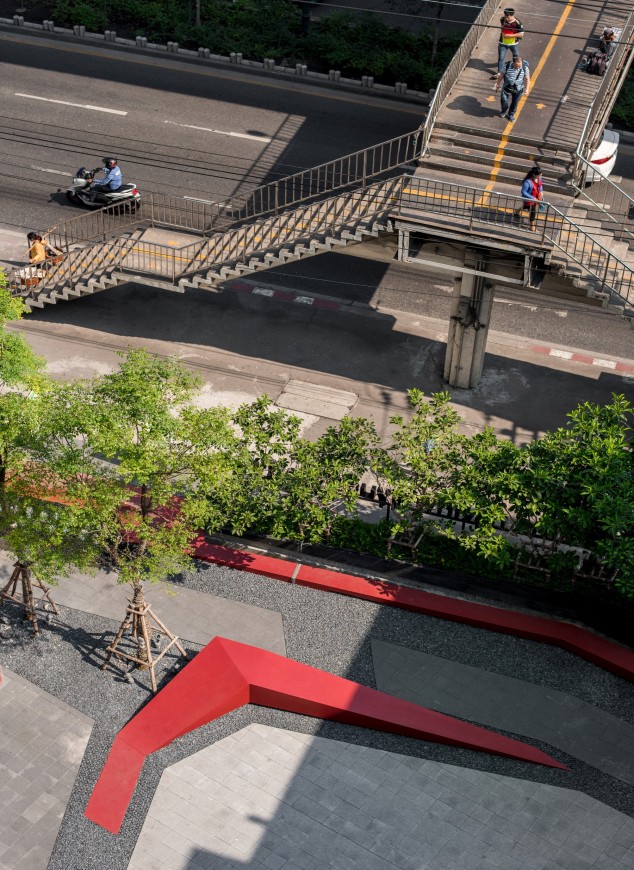 ▼分析图 Analysis
现代"之"字形图案代表了酒店客人的旅游路线,与泰国传统"红色"相结合,旨在给客人留下深刻的第一印象。
Modern zigzag line represent hotel guest traveling line, colored in ancient Thai "red color" giving the first time integration as guests entering the hotel.
游池地面铺有橙色和红色的瓷砖,搭配墙柱上层层叠叠的亮红色和橙色的穿孔钢板,实现了传统和现代的再次融合。
Swimming pool floor play its part as second time integration between orange and red clay tile layered with perforated steel plate colored in shiny red and orange in the modern way.
这个设计将这个被抛弃的、不友好的空间转变成了该项目最令人难忘的部分。
This column design turns abandon and unfriendly use to the space behind and under to be the most rememberable feature of the pool floor and the project.
▼设计演变 Design process

项目名称: Prakanong宜必思酒店
完成时间: 2017年
面积: 580.95平方米
地址: 泰国,曼谷,Prakanong
景观设计: VVdesine
客户: Sirivit Apollo Ventures
摄影: Panoramic Studio
编辑:寿江燕
Project name: Ibis Hotel Prakanong
Completion Year: 2017
Size: 580.95 sq.m.
Project location: Prakanong, Bangkok, Thailand
Landscape Firm: VVdesine
Clients: Sirivit Apollo Ventures
Photo credits: Panoramic Studio
Editor:Jiangyan Shou
更多 Read more about: VVdesine