本文由摄影师Amit Geron供稿授权mooool发表,欢迎转发,禁止以mooool编辑版本转载。
Thanks Amit Geron for authorizing the publication of the project on mooool. Photos provided by Amit Geron.
Ifat Finkelman和Deborah Warschawski是耶路撒冷贝扎勒艺术设计学院建筑系的建筑师和工作室大师。自2010年以来,他们就在各类建筑和跨学科的项目上合作,包括耶路撒冷以色列博物馆的展览设计。
Ifat & Deborah are both architects and studio masters at the Department of Architecture at Bezalel Academy of Art and Design, Jerusalem.Since 2010 they are collaborating on various architectural and cross-interdisciplinary projects, including exhibition design for the Israel Museum, Jerusalem.
总平面图  Master Plan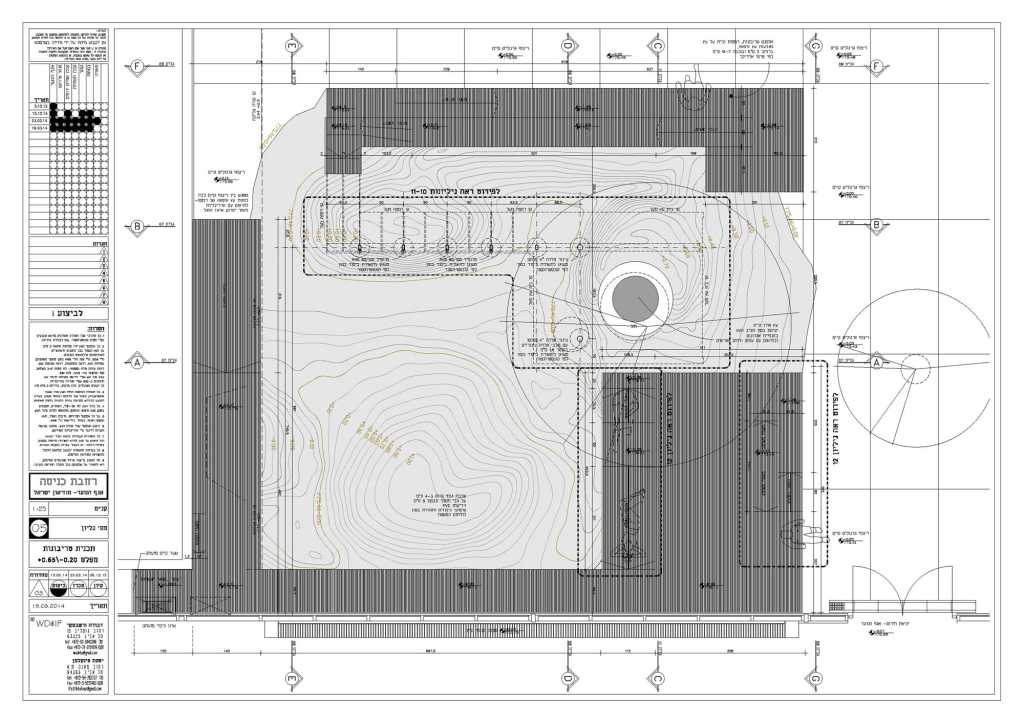 树屋平面图  Tree House Plan
这个庭院更新的项目是一个开放给使用者的方案。
The project – a renewal of the courtyard – combines a program open to interpretation by its users with a clearly defined context.
现有的松树是项目的重点,也是设计理念的物质支柱。为了纪念童年记忆中的树屋,这个小屋顶结构可以让孩子们躲在上面看,它位于倾斜的树干上方,高出博物馆周围的环境。
The existing pine tree is the focus of the project, the physical anchor of the design concept. As a tribute to the childhood collective memory of a tree house, a small roofed structure where children can hide and over look at, is positioned high up the tilted trunk, raised above the meticulous surroundings of the museum.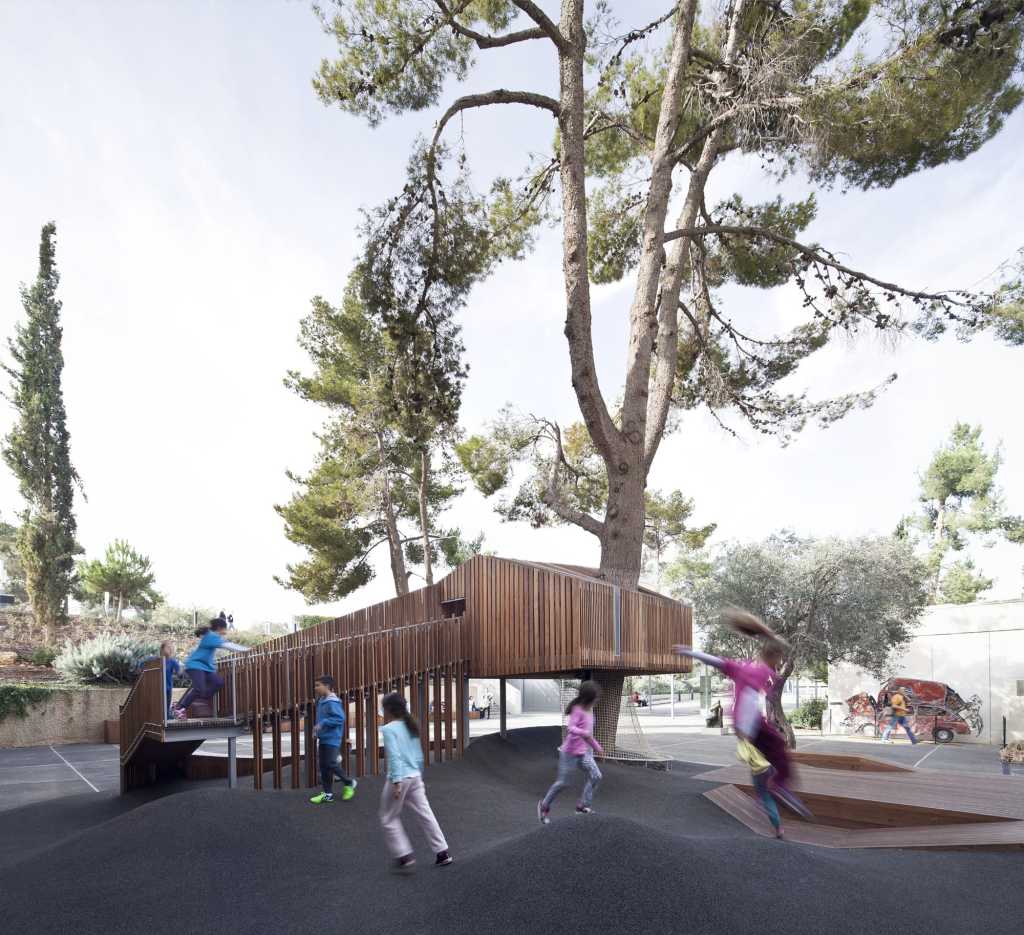 除了其强烈的标志性外观,它还是一个连续折叠元素的顶点,允许各种情况发生。这种结构技术是2厘米的Ipea板固定在轻钢骨架上,从上到下创造了一系列透明材料。
Along with its strong iconic appearance, it also functions as the peak of one continuous structural folded element allows various situations occur along. The structural technique- 2 cm Ipea boards fixed to a light steel skeleton – creates a range of transparencies from top to bottom.
当逐渐转向地面时,元素的表面变成了游乐场;用柔软的EPDM橡胶表面覆盖地形的坐靠元件。所有这些都小心地隐藏了地下基础设施配置以及排布广泛的树根网络。
While gradually transforms towards the ground, the element's surface becomes a playground; sitting elements framing a topography covered with a soft EPDM rubber surface. All this carefully hides the underground infrastructure configuration as well as a widespread root system.
地点: 以色列
面积: 150.0平方米
年份: 2014年
照片: Amit Geron
Location: Israel Museum, Museum Boulevard, Jerusalem, 91904, Israel
Area: 150.0 sqm
Year: 2014
Photographer: Amit Geron
更多 Read more about:Amit Geron(photographer)