本文由HWA安琦道尔景观 授权mooool发表,欢迎转发,禁止以mooool编辑版本转载。
Thanks HWA  for authorizing the publication of the project on mooool, Text description provided by HWA .
HWA安琦道尔:项目位于重庆北碚区蔡家组团,场地西、北、东三侧临接自然山体,南侧邻新城主干道同康路。场地现状是一座高约60米的山丘,展示区依丘而建,建筑主体与沿街道路高差约6米。项目的用地性质是公园绿地,展示区未来将会移交市政,作为城市公园文化建筑的一部分使用。
HWA:The project is located in caijia group, beibei district, Chongqing. The west, north and east sides of the site are adjacent to the natural mountain, and the south side is adjacent to tongkang road, the main road of the new town. The current site is a hill about 60 meters high. The sample area is built on the hill. The height difference between the main building and the road along the street is about 6 meters. The nature of the land used for the project is park green space. The sample area will be handed over to the municipal government for use as part of the cultural building of the city park.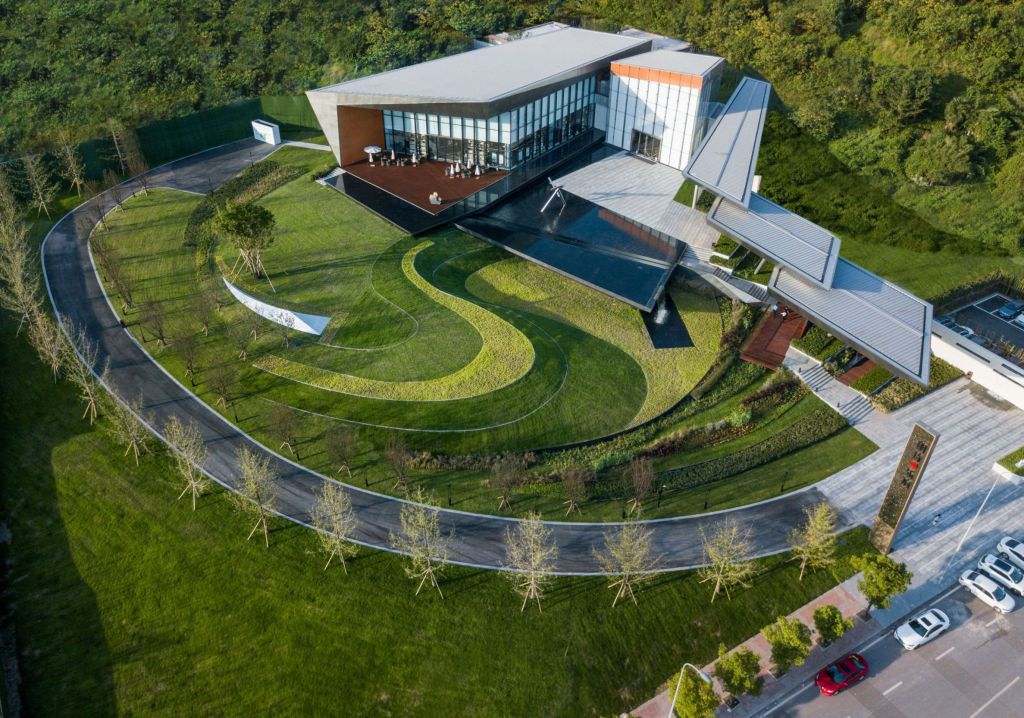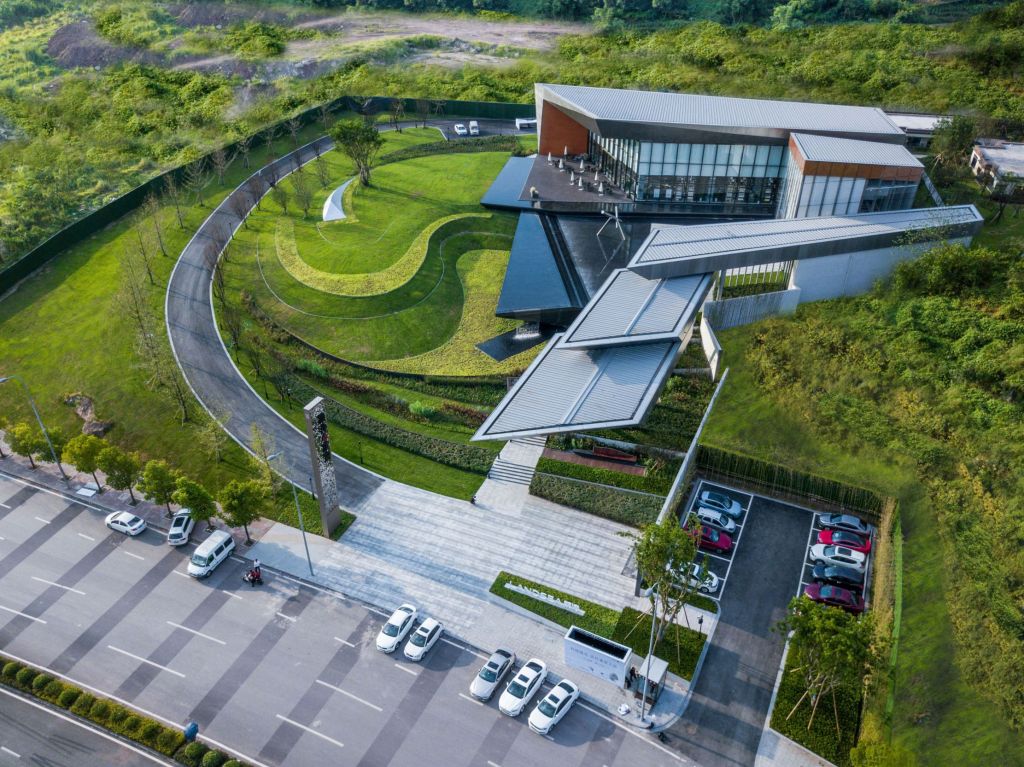 考虑到项目的公建化属性与场地原生的情感记忆,不同于常见的"围合式"、"内向型"展示中心,设计希望打造一个开放的、艺术的、轻盈并贴近自然的场所,如同一座悬浮着的、坐落于森林中的美术馆。
Considering the public nature of the project and the original emotional memory of the site, different from the common " enclosed" and " inward" exhibition centers, the design hopes to create an open, artistic, light and close to nature place, like a suspended art museum located in the forest.
总平面图  Master Plan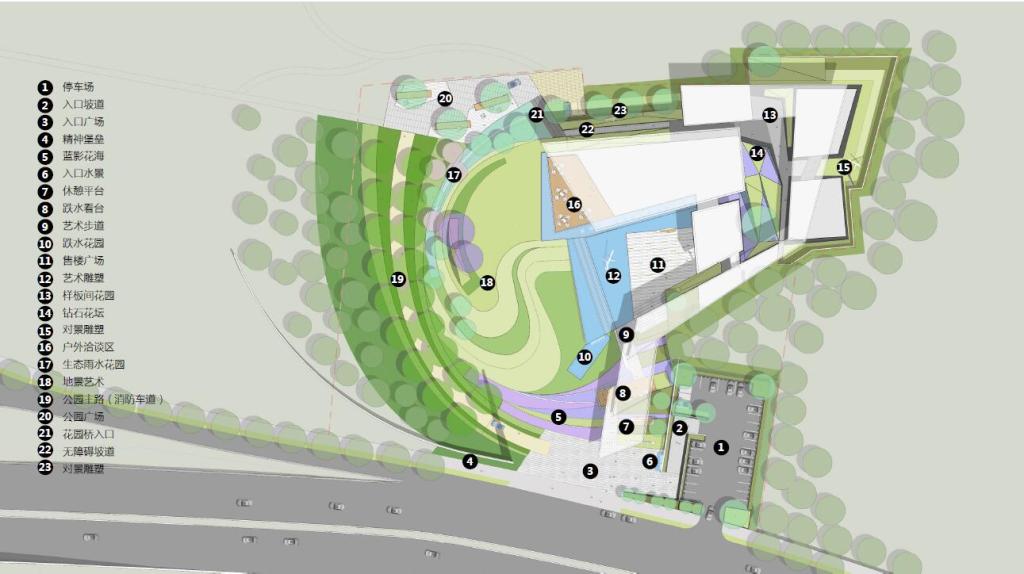 美术馆:公共、艺术、畅想
直线属于人工,曲线归于自然,通过曲与直的对比,张扬与内敛的对比,坚硬与柔软的对比,使建筑与自然脱离开来,美术馆建筑如同是一座漂浮的森林之上的天空之城。
Art gallery: public, art, imagination
The straight line belongs to artificial, and the curve belongs to nature. Through the contrast between curve and straight, outgoing and introversion, hardness and softness, the building is separated from nature. It is like a city of sky above floating forest.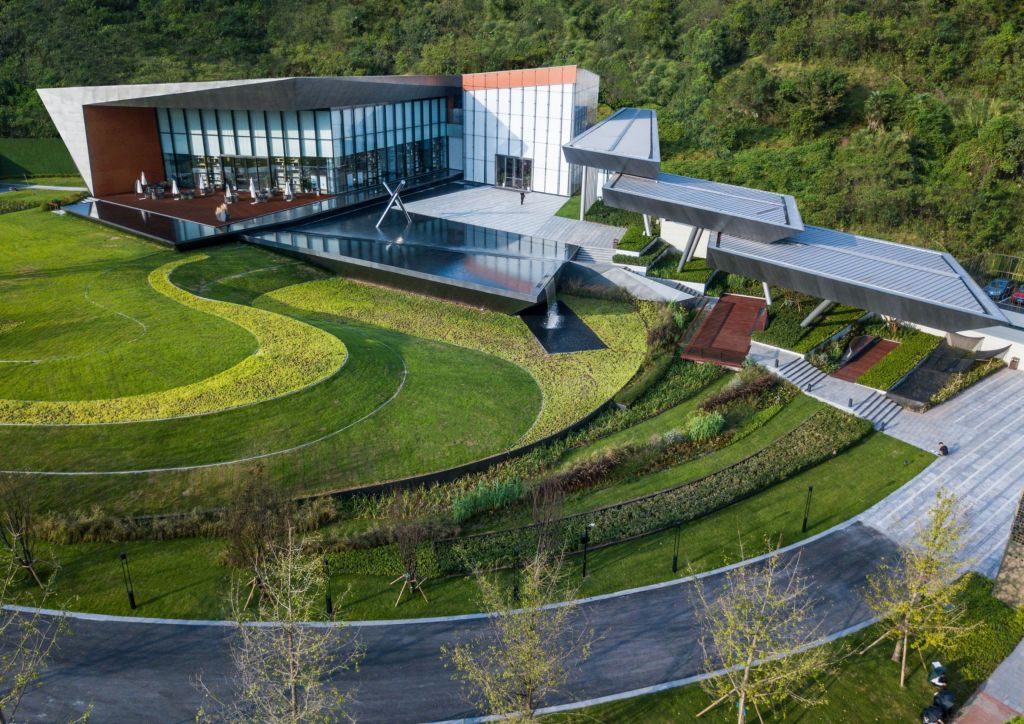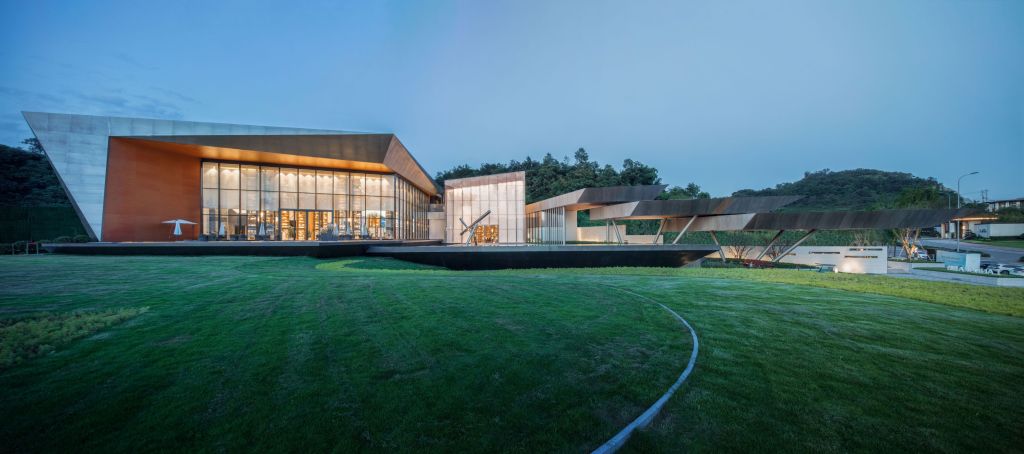 强化山地剧烈的高差,使得人工的构筑与自然分离,突出建筑物的悬浮感。场地全景,矛盾而又统一的整体。
To strengthen the elevation difference in mountains, make the artificial construction separate from nature, and highlight the suspension feeling of buildings. Site panorama, contradictory and unified whole.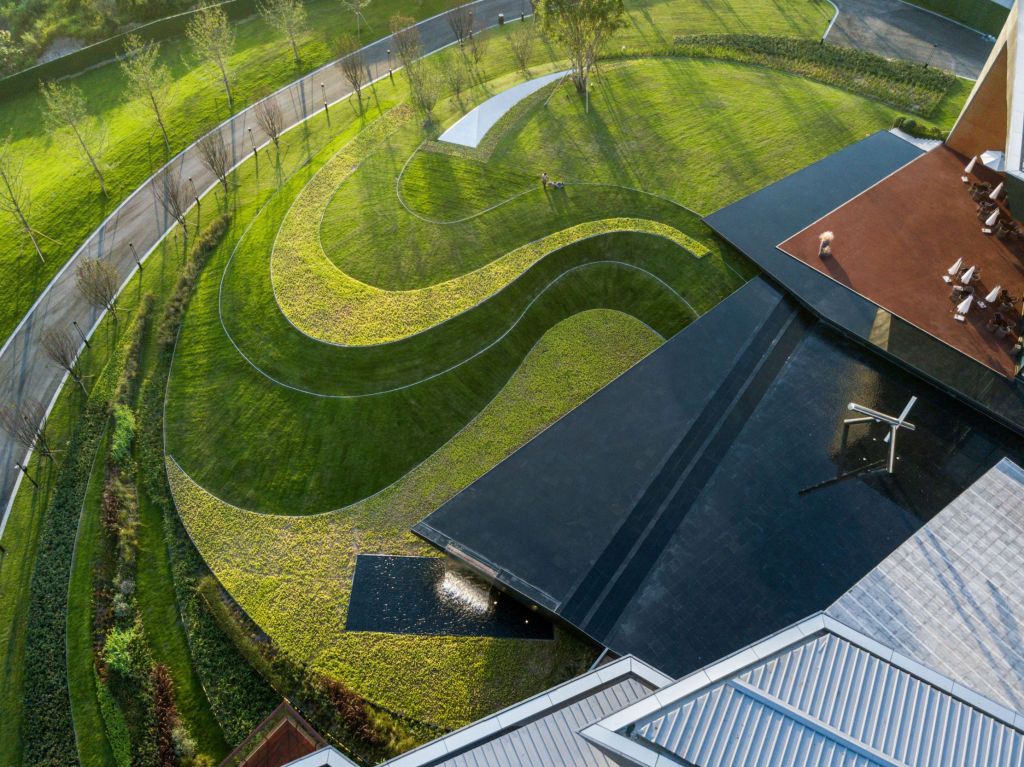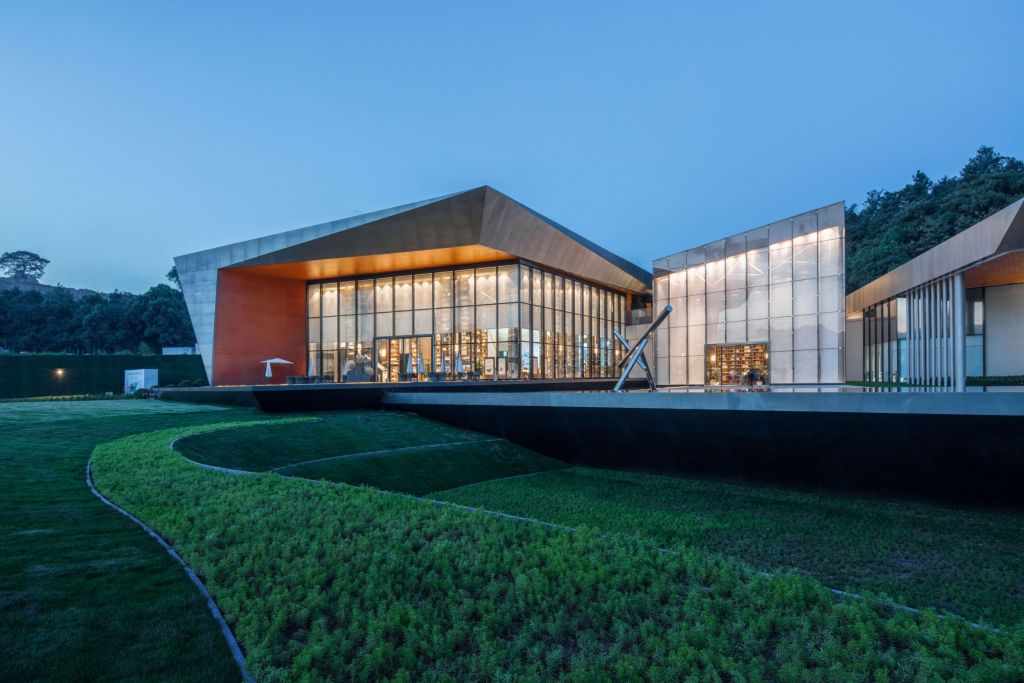 森林:地景艺术、记忆、触碰、听见
自然是永恒的主题,以艺术化的方式保留、还原场地内原生的台地与草甸风貌,回应场地的文化记忆与重庆人与生俱来对于山地特殊的情感。
Forests: landscape art, memory, touch, hear
Nature is an eternal theme, which preserves and restores the original tableland and meadow features in the site in an artistic way, responding to the cultural memory of the site and Chongqing people's innate special emotions for mountains.
飞扬笔直的大挑台入口,个性而冲突,被大地的曲线包裹其中。
Straight large platform entrance, personality and conflict, surrounded by the curvature of the earth.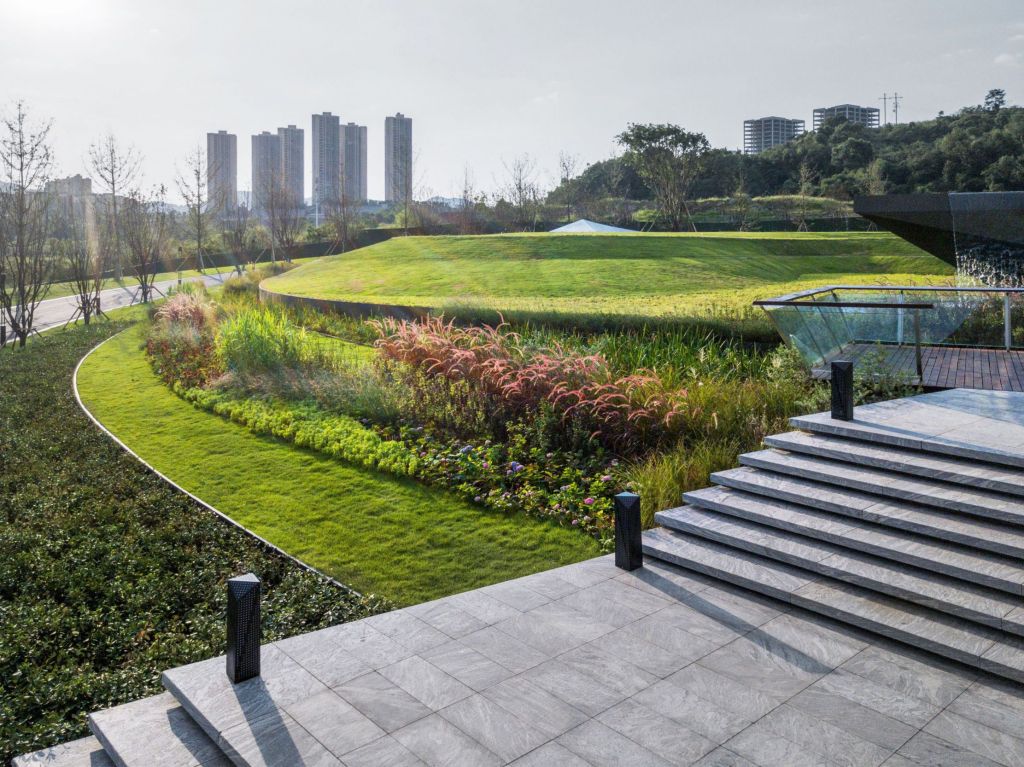 站在悬挑而出的观景平台,可以听到潺潺的叠瀑,触摸到柔软而又粗糙的狼尾草,随风摇摆的细叶芒与溅起的水花,联想到身处在森林中的氛围与感受,赋予场地自然的情感属性。
Standing on the overhanging viewing platform, you can hear rippling cascading waterfalls, touching soft and rough Pennisetum, swaying with the wind and splashing water, associating with the atmosphere and feelings in the forest, and endowing the site with natural emotional attributes.
悬浮:冲突、消失、分离
悬浮的观景挑台是坚硬与柔软的组合。木质材质,玻璃栏杆,模糊了构筑与自然的边界。林间叠瀑,风吹草动,流水蝉鸣。
Suspension: conflict, disappearance, separation
The suspended viewing platform is a combination of hard and soft. Wooden material and glass railing, blurring the boundary between the building and nature. Cascading waterfalls in the forest, the wind blowing grass, flowing water and cicada singing.
巨大的镜面水池倒映天光、自然与建筑,人工与自然在这里和谐相处。
The huge mirror pool reflects the skylight, nature and architecture, Artificial and nature here is harmonious.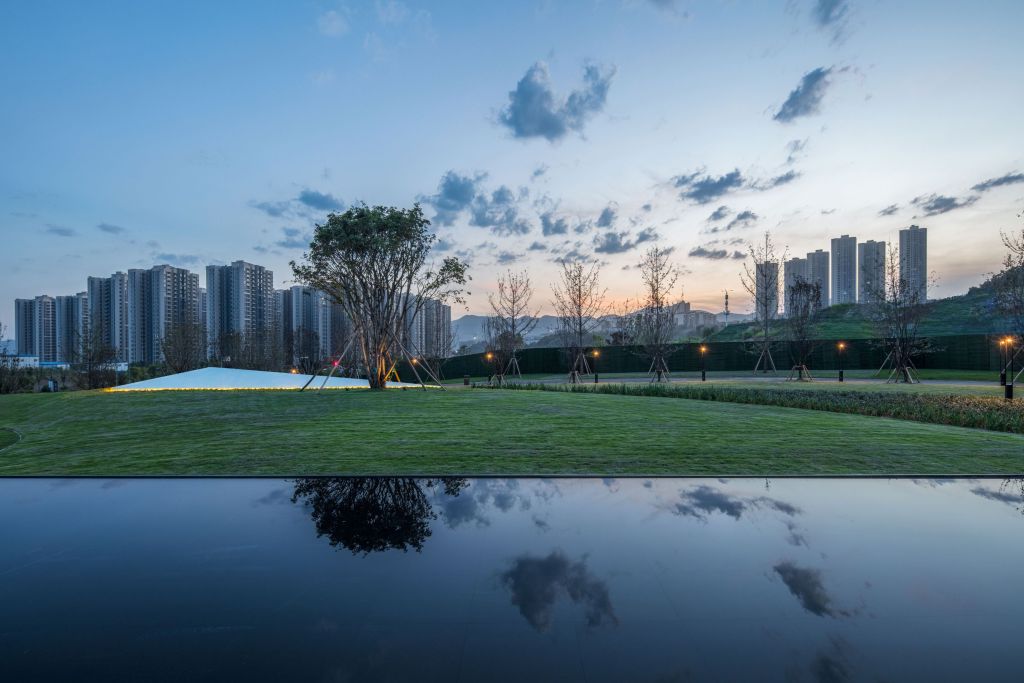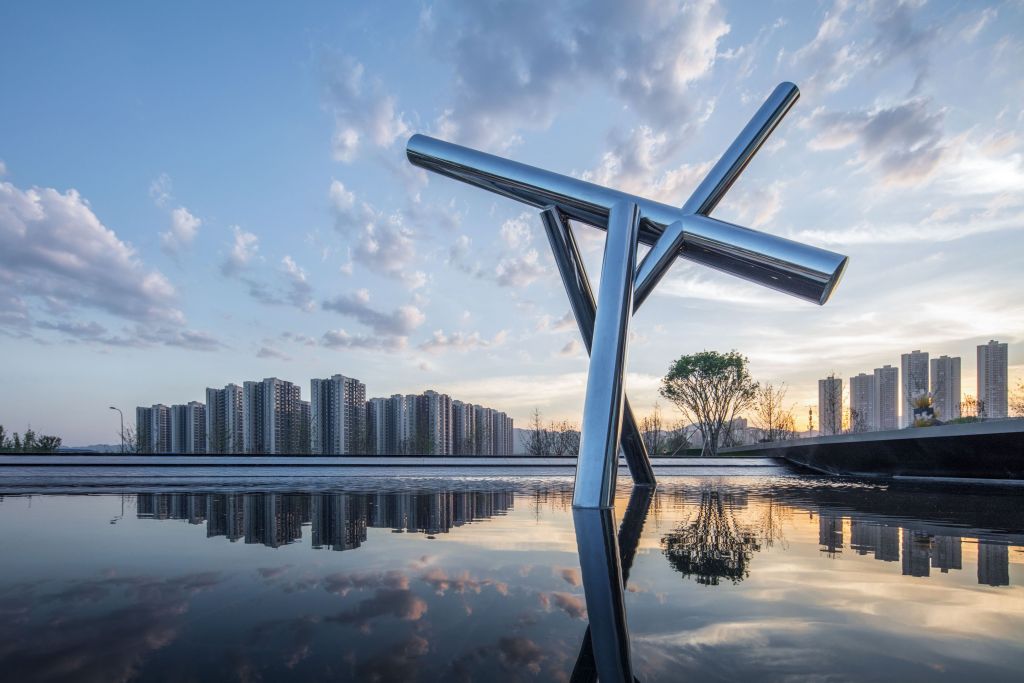 地址:重庆市北碚区蔡家
业主单位:朗诗集团
项目面积:12000㎡
建成时间:2018年7月
景观设计:HWA安琦道尔
设计团队:常磊、洪菲、邵建、王敏、刘万红
施工单位:四川锦天下园林工程有限公司
文字来源:HWA安琦道尔
摄影:Holi河狸景观摄影
Address: Cai Jia, beibei district, Chongqing, China
Client : LANDSEA
Project area: 12000 ㎡
Completion date: July 2018
Landscape design: HWA
Design team: Chang Lei, Hong fei, Shao jian, Wang min, Liu wanhong
Construction: Sichuan Jintianxia garden engineering co., ltd.
Text source: HWA
Photography: Holi
更多:HWA安琦道尔