本文由 HOK 授权mooool发表,欢迎转发,禁止以mooool编辑版本转载。
Thanks HOK for authorizing the publication of the project on mooool, Text description provided by HOK.
HOK:设计团队将LG科技园设计为新一代研究性园区,旨在促进包括电子学、化学、纳米技术、制造和生命科学等多个学科的科学家之间的合作和创新。这个由20栋建筑组成的综合体既是LG集团全球消费电子品牌的全球研究总部,也是韩国的科技中心。
HOK的设计反映了LG创造"技术先进,设计精美"的宗旨。每座独立建筑都展示了与该公司产品一样的优雅,以特色流线型、优雅的外观包裹着尖端技术。
HOK:The team designed LG Science Park as a next generation research campus that promotes collaboration and innovation among scientists from multiple disciplines including electronics, chemistry, nanotechnology, fabrication and life sciences. The 20-building complex serves as the world research headquarters for the global consumer electronics brand of LG Group and a hub for science and technology in South Korea. 
HOK's design mirrors LG's aspirations to create "advanced technology, beautifully designed." Individual buildings exhibit the same elegance as the company's consumer products, which feature streamlined, elegant exteriors wrapped around cutting-edge technology.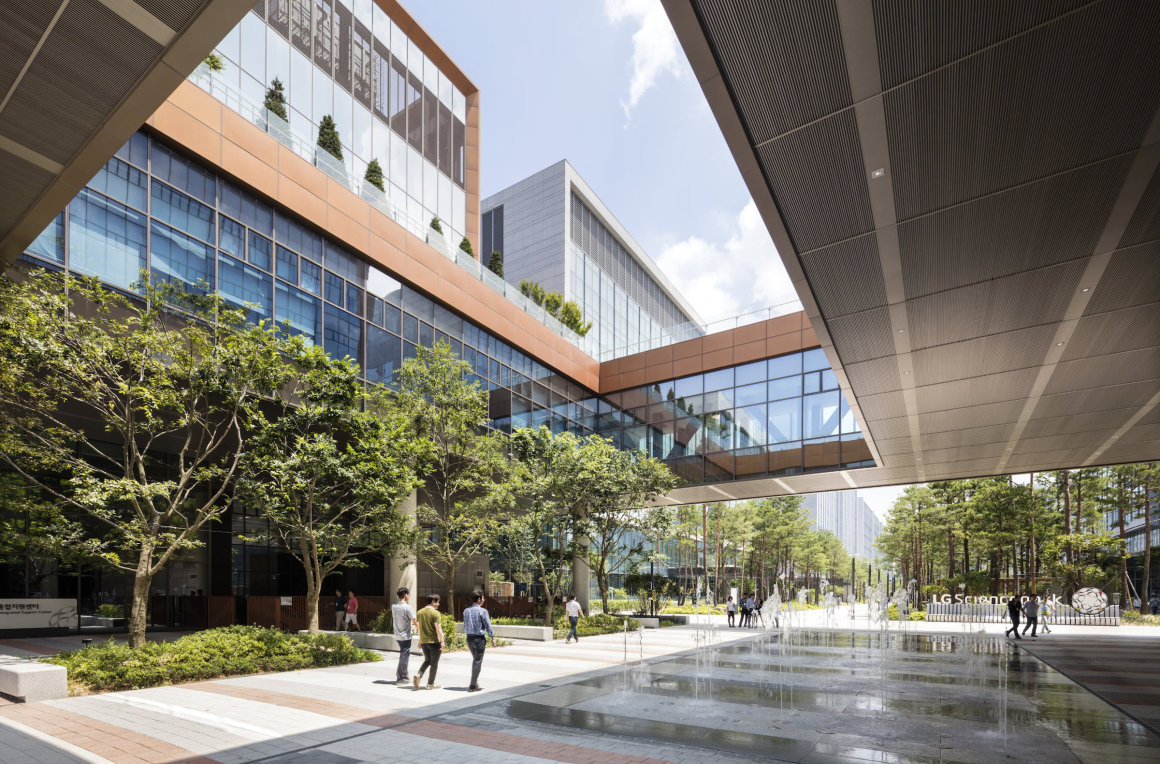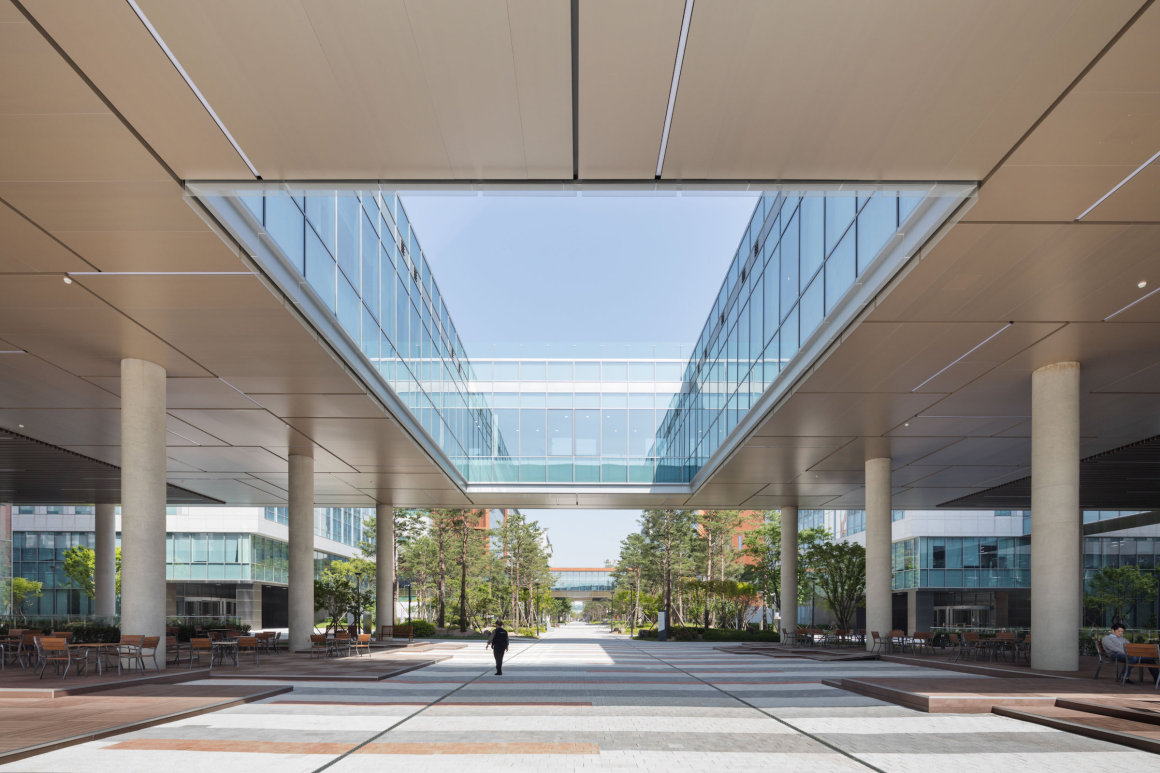 建筑同样强调了LG的极简主义,以梁柱式的基础框架结构表达其永恒之意。通透的地面空间将建筑与新的东西线性公园实现了无缝连接。公园内的广场和花园,同时对LG的员工和社区开放,这在低层的食堂和餐厅中表现得尤为明显,它们以自然光线和花园景观吸引着客人。
Emphasizing LG's minimalist approach to form, the post-and-beam, frame-based construction establishes a timeless design. Transparent ground-level spaces seamlessly connect the buildings to a new east-west linear park with plazas and gardens open to LG's employees and the community. This is especially evident at the lower level canteen and dining halls, which captivate guests with their access to natural light and garden views.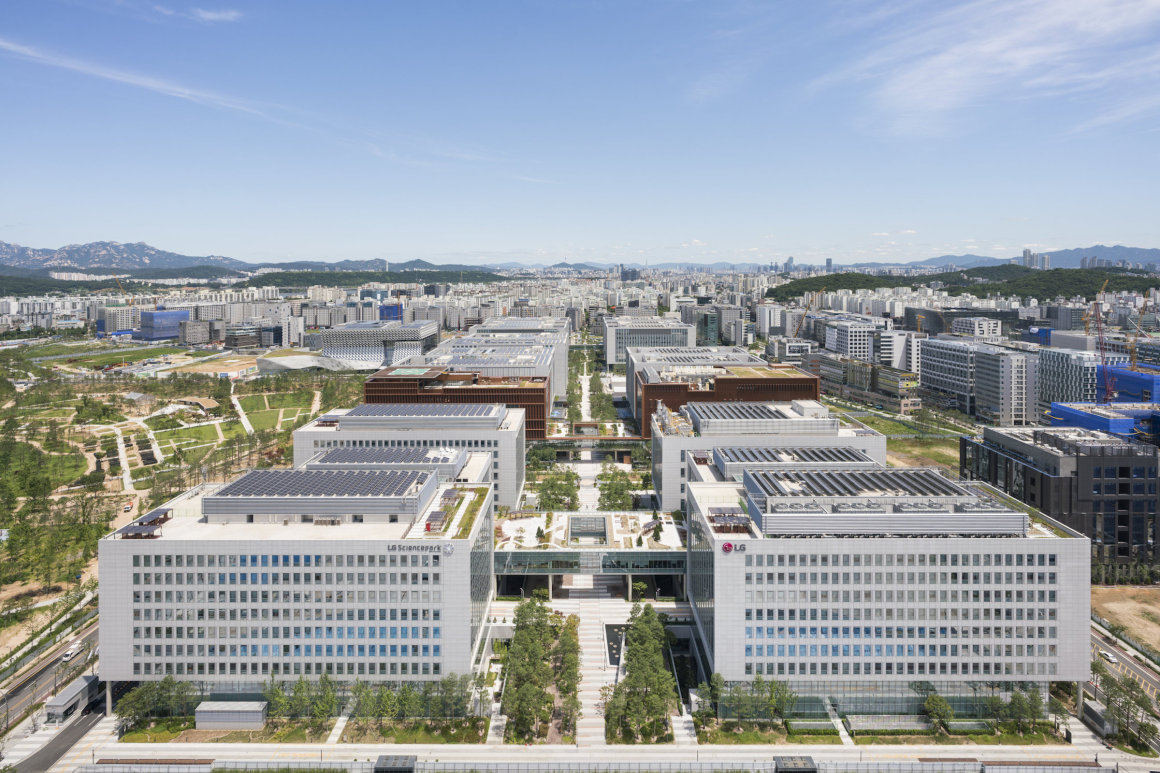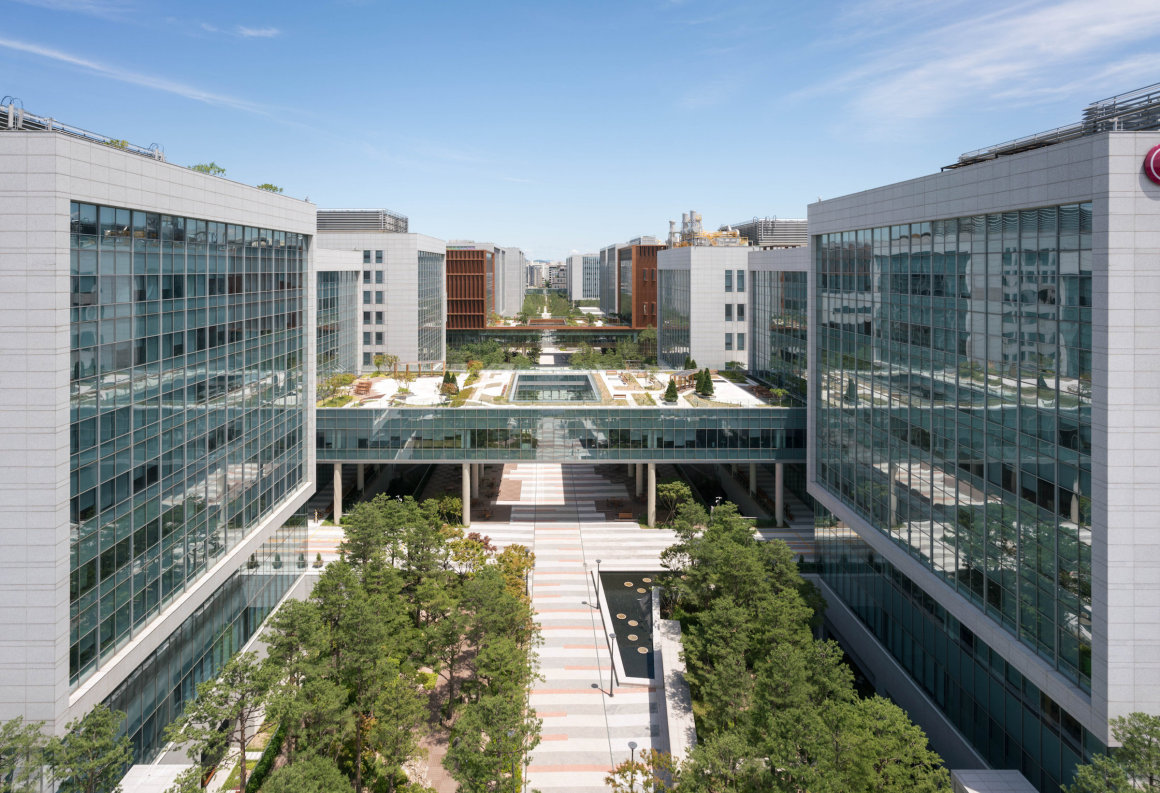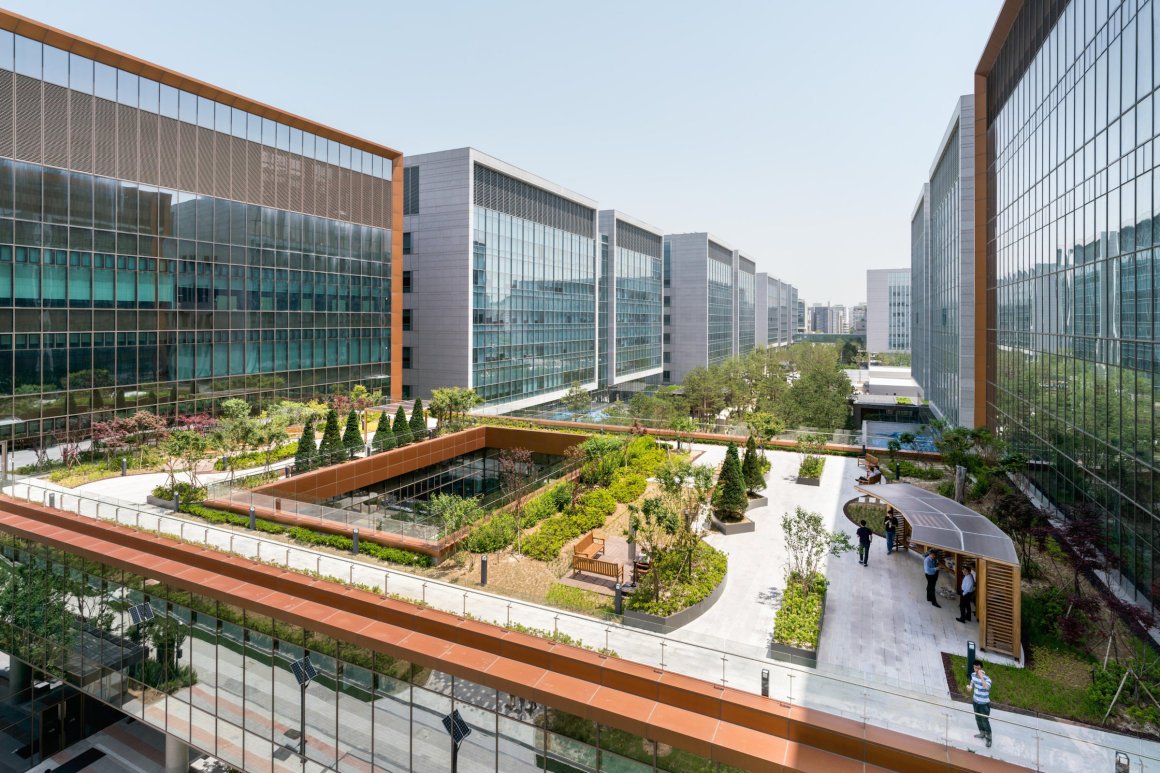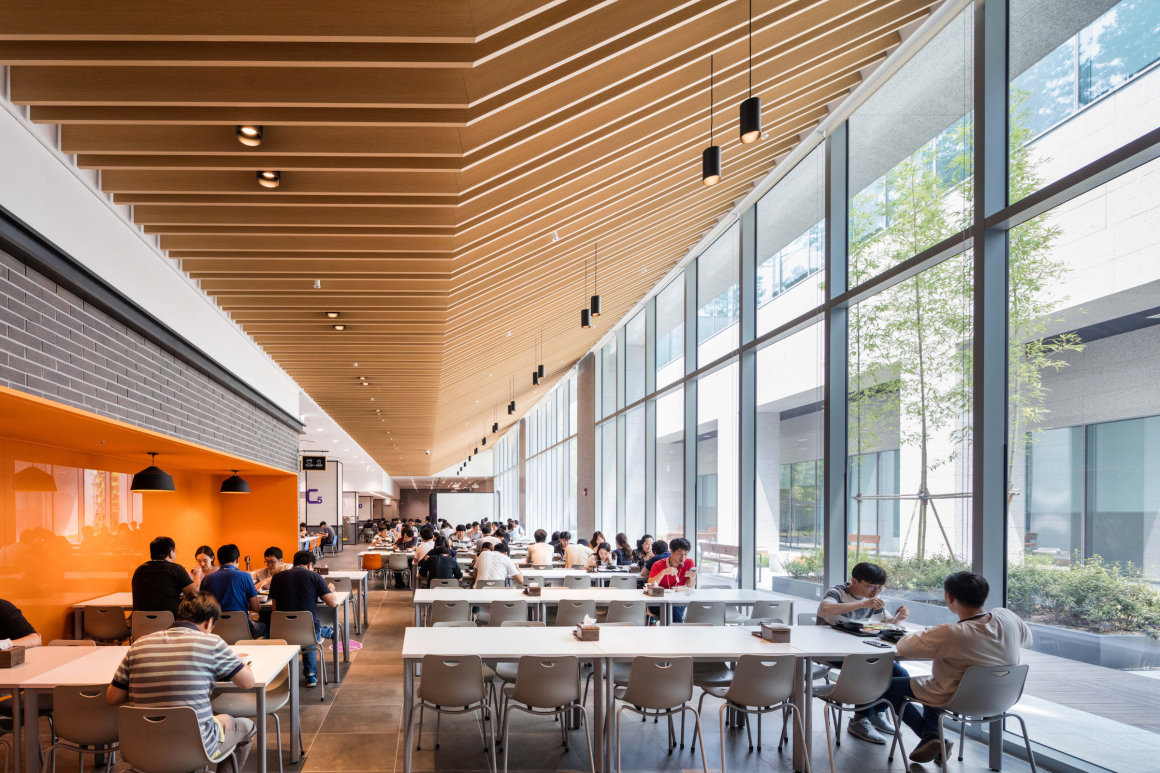 虽然园区整体统一的,但每个组成部分都不尽相同。每个LG商团都有自己的主入口和大堂。建筑立面由天然石材构成,内部填充有玻璃面板,创造了各种各样的立面形式,最大限度地减少了热量,也方便了邻近公园的景观视野。
Though the campus is unified, every component is distinct. Each LG business group has its own main entrance and lobby. Natural stone frames the building elevations, which are in-filled with glass panels. This creates a variety of façade treatments that minimize heat gain and facilitate views to neighboring parks.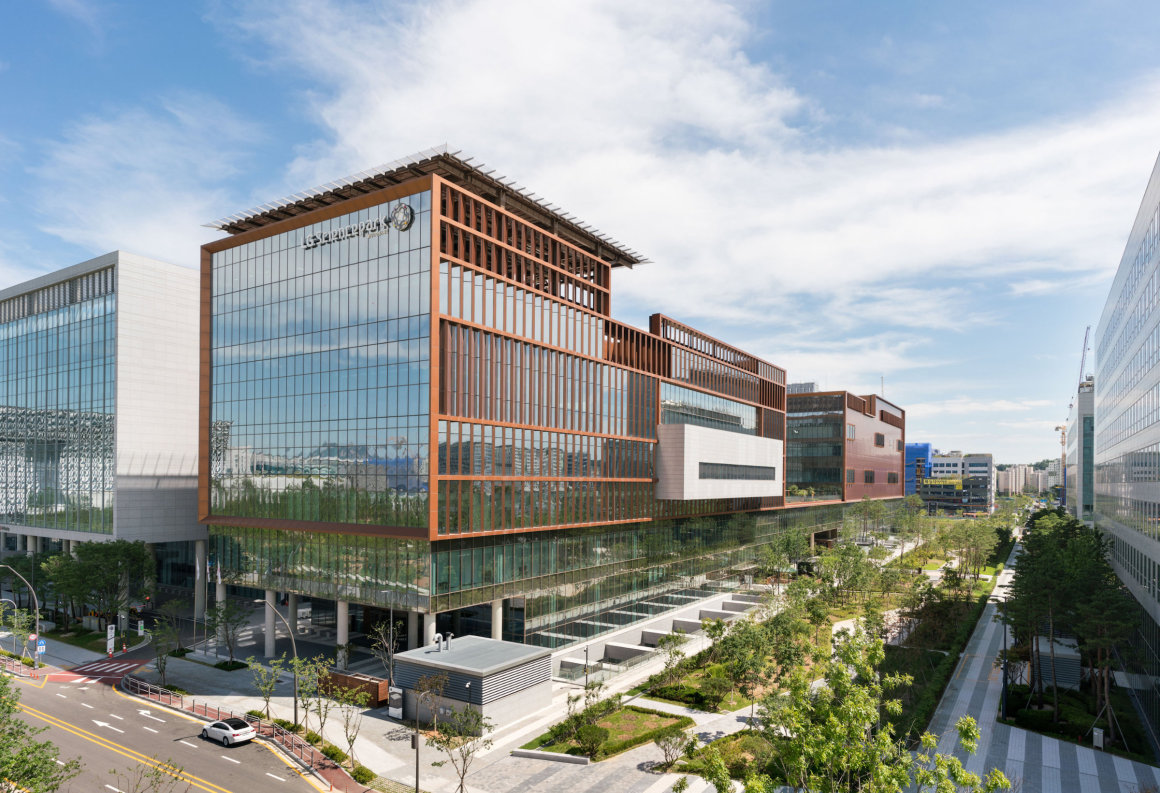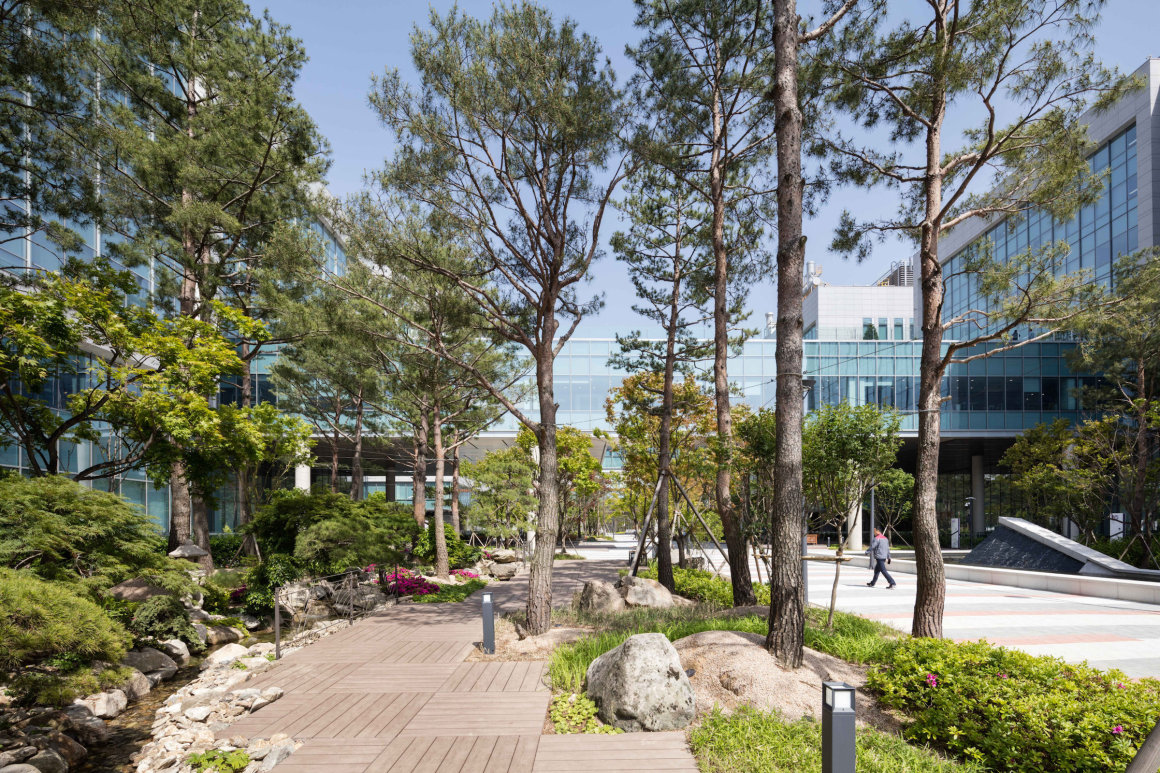 建筑中所使用的材料,包括玻璃、天然石材覆层和铝竖框,与LG的产品一样经典耐用。与此同时,研究所浅色的天然石材立面,与位于校园中心、设有迎宾中心和员工便利设施的深色LEED白金综合支持中心形成了鲜明的对比。
Building materials, which are as classic and durable as LG's consumer products, include glazing, natural stone cladding and aluminum mullions. The pale natural stone facades of the research buildings contrast with the dark-clad LEED Platinum Integrated Support Centre, which is located at the heart of the campus and houses a welcome center and employee amenities.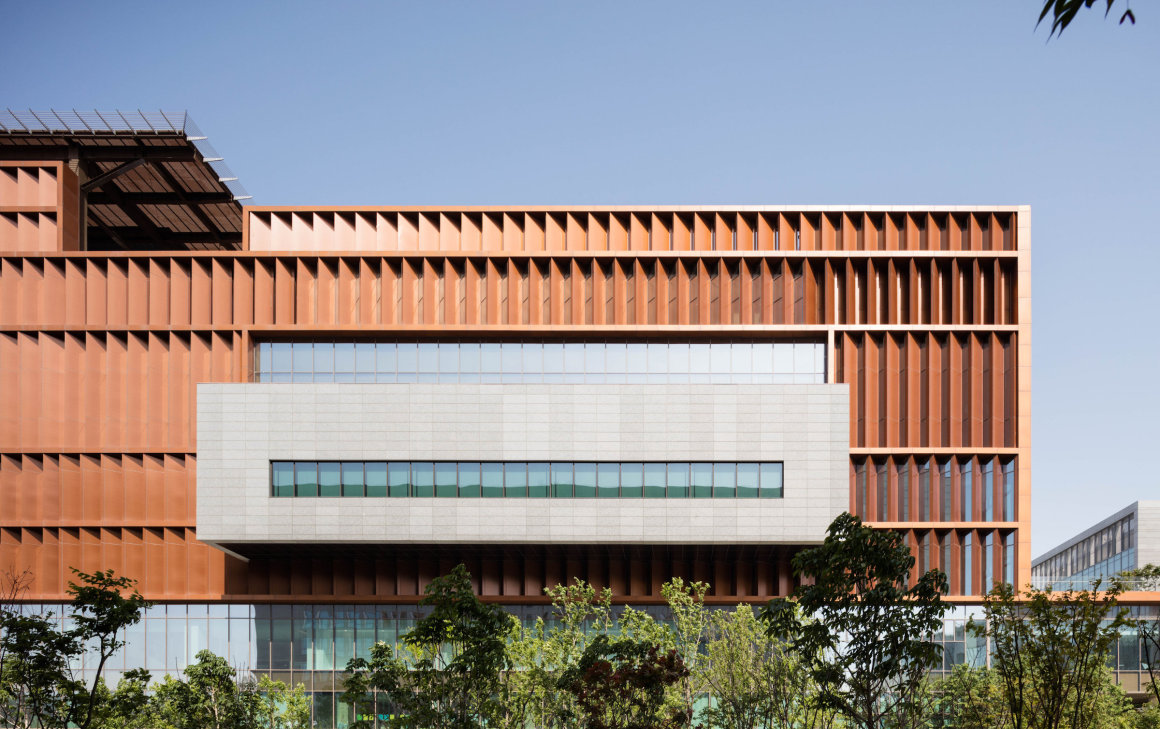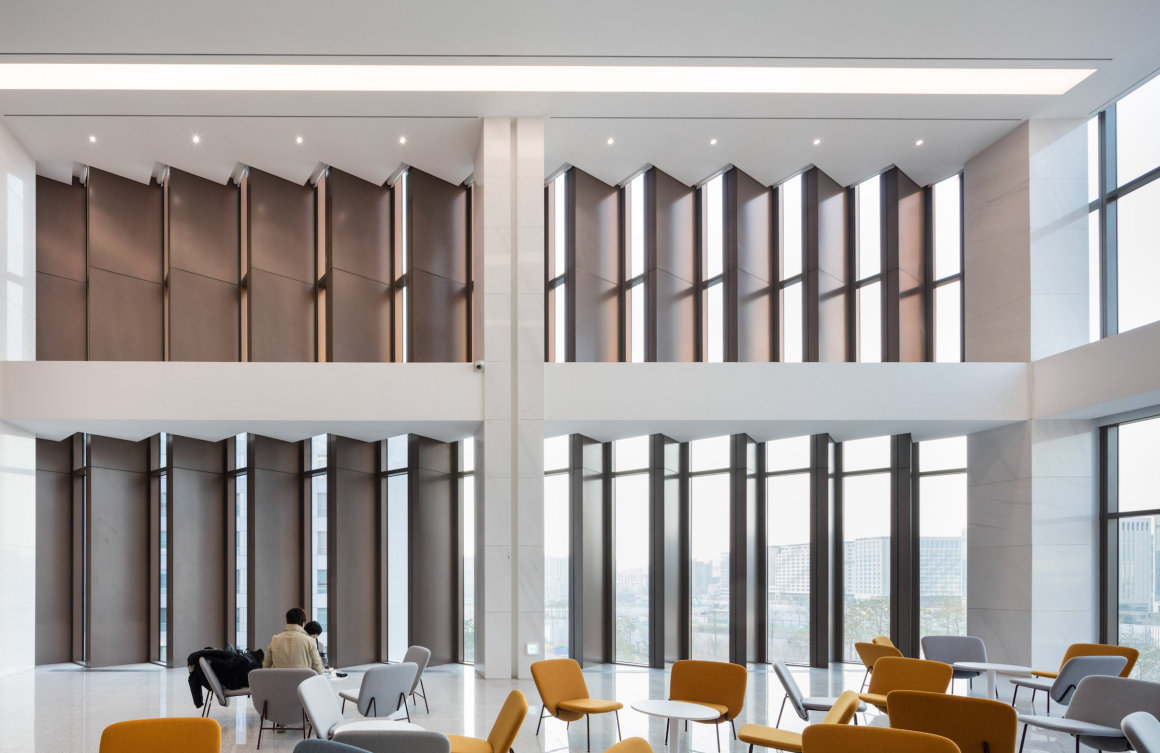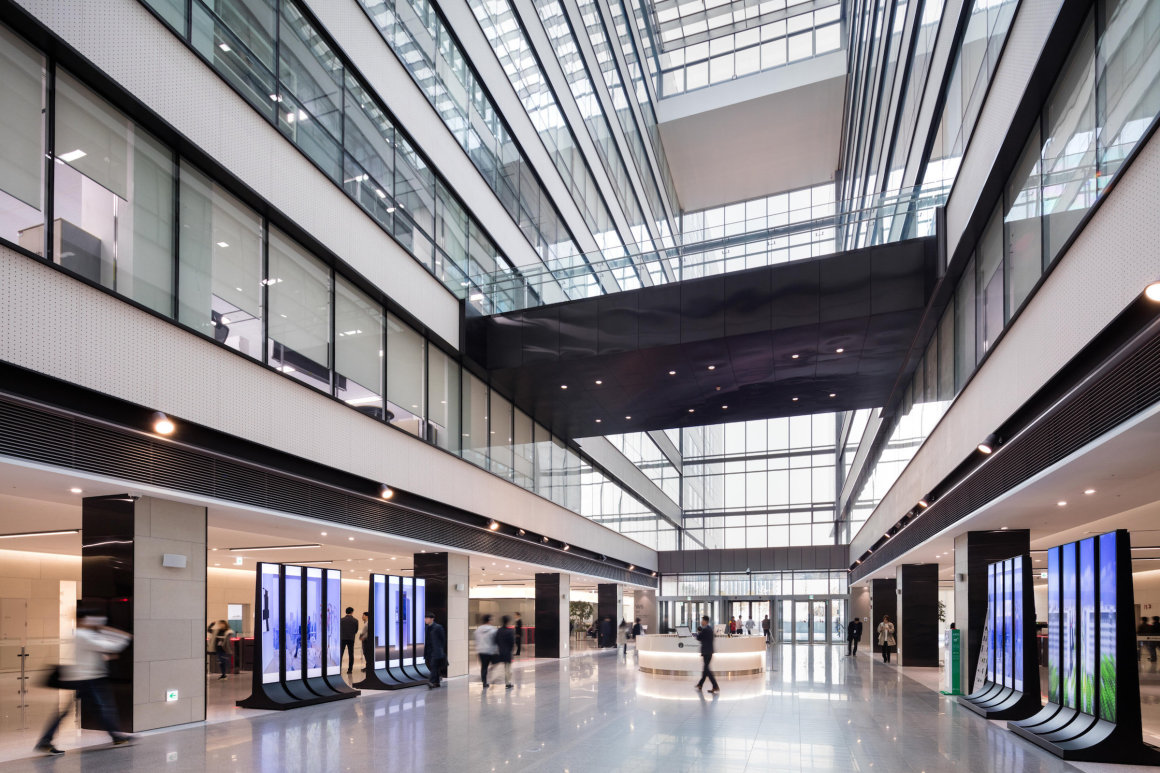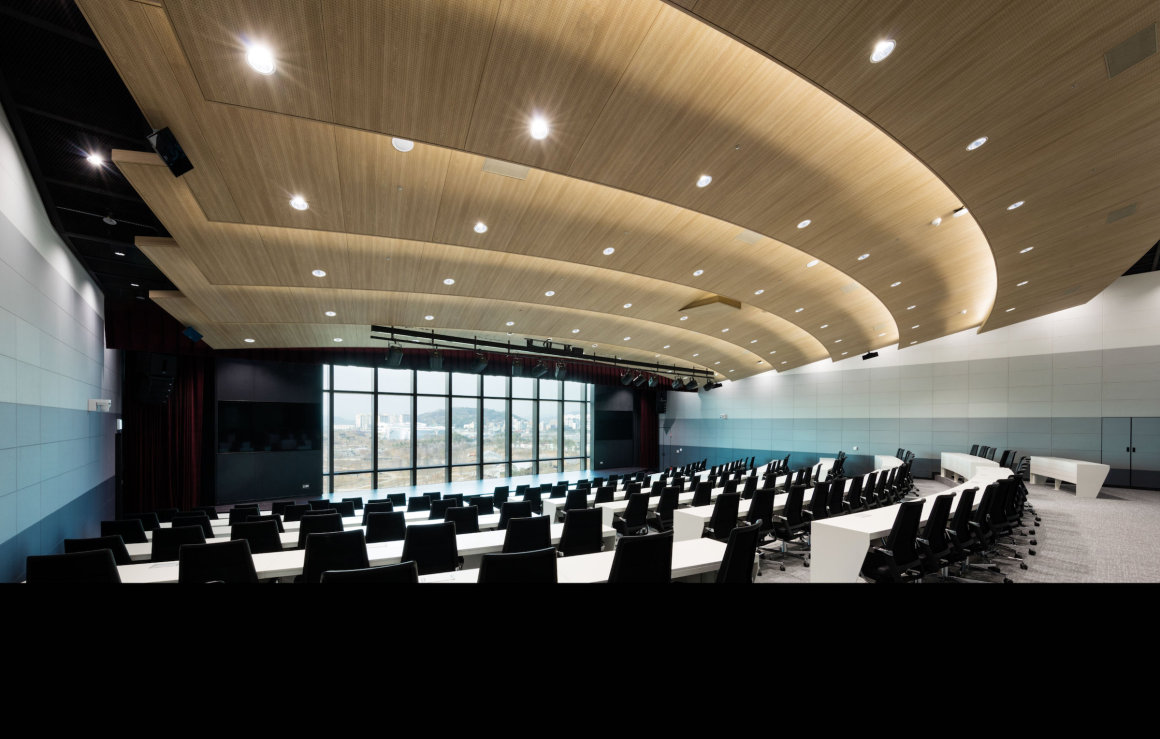 ▼项目首层平面 Ground Plan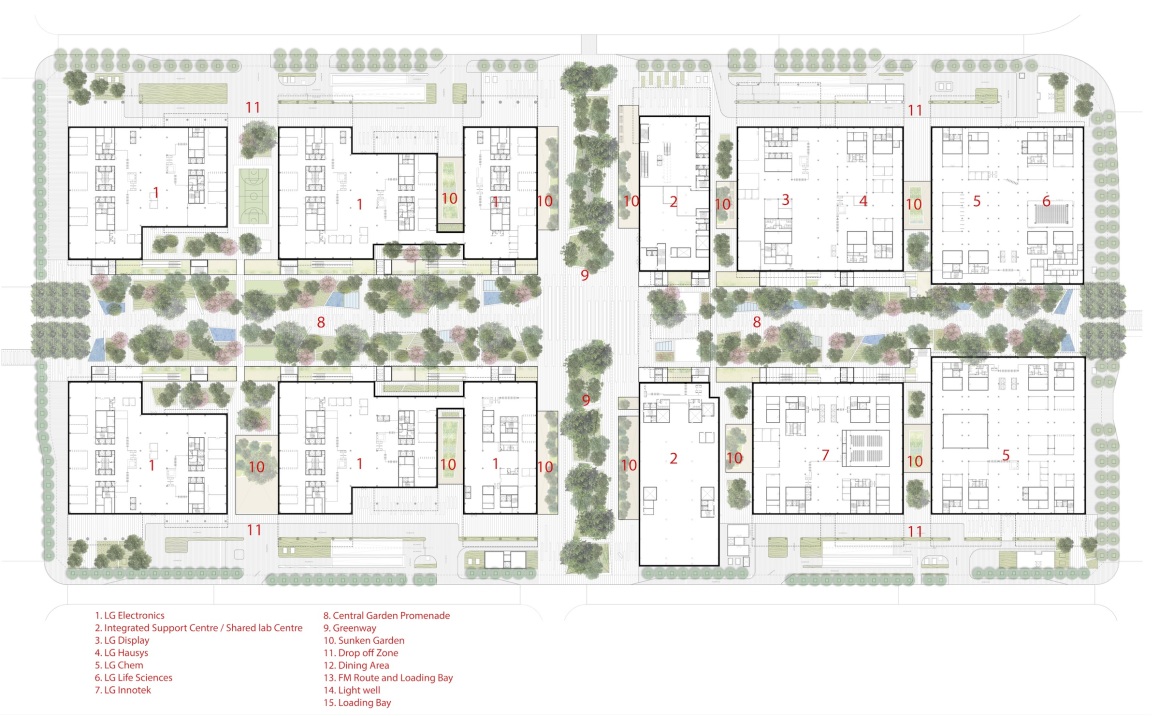 ▼项目总剖面(无地下室) Long Section (no basement)

项目名称:LG科技园
项目地点:韩国首尔
完成:2018年
总建筑面积:1190万平方米英尺/ 110万平方米。
建筑设计:HOK
公司网址:www.hok.com
联系邮箱:carol.feucht@hok.com
—
总规划、建筑师和实验室规划设计:HOK
当地首席建筑公司:Gansam Architects
本地实验室建筑公司:Chang-jo Architects
当地工程:LG-Toyo
结构、消防、垂直运输和外立面通道工程:WSP
机械/电气/管道工程:Vanderweil Engineers
物流:奥雅纳
剧场顾问:Carr & Angier
餐饮顾问:Foodesco Ltd
项目管理:SERVEONE
施工:GS E&C
摄影师:Namgoong Sun
摄影师网址:http://www.namgoongsun.com/
Project name: LG Science Park
Project location: Seoul, South Korea
Completion Year: 2018
Gross Built Area: 11.9 million sq. ft. / 1,100,000 sq. m.
Architect's Firm: HOK
Website: www.hok.com
Contact e-mail: carol.feucht@hok.com
—
Lead Architects:
Master planner, lead architect and laboratory planner: HOK
Lead local architect: Gansam Architects
Local laboratory architect: Chang-jo Architects
Local engineer: LG-Toyo
Structural, fire, vertical transportation and facade access engineer: WSP
Mechanical/Electrical/Plumbing engineer: Vanderweil Engineers
Logistics: Arup
Theatre consultants: Carr & Angier
Foodservice consultant: Foodesco Ltd
Project manager: SERVEONE
Construction: GS E&C
Photo credits: Namgoong Sun
Photographer's website: http://www.namgoongsun.com/
更多 Read more about: HOK