Dorell.Ghotmeh.Tane:巴黎市中心的新艺术和舞蹈中心 élephant Paname 在2015年的第一届活动中举办的一场展览/探索,肯定会激发人们一系列的情感和感官反应。这项活动是由一家英国创意机构精心策划,他们希望打破艺术、设计、建筑、技术和工业之间的界限,以光为共享资产。2015年3月6日至5月31日,十位国际知名创意人士和团队邀请游客参与探索之旅,与一组令人叹为观止、眼花缭乱、引人入胜和深思的装置作品进行互动,其中有一些装置从未在世界任何地方展出过。
Dorell.Ghotmeh.Tane:For its first event of 2015, Éléphant Paname, the new Art and Dance Centre in the heart of Paris, presents an exhibition/exploration certain to inspire a range of both emotional and sensory responses. The event is orchestrated by a British creative agency who look to break down frontiers between art, design, architecture, technology and industry, with light as the shared asset. From 6 March to 31 May 2015, visitors were invited to take part in a journey of discovery, interacting with a group of breathtaking, dazzling, captivating and meditative installations, some of them never exhibited before anywhere in the world, by ten internationally renowned creative individuals and teams.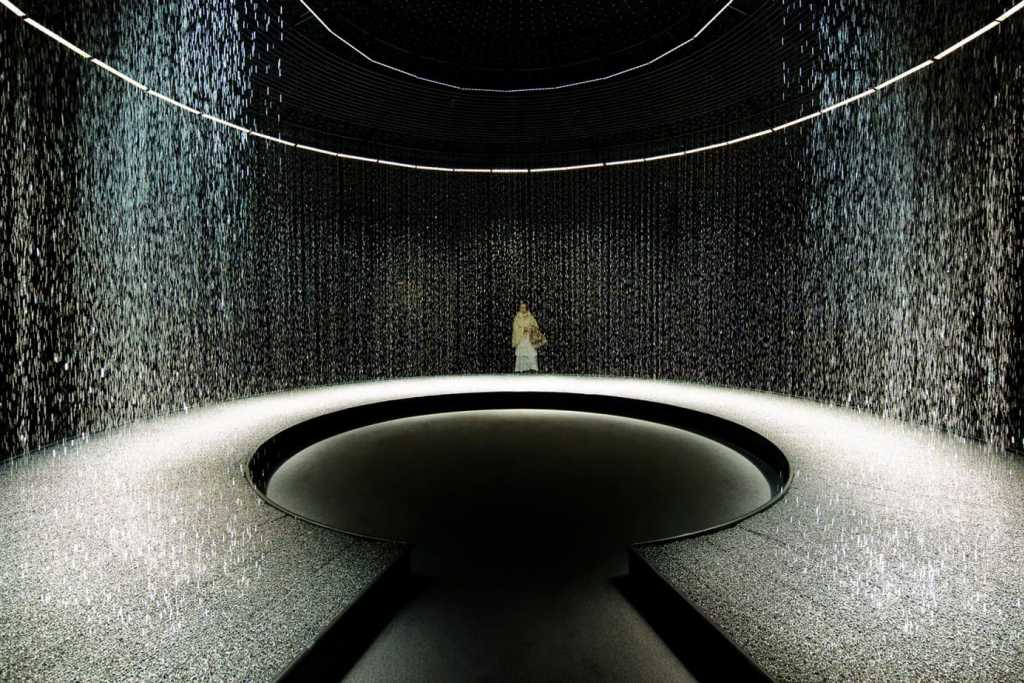 Photo © Takuji Shimmura. 
"水中之光"是一个定点装置,旨在提供身临其境的情感体验。它曾在2011年米兰设计周上展出过。这个装置充分利用了场馆的独特地位——巴黎最古老的混凝土穹顶之一。因此,该装置被调整为适应空间的圆形形式,将内部空间定义为"place to be",外部区域定义为旁观者的空间。天花板上有16圈开缝的管子。每个洞里每分钟就有60滴水落下;总共有3吨水在空中循环。LED灯之间的振动频率范围从尽可能短的间隔到7μs,观众能看到水中形成一个光点,直到6000μs,光线变成了水线。
'Light in Water' is a site-specific installation intended to provide an immersive and emotional experience. It was previously presented at Milan Design Week 2011. The installation took advantage of the uniaue status of the venue – one of the oldest concrete domes in Paris. The installation was thus adapted to the circular form of the space, defining the inner sanctuary as a 'place to be' and an outer area as a space for a bystander. There are sixteen rings of slotted tubes on the ceiling. From each hole, 60 drops of water fall every minute; in total 3 tons of water circulate in the space. The LED lights vibrate between on and off, with frequencies ranging from the shortest interval possible, at 7μs, allowing the viewer to materialise a point of light in water, up to 6000μs, where light becomes the line of water.
Photo © Takuji Shimmura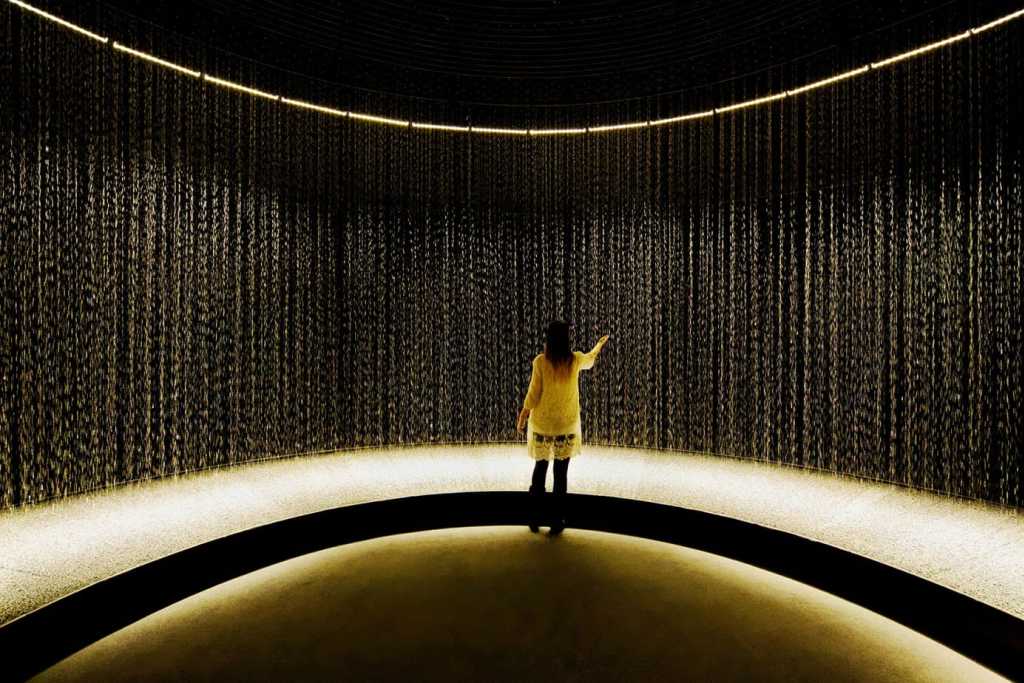 Photo © Takuji Shimmura
通过这种神奇的物化,装置强调了光和水这两个进化物质的基本特性。
Through this magical materialization, the installation emphasized the shared, essential qualities of light and water, the two engines of evolution.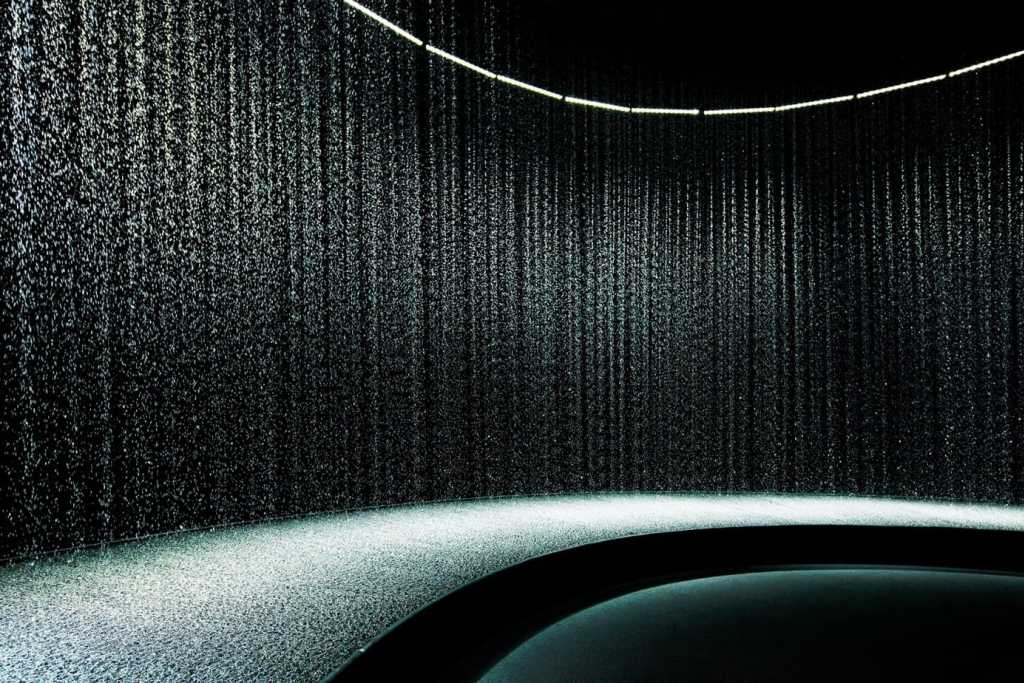 Photo © Takuji Shimmura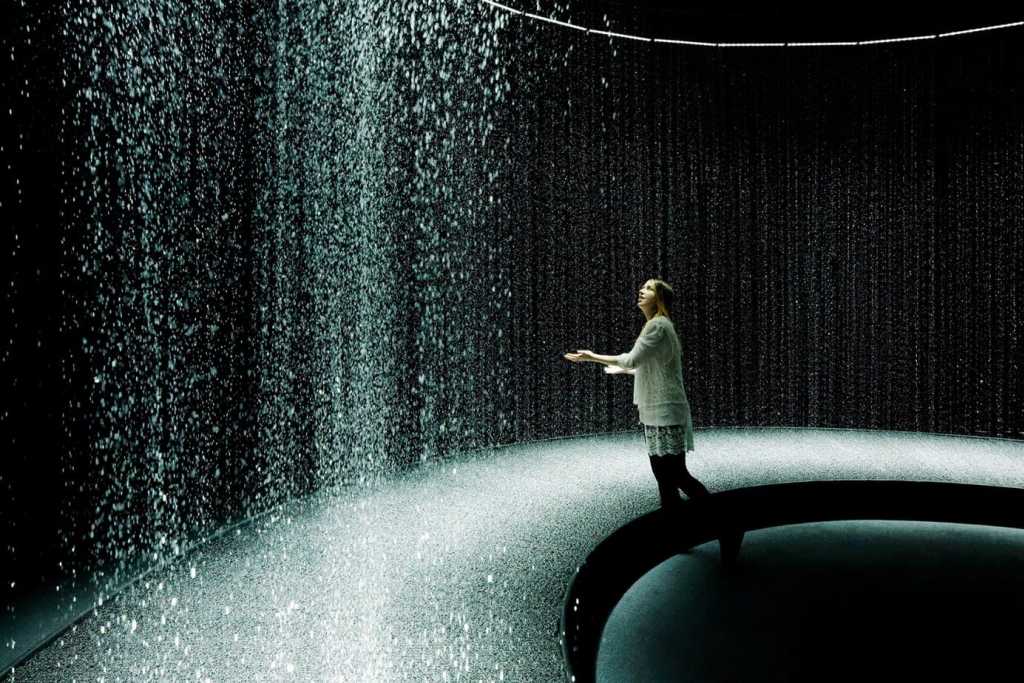 Photo © Takuji Shimmura
Photo © Takuji Shimmura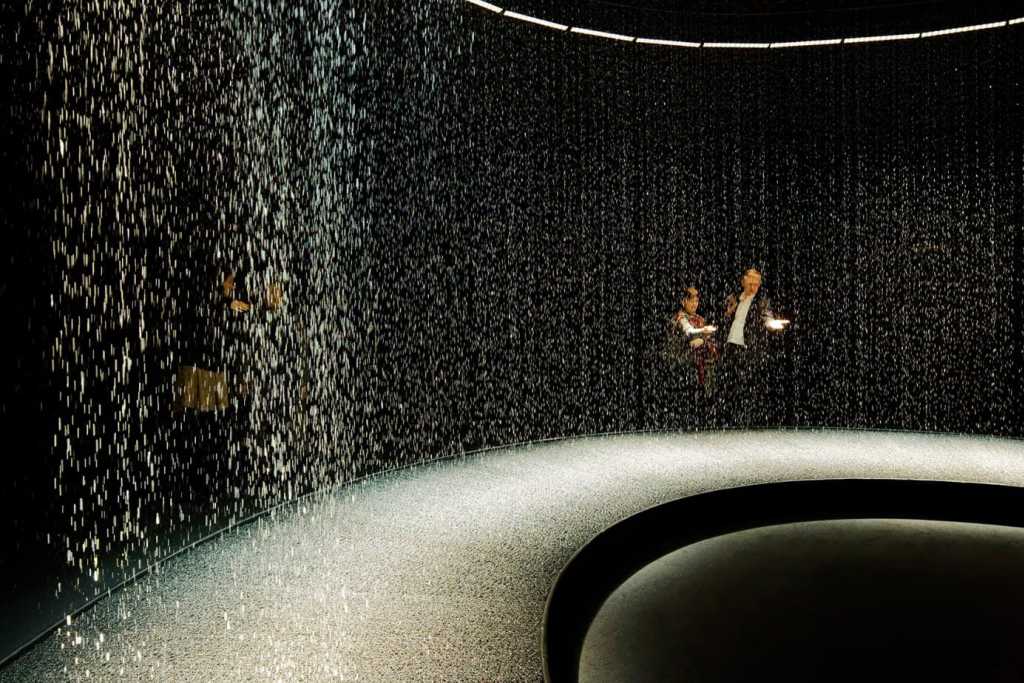 Photo © Takuji Shimmura
Photo © Takuji Shimmura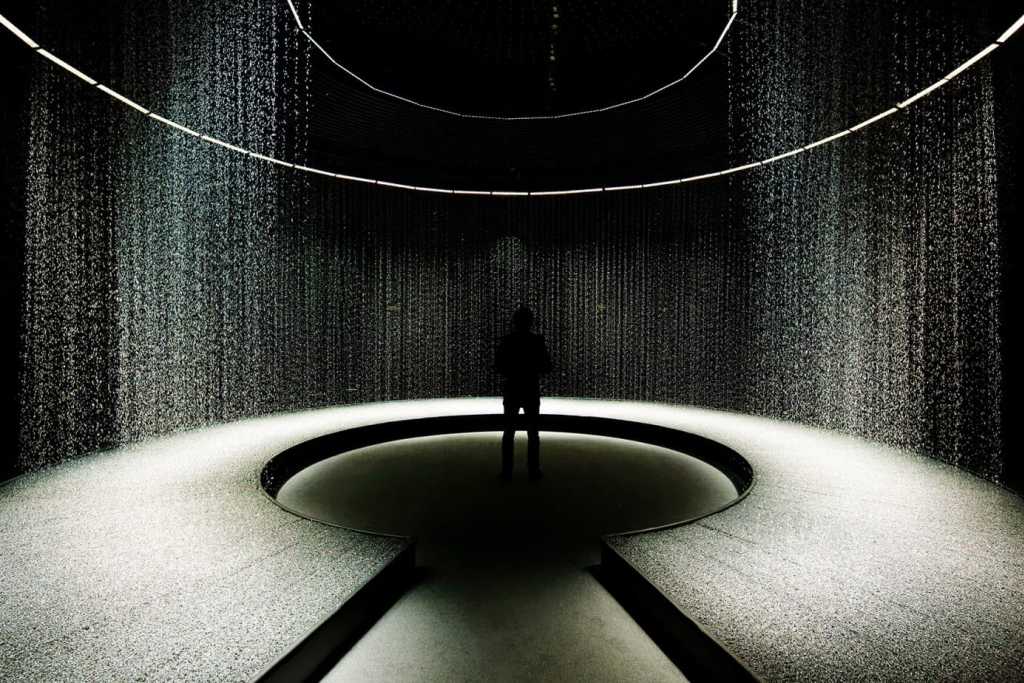 Photo © Takuji Shimmura
Photo © Takuji Shimmura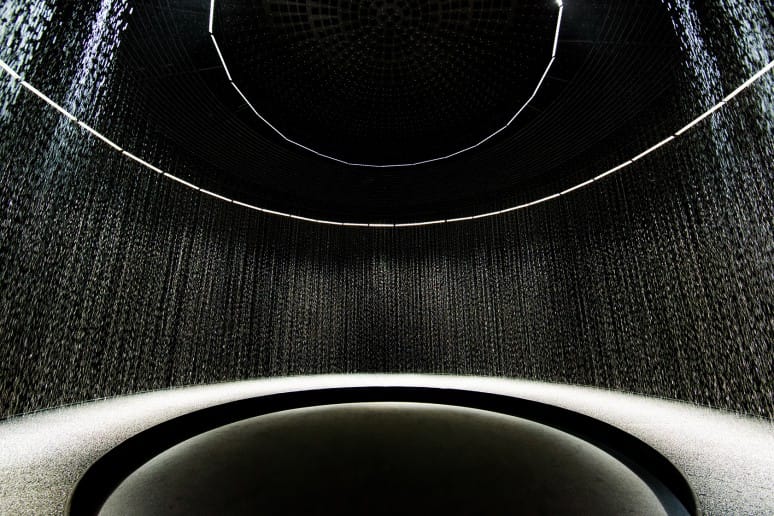 Photo © Takuji Shimmura
装置设计: Dorell.Ghotmeh.Tane / Architects
照明设计: izumi okayasu lighting design
技术顾问: tamon
技术设计: archiee
技术方向: luftzug
水系统: bellrx
照片:Takuji Shimmura
installation: Dorell.Ghotmeh.Tane / Architects
lighting design: izumi okayasu lighting design
technical adviser: tamon
technical design: archiee
technical direction: luftzug
water system: bellrx
Photo: Takuji Shimmura
更多 Read more about: Lina Ghotmeh — Architecture