本文由 JTL Studio 授权mooool发表,欢迎转发,禁止以mooool编辑版本转载。
Thanks JTL Studio for authorizing the publication of the project on mooool, Text description provided by JTL Studio.
JTL Studio:当下住宅景观快速发展过程中,重心转移到了样式、风格、情趣,所有这些东西都很难去怀疑和改变。但"人与自己"、"人与自然"的关系这种本质的问题反而被忽视。景观回归真实,正是JTL studio 努力尝试的方向。 "尘林间"是我们对住宅景观的一次全新尝试,像是伟大戏剧中的"停顿",提醒着你可以慢下来。
JTL Studio: As residential landscape develops rapidly, designers have paid special attention to patterns, styles and fun which are not easy to change. Instead, some basic principles such as the relationships between "man and himself", "man and nature" are ignored. Integrating landscape into nature is what JTL Studio tries to do. "Longfor Forest" is our new attempt, which is just like an interval in a great drama to remind you to slow down.
设计之初我们还是从场地功能出发,去推演空间。但是这个东西只是空间的一个基本要素,大多数项目都是从功能到空间去做它的一个设计。然而我们更多的时候觉得一个项目的灵魂要有一些更内敛、更独特的气质,将它的价值点突显出来。所以我们当时更多的时间思考对于空间气质的画面感营造上,如何去实现项目最打动人的角度。它要兼具功能,但我们需要这个项目更特别,更加的有自己的观点。
Our design started with the functions of the site, which is the basic design procedure for most projects. But we tend to believe that it is the modest and unique style that highlights the value of a project. Therefore, we spent more time thinking about shaping the style of the space: it must meet the functional requirements and make the project special and unique at the same time.
"森居"不仅只作为营销的说辞,对于真正使用的居住体验来讲,它是反映出自然环境和居住生活之间的一种默契,它能够让人更深刻的去理解"居住"的内涵。我们相信没有人会排斥生活在一个自然环境非常好的空间里面,但往往我们居住的环境不够自然。那我们希望有一个真正意义上可以解释为"森居"的空间,这是我们作为景观设计师最初的出发点。
"Forest Residence" is not a gimmick for promotion but a space to provide a living experience that reflects the harmony between natural environment and human beings. It allows people to further understand the meaning of "living". We believe that nobody will refuse to live in a sound environment, while the problem is that the environment we are living in is far from natural. That's why we created "Forest Residence", a place to well interpret "what is a natural environment like?"
当我们走进看尘林间的时候,并没有觉得有多复杂,它的空间是非常的简约,没有太多装饰性的符号。但是就像最初我们思考的一样,我们想要的项目气质和最终呈现的空间状态能吻合。走进场地感受阳光、树木、花草、流水跟环境的默契,酒店化的功能又体现出比较高的居住品质。比较平衡的寻找都市生活和自然环境的关系,找到种回归生活本质的感受。
Upon entering the Longfor Forest, we will find simple and elegant spaces without excessive decorations. Just like what we were thinking about at the beginning, we realized the balance between the style and the functions. The sunshine, trees, flowers, grass and running waters keep in harmony with the hotel-style residences, allowing residents to get close to nature even in the busy city.
作为新加坡的景观设计公司,我们希望把新加坡居住生活的态度和对设计的理解融入到尘林间项目中,景观与建筑之间相互渗透,相互有很多交流和对话。我们发现大家还是乐于接受这样的方式。它的状态会有度假的放松感受,会有生活品质追求的具体呈现,这就是我们理解的新加坡的生活方式融入到国内景观的一次尝试。
As a Singaporean landscape design studio, we really hope to integrate our living experience in Singapore and our understanding of design into Longfor Forest. We've tried to form the dialogue between landscape and architecture, which is kindly accepted by the developer and the residents. The holiday atmosphere will allow residents to relax themselves and lead a quality life. For us, it is a successful attempt to integrate Singaporean lifestyle into domestic residential landscape.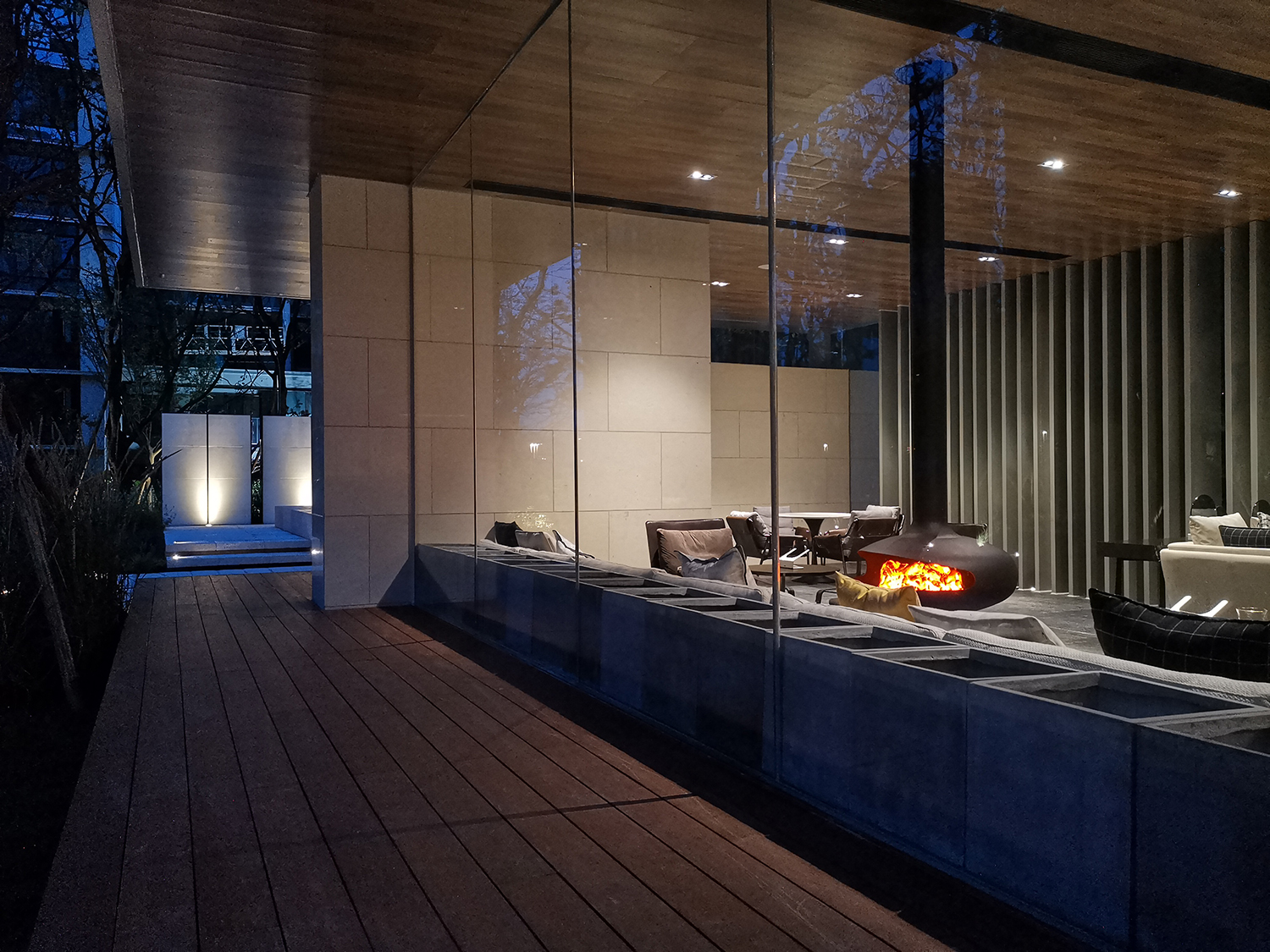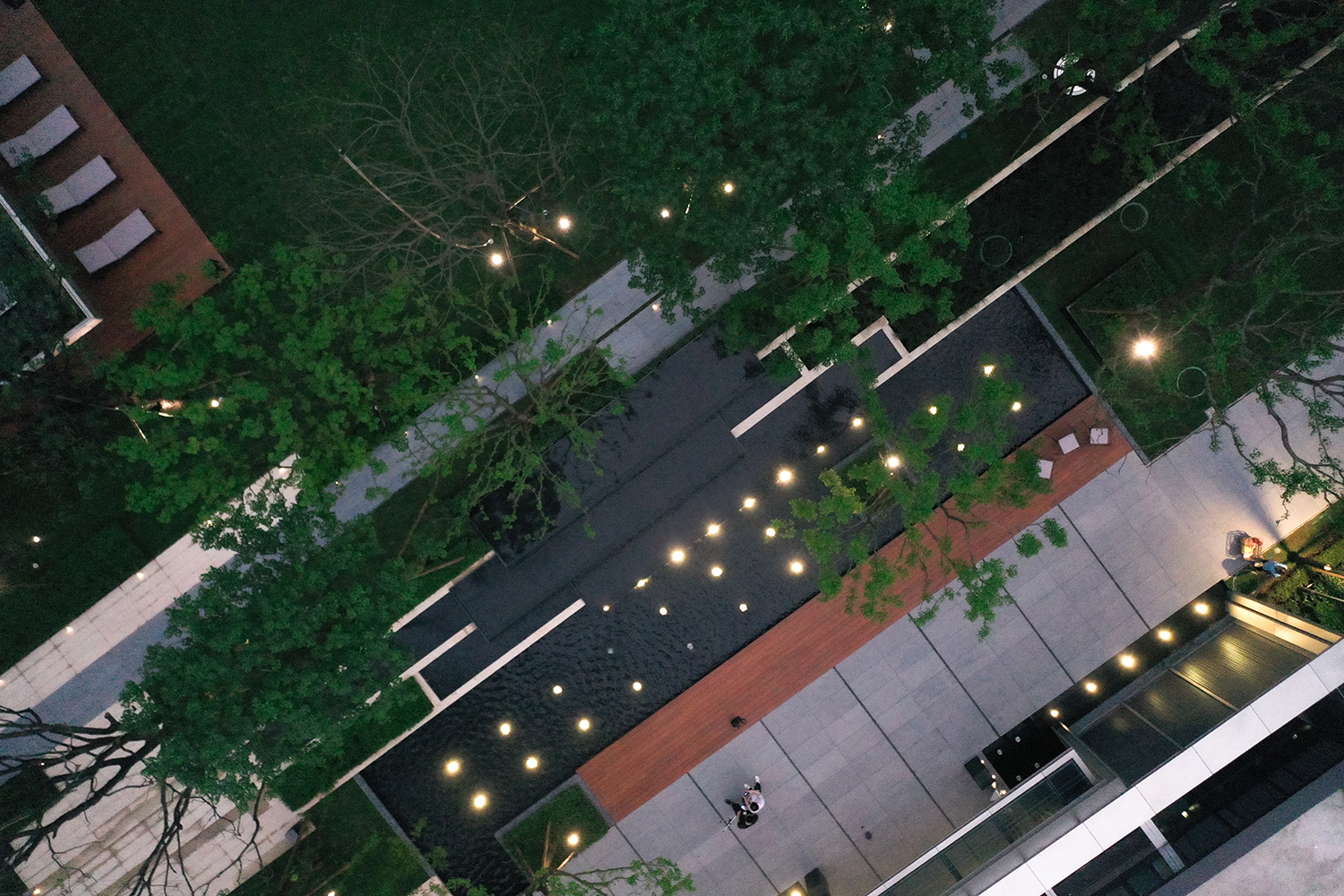 项目名称:龙湖·尘林间
项目地点:重庆照母山
甲方:重庆龙湖地产
景观设计:JTL Studio
重庆设计团队:刘展、Pax Ju、韩军、楚岭伟、李祥、段云、文国府、蔡蕊迪、张月、吴丹、周阳、石亚斌,李应鹏
室外软装:盒子设计
建筑设计:上海成执
景观施工单位:重庆吉盛园林景观有限公司
建成时间:2019.06
景观面积:30000 ㎡
摄影:河狸景观摄影
Project name: Longfor · Forest
Location: Zhaomu mountain, chongqing
Client: chongqing longfor real estate
Landscape Design: JTL Studio
Chongqing Design Team: Liu Zhan, Pax Ju, Han Jun, Chu Lingwei, Li Xiang, Duan Yun, Wen Guo Fu, Cai Ruidi, Zhang Yue, Wu Dan, Zhou Yang, Shi Yabin, Li Yingpeng
Outdoor soft decoration: box design
Architectural design: Challenge Design
Landscape construction unit: Chongqing Jisheng Garden Landscape Co. Ltd.
Completion time: 2019.06
Landscape area: 30000 ㎡
Photography: Holi Landscape Photography
更多 Read more about: JTL Studio