本文由NEXT architects授权mooool发表,欢迎转发,禁止以mooool编辑版本转载。
Thanks NEXT architects for authorizing the publication of the project on mooool, Text description provided by NEXT architects.
NEXT architects:NEXT建筑事务所正在世界各地设计一系列独特的桥梁,这一次,他们最新的设计不是迷人的蝙蝠桥(获得2016年荷兰设计奖提名),而是一座中国的标志性桥梁:中国结。新建的钢制人行桥位于中国湖南省长沙市,桥长185米,高24米,完美呼应了NEXT的系列桥梁;通过深刻融入当地环境,桥梁的设计展示了新的视角。
NEXT architects: NEXT architects are working on a unique series of bridges all over the world. This time, their latest design isn't an intriguing bat bridge (nominated for the 2016 Dutch Design Awards), but an iconic bridge in China: the Lucky Knot. The new steel pedestrian bridge in the Chinese mega city Changsha is 185 metres long and 24 metres high and fits perfectly in the sequence of extraordinary bridges that characterise NEXT'S practice; by explicitly engaging with the local context, the bridge designs offer new perspectives.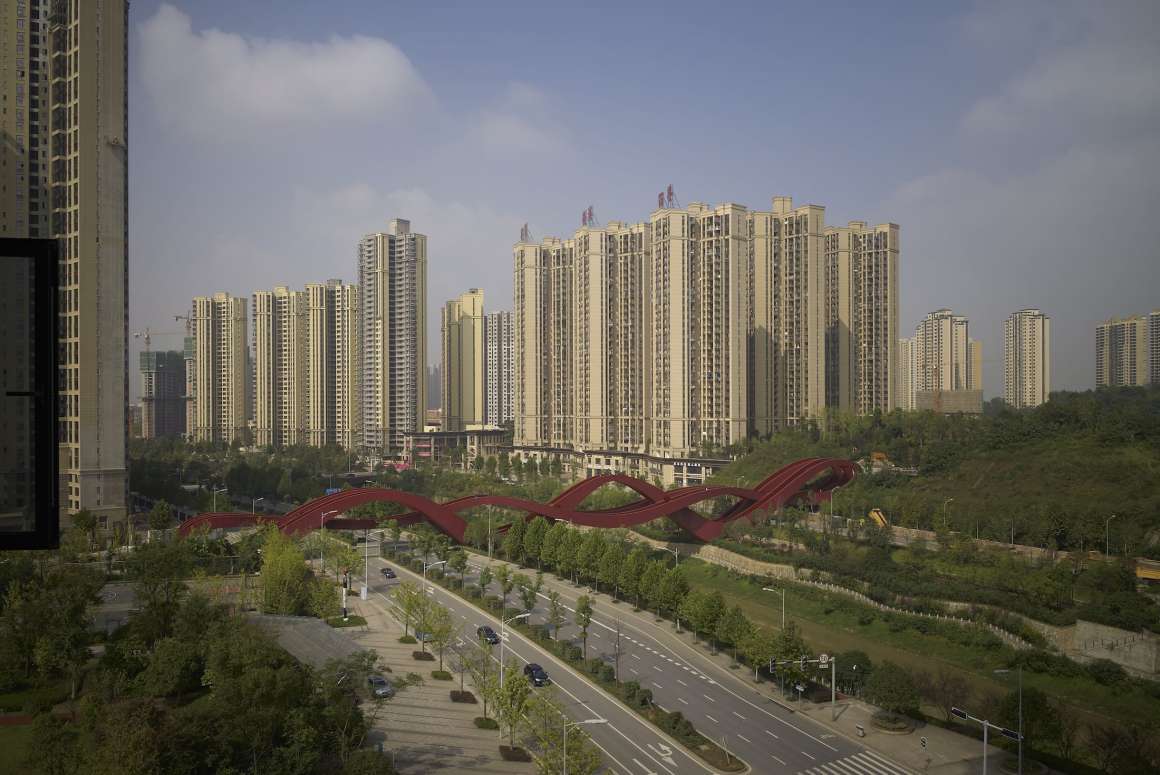 这个引人注目的幸运结桥源于荷兰:NEXT建筑事务所在阿姆斯特丹和北京都设有办公处。2013年该事务所令人惊叹的作品梅尔克韦格大桥完工后,NEXT便受邀参加了一项国际竞赛,在长沙快速发展的"新湖区"龙王港河上建造一座新的桥梁。
The eye-catching Lucky Knot has down-to-earth Dutch roots: NEXT architects holds offices in Amsterdam and Beijing. In 2013, after the completion of their breathtaking Melkwegbridge in Purmerend, NEXT was invited to take part in an international competition to design a new bridge to be constructed over the Dragon King Harbour River in Changsha's rapidly developing 'New Lake District'.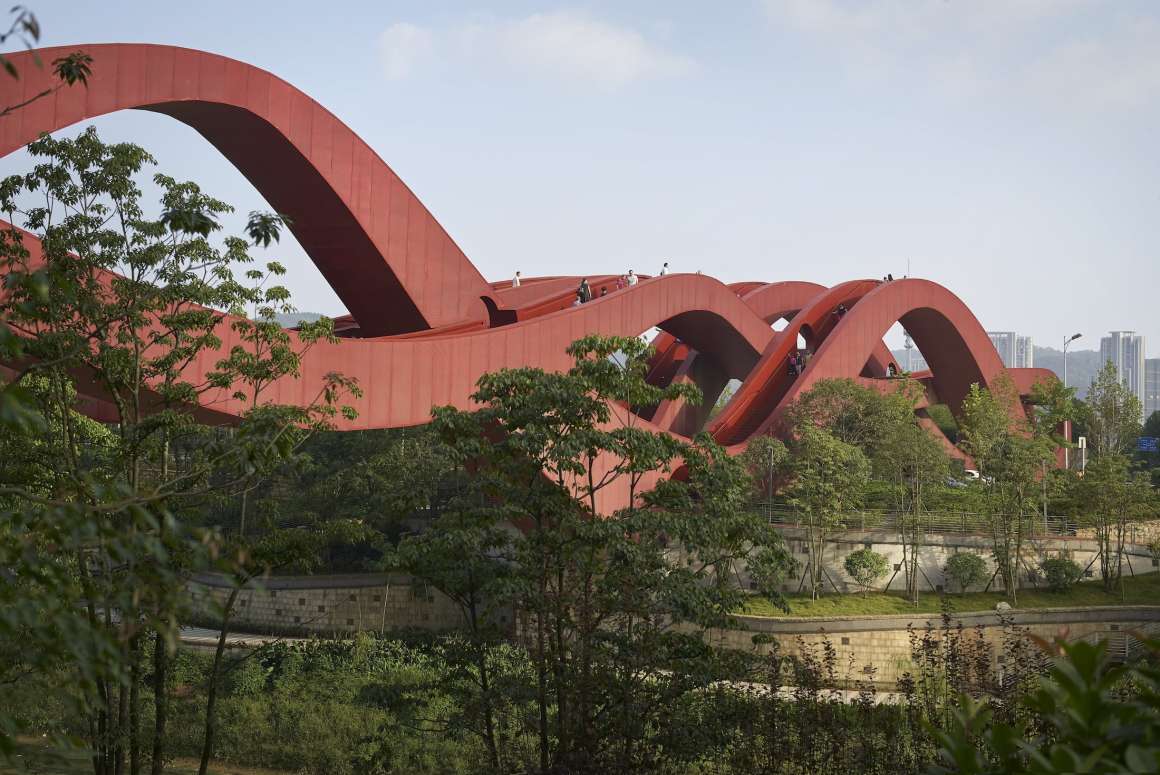 这个特别的委托让NEXT阿姆斯特丹团队和北京团队联合起来,设计出了这个独特的获奖作品:中国结。荷兰团队在基础设施建设和水资源管理方面的专业知识与中国团队对当地环境的认知相结合,是设计过程中的关键部分。这座桥已经成为了一个标志,被CNN选为"打破常规的最壮观的桥梁之一"。
For this special commission, the teams in Amsterdam and Beijing joined forces to come up with the unique, winning design: the Lucky Knot. Combining the Dutch team's expertise in infrastructure and water management and Chinese team's perseverance and knowledge of the local context was a crucial part of the process. The bridge has already become an icon, and was selected by CNN as one of the "most spectacular bridges that break the mold."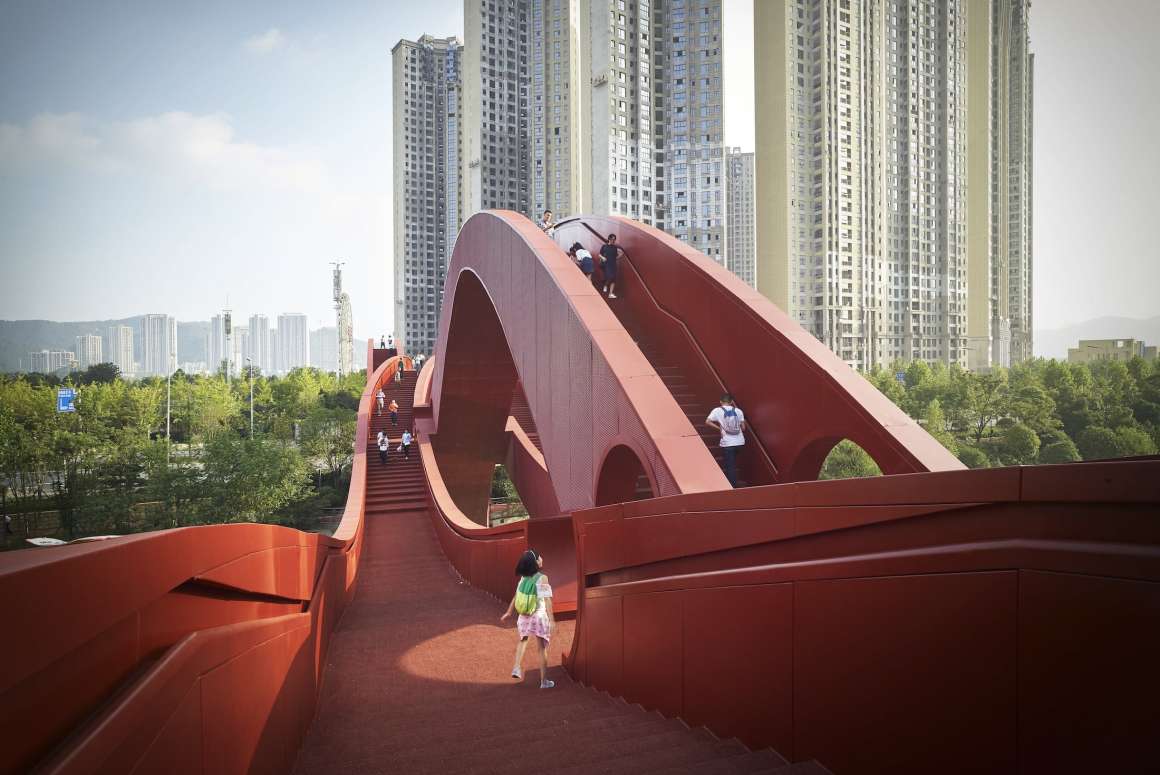 这座桥是该区公共空间的一个重点项目,设计考虑了休闲、生态和旅游活动。这座桥连接了不同高度的多个层面(河岸、道路、地势较高的公园以及它们之间的相互连接)。桥的形态是将所有路线连接在一起的结果——字面上和比喻上都是。
The bridge is a key project in developing the area's public space, and was designed with recreational, ecological and tourist activities in mind. The bridge connects multiple levels at different heights (the river banks, the road, the higher-placed park as well as the interconnections between them). The final shape of the bridge is the result of-literally and metaphorically- knotting all these routes together.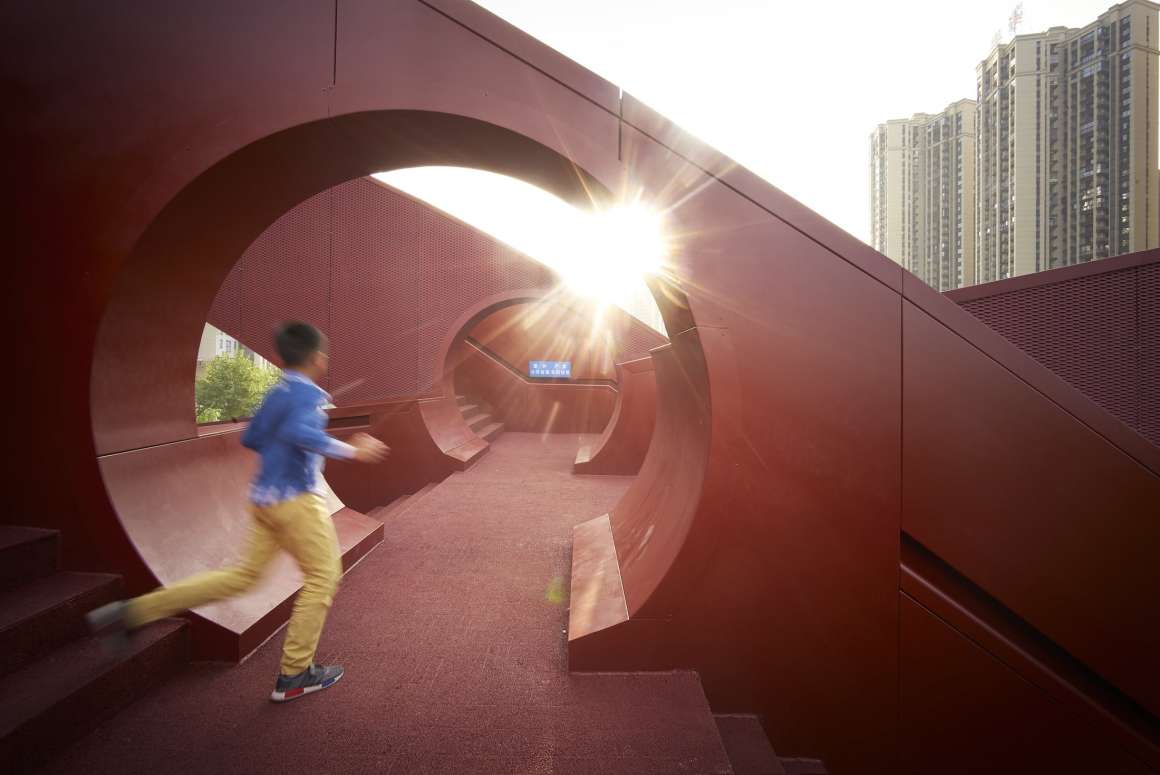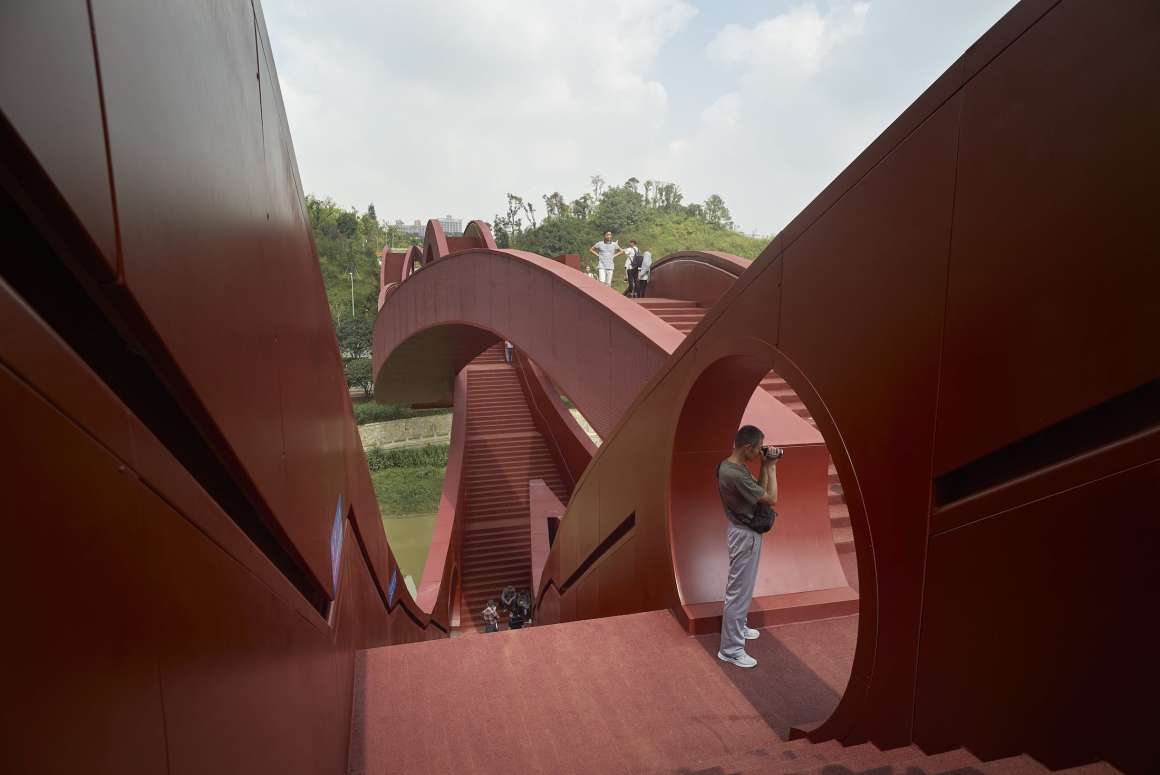 北京NEXT建筑事务所合伙人约翰·范德沃特认为:"桥梁的形状受到莫比乌斯环和中国结艺术的启发,在中国古老的装饰民间艺术中,这个结象征着好运和繁荣",这座桥富有想象力的魅力就在于传统与现代的结合。
"The shape of the Lucky Knot was inspired by the principle of the Mobius ring, as well as by the Chinese knotting art. In the ancient decorative Chinese folk art, the knot symbolises luck and prosperity," says John van de Water, partner at NEXT architects Beijing. The bridge owes its imaginative appeal to the combining of tradition and modernity.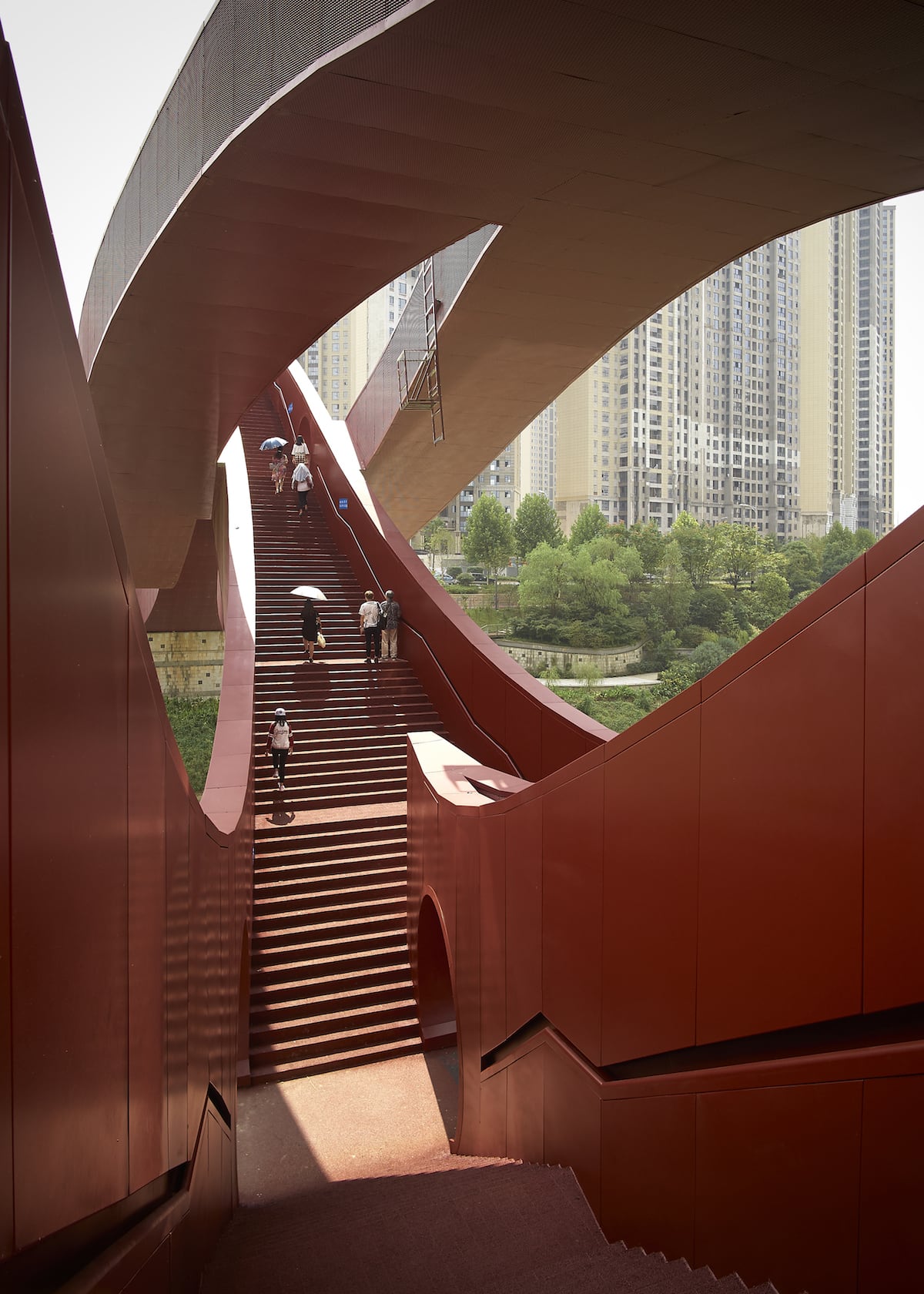 "中国结不仅仅是两个河岸之间的桥梁和纽带,它的成功在于将各种文化融合在一起,将历史、技术、艺术、创新、建筑和景观相融合,"NEXT北京合作人蒋晓飞补充道。
"The Lucky Knot is more than a bridge and a connection between two river banks. Its success lays in bringing cultures together, and in the fusion of history, technology, art, innovation, architecture and spectacle," adds NEXT architects Beijing partner Jiang Xiaofei.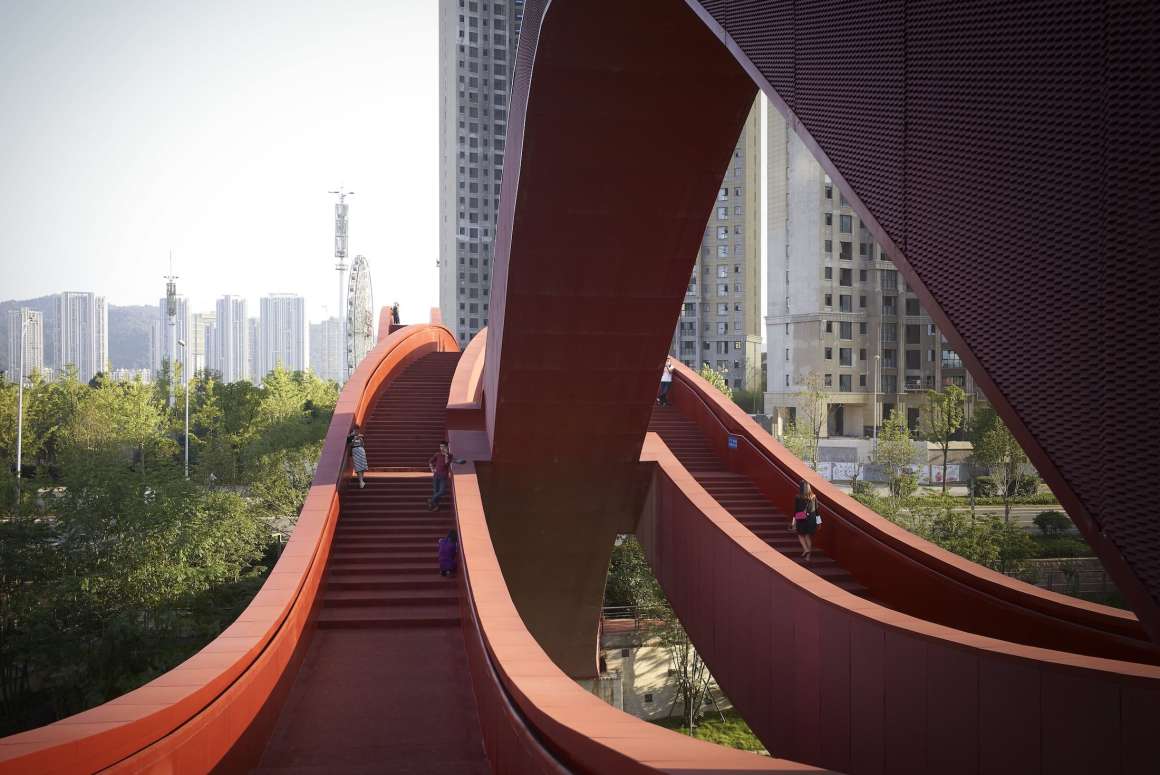 "中国结"桥连接、照明和娱乐。在桥上可以看到长江、梅溪湖、长沙市和周围山脉的壮丽景色。由于桥上有引人注目的LED照明,它将成为龙王港河灯光路线上的标志性景点。
The Lucky Knot connects, illuminates and entertains. The bridge offers a spectacular view of the river, Meixi Lake, the city of Changsha and the surrounding mountain range. Thanks to its remarkable LED lightshow, the bridge is set to become a landmark attraction in the light route that traces the path of the Dragon King Harbour River.
▼概念方案  Concept scheme
▼平面剖面  Portrait
项目名称: 中国结
项目编号: 1312
日期: 2016年10月25日
项目类型: 竞赛、人行天桥
地点: 中国湖南省长沙市梅溪湖
奖项: 梅溪湖国际比赛冠军
材质: 钢
尺寸/跨度: 185米
成本: 5000万元人民币
初期设计: 2013年12月
开始建设: 2014年
完成时间: 2016年9月
客户: 长沙市政府
设计师: NEXT architects
团队成员: Bart Reuser, Marijn Schenk, Michel Schreinemachers, John van de Water,
Jurriaan Hillerstrom, Luuc Sonke, Jiang Xiaofei, Wang Jifei, Wang Yan,
 Zhou Tong
建设顾问: CERI工程技术有限公司
照明顾问: H.G. lighting
主承包商: Capital Engineering & Research Incorporation Company limited
摄影师: Julien Lanoo
Project: Lucky Knot
Project number: 1312
Date: 25/10/2016
Type/Program/: Competition, Pedestrian bridge
Location: Meixi Lake, Changsha, Hunan Province, China
Prize: Winner international competition in Meixi Lake
Material: Steel
Size/Span: 185 m
Cost/Value: 50 million RMB
Preliminary design: 12/2013
Start building: 2014
Completion: 09/2016
Client: Municipality of Changsha
Architect/designer: NEXT architects
Team: Bart Reuser, Marijn Schenk, Michel Schreinemachers, John van de Water,
Jurriaan Hillerstrom, Luuc Sonke, Jiang Xiaofei, Wang Jifei, Wang Yan,
 Zhou Tong
Advisor construction: CERI Engineering Technology Co., Ltd.
Advisor lighting: H.G. lighting
Main contractor: Capital Engineering & Research Incorporation Company limited
Photographer: Julien Lanoo
更多 Read more about: NEXT architects