本文由 Gummy Gue 授权mooool发表,欢迎转发,禁止以mooool编辑版本转载。
Thanks Gummy Gue for authorizing the publication of the project on mooool, Text description provided by Gummy Gue.
Gummy Gue:在意大利米兰的布奇纳斯科,Gummy Gue对两个运动场进行了一系列的地面彩绘。这项工作是与Sit-In Sport Impianti S.R.L. 合作进行的。与此同时,该设计工作室的一系列干预措施还在欧洲各个城市的体育环境中持续开展。
Gummy Gue: In Buccinasco, Milan (Italy) the new project by Gummy Gue for the municipality has provided a series of site-specific floor painting interventions carried out in two sports areas of the city. The work carried out in collaboration with Sit-In Sport Impianti S.R.L. the line of interventions that Gummy Gue has carried out in sports contexts in various European cities continues.
运动场上的图绘使人们在穿越场地、在几何图形表面上移动的时候,感知与运动状态相协调的图案演变。
Painting a playground offers the possibility to cross the field area, to move on the surface of the composition to perceive the evolution of the forms in tune with the game's dynamics.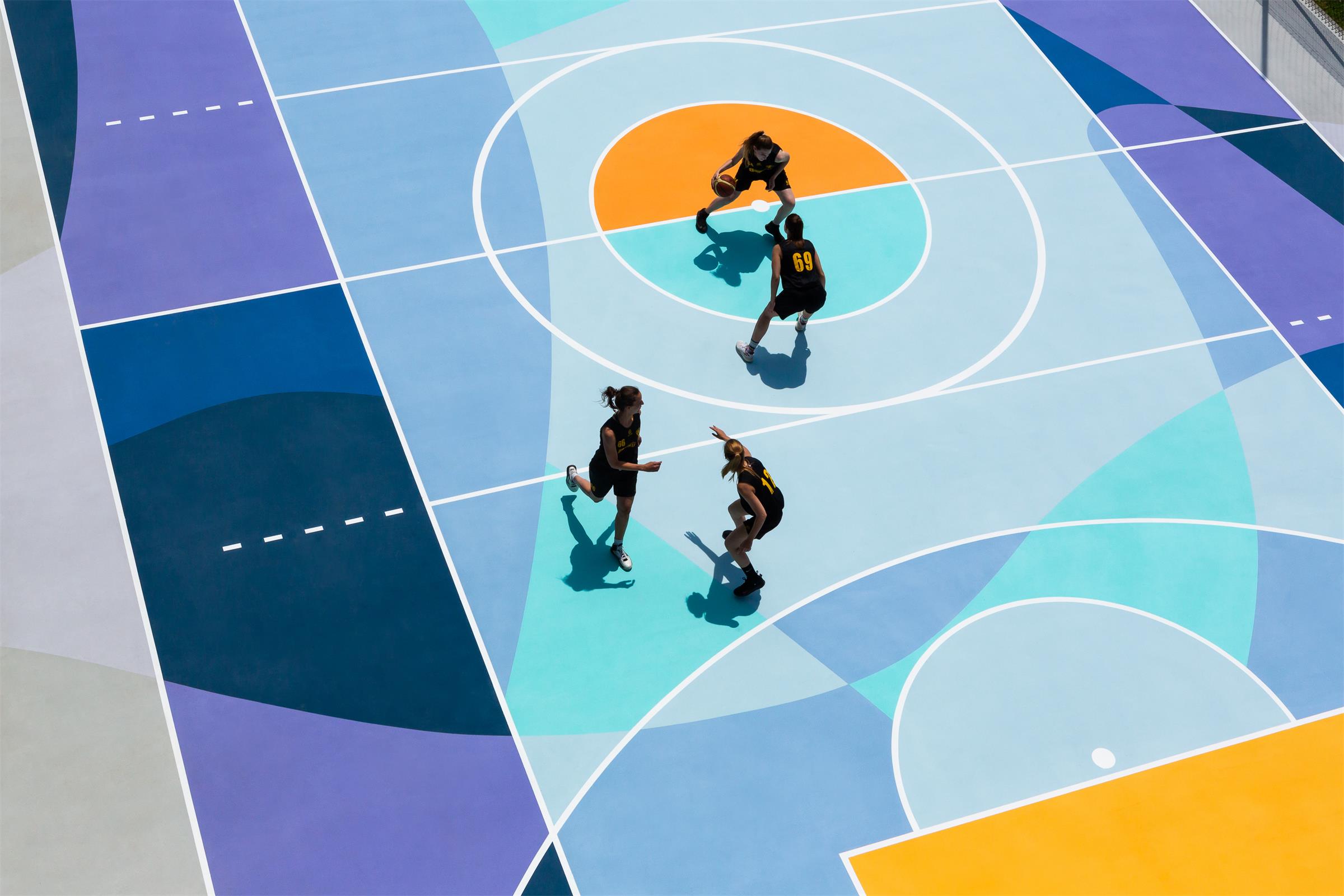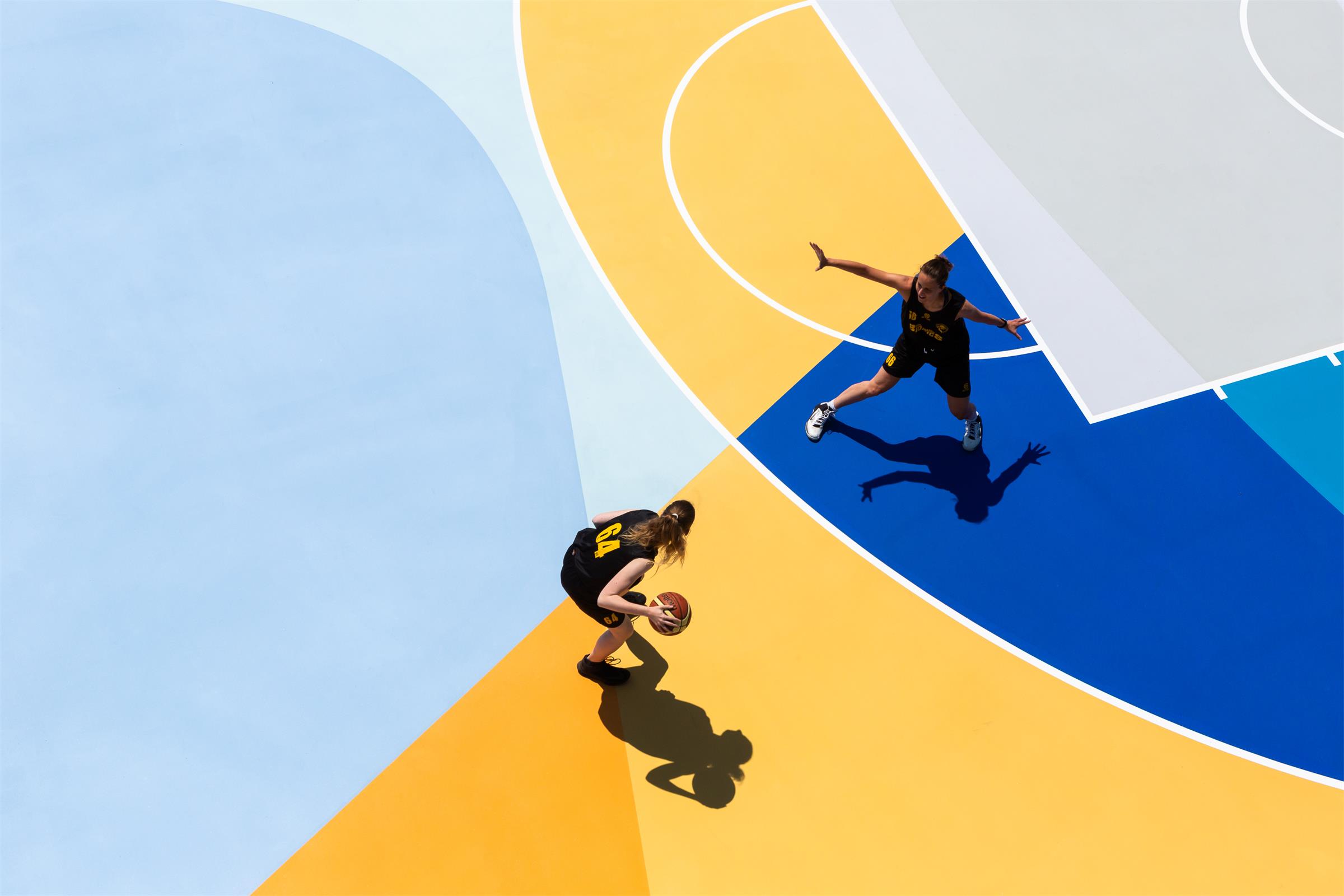 视野中的图案不断变化与再生,如同在真实世界中模拟体验虚拟场景一般。
A variable vision that is continuously regenerated, as in a virtual simulation experienced in real space.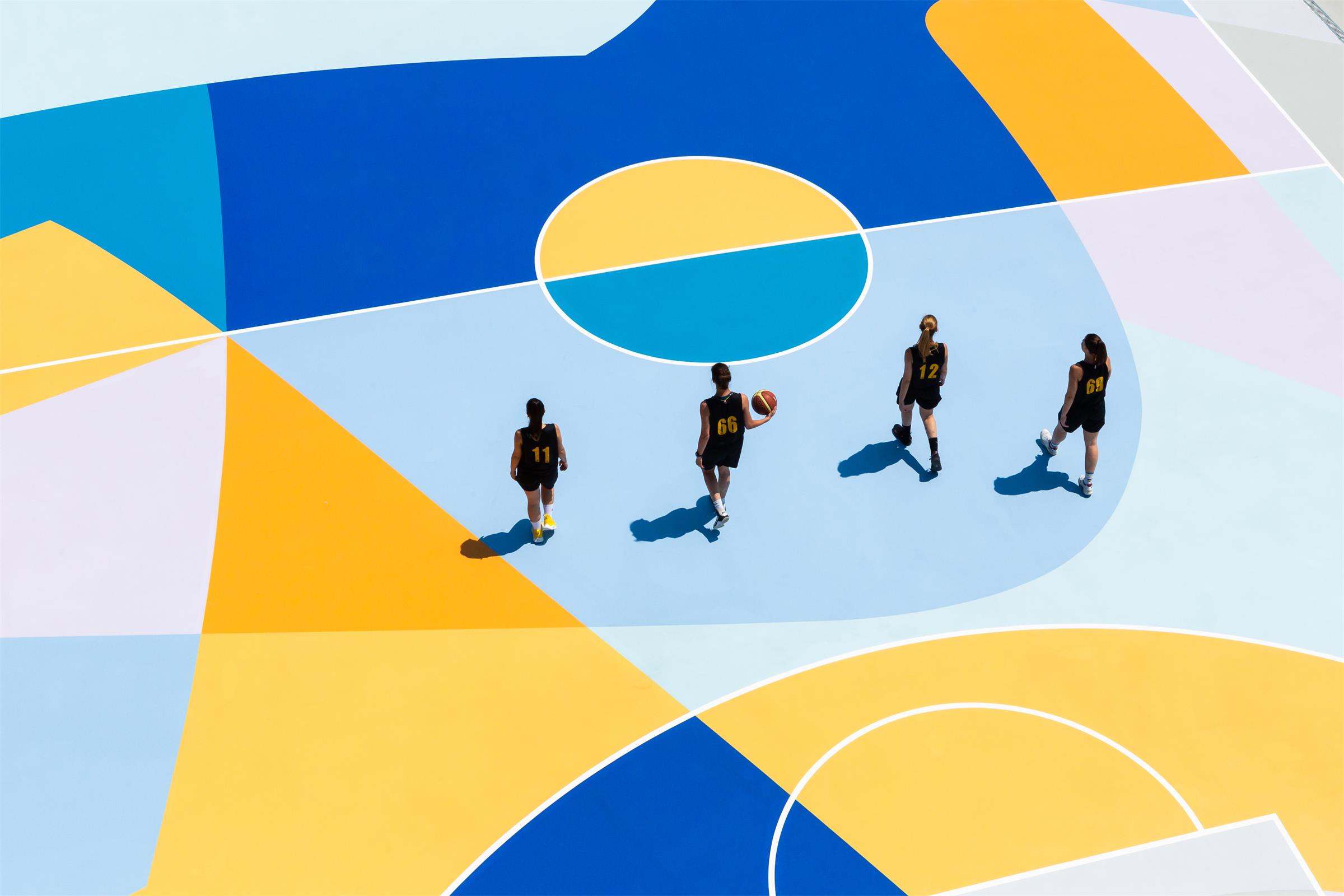 项目包含两种不同类型的运动场:多功能运动场和篮球场。两个球场有两种不同的图案,设计时充分考虑了运动场的运动功能,同时将其与创造性的构图进行交互设计。
The project proposes two compositions designed for two types of playgrounds, multipurpose and basketball. The schemes of game's areas have been taken into consideration, they remain visible to interact with the creative choices of the composition.
▼多功能运动场鸟瞰图 Multipurpose playground aerial view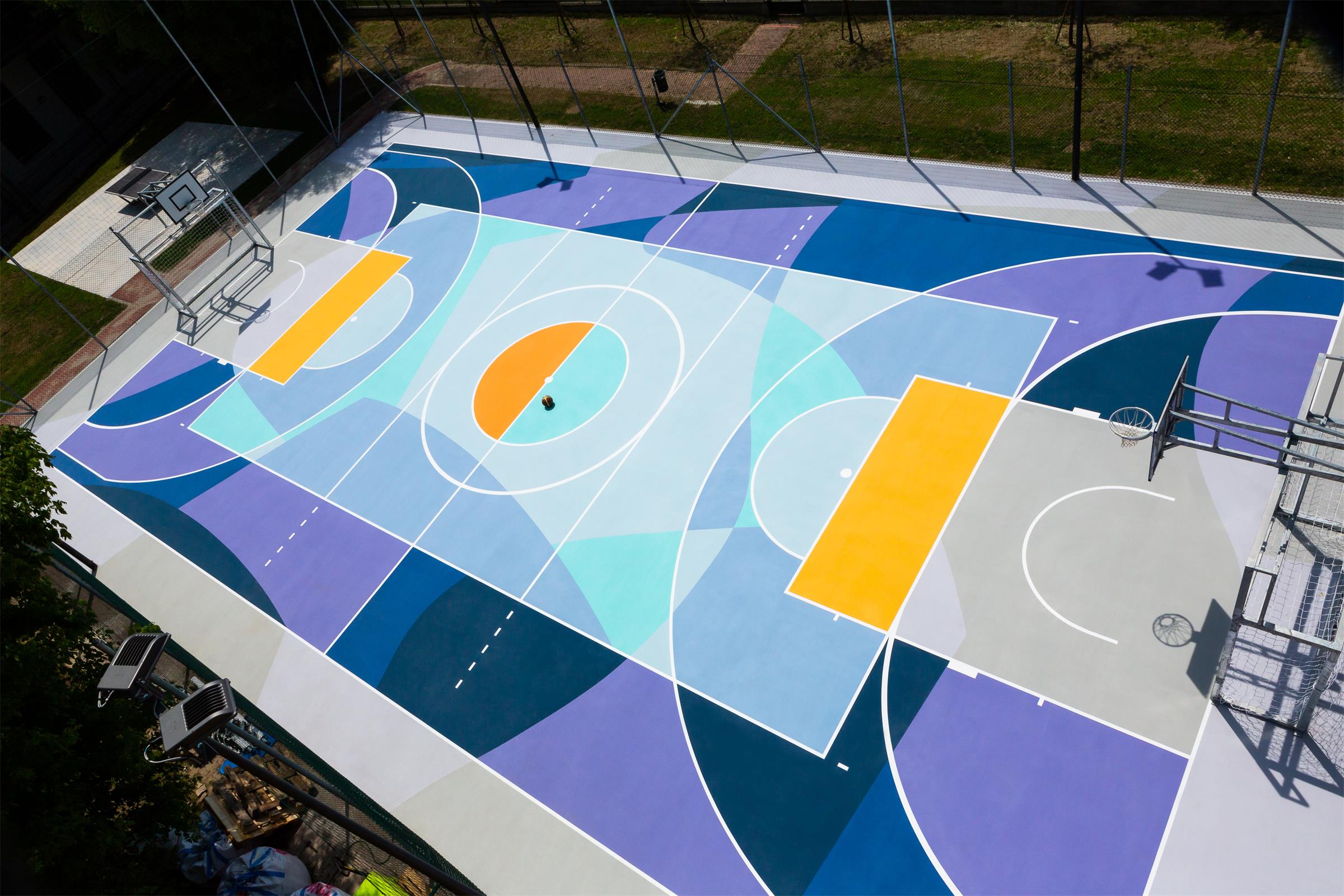 ▼篮球场鸟瞰图 Basketball playground aerial view
场地所使用的色调直接参考了体育界的配色,线条和几何图形贯穿运动空间,彰显体育运动的活力。
The color palettes used have a direct reference to the world of sport, the play space is crossed by lines and shapes that announce the energy of sporting dynamics.
▼运动场上的线条和几何图形 The lines and shapes of playground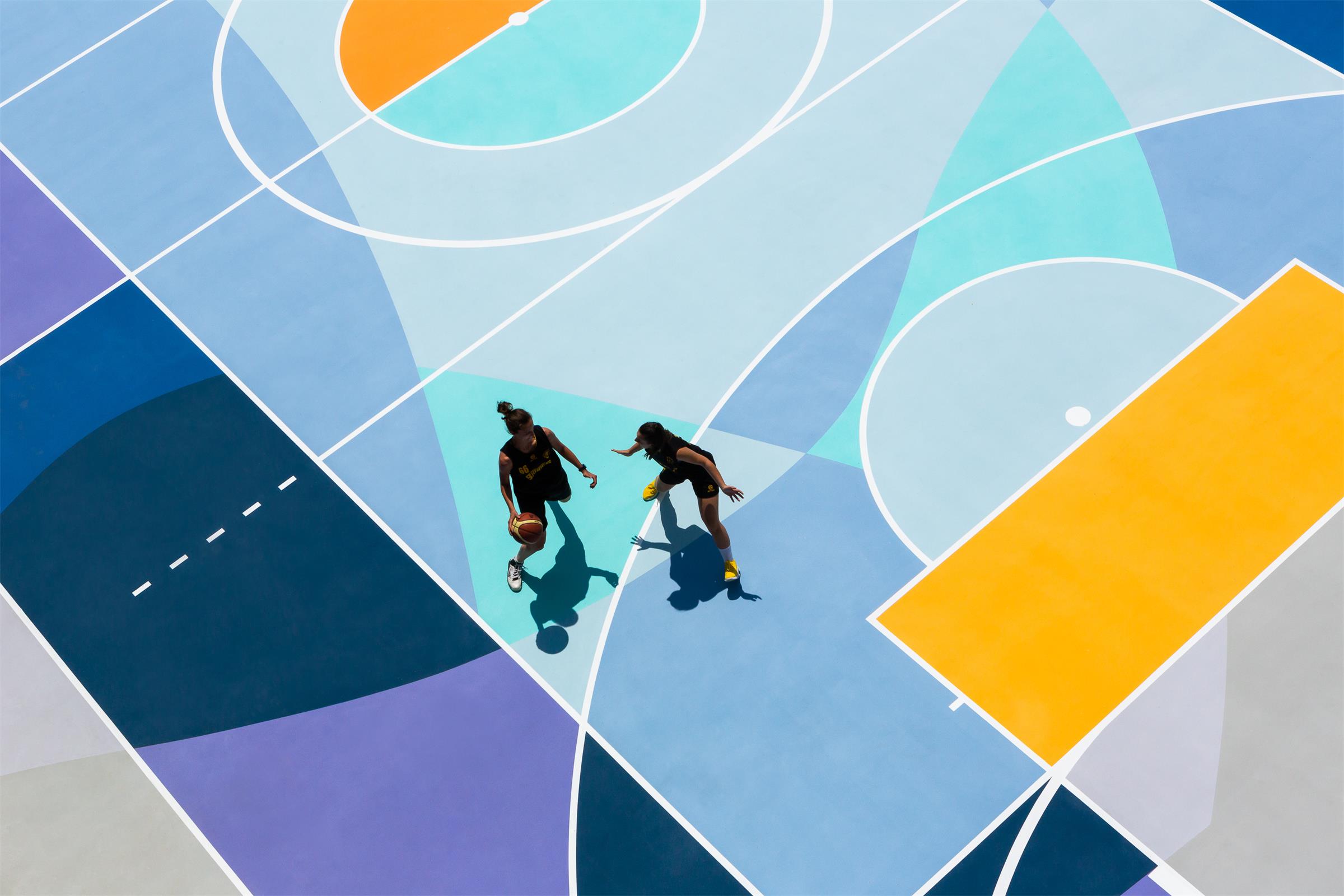 更新后的运动场通过摄影师Ugo Galassi的镜头呈现出来,细致的镜头增强了运动姿态的美学价值,展现了项目将运动场扩展为可视化叙事的意图。
The results of the interventions are presented through a series of shots by photographer Ugo Galassi, where careful direction enhances the aesthetic value of the athletic gesture, in relation to the intentions of the project to expand into new possible visual narratives.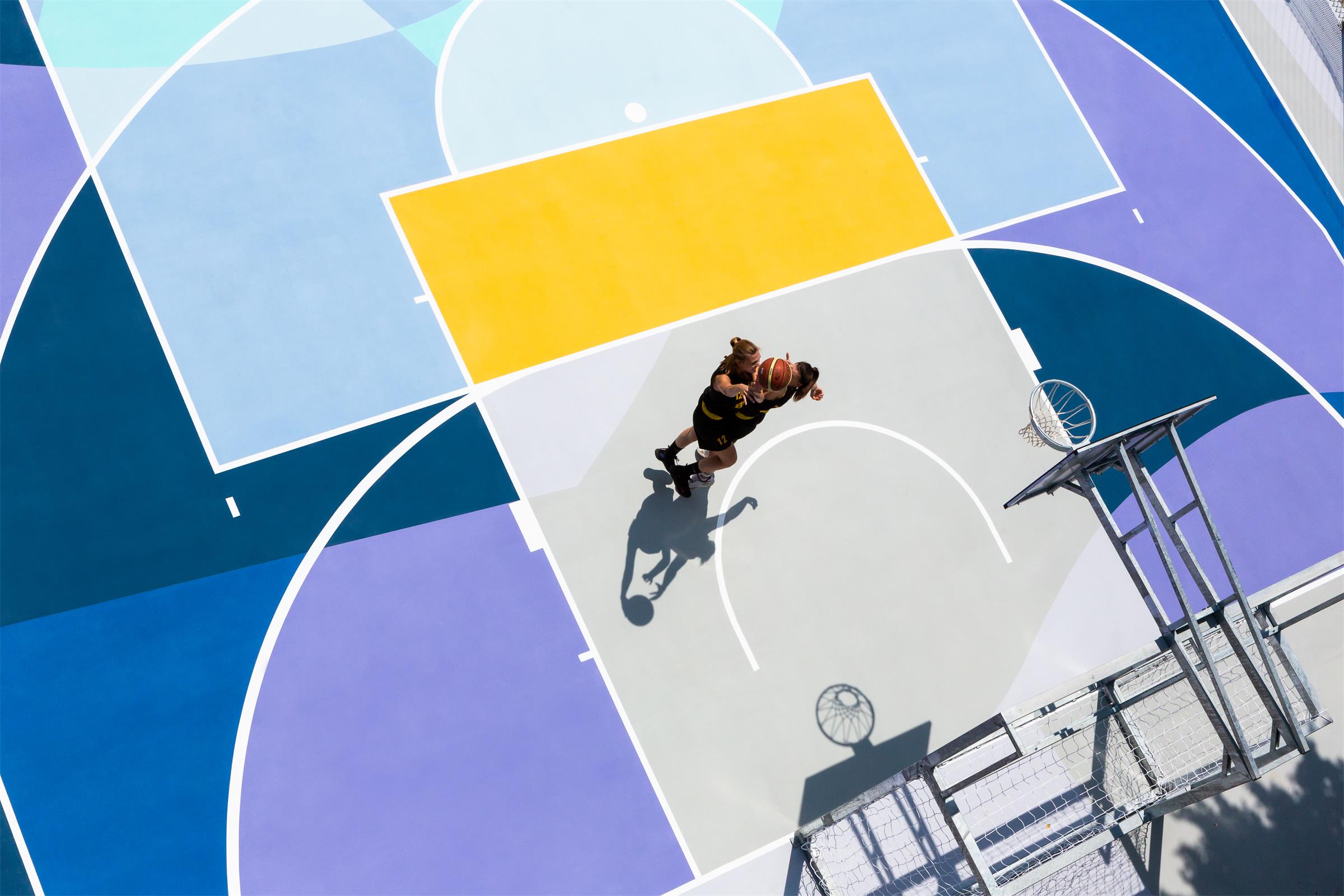 ▼Marsala篮球场平面 New Playgrounds Marsala Plan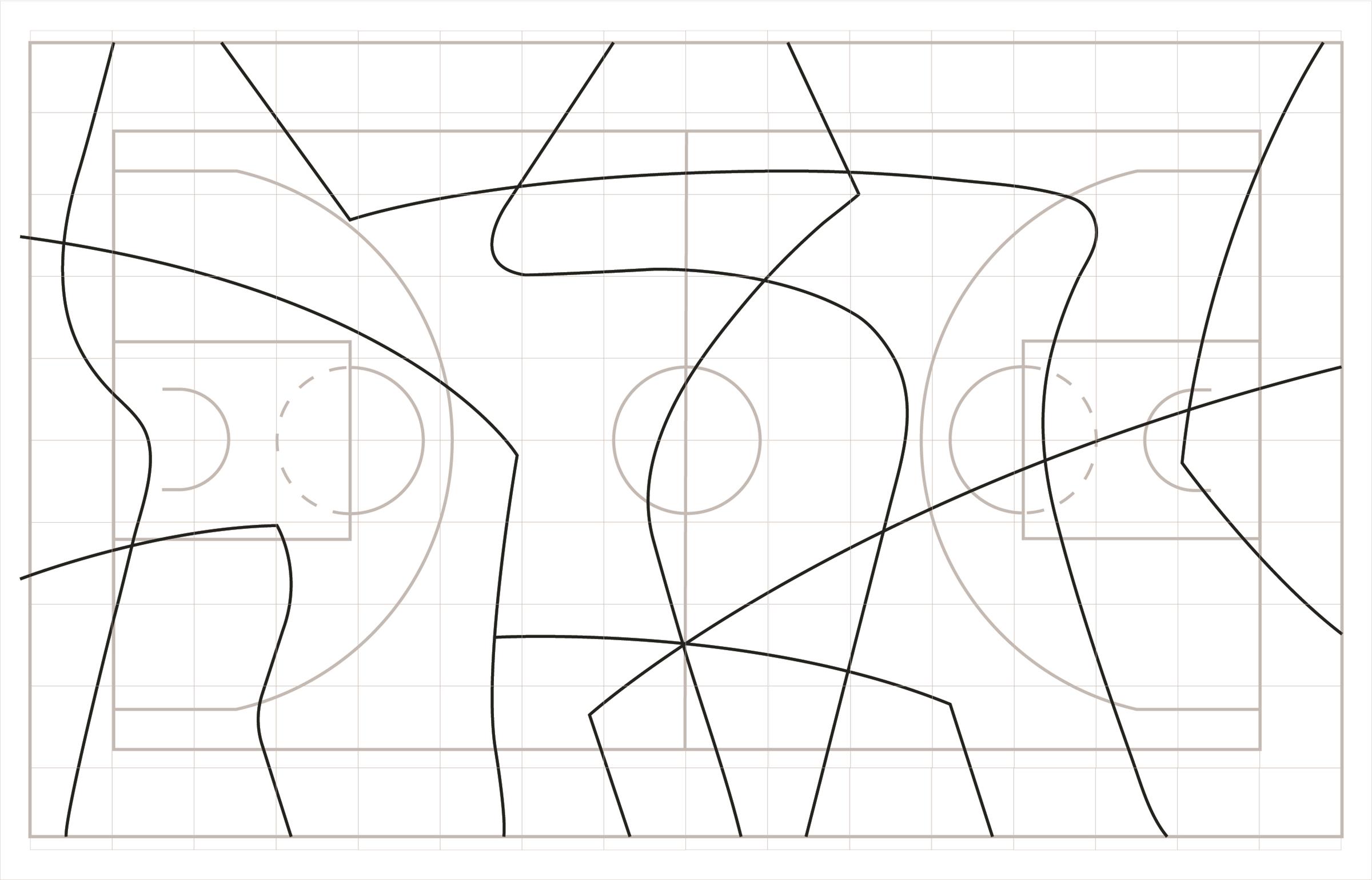 ▼Rpbarello多功能球场平面 New Playgrounds Rpbarello Plan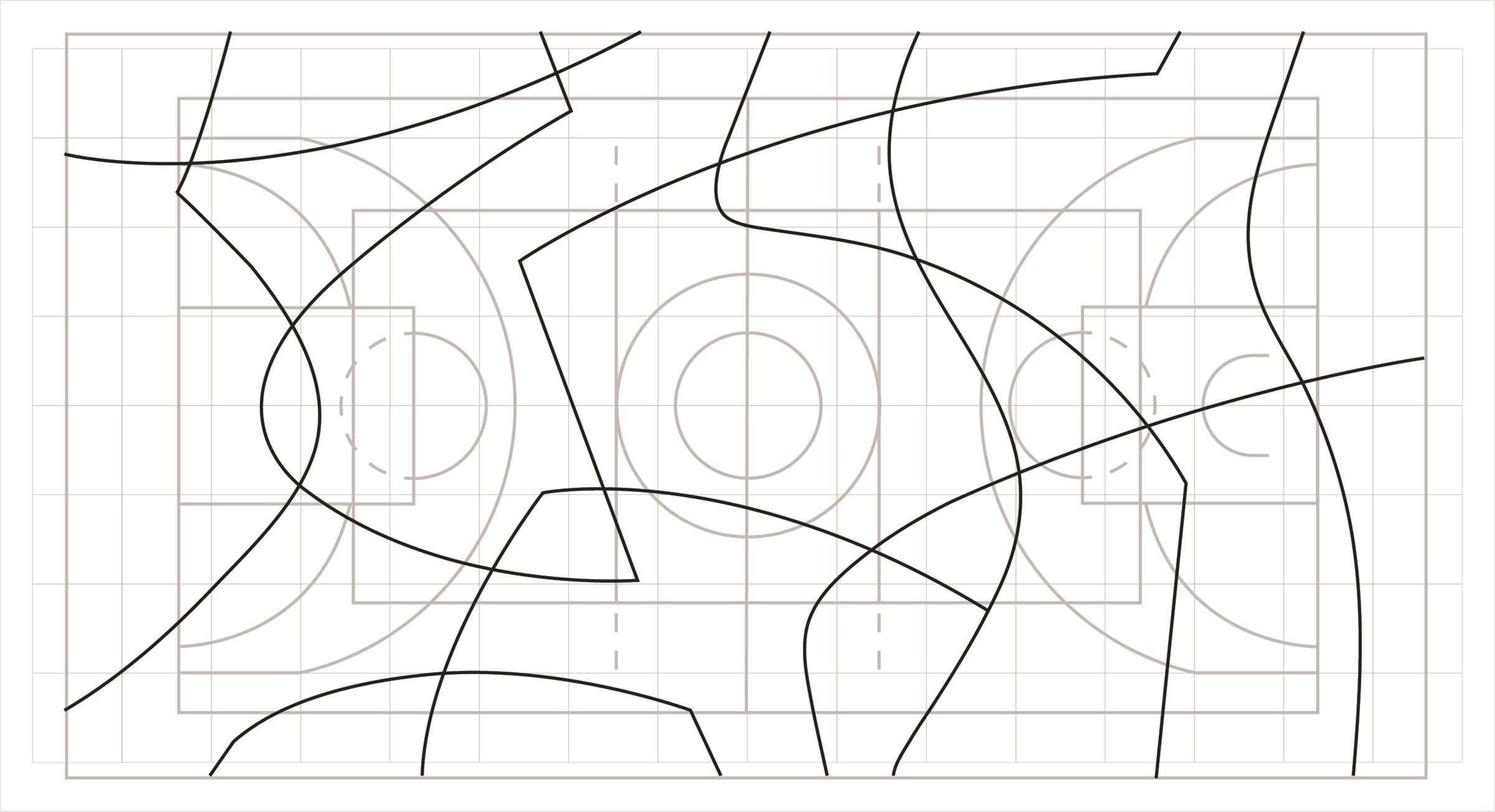 ▼多功能运动场3d视图 3D view of multipurpose playground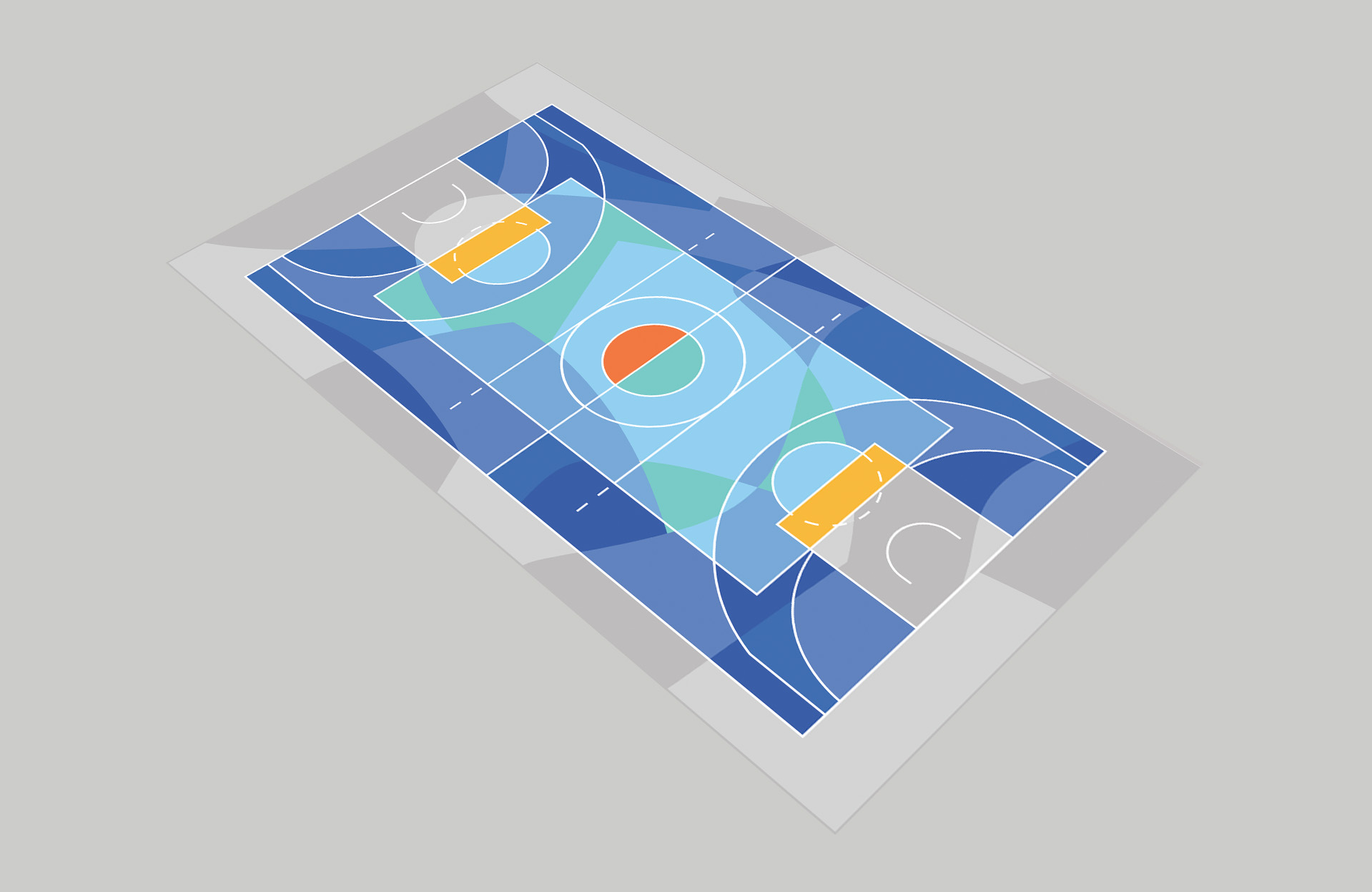 ▼篮球场3d视图 3D view of basketball playground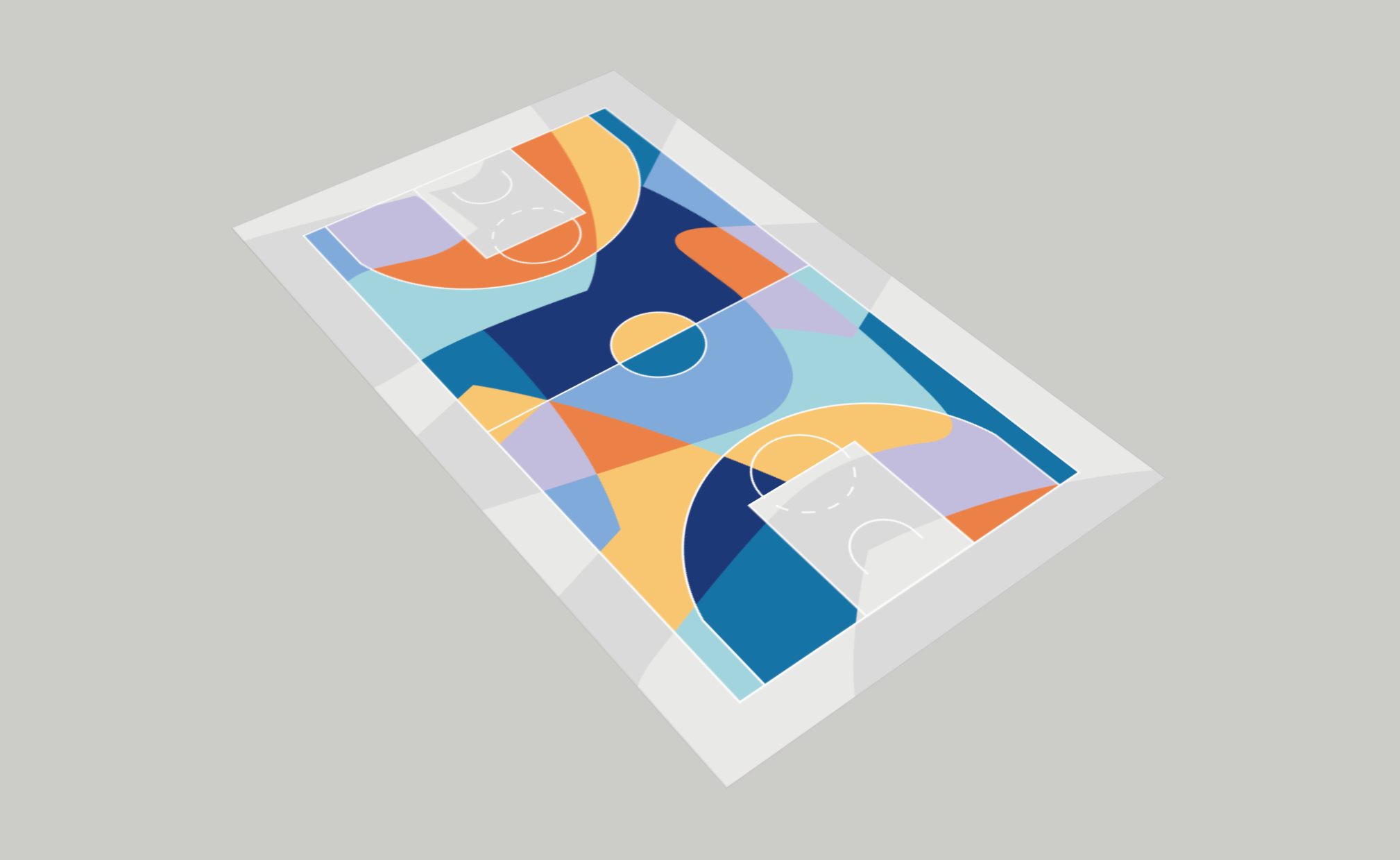 项目名称:新型运动场
竣工年份:2021
面积:450 m2/个
项目地点:意大利米兰布奇纳斯科
景观/建筑公司:Gummy Gue
网站:http://gummygue.com/
联系邮箱:dinologo.gue@gmail.com
首席建筑师:Marco Mangione
设计团队:Marco Mangione、Carmelo Mangione、Andrea Mangione
客户:布奇纳斯科市政府
合作者:Sit-In Sport Impianti S.R.L.
照片来源:Ugo Galassi
摄影师网站:https://www.instagram.com/ugo.galassi/?hl=it
Project name: New Playground
Completion Year: 2021
Size: 450 m2 each one
Project location: Buccinasco, Milan, Italy
Landscape/Architecture Firm: Gummy Gue
Website: http://gummygue.com/
Contact e-mail: dinologo.gue@gmail.com
Lead Architects: Marco Mangione
Design Team: Marco Mangione, Carmelo Mangione, Andrea Mangione
Clients: Municipality of Buccinasco
Collaborators: Sit-In Sport Impianti S.R.L.
Photo credits: Ugo Galassi
Photographer's website: https://www.instagram.com/ugo.galassi/?hl=it
---
审稿编辑 HOU
更多Read more about: Gummy Gue