本文由 MASU Planning 授权mooool发表,欢迎转发,禁止以mooool编辑版本转载。
Thanks MASU Planning for authorizing the publication of the project on mooool, Text description provided by MASU Planning.
MASU Planning:考虑到成年人、青少年和儿童体验世界的方式是不一样的,我们在Opinmäki校园里设计了一个可以满足不同年龄层的游乐场。 Opinmäki是一个含日托中心的综合性英语国际学校,它还设有一个在学校放学后可对当地居民开放的文化体育中心,为社区业余爱好者们提供了室内外的各种活动设施,换句话说,这是一个真正多样化的群体使用的校园区域。
MASU Planning:Adults, teenagers, and young children experience the world differently, at Opinmäki Campus we have created a flexible playground design that meets the needs of all age groups. Opinmäki is a large campus with a daycare center, a comprehensive school, and an English international school. It also houses a local culture – and sports center and is open to locals after school, where hobby communities use outdoor and indoor facilities. In other words, a truly diverse group of people uses the campus area.
▼总平面图 Master Plan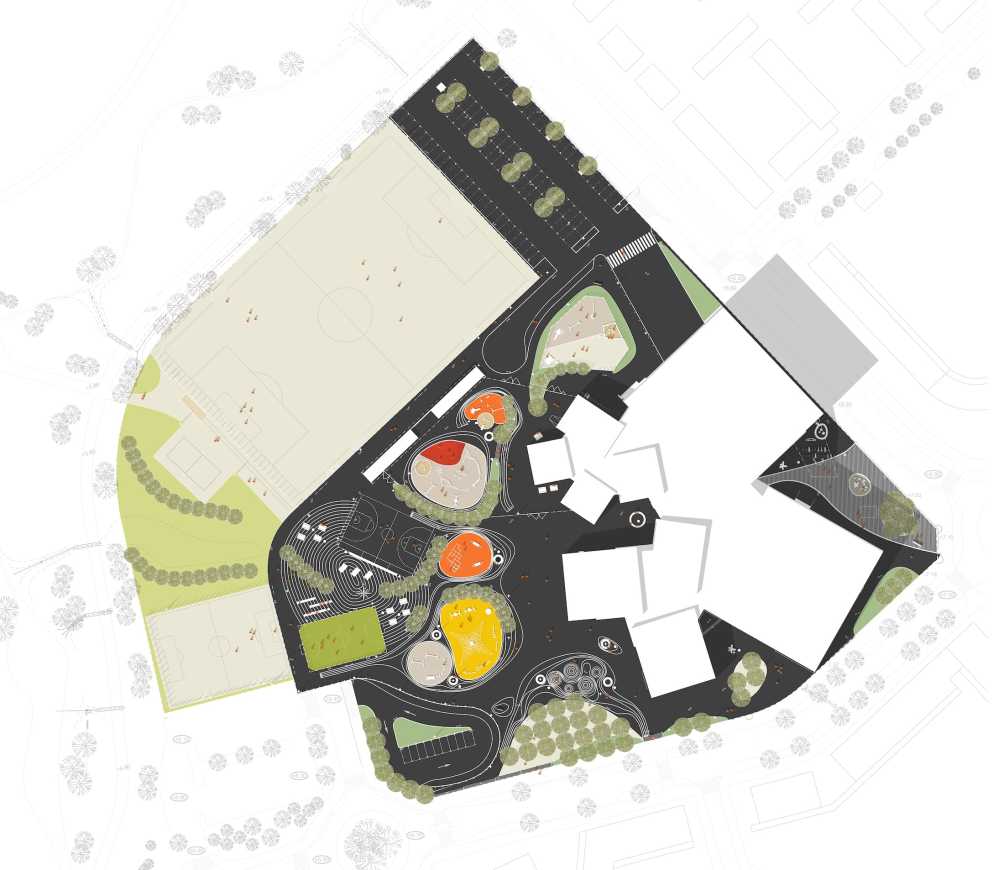 ▼功能分区图 Zones diagram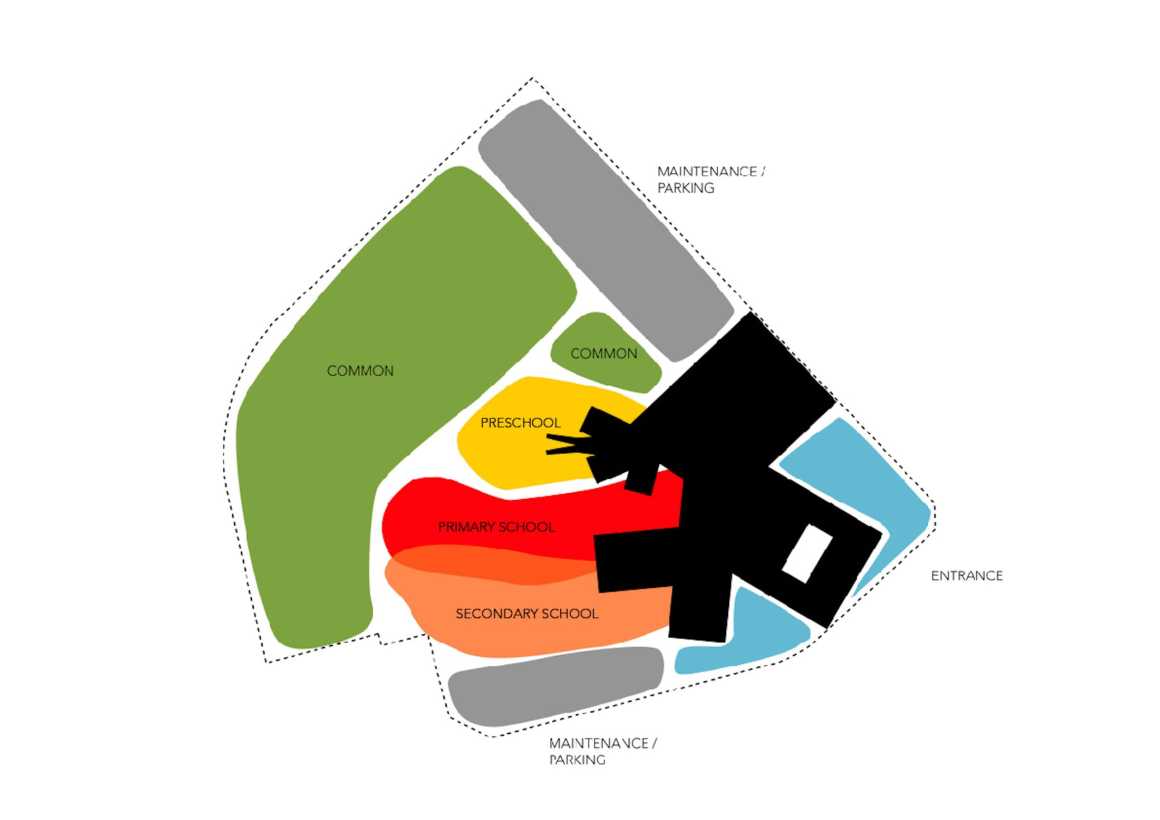 日托中心和学校服务于近1000名学生和儿童,因此该项目设计的主要目的是让不同年龄段的孩子在这个空间里能体验到在家一般的感觉,并满足各年龄段儿童的身心发展。我们设计这个校园的方法不是简单的划分空间,而是通过采用非具象的户外设备,吸引到不同年龄的使用者激发不同的使用方式,把学校的户外场地做成一个开放且灵活的场所。
The daycare center and schools serve up to 1000 students and children, therefore the key focus for the project was to create spaces where children of different age feel at home and develop according to their age. Instead of dividing the space, our approach to the schoolyard design was to keep it open and flexible with non-figurative furniture with a broad appeal where use change according to age and imagination.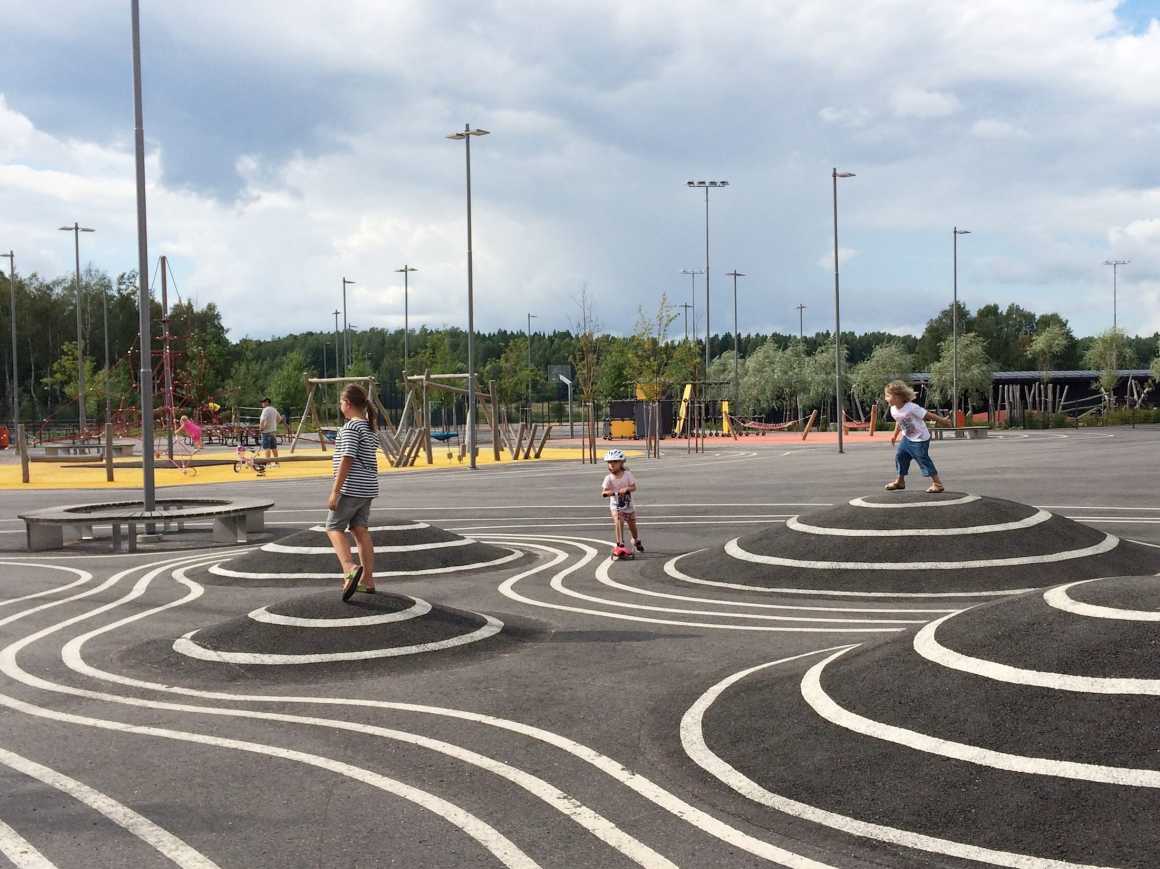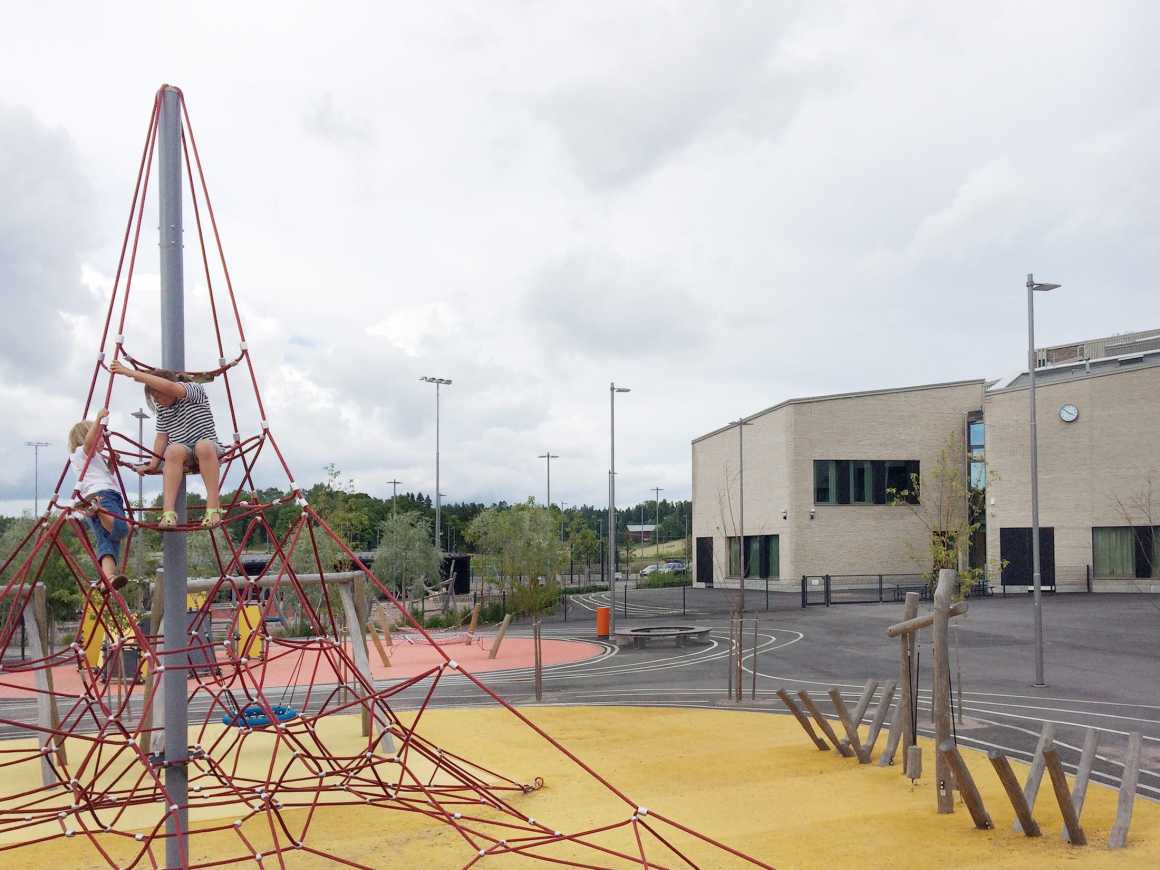 设计带来的玩乐体验能够启发孩子们的创造力,游戏设施的抽象造型能够激发孩子的想象力,也为无穷无尽的游戏场景创造了合理环境,比如一组随机分布的树干也可以变成一片魔法森林。一般年龄小点的孩子喜欢带有白色条纹的低沥青山上跑来跑去,玩捉人游戏,大点的青少年则倾向于在山丘周围玩单车和滑板。
The coherent designs evoke a sense of playfulness that inspires children to create stories. Abstract shapes stimulate the imagination and create the setting for endless play scenarios. In one, a group of freestanding tree trunks can be a magical forest. Small children use the low asphalt hills with white stripes to run around and over in a game of tag. Teenagers step it up, bike around the asphalt hills and use them for skating.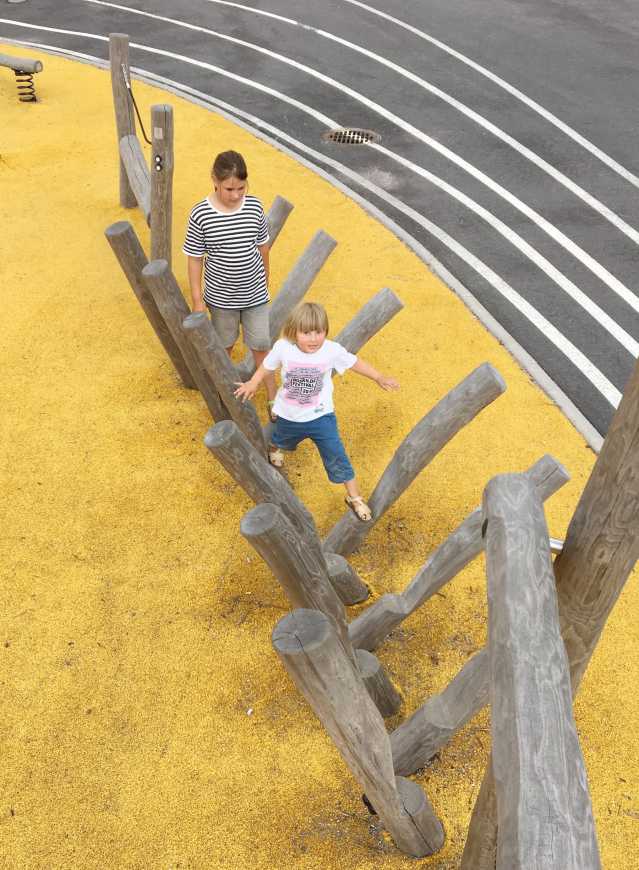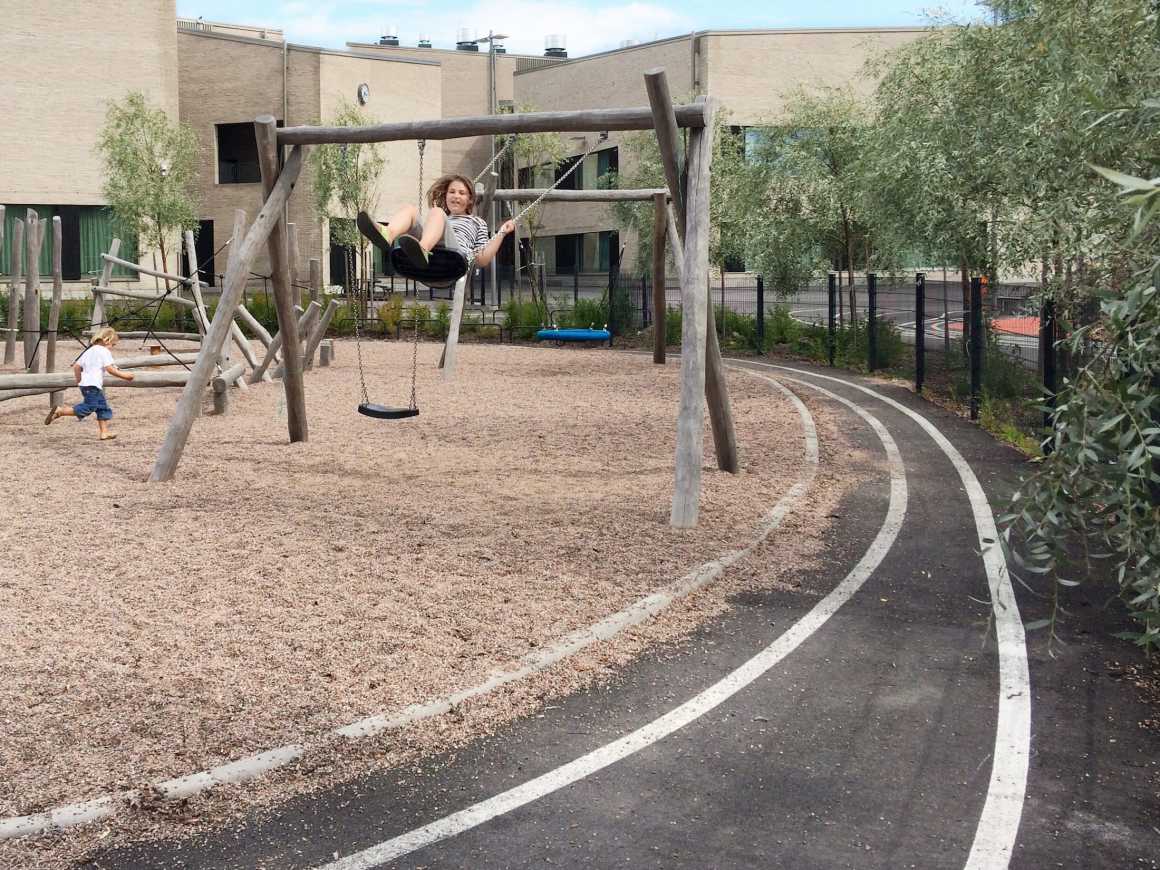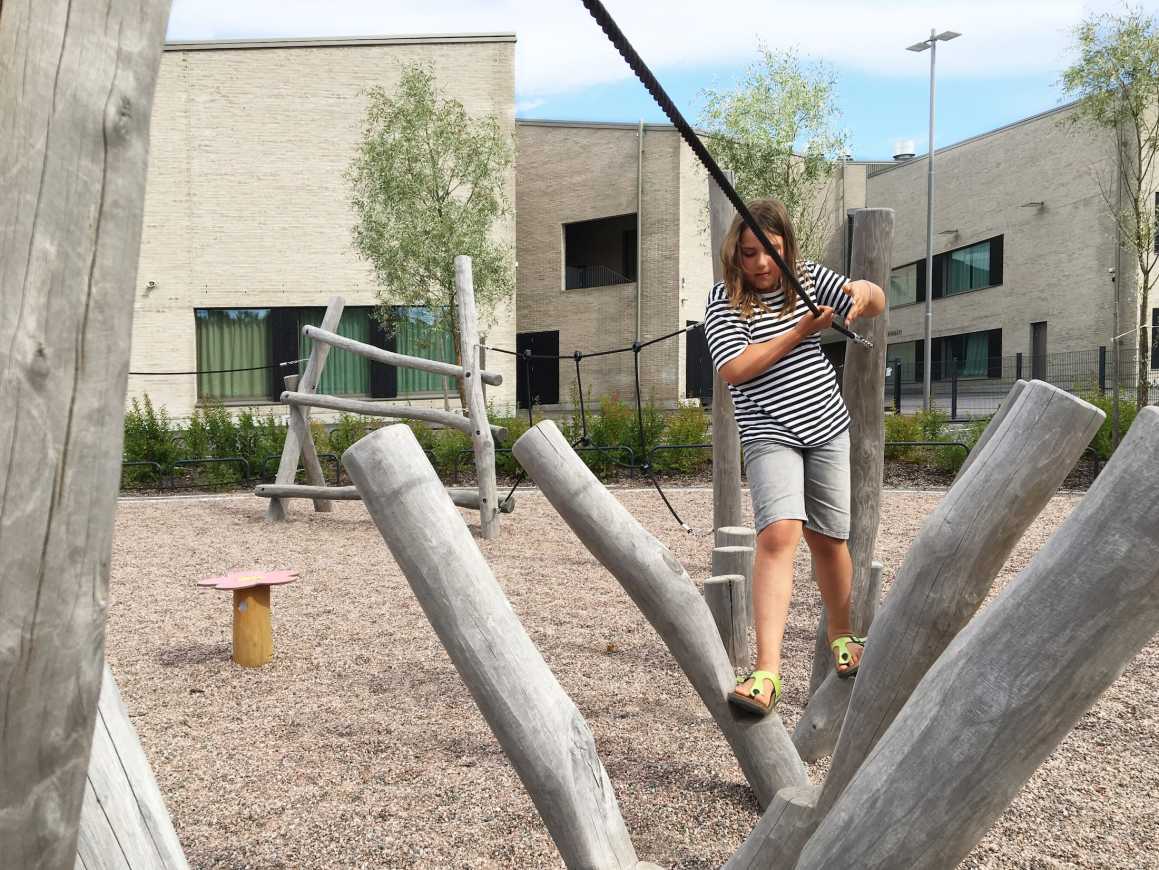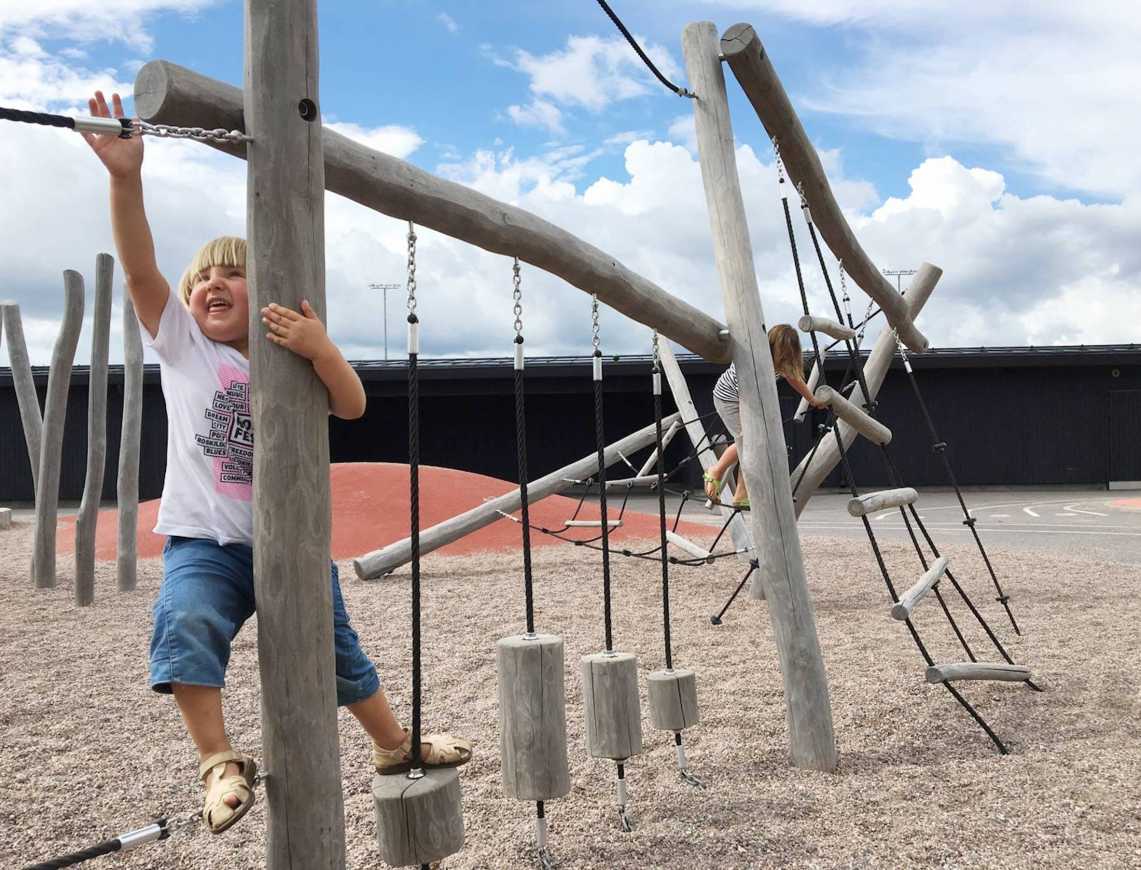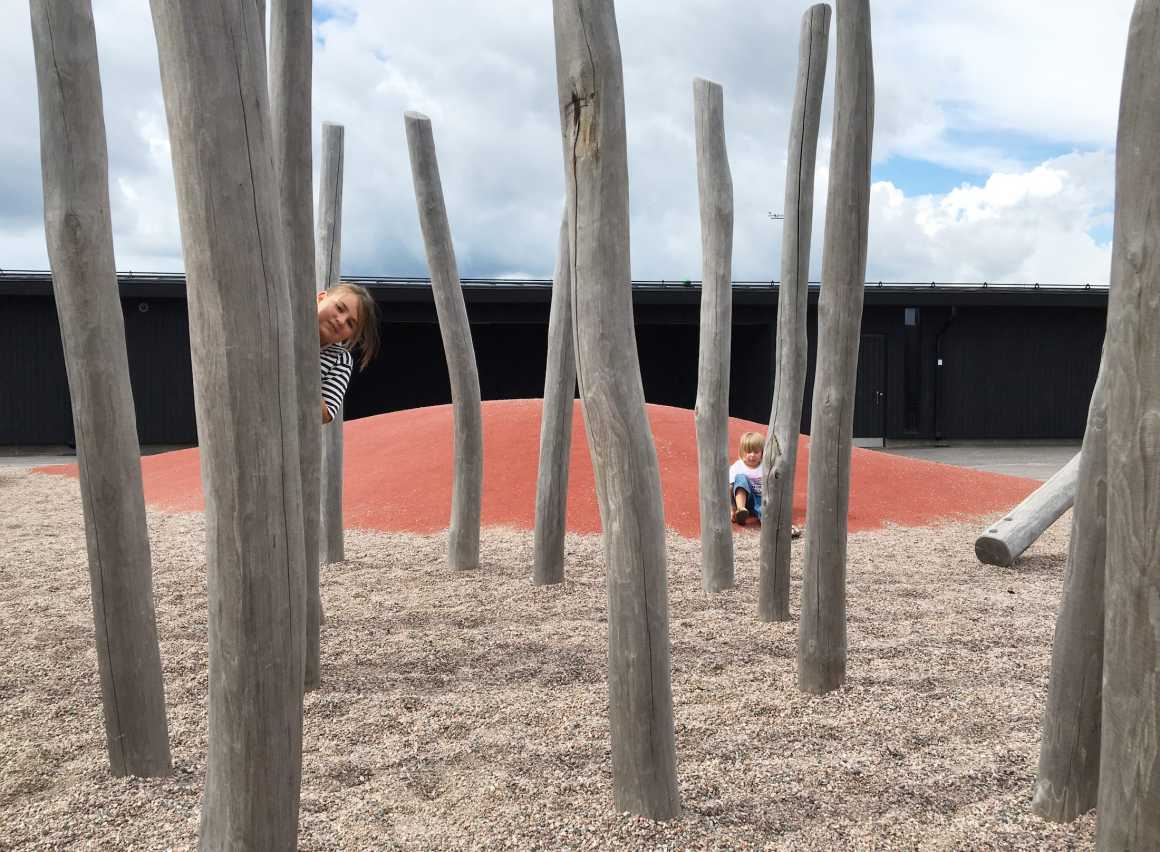 孩子们在颜色鲜亮的"绿洲"上一起玩耍,白色的条纹穿梭在绿洲间,形成一种动态感。场上种植的树木和灌木丛为小山丘提供遮阴,并在视觉上自然地划分了空间,在这样一个没有围栏和年龄组划分的校园操场上,孩子们不需要老师的组织,就能够自发地去进行交流互动。
Brightly colored oases on a large asphalt surface let the groups of children play alongside each other and the white stripes create a flow between and around the elements. Trees and bushes give shelter to the oases and help to visually divide the space. In a schoolyard with no fences and division of the age groups, the children take the initiative to meet and play without being organized by teachers.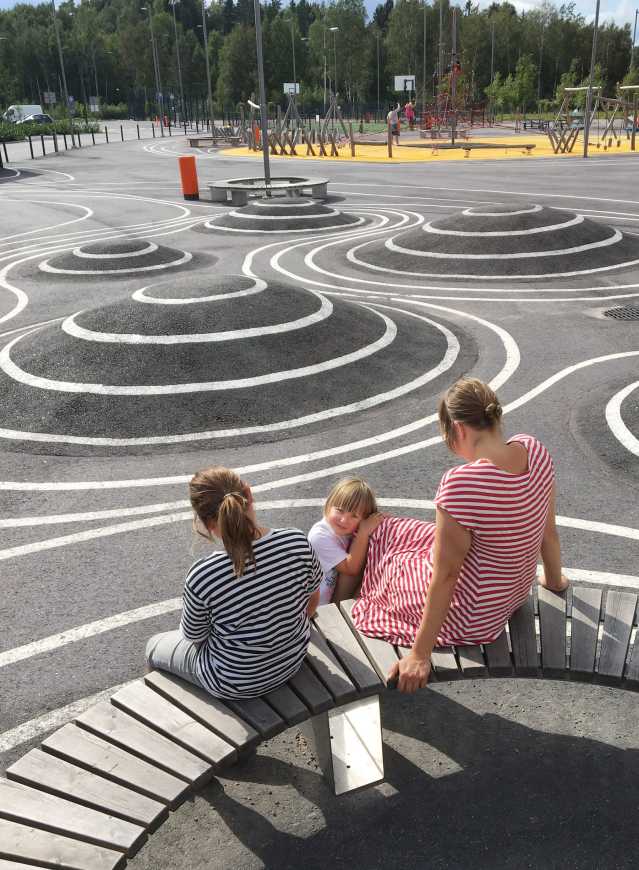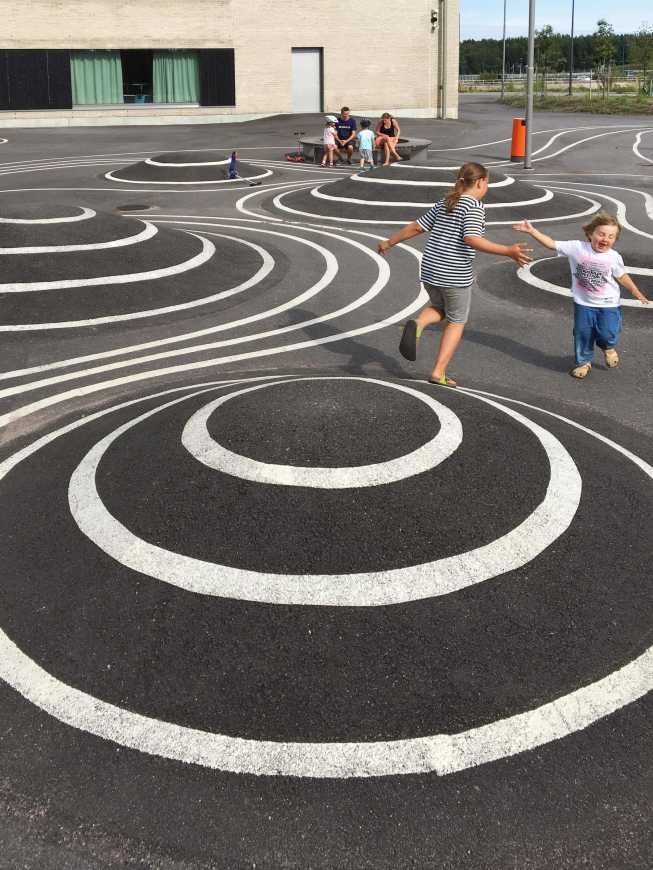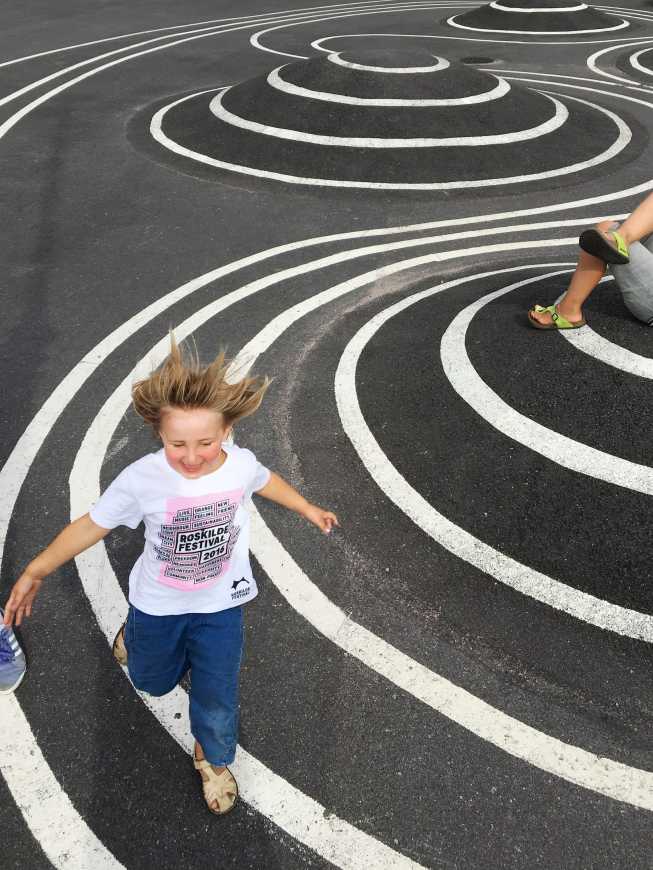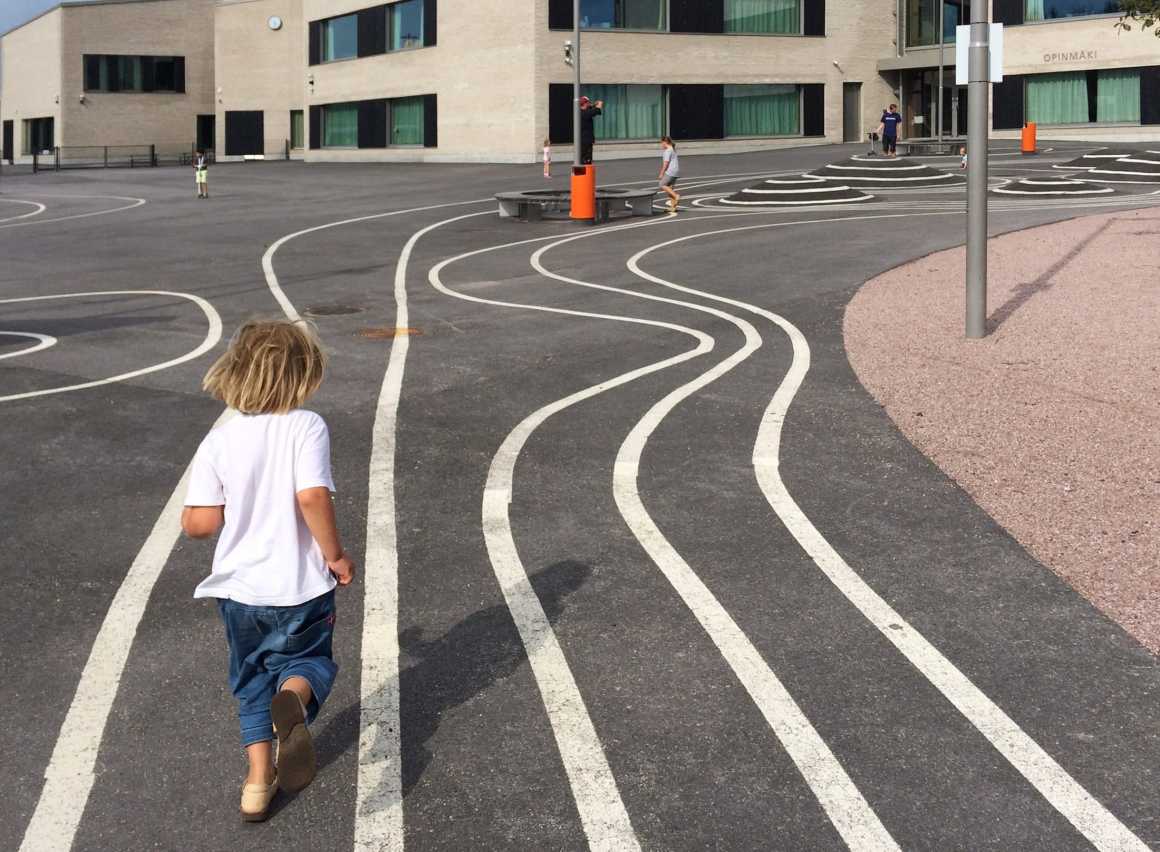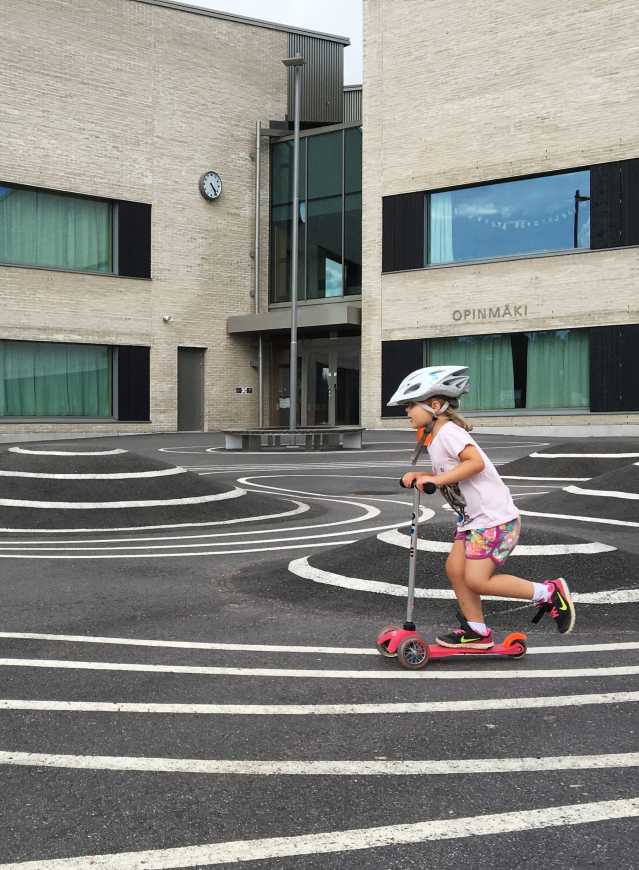 非具象化的元素确保了设计的灵活性和适应性,创造了一个可持续的长久建筑,其彩色小岛可以单独进行更换,以确保整个校园的使用寿命更长。
Non-figurative elements secure versatility and the adaptability of a flexible design creates a sustainable and durable architecture where the oases can be replaced individually, ensuring a longer lifespan for the schoolyard as a whole.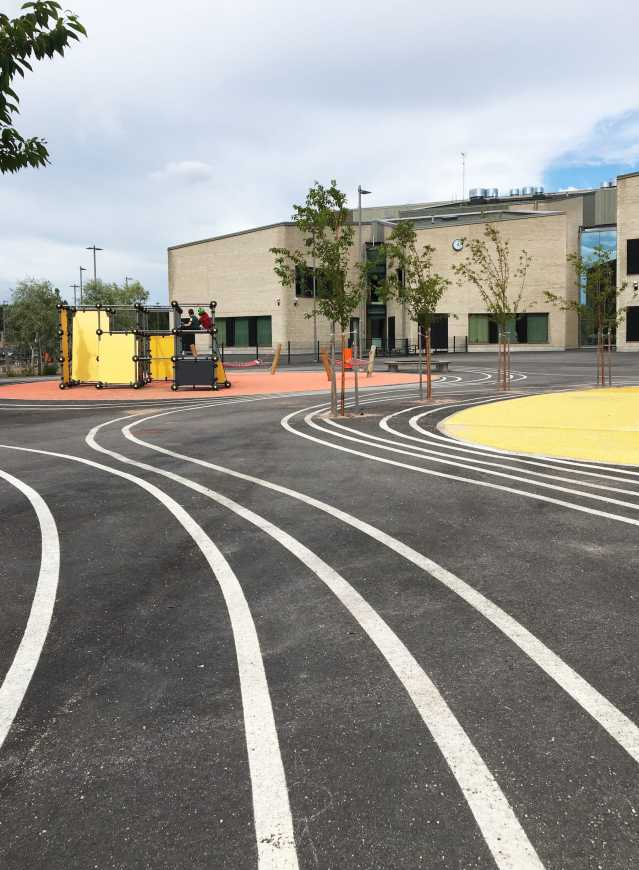 ▼模型图片 Model photo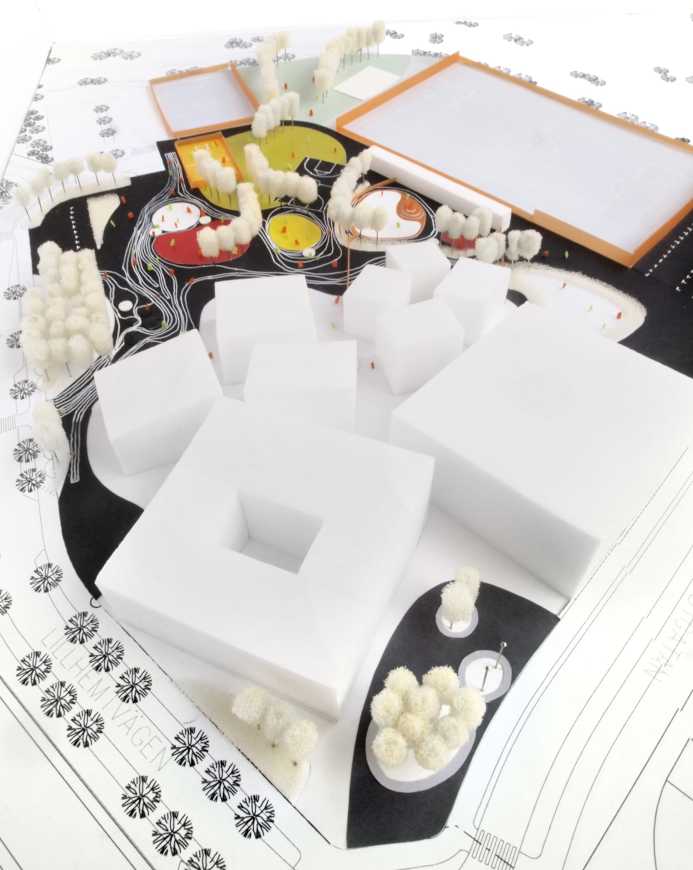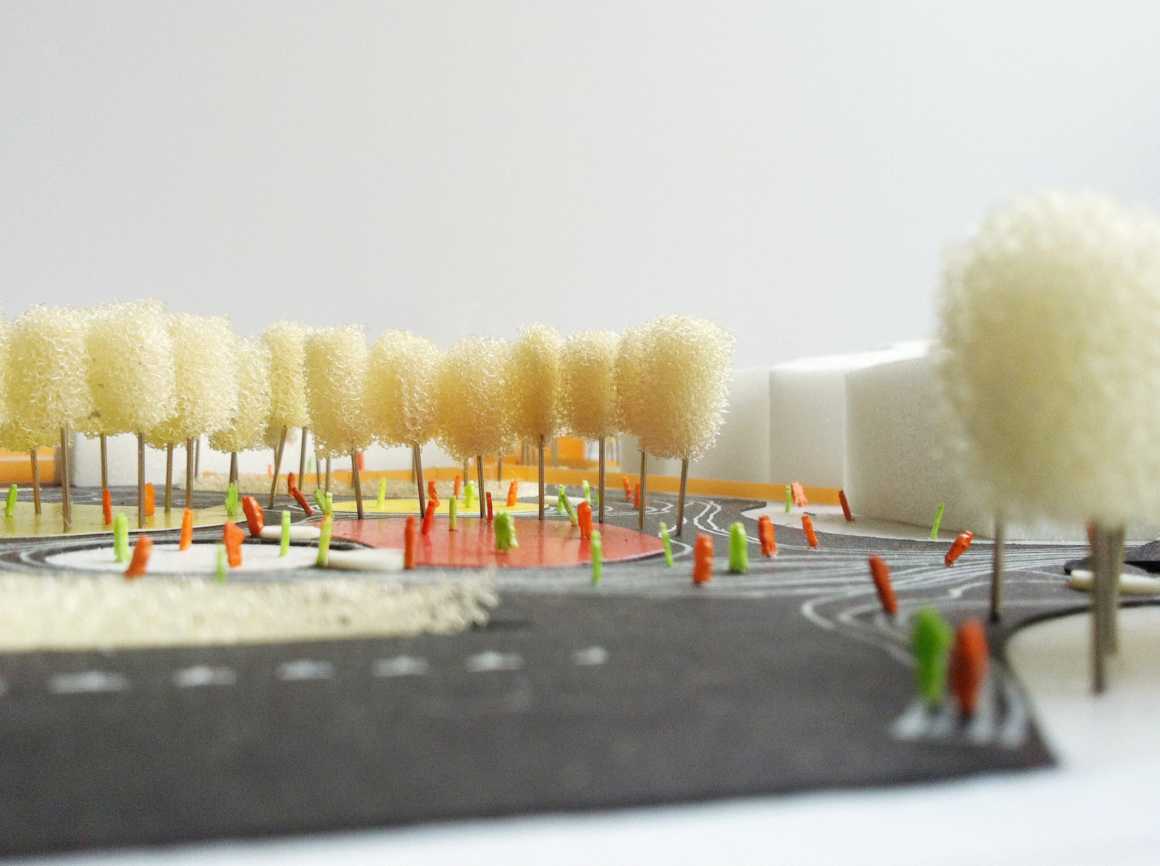 项目名称:Opinmaki Campus
景观设计:MASU Planning
合作:Esa Ruskeepaa Architects Ltd。
地点:芬兰 埃斯波
地址:埃斯波 Lillhemtintie 102250
全球定位系统(GPS): 60.190509, 24.739034
设计年份:2012年
完成年份:2015年
面积:30000平方米(规划面积37000平方米)
预算:1500000欧元
客户:埃斯波市
图片来源:MASU Planning
Project name: Opinmäki Campus
Landscape design: MASU Planning
Team: Esa Ruskeepää Architects Ltd.
Location: Espoo, Finland
Adress: Lillhemtintie 1, 02250 Espoo
GPS: 60.190509, 24.739034
Design year: 2012
Year of construction: 2015
Area: 30,000 m2 (37,000m2 planning area)
Budget: 1,500,000 EUR
Client: City of Espoo
Image credits: MASU Planning
更多 Read more about: MASU Planning