本文由 Arquitectura Orgánica 和 Javier Senosiain 授权mooool发表,欢迎转发,禁止以mooool编辑版本转载。
Thanks Arquitectura Orgánica and Javier Senosiain for authorizing the publication of the project on mooool, Text description provided by Arquitectura Orgánica and Javier Senosiain.
Javier Senosiain:该有机住宅的设计理念是根据场地自然起源和历史背景,创造一个与周边环境相融合、适合人类居住,并能同时满足物理和心理需求的生活空间。
Javier Senosiain:The organic house was born of the idea of creating a space suited to human beings, adapted to their environmental, physical, and psychological needs, which takes into account both their natural origins and their historical background.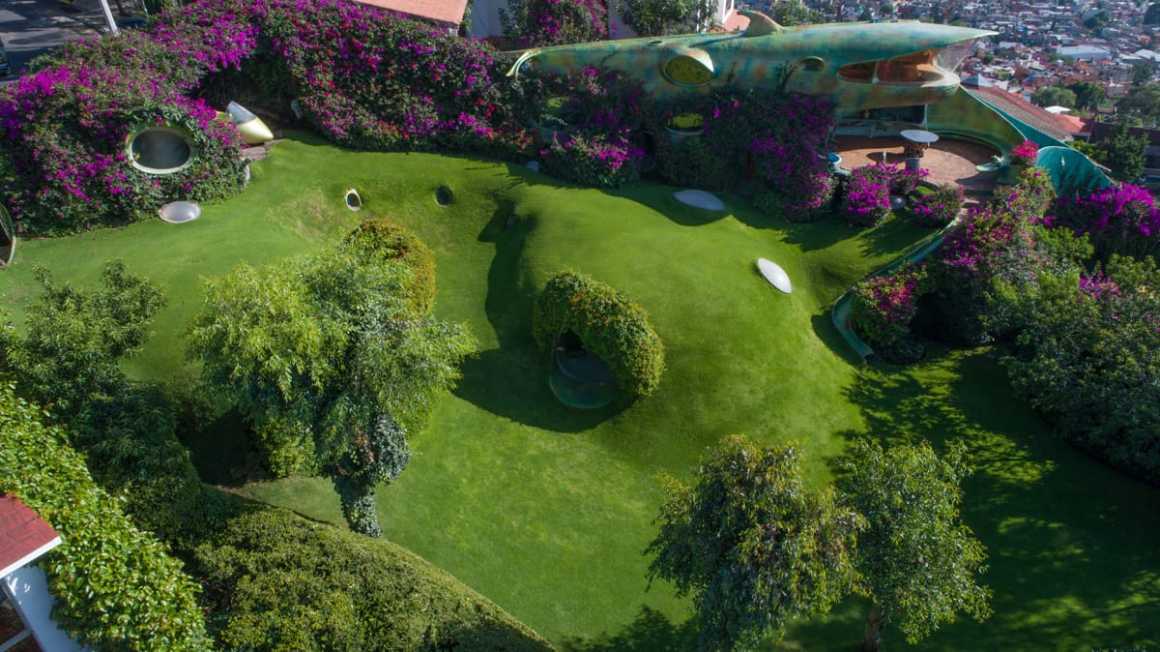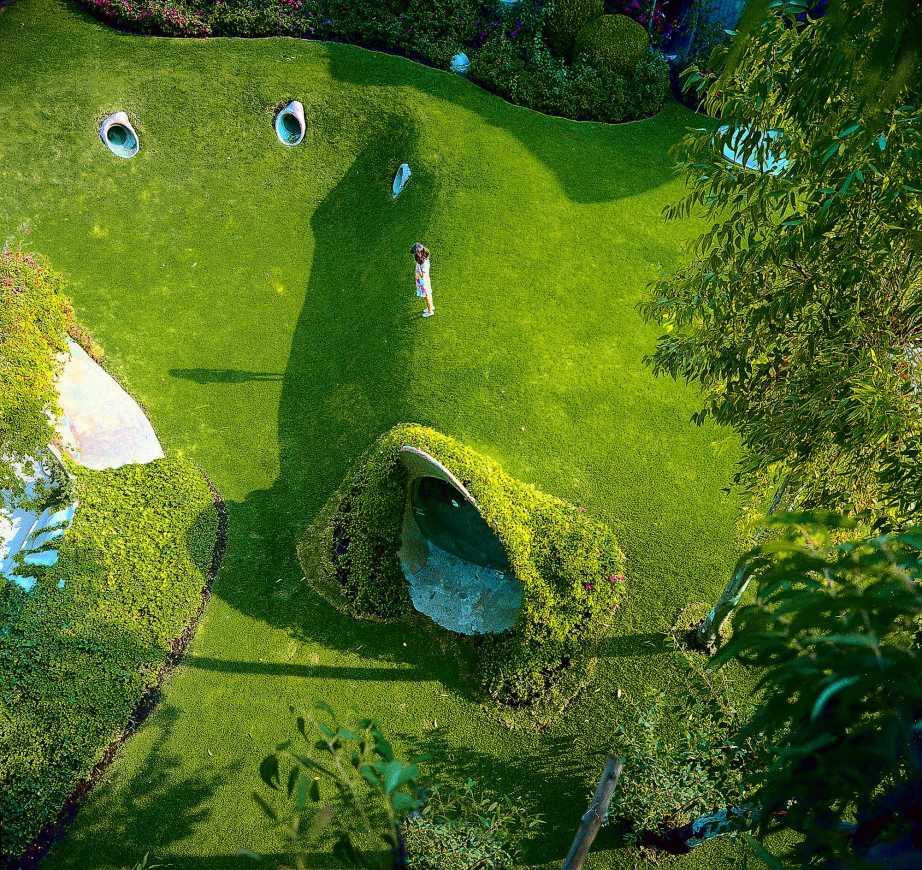 ▼住宅视频 Video © Arquitectura Orgánica
设计旨在创建一个类似于修道院、动物避难所或早期人类那种无需改变自然环境,直接利用洞穴,建造冰屋等类似遮蔽空间:其连续、充足且全面的空间,像怀抱孩子的母亲的手臂一样凹陷。
The aim was to create surroundings similar to the maternal cloister, to the refuges of animals or to those of early humans, who made use of caves without modifying their environment, to igloos and all such sheltering spaces: concave like the arms of a mother cradling her child, continuous, ample, and comprehensive.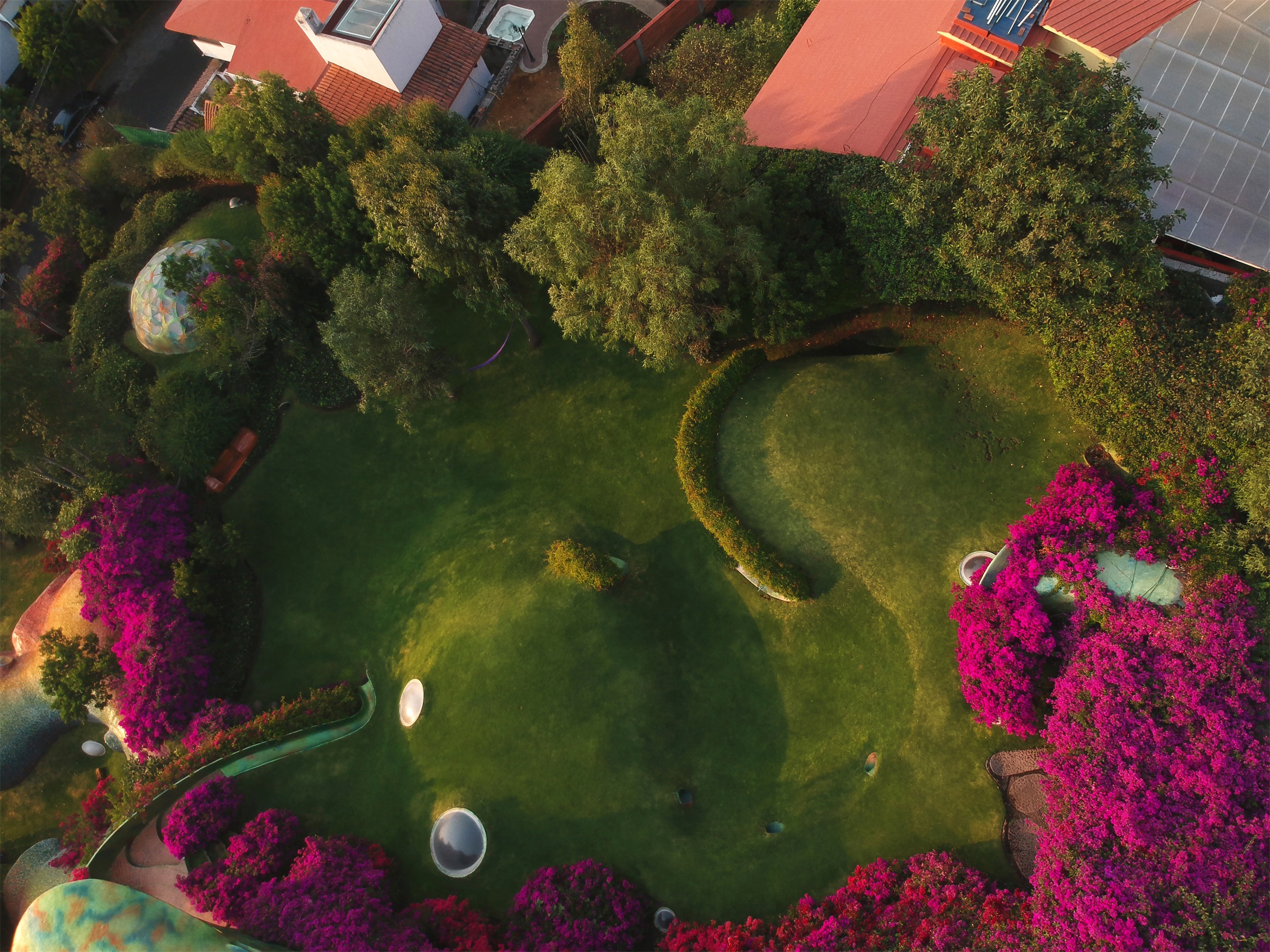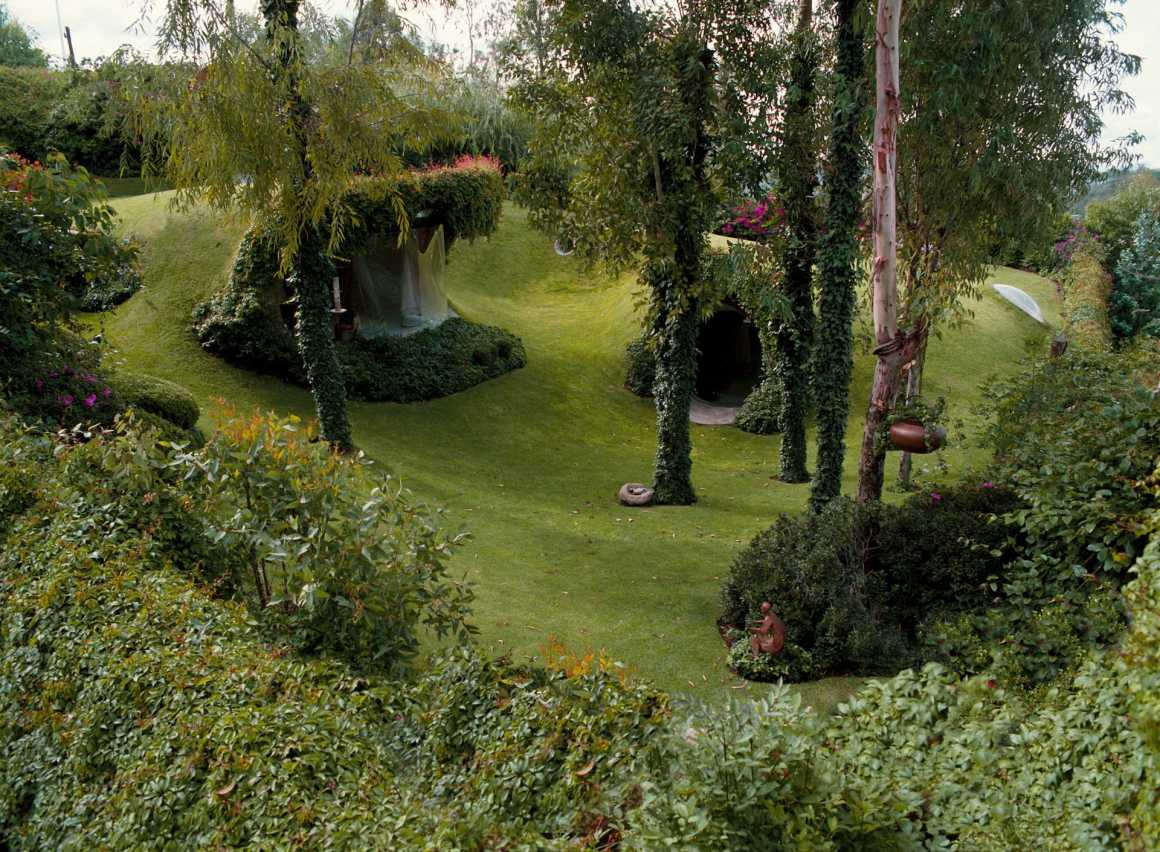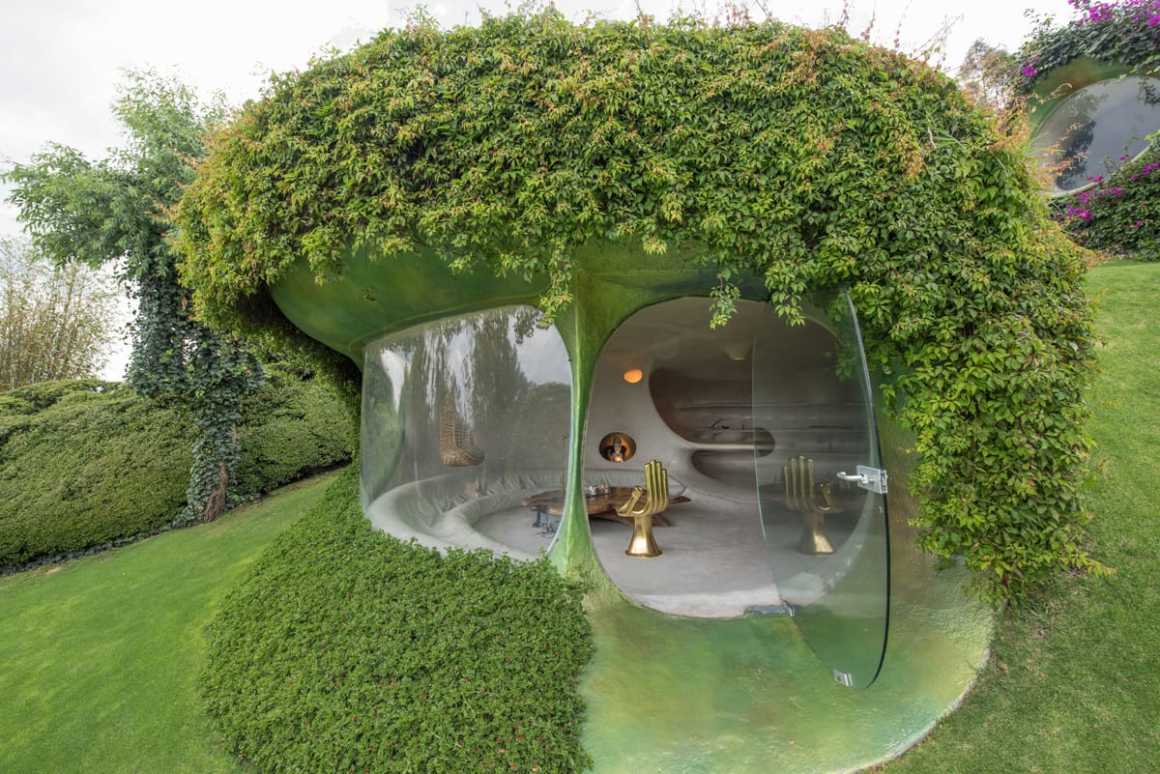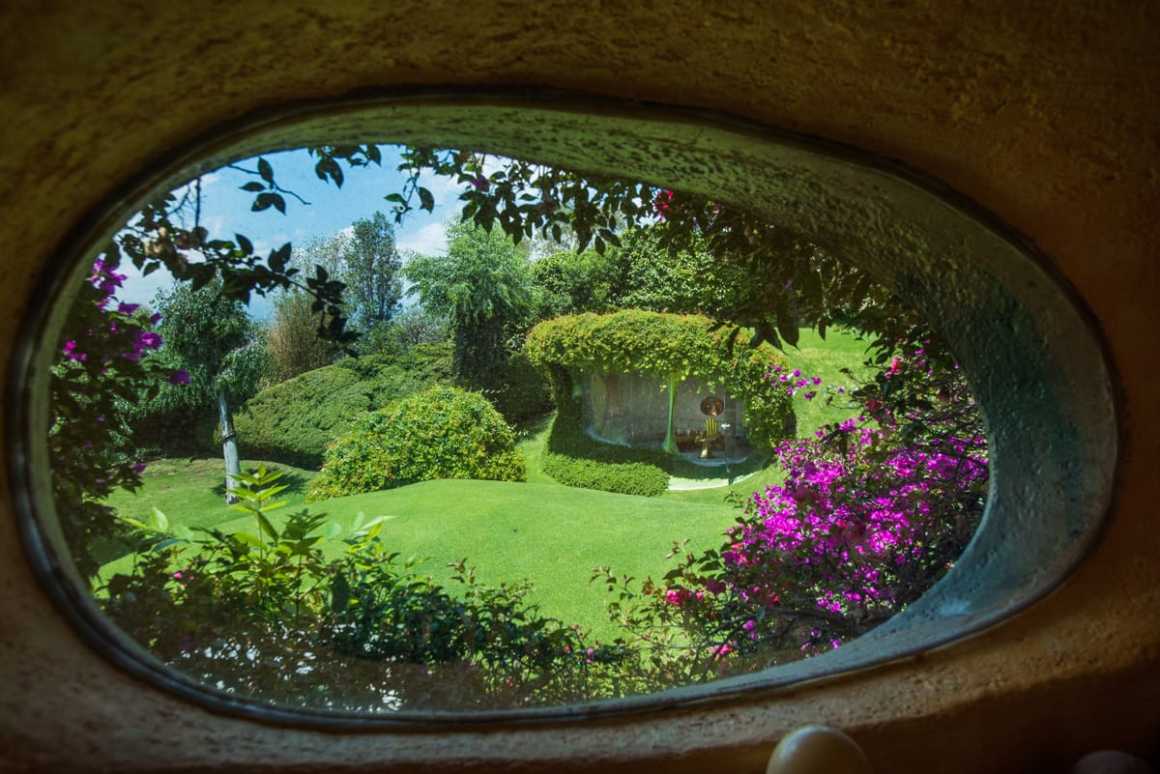 这些空间中不断变化的灯光和形式与居住者的自然节奏相呼应,与周围环境相融合的室内家具陈设便于移动,最大限度地利用了空间。
They are spaces whose changing lights and forms are adapted to the natural rhythms of the people who live in them, where the furnishings are integrated with the surroundings, facilitating circulation and making the most of the area available.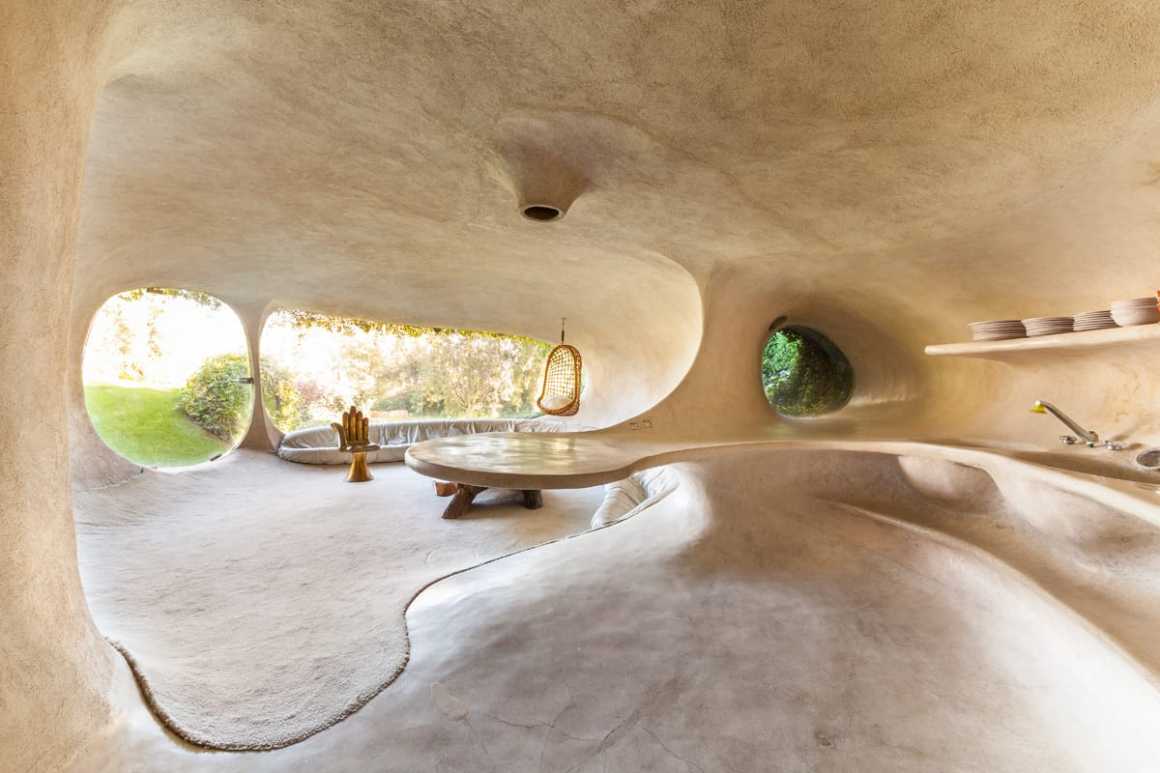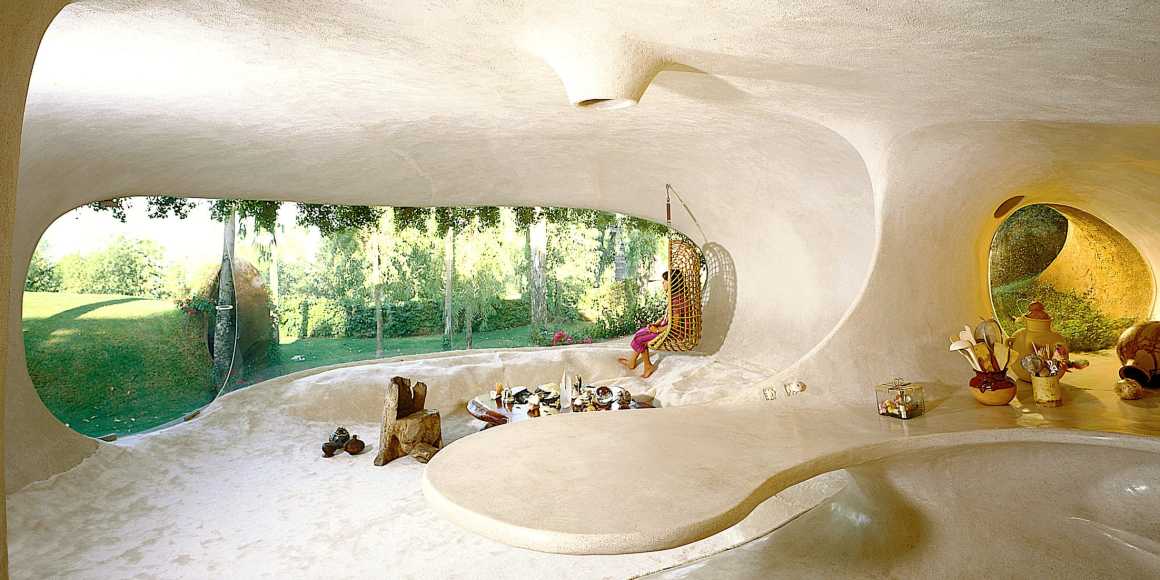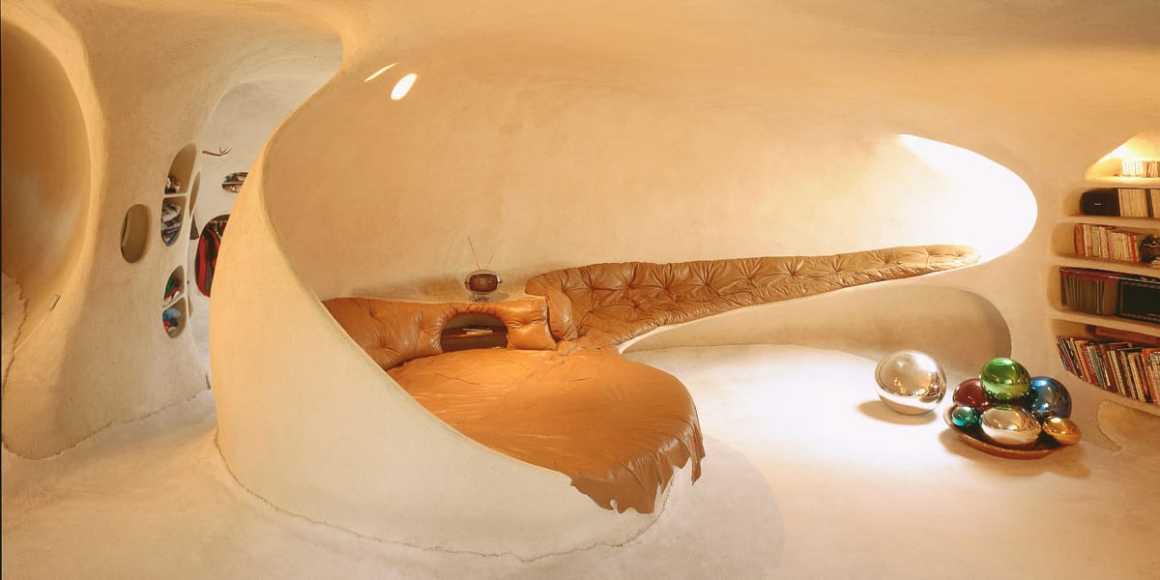 有机住宅曾设计为一间单人卧室,然而随着家庭规模的扩大,有必要对其进行一定的扩建。新的区域与原有通道的中部相连,在新区域的建设过程中,建筑师Senosiain决定为其加上一个翅片,基于建筑自身的形状,工人们都称之为"鲨鱼"。
La Casa Orgánica was designed with a single bedroom, however, as the family grew it was necessary to expand it, this new areas are connected to the middle part of the original tunnel. During the construction of this new area the workers began to call it "the shark" due to the shape the building has, after the Architect Senosiain decided to put a fin on it.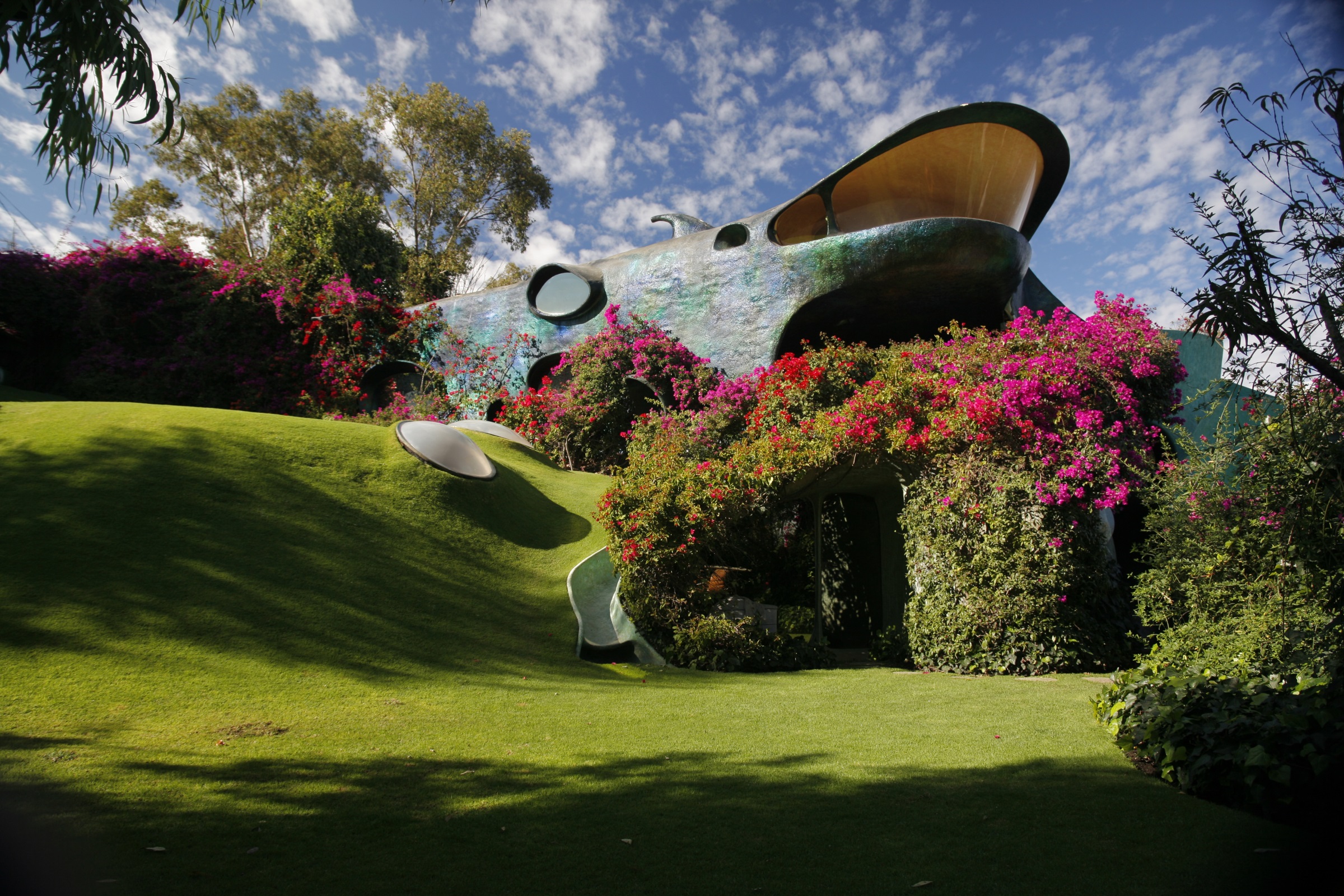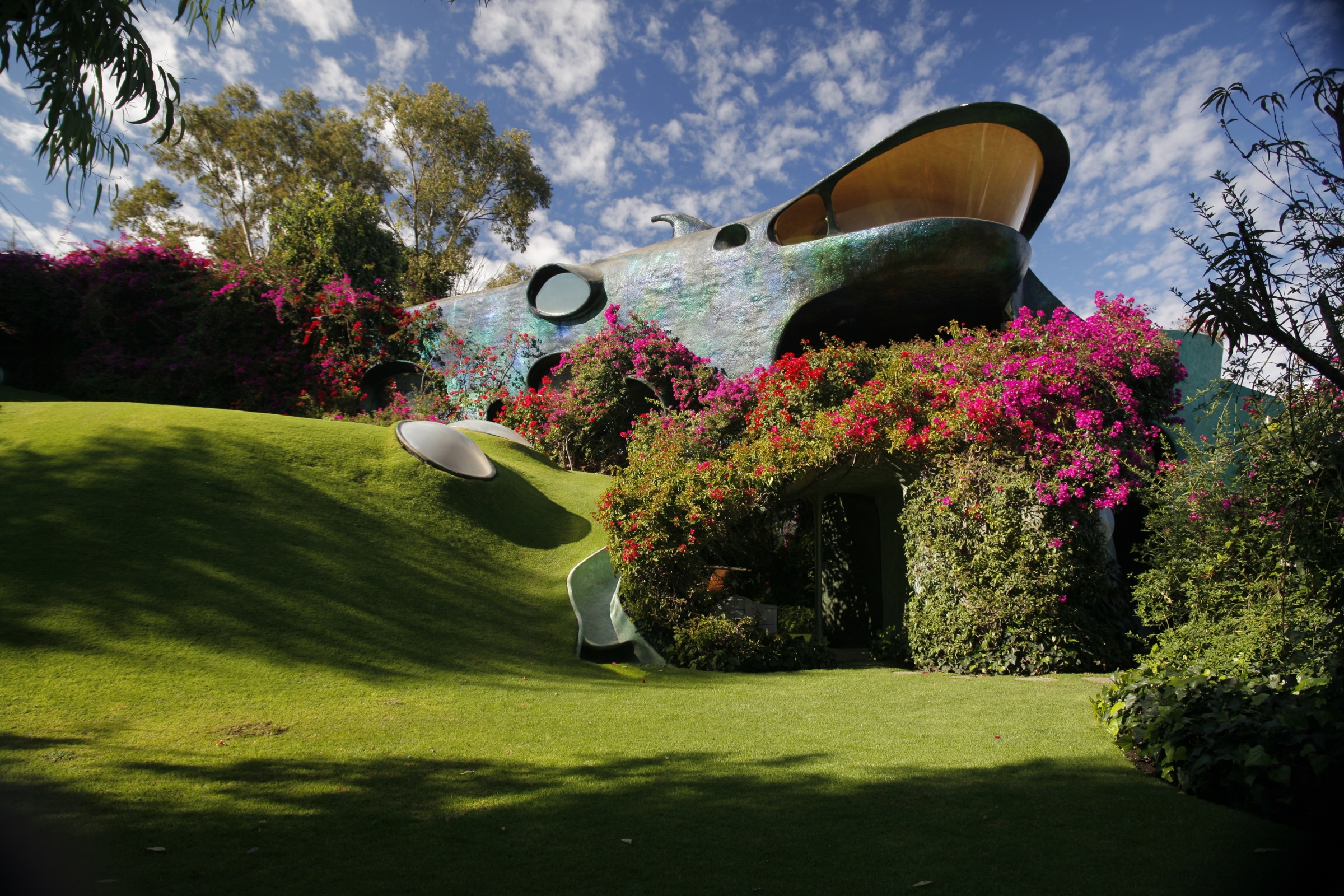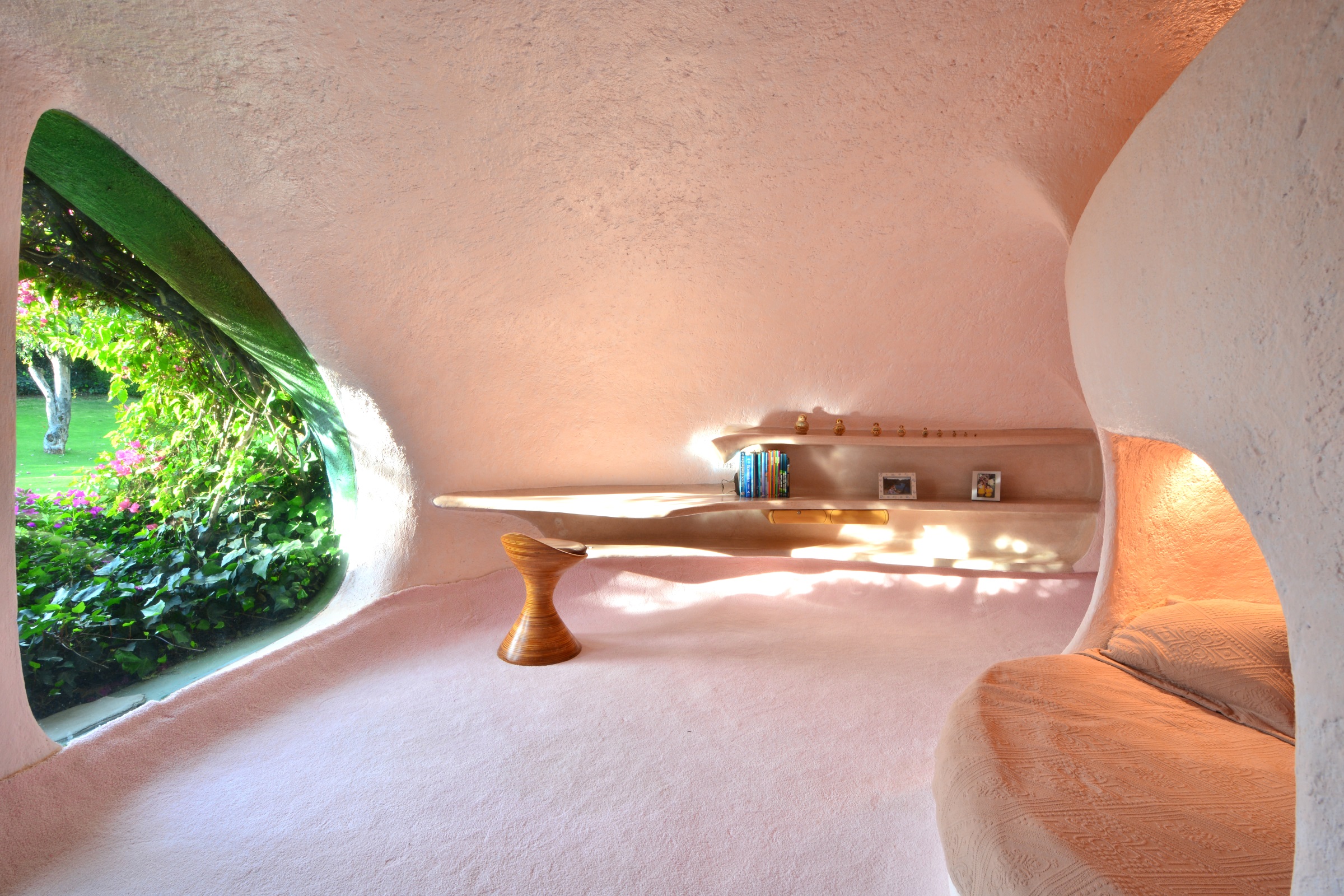 行走在花园里也等于行走在屋顶上,从外面我们只能看到草、灌木、树木和花,这些植物通过蒸腾作用产生氧气,控制污染,过滤灰尘和二氧化碳,形成良好的小气候。室内的全年温度在18至22摄氏度之间,湿度保持在40至60%之间,所以这里冬暖夏凉,宜人宜居。
Walking on the garden is to walk on the roof of the house without realizing it. From the outside we only see grass, shrubs, trees and flowers, which, by evopotranspiration, produce oxygen, reject pollution and filter dust and carbon dioxide creating a microclimate. Inside the house there is a temperature of 18 to 22 centigrade and a humidity of 40 to 60% throughout the year, therefore, it is hot in winter and cool in summer.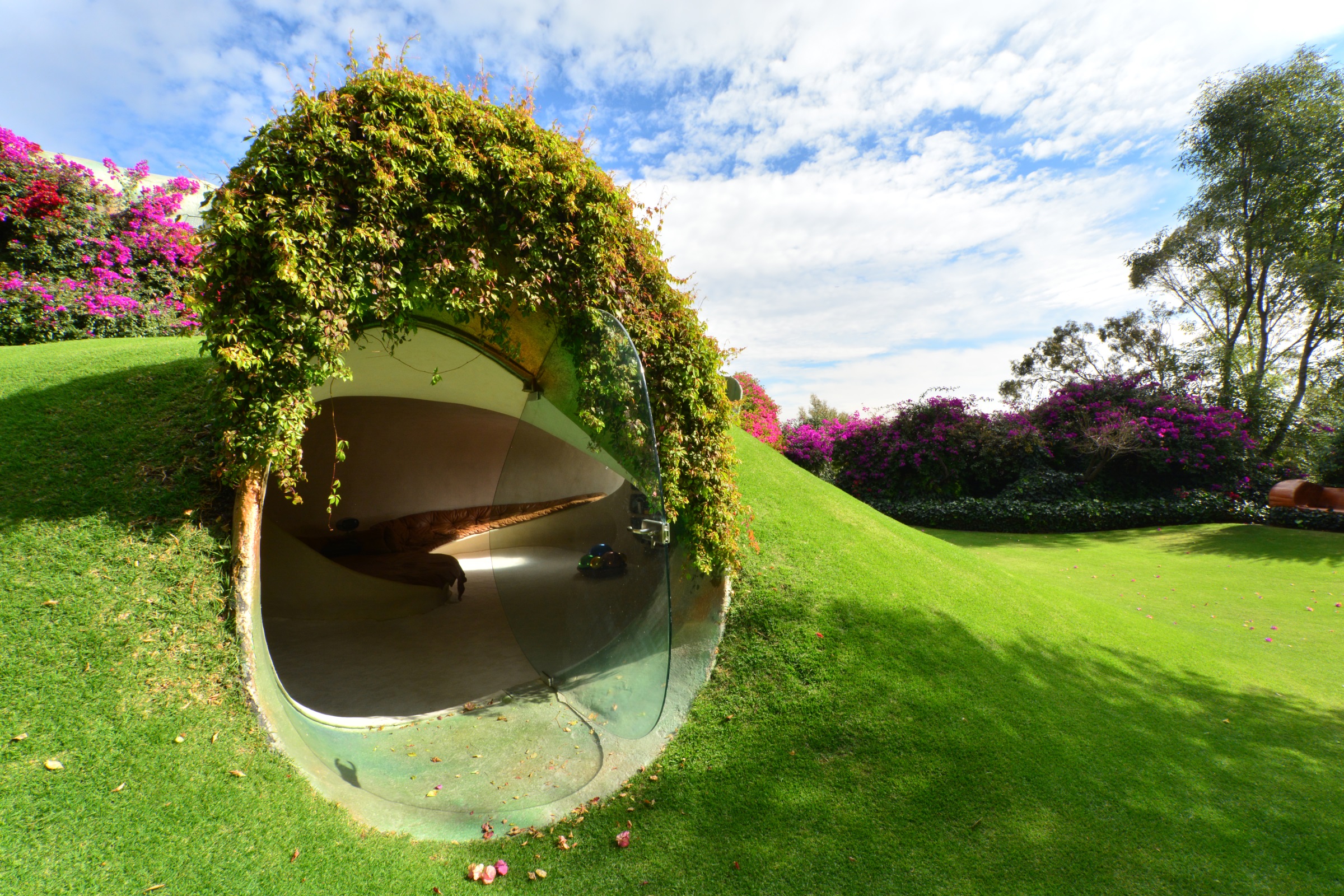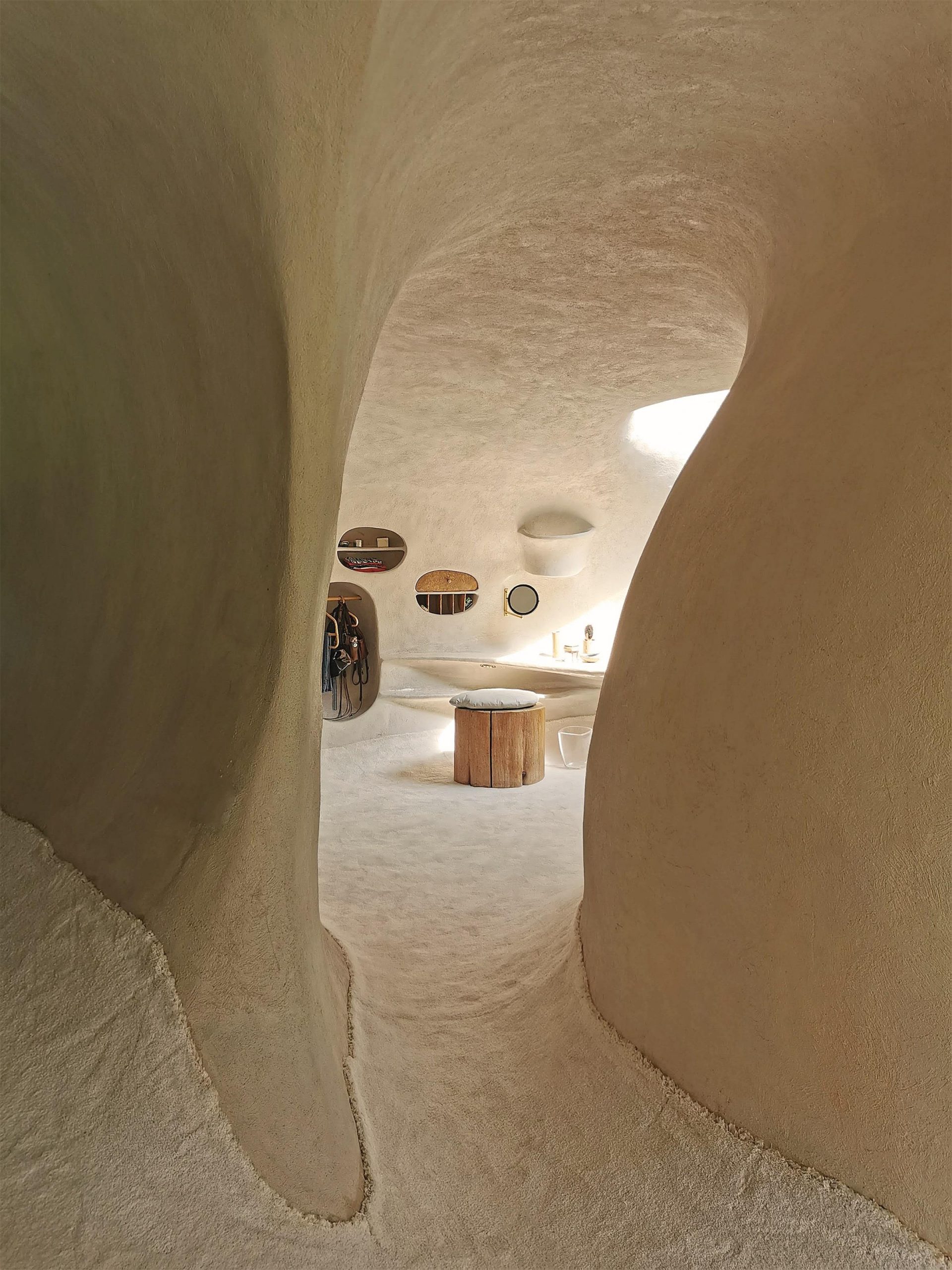 地表与太阳的共同作用保持室内温度平衡,在阳光带来温暖的同时,起伏的地表为室内带来遮蔽,这有助于预防呼吸道疾病和过敏的发生。窗户朝南是最佳视野,因此冬天屋内阳光充足。由于房屋的形式较为自由,而且是被"掩埋"的,所以风的阻力很小,使其成为了地震时的避难所。
The earth and the sun work together to maintain a stable temperature inside the house, where the earth shelters while the sun shines and warms, this effect helps in the prevention of respiratory diseases and allergies. The windows were oriented towards the best views, facing to the South so there is no lack of sun in winter. As the house has free forms and it is "buried", it offers little resistance to the wind; making it a seismic shelter.
▼花园 Garden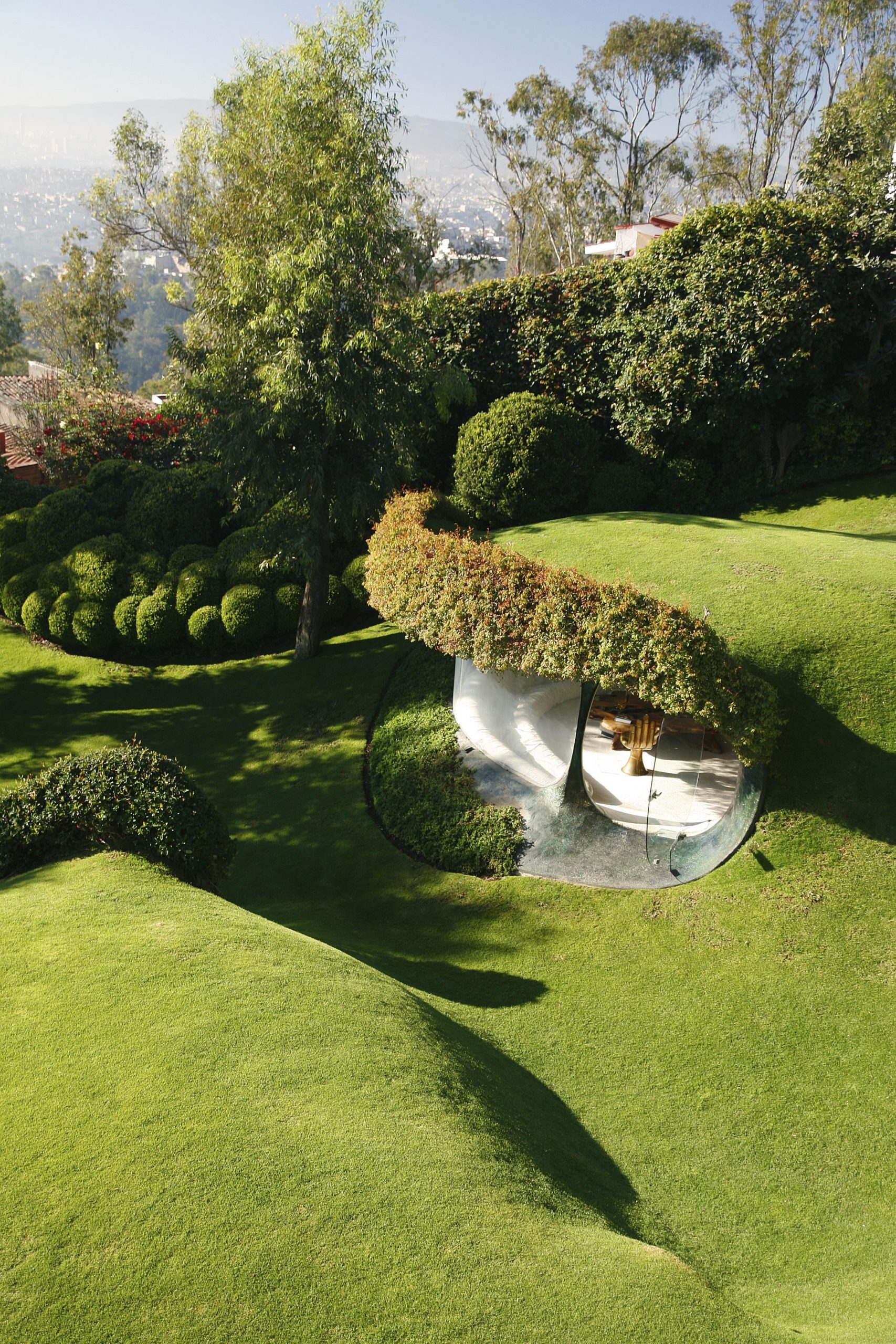 这座有机住宅在建筑师及其家人居住了25年之后,仍然向亲属、学生和建筑师开放参观。
After the Organic House was inhabited by the architect and his family for 25 years, it remained open for visits from relatives, students, and architects.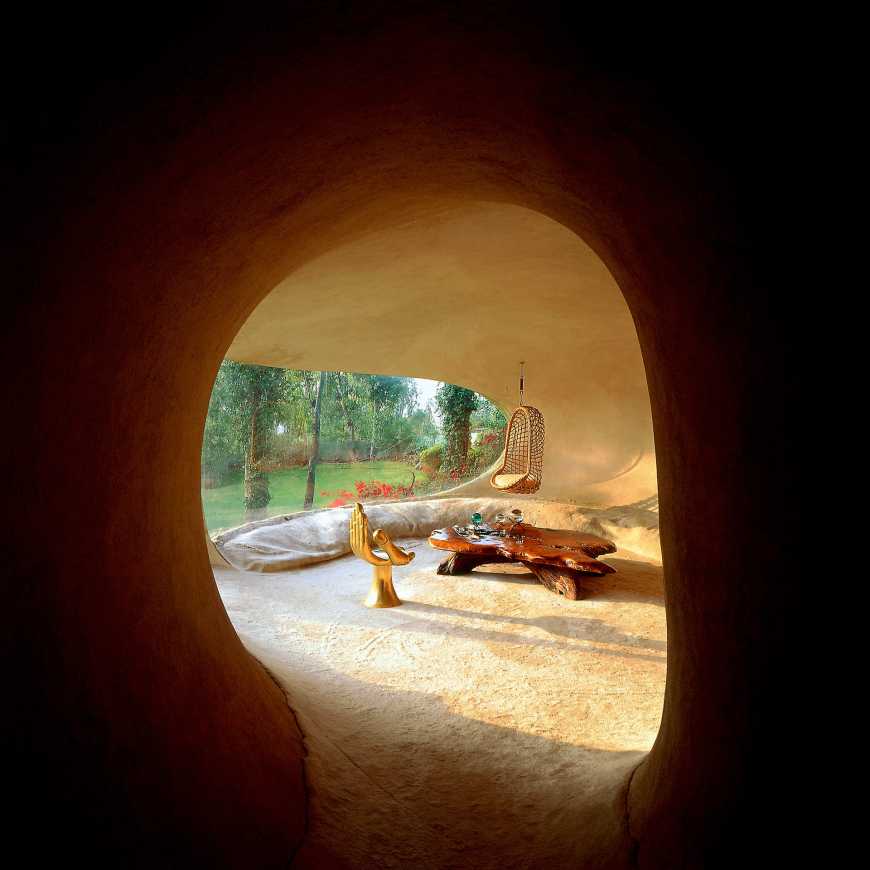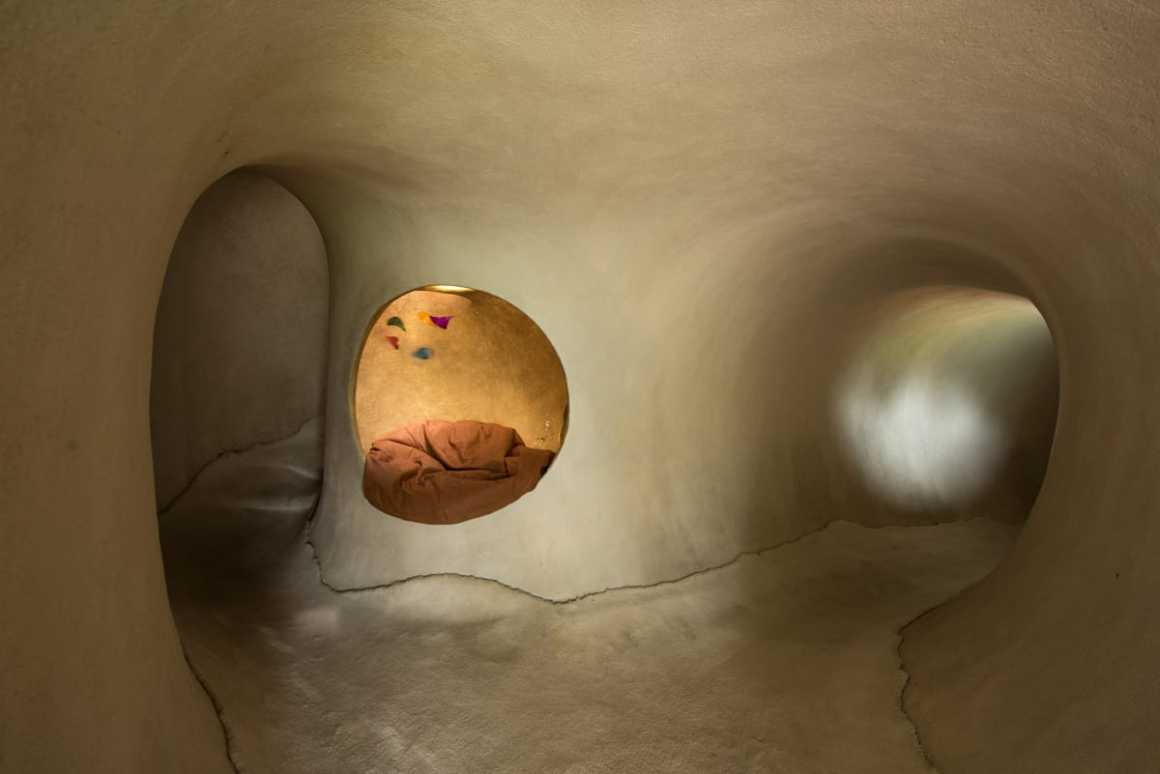 ▼衣柜 MainCloset
▼餐具室 Pantry
▼住宅设计手稿 Design Manuscript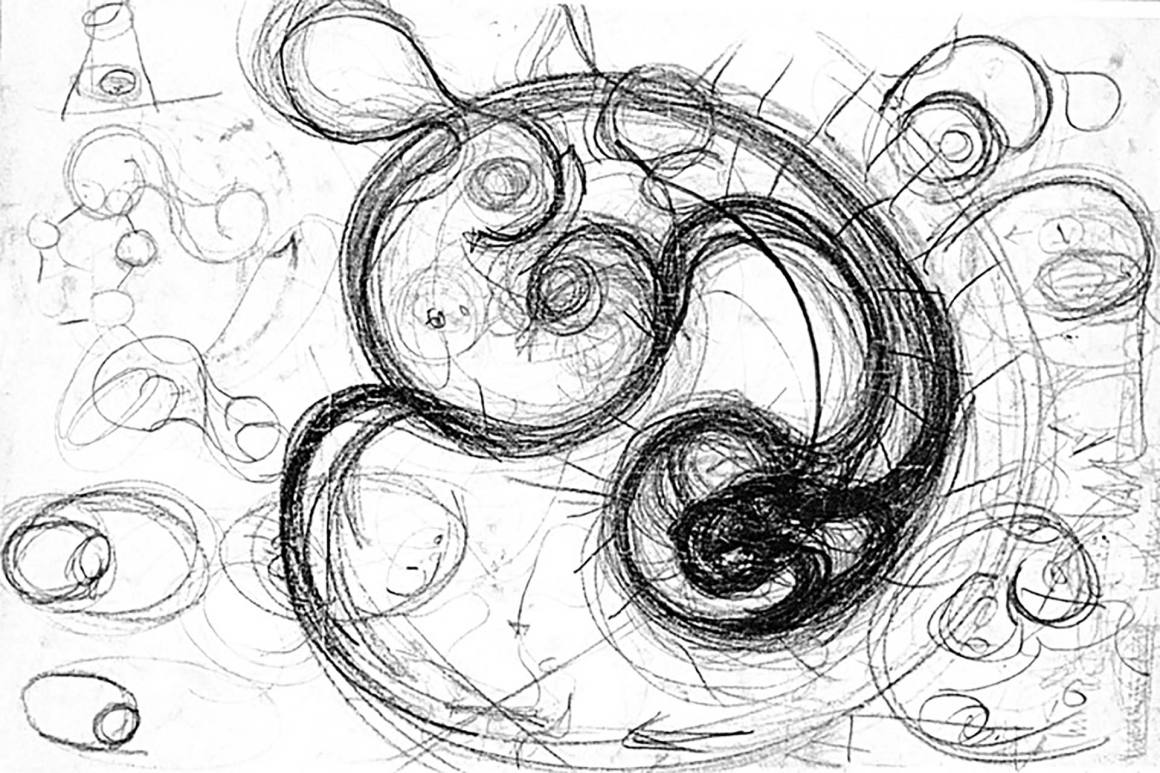 ▼住宅地面层平面 Ground Plan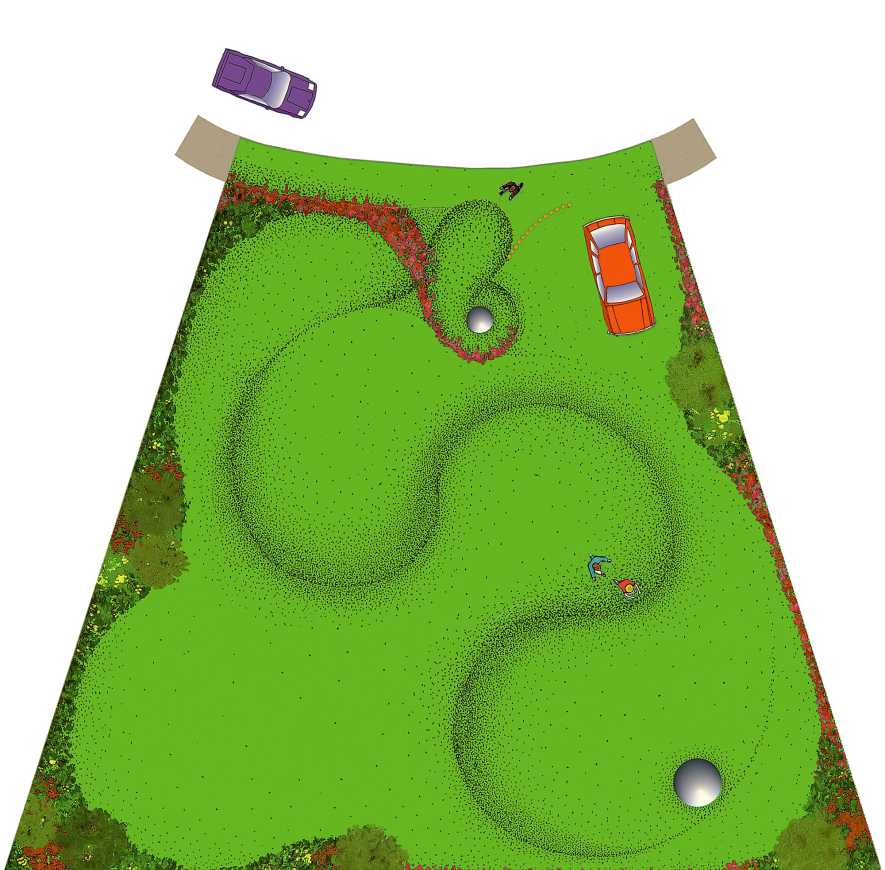 ▼住宅平面 Plan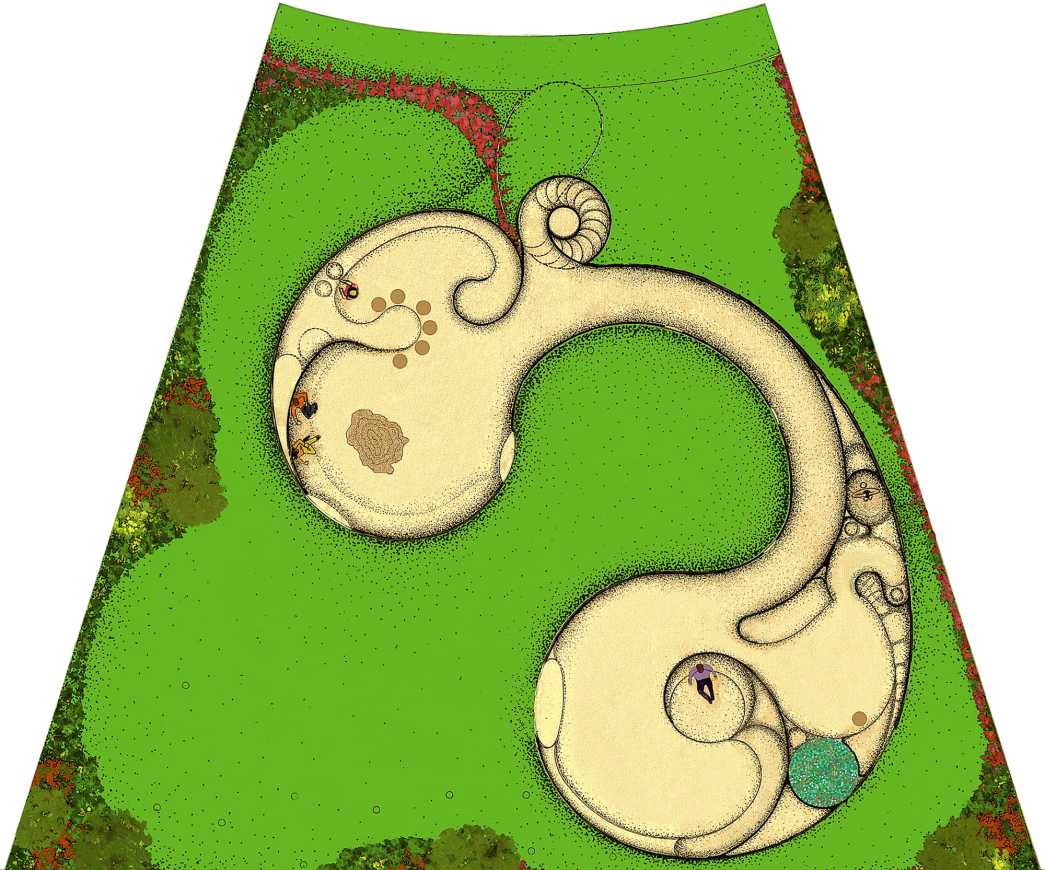 ▼住宅剖面 Sections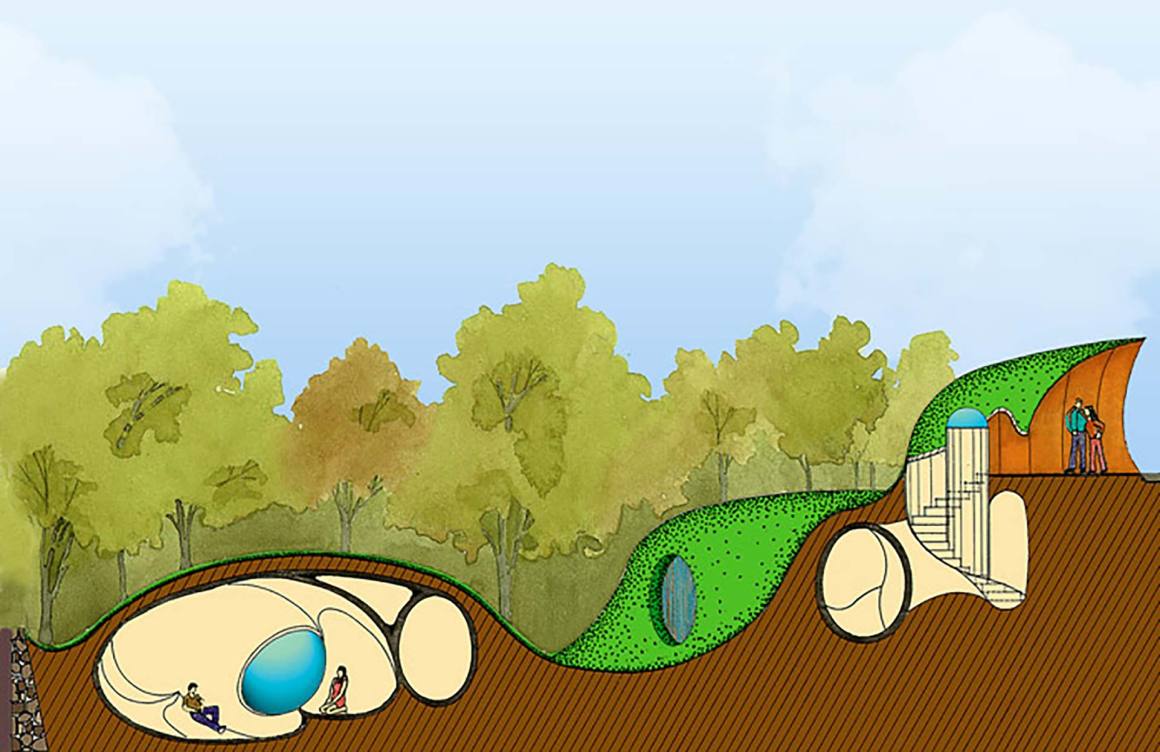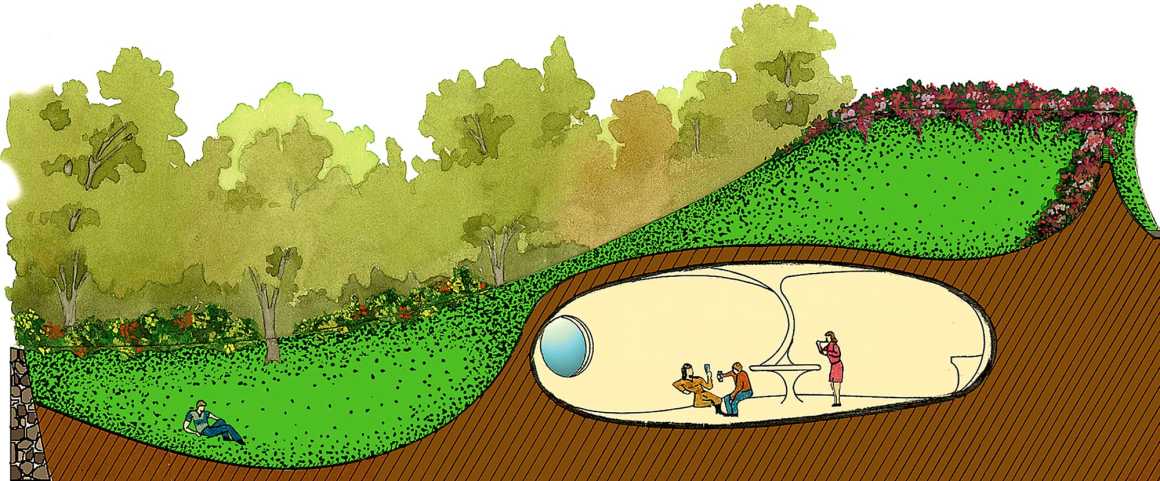 ▼剖面 Section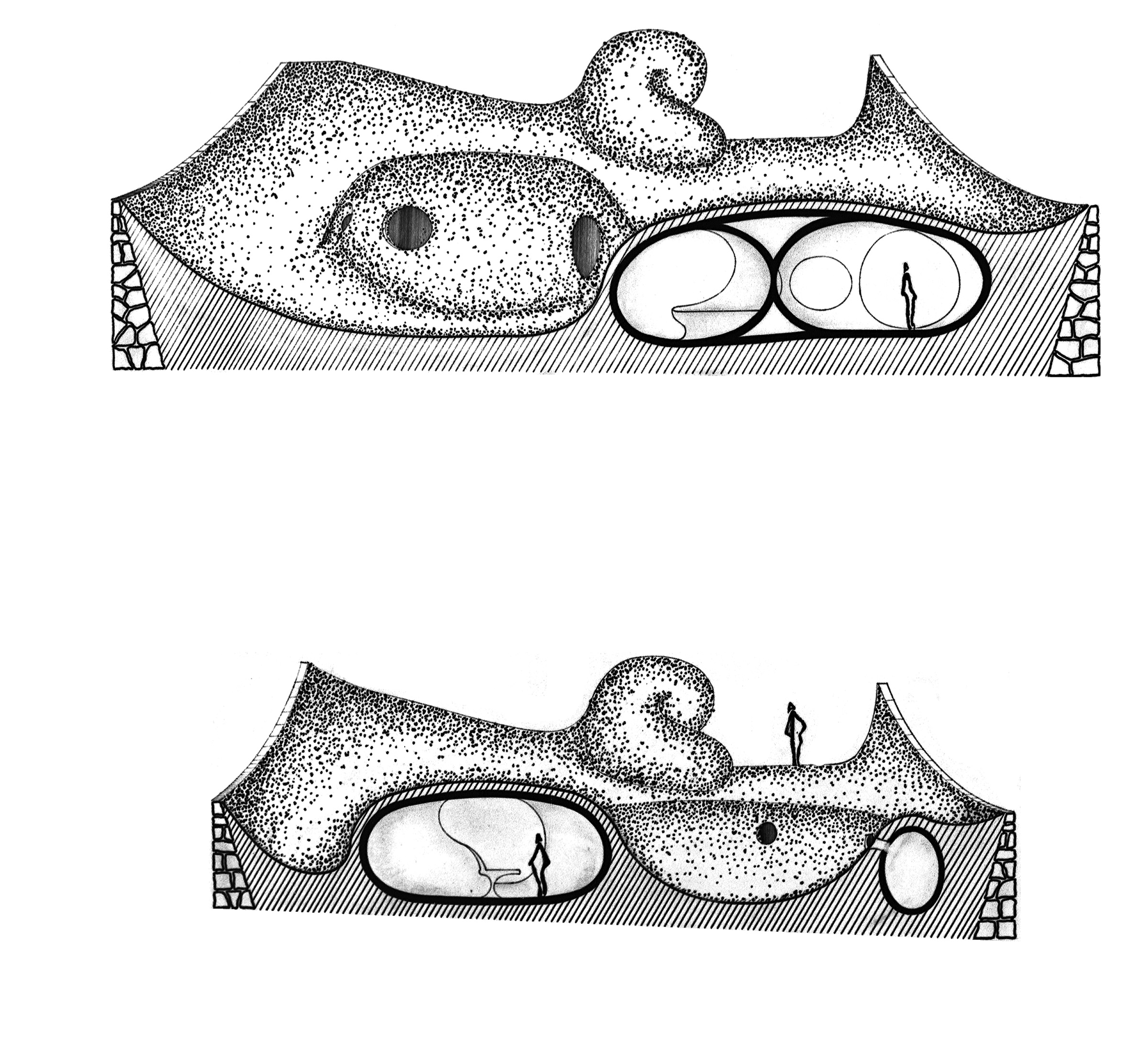 ▼模型  Model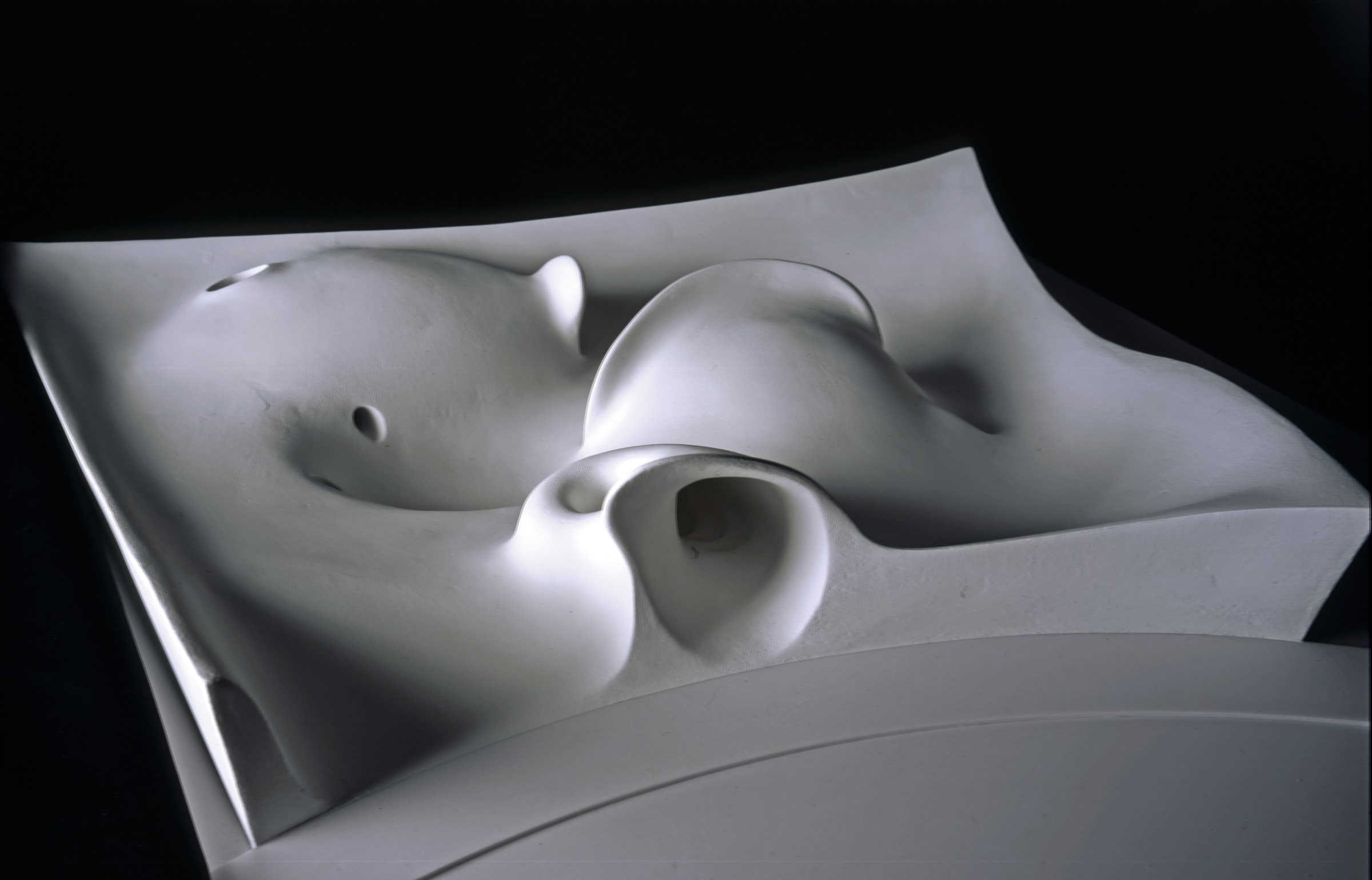 ▼施工过程视频  Construction Process Video © Arquitectura Orgánica
▼施工过程 Construction Process
项目名称:有机住宅
完成年份:1984
面积:地块面积:620 ㎡ – 建筑面积:333 ㎡
项目地点:墨西哥
景观/建筑公司:Arquitectura Orgánica
网站:www.arquitecturaorganica.com
联系邮箱:caracol1@prodigy.net.mx
主创建筑师:Javier Senosiain Aguilar, Daniel Arredondo Bayardí
合作方:Juan Sánchez Torres
照片来源:Casa Orgánica
Project name: Casa Orgánica
Completion Year: 1984
Size: Size of plot: 620 ㎡ – Construction: 333 ㎡
Project location: Naucalpan, Edomex. Mexico
Landscape/Architecture Firm: Arquitectura Orgánica
Website: www.arquitecturaorganica.com
Contact e-mail: caracol1@prodigy.net.mx
Lead Architects: Javier Senosiain Aguilar, Daniel Arredondo Bayardí
Collaborators: Juan Sánchez Torres
Photo credits: Casa Orgánica
更多 Read more about:  Javier Senosiain ,  Arquitectura Orgánica