本文由Rainer Schmidt Landscape Architects+ Urban Planners授权mooool发表,欢迎转发,禁止以mooool编辑版本转载。
Thank Rainer Schmidt Landscape Architects+ Urban Planners for authorizing the publication of the project on mooool, Text description provided by Rainer Schmidt Landscape Architects+ Urban Planners.
RSLA:该住宅庭院的开放空间包括南北侧的游戏庭院和东西侧的私密花园,其中心区域是一个设有沙地、游戏设施和坐凳的巨大草地空间,被两排浓密的椴树分割成了几个规整的方格空间。
RSLA:The open spaces of the housing yard provide a playing yard in the middle from South to North and private gardens east and west of the middle. This central area is, with offers of sand, playing and sitting, made as one large grass field, shadowed by a dense roof of leaves, cut geometrically like a box, of a two-row planting of linden.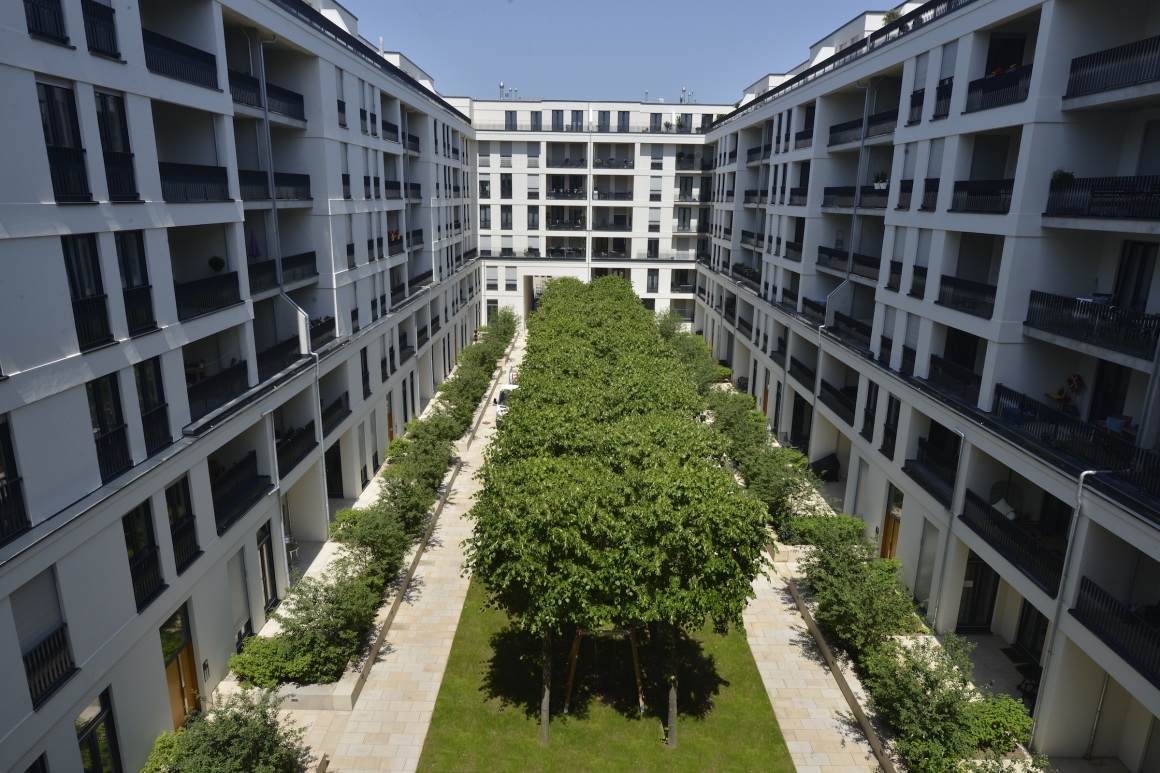 这些"椴树方格"由一棵棵独立的大树组成,每棵树冠超4米,间隔约35-40厘米。其南北两侧,各有8厘米深的深水池,可在必要时满足消防通车需求。
These "box-linden" are solitary big trees with a crown of more than 4 metres and a tribal extensive of min 35-40 cm. North and south of the central area, there are 8cm deep water basins with water-play, to be over-drivable by the fire brigade.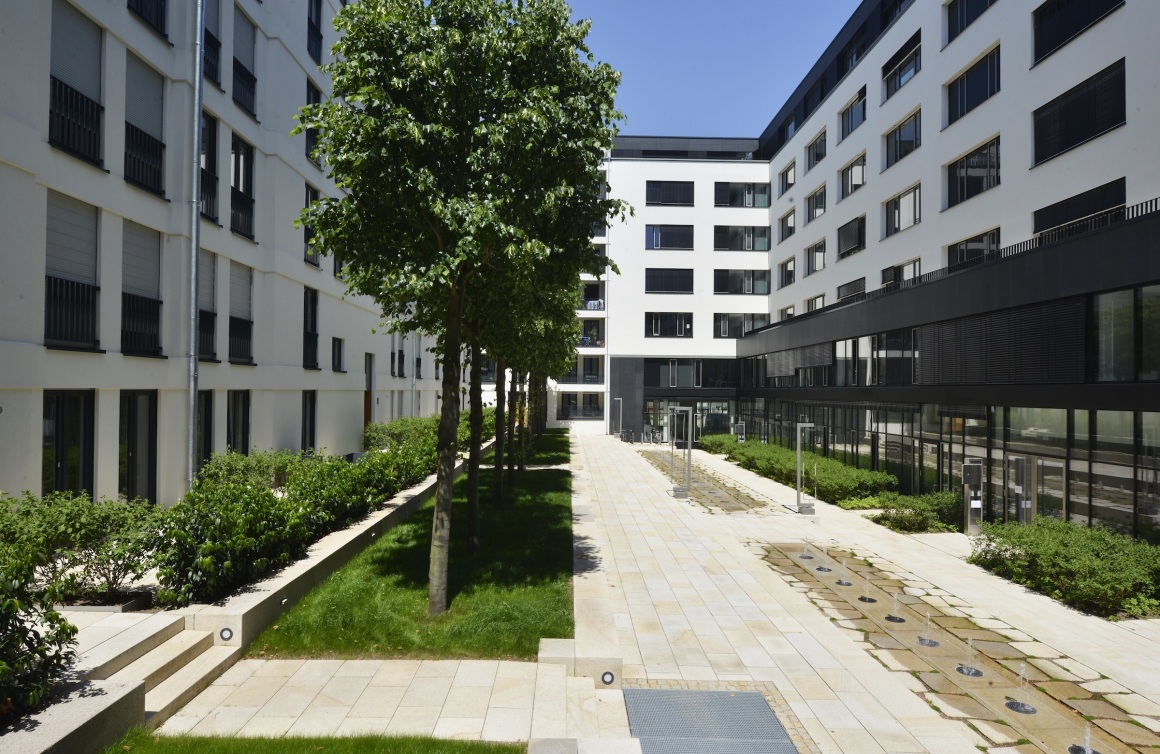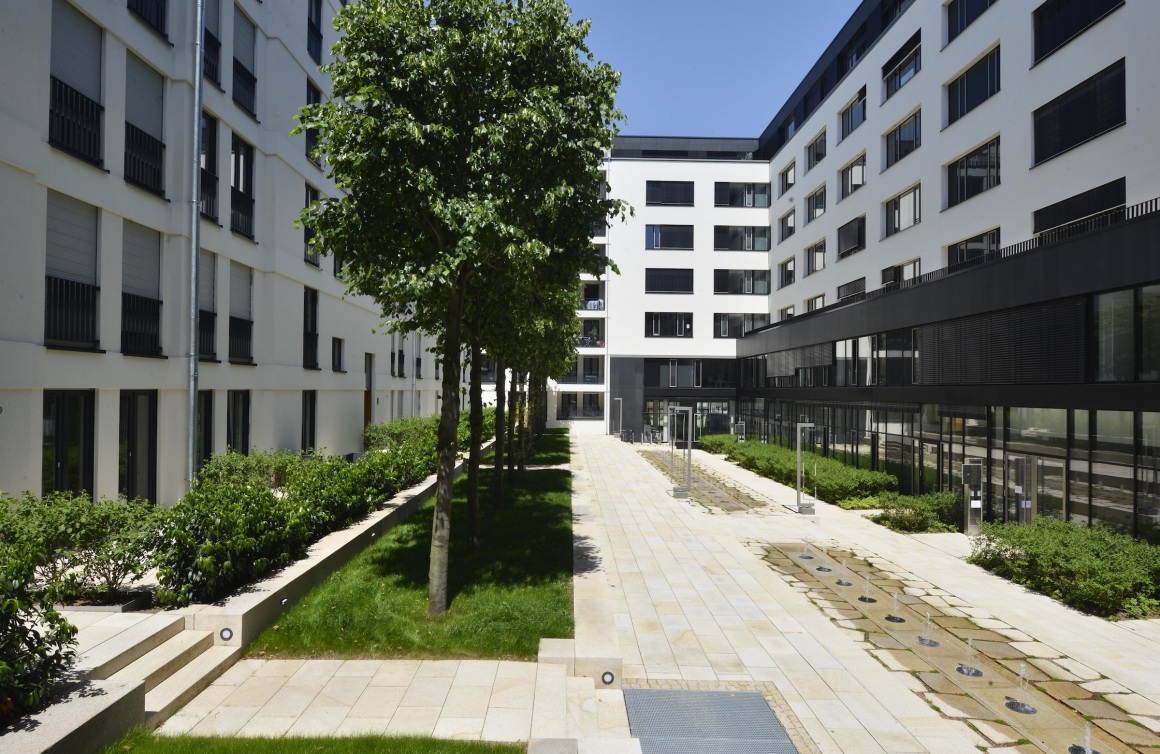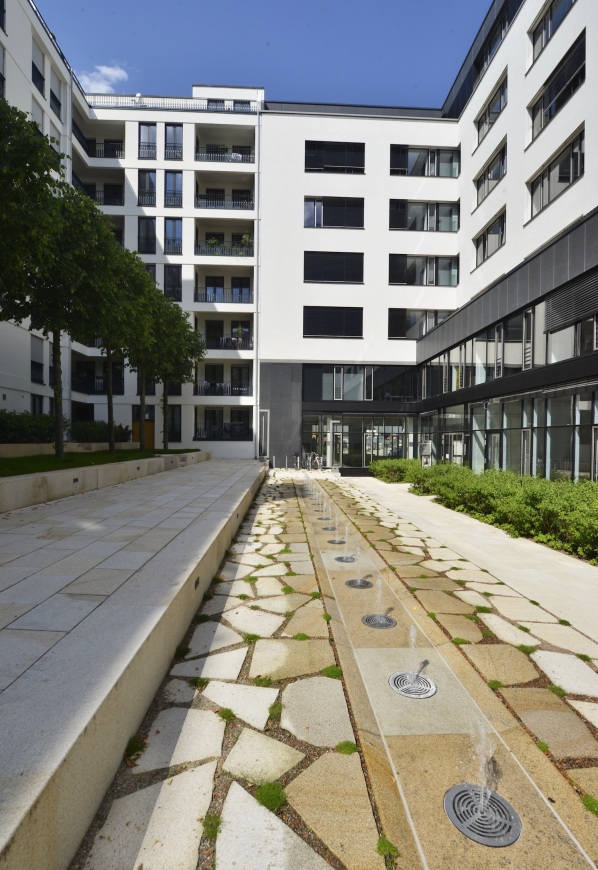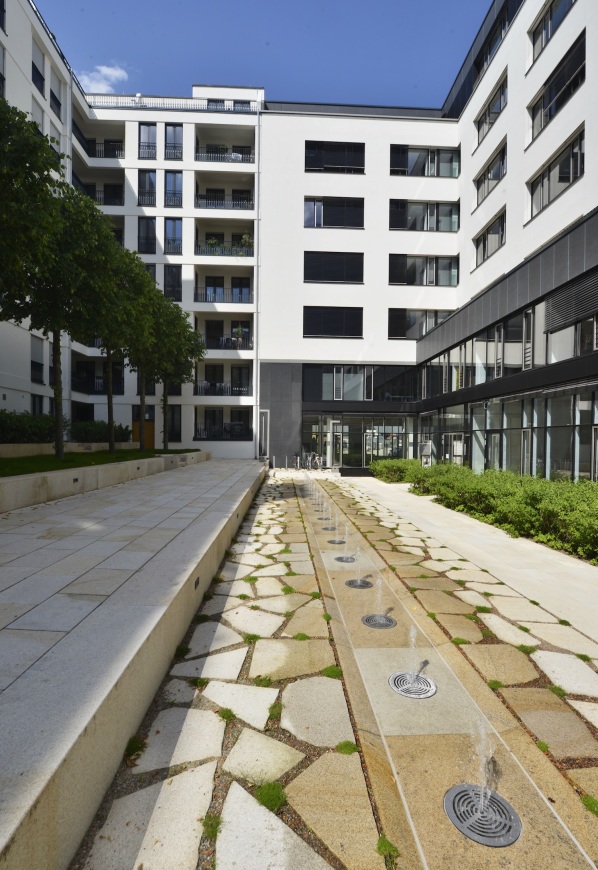 私密花园比游戏庭院和建筑入口高50厘米,朝向及高度与相邻住宅的底层一致。花园由座位墙和1米高的角梁树篱围合而成,在私密和半私密空间之间创造了一段过渡。其边缘种植的一排铜石梨勾勒出明显的边界,正好与建筑边缘平行。带有封闭露台的私人花园和邻近的草地由灌木玫瑰植物分隔。
The private gardens are 50 cm higher located than the playing yard and the entrances to the buildings and find orientation on the height of the ground-floor of the adjacent residences. They are framed by seating walls and by 1m high horn beam-hedges, creating a distance between the private and the semi-private spaces. This edge is highlighted by a one row planting of copper rock pear, parallel to the edge of built form. The private gardens with sealed terraces and adjacent grass areas are divided by plantings of bush-roses.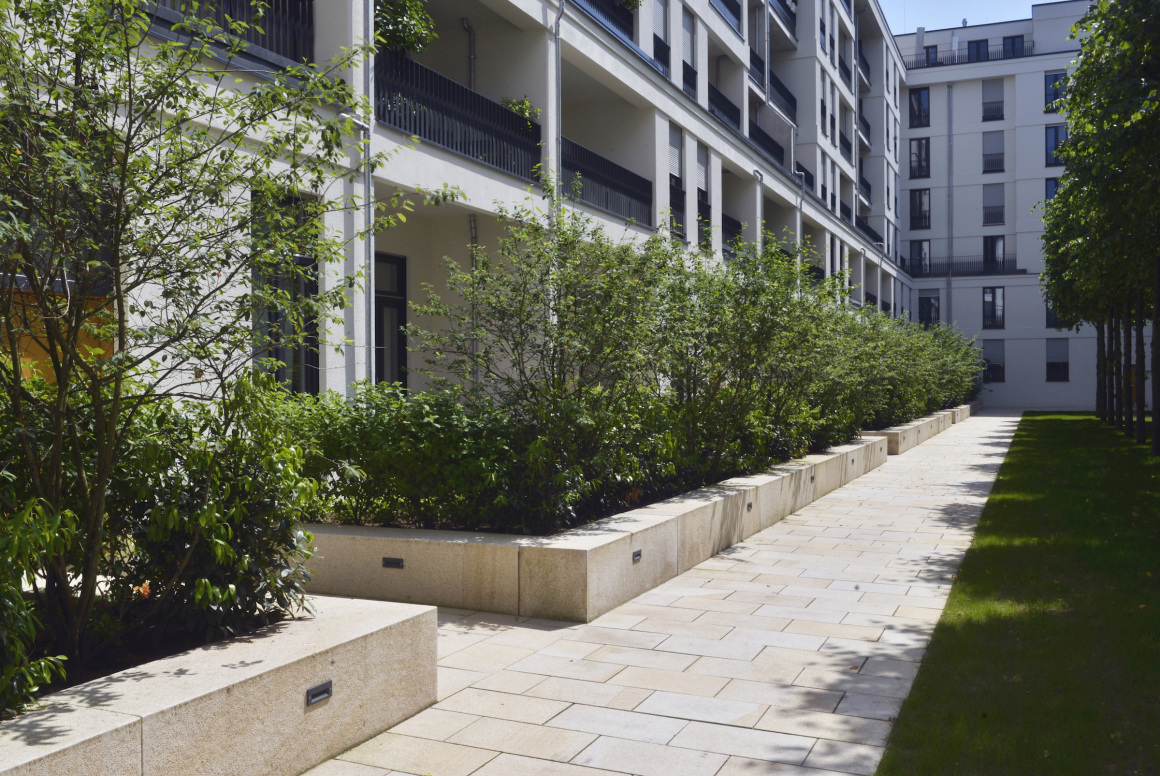 游戏庭院和建筑入户都采用了沙色的天然石材铺砌。水池周围普遍采用了深色调的植物和材料,从而突显出中央操场空间。与此同时,私人露台使用了相同材料的小规格天然砂石,与庭院色调几乎没有差别。
The playing yard and the entrances into the building are tiled by natural stone in sand colors. Around the water basins, there are darker colors generally applied, exposing the central playground. The private terraces however, are sealed with small-formats of sandy natural stone tiles of the same material without nuances.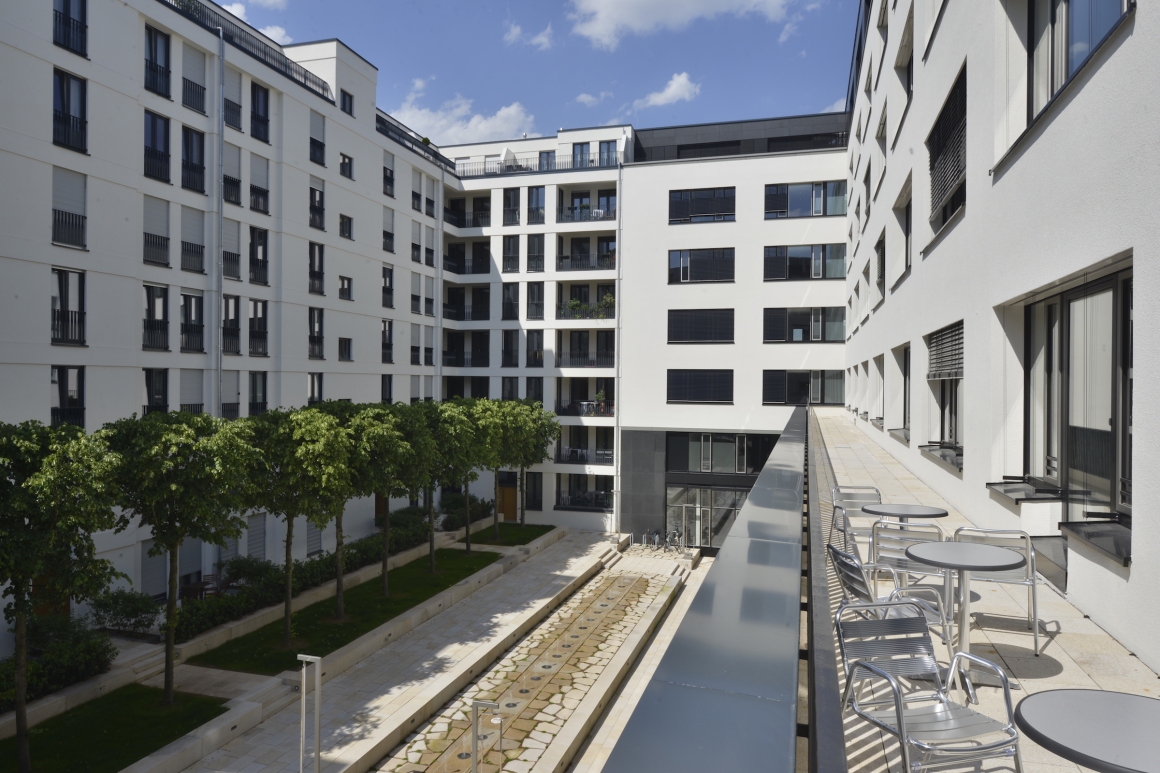 消防通道区的草地覆盖的是3厘米厚的人造草蜂窝材料。中央游戏区根据不同需求和空间选择,配备了相应的儿童和青少年游戏设施。
The areas for giving access to the fire-brigade on the grass are made of artificial grass honeycombs, covering the ground by 3cm of material. The central playing area is equipped by children and youth game scaffolds, according to the demands and spatial options.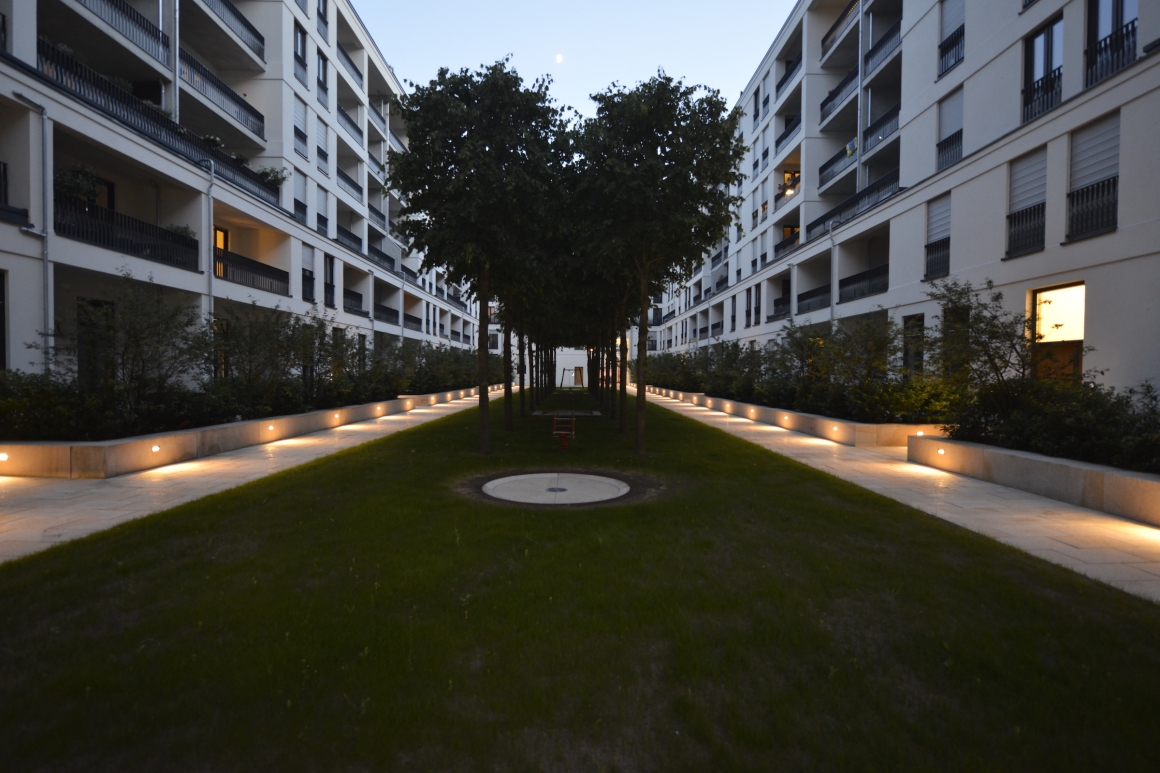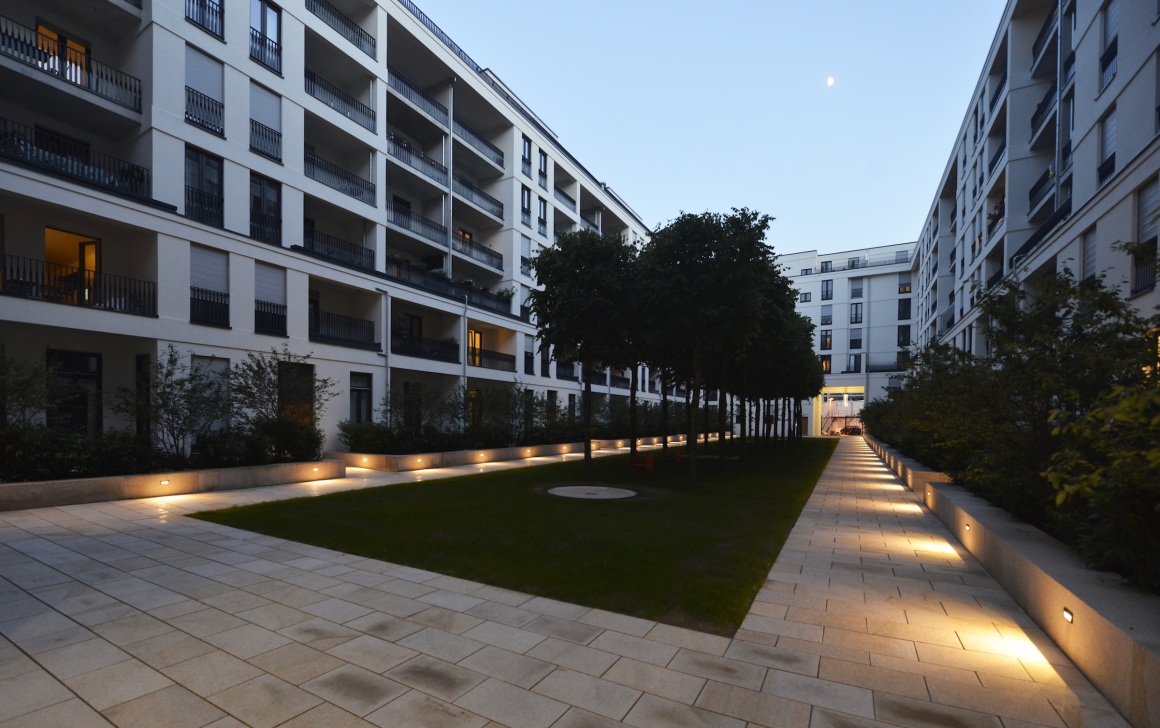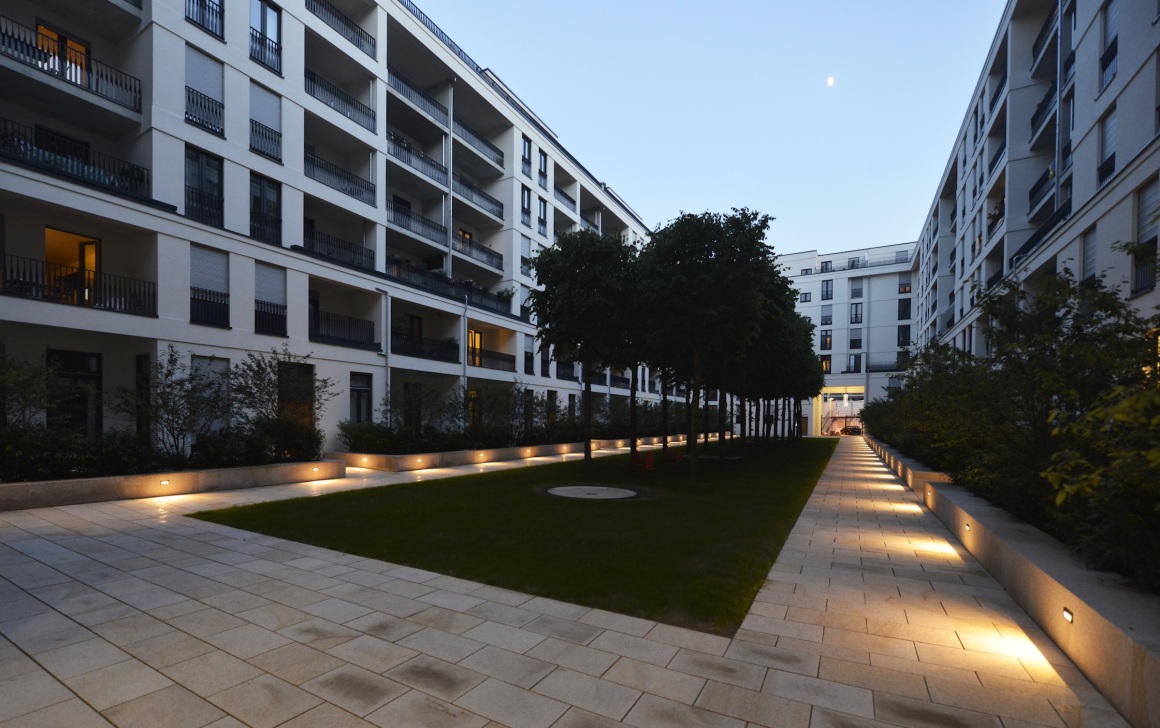 私密和半私密空间之间50厘米的高差通过坐凳挡墙予以消除,其材料包括预拌混凝土元件和天然石材。
The height difference of 50 cm between private and semi-private space is designed by wall elements for seating, made of ready mixed concrete elements with a natural stone cover for the visible areas.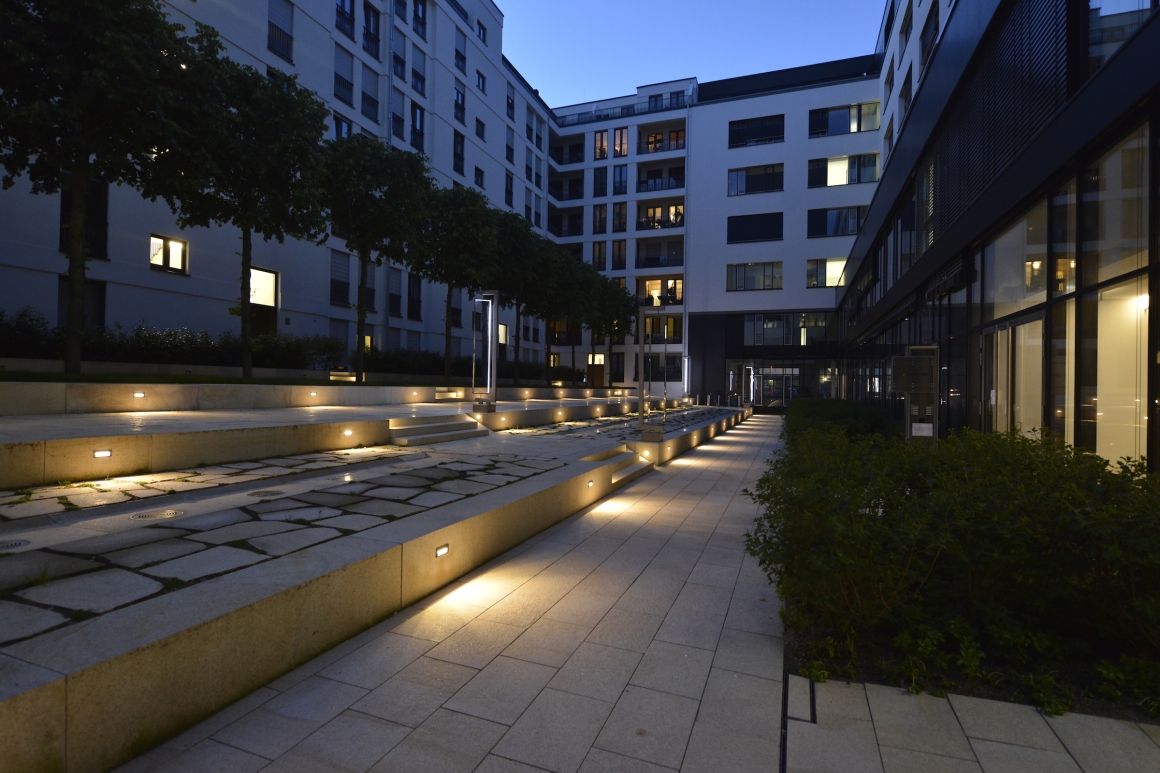 项目名称:Pariser Höfe综合开发
项目周期:2008 – 2013年
面积:6200 平方米
项目地点:德国 斯图加特 哥本哈根大街70173号
景观事务所:雷纳施密特景观+城市规划
项目网址:https://www.rainerschmidt.com/en/references/projects/00041.pariser-hoefe-stuttgart.html
联系邮箱:info@rainerschmidt.com
首席设计师:雷纳施密特教授
客户:Reiß & Co. Real Estate MünchenGmbH
合作伙伴:KSP Jürgen Engel Architekten
图片来源:Besco GmbH
Project name: Pariser Höfe mixed use development
Completion Year: 2008-2013
Size: 6200m²
Project location: Kopenhagener Str. 70173 Stuttgart
Landscape Firm: Rainer Schmidt Landscape Architects+ Urban Planners
Website: https://www.rainerschmidt.com/en/references/projects/00041.pariser-hoefe-stuttgart.html
Contact e-mail: info@rainerschmidt.com
Lead Architects: Prof. Rainer Schmidt
Clients: Reiß & Co. Real Estate MünchenGmbH
Collaborators: KSP Jürgen Engel Architekten
Photo credits: Besco GmbH
更多Read more about: Rainer Schmidt Landscape Architects+ Urban Planners