本文由 Kernel Design 授权mooool发表,欢迎转发,禁止以mooool编辑版本转载。
Thanks Kernel Design for authorizing the publication of the project on mooool, Text description provided by Kernel Design.
Kernel Design:Origin Chula-Samyan公寓销售中心位于泰国曼谷罗摩四路。随着曼谷未来的城市发展,它将成为一个多功能的综合性区域。本项目的景观空间由停车场区、中央庭院花园、后院展示区花园三部分组成。
Kernel Design:The sales gallery of Park Origin Chula-Samyan condominium is located on RAMA IV road, which will be a mixed-used area with more growth in the future of Bangkok. The landscape area of ​​this project consists of 3 parts which are parking lots area, central courtyard garden and backyard garden of ​​show units.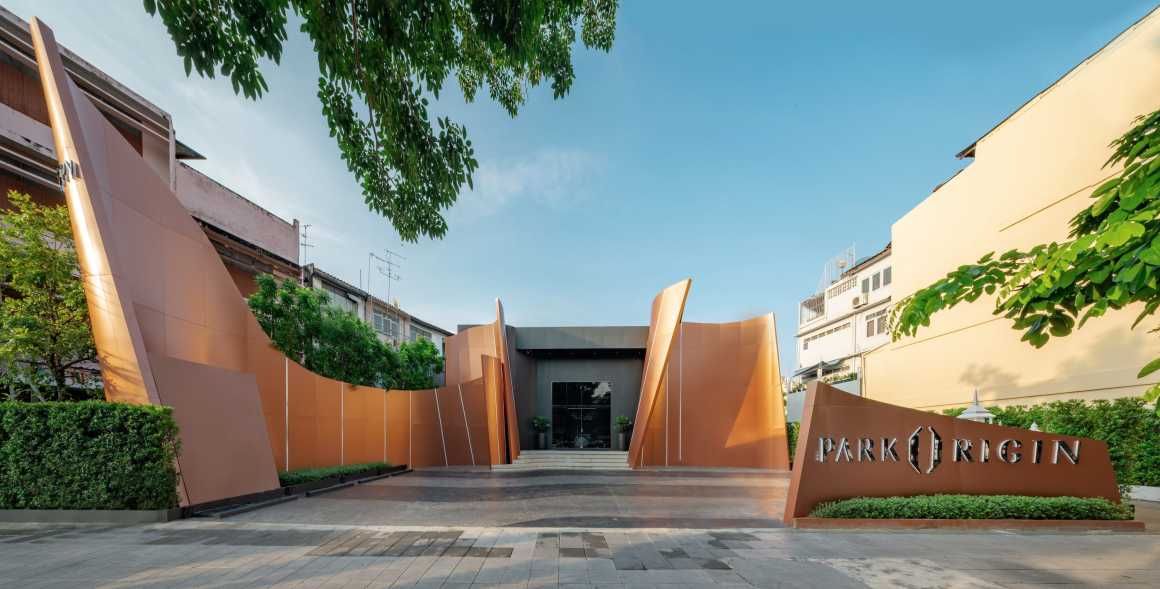 进入建筑内部,有一条主走廊通向样板房,旁边是中央庭院花园,阳光温柔地洒进人行道,更增添了一种舒适感。
Inside the building, there is a main corridor that leads to the show units. Which will be next to the central courtyard garden which allows natural light to shine into the walkway. That makes this place comfortable and cozy.
▼建筑内部走廊 The main corridor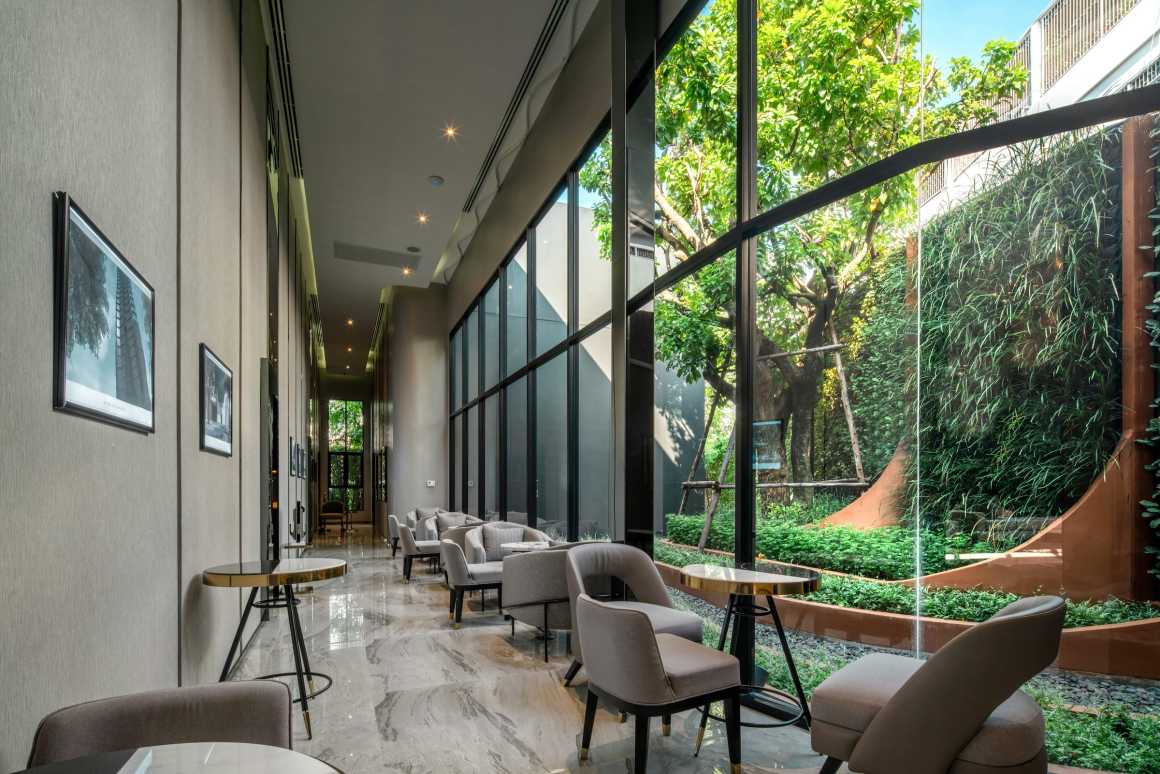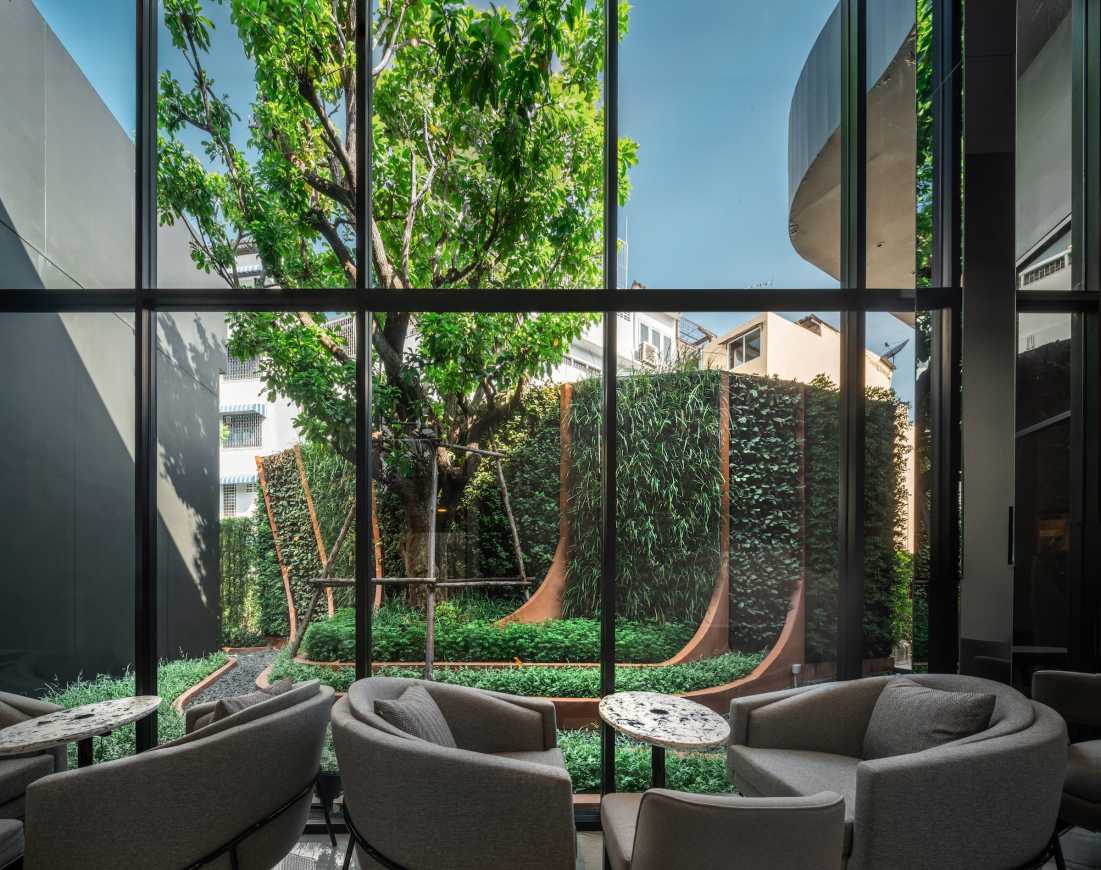 ▼夜晚时的走廊风光 The night view of corridor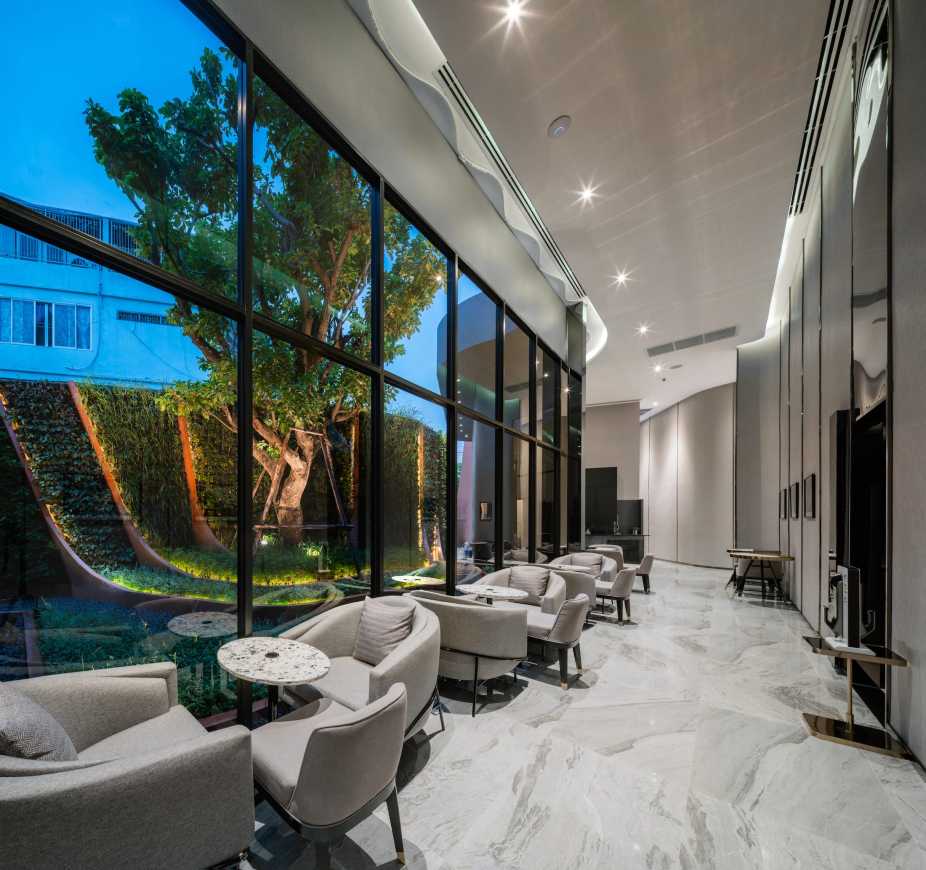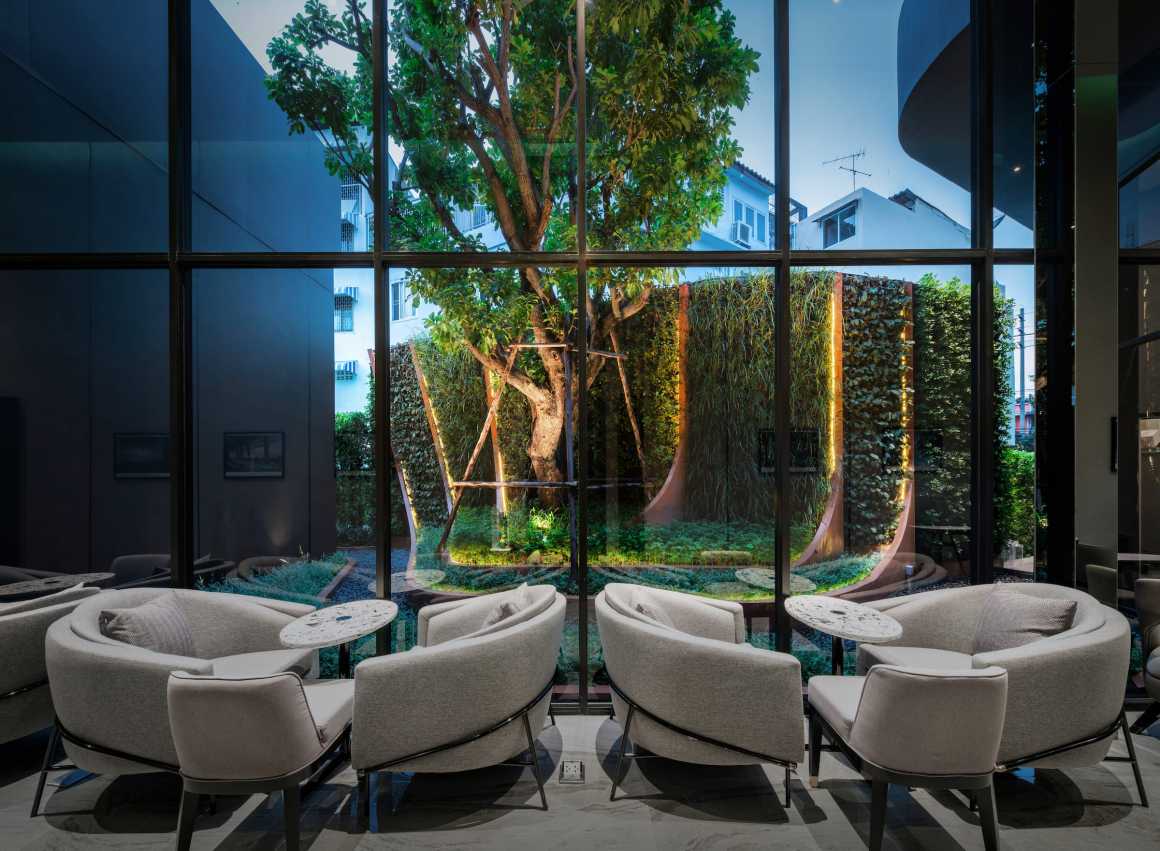 项目的主要景观区域是中央庭院花园,面积约50平方米。我们在中央庭院花园中加入了"生命之源"的设计亮点,种植池的线条从这个区域开始,一直延伸到花园的各个部分。绿色从象征着"生命之源"的大树下开始,像水滴一样传播洒落在地板上和墙壁上,使得顾客在建筑内部和样板房展示区的每一个角落都能看到绿色的联系。
The main landscape area of ​​the project is the central courtyard garden, which has an area of approximately 50 sq.m. The central garden is intentionally designed as a highlight spot of the 'origin of life'. That begins in this area and spreads to other parts of the garden by using lines of planter boxes. The beginning of the spread starts from under the big tree, which represents an icon of the 'origin of life', and then spreads like a water drop on the floor and green wall. Therefore, every view from the interior of the building and the show units will be able to see the connection of green.
▼中央庭院的生命之树 The tree of 'origin of life' in central courtyard garden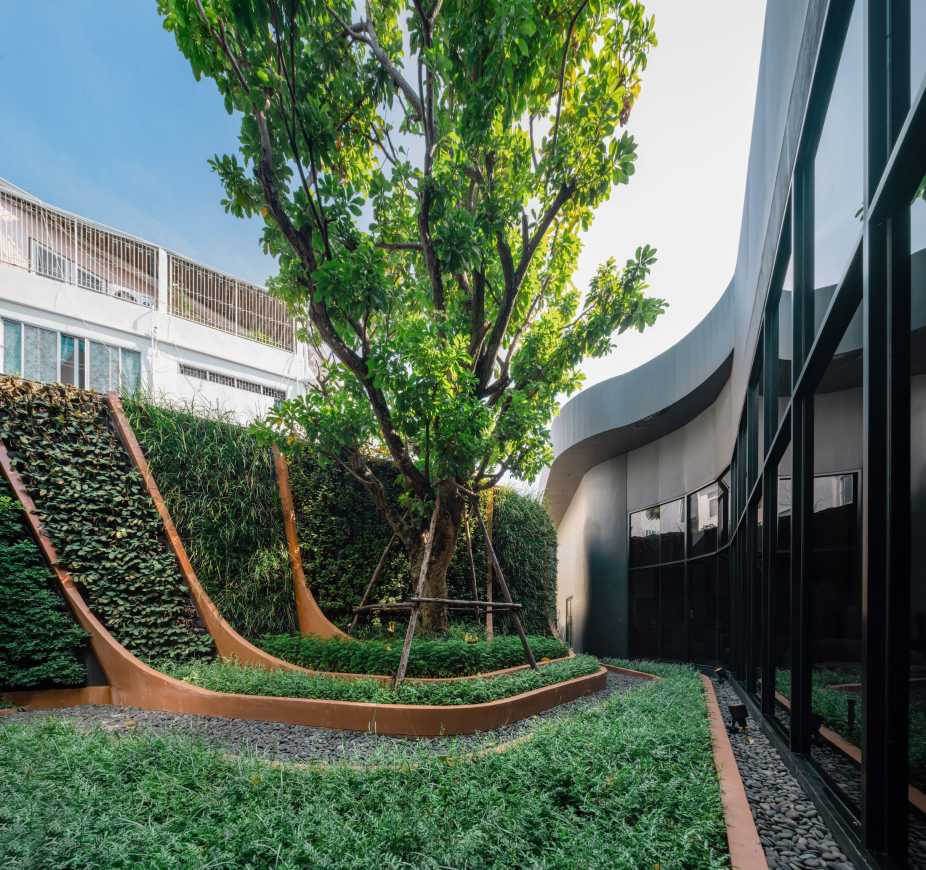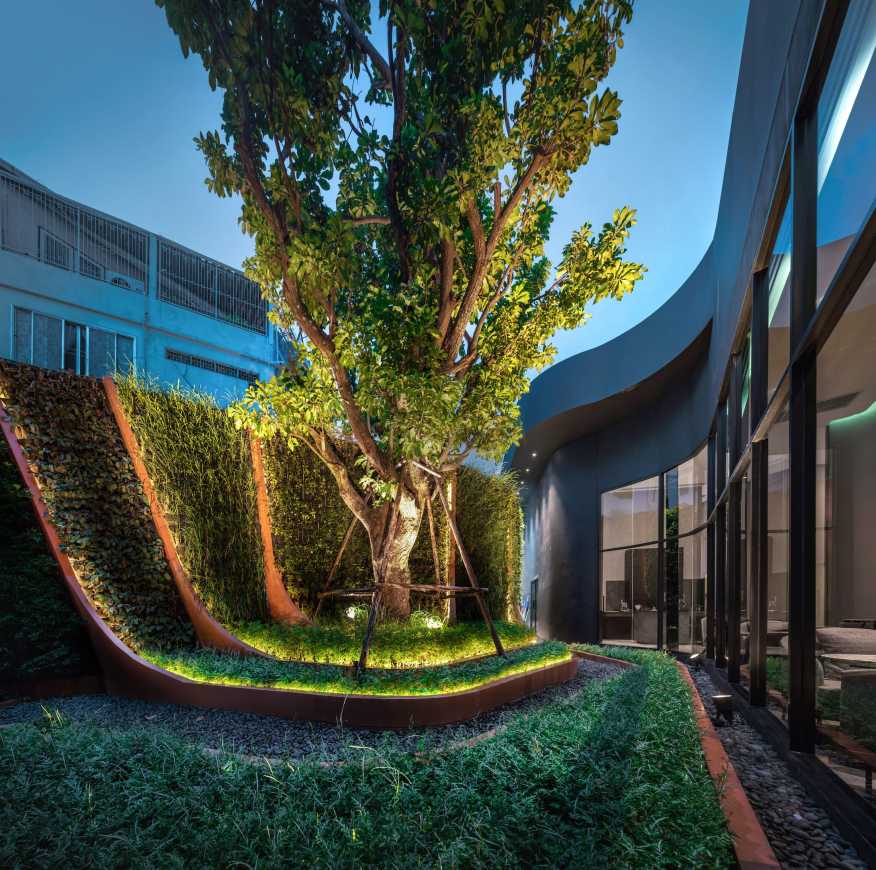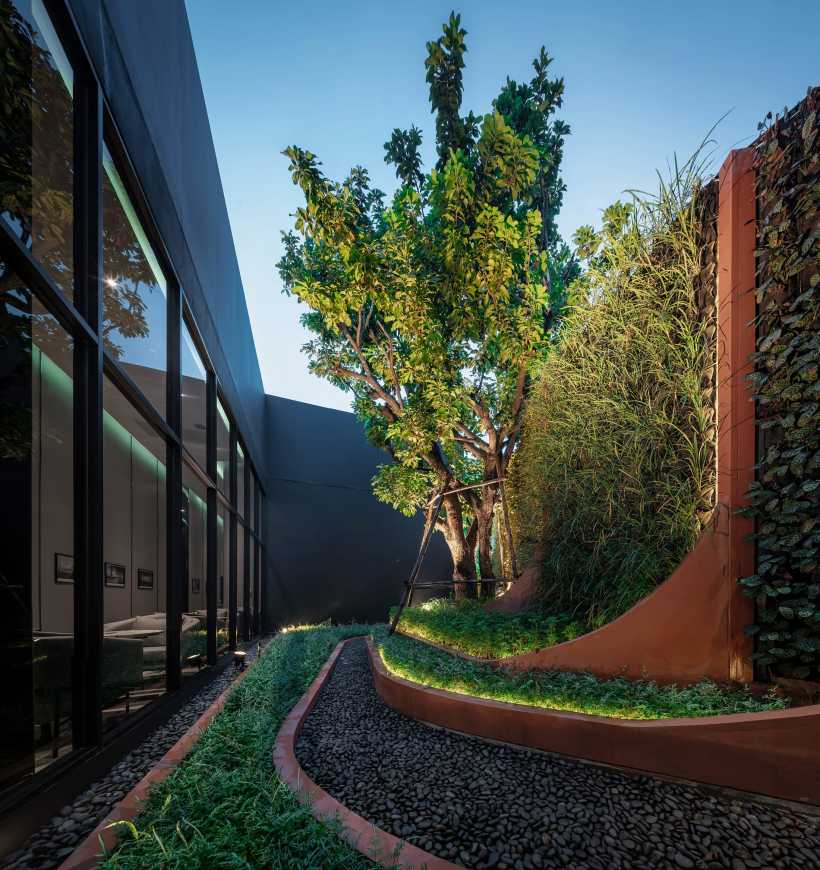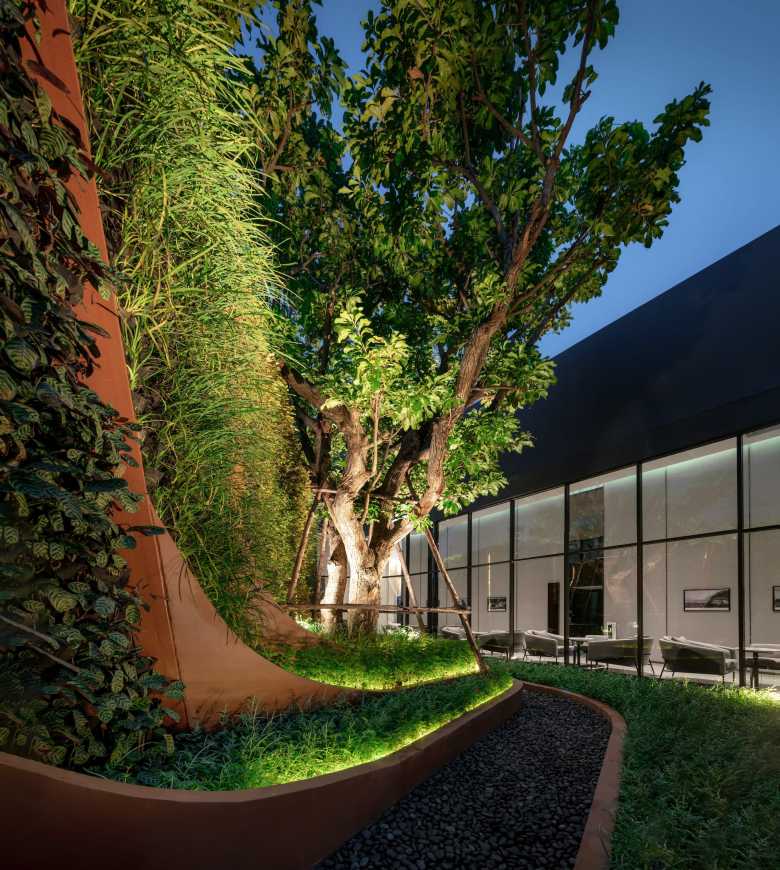 ▼种植池线条细节 The lines detail of planter boxes
▼种植池一直延伸到花园的各个部分 The lines spreads to other parts of the garden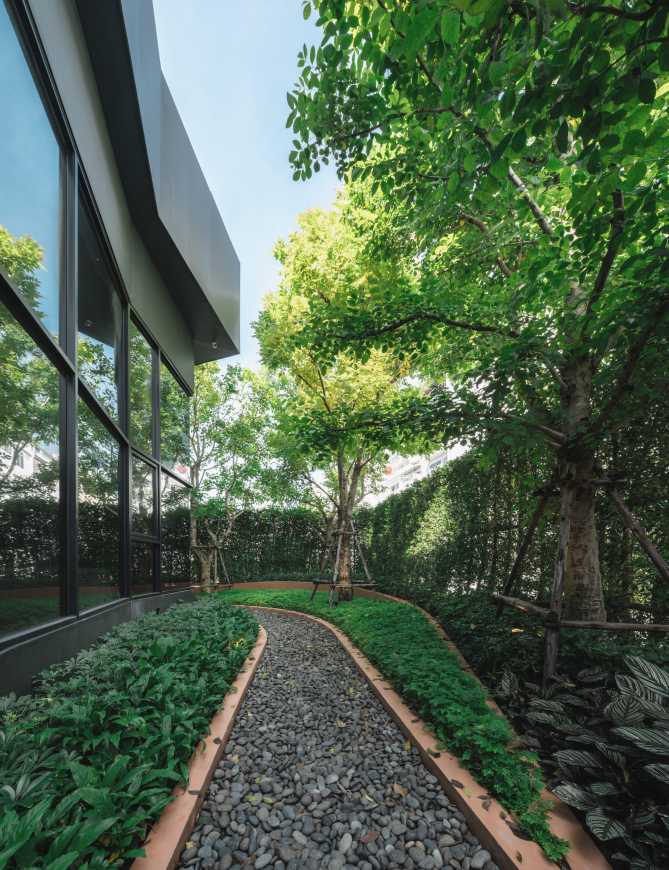 ▼销售中心景观设计平面图 Landscape Plan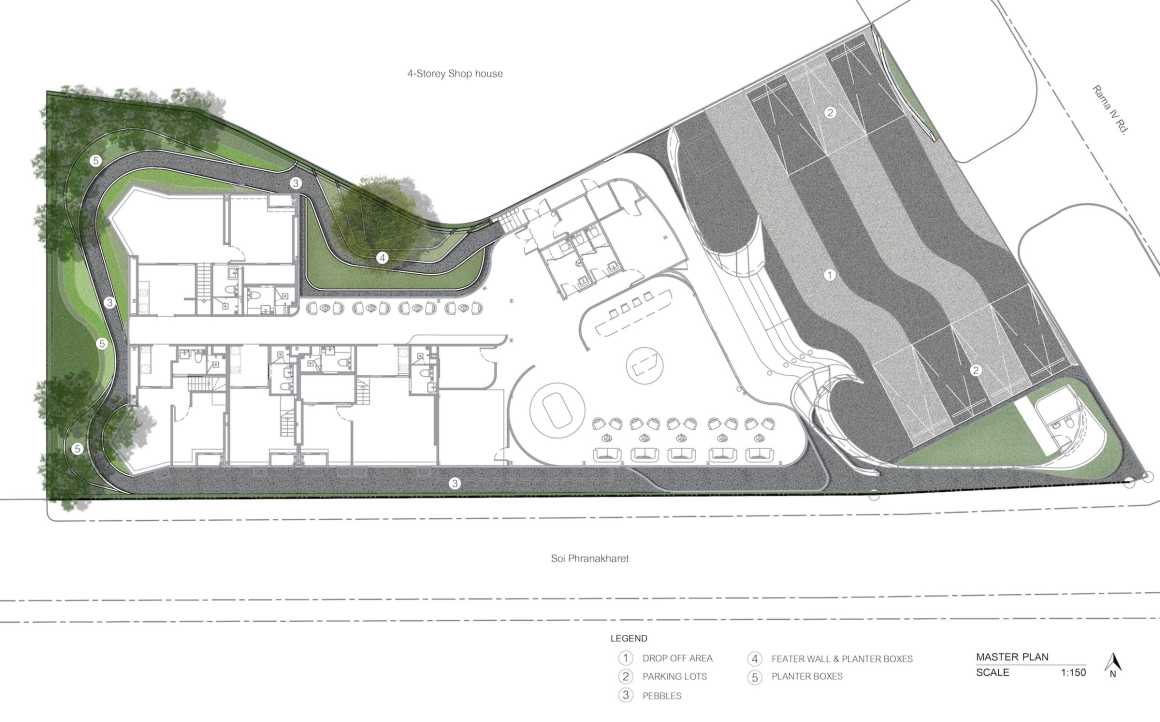 ▼销售中心景观结构示意图 Diagrams
项目名称:Park Origin Chula-Samyan销售中心
设计及竣工年份:2018 / 2019年
设计公司:Kernel Design Co., Ltd.
公司网址:www.kernellandscape.com
Facebook:www.facebook.com/kernellandscape
主创设计及团队:Ponlawat Pootai, Chaniyanan Roopkhajorn, Chonlada Rakkanchanan
项目地点:泰国曼谷罗摩四路
景观面积:
总面积 – 530平方米
停车场 – 335平方米
中央庭院花园 – 50平方米
后院花园 – 145平方米
图片:Panoramic Studio
建筑、室内设计:Atom Design Co., Ltd.
客户:Origin Property Public Company Limited
Project Name: Park Origin Chula-Samyan Sales Gallery
Design year & Completion year: 2018 / 2019
Design Company: Kernel Design Co., Ltd.
Website: www.kernellandscape.com
Facebook: www.facebook.com/kernellandscape
Leader Design & Team: Ponlawat Pootai, Chaniyanan Roopkhajorn, Chonlada Rakkanchanan
Project location: RAMA IV Road, Bangkok, Thailand
Landscape Area:
Total-530 sq.m.
Parking lots-335 sq.m.
Central courtyard garden-50 sq.m.
Backyard garden-145 sq.m.
Photo credits: Panoramic Studio
Architect & Interior Designer: Atom Design Co., Ltd.
Client: Origin Property Public Company Limited
更多 Read more about: Kernel Design