Point Grey Residence是一个独特的住宅改造项目,将景观、建筑、雕塑和场地融为一体。该项目的大部分是故意位于低于等级的,在广泛的低维护绿色屋顶下。这些广泛的种植使后院的种植面积增加了200%以上,而这是原本无法实现的。这些绿色屋顶提供的隔热有助于提高地下加热的家庭和水池的能源效率,增加了增加到当地能源网的剩余清洁能源的数量。为了降低现场使用的石材的环境和社会成本,所有项目石材都在北美开采。 LED照明和滴灌进一步有助于持续的场地能源和水的使用效率。
The Point Grey Residence is a unique residential renovation project uniting landscape, architecture, sculptures and site into a seamless whole. Much of the program was deliberately located below grade, under extensive, low maintenance green roofs. These extensive plantings increased the planted area in the rear yard by over 200% from what would have otherwise not been possible. Insulation provided by these green roofs contributes to the energy efficiency of the geothermally heated home and pool below, increasing the amount of surplus clean energy that is added to the local energy grid. To reduce the environmental and social costs of the stone used on site, all the project stone was quarried in North America. LED lighting and drip irrigation further contribute to ongoing site energy and water use efficiency.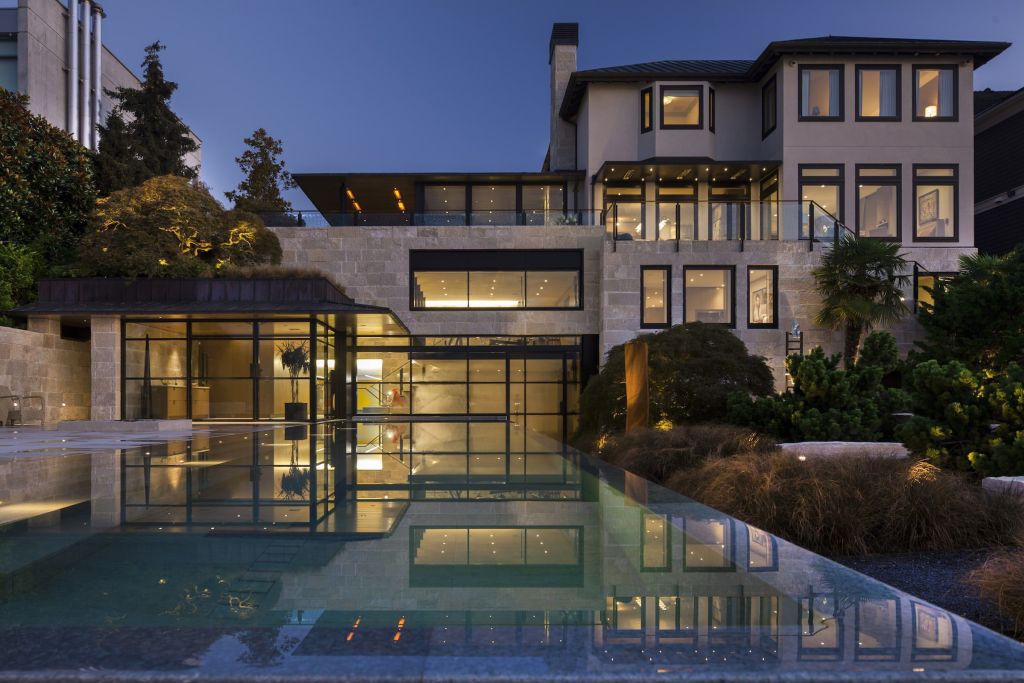 建筑和景观是串联开发的,以消除相邻内部和外部区域之间的程序化定义。这个共同的计划和经验愿景是在项目早期定义的,并通过频繁的跨学科设计协作会议来促进。诸如现有车道坡道之类的场地限制被视为将空间转换为景观元素(如级联水景和艺术装置)的机会。
The architecture and landscape were developed in tandem to eliminate the programmatic definition between adjacent interior and exterior areas. Moving through the terraced site, architectural and landscape spaces are drawn into one another continuing across 'traditional' threshold transition points. This common programmatic and experiential vision was defined early in the project and facilitated via frequent collaborative interdisciplinary design meetings. Site constraints such as existing driveway ramp were taken as opportunities to transform the spaces into landscape elements like cascading water features and art installations.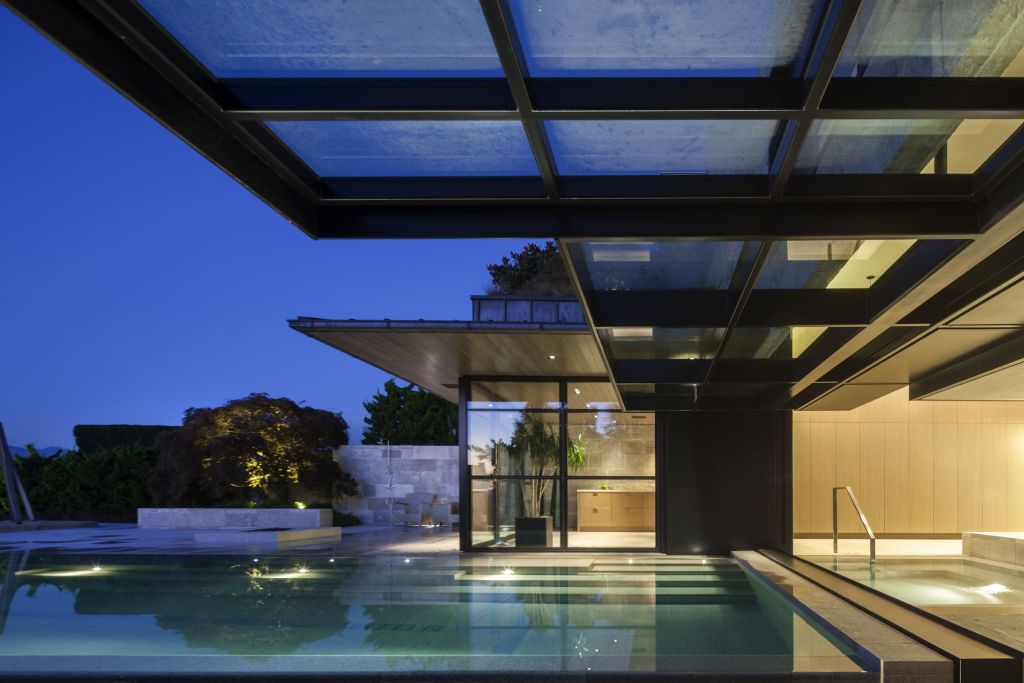 视野中的自然视野反映在风化钢、石头、水和玻璃的线性形式中。材料调色板完美地固定在周围的西海岸海洋景观中,并通过纹理变化和对细节的关注而丰富。景观与远处的海洋无缝融合,加拿大石灰岩通过露台和泳池楼梯形成连续的表面。
Natural horizons in the field of view are reflected in linear forms of weathering steel, stone, water and glass. The material palette is soundly anchored within the surrounding west coast maritime landscape and is enriched through textural variation and attention to detail. The landscape blends seamlessly with the ocean beyond and is enhanced by the Canadian limestone that forms a continuous surface through the terrace and pool stairs.
Photos by Nic Lehoux.