本文由 Festival des Architectures Vives 授权mooool发表,欢迎转发,禁止以mooool编辑版本转载。
Thanks Festival des Architectures Vives for authorizing the publication of the project on mooool, Text description provided by Festival des Architectures Vives.
Festival des Architectures Vives: 2017年9月8日至16日,由法国建筑师科琳·贾尔迪、托马斯·达尔比和乌戈·埃尔齐耶组成的Atelier Vecteur工作室与魁北克艺术家卡洛·比伦和何塞·路易斯·托雷斯合作,一起在魁北克的一条小巷里搭建了一个临时装置。2018年,他们在法国蒙彼利埃重新展现了这个装置,这次是搭建FAV建筑节(Festival des Architectures Vives)的展馆。
Festival des Architectures Vives: From 8 to 16 September 2017, the Vector Workshop composed of the French Coline Giardi, Thomas Dalby and Ugo Elzière associated with Karole Biron and José Luis Torres, Quebec artists have had the opportunity to realize a temporary installation in an alley of the district of old port in Quebec. For the year 2018, they republished the experience in Montpellier, France, this time by creating the FAV pavilion.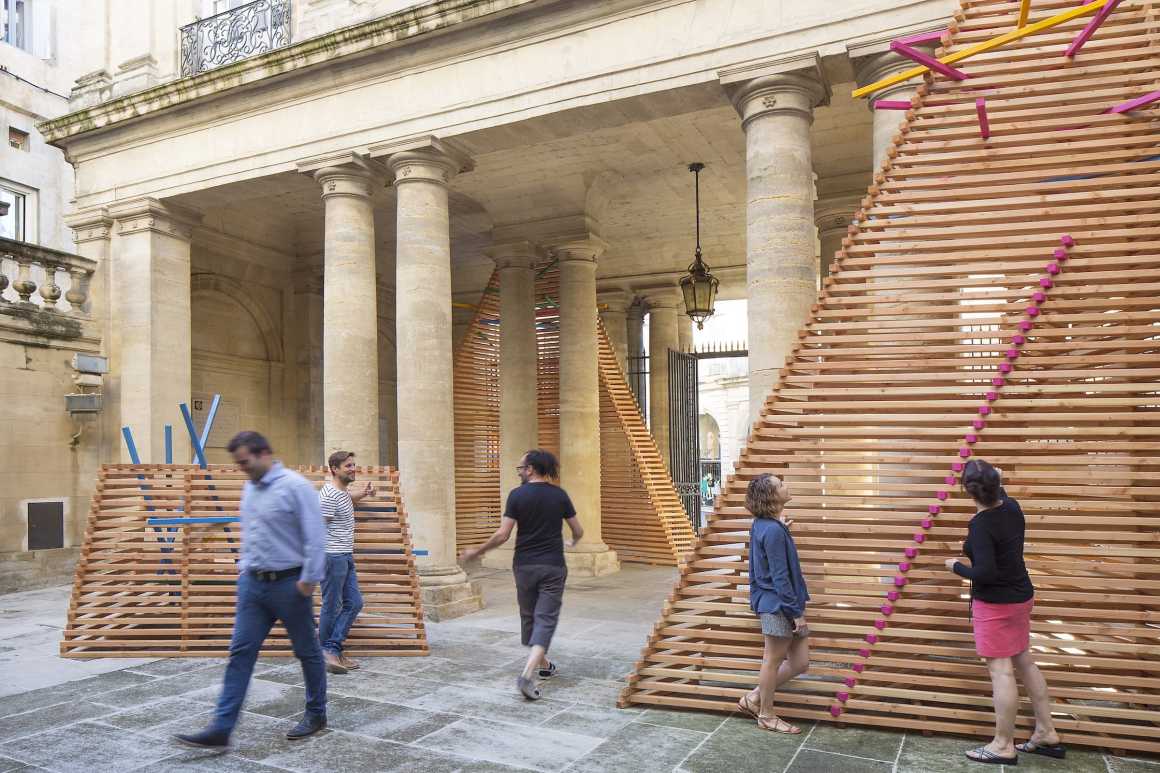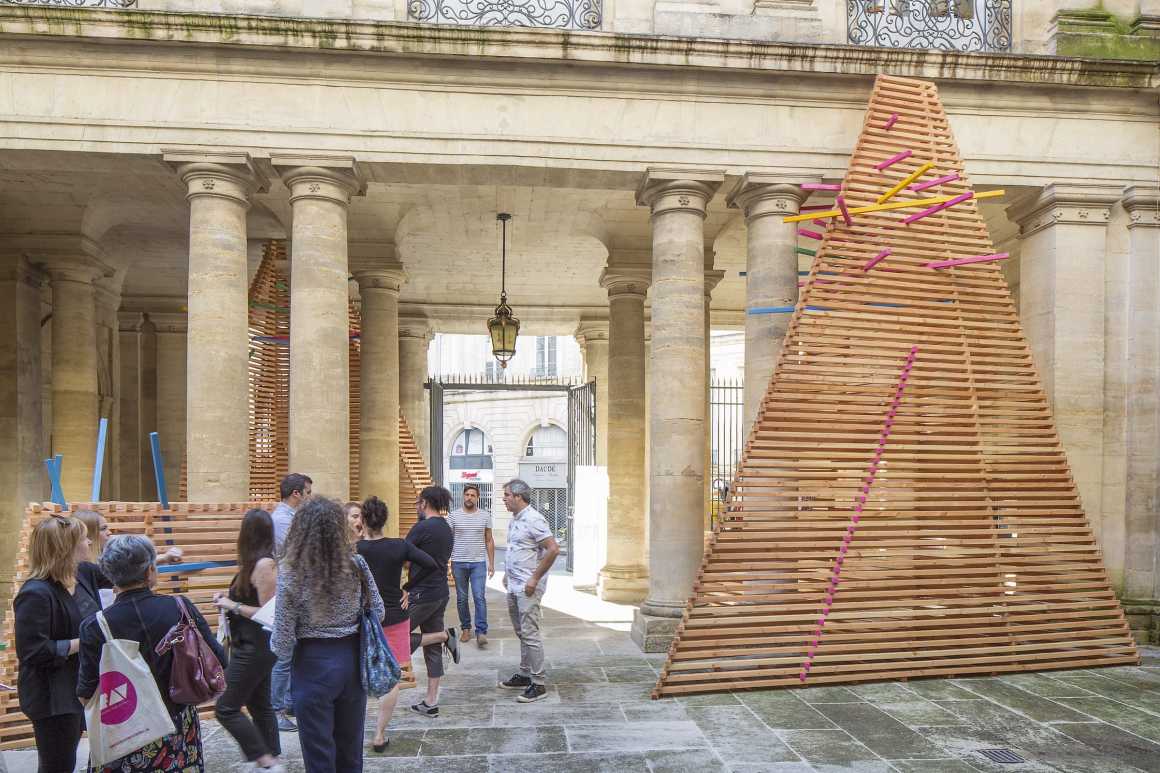 设计师认为如果不把探索实践"智慧城市"的公民联系在一起,单从技术的角度去探讨智慧城市问题是毫无意义的。"Prisme"装置通过反思"内部"和"外部"、"可见"和"不可见"之间的关系,重新开始审视城市环境问题。
To approach the problem of the smart city from a technological point of view would be pointless if we do not associate the citizens who practise it. "Prisme" then proposes to users of the St Côme courtyard to take a new look at this urban environment through a reflection on the relationship between "inside" and "outside", "visible" and "invisible".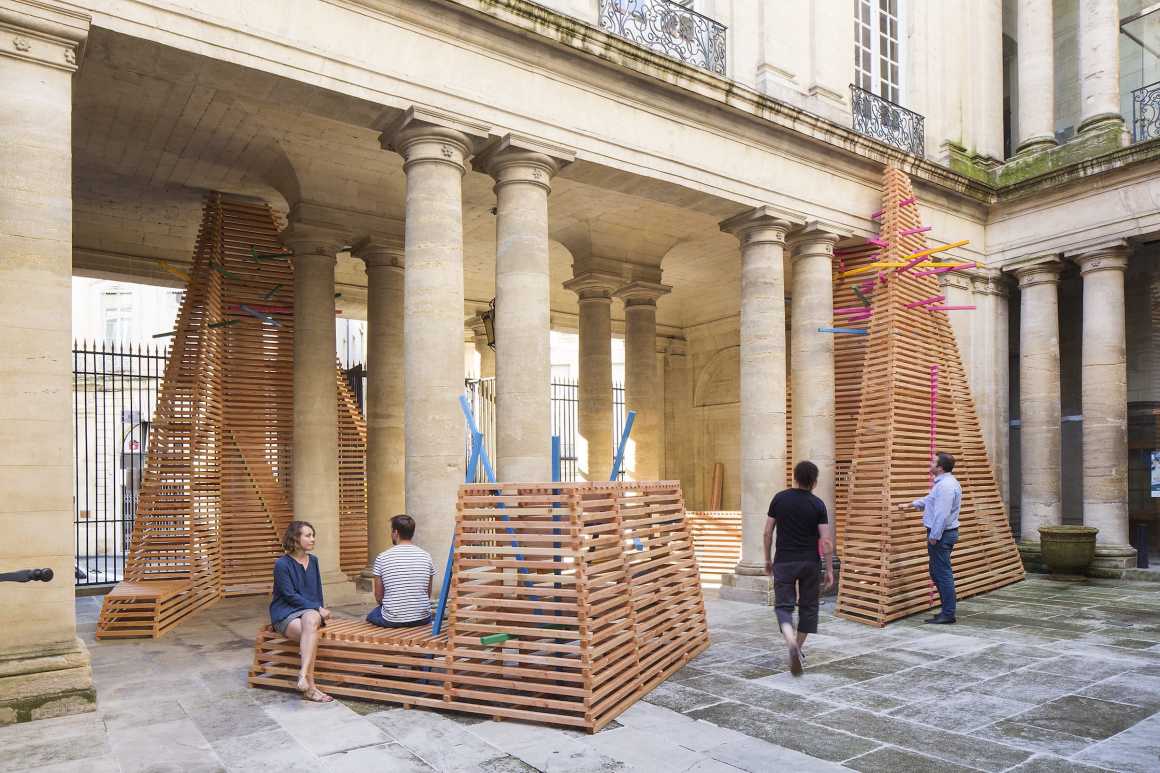 展馆是一个可以散步玩耍、鼓励游客互动并且具有神秘感的地方。它构建了交流和沟通的空间,原木的颜色、质地和气味影响着整个场地,其独特的标识性能够很好的引导游客参观。融合、互动、相遇和玩耍是设计的关键词。
The pavilion is an invitation to stroll, mystery, play and visitor interaction. It defines a space of exchange and communication. The raw wood brings a colour, a texture and a smell impacting the whole of the court, modifying it the time of the festival to better mark the visitors and to invite them to put in scene. Convergence, interaction, encounter and play are the key words to tackle this book.
©photoarchitecture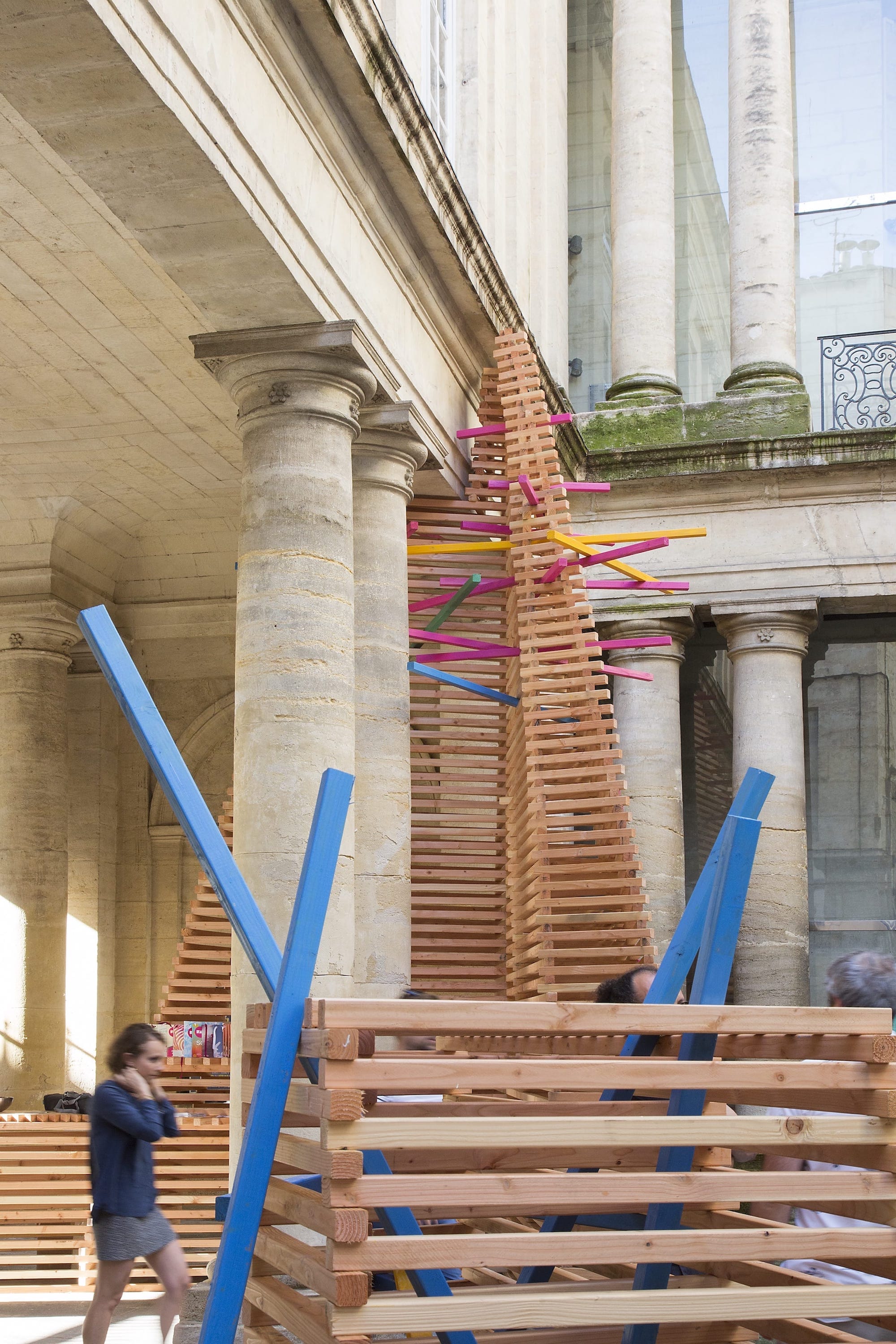 "Prisme"模糊了内部和外部的关系,并引发我们对空间感知问题的思考。就像一个有机体一样,它的形态超越了极限,扩展到了空间,它的颜色特征将人们的目光引向物体运动形态的延伸。木头和石头在质量、温度、光线方面的差异为我们创造了一个微妙的交流环境,同时引发了我们对空间尺度的思考。空间被看作是一个物体,而这个物体同时又是空间。
"Prisme" blurs the inner/outer relationship and questions us about the issues of perception of spaces. Like an organism that believes, its forms push the limits, expanding into space and its accents of colour call the gaze into an extension of the forms in movement. The dialogue between wood and stone, their differences in mass, temperature, light, offers us a subtle exchange and induces a reflection on the notions of scale. The place is interpreted as an object and the object as a place.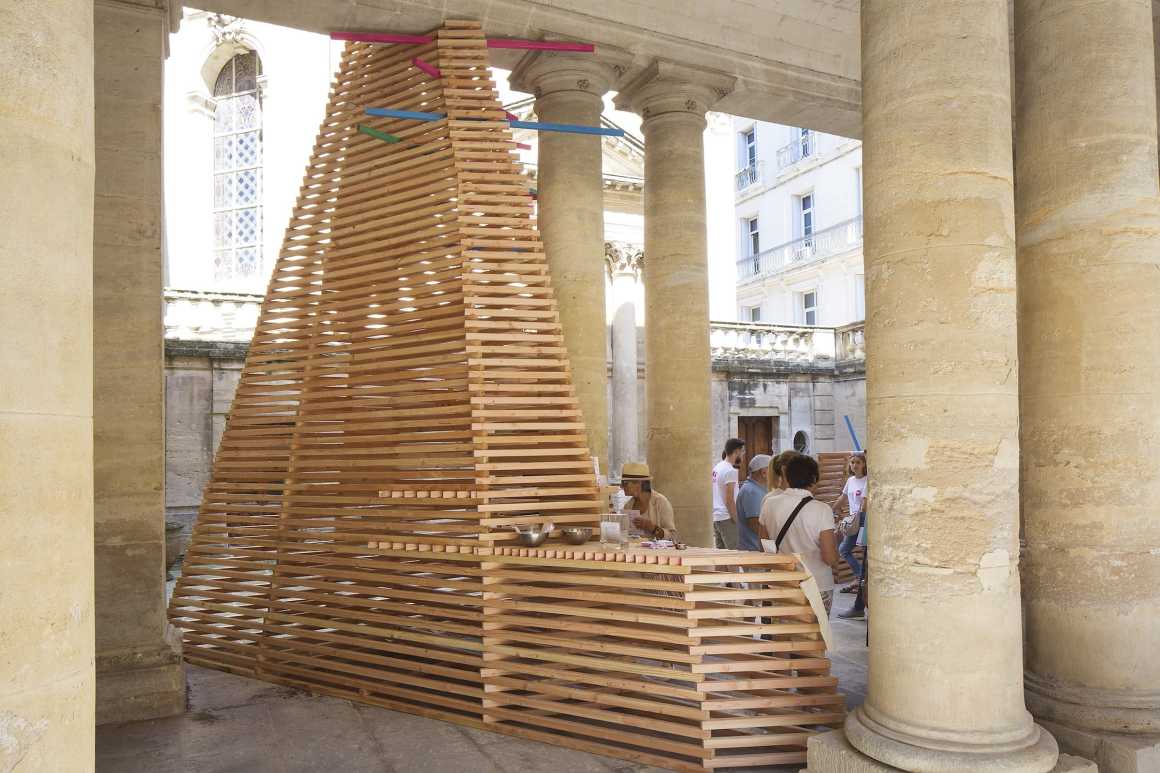 ©photoarchitecture
地点: 法国蒙彼利埃
年份: 2018年
照片版权: photoarchitecture
设计师: ATELIER VECTEUR + Karole Biron + Jose Luis Torres
Location: Montpellier, France
Year: 2018
Photo credit: photoarchitecture
Designer: ATELIER VECTEUR + Karole Biron + Jose Luis Torres
更多 Read more about: Festival des Architectures Vives