本文由 OHTORI CONSULTANTS 授权mooool发表,欢迎转发,禁止以mooool编辑版本转载。
Thanks OHTORI CONSULTANTS for authorizing the publication of the project on mooool, Text description provided by OHTORI CONSULTANTS.
OHTORI:Proud City Itami是位于国家政府官员居住区的一个中高层公寓综合体项目。我们为该公寓提出了一个"社区联动——绿意环绕的社区住宅"的景观设计概念,在其中设计了一个被花园包围的放松休闲平台,方便居民沉浸在其多样化的花园中,近距离地感受绿色花草植物,享受建筑周围的四季流转更替,我们的设计旨在将其变成一个由自然相滋养的社区用地。
OHTORI:Proud City Itami is a medium and high-rise apartment complex planned on the site of the national government official's residence. As a landscape concept, "COMMUNITY LINKAGE – Community Residence Surrounded by Greenery" is set up for family households. We planned a relaxing terrace where flowers and greenery can be felt close to us, and a diverse garden where you can enjoy the changing seasons that envelop the living building, aiming to be a place for communities to nurture with nature.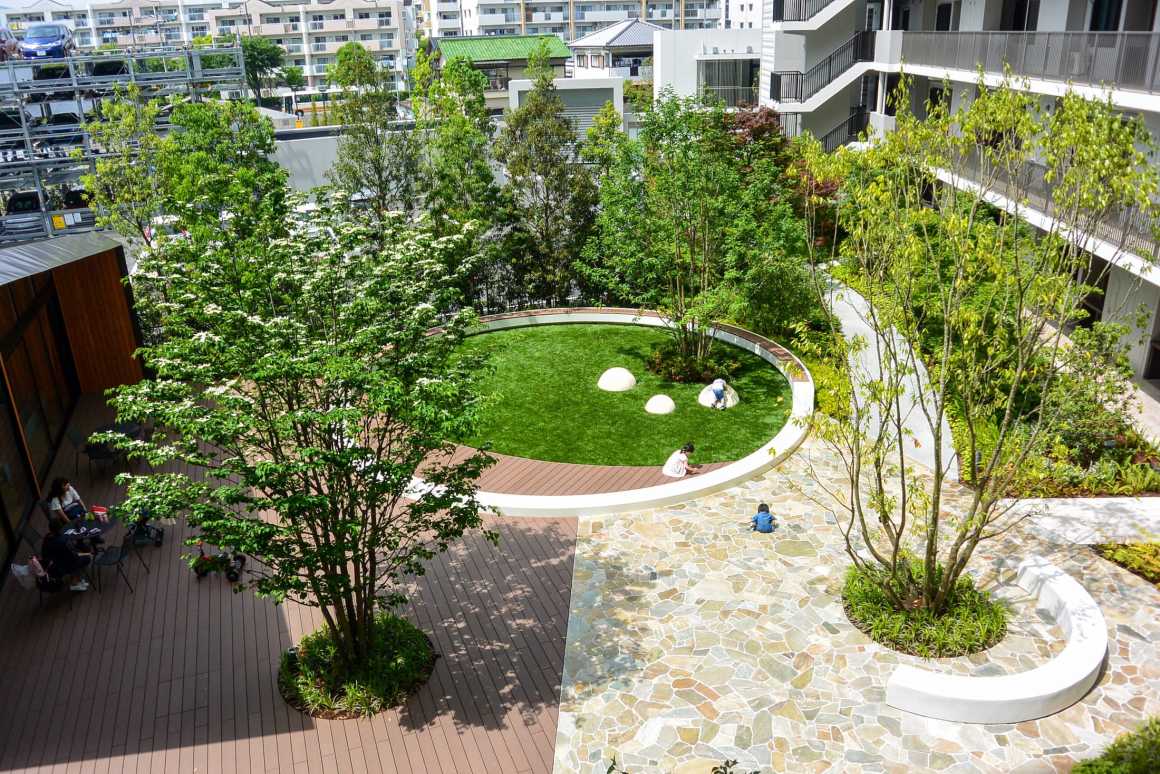 我们遵循着循序渐进的逻辑,为每个区域设计了一个主题花园,方便人们在行进、散步或者回家动线上可以亲密接触自然,欣赏各种风景。由于U字型的建筑中的所有公共走廊都可以俯瞰庭院花园,我们在设计该花园时,利用了圆形和长方形等几何形状的演变,创造了花园休闲区域,与此同时,花园中的几何形线条也给空间增添了更多的动感,其互相连接的柔和曲线路径也创造出了令人印象深刻的景观形态。
The garden created a theme for each area, and designed with a sense of sequencing so that you can feel close to nature, touch each other, and enjoy various scenery as you walk. The co-shaped building allows you to look down on the courtyard from all the common corridors. As a garden of looking down, by the operation to sizzle the shape of a circle and a rectangle, it gives movement to the space while creating the region, and an impressive scenery was created by the path of the gentle curve which connects them.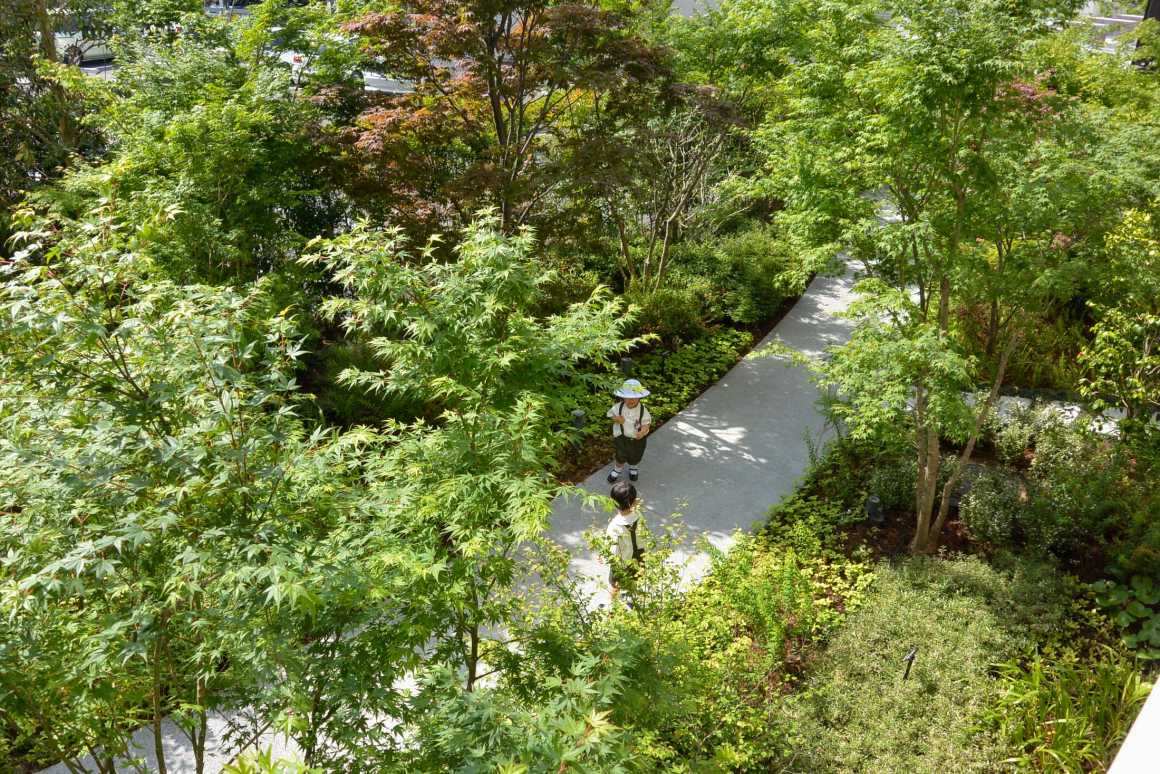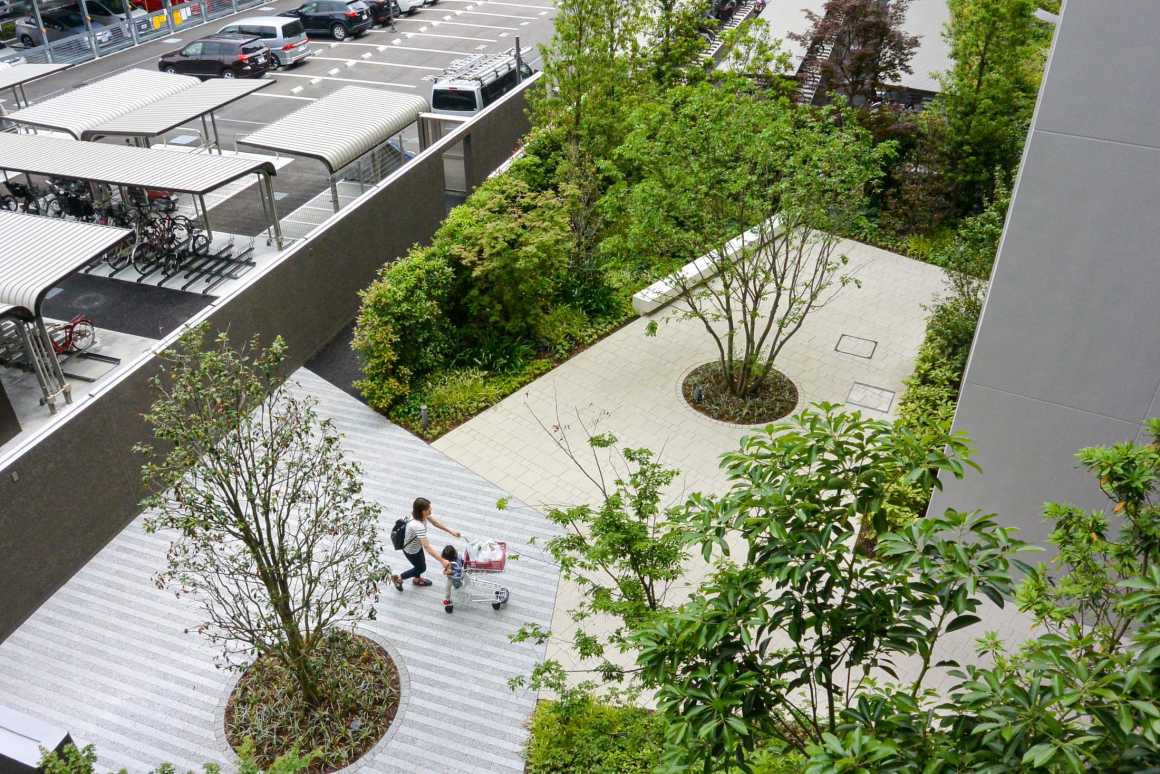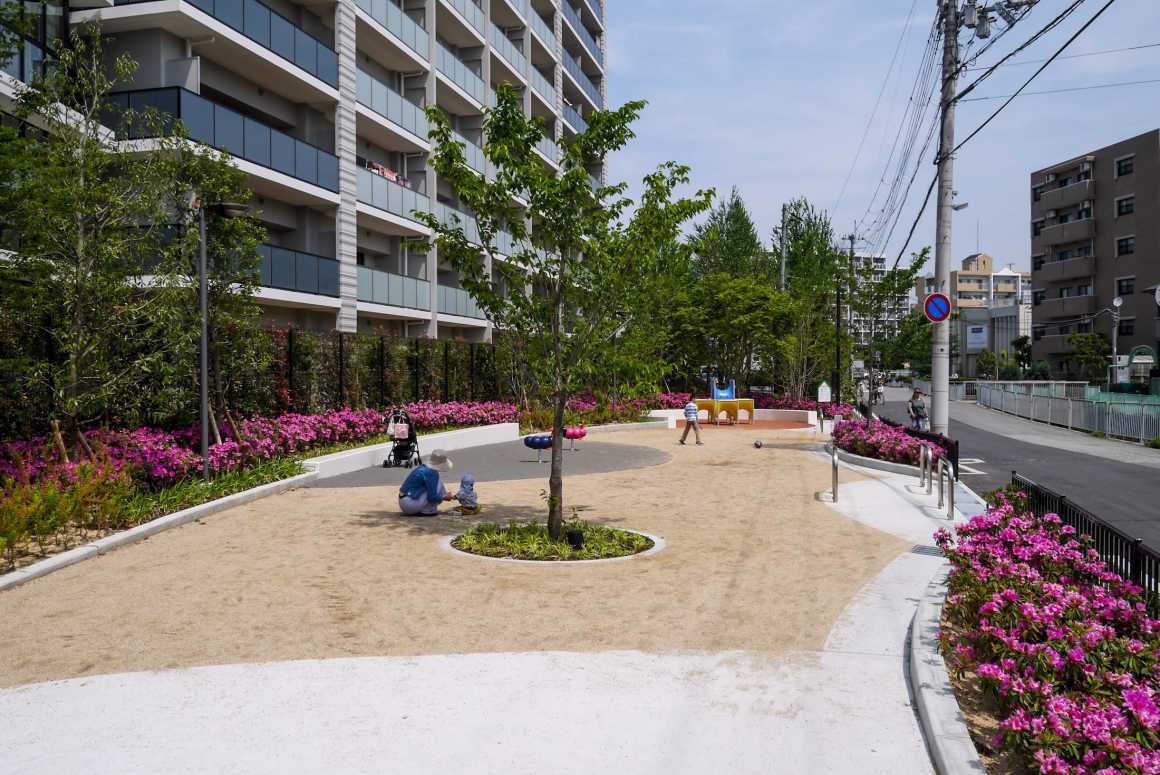 作为居民社区中心的花园露台区,我们的目标是创造一个几代人都可聚集并进行放松交流的社交空间,所以我们在此设置了一个独立的木制构筑物,一个可作为内外一体设施的木制平台,以及一个带有人造草坪的圆形儿童游乐场。如今,社区里最常见的画面就在公用建筑内部儿童空间和室外人工草坪广场等地玩耍的孩子们,以及坐在树荫下的长椅上观看的父母。
The garden terrace area, which is the center of the resident community, is equipped with a wooden separate building, a wooden terrace that can be used for internal and external facilities, and a circular children's playground with artificial grass. we aimed to create a relaxing space where generations gathered to create exchanges among residents. I felt that the relationship with parents who watched children playing in the children's space in the common building and the outdoor artificial grass plaza was seen with parents who sat on benches and table chairs in the shade of a tree, and I felt that they were used by the original idea.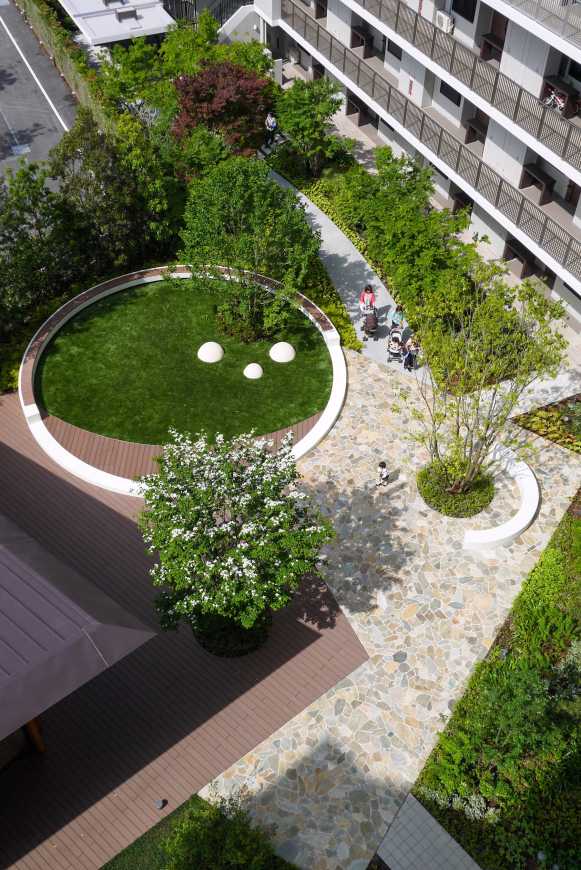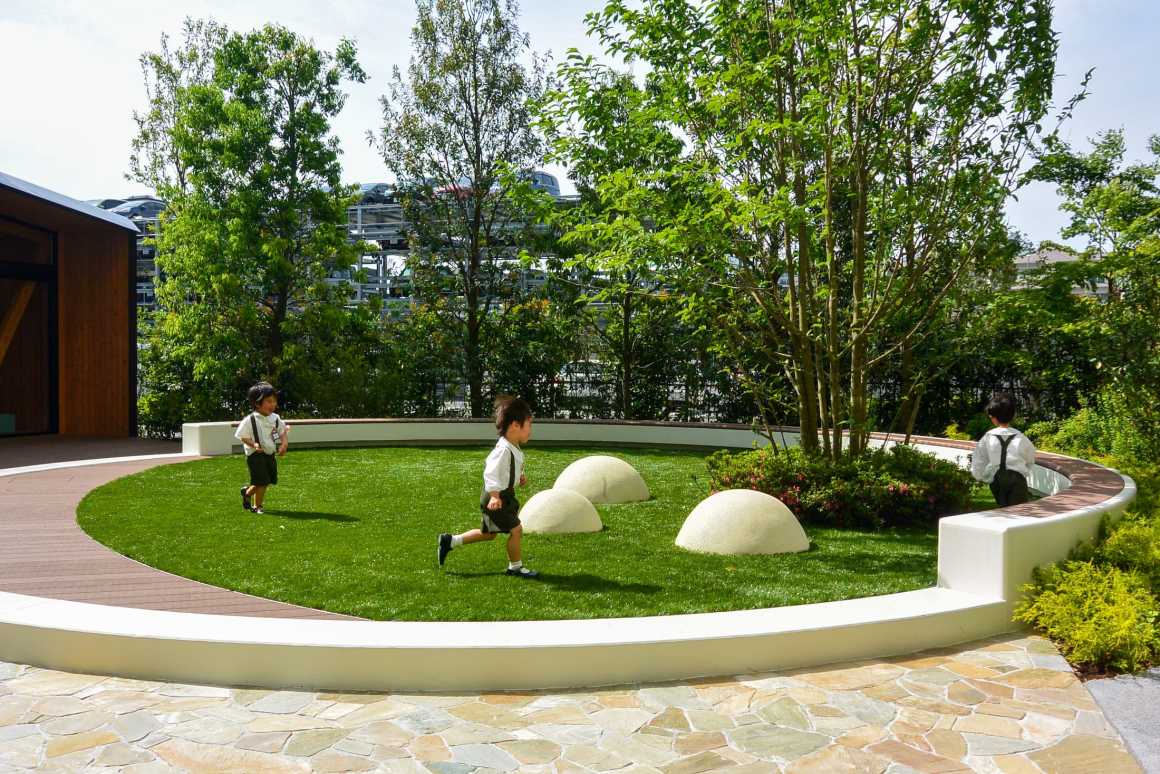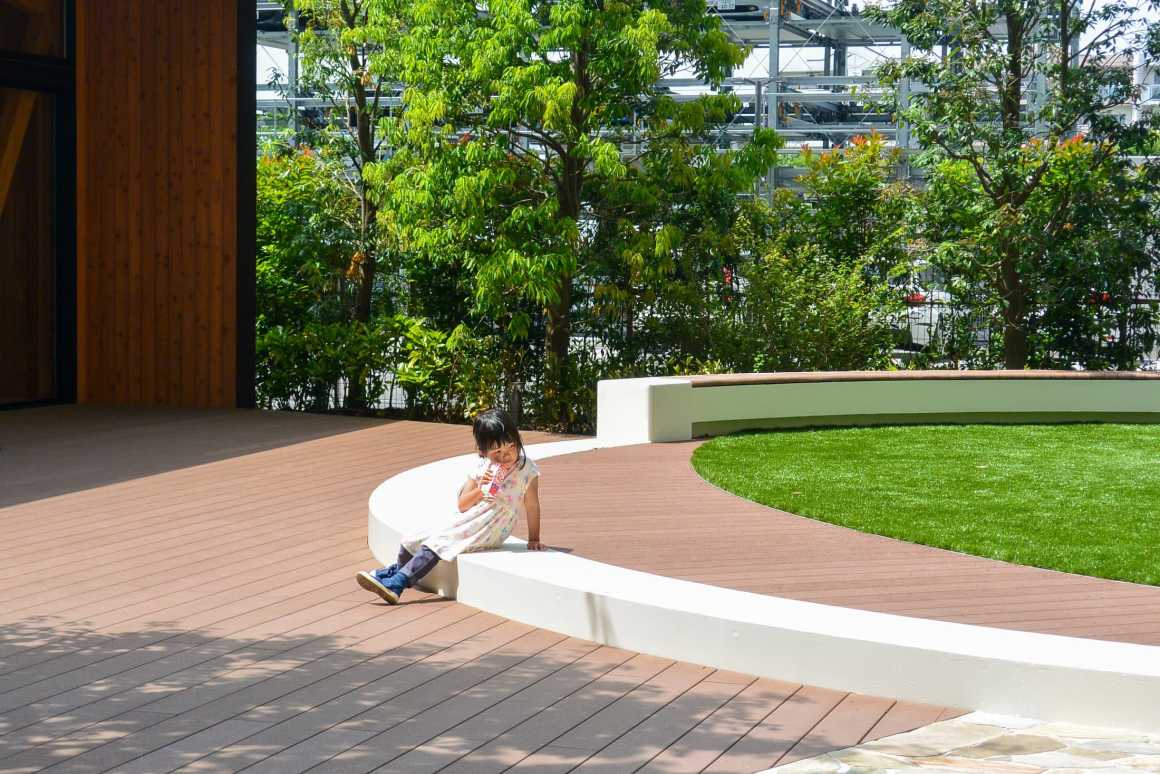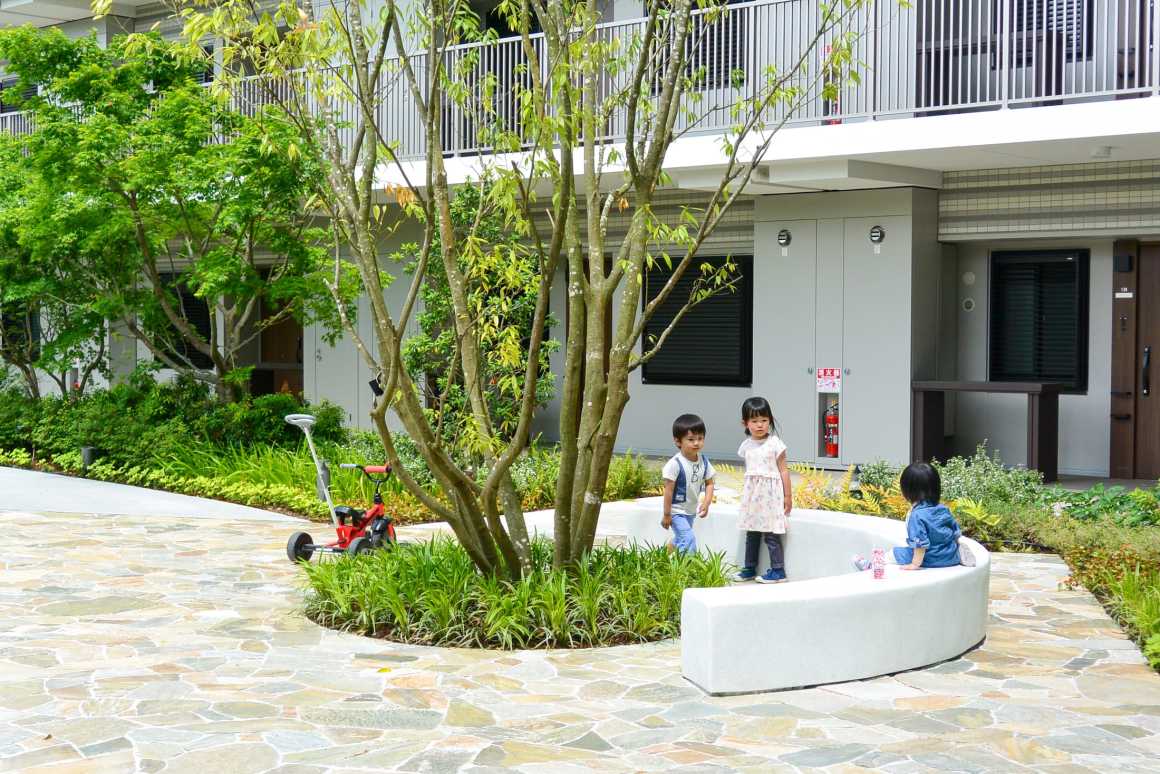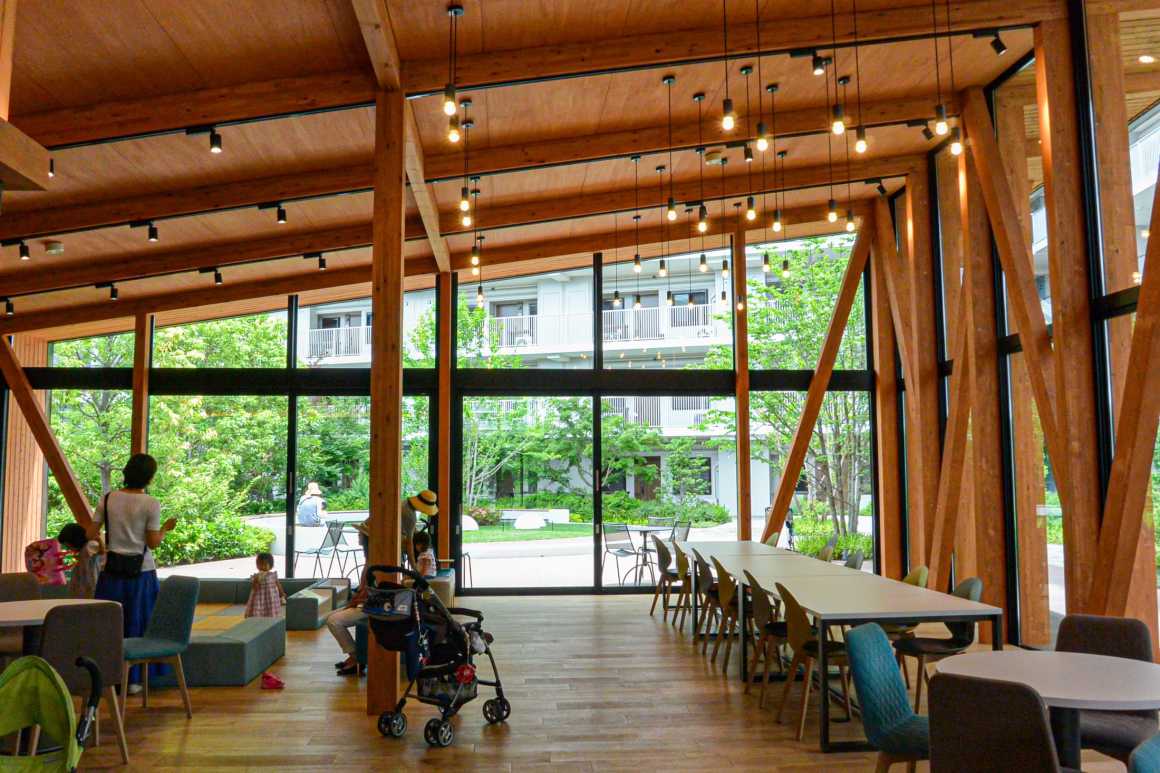 建筑北侧的花园区域多被住宅包围,不适合种植正常喜光植物。所以我们根据每个区域的特点,采用了多种不同的种植方式和树种,主要是耐荫树种,在此基础上,为避免单调,我们也做了许多的种植变化,保证每个季节都有花有叶可赏。
Many garden areas surrounded by residential buildings are located on the north side of the building and were not an excellent place for the sunshine conditions of planting. By changing the planting method and tree species according to the characteristics of each zone, mainly tree species that are strong in the shade, we did planting designs that do not become monotonous and can enjoy flowers and autumn leaves every season.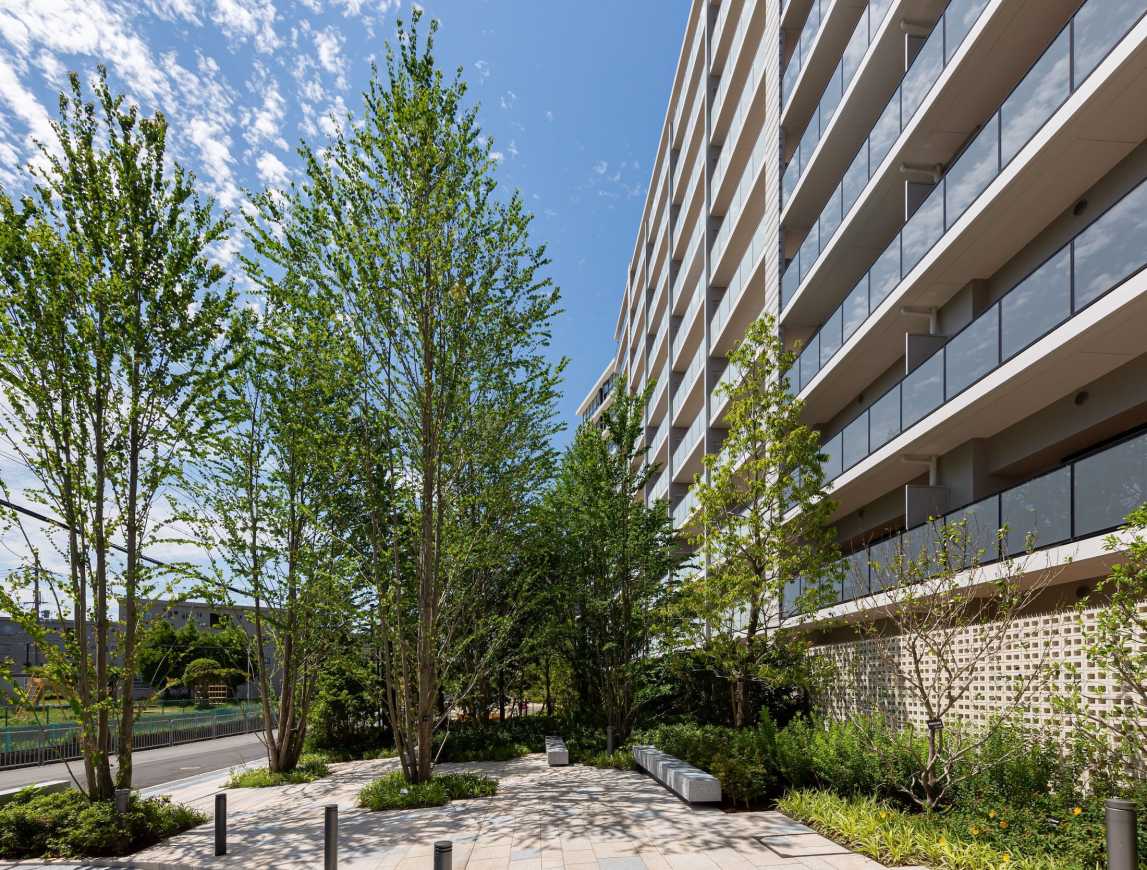 我们希望这种绿意盎然的环境能提高居民的生活质量,同时也能让居民对这个地方产生依恋和自豪感,用自然滋养培育出一个新的社区。
We hope that this lush environment will enhance the quality of life of residents, and that residents will be attached and proud of the place, and that a new community will be nurtured with nature.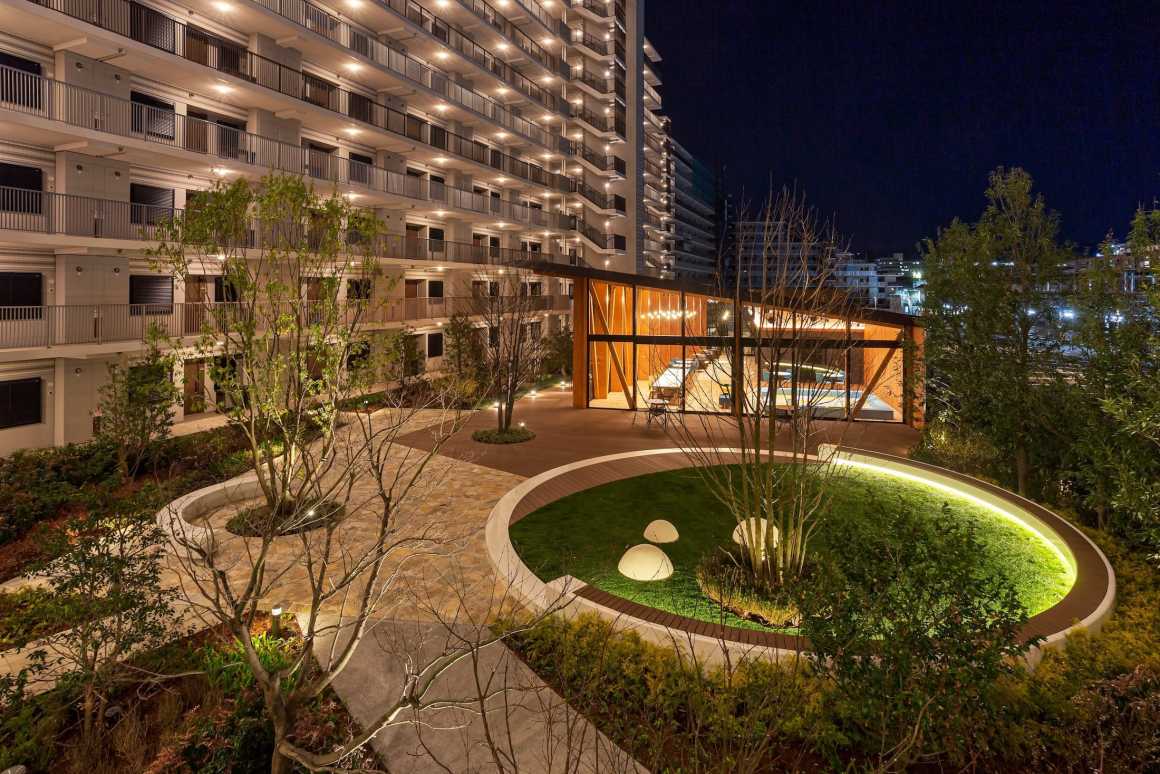 ▼项目总平面 Master Plan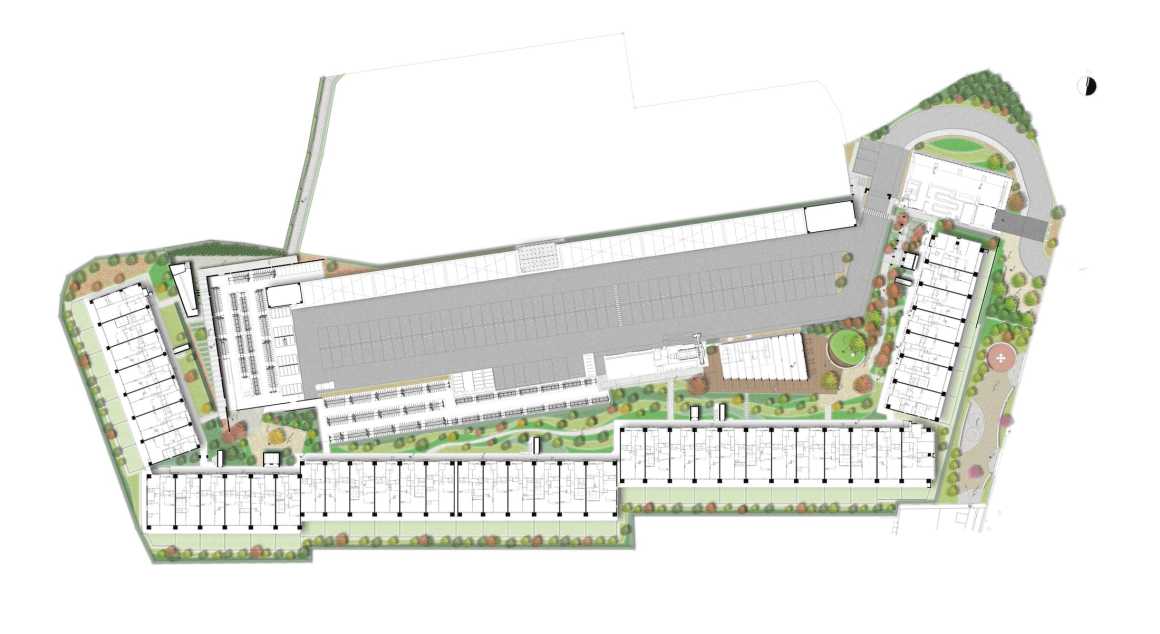 项目名称:Proud City Itami
完成:2019年
设计面积:10000平方米
项目地点:日本兵库县伊丹市
景观设计:凤咨询株式会社环境设计研究所
首席建筑师:IAO Takeda Architects associates
设计团队:Kentaro Sakata, Shoko Ishii
客户:野村房地产开发有限公司
图片:OHTORI CONSULTANTS Environmental Design Institute,Hiroyuki Tsuda (SS Inc.)
Project name: Proud City Itami
Completion Year: 2019
Design Area: 10,000㎡
Project location: Itami city, Hyogo, JAPAN
Landscape: OHTORI CONSULTANTS Environmental Design Institute
Lead Architects: IAO Takeda Architects associates
Design Team: Kentaro Sakata, Shoko Ishii
Clients: Nomura Real Estate Development Co.,Ltd.
Photo credits: OHTORI CONSULTANTS Environmental Design Institute, Hiroyuki Tsuda (SS Inc.)
更多 Read more about: OHTORI CONSULTANTS