本文由makeAscene授权mooool发表,欢迎转发,禁止以mooool编辑版本转载。
Thanks makeAscene for authorizing the publication of the project on mooool, Text description provided by makeAscene.
makeAscene:这个封闭式住宅由20个单元组成,中央绿树葱茏。车辆的流通与物业服务区一起隐藏在花园下方的地下室里。
makeAscene:Gated residence. Comprises of 20 units with lush central greenery in the middle. The Vehicular circulation got hidden in the basement under the garden along with maid quarter.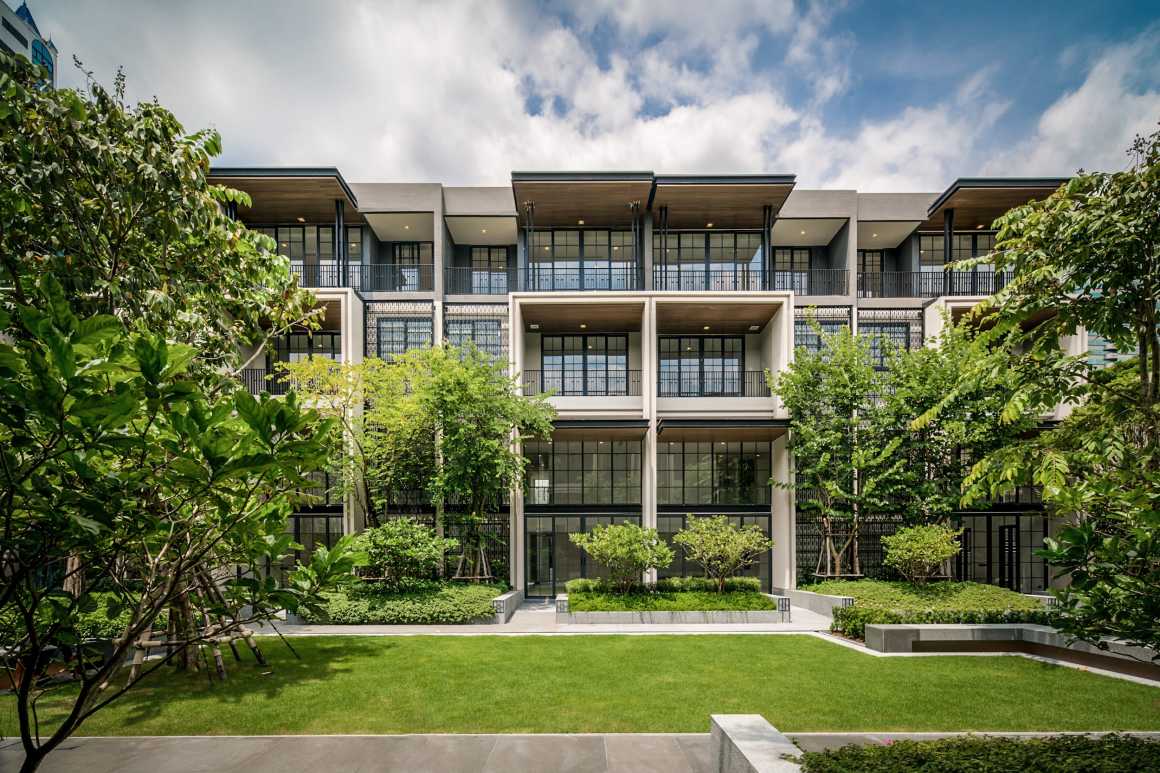 我们通过将建筑立面分成不同的部分来创造个性化,对边界的强调暗含着古典建筑语言元素,建筑外立面的少量装饰性开窗也软化了建筑。
To create to sense of individuality by separating the architectural façade in to parts.The emphasizing of borders imply the hint of classical architectural language.Light amount of ornamental fenestration to soften the architecture.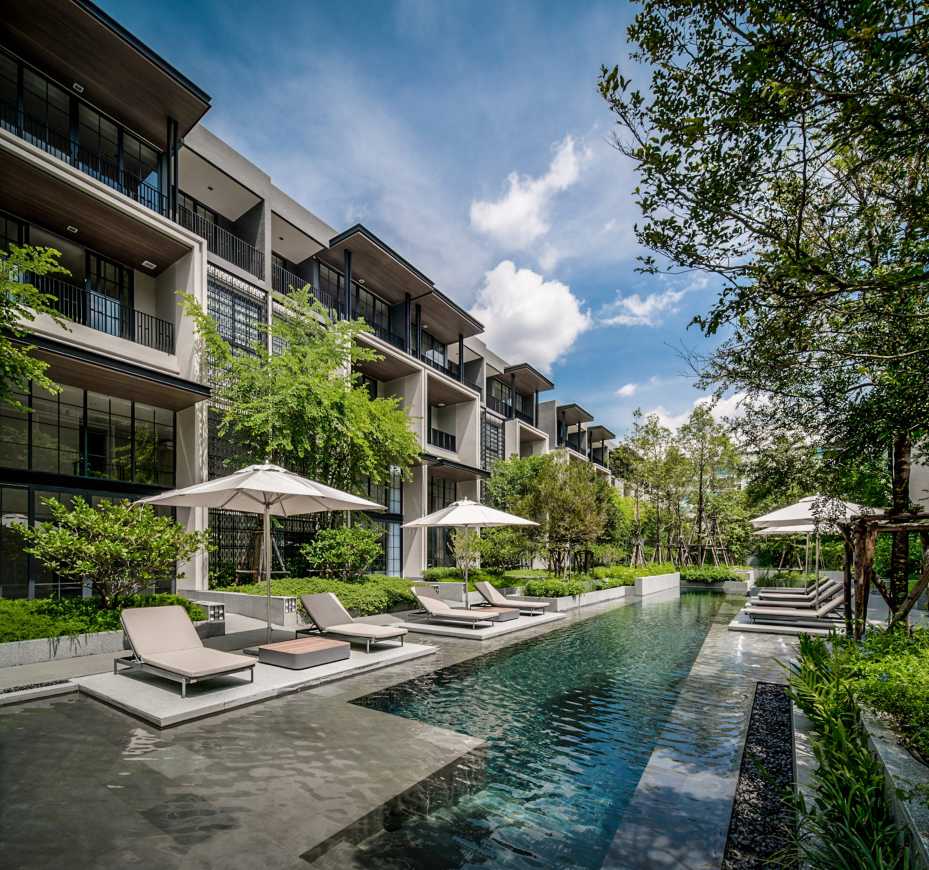 明确的立面边界也有助于降低庞大的体量创造出的3层建筑错觉——建筑遮阳蓬放置在约低于½高度的地方。
The definitive façade borders also help reducing the bulkiness of the massing by creating the illusion of 3 storey building – the projecting canopy placed at approximately ½ the lower portion height.
拥有了这个地方… 就拥有了属于自己的一方空间。
除了立面分隔之外,原本定义的生活区延伸到住宅前面的景观,融入公共区域。
景观设计元素在给人以私密感的同时,也将视觉传达在郁郁葱葱的景观中。
Own the place .. Own the space.
Apart from façade separation, the defined living area extended to the landscape in front the to house . Reaching in to the common area.
Landscape design element induce sense of privacy while still exposing the visual to the lush landscape
项目概念: 家庭集群住宅
地点: 泰国曼谷Sukhumvit 31 – Soi Sawasdee
竣工日期: 2017年10月
开发商: NYE Estate & KOON Capital
建筑设计: makeAscene – Pitchaya Ratpiyasoontorn/ Passara Tangvijitkul / Chalongboon Sakulma
室内设计: makeAscene – Methiga Tangkaewfa / Pimpika Kanjanamonthon
景观设计: shma
结构工程: WOR consultants
机电工程: MEE consultants
摄影师: W workspace & Pitchaya Ratpiyasoontorn
Project concept: Residential cluster home
Location: Sukhumvit 31 – Soi Sawasdee
Completion date: October 2017
Developer: NYE Estate & KOON Capital
Architect : makeAscene – Pitchaya Ratpiyasoontorn / Passara Tangvijitkul / Chalongboon Sakulma
Interior designer : makeAscene – Methiga Tangkaewfa / Pimpika Kanjanamonthon
Landscape designer : shma
Structural engineer : WOR consultants
M&E engineer : MEE consultants
Photographer : W workspace & Pitchaya Ratpiyasoontorn
更多 Read more about: makeAscene