本文由 Ross Barney Architects 授权mooool发表,欢迎转发,禁止以mooool编辑版本转载。
Thanks Ross Barney Architects for authorizing the publication of the project on mooool, Text description provided by Ross Barney Architects.
Ross Barney Architects:在沃尔顿家族基金会 (Walton Family Foundation) 的资助下,阿肯色州罗杰斯市开始着手规划崭新的市区公园,该公园将促进地区的经济发展、鼓励场所营造和提升区域连通性。新公园位于罗杰斯历史悠久的市中心区东边,将有机会整合近期对城市其他公共空间的投资,并推动罗杰斯市中心成为一块区域胜地。
Ross Barney Architects: With a grant from the Walton Family Foundation, the City of Rogers, Arkansas has embarked on a project to design a new downtown park that will enhance economic development, spur placemaking, and improve connectivity. Situated on the east boundary of Rogers' historic downtown district, the new park has the potential to capitalize on recent public space investments and help to make downtown Rogers a regional destination.
▼公园游戏场 Playard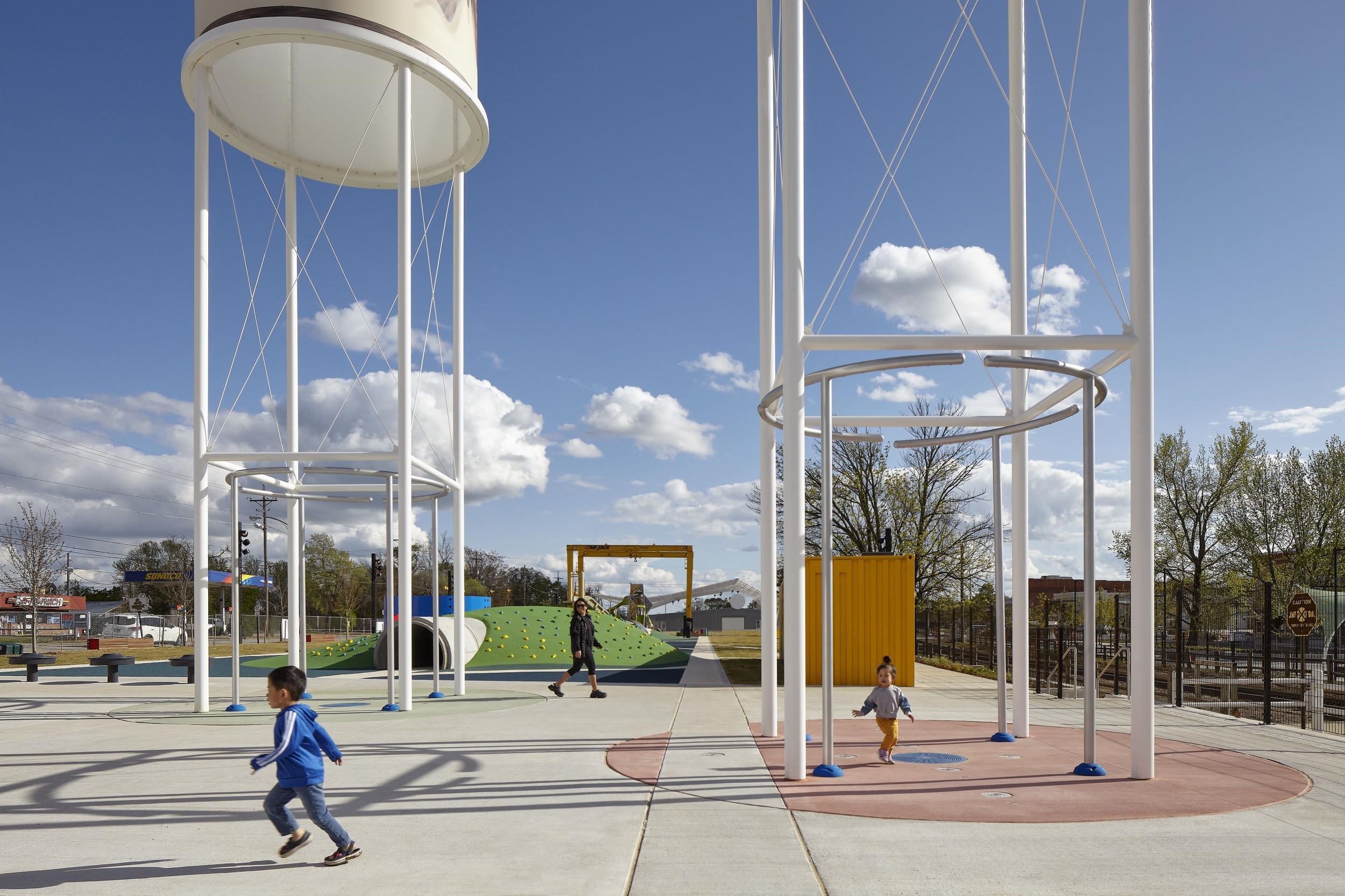 强有力的社区外展工作有助于建立起城市职工和居民的主人翁意识和自豪感,通过一项收集了1000多份问卷和专家研讨会意见的数据调查,设计团队通过社区对话帮助确立了公园建设的预期成果和目标。这一共同愿景包含五个新的优先级:邀请、难忘、挑战、美丽和真实。
The project utilized a robust community outreach effort, which has helped build a sense of ownership and pride from city staff and the residents. Through a digital survey that collected over 1,000 responses and inperson charrettes the design team has helped define the park's desired outcomes and objectives through the words of the community. This shared vision has resulted in five emerging priorities: Inviting, Memorable, Challenging, Beautiful, and Authentic.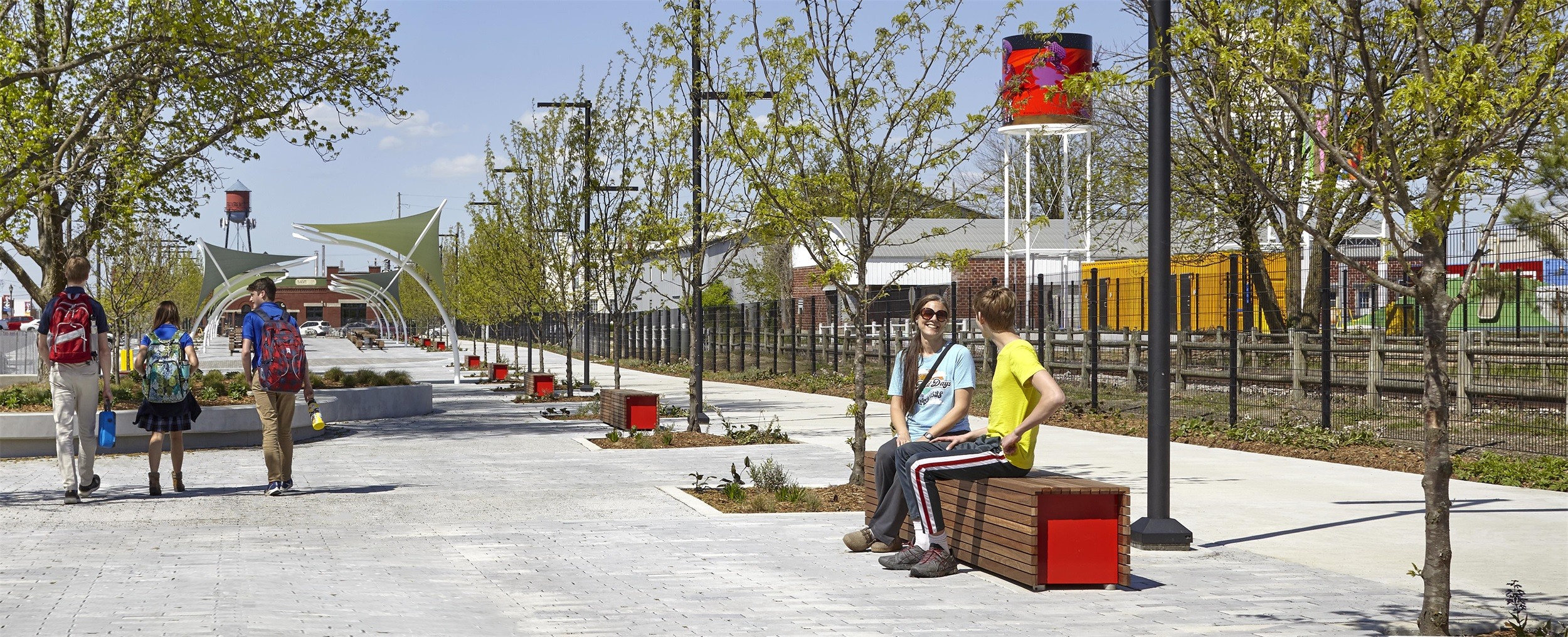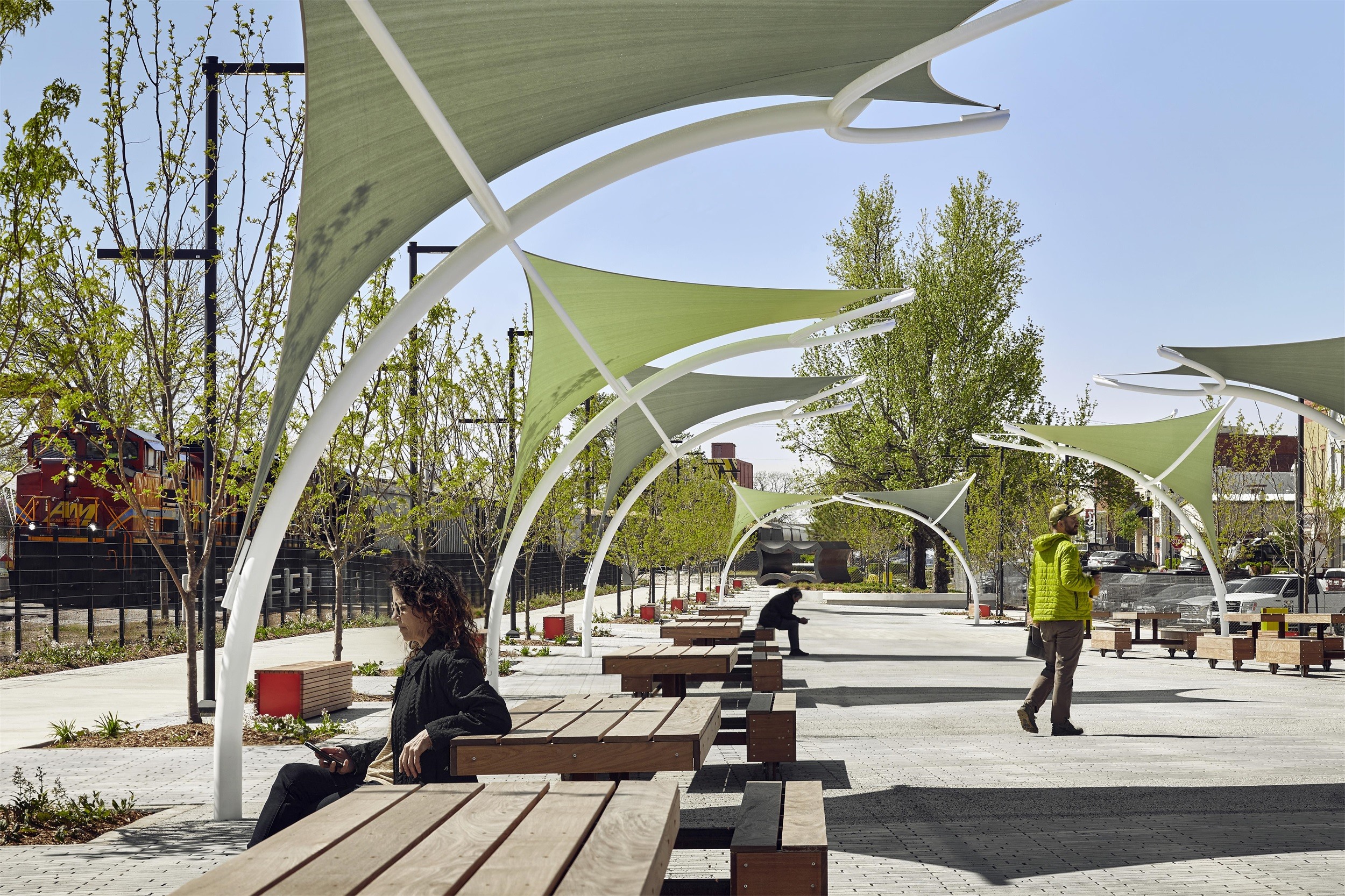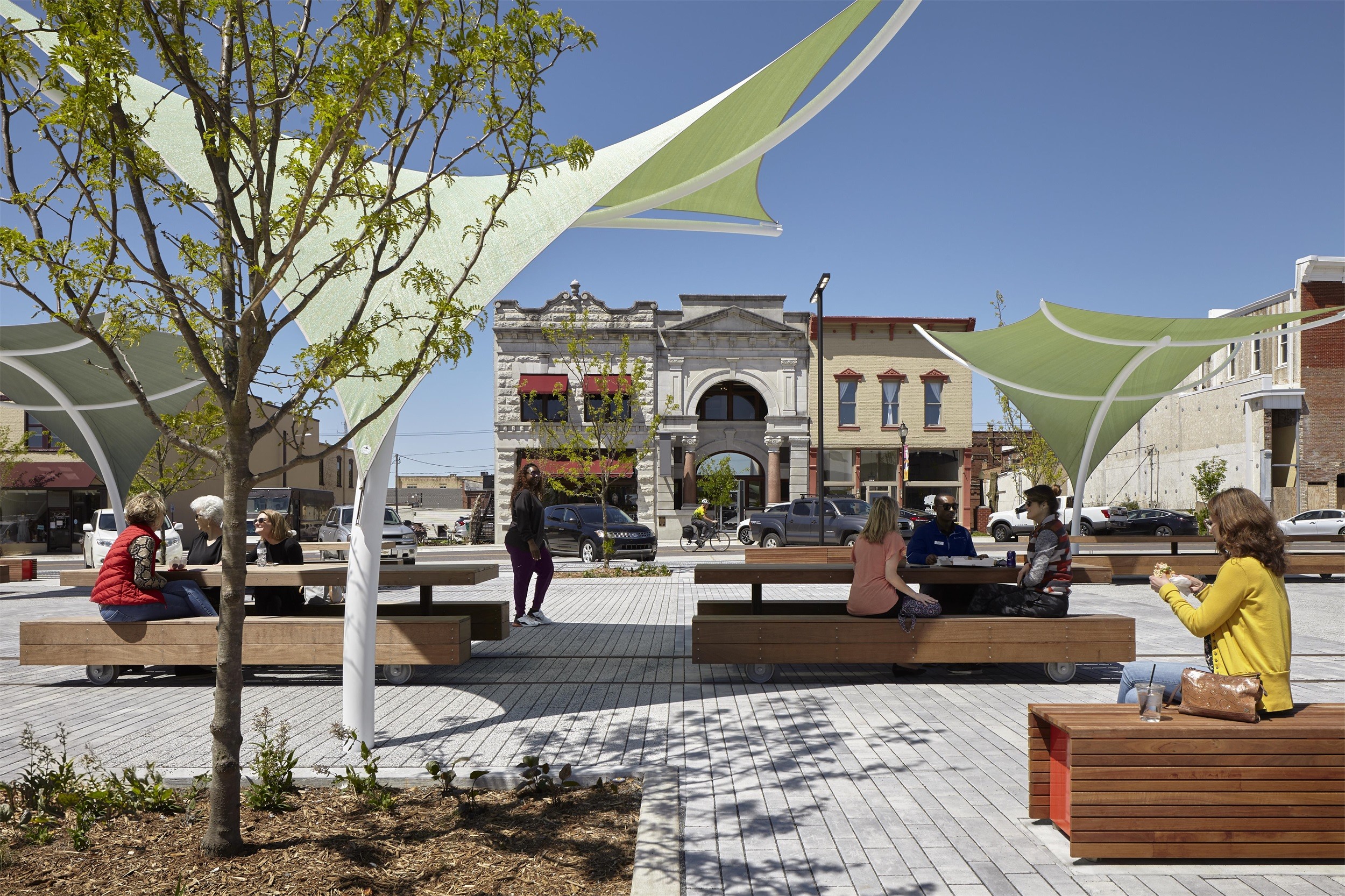 从经济和物质层面看,铁路对罗杰斯市的发展至关重要。1881年的第一个城市块地,就是利用铁路形成了一条强有力的分界线,沿着铁路周围组织了15个正方形街区,与那个时代的大多数城镇规划不同,这里没有城镇广场,铁路承担着城镇广场的作用。新公园的设计弱化了铁路的界线感,将东边和西边连接缝合,一系列的广场空间可以适时变换。这些多功能和灵活的空间创造了崭新且独特的节奏,并从公园里延伸到外面相邻的街道上。
Rogers, as a city, has been defined both economically and physically by the railroad. The first plat of survey, completed in 1881, uses the rail to create a strong dividing line. The plat organizes fifteen square blocks around the tracks. Unlike most town plans of this era there was no town square; the railroad served that purpose. The park's design ignores the rail as a barrier and stitches the east and west together. The result is a series of plazas that can transform throughout the day, week, month, and year. These versatile and flexible spaces create a new and distinct rhythm that extends beyond the park into adjacent streets.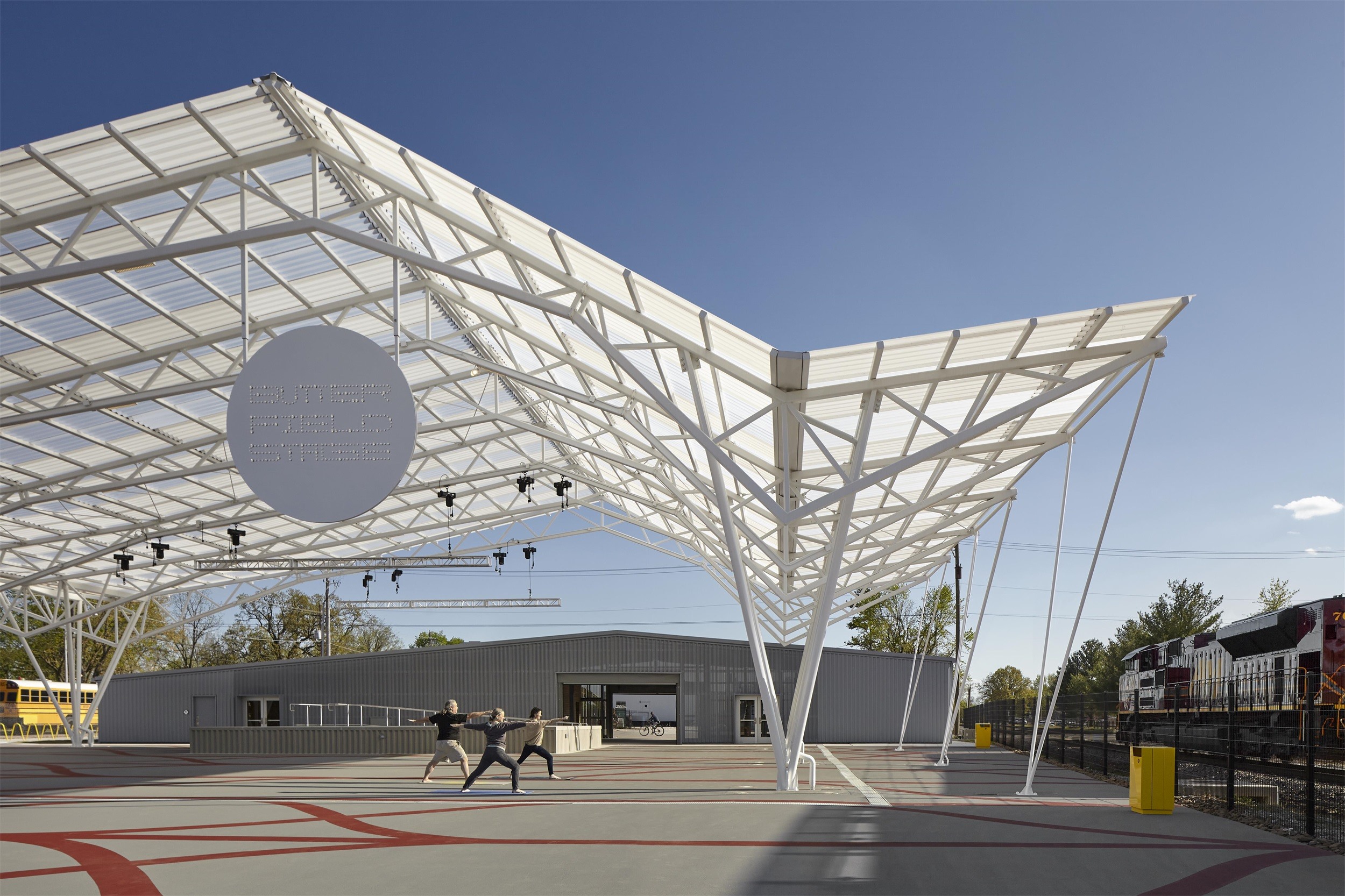 经过紧张的数据收集阶段,设计团队提出了四种截然不同的设计方案,将不同的地块整合成一个具有凝聚力的城市公园。最终选定的方案突出了狭长的空间,公园每个空间都有一个独特的城市"房间":Frisco广场、水广场、游戏场和Butterfield舞台。
Following an intense data gathering period the design team developed four dramatically different approaches that programmed the disparate parcels of land into a cohesive urban park. The selected design accentuates the narrow land through forced vistas on the east and accommodates larger programs on the west. Each space takes on a unique identity as an urban room: Frisco Plaza, Water Plaza, Playard, and Butterfield Stage.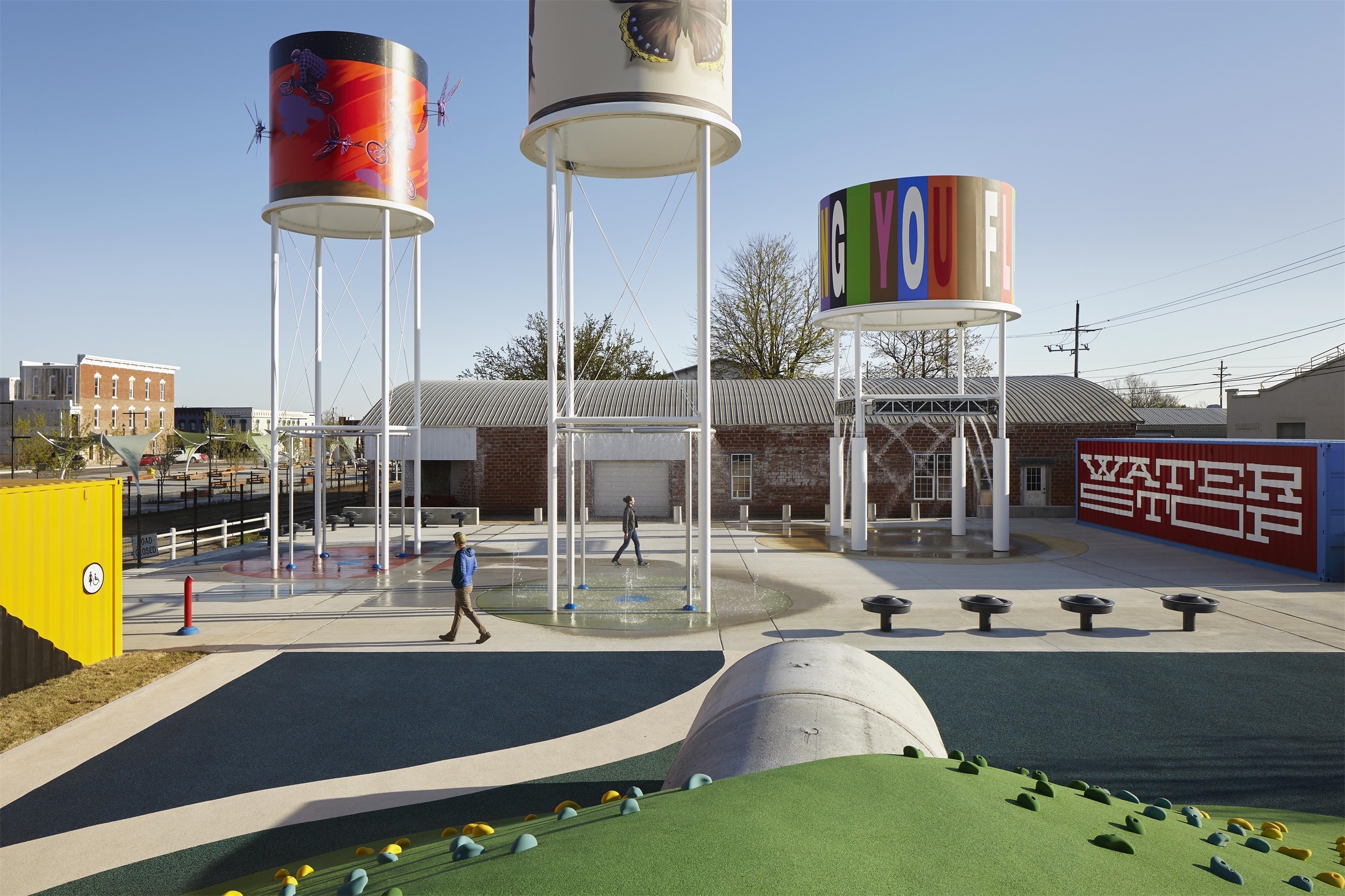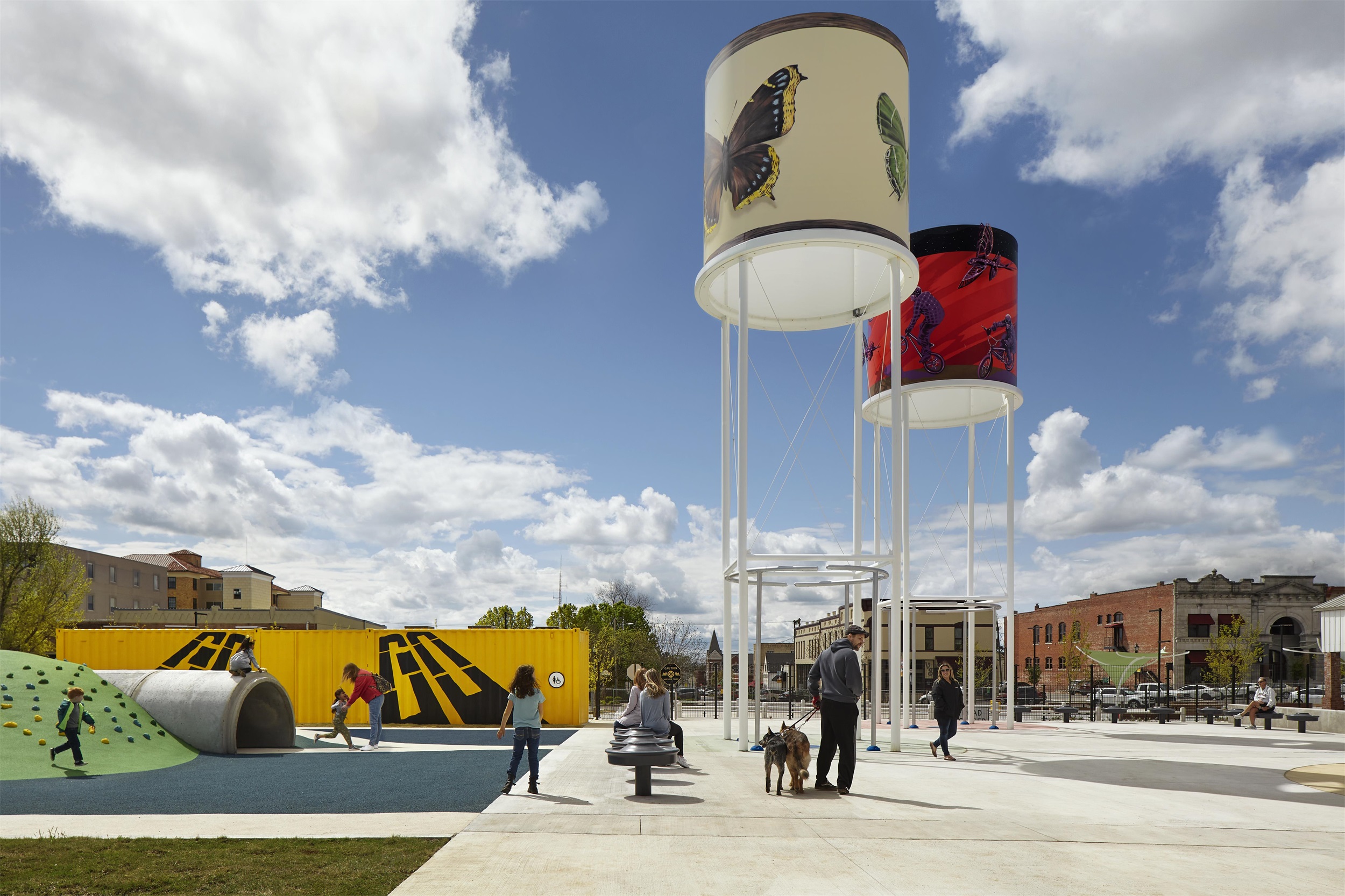 在相邻城市环境中形成的带状空间之中,植物茂盛并精心设计的"房间"有助于在整个公园里创造独特的体验,并进一步将这片闹市区定义为城市新中心。
Between the ribbons, which are formed by the adjacent city context, a "room" is created. These densely vegetated and programmed spaces help create unique experiences throughout the park and further frame this piece of downtown as the new center instead of the edge.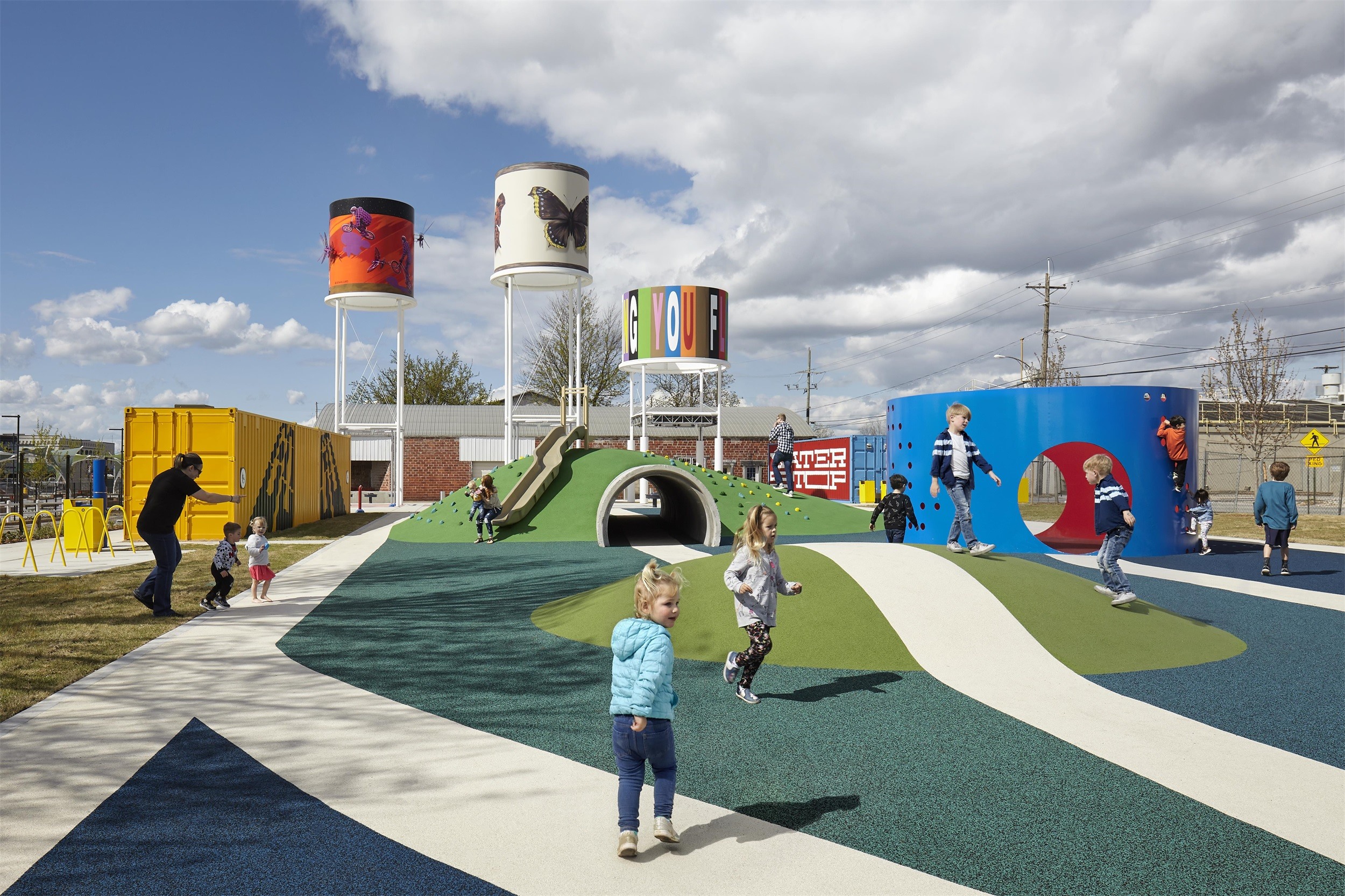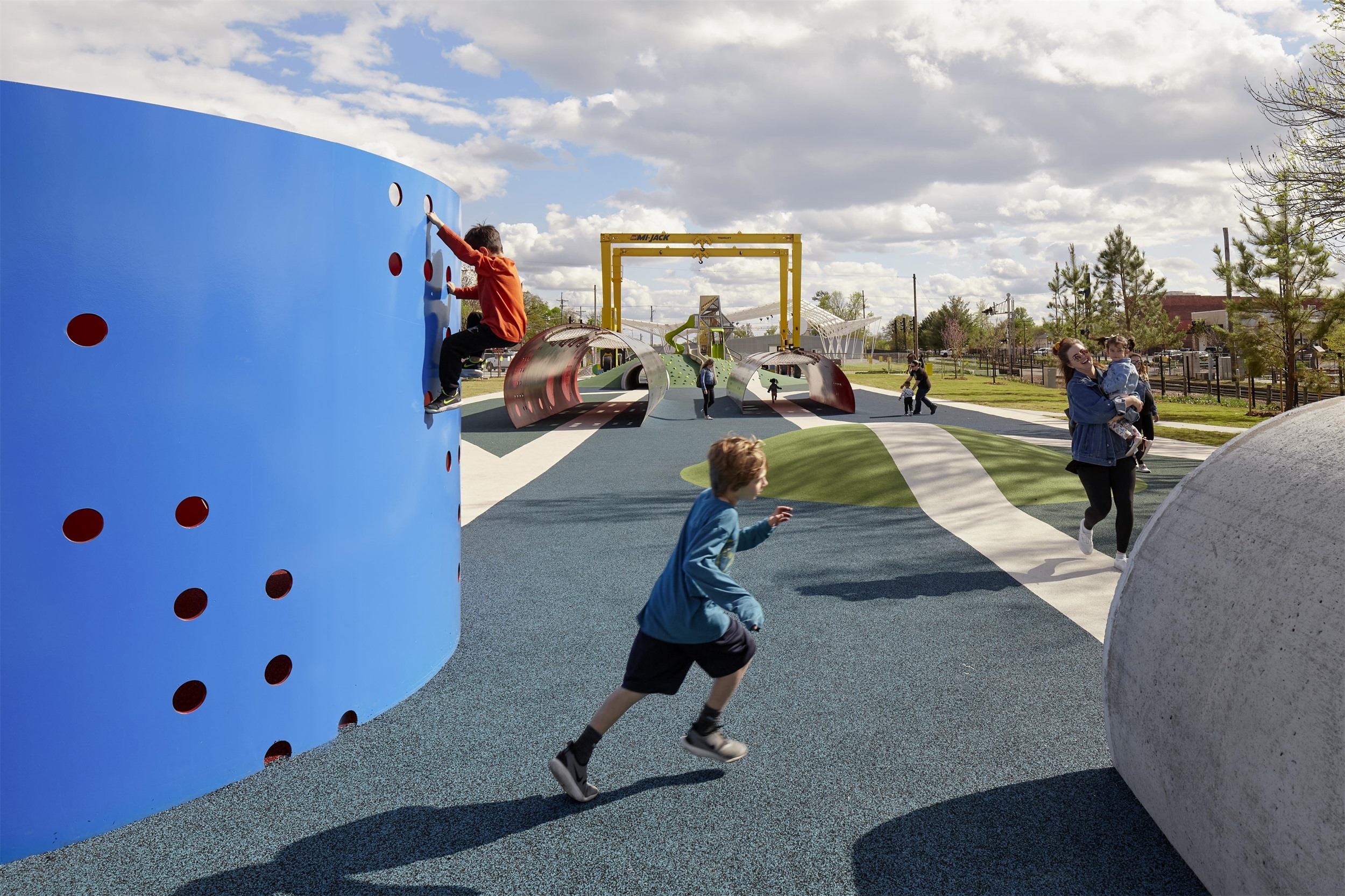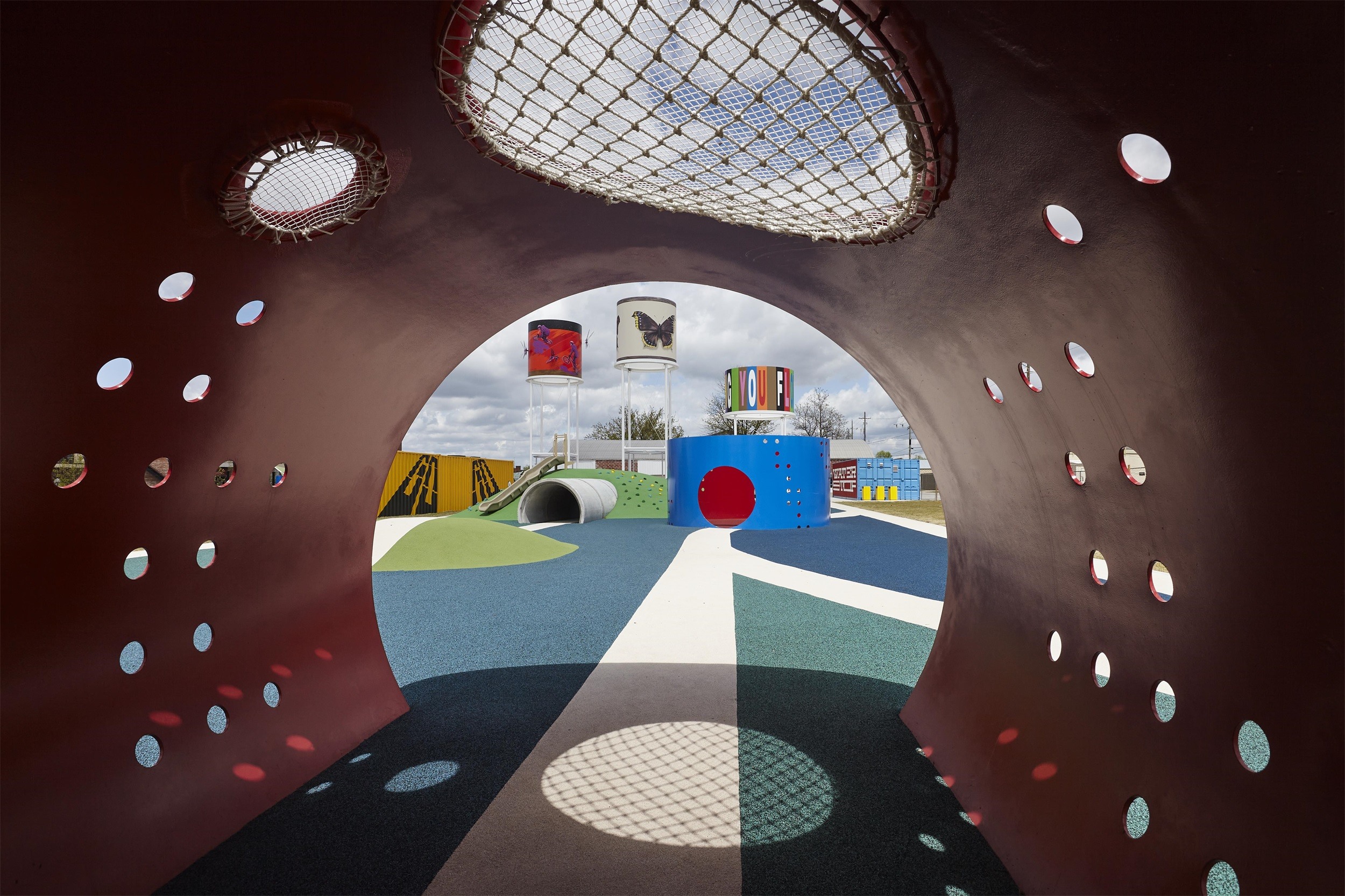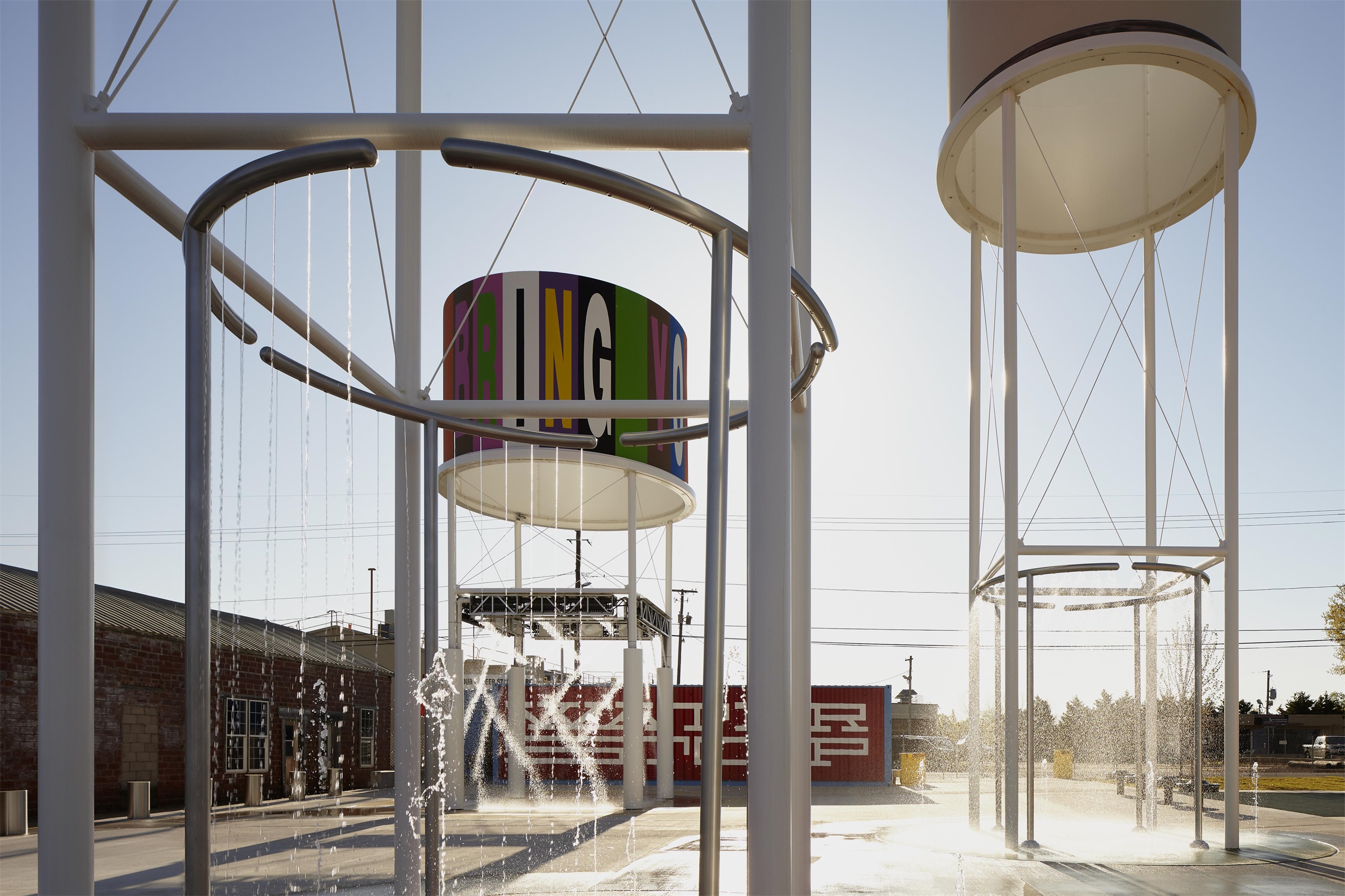 项目采用了富有活力的社区参与策略。在初始开放日活动中,参加者被要求用一个彩色的点来表示他们居住、工作和玩耍的地方。70%的参与者居住在公园方圆两英里的范围内,这有助于传达社区民意的内在精神。
The project utilized a robust community engagement strategy. Attendees at an initial Open House were asked to identify with a colored dot where they lived, worked, and played. 70% of those who attended lived within a two-mile radius of the park, helping inform the spirit of comments received.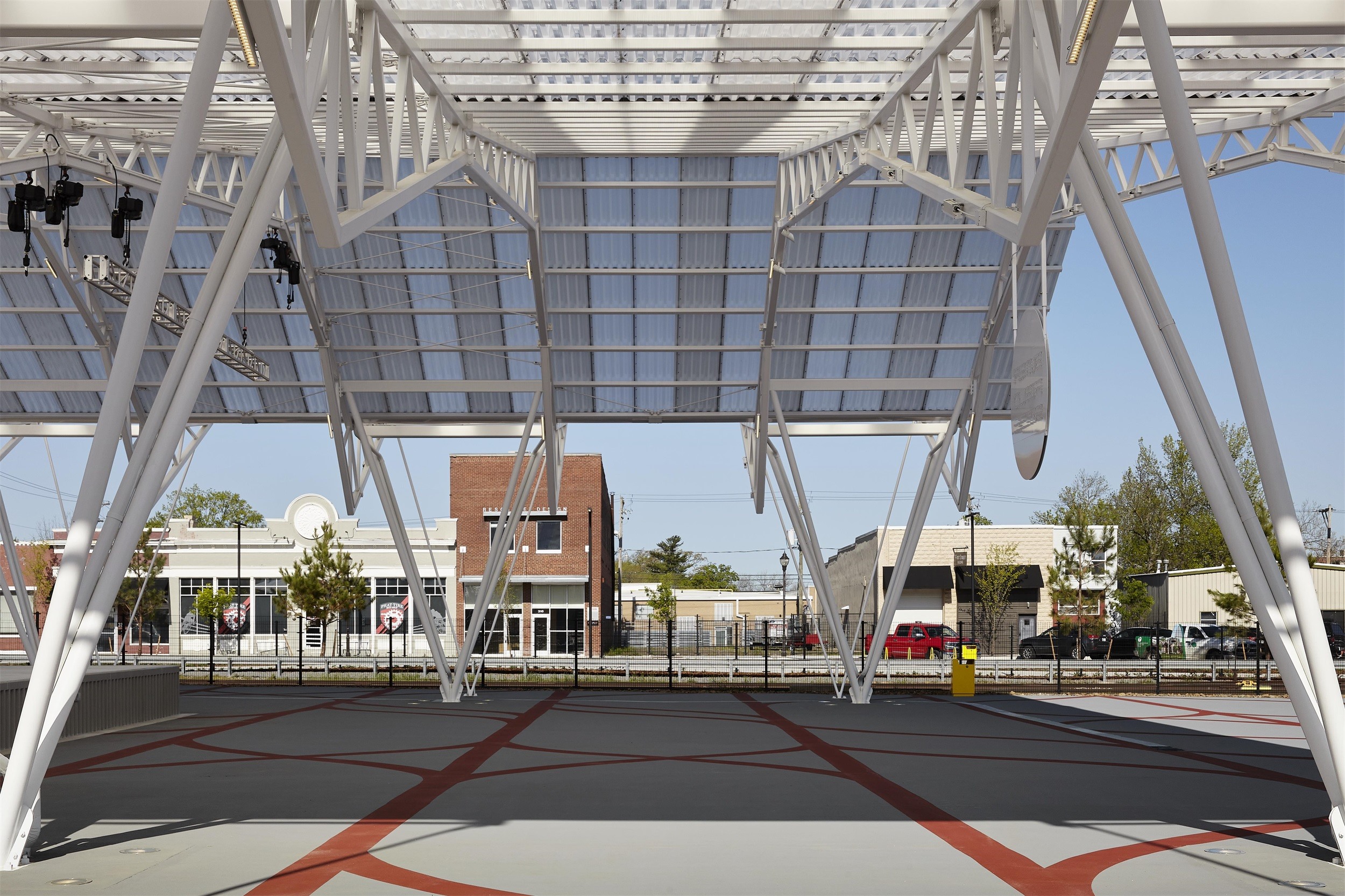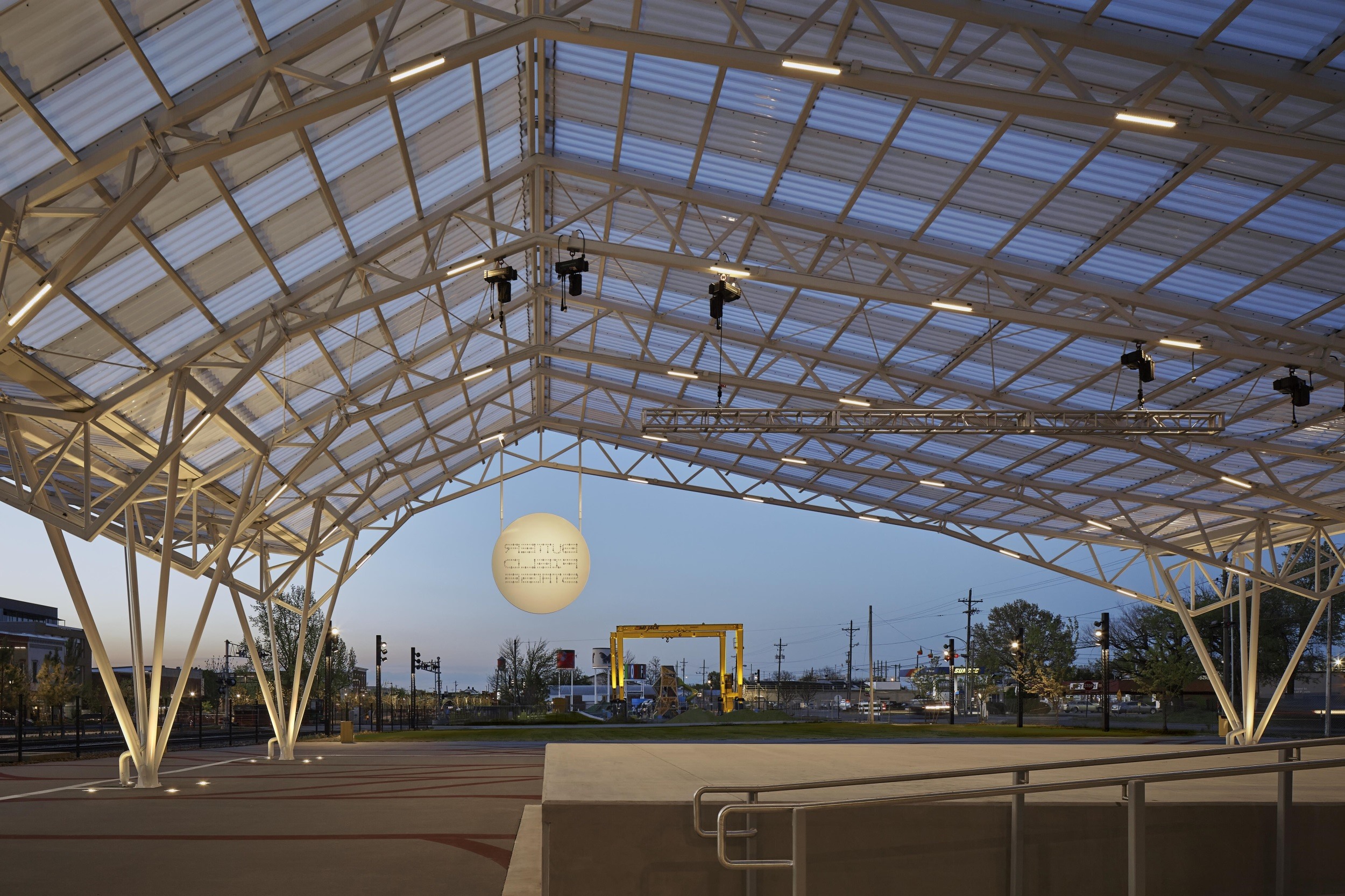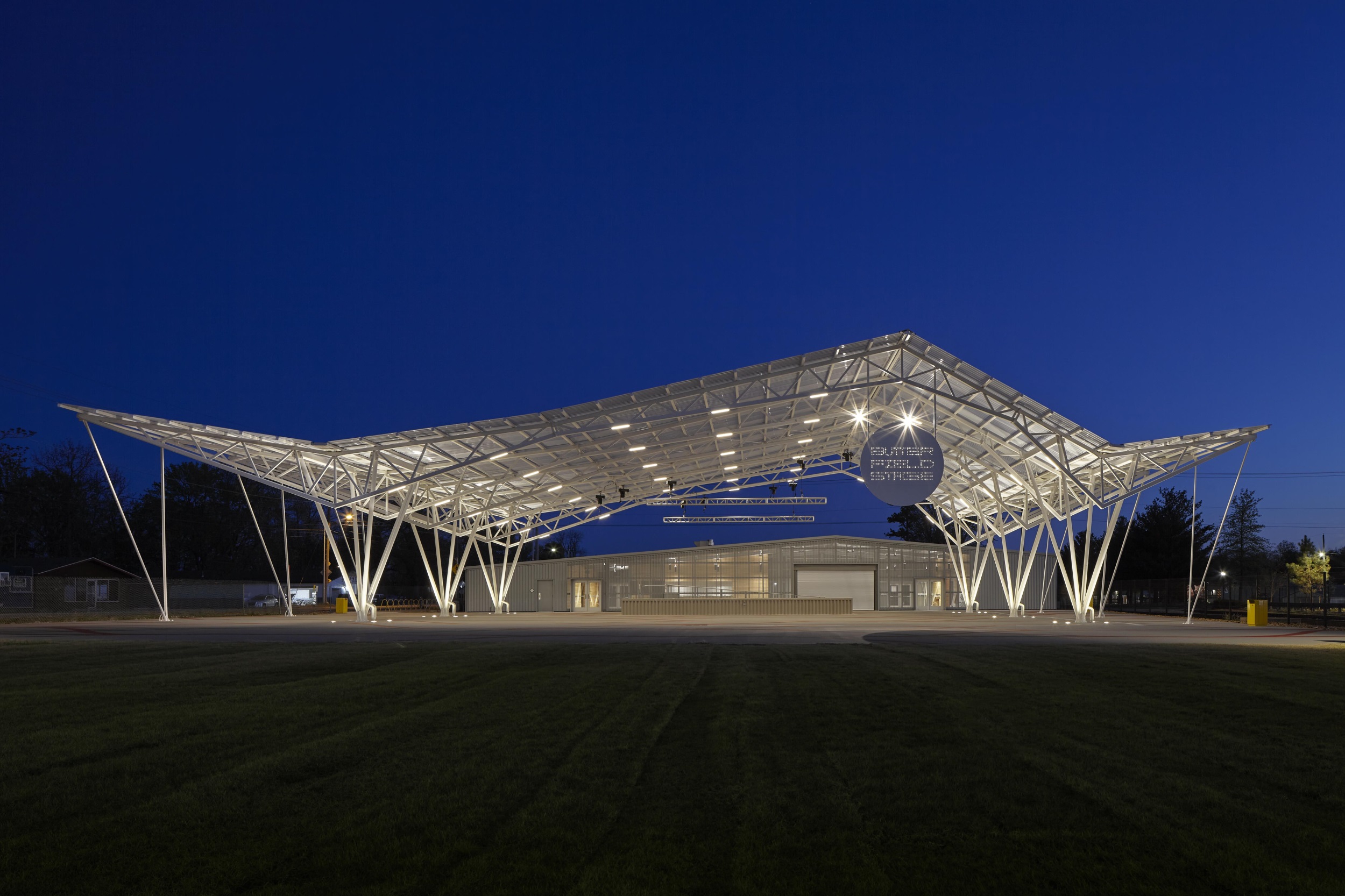 项目名称:Railyard
项目地点:阿肯色州罗杰斯市
客户:罗杰斯市政府
面积:5英亩/200,000平方英尺
项目团队
建筑与景观设计:Ross Barney Architects, Chicago, IL
土木工程与土地测量:CEI Engineering Associates, Bentonville, AR
结构工程:Goodfriend Magruder Structure, Chicago, IL
MEP工程:HP Engineering, Rogers, AR
照明设计:Schuler Shook, Chicago, IL
品牌与环境图案:SPAN (formerly Thirst) Chicago, IL
合作建筑师:AFJH Architects, Fayetteville, AR
视听顾问:Crowne Group, Fayetteville, AR
承包商/施工监理:Nabholz Construction, Rogers, AR
Project Name: Railyard
Location: Rogers, Arkansas
Client: City of Rogers
Size: 5 Acres/200,000 sqft
Project Team:
Ross Barney Architects, Chicago, IL – Architecture and Landscape Architecture
CEI Engineering Associates, Bentonville, AR – Civil Engineering and Land Surveying
Goodfriend Magruder Structure, Chicago, IL – Structural Engineering
HP Engineering, Rogers, AR – MEP Engineering
Schuler Shook, Chicago, IL – Lighting Design
SPAN (formerly Thirst) Chicago, IL – Branding and Environmental Graphics
AFJH Architects, Fayetteville, AR – Associate Architect
Crowne Group, Fayetteville, AR – AV Consultant
Nabholz Construction, Rogers, AR -Contractor/Construction Manager
更多 Read more about:Ross Barney Architects