本文由 Architectural studio Arcanika 授权mooool发表,欢迎转发,禁止以mooool编辑版本转载。
Thanks Architectural studio Arcanika for authorizing the publication of the project on mooool, Text description provided by Architectural studio Arcanika.
Architectural studio Arcanika:阿尔梅季耶夫斯克市中心改造项目是阶段性推进的,旨在通过将街道、建筑和公园改造成统一的、舒适的日常生活空间,把单元的城市带回到市民身边。该项目深深植根于城市历史,是重塑单元城市的措施之一,它展示了城市如何通过提升城区品质,从而实现资源型经济向创新型经济转型。
Architectural studio Arcanika:A project of a renovation of the citycenter of Almetyevsk is a several stage project, aiming to bring a mono-city back to its citizens, transform streets, buildings and parks into a united space comfortable to live in on a daily basis. The project has deep roots in the city's history and is one of the measures taken in order to reshape mono-city. It shows, how the city can transfer from a resource-based to an innovative economy by improving the quality of urban areas.
▼整体鸟瞰 Aerial view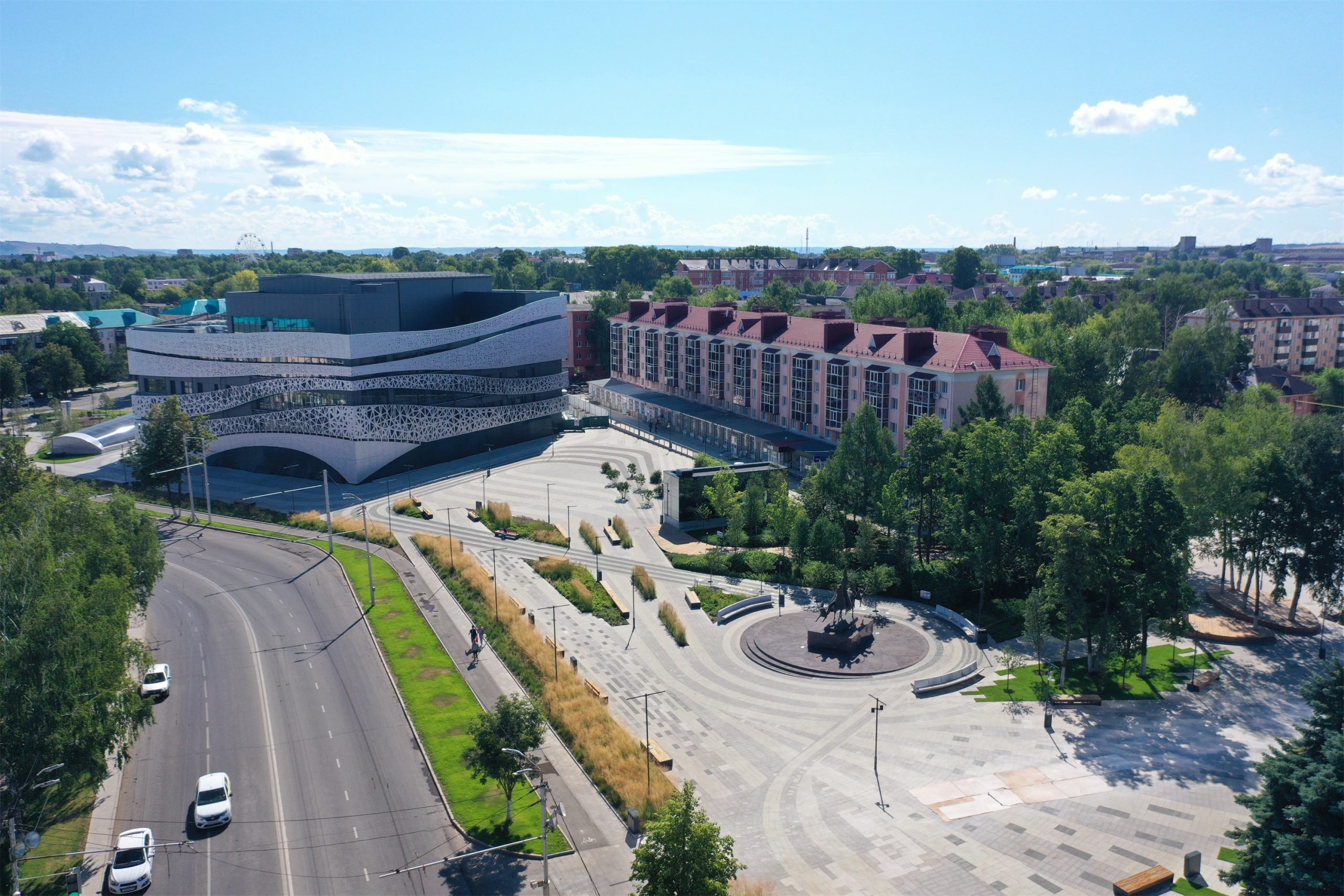 社区中心取代了上世纪70年代的一家百货商店,旨在为诸如艺术、文化和科学等全年性活动创建一座多功能建筑。建筑穿孔立面上的图案与该地区的地质有关,原始方案的灵感源自当地含油层地质的典型序列,也代表上市公司鞑靼石油(Tatneft)的企业标识。
Community center replaced a former department store from 1970s. The goal was to create a multi-functional building for all-season activities such as arts, culture and science. Pattern on the perforated façade relates to the geology of the region. An original drawing is a stylized sequence of the oil-containing layers of the Almetyevsk ledge, which also refers to a corporate identity of "Tatneft".
▼社区中心 Community center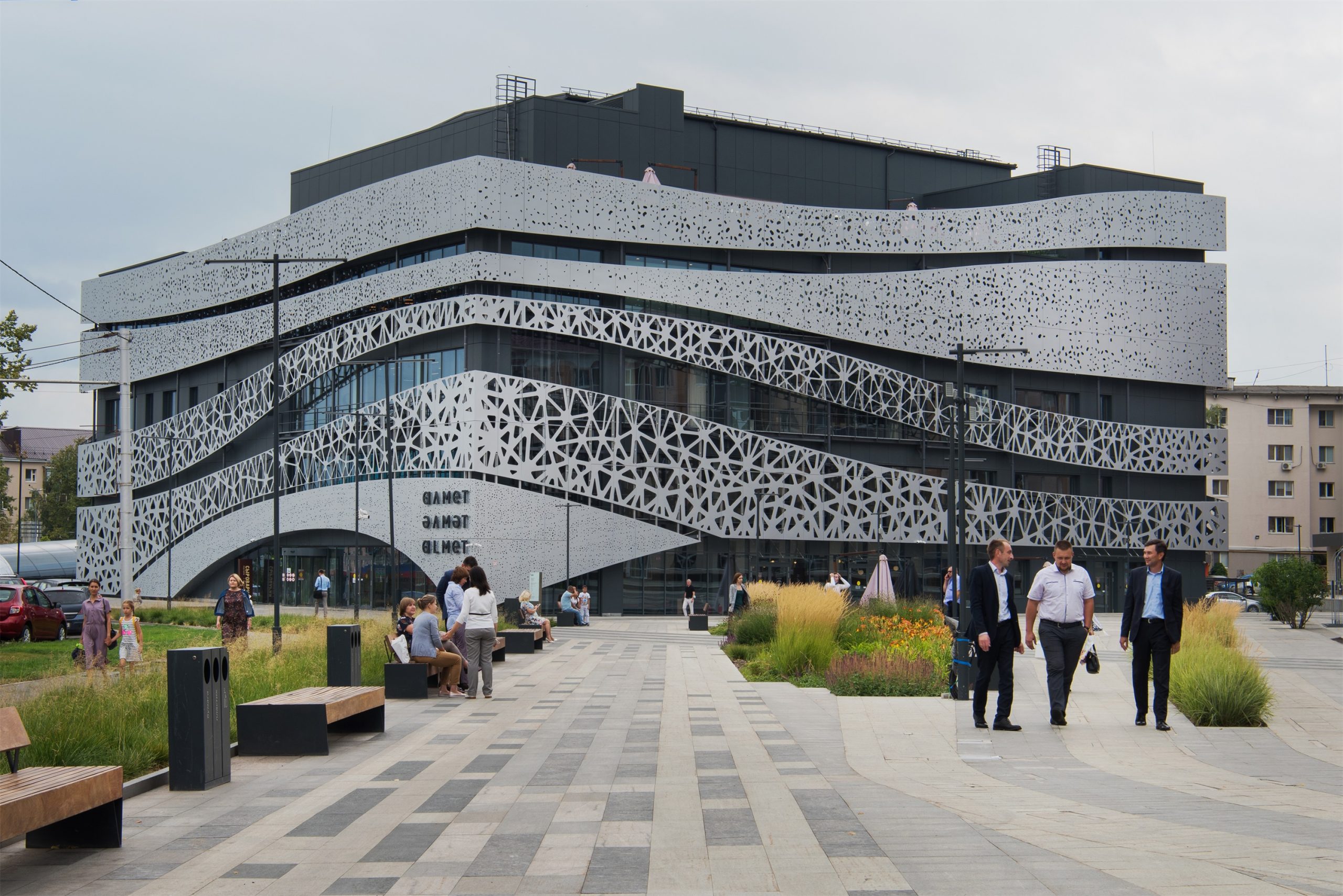 ▼建筑穿孔立面 Perforated facade of building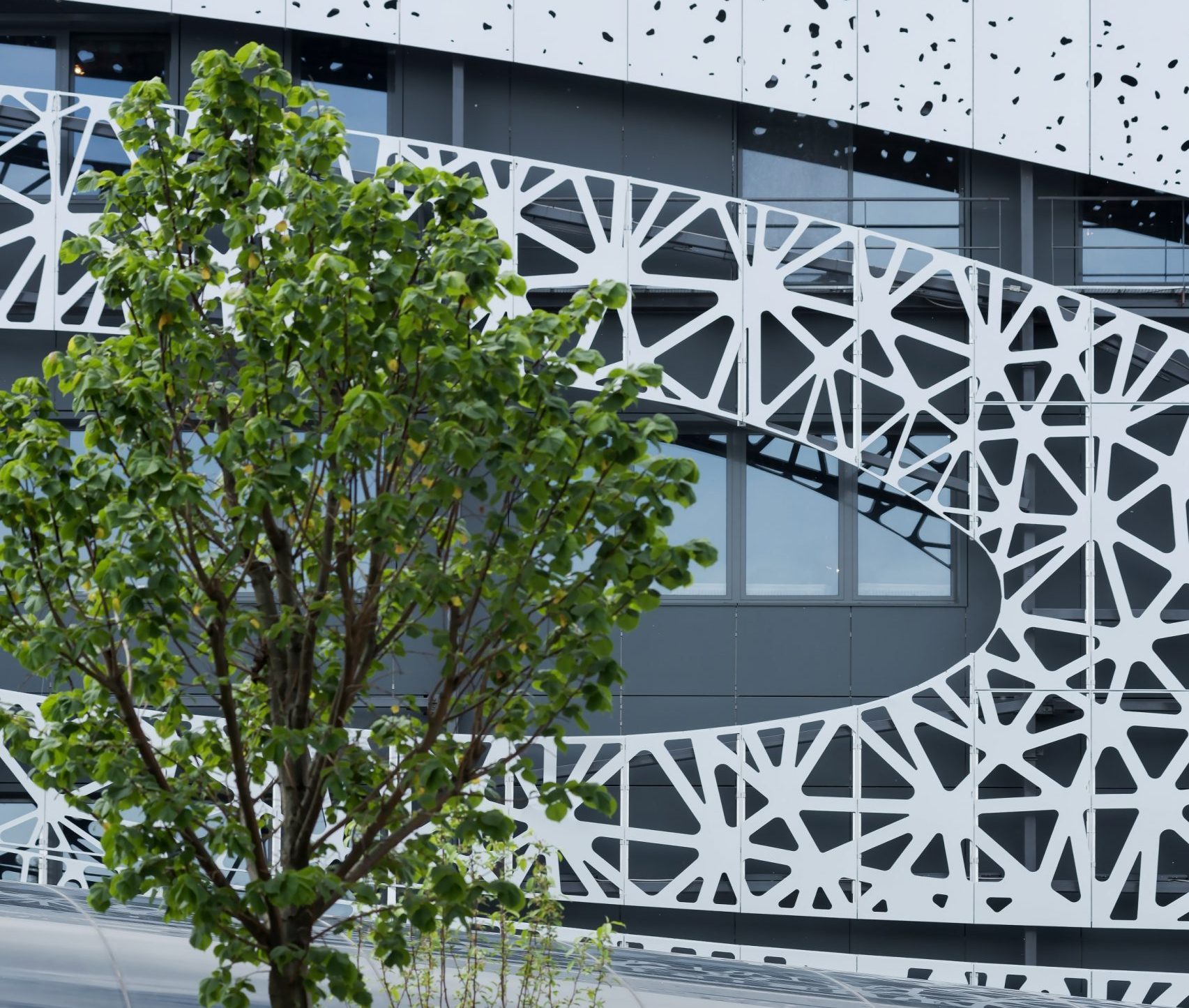 PJSC Tatneft行政集群是一组跨时代的建筑物,重建过程中将这些建筑整合成一个与该公司地位相匹配的集群,全新的弧形黑色玻璃外观象征着流动的石油。
Administrative cluster PJSC Tatneft is a set of buildings constructed throughout times. Reconstruction united these buildings into a cluster matching the company's status, creating an entirely new look of curved black glass symbolizing flowing oil.
▼行政大楼 Administrative building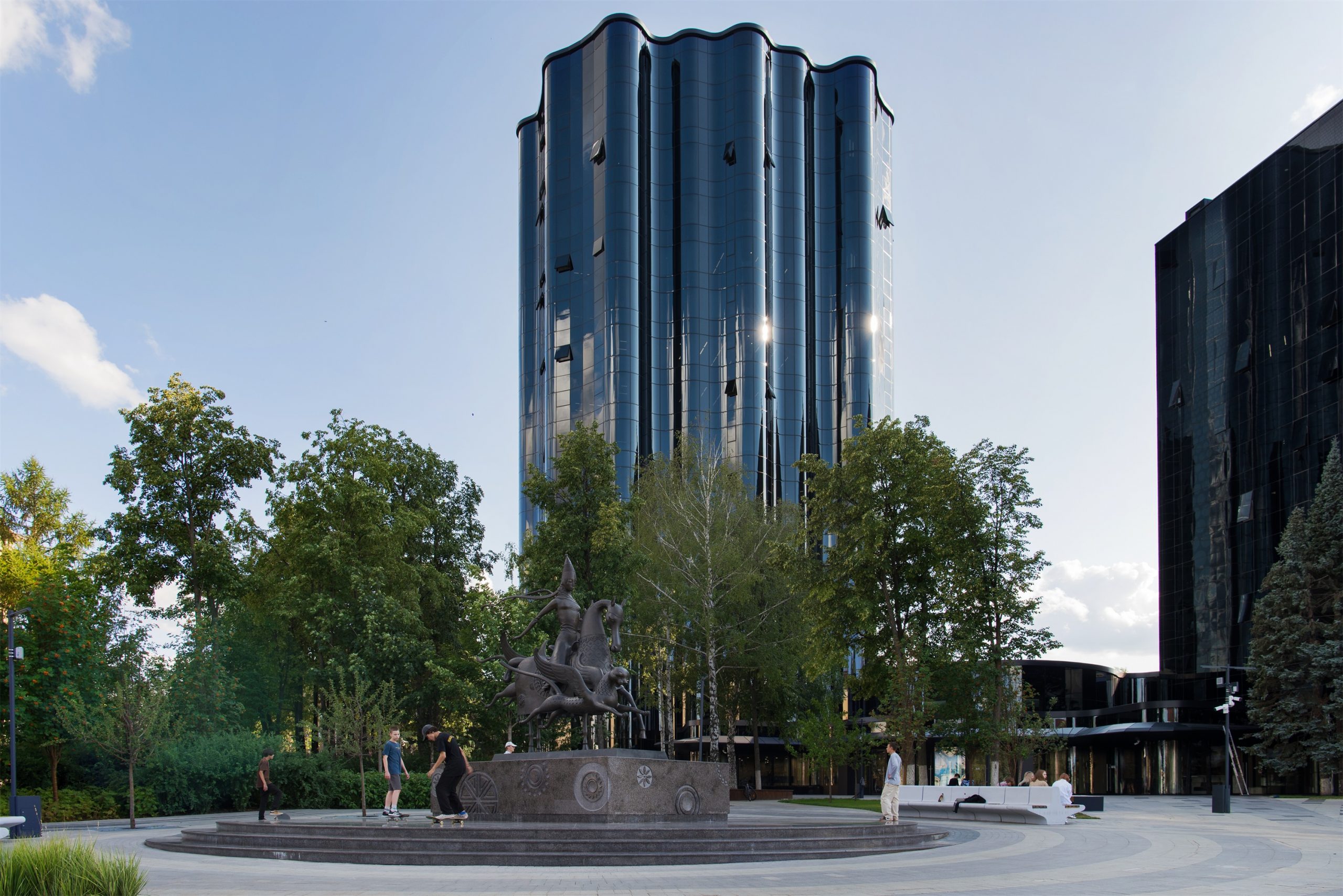 ▼弧形黑色玻璃外观似流动的石油 Curved black glass appearance like flowing oil.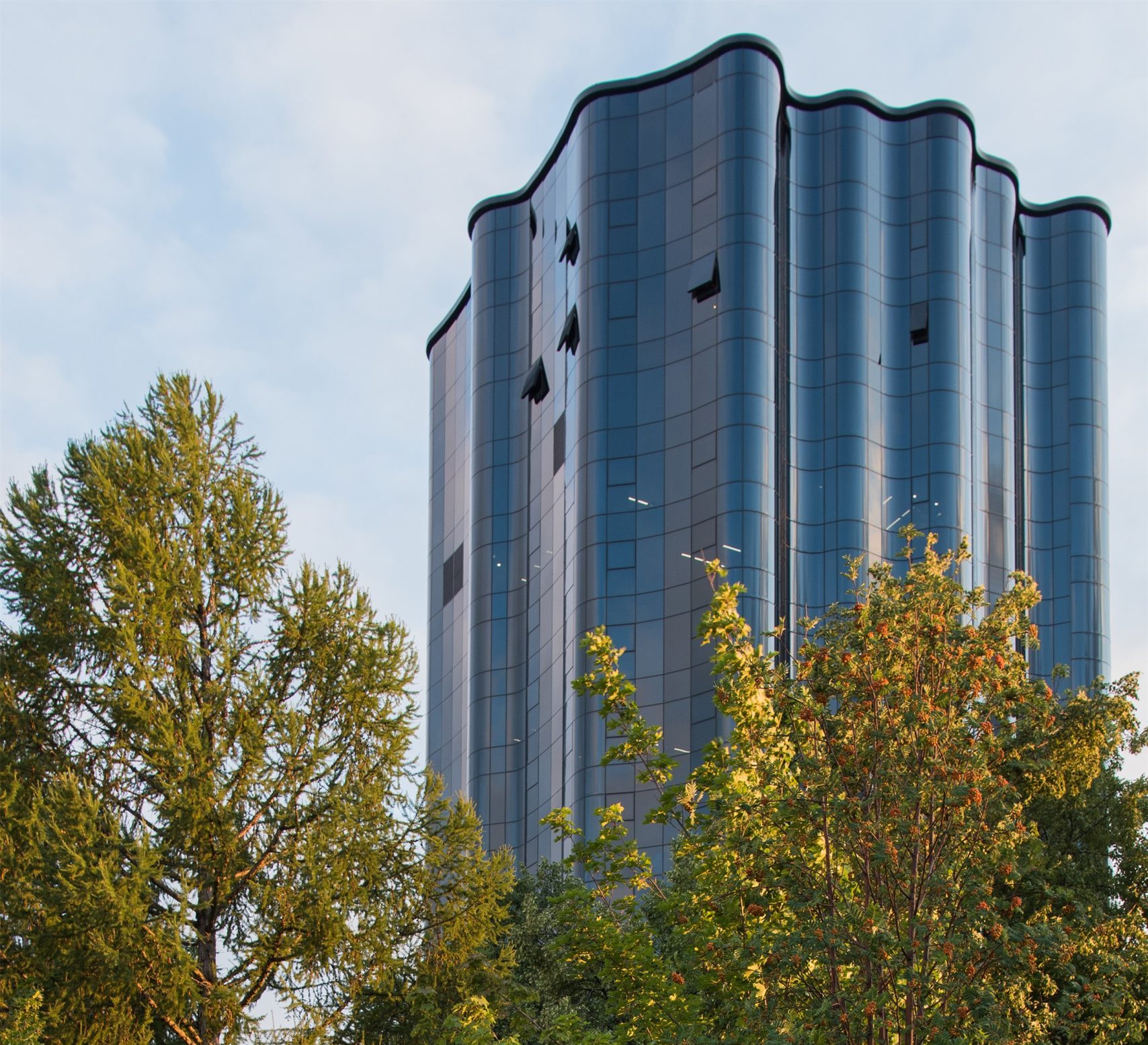 ▼鞑靼石油(Tatneft)公司大楼 The building of "Tatneft"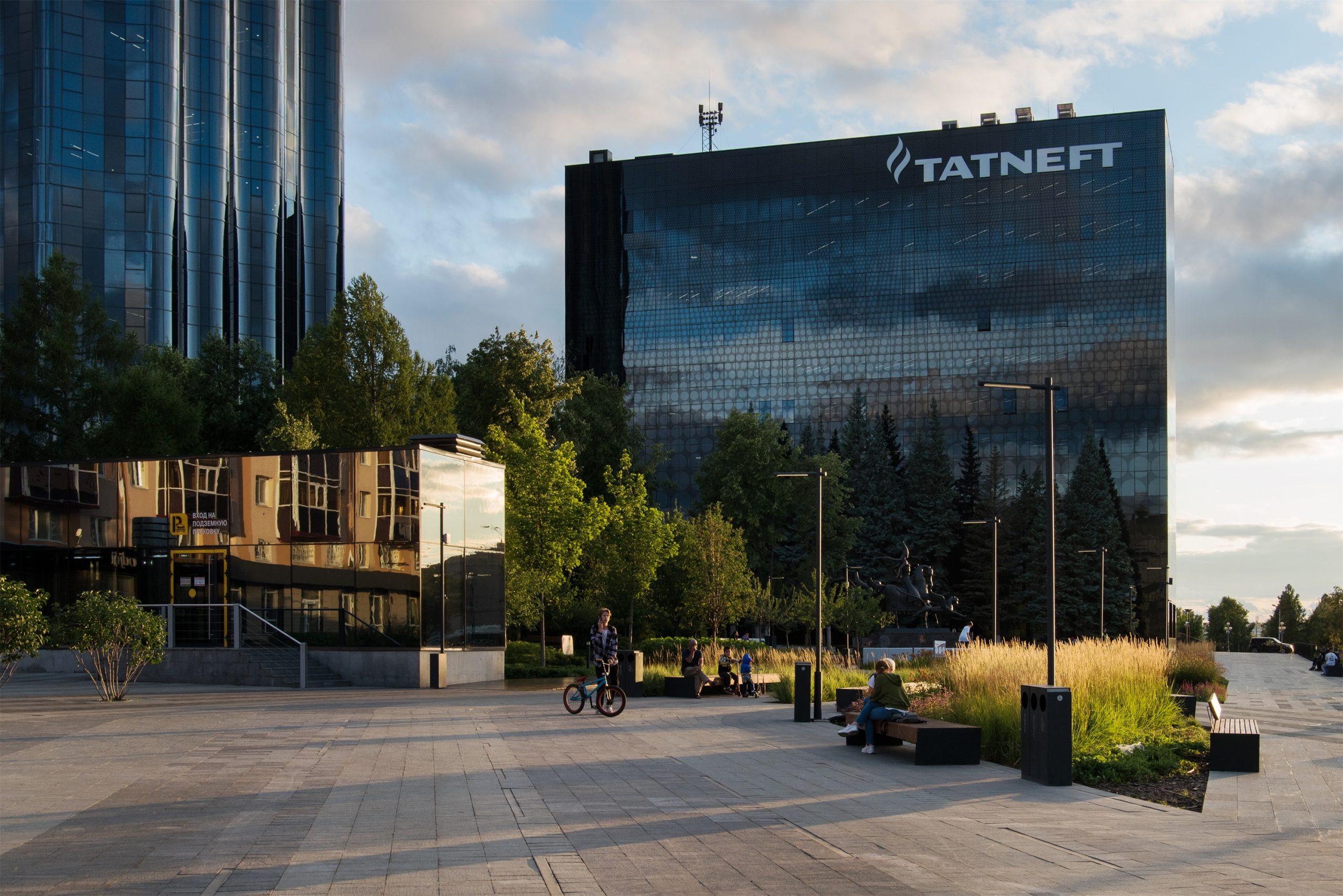 ▼大楼细部 Building details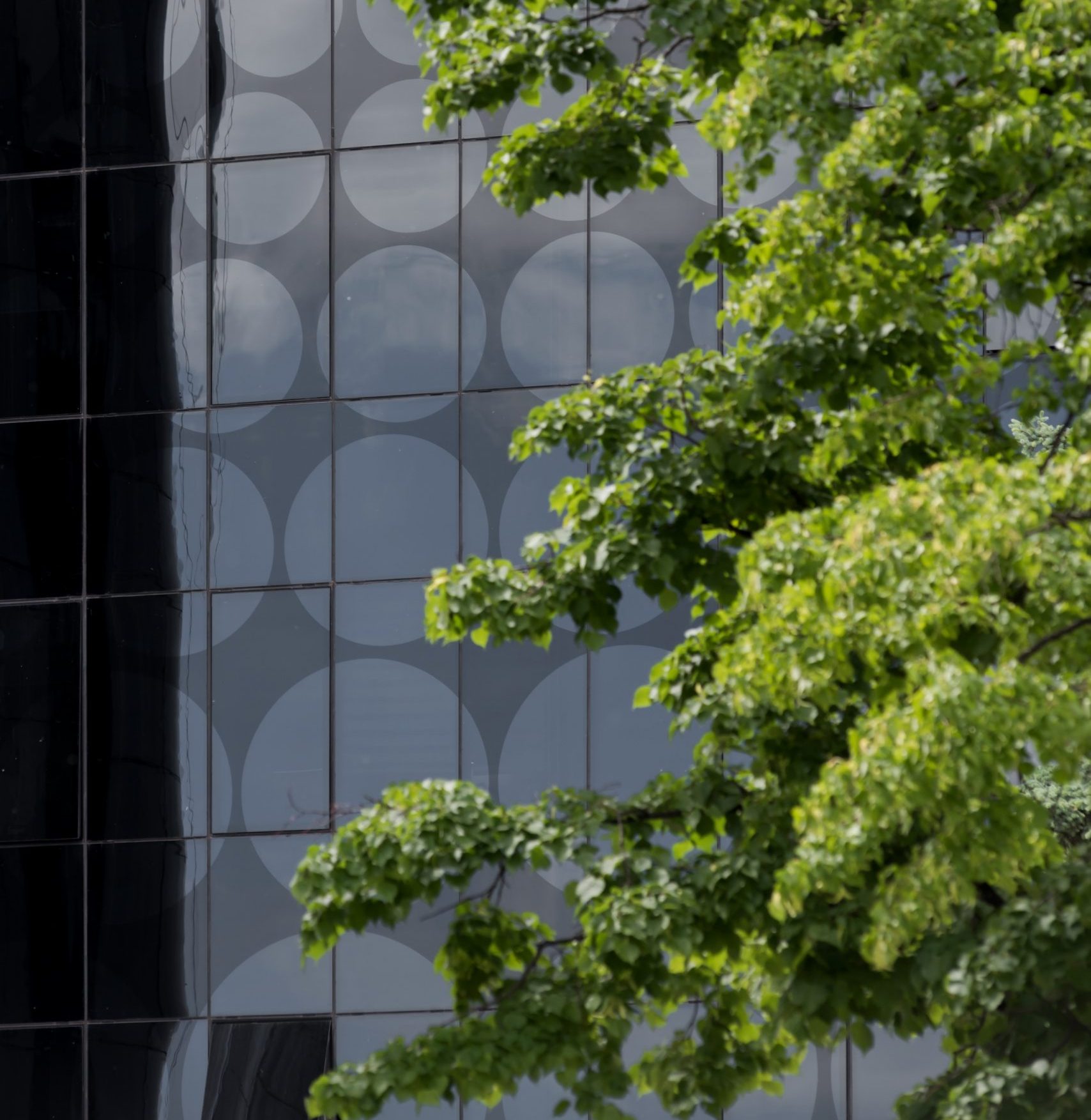 为了统一不同的功能,Arcanika工作室营造了一个公共空间,成为阿尔梅季耶夫斯克市民的新的兴趣中心。空间分为不同的主题区,中心有一座雕像"Karakuz",周围是步行区和绿化区。落叶松生态步道将总部的主入口与地下停车场和社区前广场的公园连接起来。
In order to unite different functions, Arcanika created a public space, which became a new center of attraction for citizens of Almetyevsk. The space is divided in different theme-zones.In the center there is a sculpture "Karakuz", surrounded by pedestrian and green zones. Eco-trail made of larch connects main entrance of the headquarter with an underground parking and a park with a square in front of the Community.
▼中心雕塑"Karakuz" A sculpture "Karakuz" in the center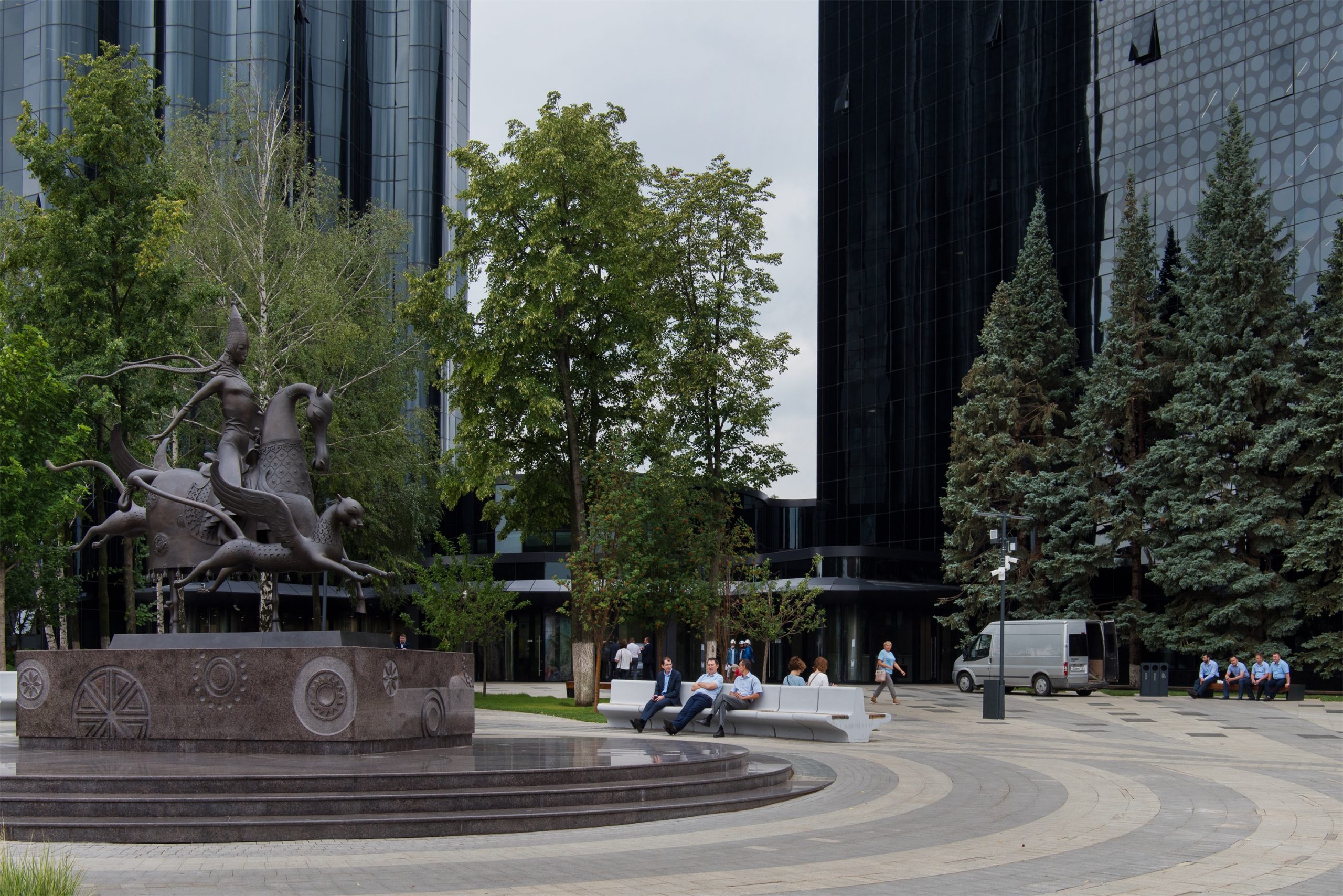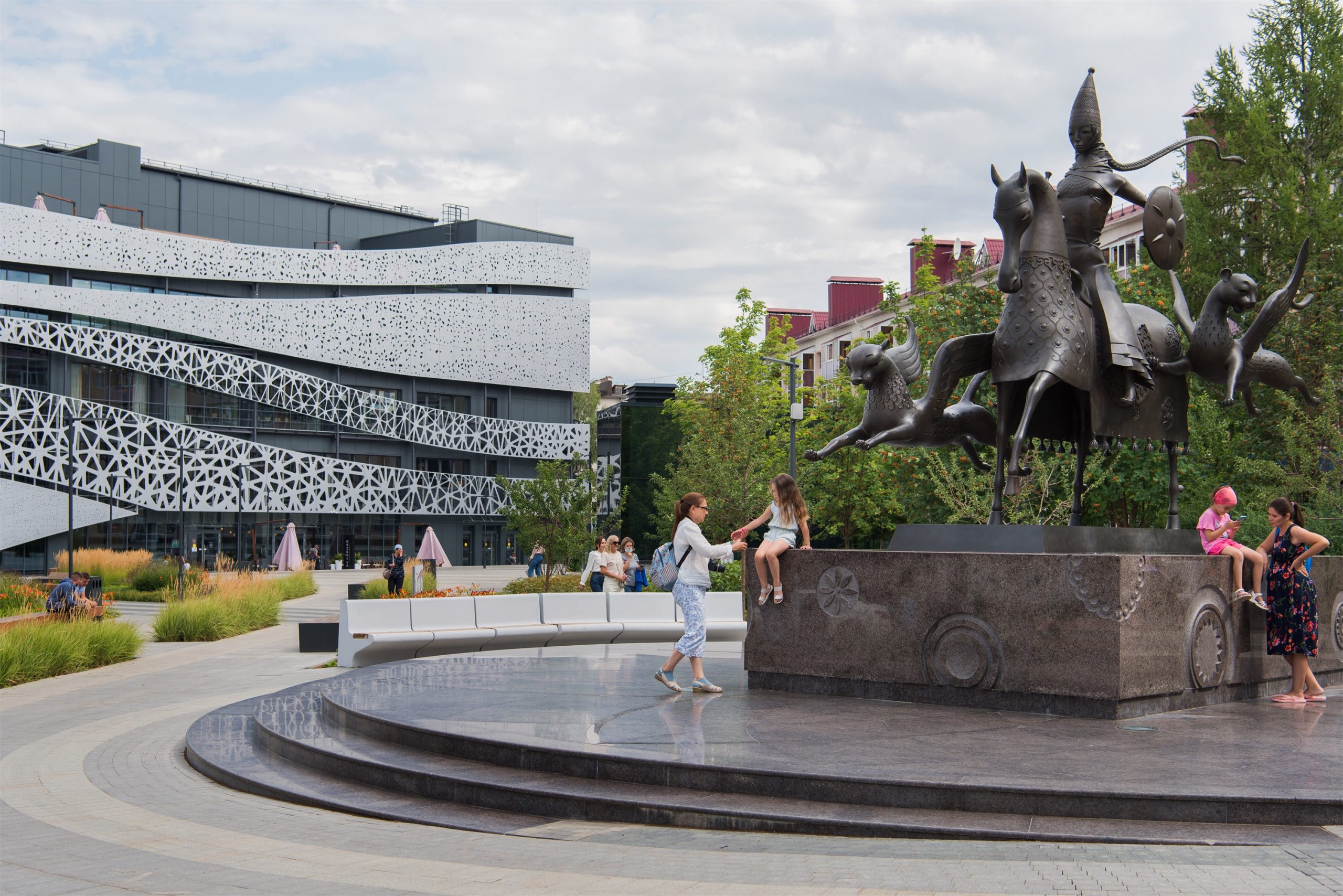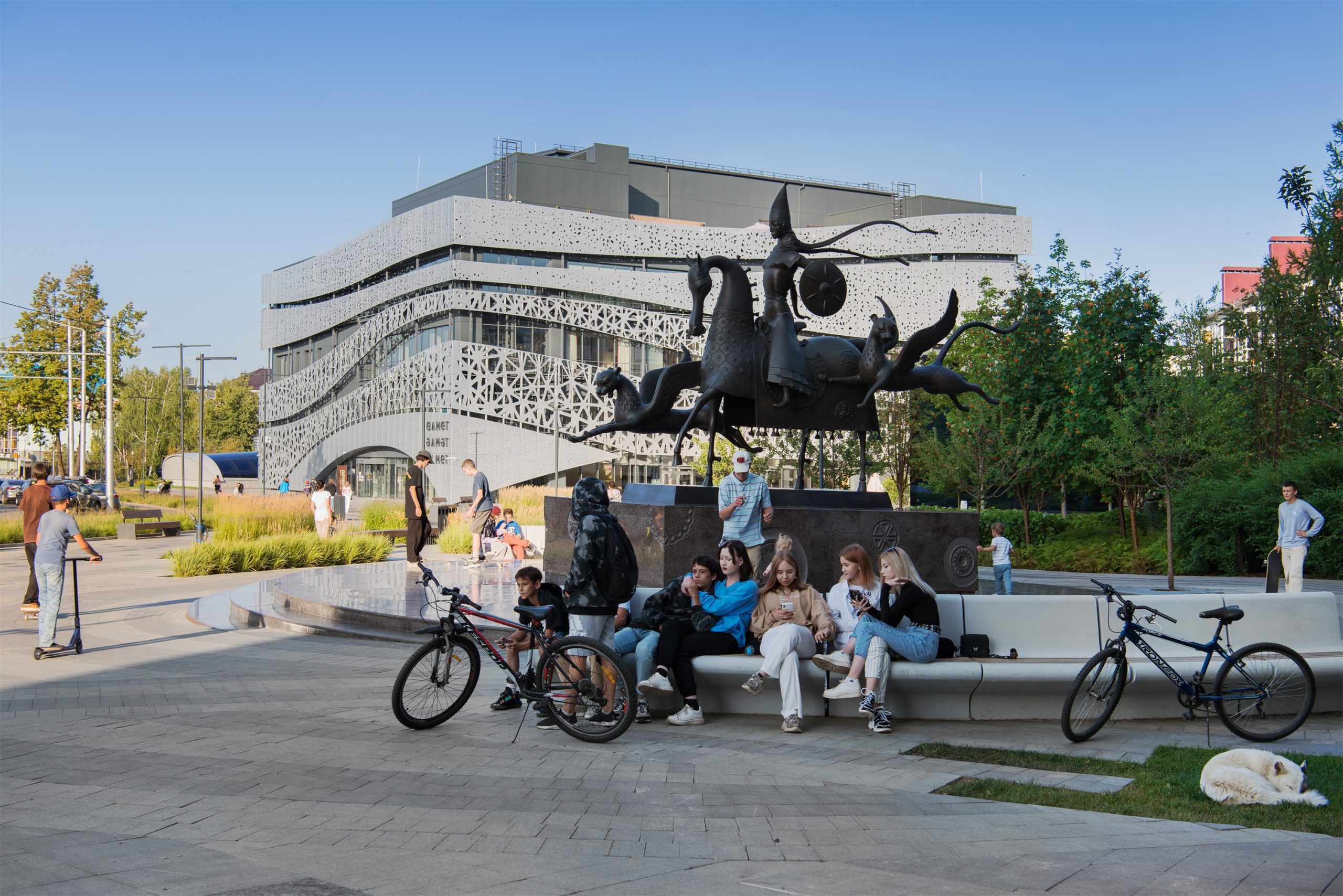 ▼步行区及绿化区 The pedestrian and green zones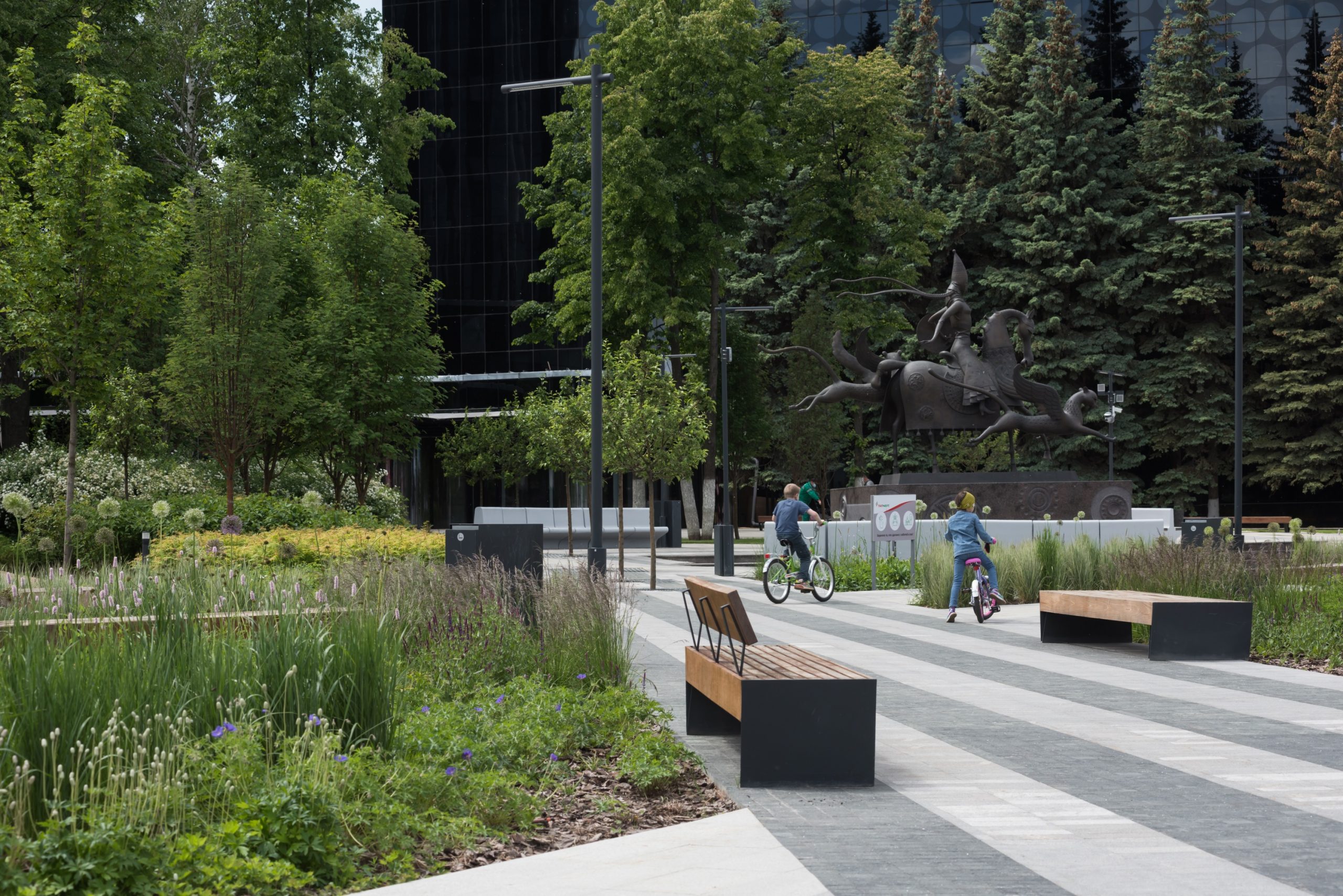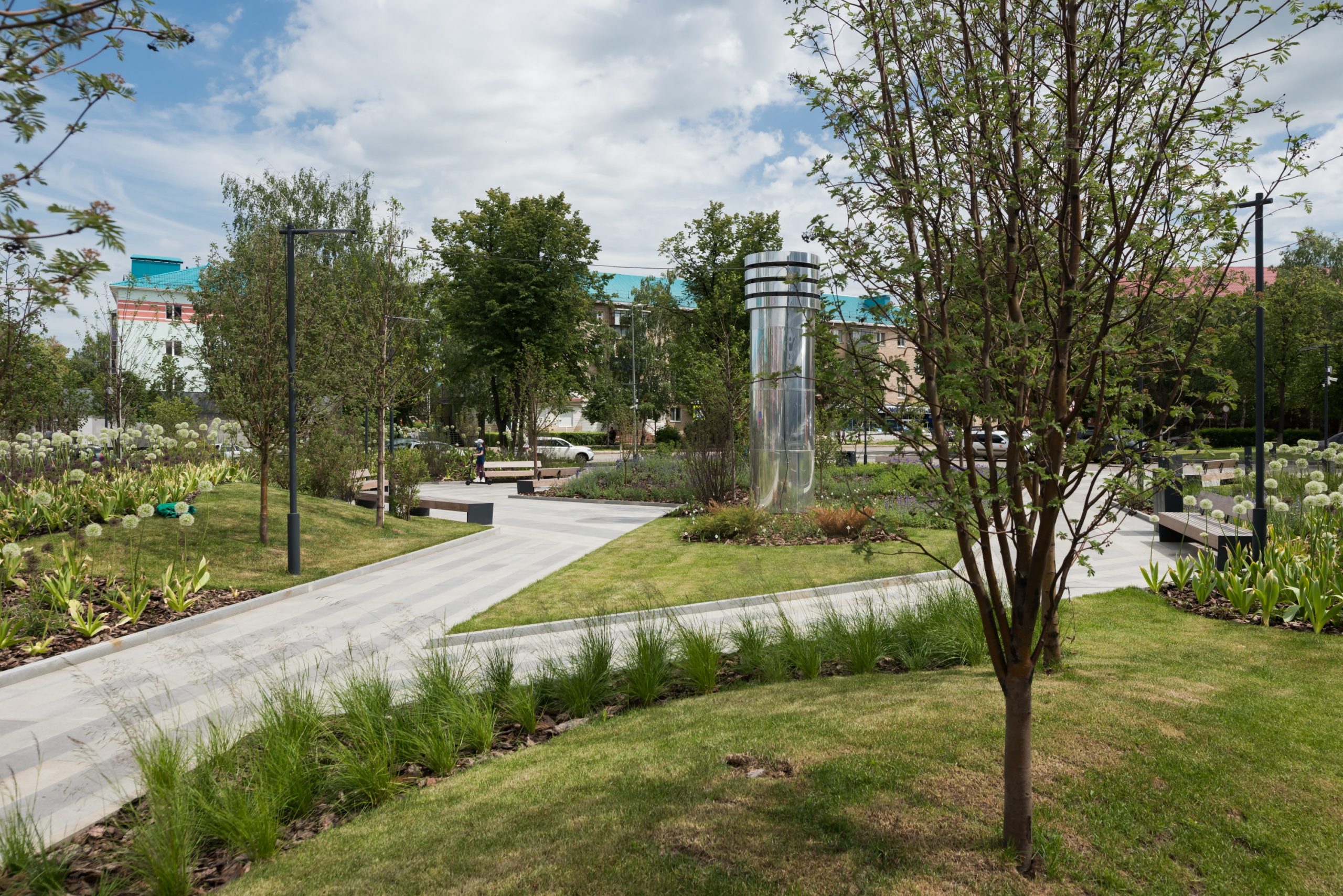 阿尔梅季耶夫斯克所面临的一个城市问题是没有市中心,因为它的基础设施自苏联时代以来一直没有改变。该项目由俄罗斯鞑靼石油公司发起,该公司是该市的纳税大户和主要雇主。对于建筑师来说,创建一个与该地区历史和传统有着密切联系的项目并为改造单元城市做出贡献是非常重要的。
One of the problems of Almetyevsk is an absence of the city center, as its infrastructure has not changed since the Soviet time. The project was initiated by Tatneft – a Russian oil company, the largest taxpayer and anchor employer of the mono-city. For us, architects, it was significant to create a project deeply connected with history and traditions of the region and contributes to transforming mono-city.
▼各类城市活动 Various urban activities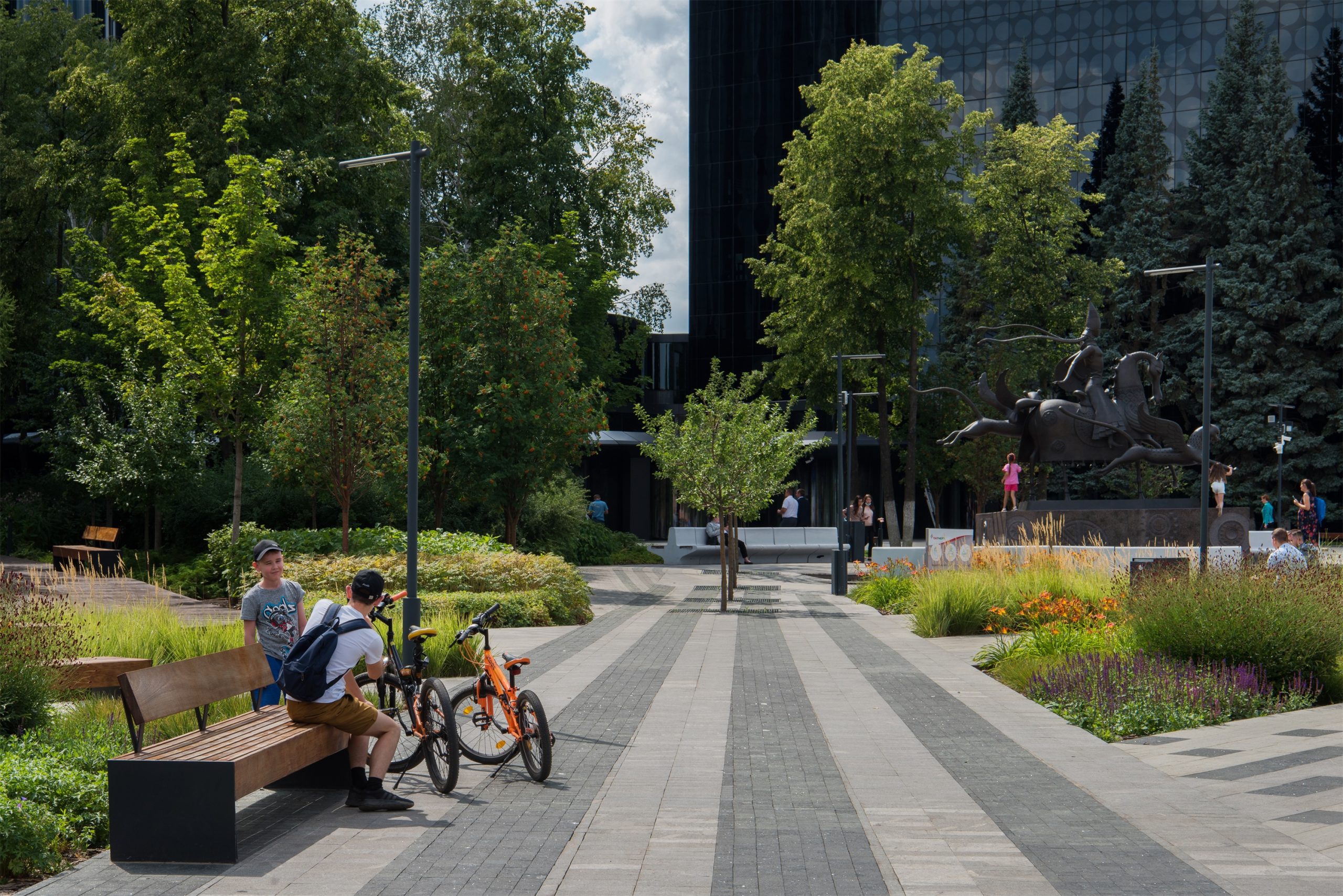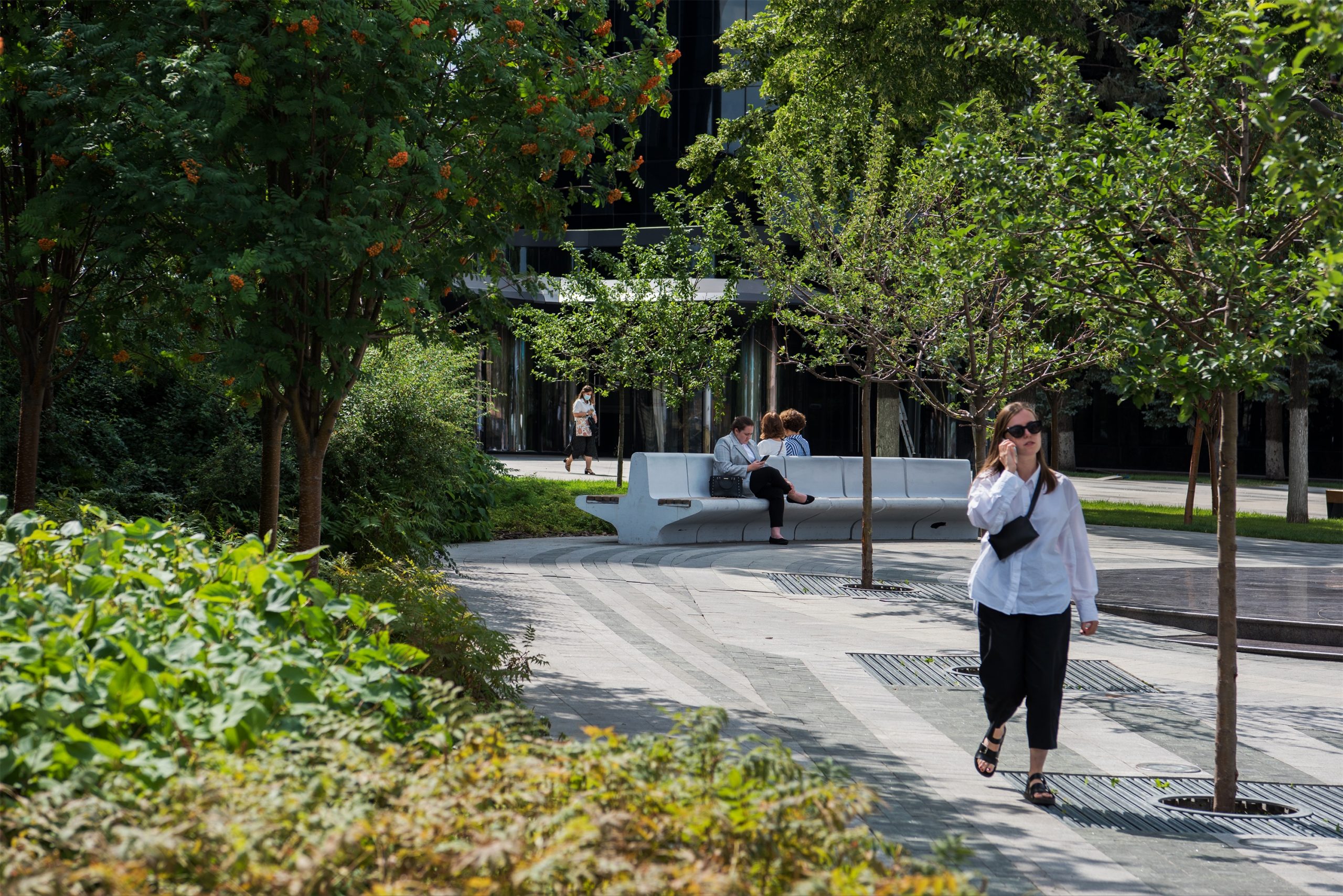 新的公共空间将市民文化和商业生活结合起来——这是现代化所带来的要求,影响着城市空间的品质和年轻一代留在家乡的愿望。该项目催生了阿尔梅季耶夫斯克第一个可以被称为"城市中心"的区域:人们常年可在树荫下玩耍、工作、学习和休闲。为了强调与传统文化的联系,项目挖掘了一个关于鞑靼女战士Karakuz的当地传说,并将她的雕像放置在广场上。
A new public space united cultural and business life of citizens – a modern request, affecting the quality of city space and desire of young generation to stay in the hometown. The project gave birth to the first area in Almetyevsk which can be called "citycenter": people hang out in the shade of trees, work, study and spend leisure time in this area all year long. In order to accentuate consistency of tradition we found a local legend of Tatar woman-warrior Karakuz and put her sculpture in the square.
▼新的公共空间 A new public space
重建后的市中心不仅成为大型企业(连锁餐厅)的增长动力,也成为当地品牌(时尚品牌、舞蹈工作室)和在公园为社交媒体拍摄广告和录制视频的网红们的增长动力,这表明该公共空间已与阿尔梅季耶夫斯克及其公民的荣耀兴旺联系在了一起。
The reconstructed city center has become a driver for growth not only for big businesses (restaurant chain) but for local brands (fashion labels, dance studios) and influencers filming their ads and reels for social media in the park. This shows how public spaces associate with success and prosperity of Almetyevsk and its citizens.
▼摄影人群 Photographic crowd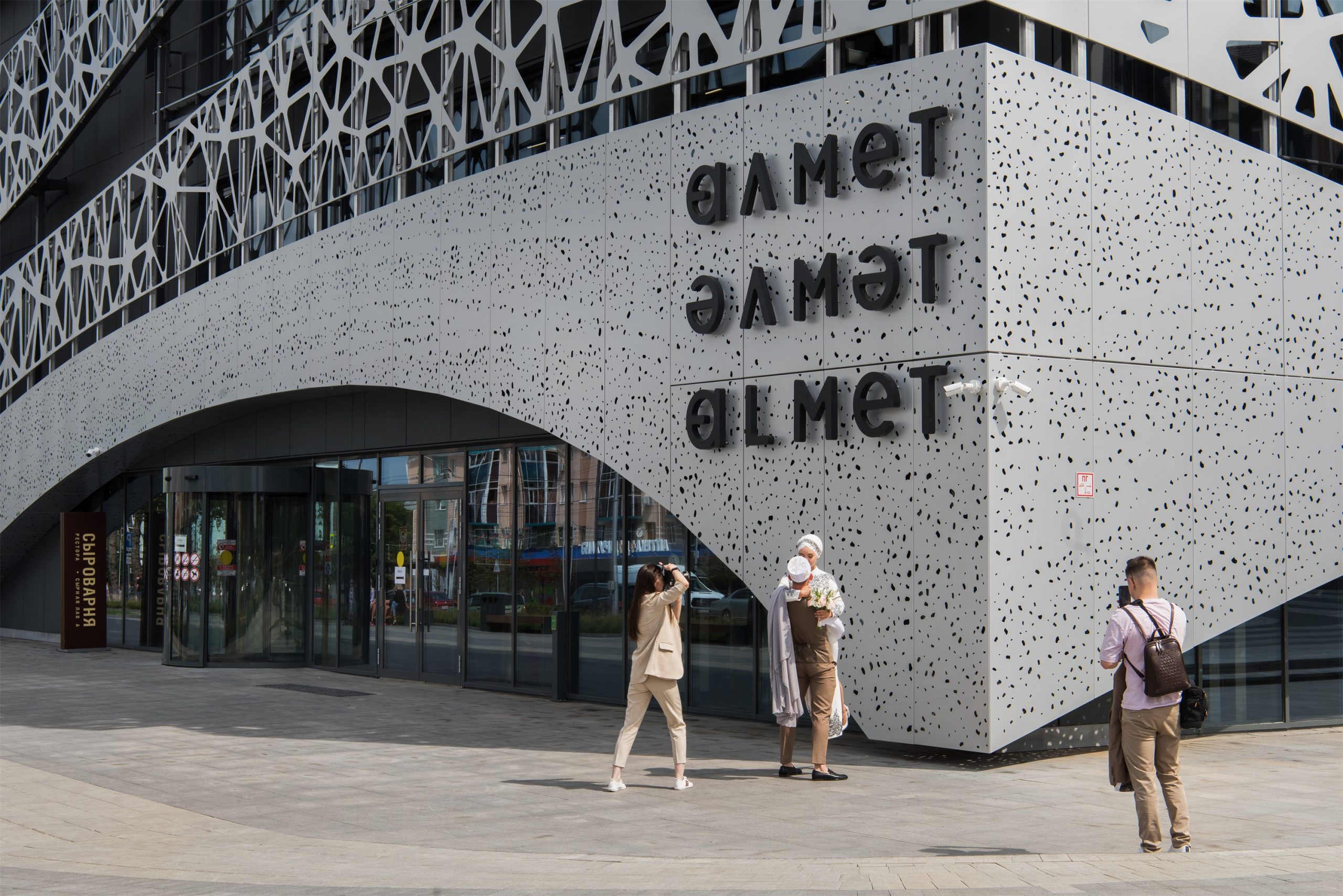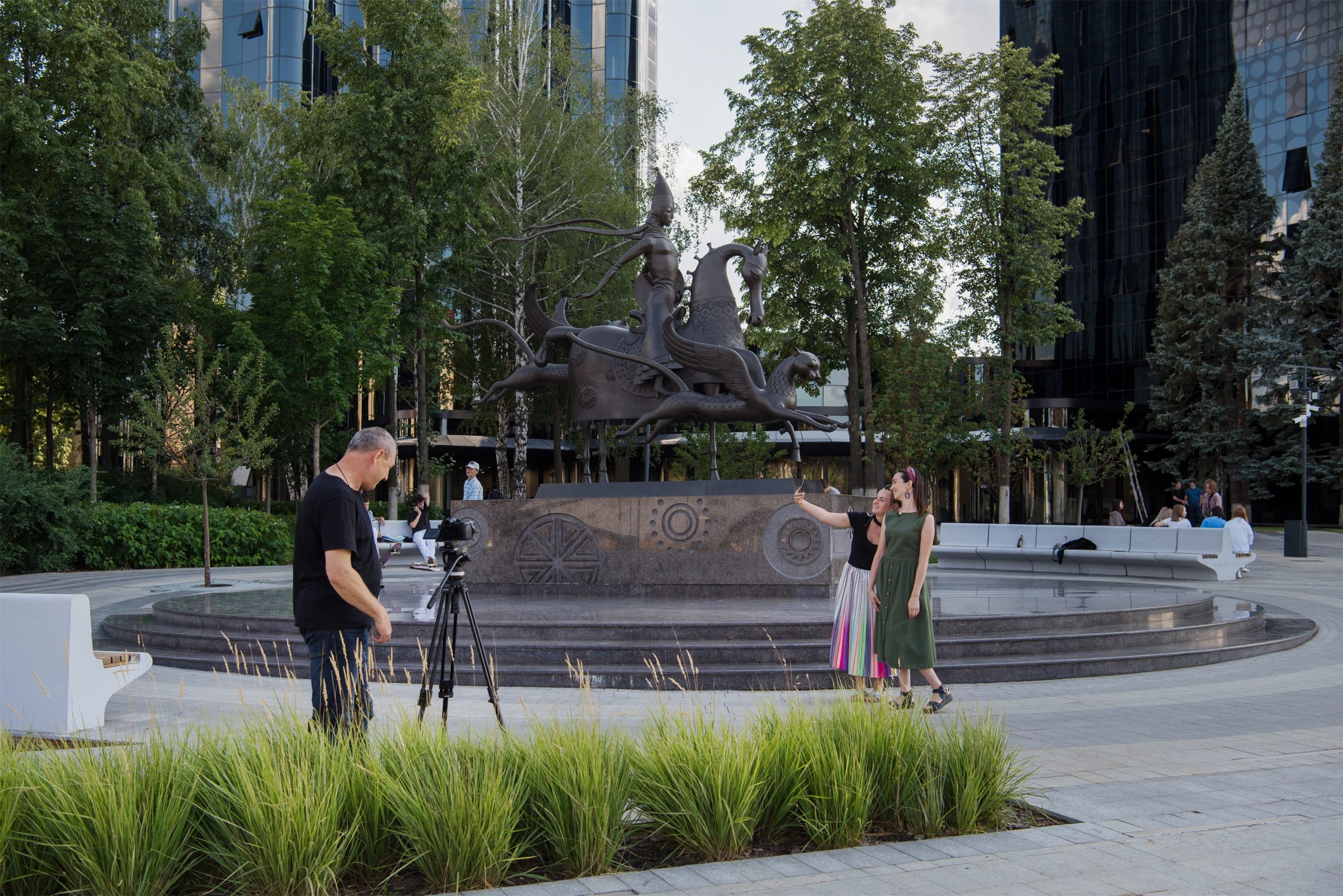 项目名称:阿尔梅季耶夫斯克市中心改造(社区中心、公园、行政集群)
项目地点:俄罗斯 阿尔梅季耶夫斯克市
景观/建筑公司:Architectural studio Arcanika
网站:https://arcanika.ru/en
Project name: Renovation of the citycenter of Almetyevsk (Community center, park, Administrative cluster)Completion
Project location: Almetyevsk, Russia
Landscape/Architecture Firm: Architectural studio Arcanika
Website: https://arcanika.ru/en
---
" 根植城市历史文化,通过对社区中心、公园、商业建筑的一体化改造,营造出一处统一的、舒适的现代化单元城市生活空间。"
审稿编辑: Simin
更多 Read more about: Architectural studio Arcanika