本文由 VVdesine 授权mooool发表,欢迎转发,禁止以mooool编辑版本转载。
Thank VVdesine for authorizing the publication of the project on mooool, Text description provided by VVdesine.
VVdesine:该项目旨在通过景观设计和规划,提升当地文化和水上运动文化。现有的酒店和咖啡馆建于不同的时期,小屋建于30年前,咖啡馆建于2018年,最新的现代四层酒店建于2019年初。因为一开始并没有进行总体规划,所以在流线、方向感、私密性和视觉序列上有很多冲突。2019年,VVdesine着手进行整个场地的规划设计,梳理了酒店客户、咖啡馆顾客和后勤人员之间的行为动线,并借助当地特色的竹制景观墙营造序列感和方向感,利用冲浪板和植物进行装饰,还有针对咖啡馆顾客的导向性的路面铺装。
VVdesine:Enhancing the locality and water sports culture by landscape design and planning. The existing hotel and cafe were built in different period of time, from the first row of bungalows back to 30 years ago, cafe in 2018 and the latest modern 4 storied hotel built in early 2019. Master planning was not involved in the first place and there were many clashes on circulation, sense of direction, privacy and visual sequence. VVdesine started master planing the site in 2019 by managing clearer circulation between hotel clients, cafe customers and services, together with creating a sequence of visuality and sense of direction by series of landscape feature walls using unique local bam-boo, decorating with surfboards and trees, along with guided pavement for cafe guest.
▼咖啡馆导向性的路面铺装 Guided pavement for cafe guest
竹制景观墙和木板路等都采用了本土材料,植栽也都是本地物种并保留了大量原有的树木以创造令人难忘的体验,文化景观响应自然,突出了场地的特色,使得该场地成为整个发展规划中最有价值的资产。
Using local material like bamboo walls and wooden boardwalk, native planting species and preserving lots of existing trees creates rememberable experience, nature responsive cultural landscape related and also enhance the site's identity as it is the most valuable asset for this development.
酒店大堂经过精心设计,将景观与室内直接相连,使之形成一个半开放空间。酒店和咖啡馆虽是分开的,但在视觉上却彼此相连。酒店动线也连接到酒店的基础设施,如游泳池及其露台,还有铺设了当地木材的木板路,并经过郁郁葱葱的花园和树荫到达海滨区域。
For hotel guest, the lobby design was elaborated by the interior where the landscape directly connects the garden right in, make the space look like one big lobby connecting with the garden outdoor. Both hotel and cafe journey are separated in physic but visually connected. Hotel circulation also connected to the hotel facility such as a swimming pool, pool terrace, then connected to the wooden boardwalk with local wood connection pattern were high-lighted, link to the beachfront area through a lush garden and under the cool shade of preserved existing trees.
▼木板路细节 Wooden boardwalk details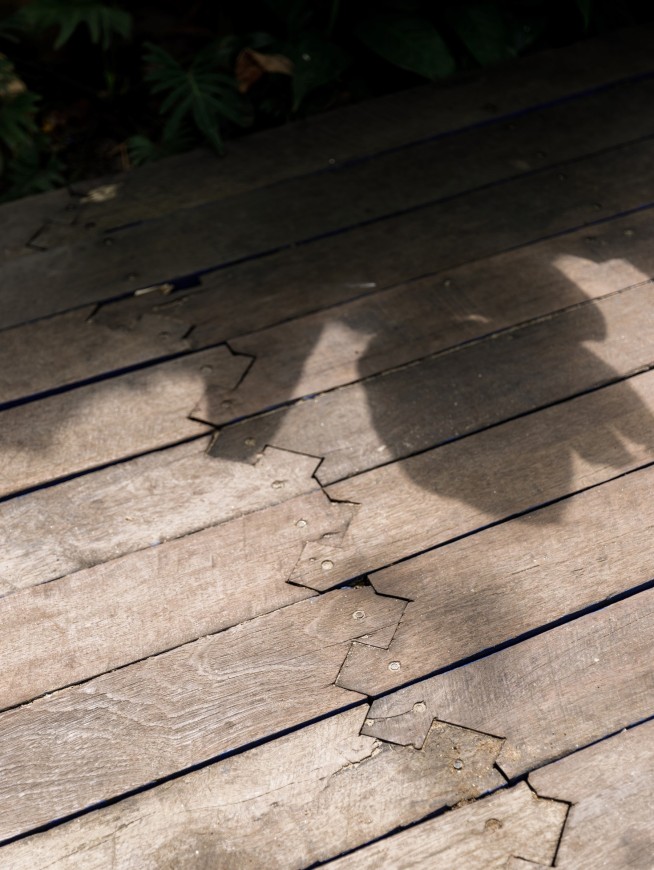 咖啡馆动线与一个开放的草坪连接,草坪以蓝色冲浪咖啡馆为中心,酒店为背景,通向放松休闲的海滨区域。
At the same time, the cafe's sequenced circulation connects to an open lawn having Blue Surf Cafe as its focal point, hotel as background, then lead to the beachfront area for more relaxing beach ambient.
后勤通道在空闲时也可用作滑板小道。
Service way also used as skateboard path when there is no service.
海滨是该项目中最具活力的空间,全天都有活动举行。日出时可以享受早餐和海景,下午到晚上可以享受咖啡和冰饮料,都由客人自行选择。孩子们有沙坑可以玩。树荫下还有懒人沙发。沙滩凉亭面朝大海,可以欣赏绝世美景。沙滩上还有季节性的水上活动,晚上还可以开展沙滩派对。该区域是整个项目的核心,一直处于活力状态。
The beachfront is the most vibrant space of the project where lots of activities happen all day round. Breakfast with sunrise sea view, coffee and chill drinks in the afternoon till evening where all guests can enjoy their beach experience together in their own choices. Sandpit for kids, chill out bean bags under preserved existing trees which can hang out all day, beach pavilion with the large opening facing the beach and sea for a stunning view and enjoy seasonal water sport activities, beach party at night, this area is the heart of the projects that never sleep.
项目名称:Sichon Caban海滩度假村和蓝色冲浪咖啡馆
完成时间:2019年
面积:8000平方米
地址:泰国
设计公司:VVdesine
客户:Sichon Cabana Beach Resort
摄影:Synspacestudio Photographer
编辑:寿江燕
Project name: Sichon Cabana Beach Resort & Blue Surf Cafe
Completion year: 2019
Size: 8,000 sq.m.
Project location: Sichon, Nakhon Sri Thammarat, Thailand
Landscape Firm: VVdesine
Clients: Sichon Cabana Beach Resort
Photo credits: Synspacestudio Photographer
Editor: Jiangyan Shou
更多 Read more about: VVdesine