本文由 Topiaris Landscape Architecture 授权mooool发表,欢迎转发,禁止以mooool编辑版本转载。
Thanks Topiaris Landscape Architecture for authorizing the publication of the project on mooool, Text description provided by Topiaris Landscape Architecture.
Topiaris Landscape Architecture:塔古斯线性公园占地15000平方米,大型工业区曾将其周边社区与河岸隔开,直到市政府将其从工业部门收回进行开发,毗邻城市社区的人们才首次获得了与河岸直接接触的休闲和娱乐机会。现在,不同年龄、职业和文化背景的人们都可以来此享受各种设施和开展各类活动:运动、钓鱼、散步、骑行、环境科普或仅为一览这里的优美风景。
Topiaris Landscape Architecture:The Tagus Linear Park is an area of 15 000 square meters that was reclaimed by the municipality from the previous industrial sector. For the first time, people of adjacent urban communities were given recreation and leisure opportunities in direct contact with the riverside, which was until recently blocked by large industrial lots. People of all ages, from different walks of life and cultural backgrounds are now invited to enjoy a diverse palette of equipment and activities: from sports, fishing, walking and cycling to environmental education, or simply to get an eyeful of the landscape.
▼俯视 Aerial view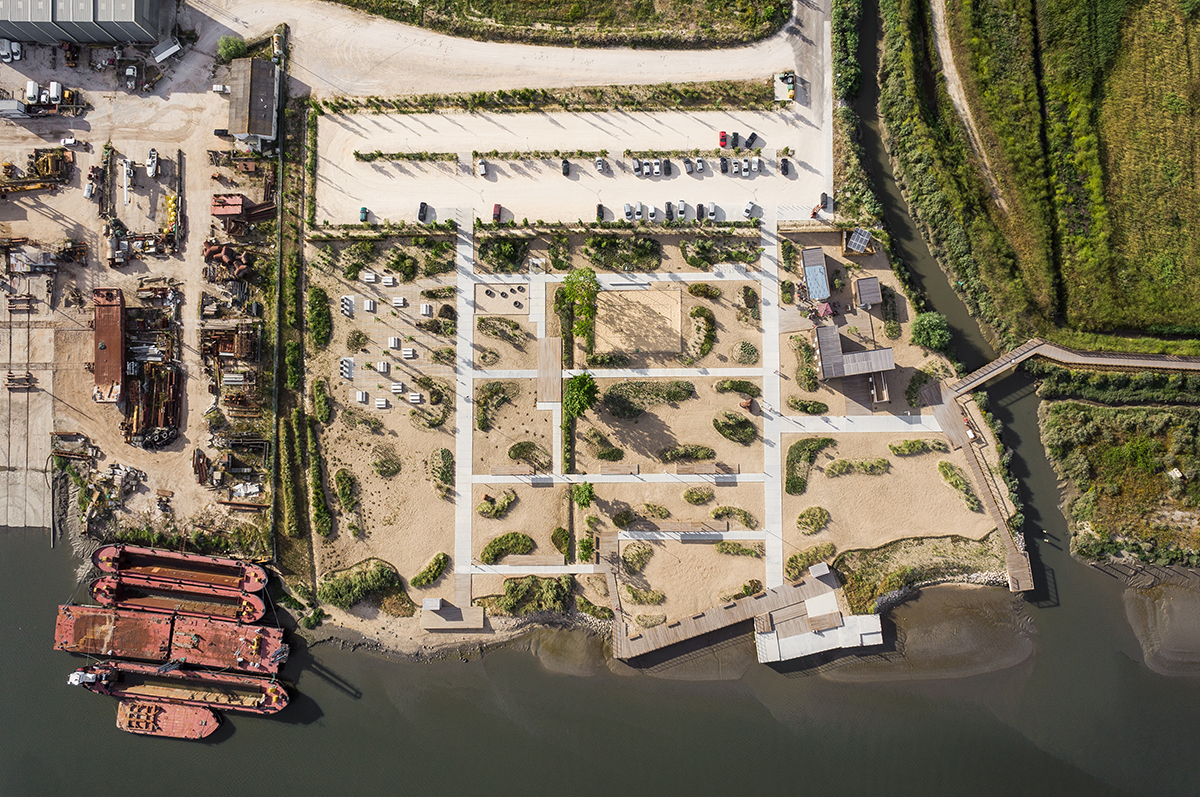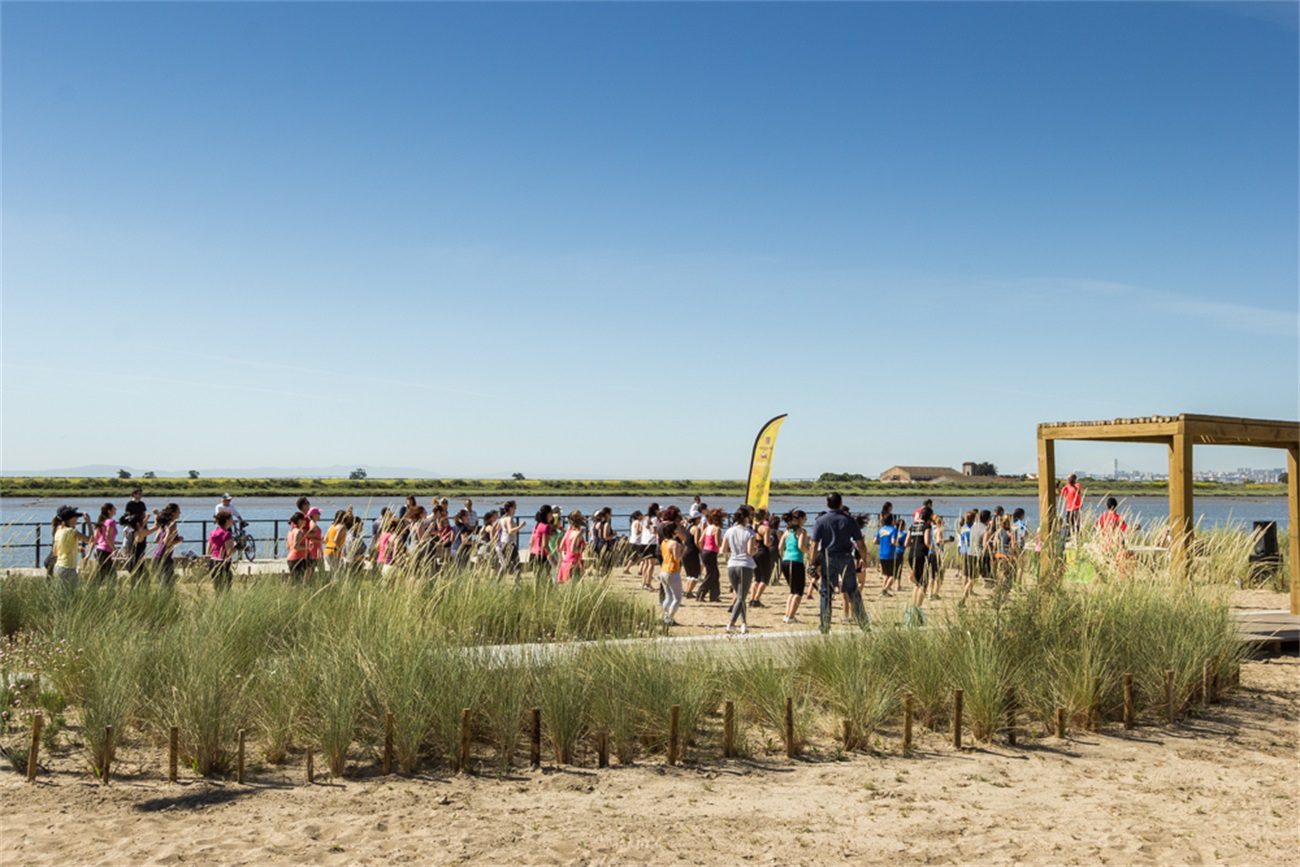 该项目旨在重构一个位于城市、工业、农业和自然景观世界中的复杂、不理想、甚至不合适的公共空间。为了保持"场所精神",Topiaris设计团队基于景观的自然属性和人文艺术特征设计了一条独特的绿道,提供了多样化的休闲娱乐设施选择,以维护现有的自然生态系统并促进受损地区的生态修复。
The goal was to rethink urban public space located in a complex, unexpected, and improbable universe of urban, industrial, agricultural and natural landscape. Aiming to keep the 'essence of the space' Topiaris designed a unique greenway grounded in the landscape's natural and cultural features, with a multitude of recreational and leisure options, safeguarding the existing natural systems and promoting the ecological regeneration of damaged areas.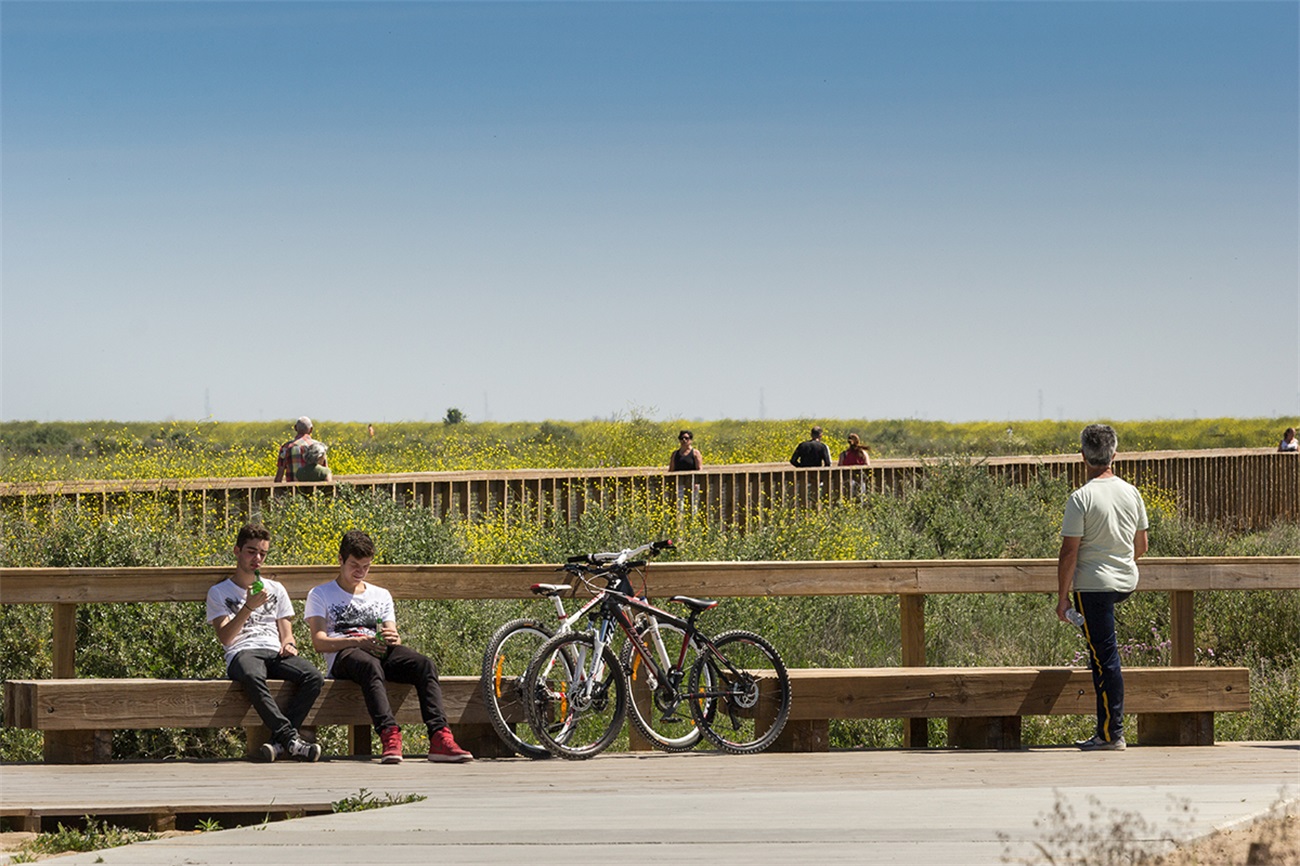 公园结合了两类不同的空间:一个名为"Praia dos Pescadores(垂钓海滩)"的独立多功能沙床区和一条6公里长的人行步道,该步道与泥土路、溪流和排水渠相连,始于城区与自然区交汇的垂钓海滩。"海滩"和自然区之间由一条700米长的高架木栈道连接,通过这条木栈道可以到达利用回收货运旧托盘材料搭建的观鸟站。
The Park combines two different typologies of spaces: A single multifunctional area named 'Praia dos Pescadores' (Fishermen's Beach), a former sand deposit, and 6 km of pedestrian trails associated with dirt roads, waterlines banks (streams and drainage ditches) which converge to Praia dos Pescadores, coming both from urban and natural areas. The connection between the 'beach' and natural areas is made through a 700m long raised wooden path through which a Bird Observatory built from old pallets can be reached.
▼横跨支流的桥梁 Bridge over a tributary stream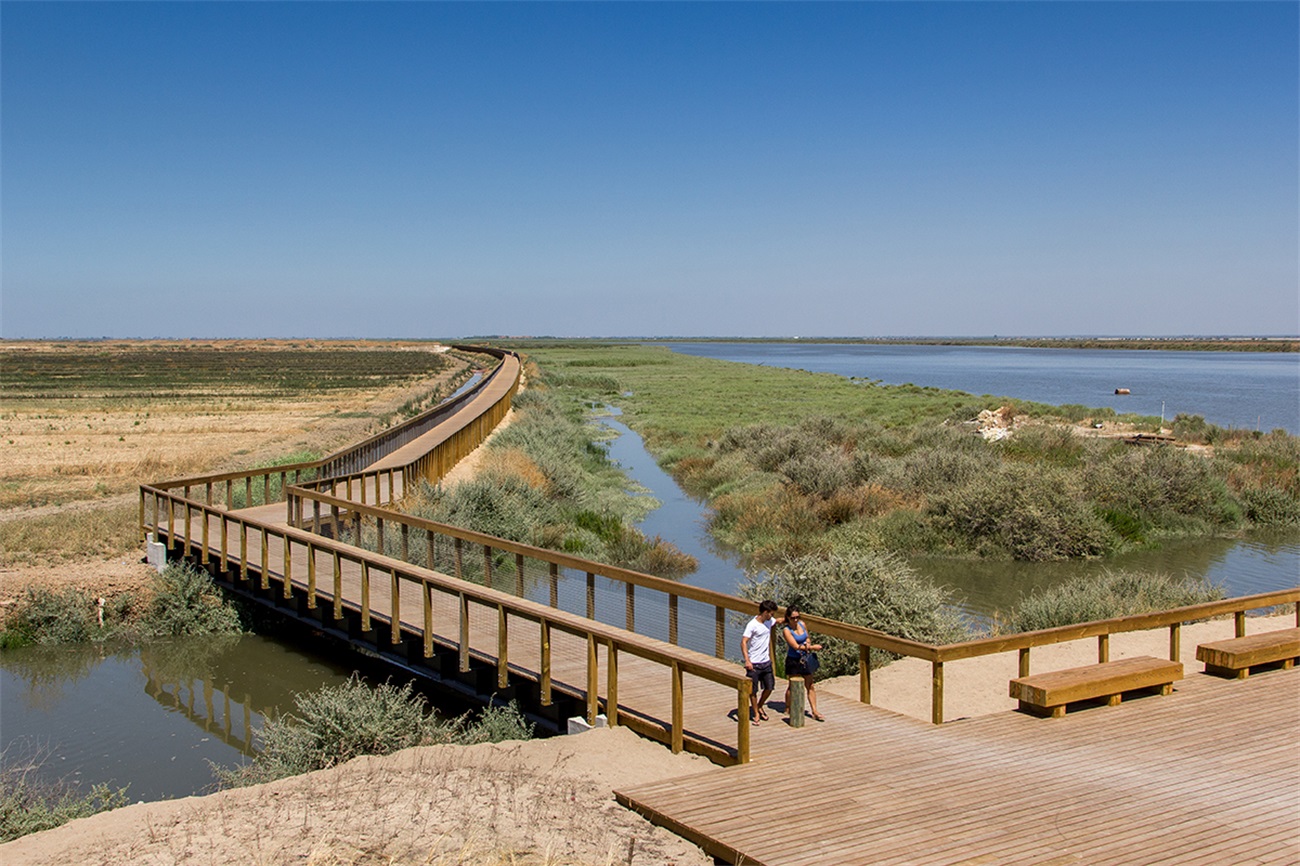 ▼木栈道 Board walk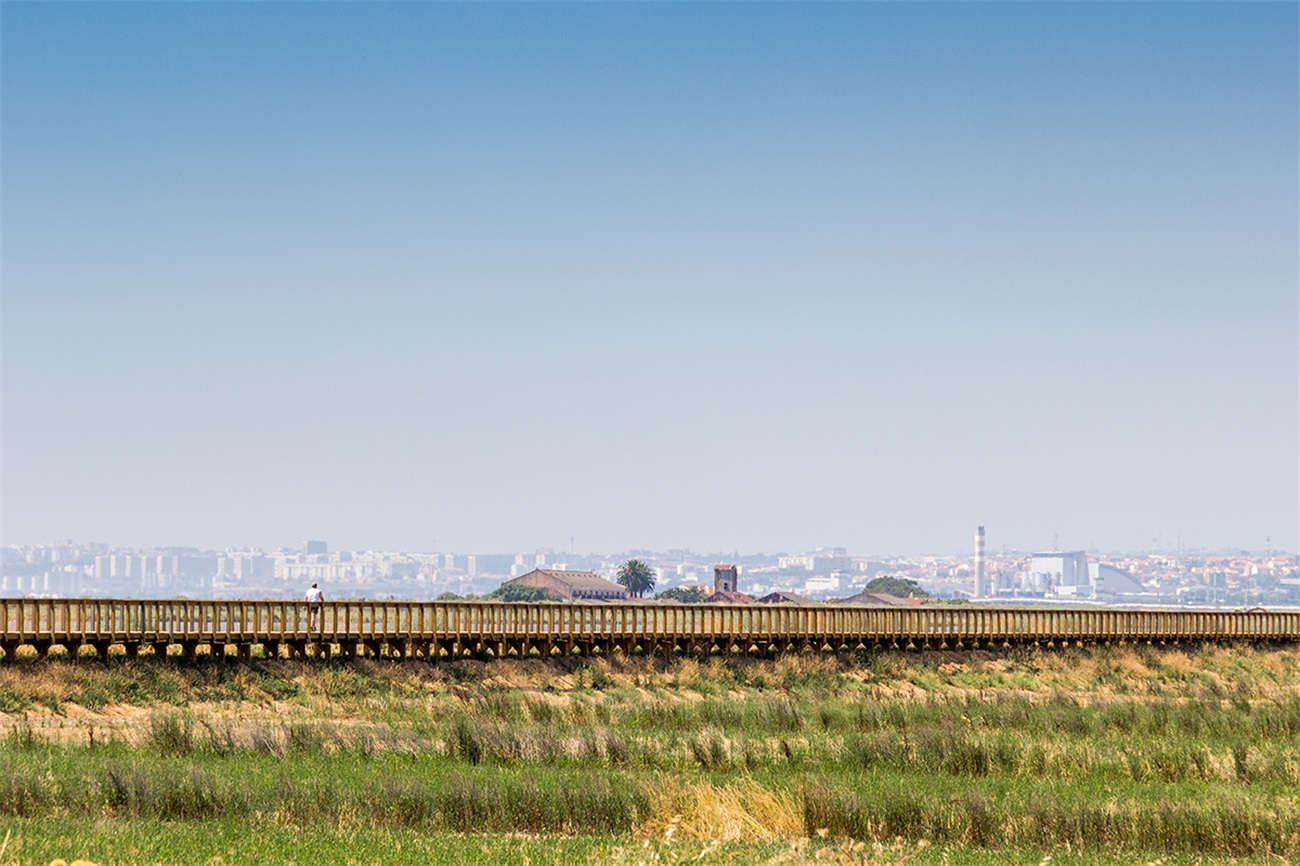 ▼观鸟站 Birds observatory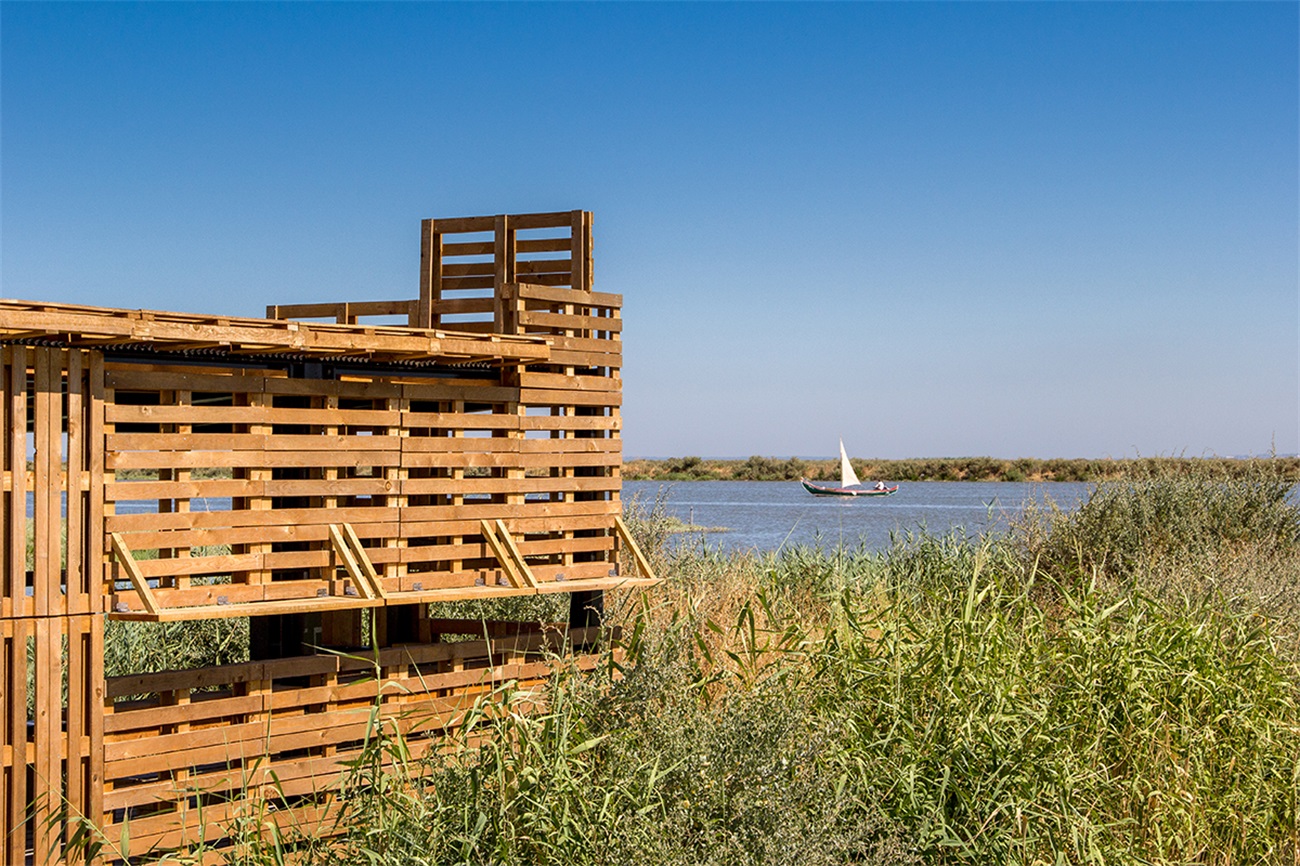 "垂钓海滩"包括一系列开展环境科普、休闲和自由运动的多样化配套设施:钓鱼台和遮阳棚、野餐区、排球场、由回收轮胎制成的游乐场以及沿河畔3公顷的日光浴平台,创造出了一种独特的游乐景观。其命名灵感来自当地垂钓者,他们一开始对该项目持怀疑态度,但很快意识到改造后的空间保留了过去吸引他们的"场所精神"。事实也证明,这些质疑声的长期存在是一种持续而有效的防破坏安全性策略。
The 'Praia dos Pescadores' comprises a set of diverse and complementary equipment intended for environmental education, leisure and informal sports: fishing platforms and shelters, picnic areas, a volleyball court, a playground made of recycled tires, as well as platforms for sunbathing meet in the 3ha riverfront, creating an unique playscape. The name was inspired by the local fishermen, who were sceptical to the project at the beginning, but soon realized that the renovated space kept the 'sense of place' that has drawn them to it in the past. Their constant presence has proven to be a sustainable and efficient vandalism security strategy.
▼垂钓"庇护所" Fisherman shelter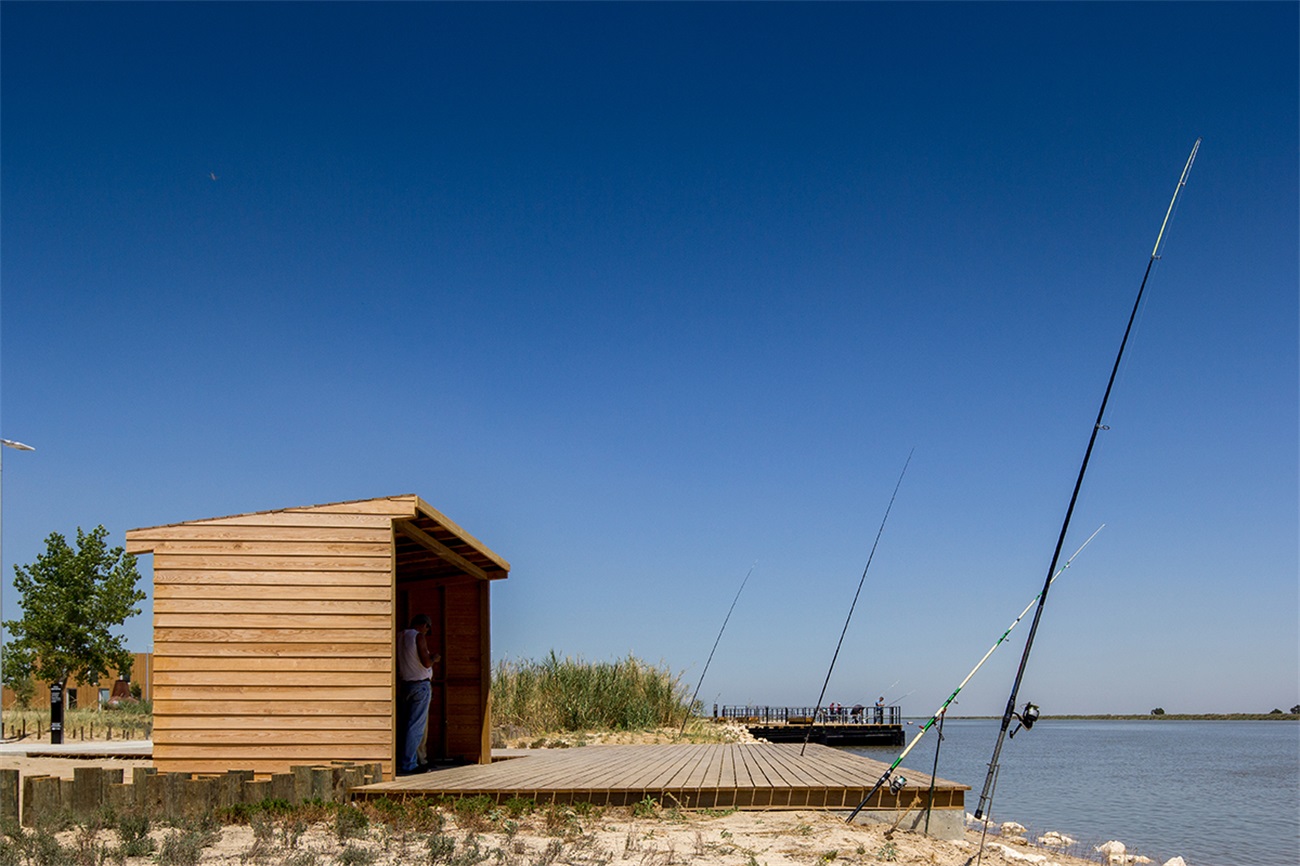 ▼遮阳棚和水泥板小路 Shading structure&path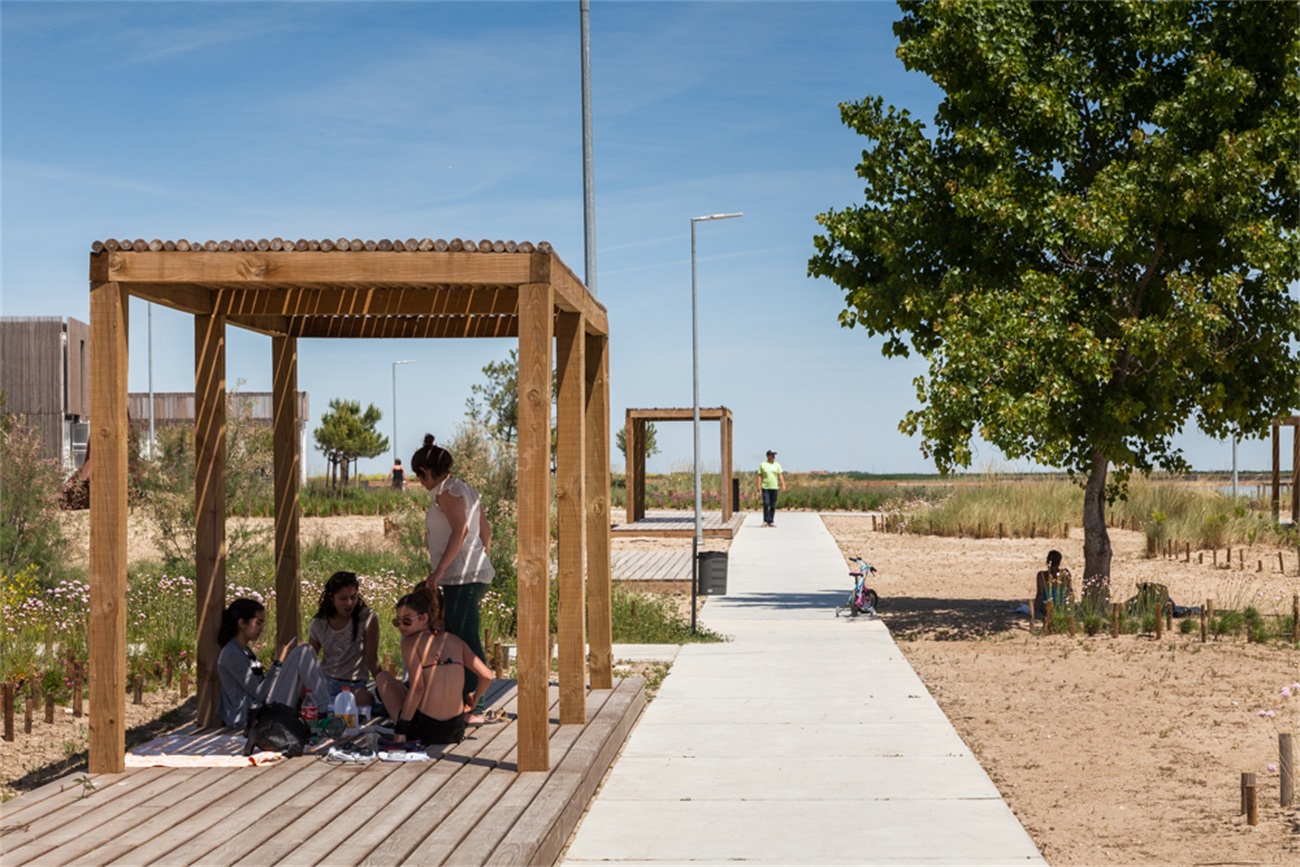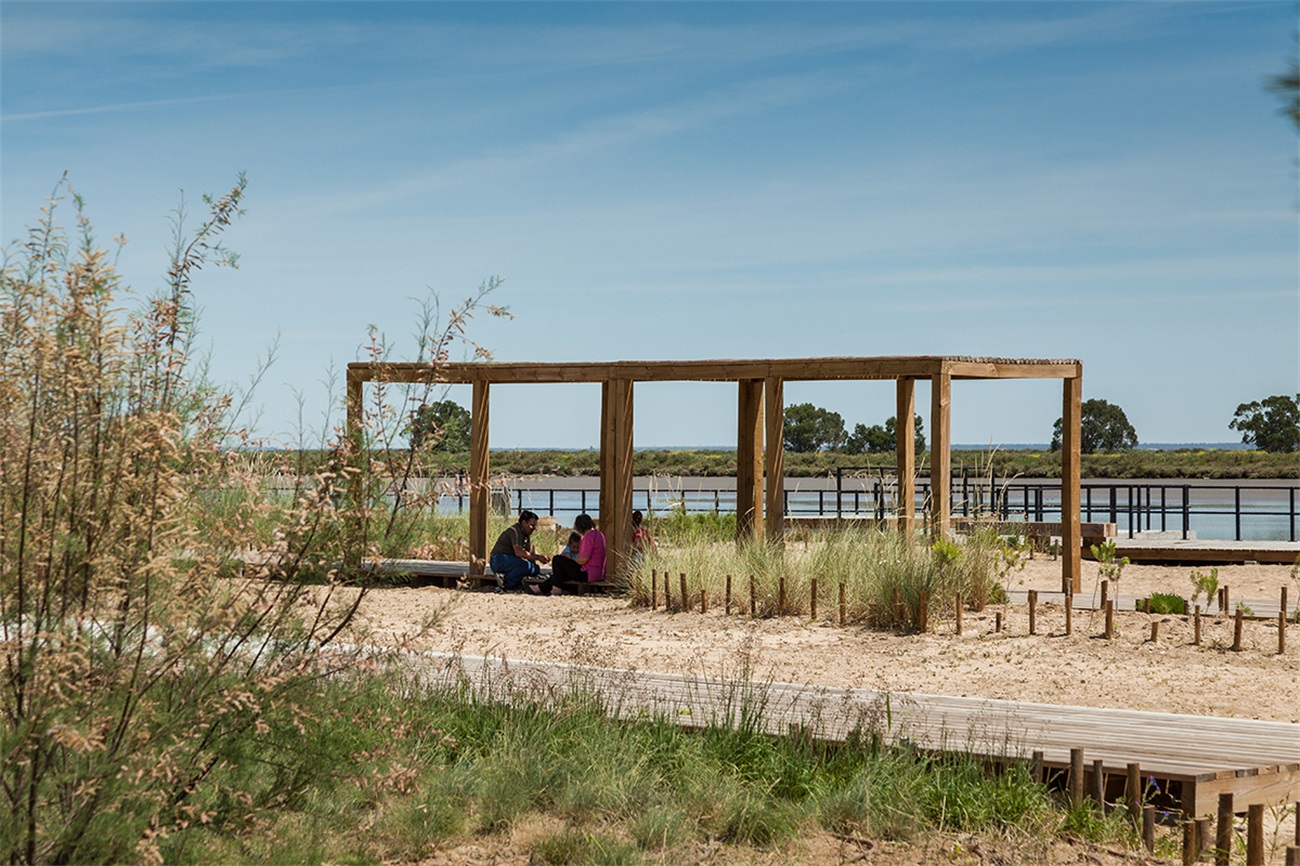 ▼沙滩排球场 Volleyball court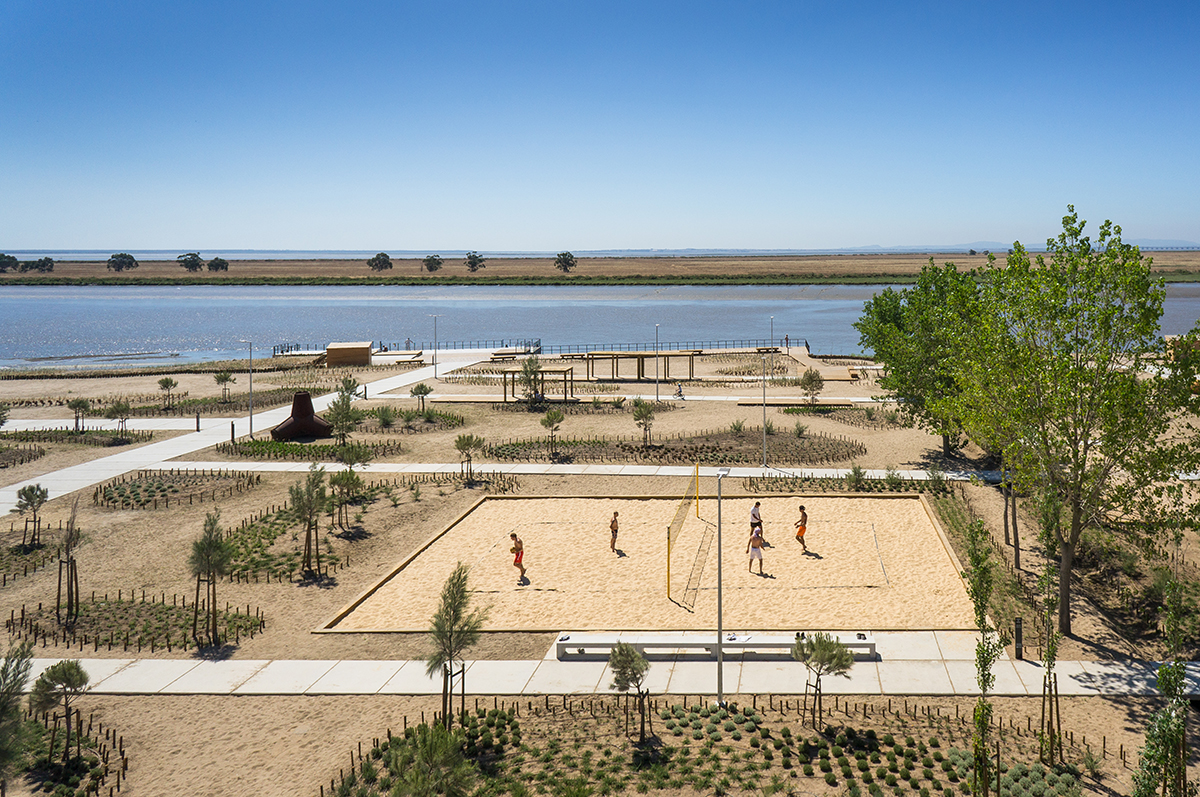 ▼游乐区及日光浴平台 Playground and platforms for sunbathing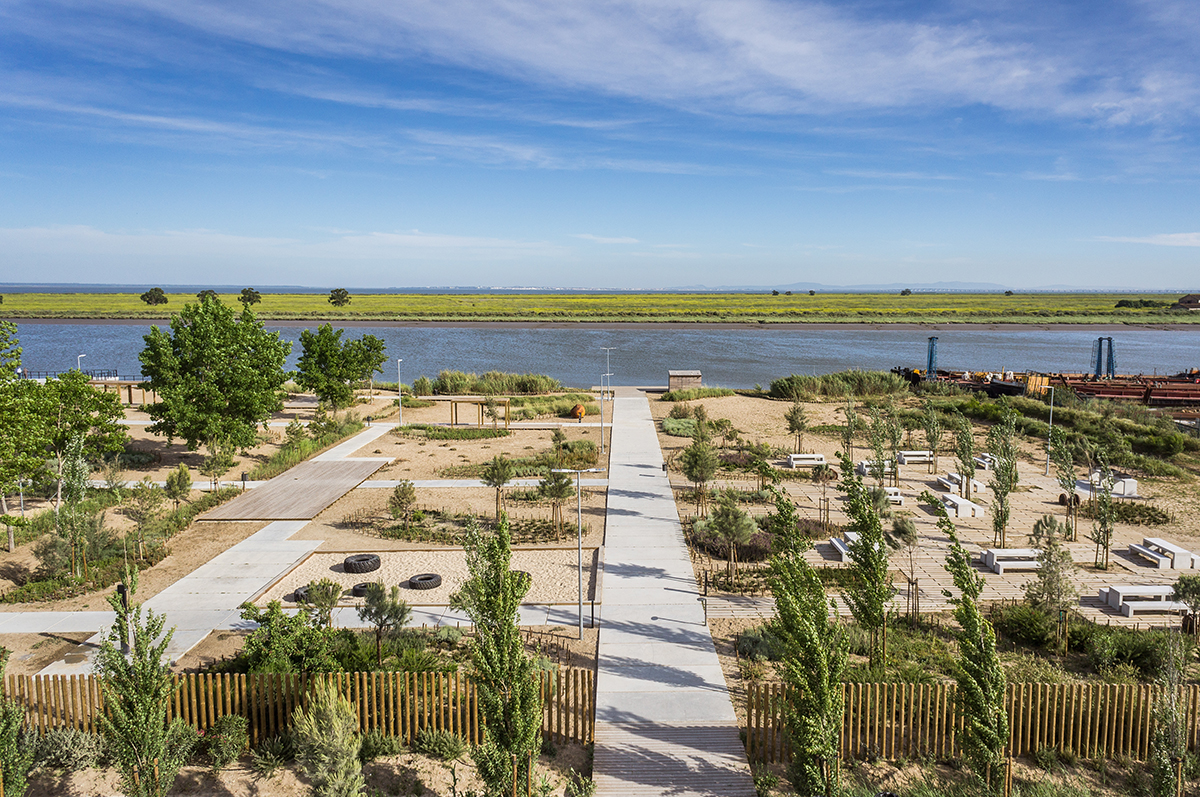 规划用于临时展览和活动的环境和景观展示中心利用了回收的海运集装箱以模块化系统建造,该建筑微微高出地面,并融于周围生态景观中形成了独特的空间格局。水泥板步行系统是空间中连接所有"组件"的主要脉络。
The Centre for Environmental and Landscape Interpretation, planned for temporary exhibitions and events, is built in a modular system using recycled maritime containers. The structure is slightly raised from the ground, generating a spatial pattern that takes advantage of the views towards the ecosystems nearby. The concrete slab paths's network is the main spatial structure, connecting all components.
▼展览中心 The Centre for Environmental and Landscape Interpretation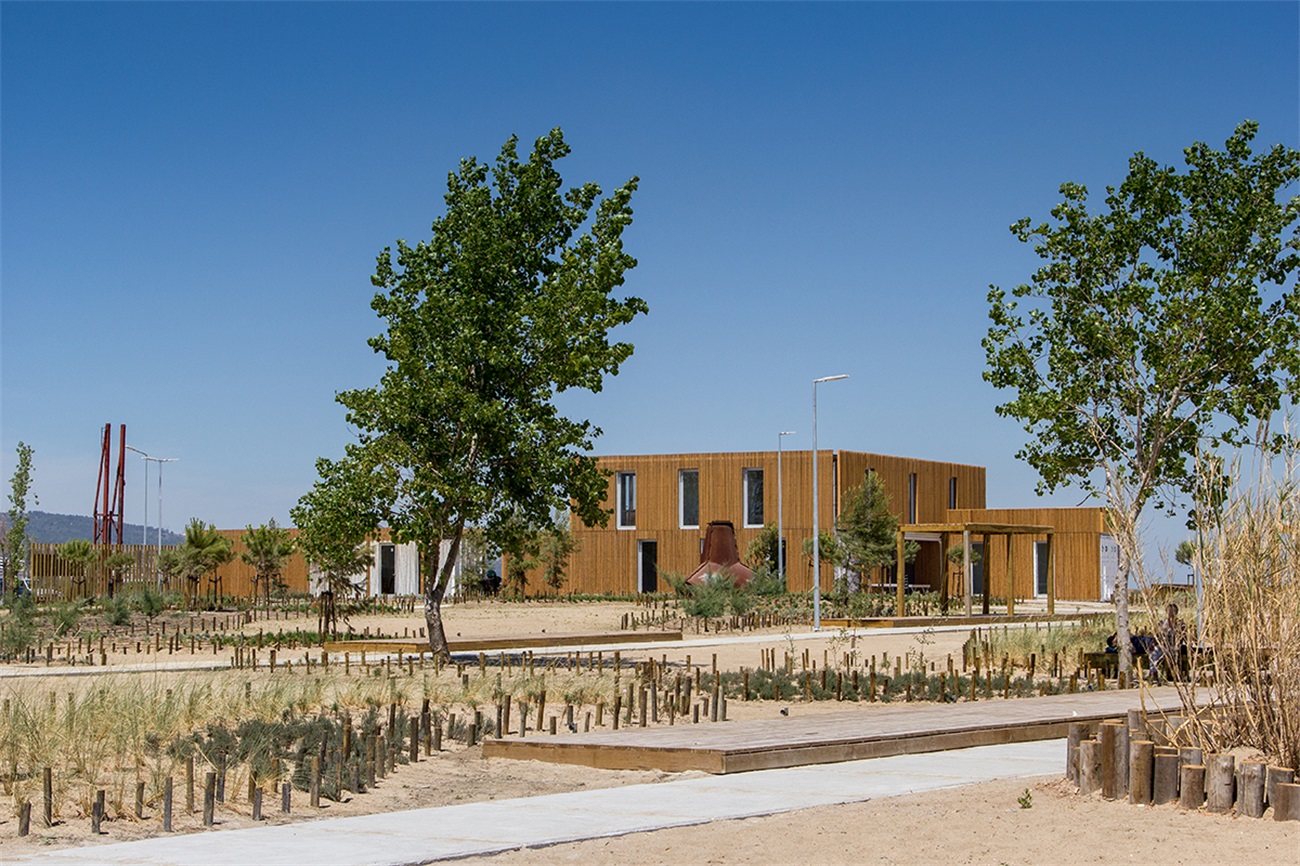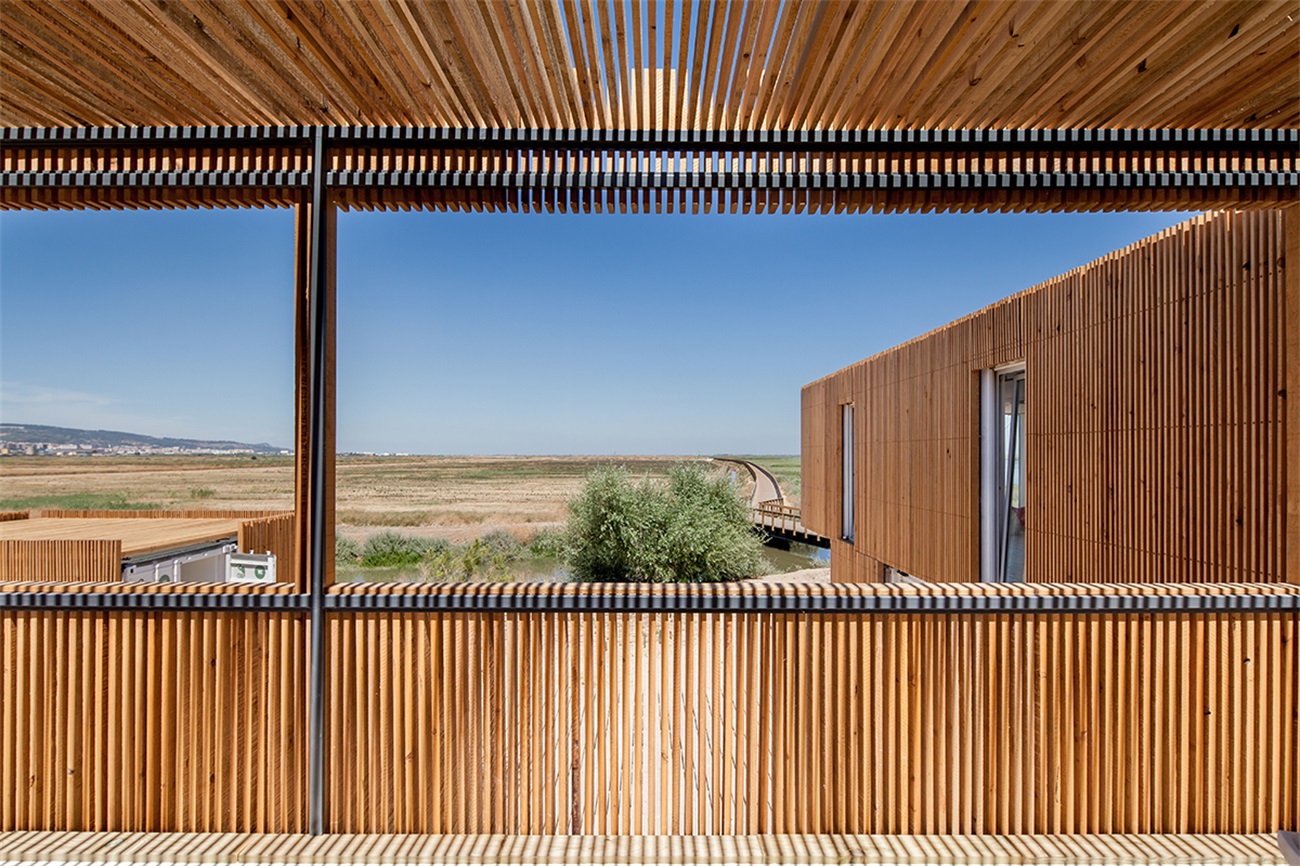 植被主要由本地物种以特定形式进行群植组成,与广阔的沙地区域形成了鲜明的对比。密集种植的植物组群受到独立木桩系统的保护,可以捕获和沉降沙子,同时保护植物在其早期发育阶段免受践踏,所有的植物都完全沐浴在阳光之下。
Vegetation is composed mainly of native species and was planted in clusters featuring a specific formal pattern, contrasting with the extensive sand area. The densely planted groups are protected by a mesh of individual wooden poles to help capture and secure sand, and also to protect plants from being trampled in their early stages of development. Lighting is 100% solar.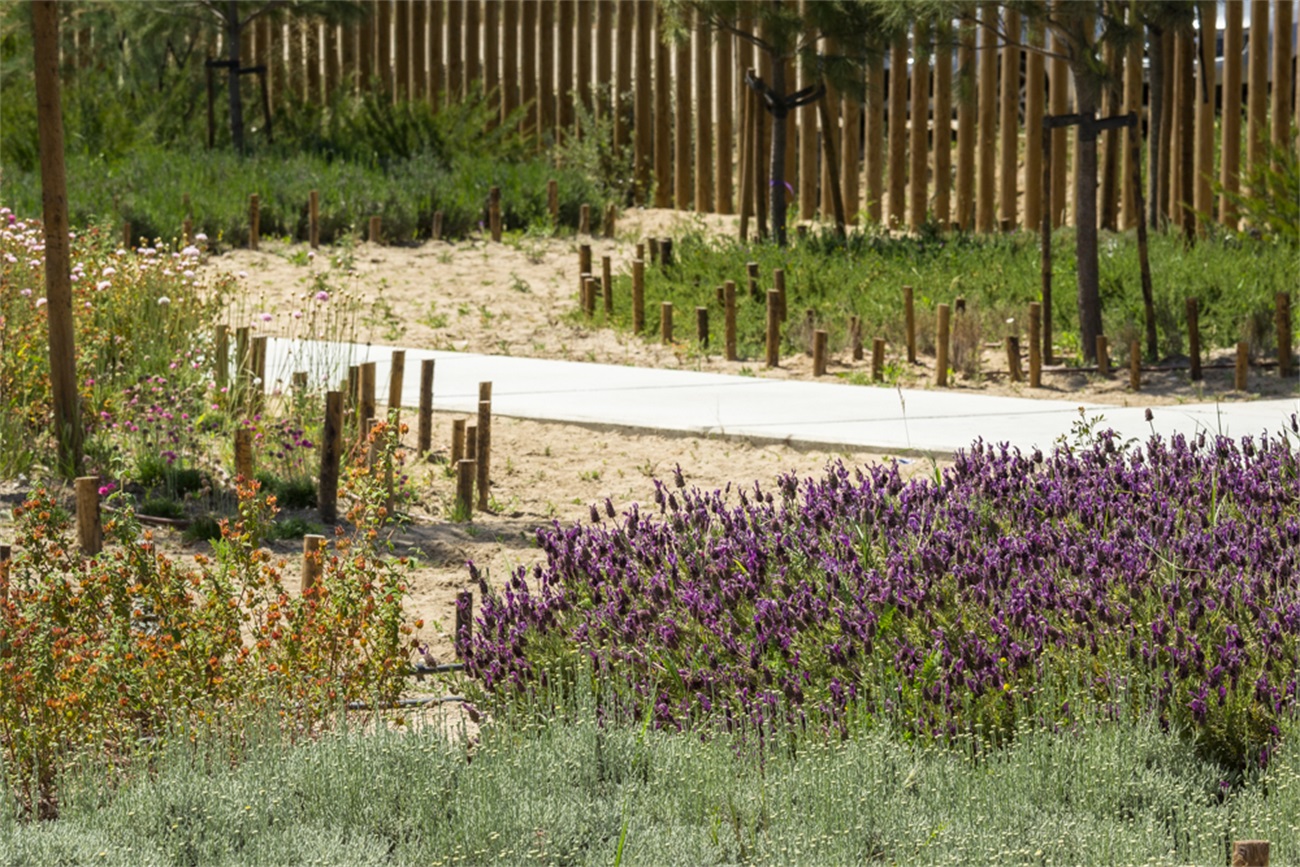 ▼独立木桩 The individual wooden poles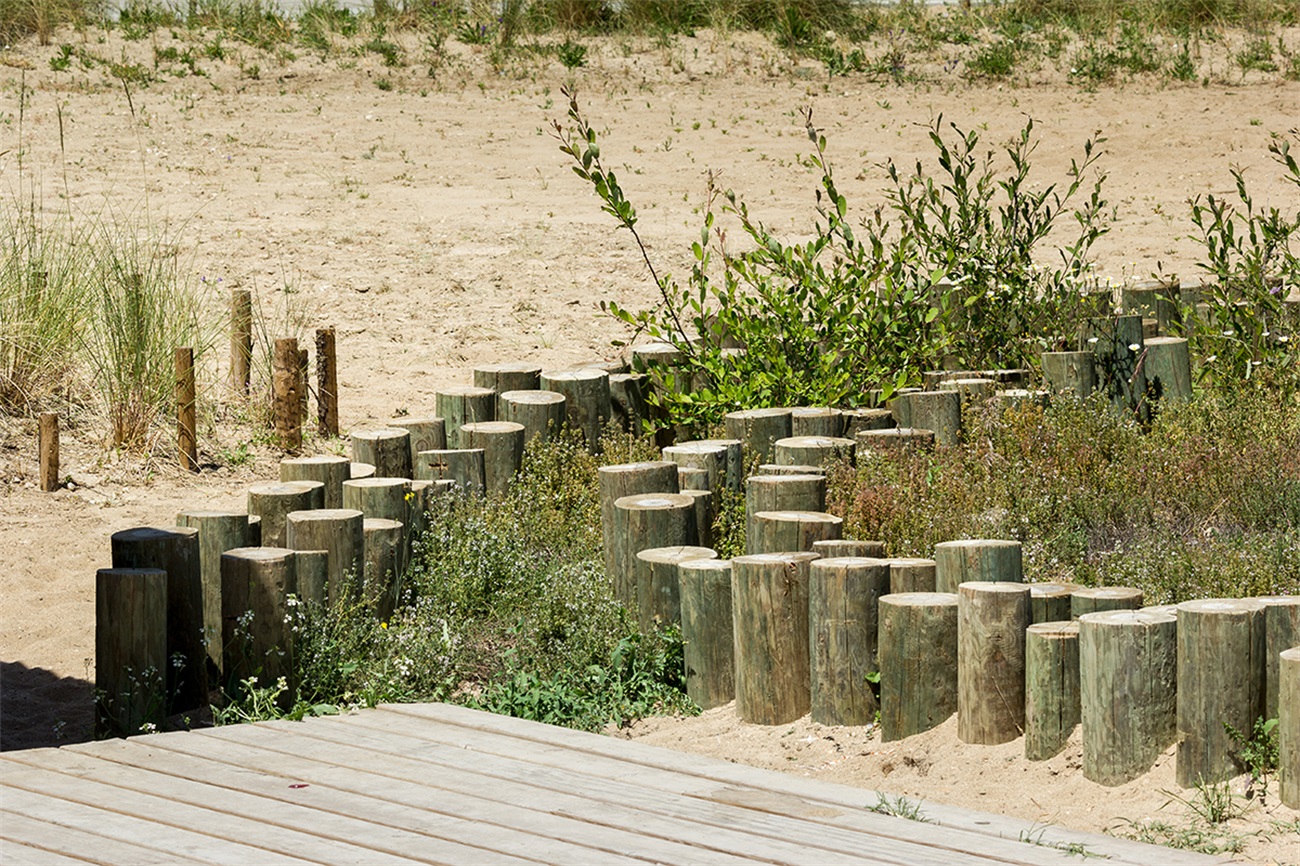 塔古斯线性公园设计荣获2012年WAN奖一等奖和2015年意大利Archmaraton大奖景观类一等奖,还获得了2016年美国建筑奖的铜奖。
Tagus Linear Park won the first prize in the 2012 WAN Awards and first prize in the Landscape category of the 2015 Archmaraton. It has received the Bronze Medal in the 2016 American Architecture Prize.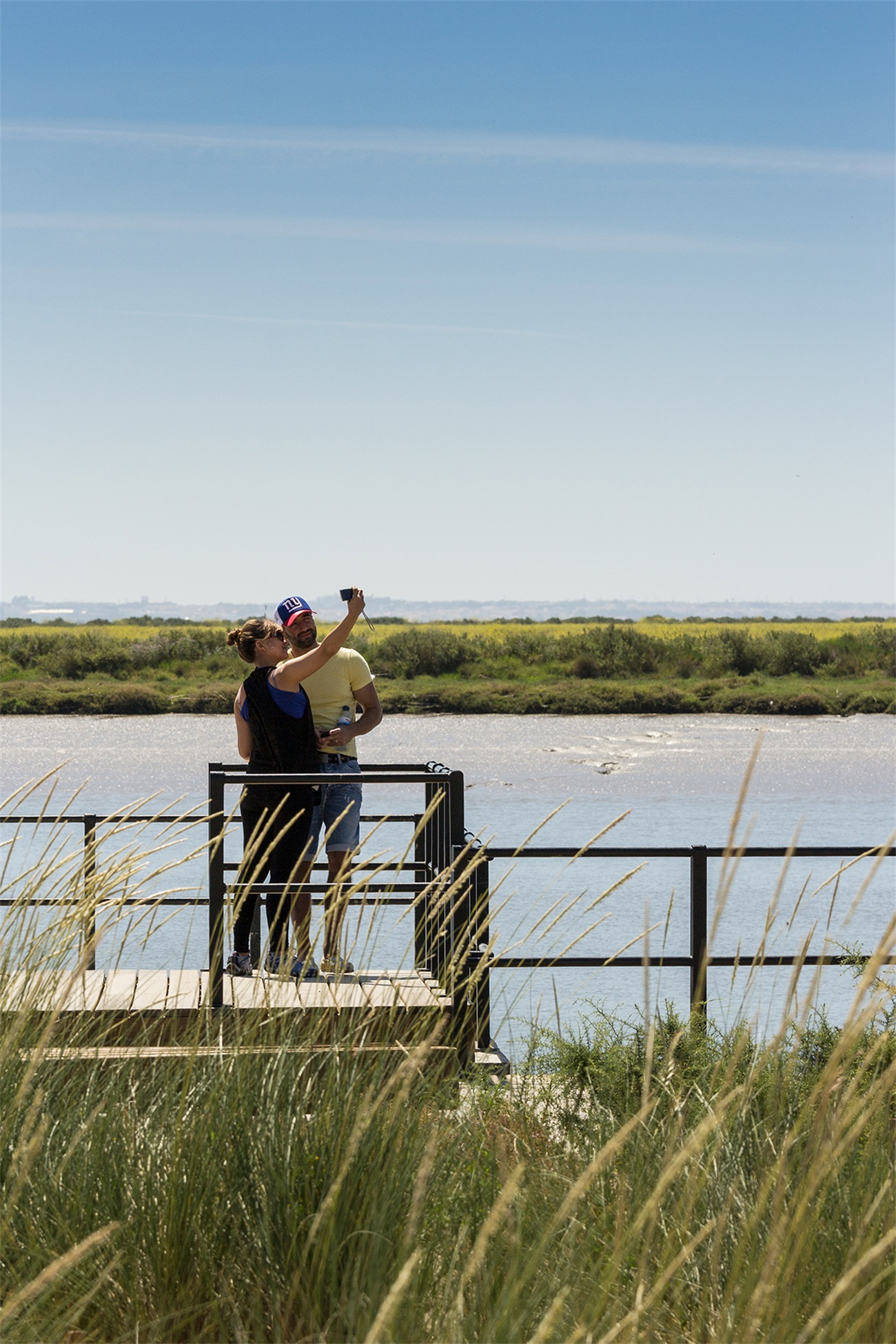 项目名称:塔古斯线性公园
完成时间:2013年
面积:15000平方米
项目位置:葡萄牙,Póvoa de Santa Iria
景观设计公司:Topiaris Landscape Architecture
网站:www.topiaris.com
联系电子邮件:geral@topiaris.com
主创设计师:Luis Ribeiro, Teresa Barão, Catarina Viana
设计团队:Ana Lemos, Elsa Calhau, João Oliveira, Rita Salgado, Sara Coelho
客户:Vila Franca de Xira市政当局
合作者
建筑设计:ADA | Atelier Difusor de Arquitectura – Olavo Dias, Pedro Santos, Sérgio Marques, António Marciano
照明:INTEGRALUX – Afonso Santos
结构工程:FTD – Pedro Delgado
图片来源:João Morgado
摄影师网站:https://www.joaomorgado.com/
Project name: Tagus Linear Park
Completion Year: 2013
Size: 15 000 sq meters
Project location: Póvoa de Santa Iria, Portugal
Landscape/Architecture Firm: Topiaris Landscape Architecture
Website: www.topiaris.com
Contact e-mail: geral@topiaris.com
Lead Architects: Luis Ribeiro, Teresa Barão, Catarina Viana
Design Team: Ana Lemos, Elsa Calhau, João Oliveira, Rita Salgado, Sara Coelho
Clients: Municipality of Vila Franca de Xira
Collaborators
Architecture: ADA | Atelier Difusor de Arquitectura – Olavo Dias, Pedro Santos, Sérgio Marques, António Marciano
Lighting: INTEGRALUX – Afonso Santos
Structure Engineering: FTD – Pedro Delgado
Photo credits: João Morgado
Photographer's website: https://www.joaomorgado.com/
---
"基于景观的自然属性和人文艺术特征设计的绿道,维护了现有自然生态系统的同时也提供了独特的休闲娱乐空间。"
审稿编辑:Simin
更多 Read more about:Topiaris Landscape Architecture