SANAA:这是美国康涅狄格州新迦南的一个项目,于2015年10月完成。场地很大,在一个安静的社区里,到处都是树木、湖泊和湿地,一直延伸到远处。该项目是多样化的,包括一个多功能大厅,社区聚会空间、餐饮、健身房和图书馆,以及一个运动场和景观中的烧烤庭院。
SANAA:This is a project in New Canaan, Connecticut, USA that was completed in October 2015. The site is a large property filled with trees, lakes, and wetlands in a quiet neighborhood, which extends into the distance. The program is diverse, including a multi-purpose hall, community gathering space with food and beverages, gymnasium, and library, as well as an athletic field and BBQ courtyard in the landscape.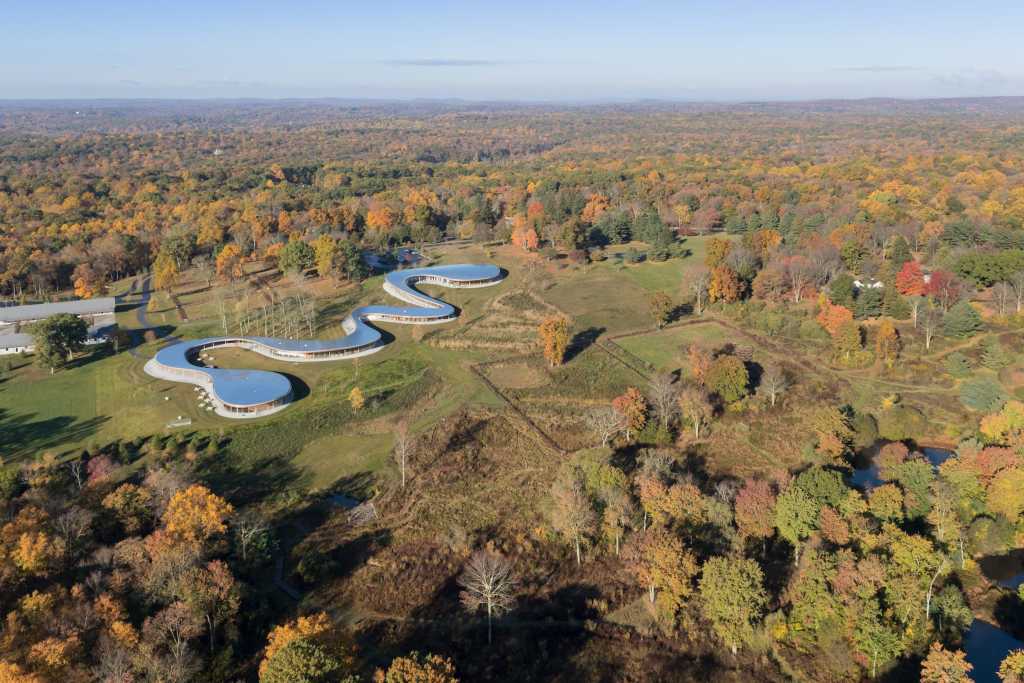 Grace Farms, Aerial View of the River building and Barns; © Iwan Baan
我们设计了一个建筑,它在一个长长的大屋顶下延伸,沿着风景,漂浮在场地中心。这种木框架结构自由蜿蜒穿过山丘,在广阔的土地上创造出许多有顶的户外空间,同时也形成了庭院。
We proposed a building that spreads beneath a long large roof which follows the landscape and floats in the center of the site. Winding and crossing the hills freely, this wood-frame structure creates many covered outdoor spaces across the expansive property, while also forming courtyards.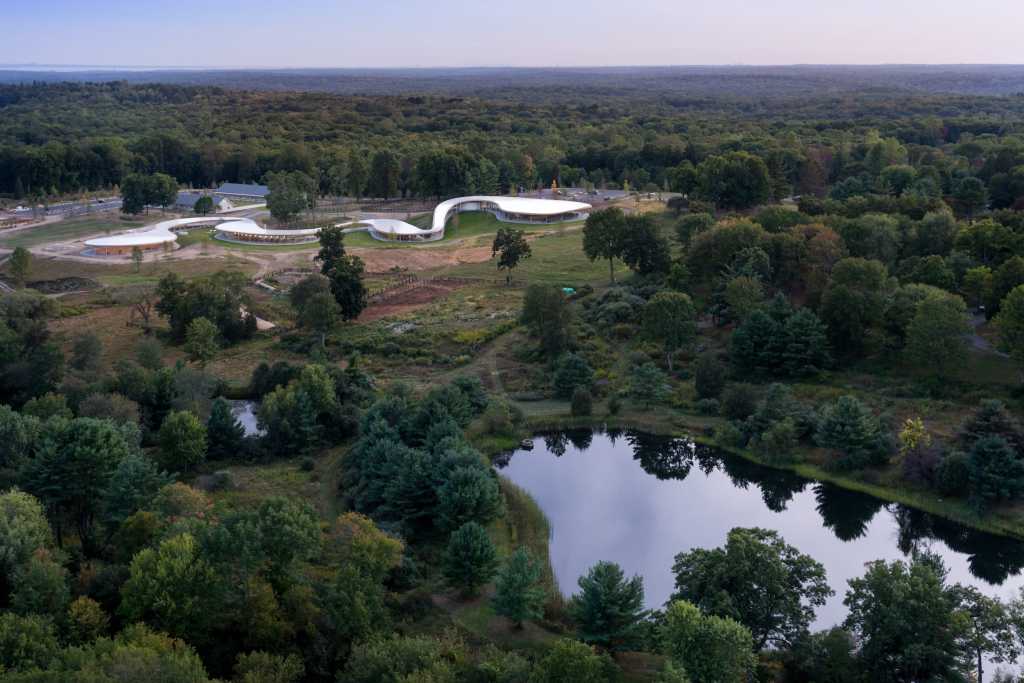 Grace Farms, Aerial View of the River building, Barns and pond; © Iwan Baan
基地平面 Site Plan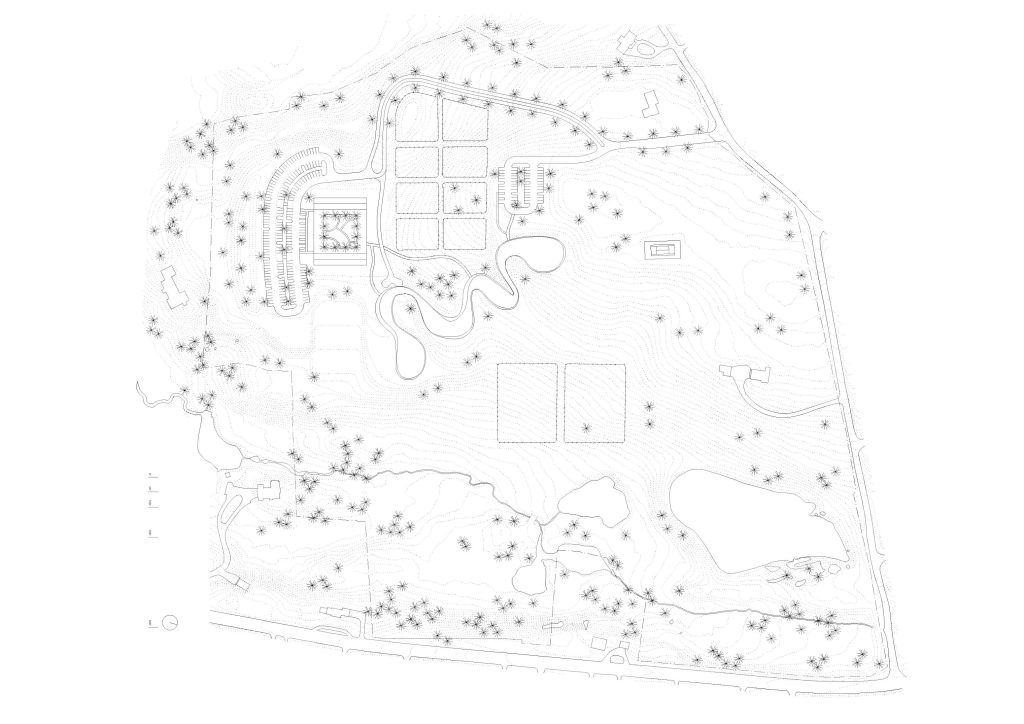 建筑平面 Building Plan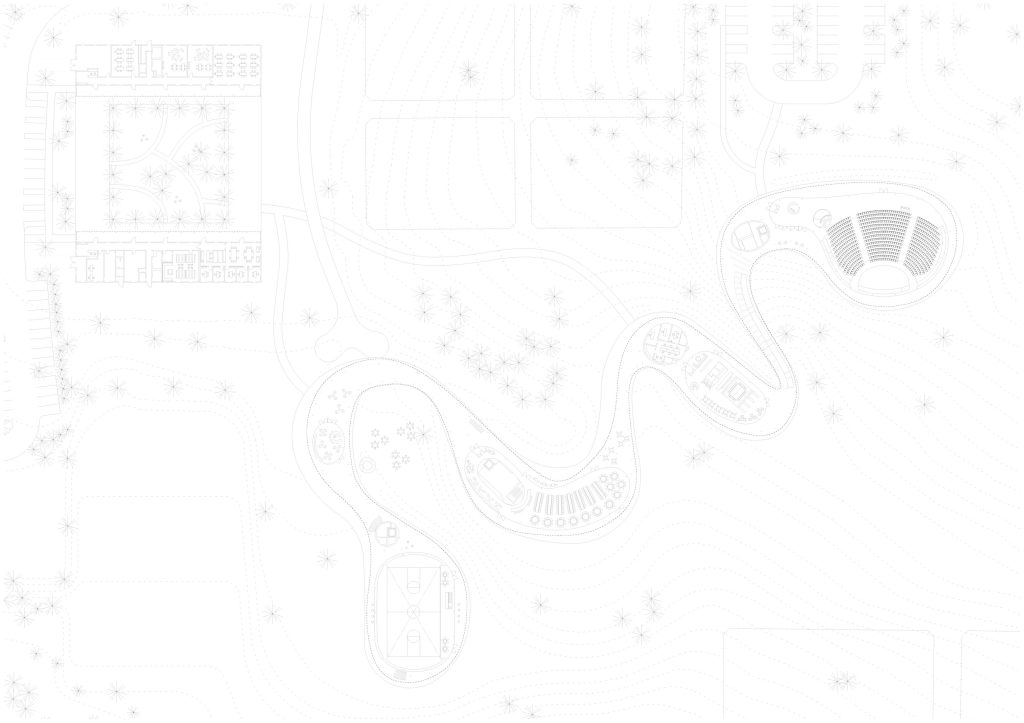 室内项目是在大屋顶下进行的,根据其特点和用途,用玻璃卷进行组织和包装——一个空间可能更安静的,更隐蔽,而另一个空间可能是许多客人可以聚集的社区空间。在平面图和立面图中,这些玻璃体量有时彼此靠近,而其他的则被放置得更远,创造出不同的视野和氛围。从一个房间里,你可以看到远处的大湖,从另一个房间你可以看到下面缓缓地下降的景观中的湿地。这个大屋顶也让位于各种各样的环境氛围,比如一个面对一个活跃广场的活跃空间,或者一个阳光从树叶间流过的平静空间。
The interior programs are found under the large roof, organized and wrapped in glass volumes according to their character and use –  one space may be quiet and more secluded, while another may be a community space where many guests could gather. In both plan and elevation, these glass volumes are at times located close to one another, while others are placed further apart, creating different views and atmospheres. From one room, one may see the large lake in the distance and from another, one can overlook the wetlands in the gently descending landscape below. This large roof also gives way to a variety of ambiences such as a lively room facing an active plaza, or a calm space with sunlight trickling through the foliage of the trees.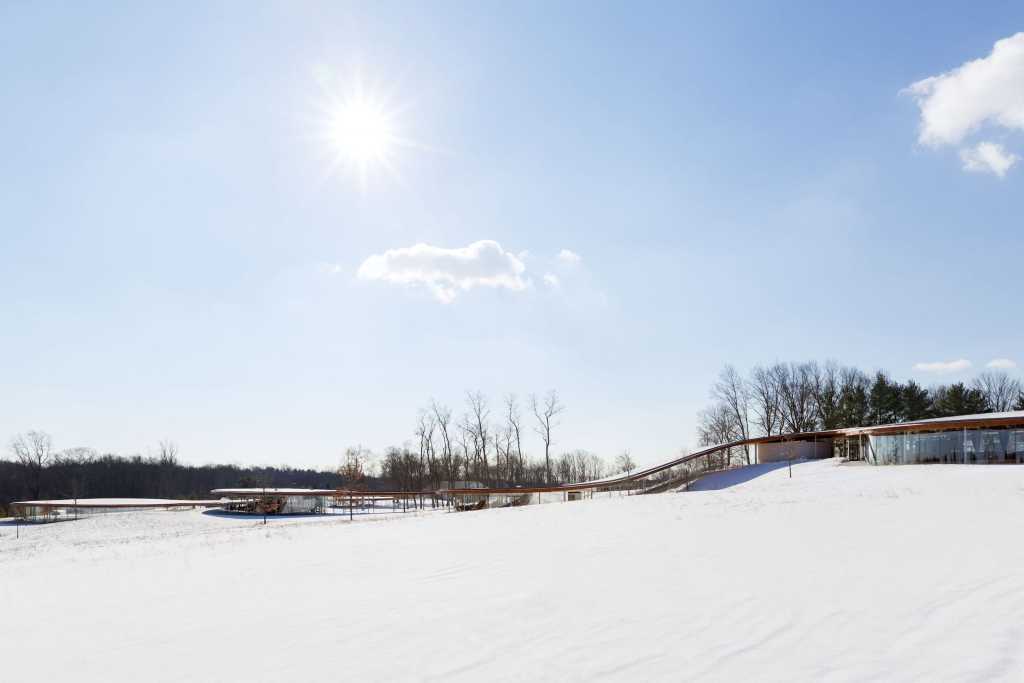 Grace Farms, the River building; © Dean Kaufman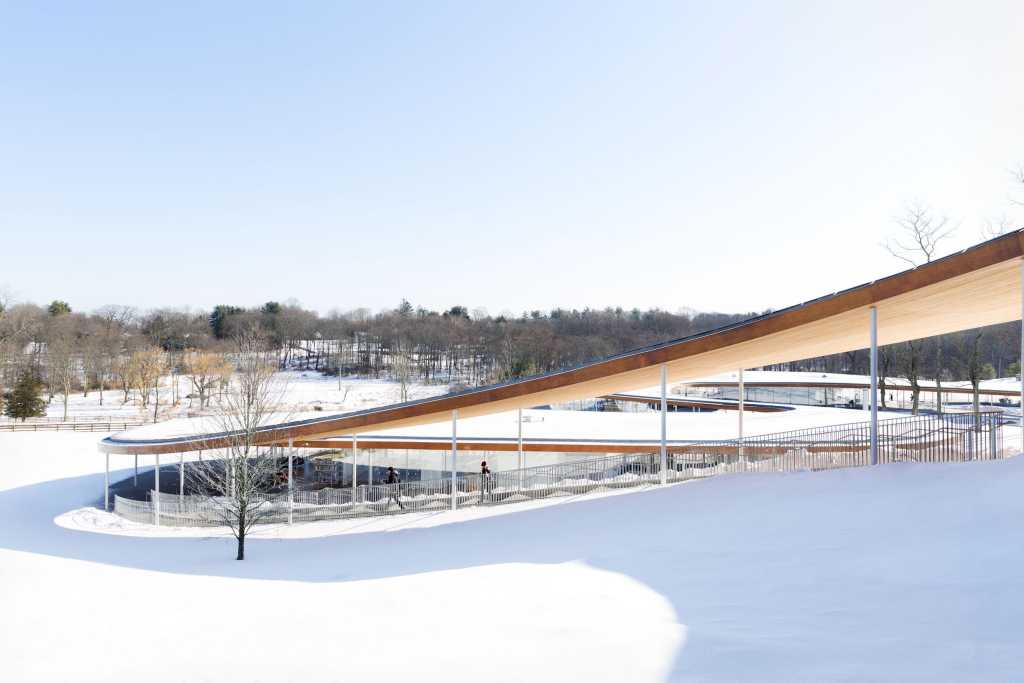 Grace Farms, the River building; © Dean Kaufman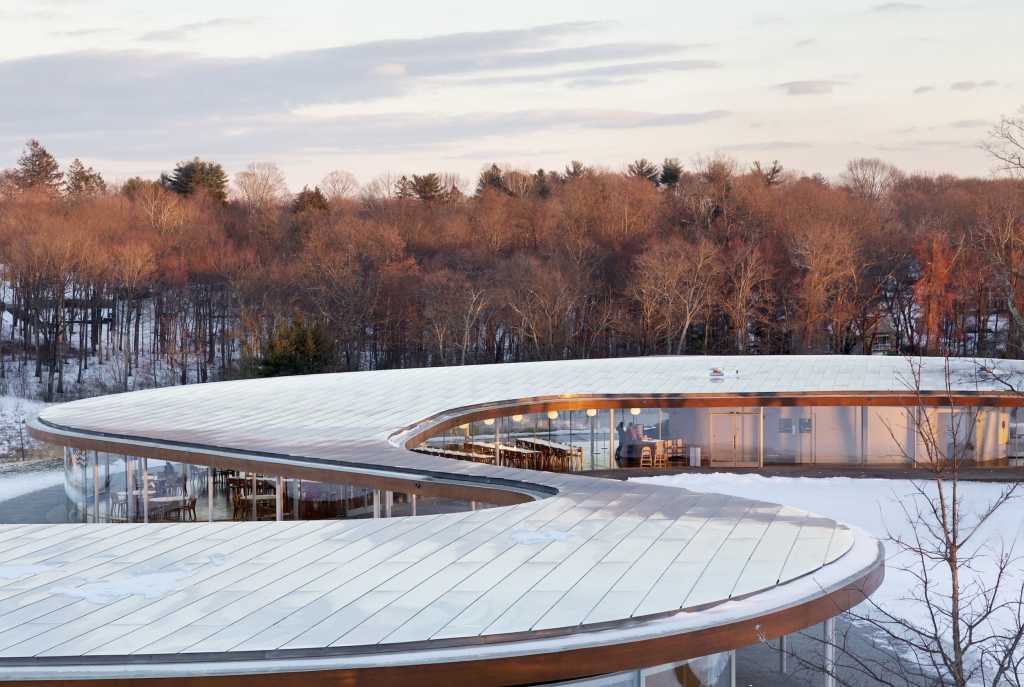 Grace Farms, the River building; © Dean Kaufman
在这个丰富的自然环境中,我们试图创造一个建筑,成为景观的一部分。我们希望游客能够通过设施创造的空间和体验来享受美丽的变化中的自然。(Shohei Yoshida/SANAA)
In this rich and natural environment, we sought to make a piece of architecture that becomes a part of the landscape. We hope the visitors will enjoy the beautiful changing nature through the spaces and experience created by the facility. (Shohei Yoshida/SANAA)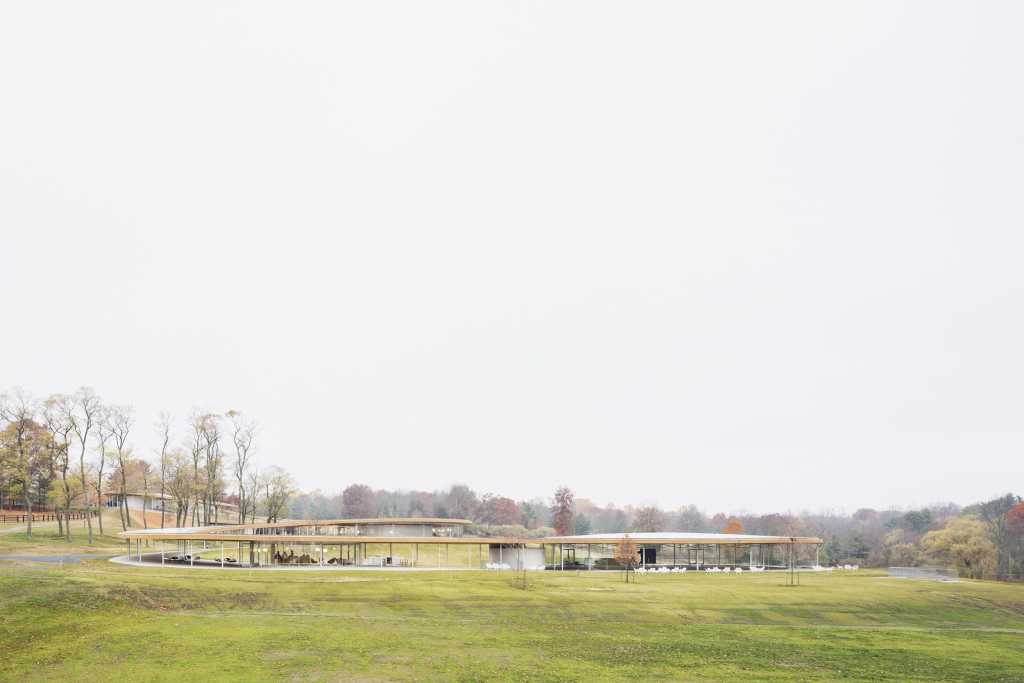 Grace Farms, the River building; © Dean Kaufman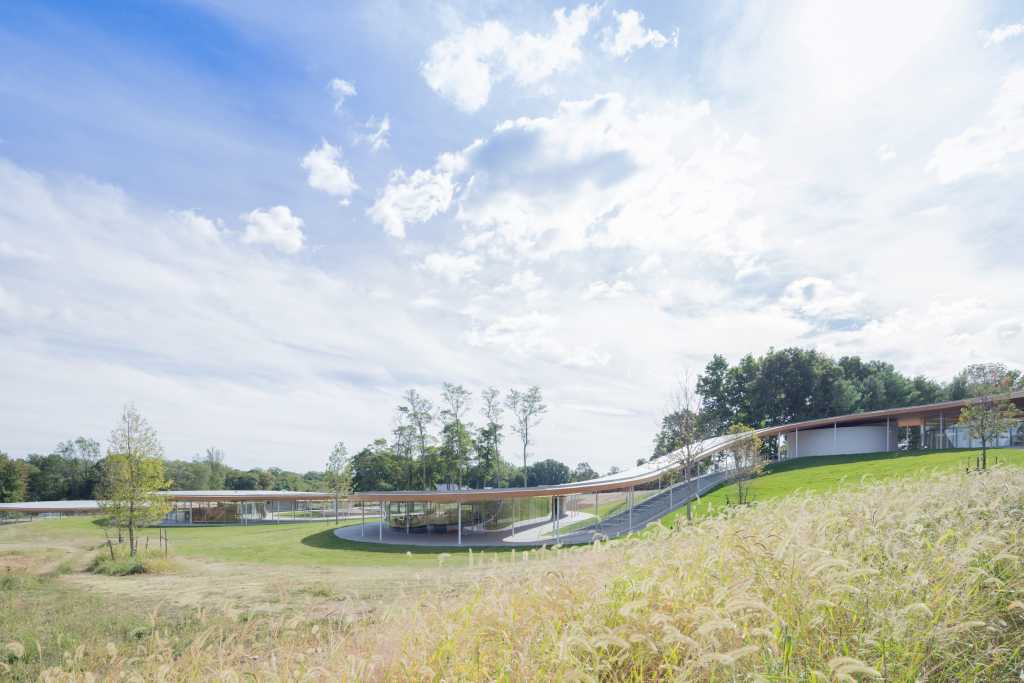 Grace Farms, the River building, perspective from meadows; © Iwan Baan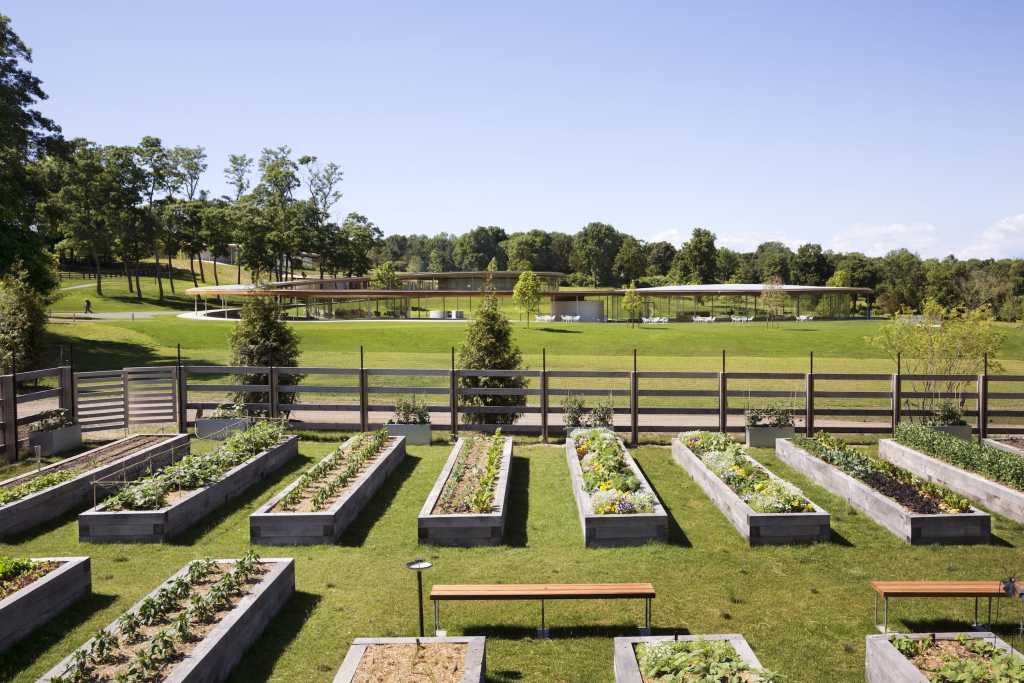 Community Garden at Grace Farms; © Dean Kaufman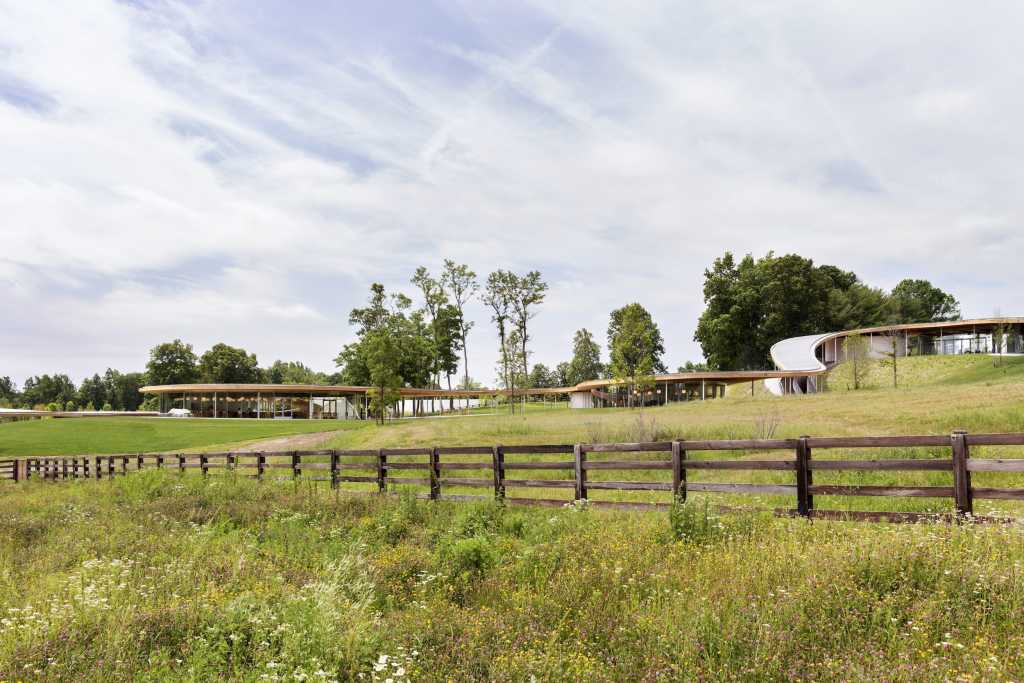 Grace Farms, the River building, perspective from the Paddocks; © Dean Kaufman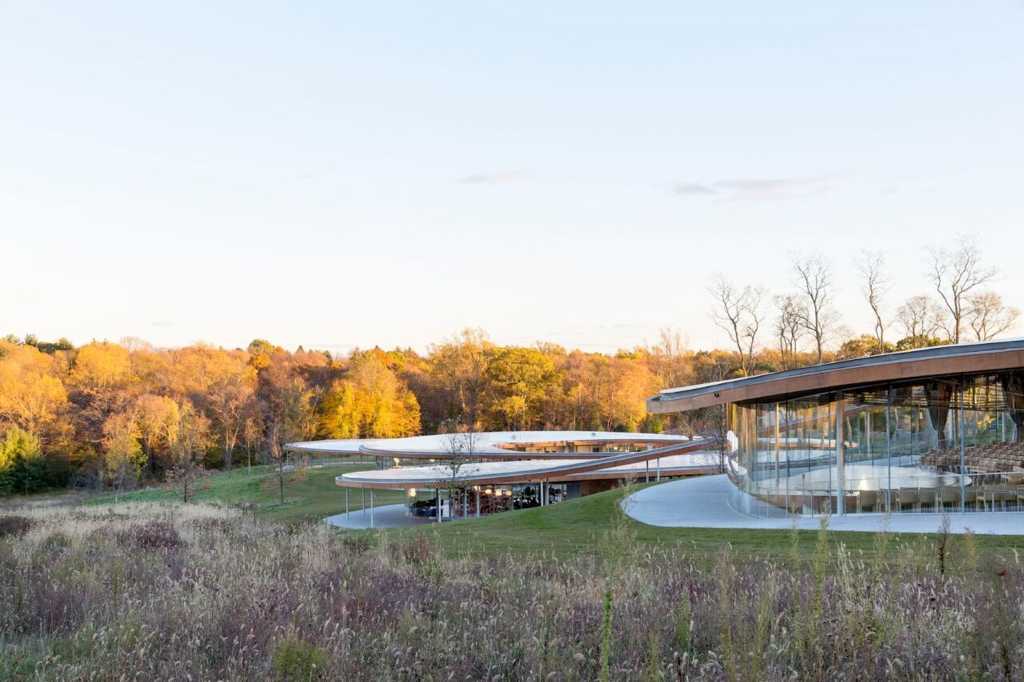 Grace Farms, the River building; © Dean Kaufman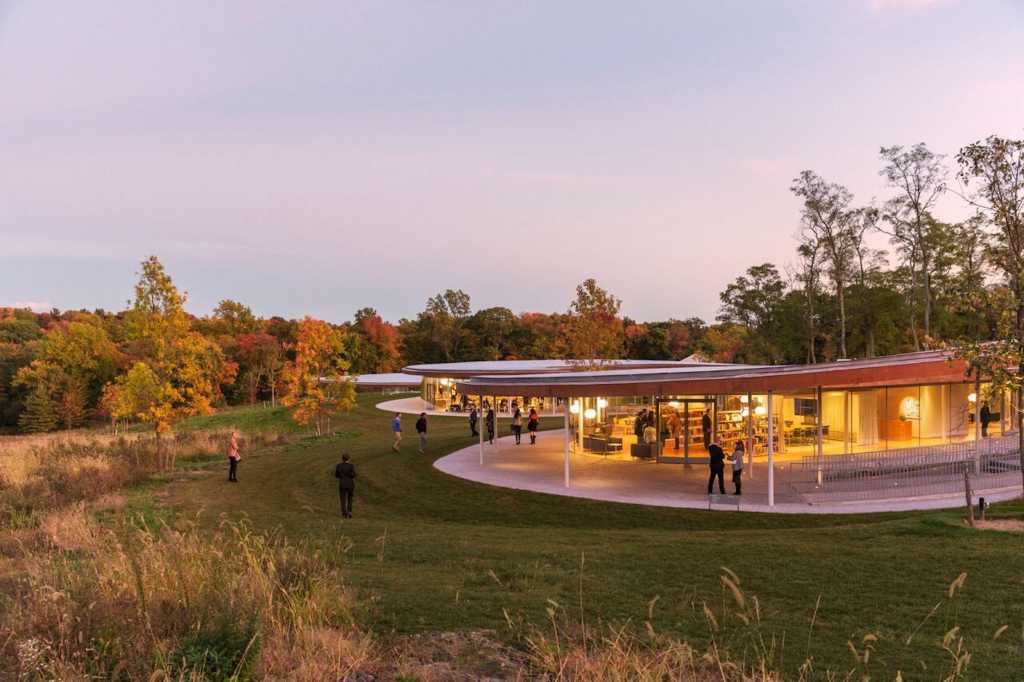 Grace Farms, the River building; © Dean Kaufman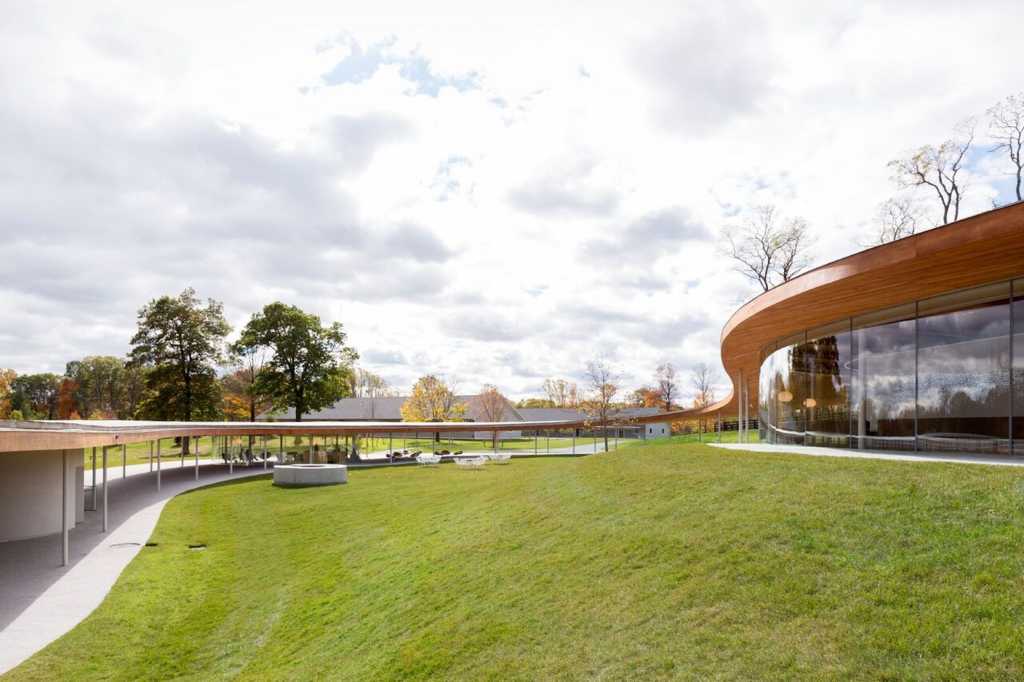 Grace Farms, the River building; © Dean Kaufman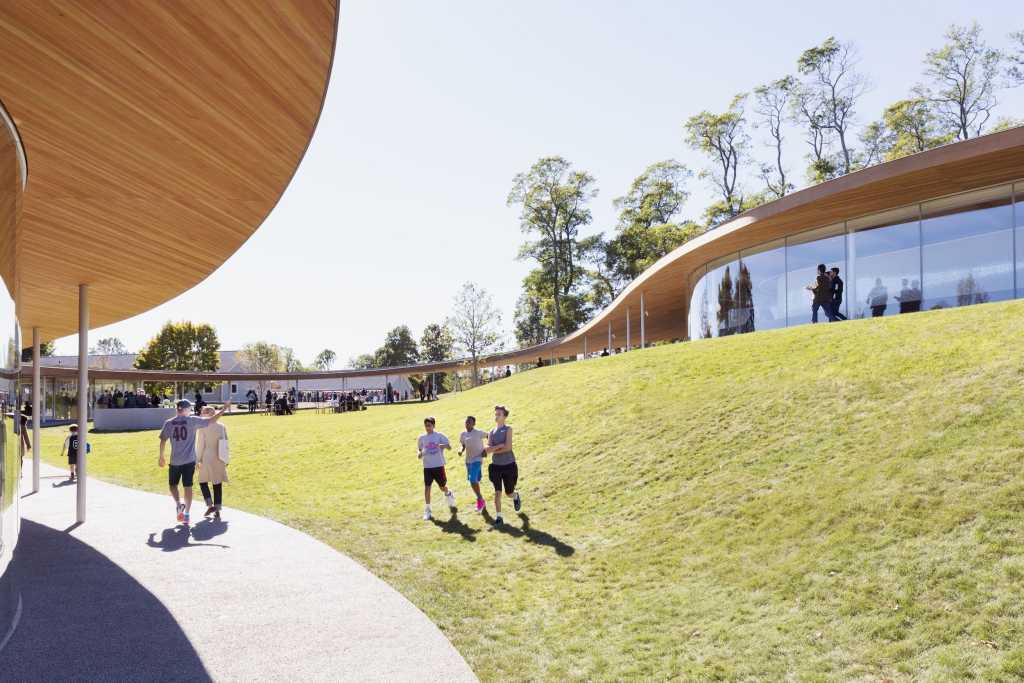 Grace Farms, Community Day; © Dean Kaufman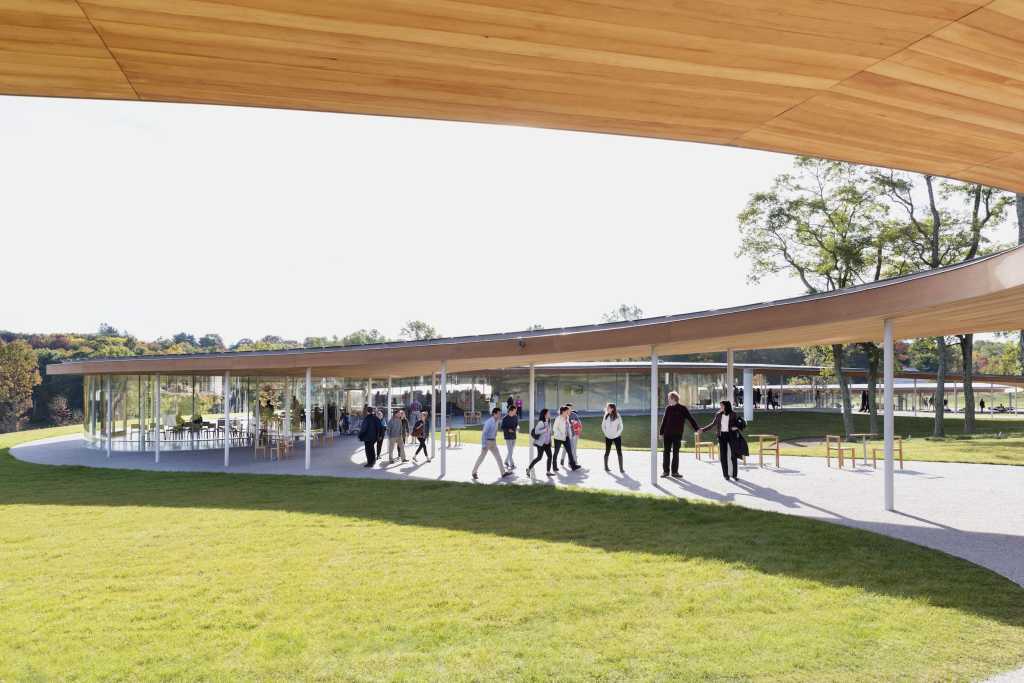 Grace Farms, the River building; © Dean Kaufman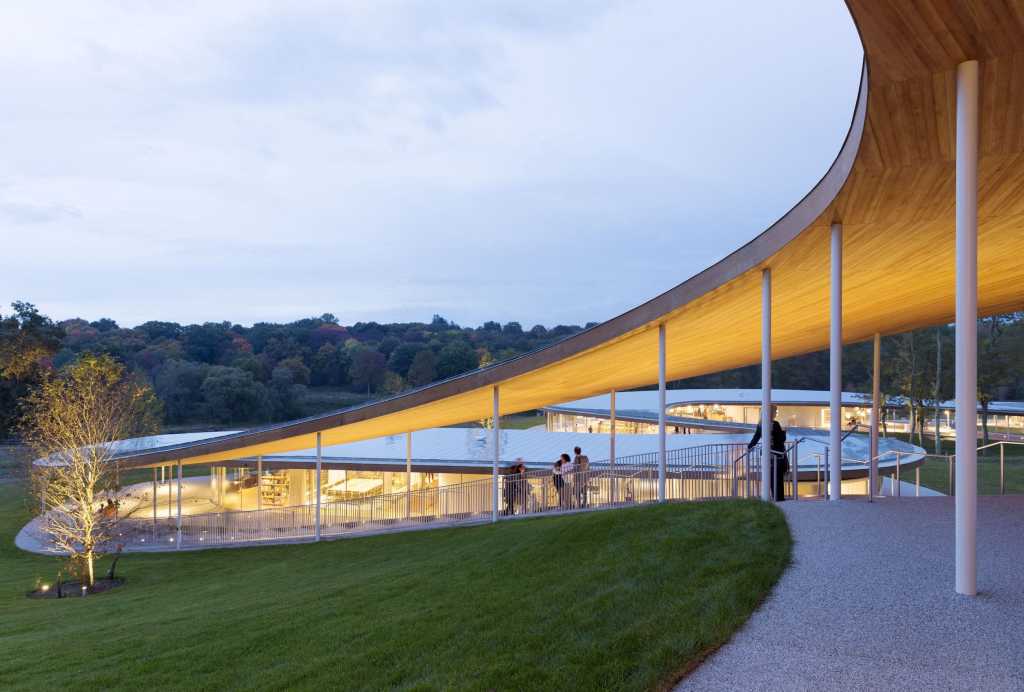 Grace Farms, the River building; © Dean Kaufman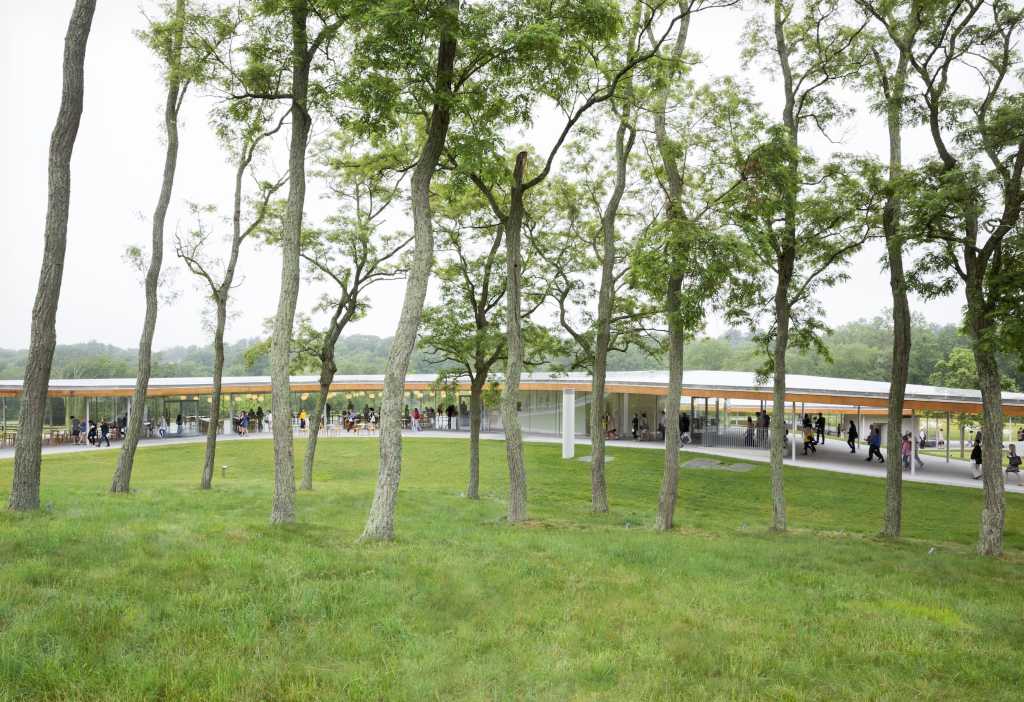 Grace Farms, the River building; © Dean Kaufman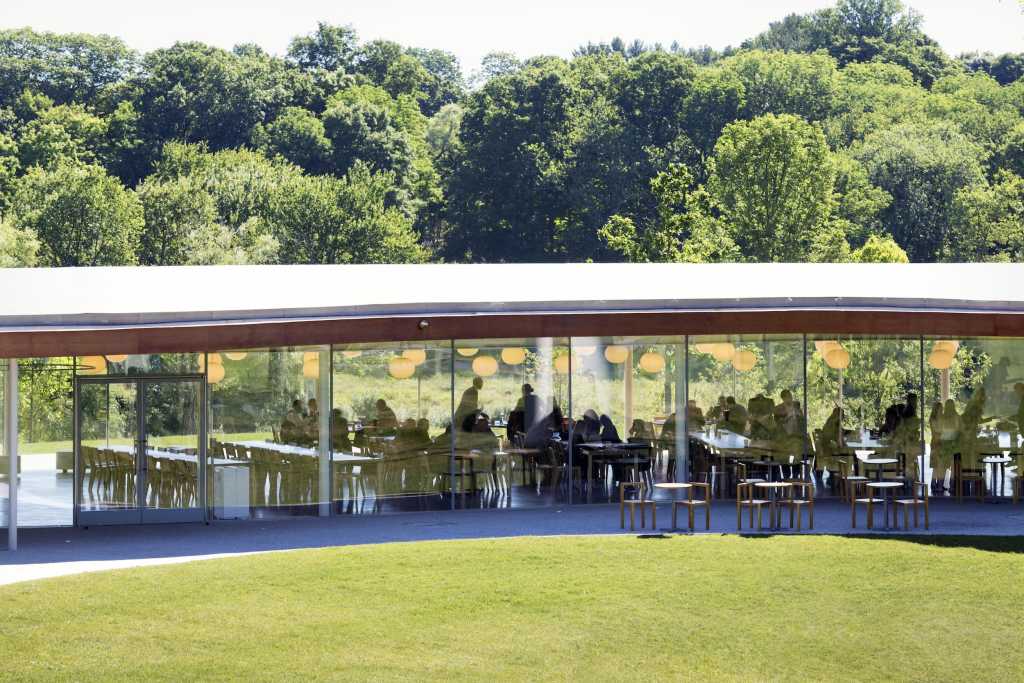 Grace Farms, the River building, Commons; © Dean Kaufman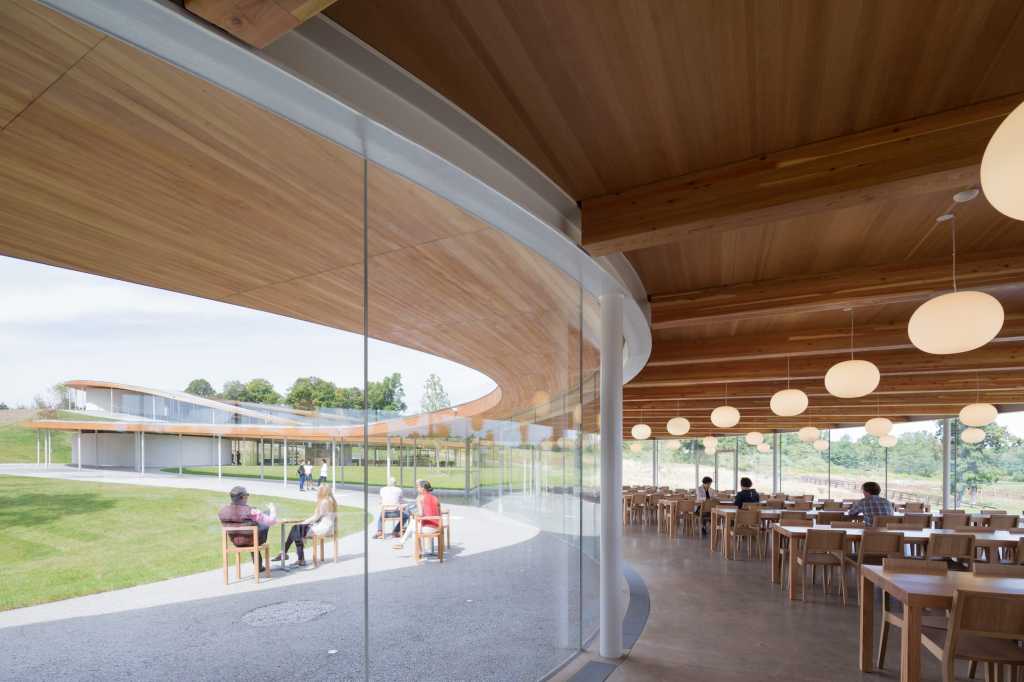 Grace Farms, the River building, Commons; © Iwan Baan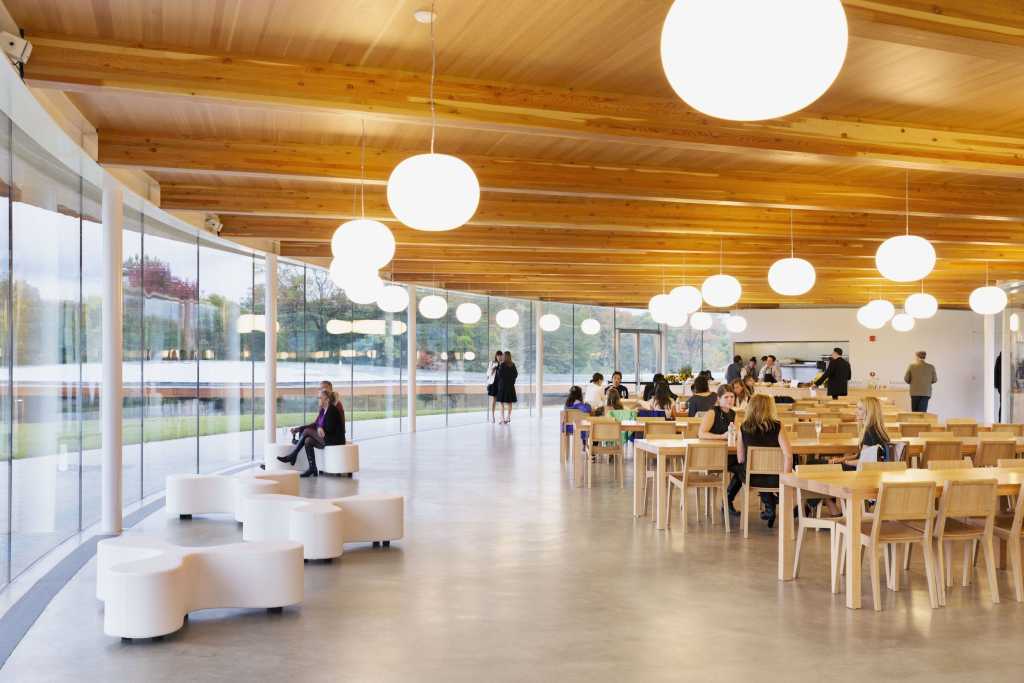 Grace Farms, the River building, Commons; © Iwan Baan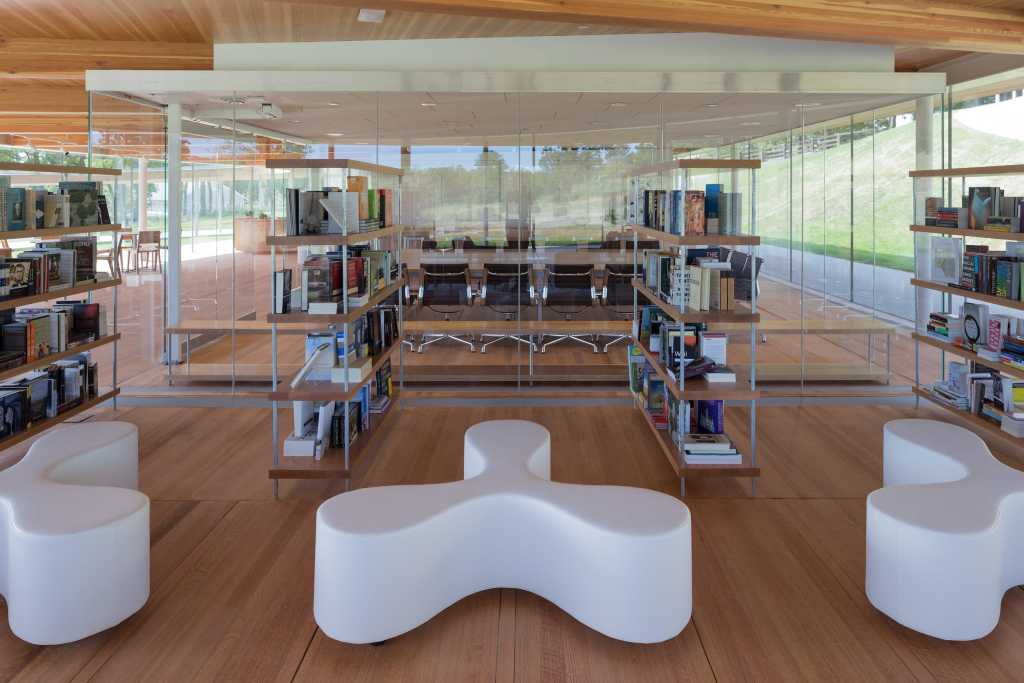 Grace Farms, the River building, Library; © Iwan Baan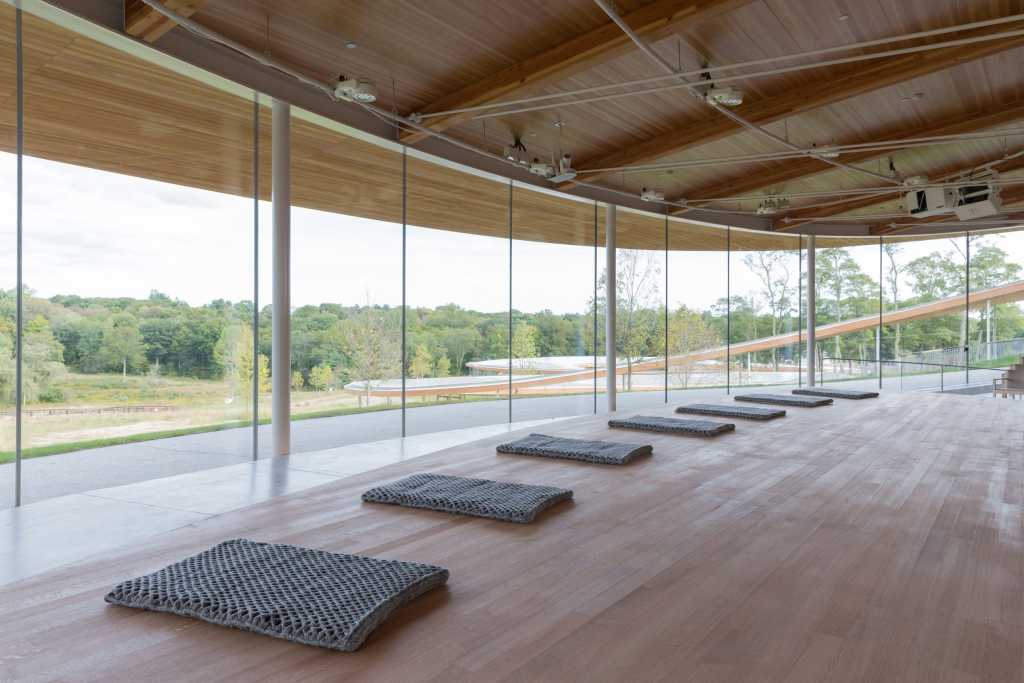 Grace Farms, the River building, Sanctuary,
featuring Olafur Eliasson's Mat for multidimensional prayers (2014); © Iwan Baan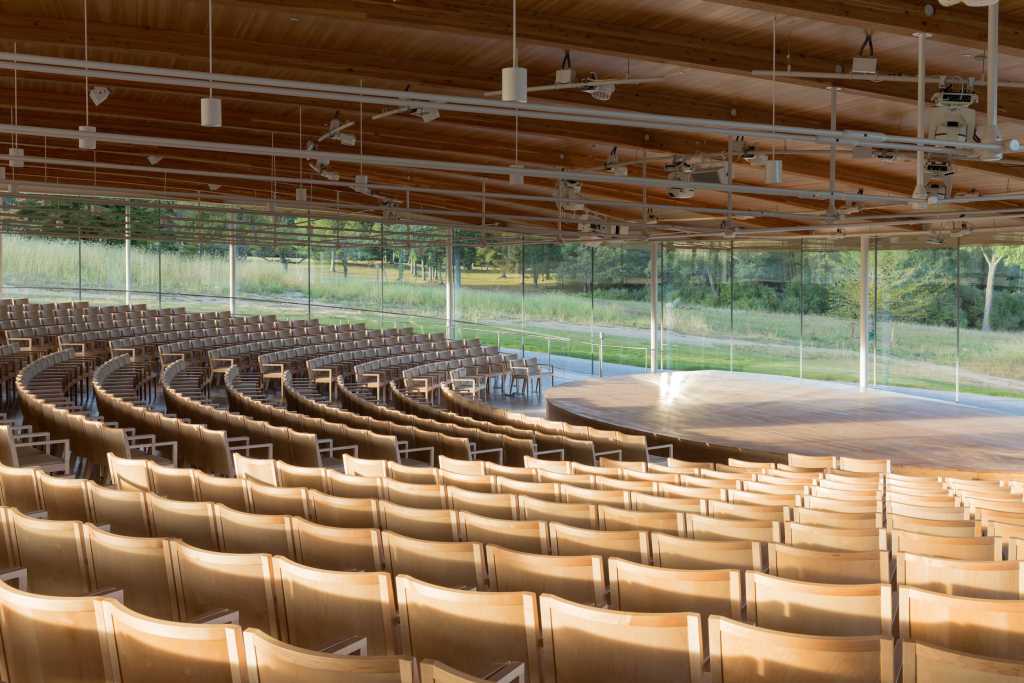 Grace Farms, the River building, Sanctuary; © Iwan Baan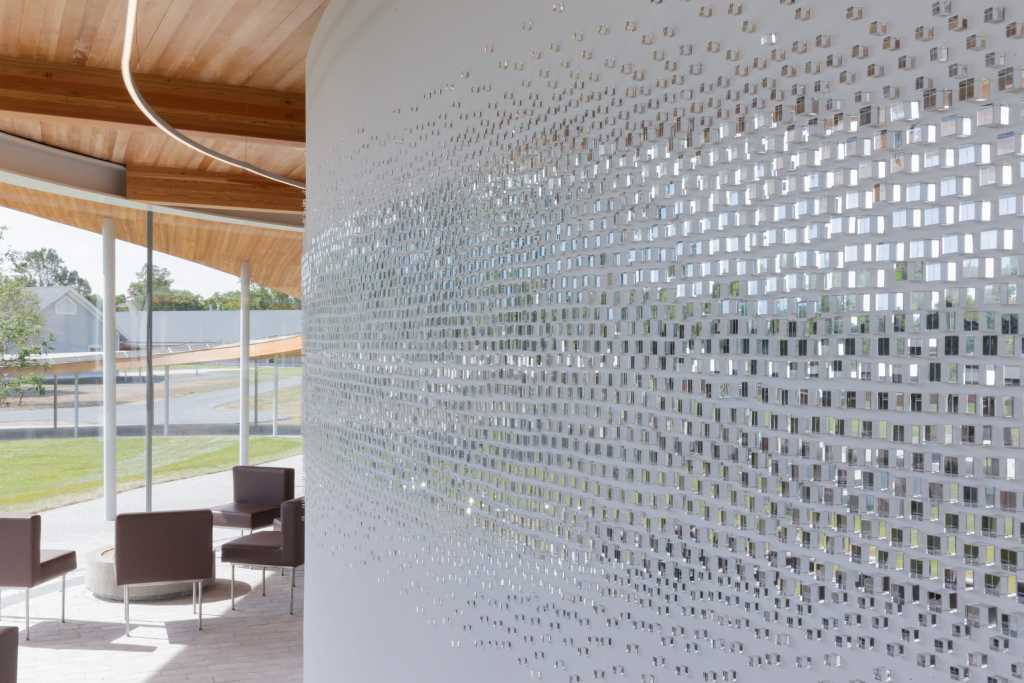 Grace Farms, the River building, Commons,
featuring Teresita Fernández's Double Glass River (2015); © Iwan Baan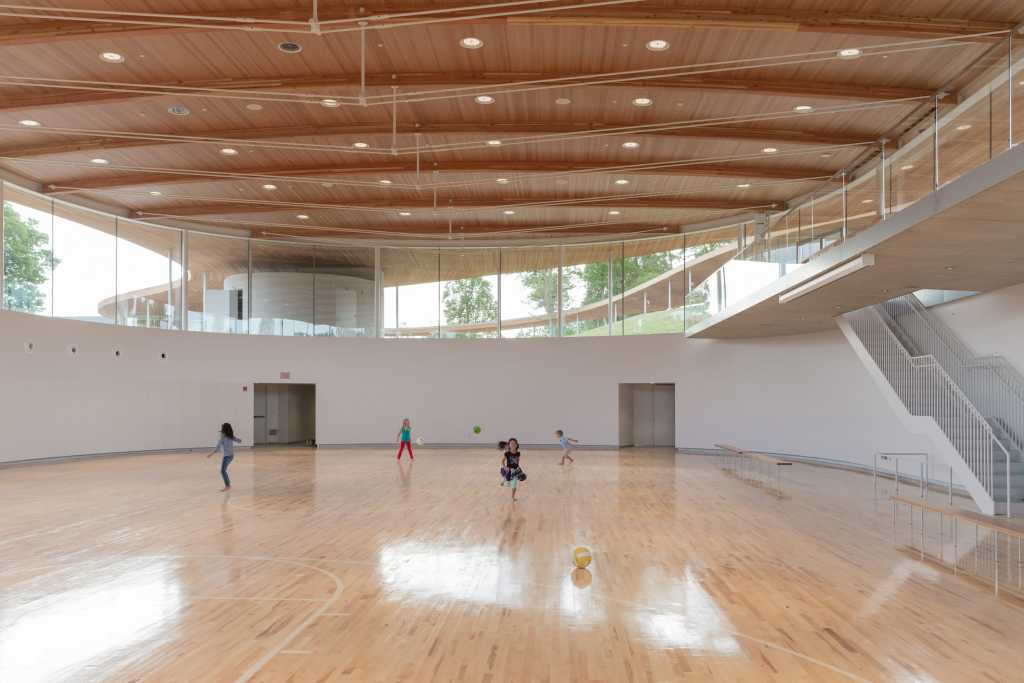 Grace Farms, the River building, Court; © Iwan Baan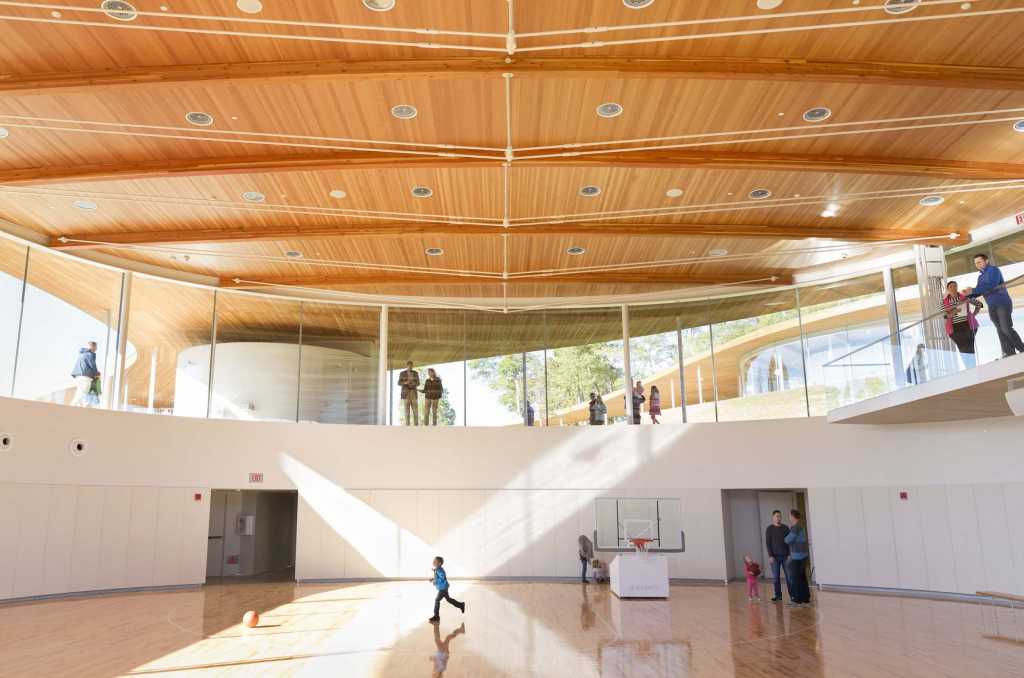 Grace Farms, the River building, Court; © Dean Kaufman
Grace Farms, the River building, Library, Space grant program; © Dean Kaufman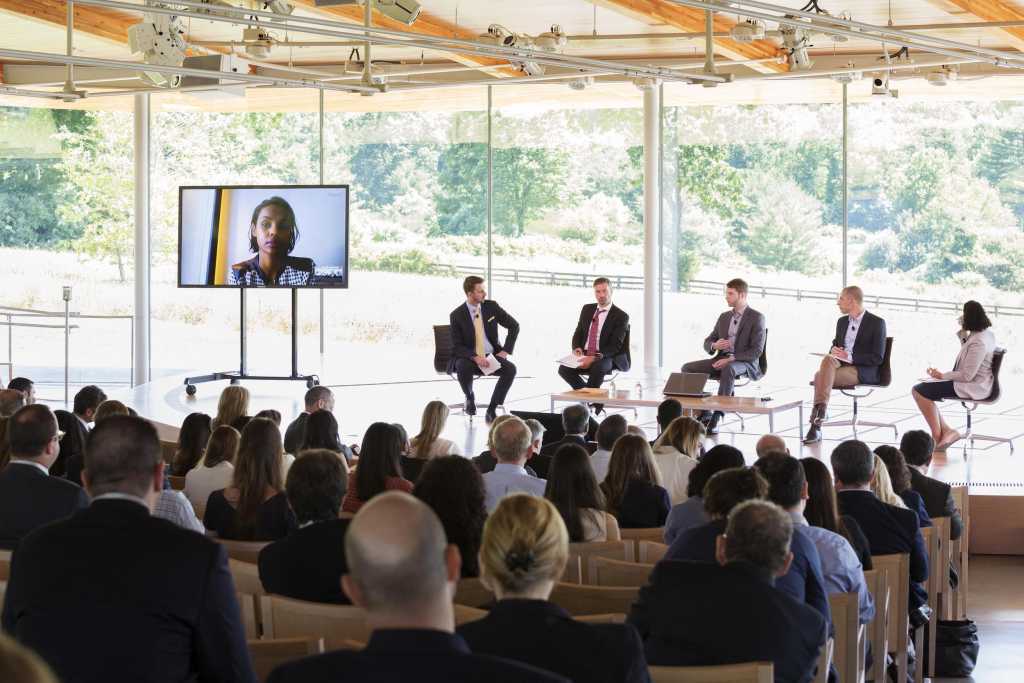 Grace Farms, Fighting Human Trafficking in Conflict workshop convened with UN University; © Dean Kaufman
Ryue Nishizawa and Kazuyo Sejima of SANAA at Grace Farms; © Dean Kaufman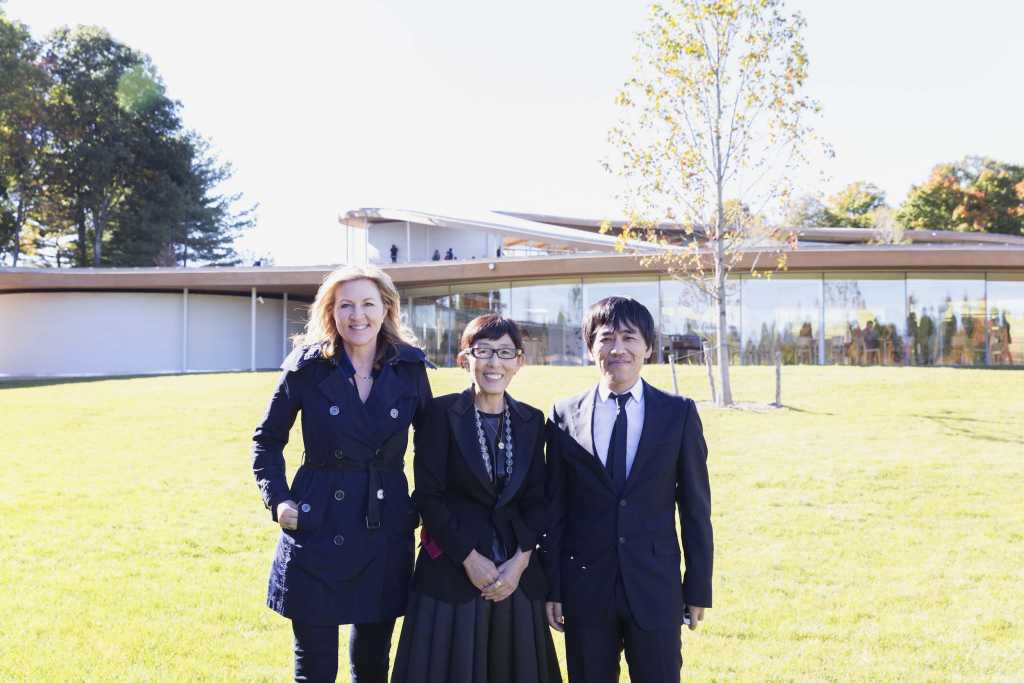 Sharon Price, Kazuyo Sejima and Ryue Nishizawa outside of the Library on Opening Day © Dean Kaufman
Sharon Prince, Chair and President, Grace Farms Foundation at the River building; © Iwan Baan
基地平面(带标注) Site Plan with marked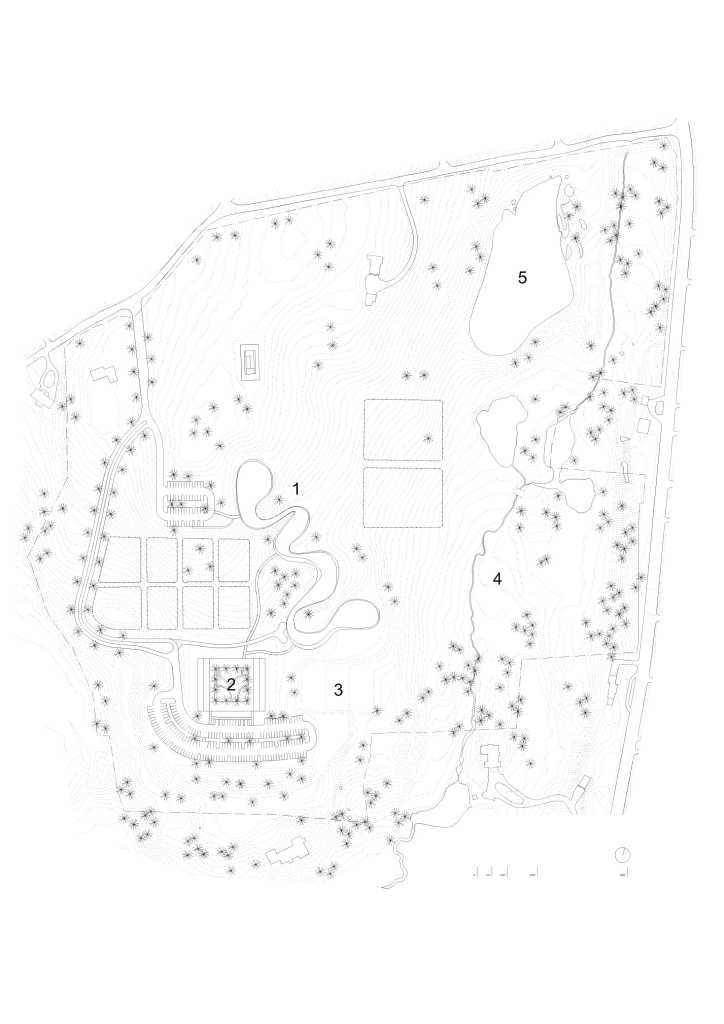 建筑平面(带标注) Building Plan with marked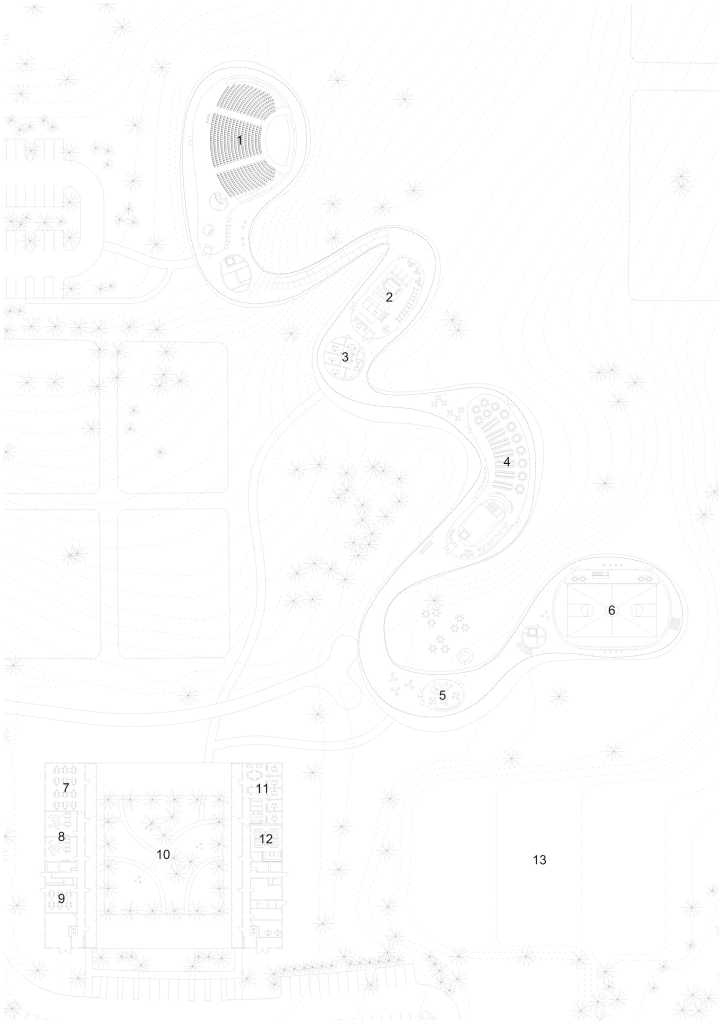 建筑剖面 Building Sections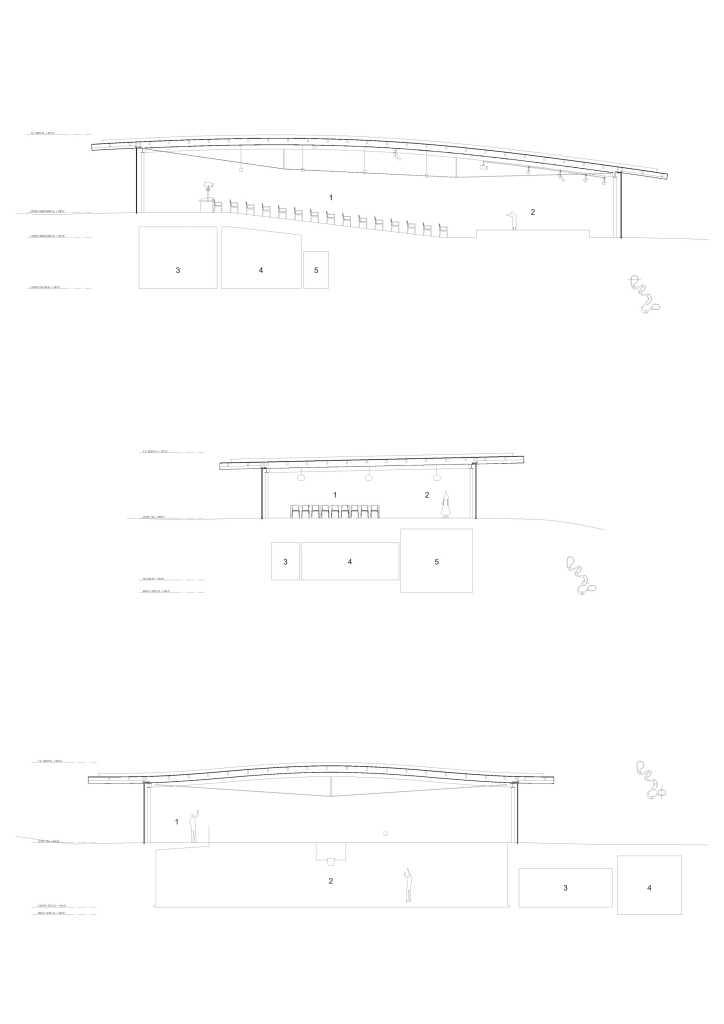 总立面图 Overall Elevation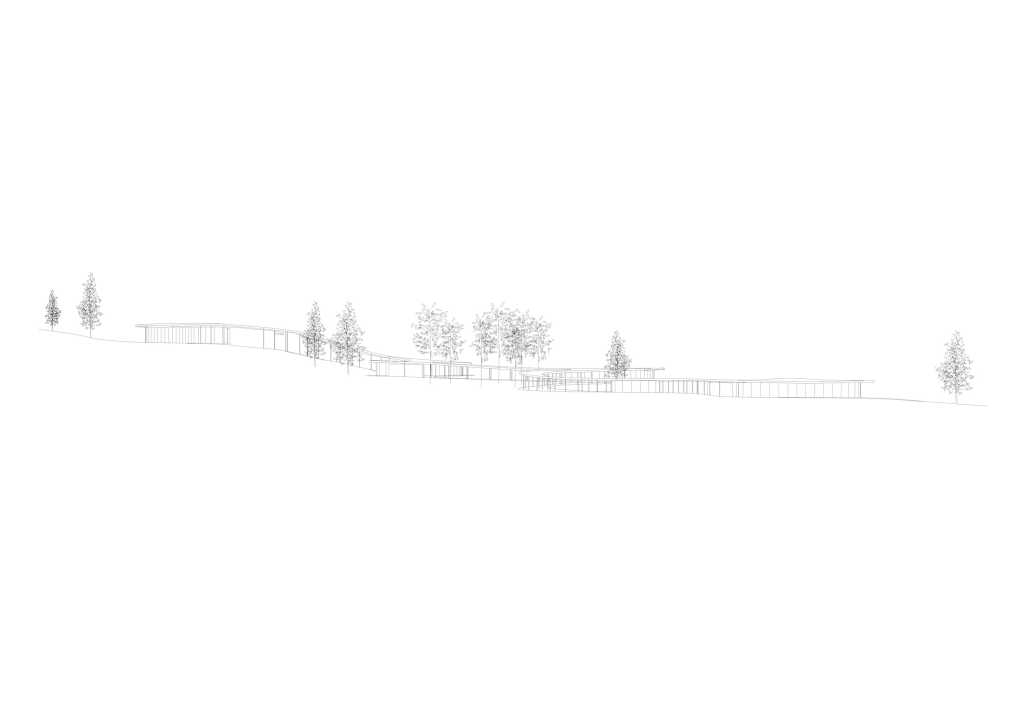 细节剖面 Detailed Section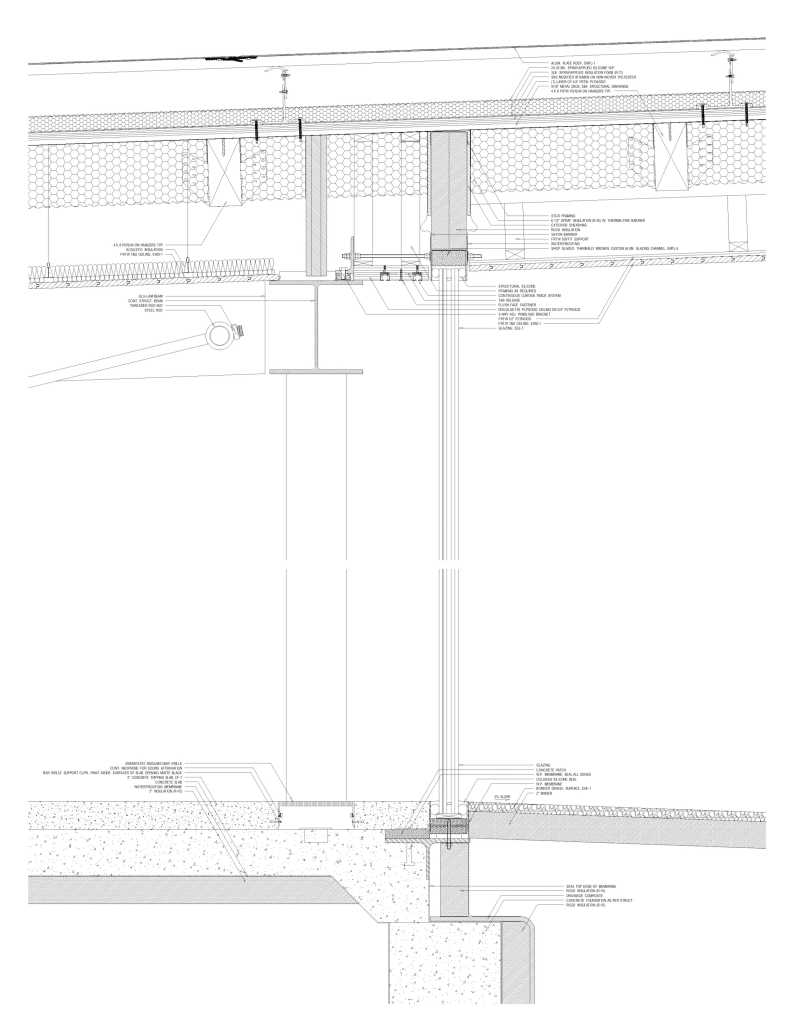 建筑名称: 格蕾斯农场的河流构筑
地点: 新迦南路365号,CT 06840
客户/所有者: 格雷斯农场基金会有限公司
完成日期: 2015年10月
总平方英尺: 75,000 gsf (总封闭面积),不包括有盖的小路
场地面积: 80英亩
设计建筑师: Kazuyo Sejima+Ryue Nishizawa / SANAA
景观设计: OLIN
摄影: Dean Kaufman, Iwan Baan , Jeff Goldberg
Name of building: The River at Grace Farms
Location: 365 Lukes Wood Road, New Canaan, CT 06840
Client/Owner: Grace Farms Foundation, Inc.
Completion date: October 2015
Gross square footage: 75,000 gsf (Total enclosed area) River and Barns, excludes covered paths
Site Area: 80 acres
Design Architect: Kazuyo Sejima+Ryue Nishizawa / SANAA
Landscape Architects: OLIN
Photography: (include credits as they should appear) Dean Kaufman, Iwan Baan , Jeff Goldberg
更多项目相关公司信息 More Project Credits click here
更多 Read more about: SANAA