本文由 Ravetllat Arquitectura 授权mooool发表,欢迎转发,禁止以mooool编辑版本转载。
Thanks Ravetllat Arquitectura for authorizing the publication of the project on mooool, Text description provided by Ravetllat Arquitectura.
Ravetllat Arquitectura:本项目要改造的是一个被沿海公路断成3个部分的狭长空间,总长1.3公里,宽40米。改造工作分为两个阶段进行,第一阶段改造的是Bilbao 和 Selva de mar 公路之间的地块,第二阶段是Selva de mar和Josep Pla 公路之间的地块。第二阶段地块又被进一步细分成两块区域:面向Ronda 的停车场空间和道路与停车场墙壁之间的空间。
Ravetllat Arquitectura:The resulting piece to urbanize is a strip of 40 m wide and 1,3 km long, divided into 3 parts because of Ronda Litoral road crossing. The execution of the works was divided in two phases, the first one between Bilbao and Selva de mar streets and the second and third between Selva de mar and Josep Pla streets These parts are subdivided in two zones: the coverage of one parking facing to Ronda and the remaining space between the road and the wall of the parking.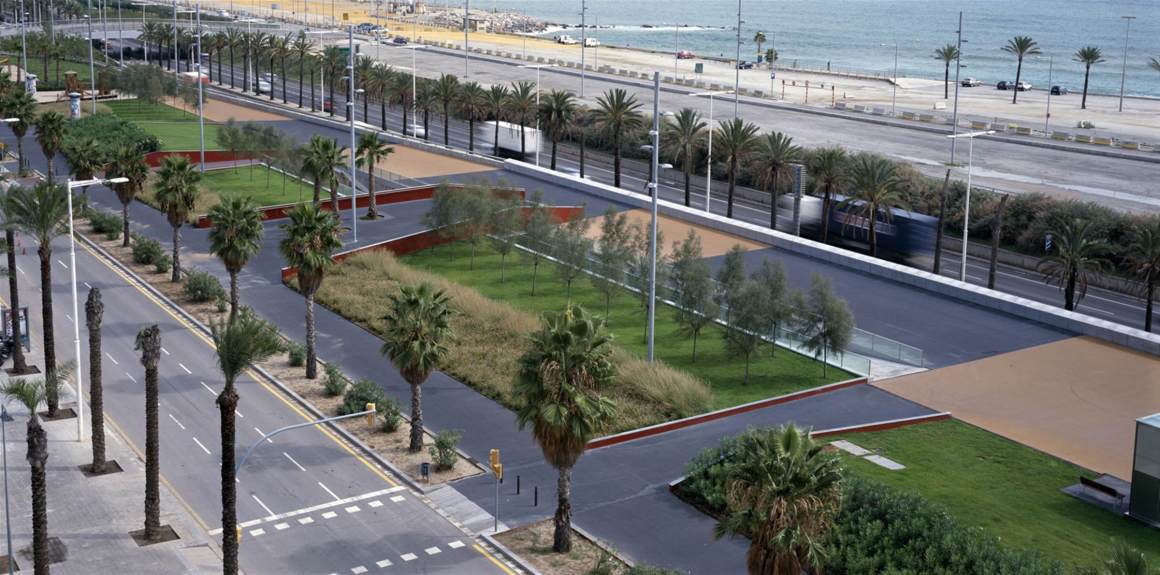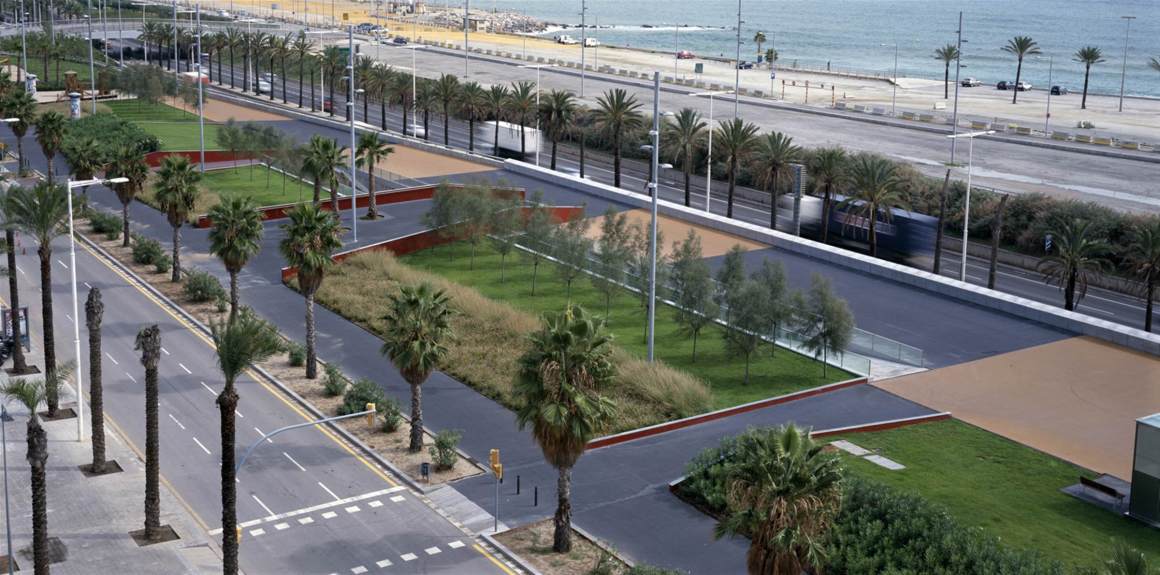 ▼城市化前后  Before-after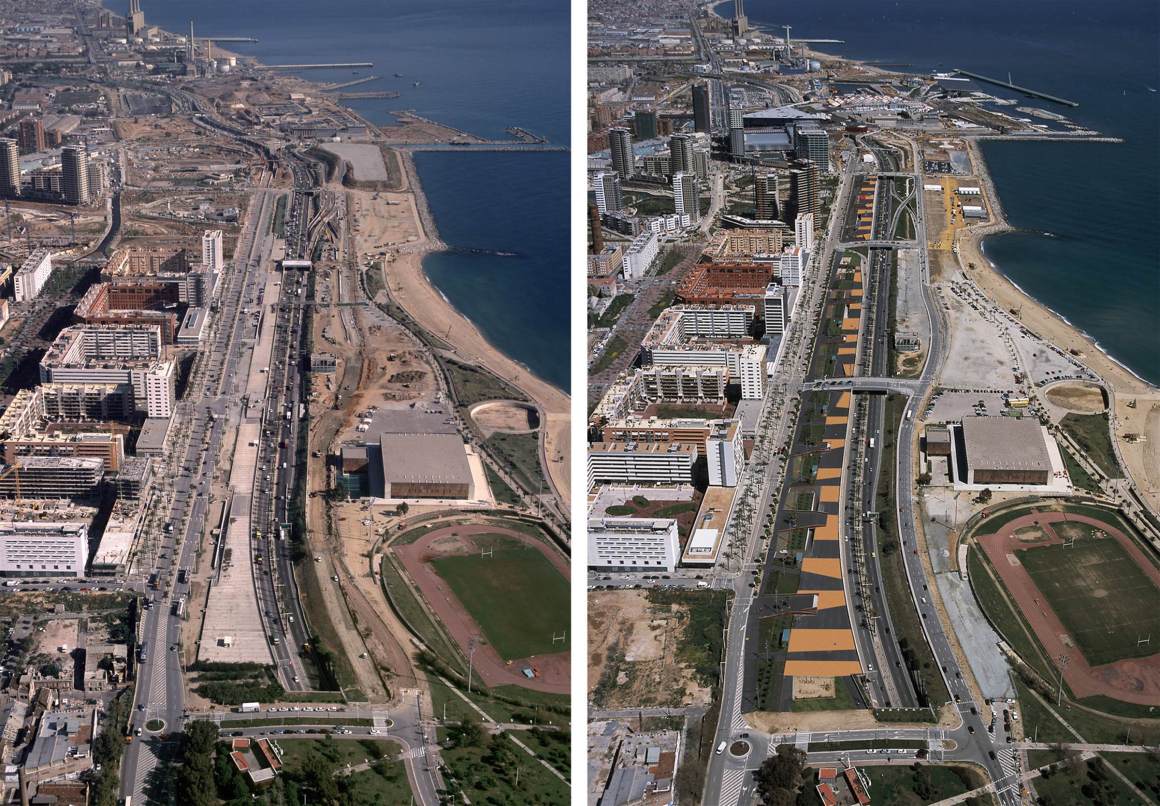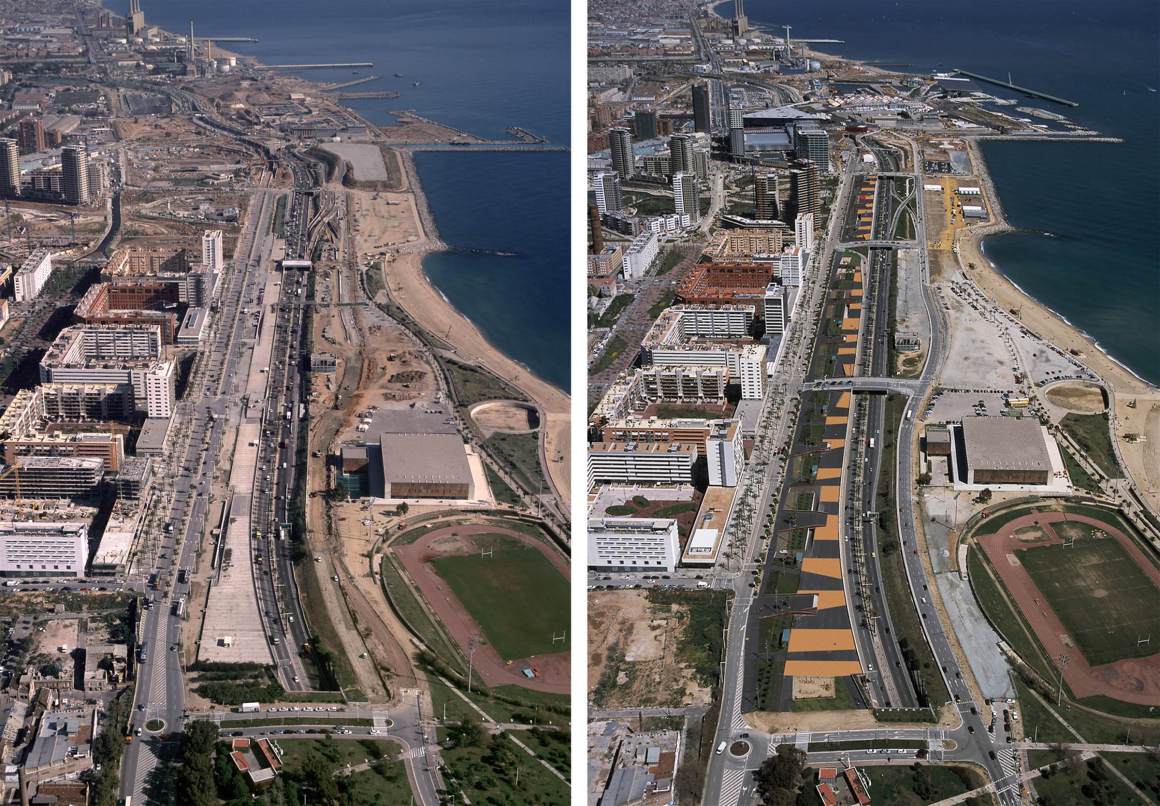 项目草案最初的考虑是用停车场上方人行道和绿化带强化分区。但一期停车场的荷载(1.000kg/m2)和未来的维护使我们放弃了在屋顶建造景观和建筑。这就是为什么我们转而考虑在这块地方铺设两种颜色的沥青路作为自行车、跑步和其他类似活动空间的特色。我们想去掉多余的重叠元素,强调空间尺度感,突出其主要品质。
The project draft starts with these initial considerations, consolidating that division with a paved promenade above the parking and a green strip. The admissible overloads of the parking in the phase one (1.000 kg/m2) and the future maintenance led us to abandon the possibility to landscape and build on the roof. That is why we thought an asphalted pavement with two colours as the main character of that strip for bicycles, running and other similar activities. We want to emphasize the large size of this space taking out overlapping elements for reinforcing its primary qualities.
▼双色沥青路  An asphalted pavement with two colours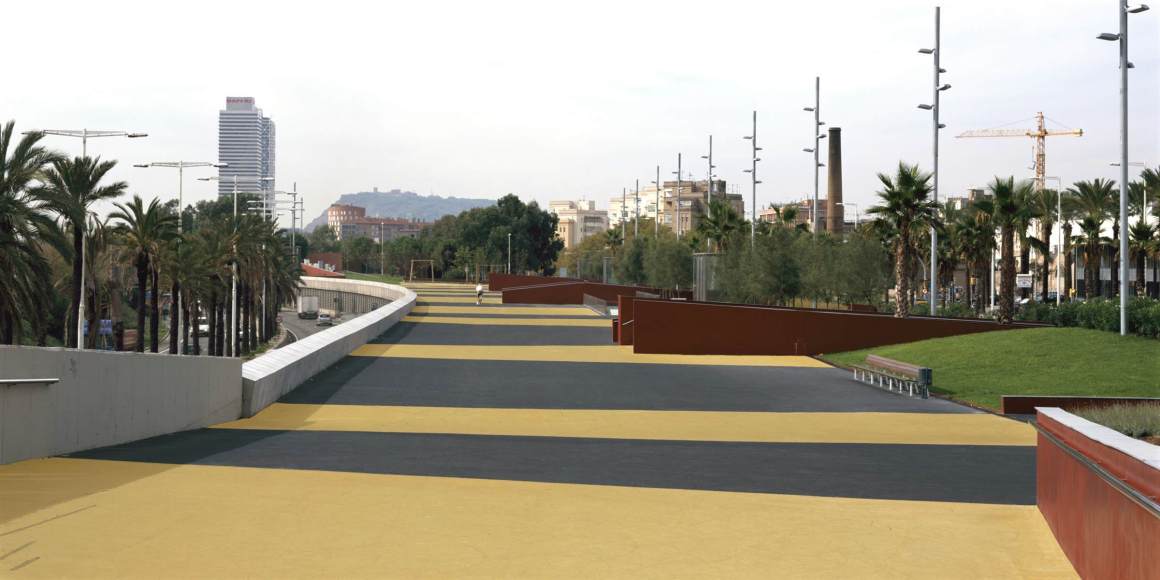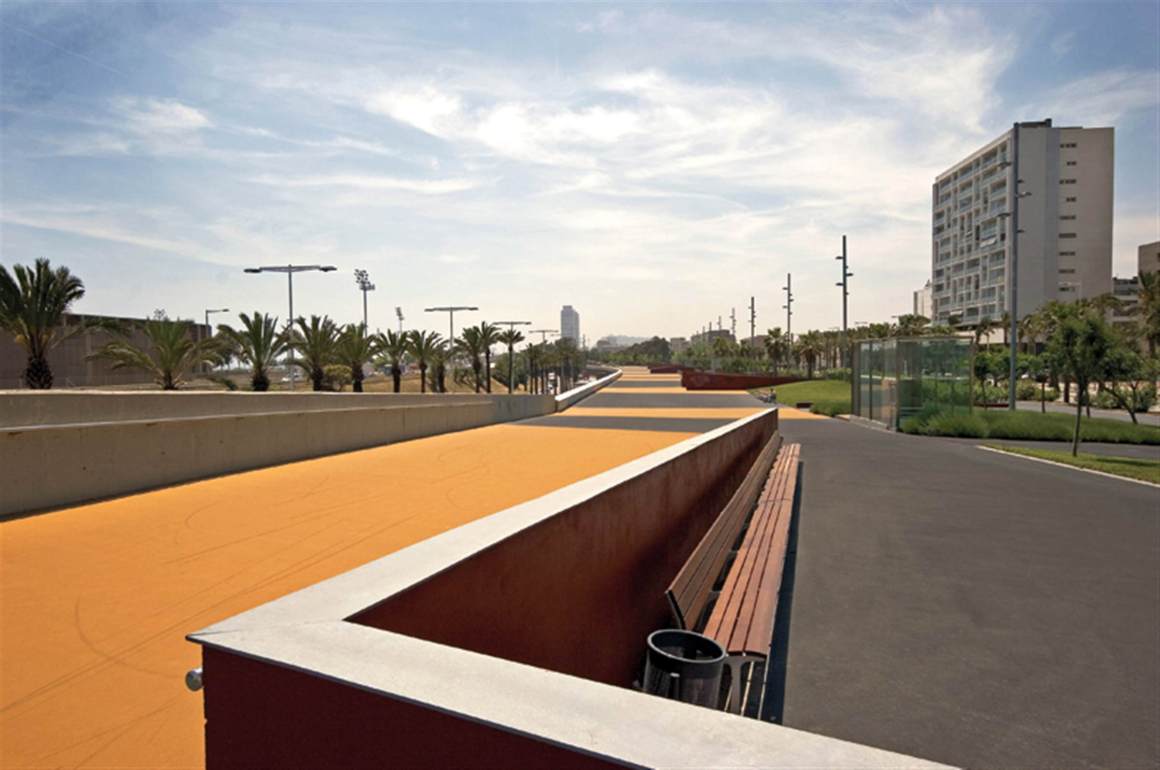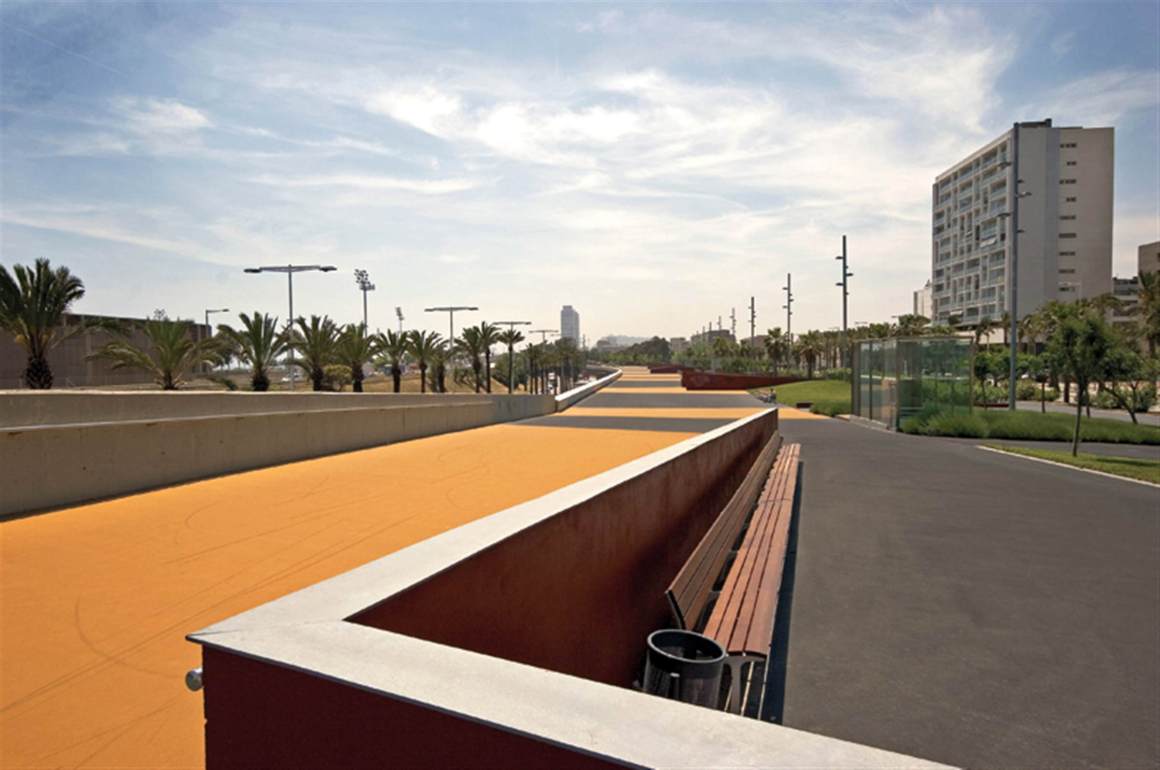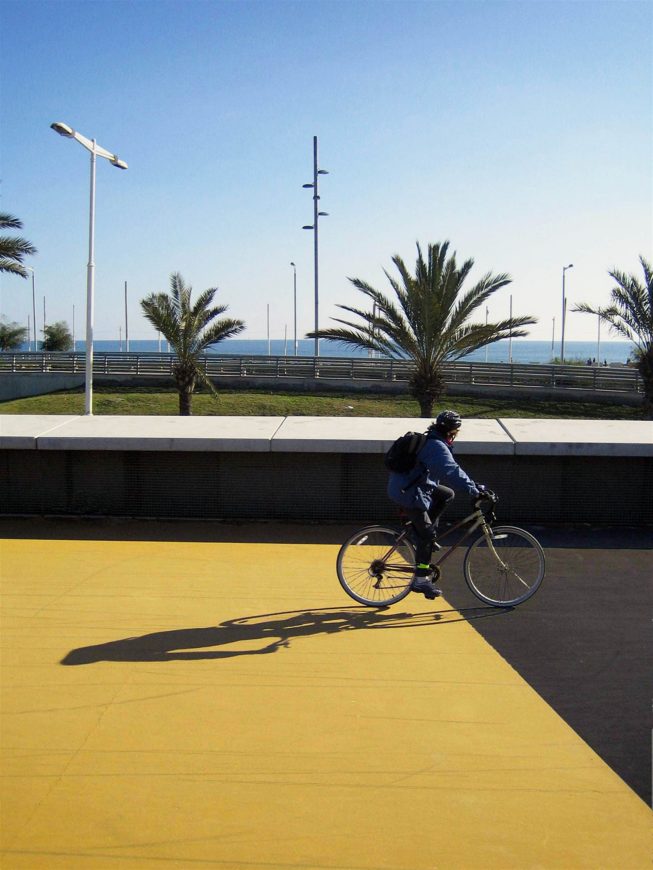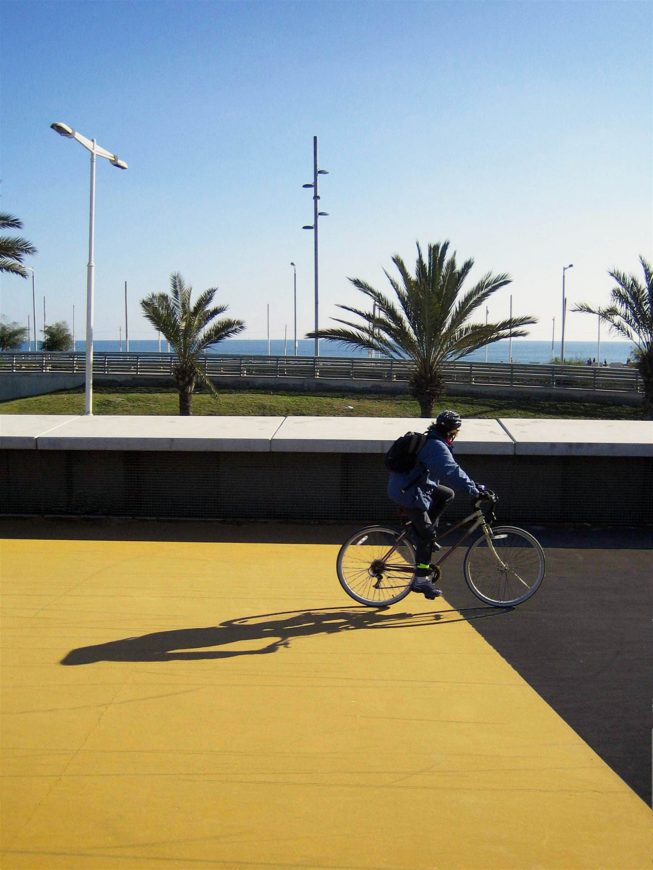 在步道旁,我们设计了一个由梯形绿化组成的线性花园,保证人行道和停车场上方广场之间的通透性。
In the rest of the promenade we propose a linear garden organized by trapezoidal green parts allowing the permeability between the pedestrian ways and the plaza above the parking.
▼鸟瞰  Aerial view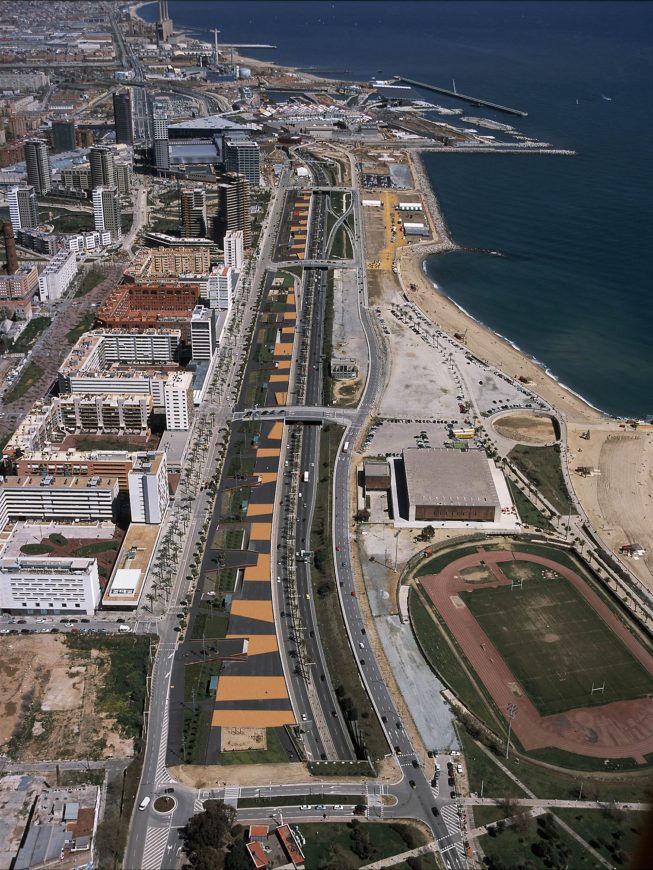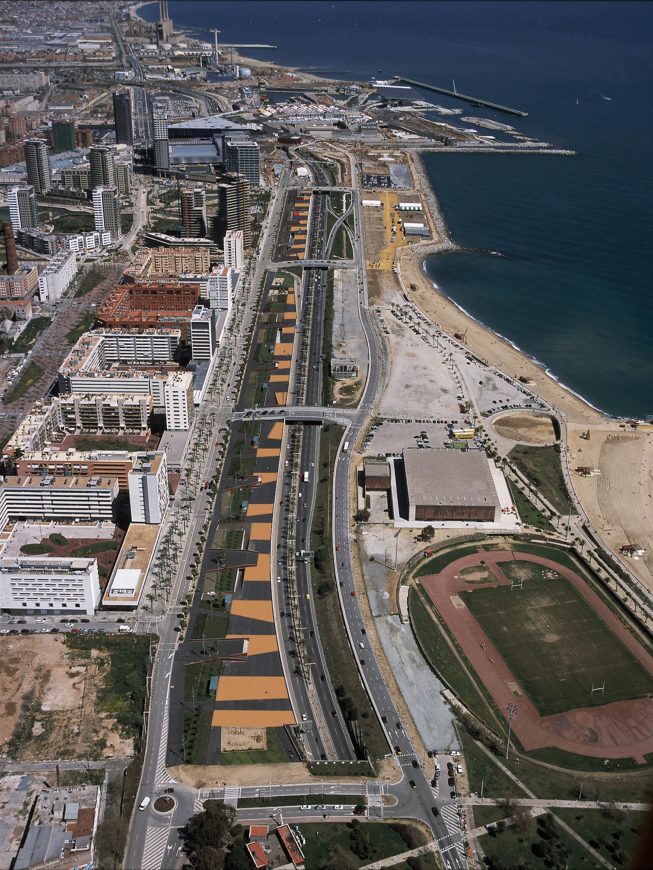 ▼梯形绿化  Trapezoidal green parts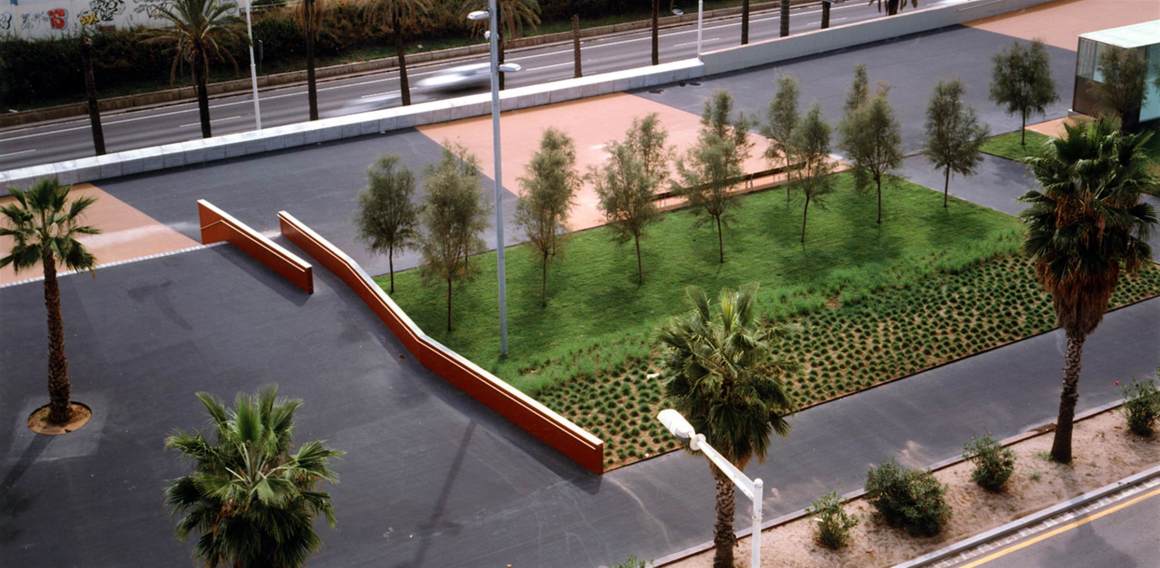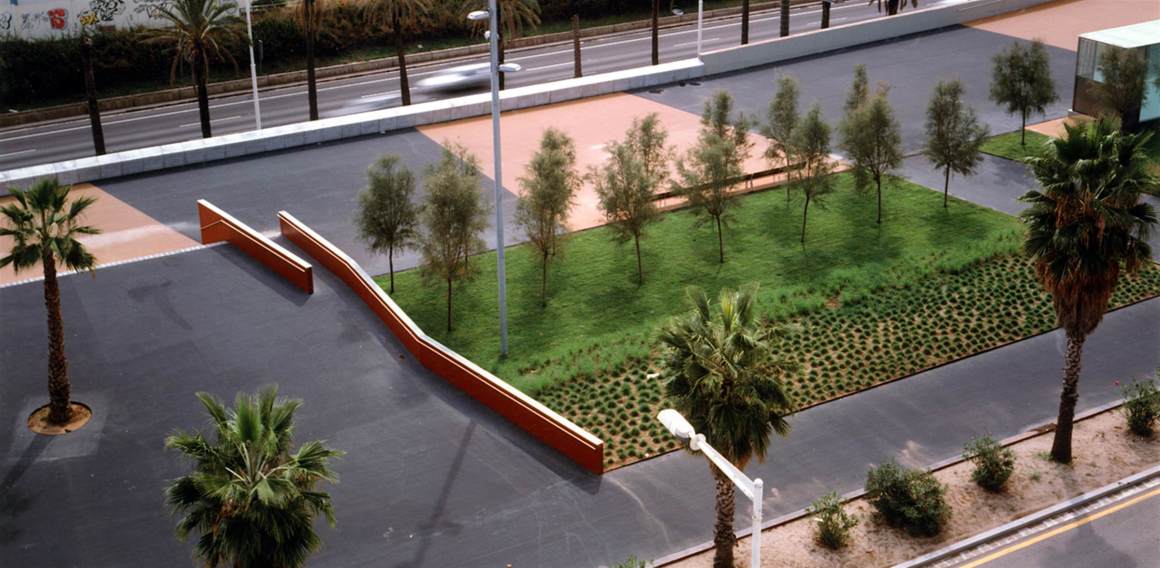 凸起平台和停车场上方的沙石平台充当了两部分步道之间的联系媒介,同时也可作为观海点。部分高于地面的种植区,可作为眺望海滩的草地平台。景观带中出现的特色耐候钢元素,则有助于公交车停车区通风。
The relationship between the two parts of the promenade is made by the disruption of raised platform and sanded platforms superimposed on the parking deck, acting as viewpoints to the sea. Some of the planted areas are raised above the natural ground levels offering grass platforms looking out to the beach. In that landscaped strip appear some singular elements made of corten-steel for bus parking ventilation.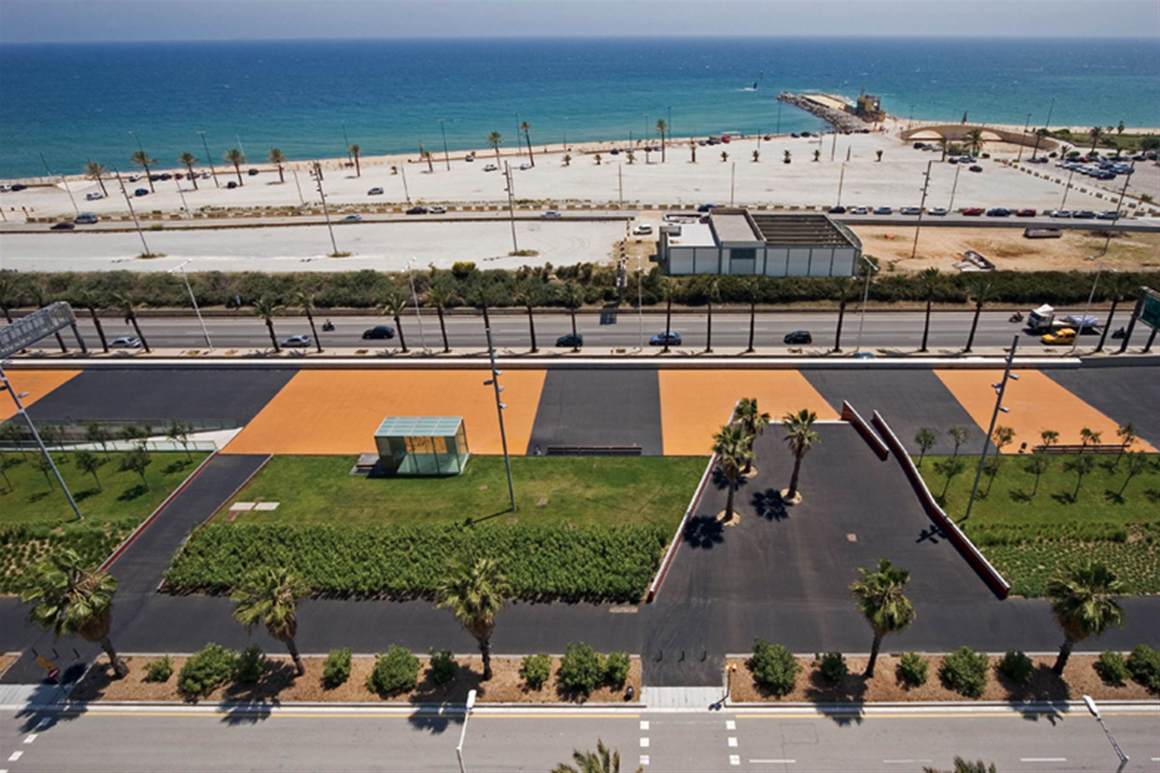 ▼耐候钢元素  Corten-steel element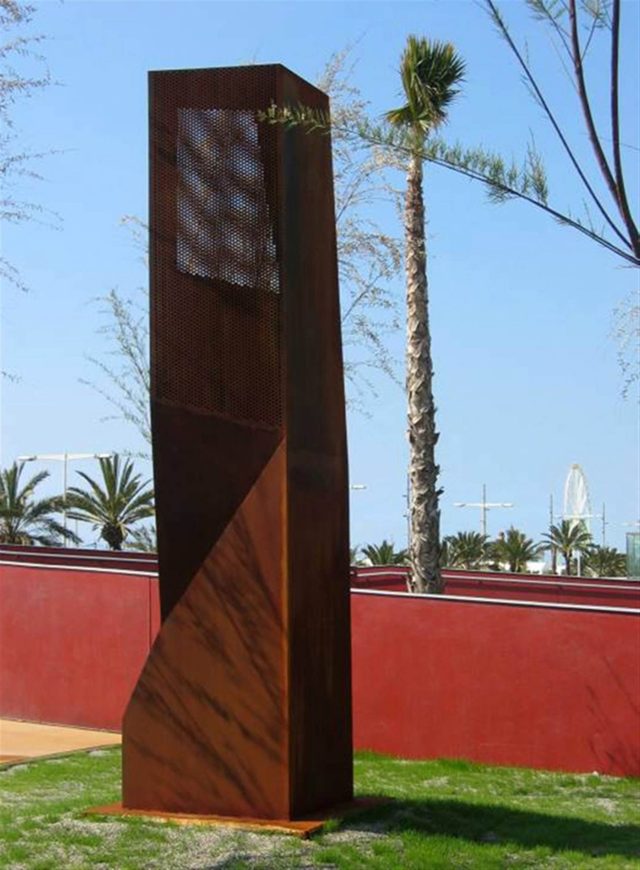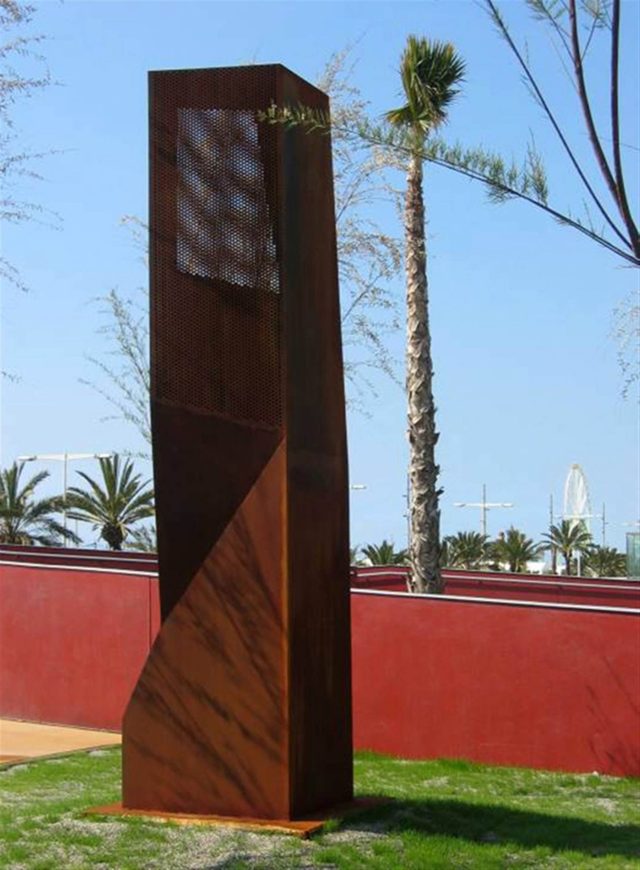 ▼区位分析图  Location analysis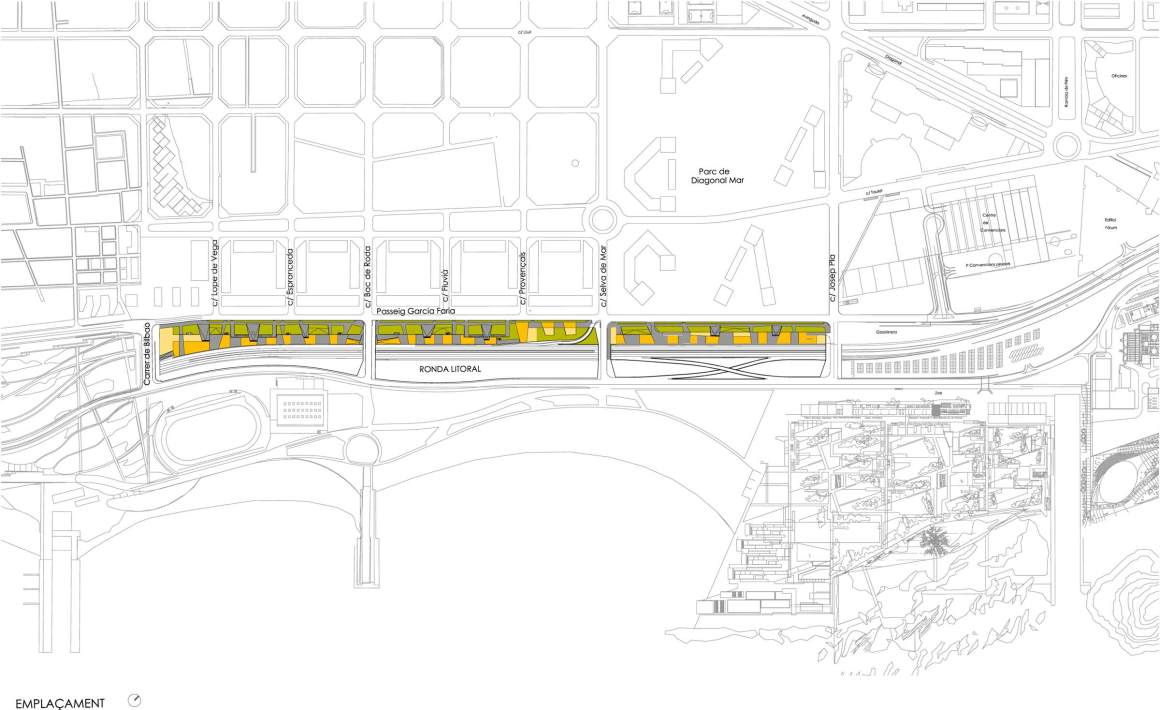 ▼平面图  Plan

▼局部分析图  Part plan
▼剖面图  Section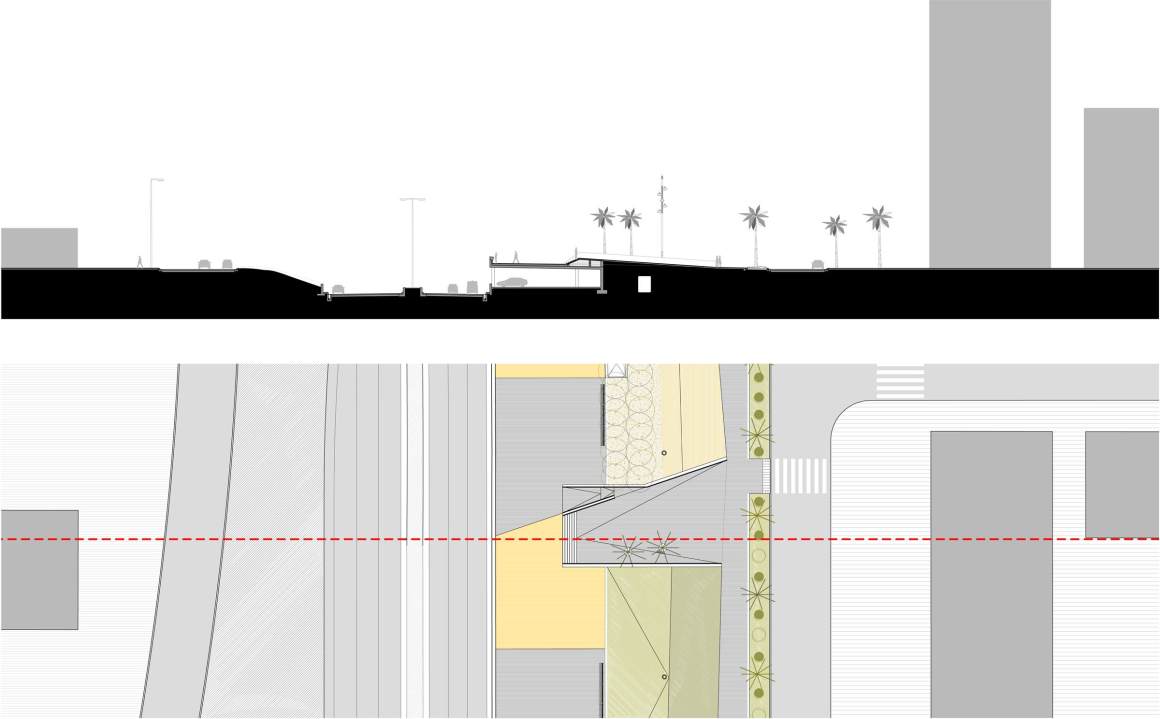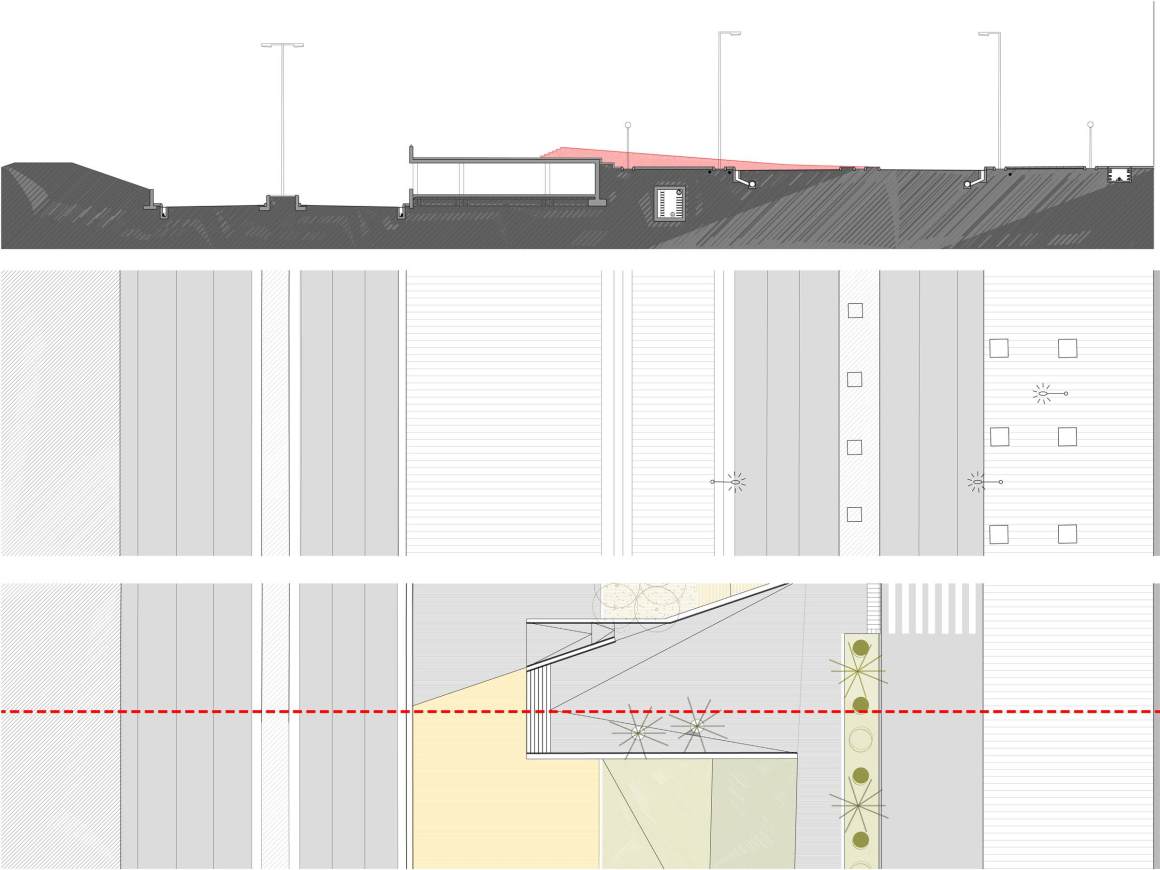 ▼剖面详图  Section details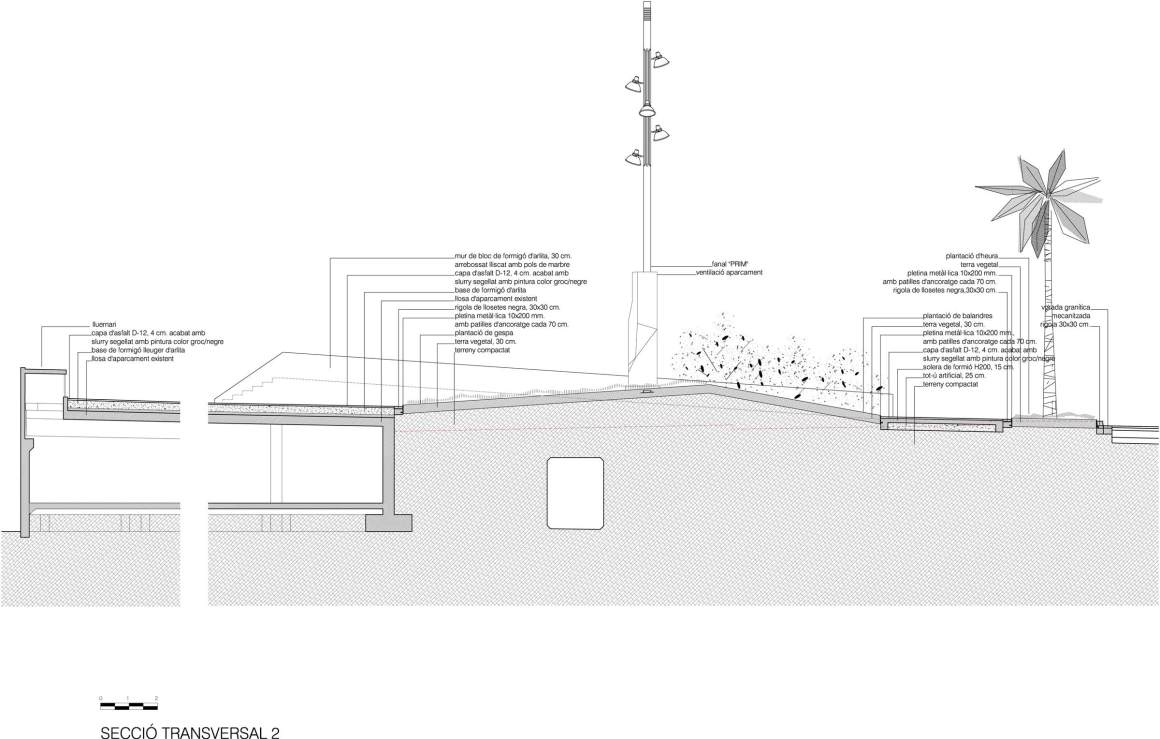 ▼设计详图  Detail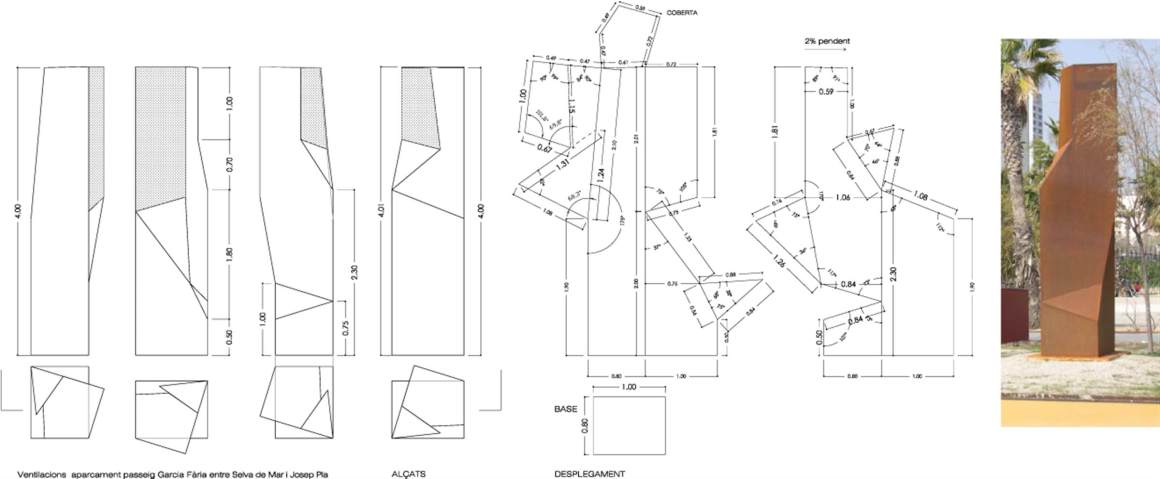 项目名称:加西亚法利亚城市步道更新
项目起止日期:2003.10-2004.4(二期)
预算:1.600.000 €
建筑面积:15,030m2
地址:西班牙
城镇:巴塞罗那
地区:巴塞罗那
开发商:INFRASTRUCTURES DEL LLEVANT DE BARCELONA. S.A
企业执行人:COMSA
设计师: Pere Joan Ravetllat // Carme Ribas, architects.
施工:RIAZU S.A Pere Joan Ravetllat// Carme Ribas, Jordi Castelló, architects
Project: Urbanization of Passeig García Faria promenade between Selva de Mar and Josep Pla streets
Start and end dates of the works: October 2003- April 2004 (Phase II)
Budget: 1.600.000 €
Builded Surface: 15,030 m2
Address: Passeig García Faria between Selva de Mar y Josep Pla streets
Town: Barcelona
District: Barcelonés
Developer: INFRASTRUCTURES DEL LLEVANT DE BARCELONA. S.A
Enterprise executor: COMSA
Authors: Pere Joan Ravetllat // Carme Ribas, architects.
Construction works management: RIAZU S.A Pere Joan Ravetllat// Carme Ribas, Jordi Castelló, architects
---
"沥青路面激烈的色彩碰撞提亮了整个城市步道,市民在此自由骑行、奔跑。"
审稿编辑:  gentlebeats
更多 Read more about: Ravetllat Arquitectura