本文由 Walllasia 授权mooool发表,欢迎转发,禁止以mooool编辑版本转载。
Thanks Walllasia for authorizing the publication of the project on mooool, Text description provided by Walllasia.
Walllasia:该冥想建筑,主要用作前来泰国春武里省Wat Pa Wachirabanpot修行的女性宿舍,这是她们的第二个家。虽然这幢四层住宅坐落在一片美丽的自然风景中,从远处并不容易被看见,但人们要到达这里却是非常容易的。
Walllasia:The four-storey residence nestled in lovely natural surroundings at Wat Pa Wachirabanpot in Chon Buri isn't easily seen from afar, but it's surprisingly easy to get to. It holds a meditation centre and is the residence for the women who come to practise, serving as their second home.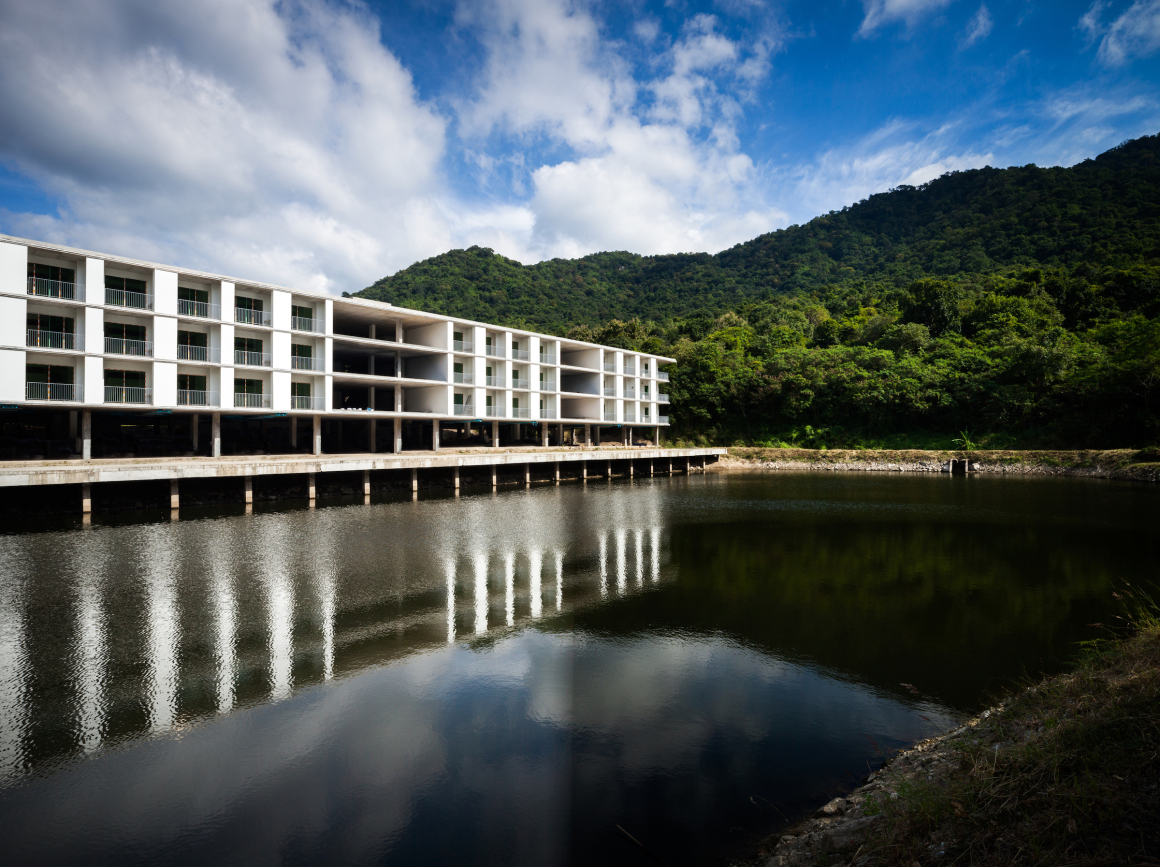 引人注目的是,该建筑中的100个房间,每个房间都能欣赏到令人惊叹的山景和林地景色。其混凝土建筑结构,虽然表面简陋,却与周边宏伟的自然环境相融无痕。
Strikingly designed, each of the 100 rooms in the building enjoys breathtaking views of mountains and woodland. The structure is chiefly concrete, but the design is humble enough that it's anything but an eyesore in this magnificent setting.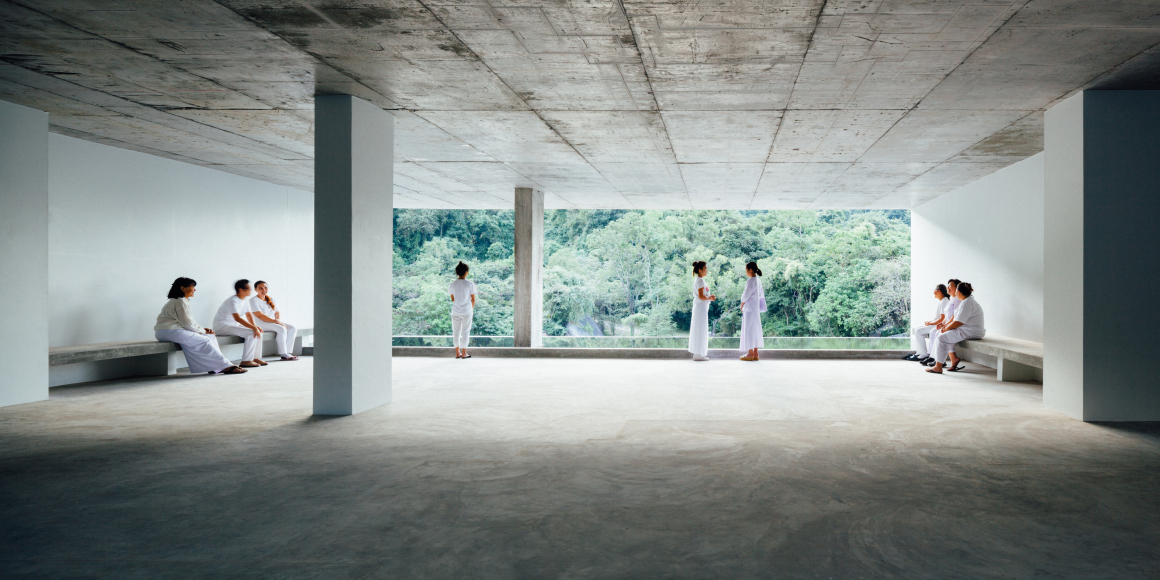 住宅前面的一个大型人造池塘也同时具备了多种功能。它在提供赏心悦目的景观的同时,也赋予建筑了一份庄严感,而且,它作为山上泉水流下来后的蓄水池,其中的水可用于饮用和其他家庭用途,另外,它还能将帮助将人们的视线定格在远处,这样人们在冥想时就不容易受到干扰。建造该池塘所挖掘出的土壤都重新利用于建立住宅地基了。
A large man-made pond in front of the residence is, again, conceived to be multifunctional. It is not only pleasing to the eye and enhances the grandeur of the building, but it's also a reservoir for the clean water that descends from the hills, useful for drinking and other domestic uses. Plus, it keeps prying eyes at a distance so that no one is disturbed while they're meditating. The soil excavated for the pond was used to establish the foundation of the residence.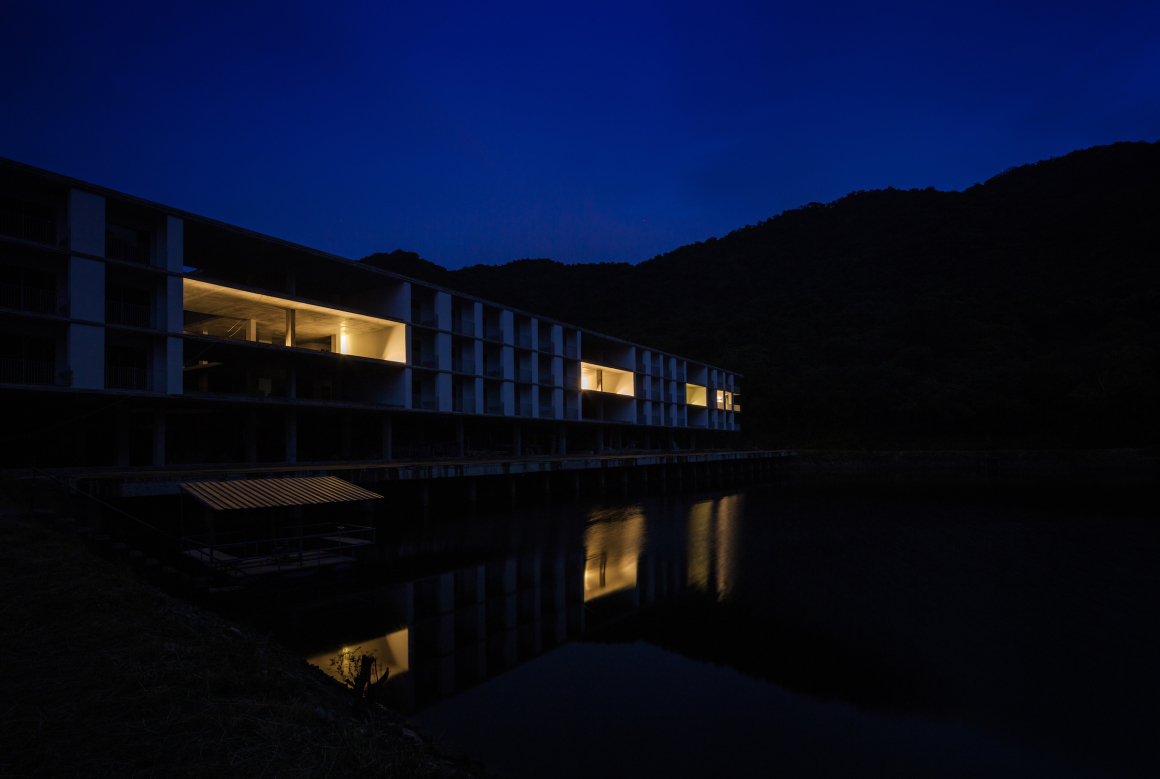 这里大小不一的阳台,设计灵感源自修行布道的节奏和冥想者努力达到正念时的呼吸。他们一般会从一数到九,来练习集中注意力,然后再不停地重复,从而培养专注力以达到正念。
The balconies vary in size, inspired by the rhythms of sermons and the breathing of the meditating participants as they strive to achieve mindfulness. They count from one to nine as an exercise in concentration, and count again at the end of each cycle to foster mindfulness.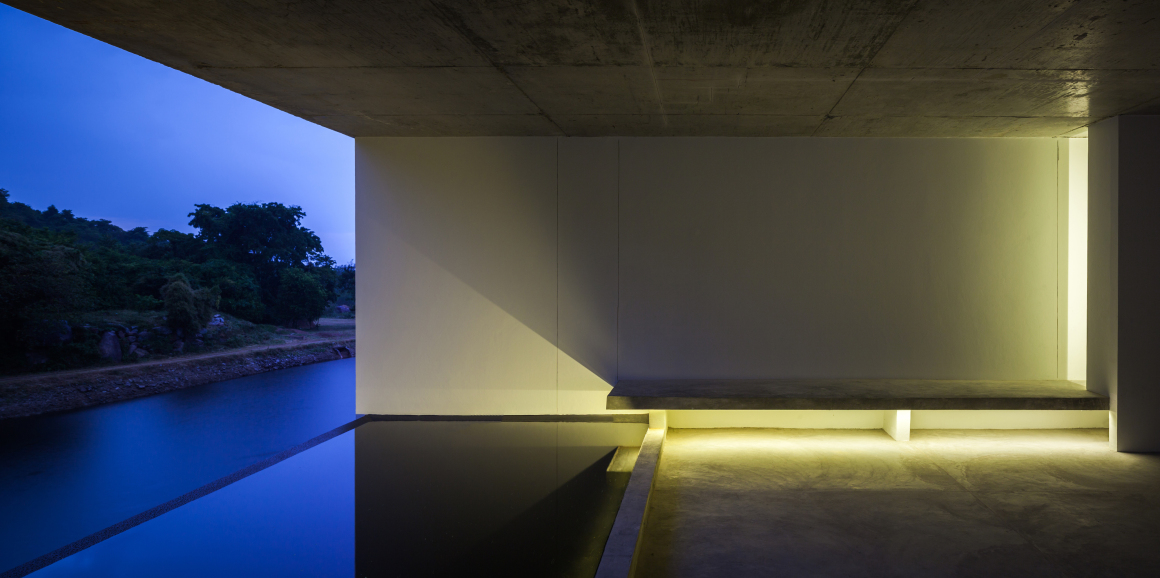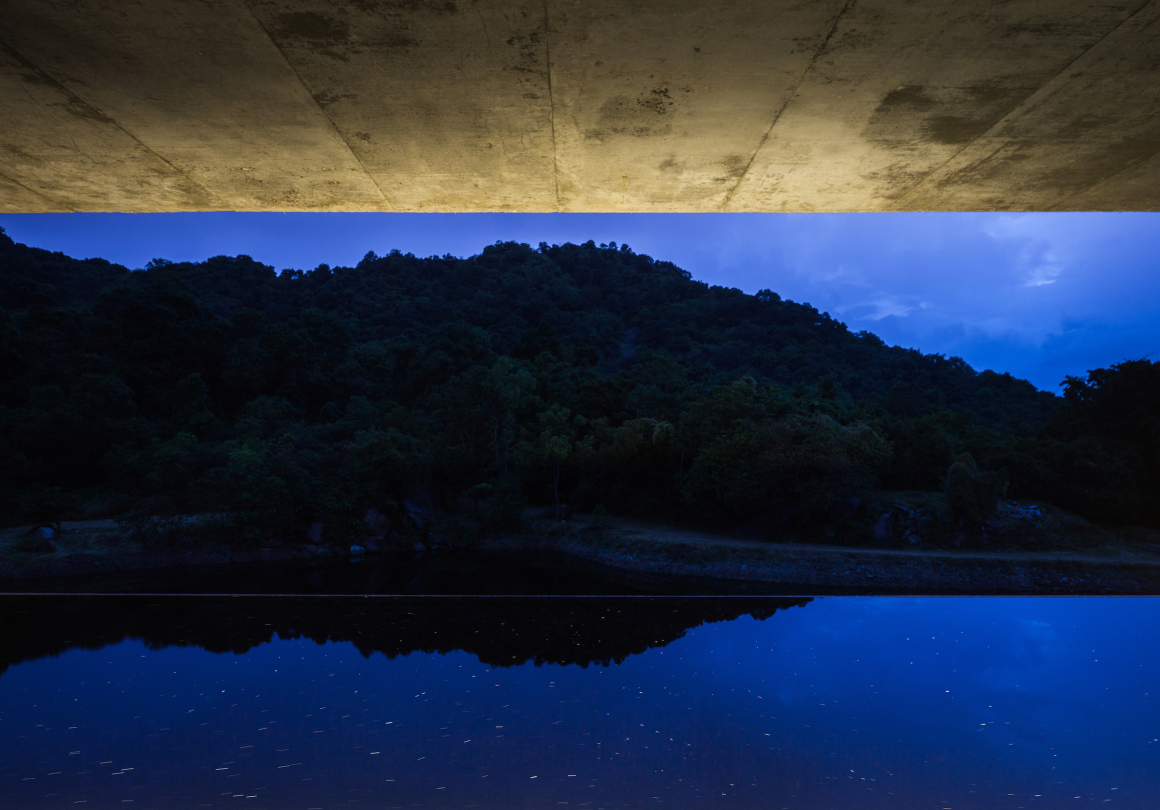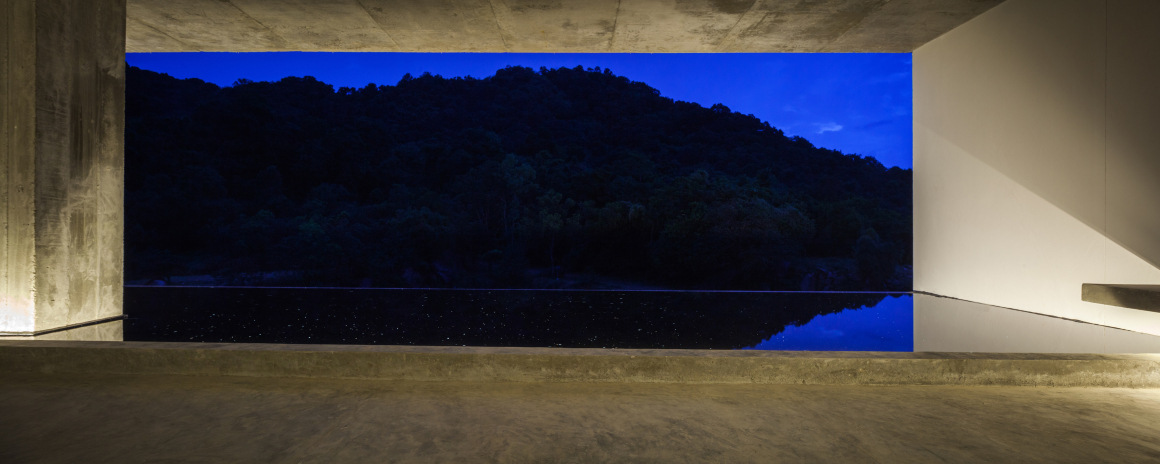 我们在长廊的上方和下方都安装了通风管,所以建筑内部整体通风良好。
The interior is meant to be airy and well ventilated. In the long corridor are ventilation tubes installed above and below.
宽敞的屋顶被水景环绕着,这其中也有防止冥想者失足的考虑。但这一宁静的场景是无法从外面看到的,你只能从内部欣赏。
The spacious rooftop is surrounded by water, almost as if to keep the practitioners from falling off. The placidity of this scene can't be seen from the outside, though – it can only be appreciated from within.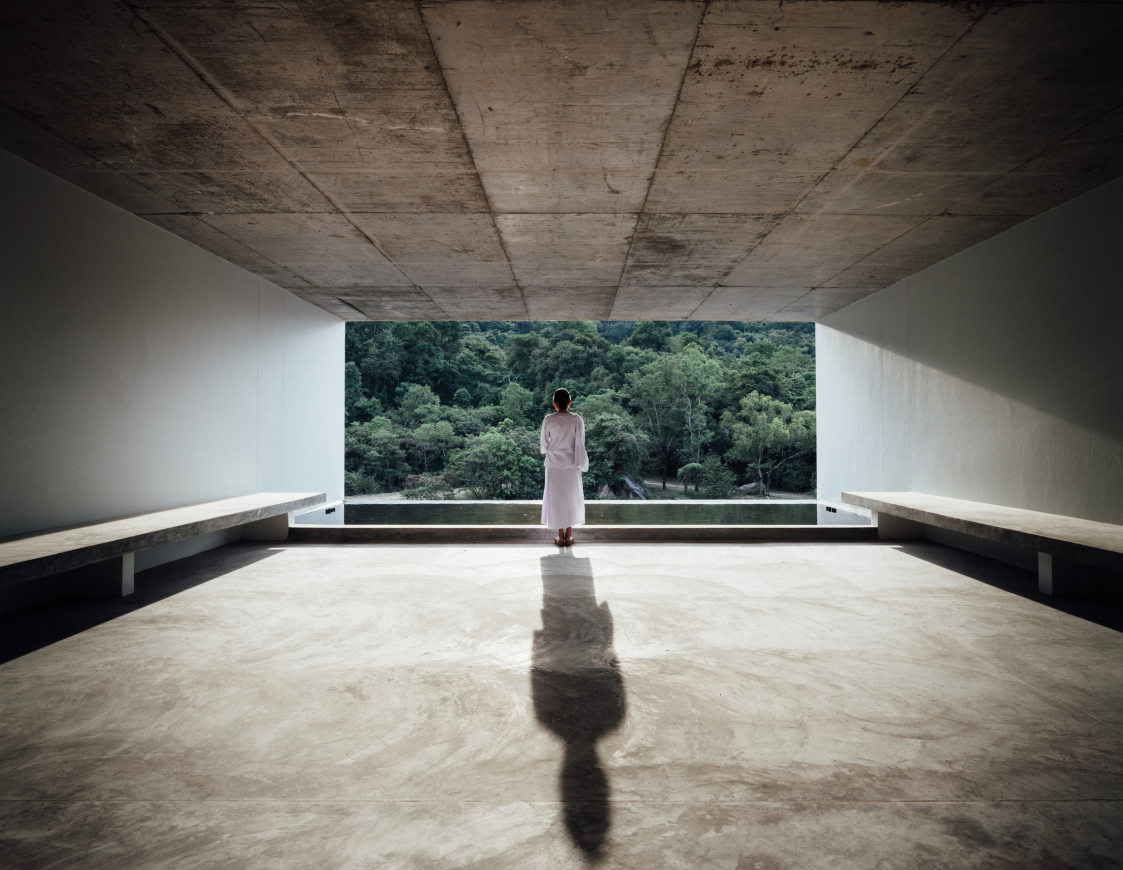 砖铺的对称露天走廊是对泰国古代建筑的致敬,其图案借鉴了一座古老的寺庙。
The symmetric open-air corridor is paved with bricks in a pattern borrowed from a venerable temple, in a tribute to ancient Thai architecture.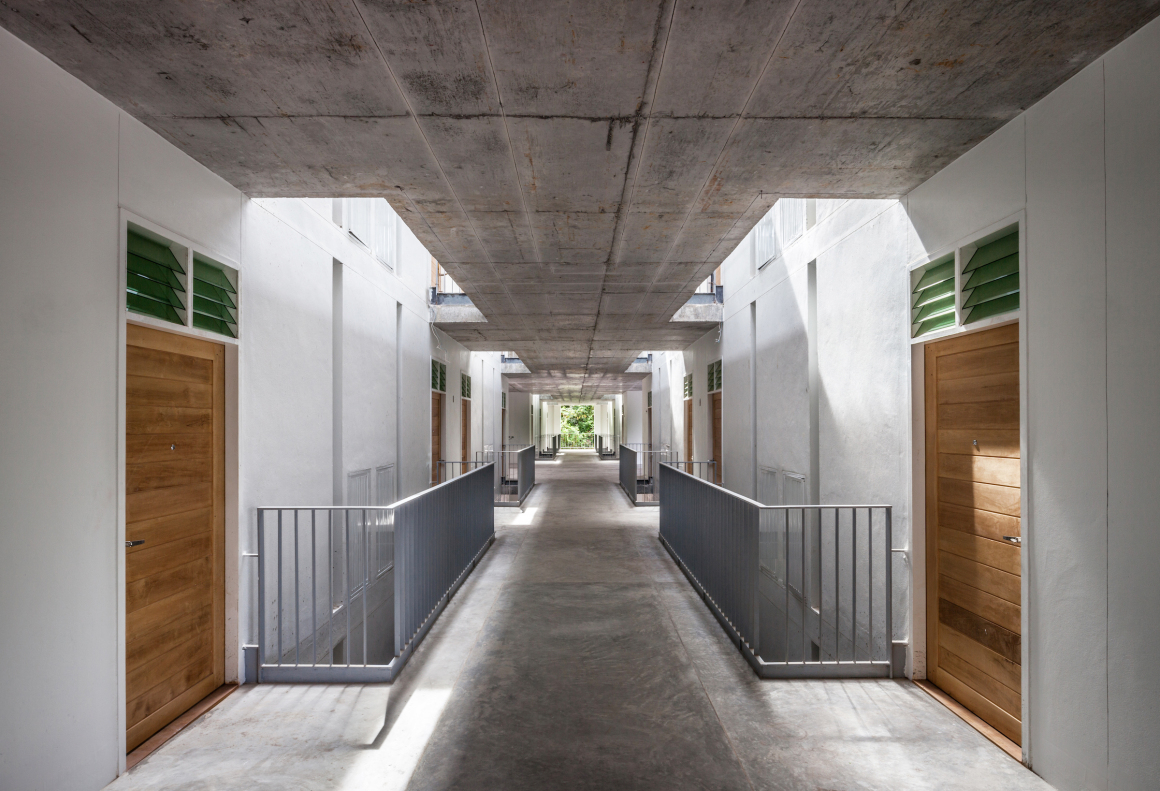 设计团队利用各成员的专业知识,严密把握着建筑预算,虽然这些都是我们工作中的优先事项,但"事物的本身"也是优先事项,而所有的这些我们都有体现在房间粗糙的外立面和精致的室内设计中。
The working team tapped its members' expertise and kept watch on the budget. These were priorities, but so too was "the existence of things". All these factors are reflected in the rough exterior surface and the meticulous interior design of the rooms.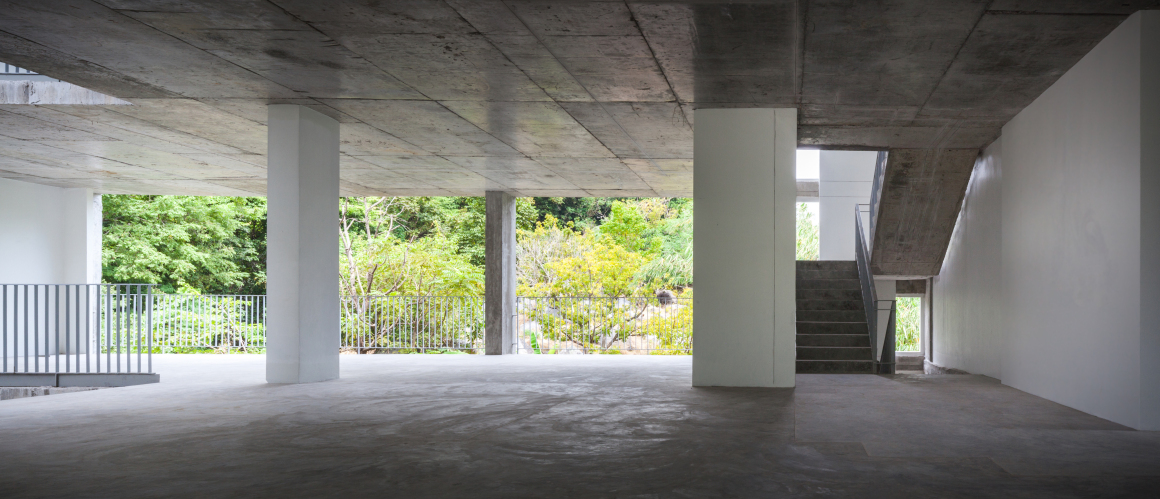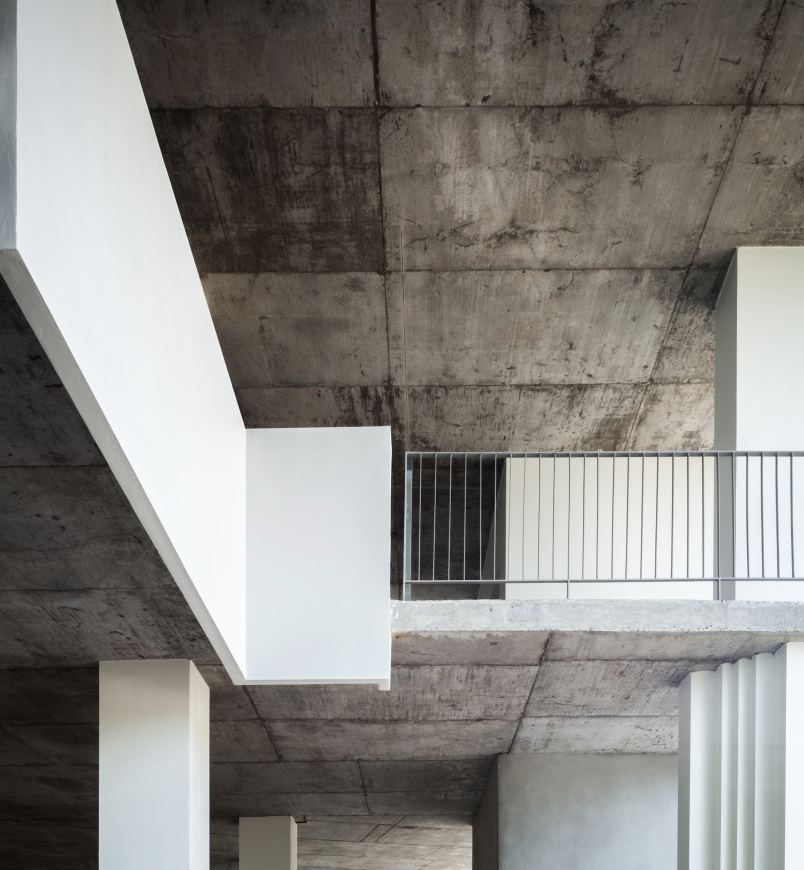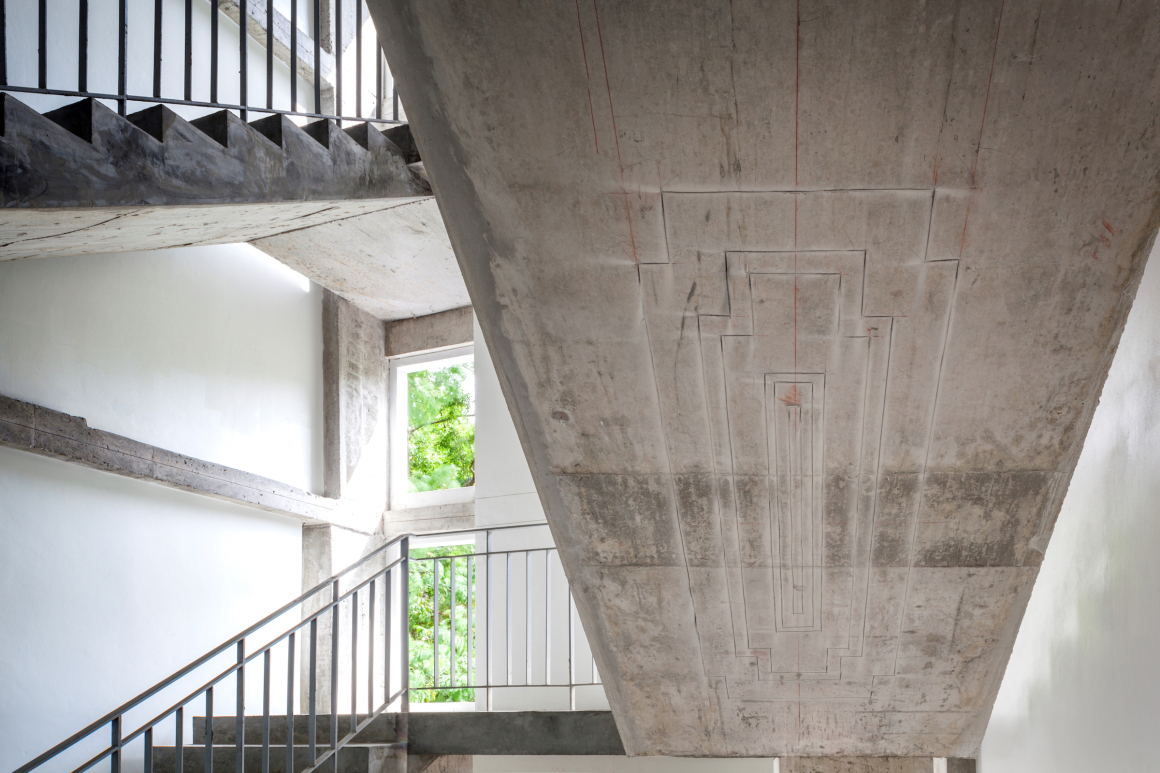 从远处看,这座建筑就像一个嵌入山中的白色盒子。实际上,天井设计是为了让一块岩石保留在被池塘环绕的原始位置上——在建筑的中央——调节室内温度的同时,体现石头坚韧感,且每一层的人都可通过天井看到它们。
From a distance, the building is like a white box inserted into the mountain. It was in fact designed so that the rocks stayed in their original places surrounded by the pond – in the middle of the structure – to keep the temperature inside mild and enhances the rocks' stoic presence where they can be viewed from every level through the skylight box.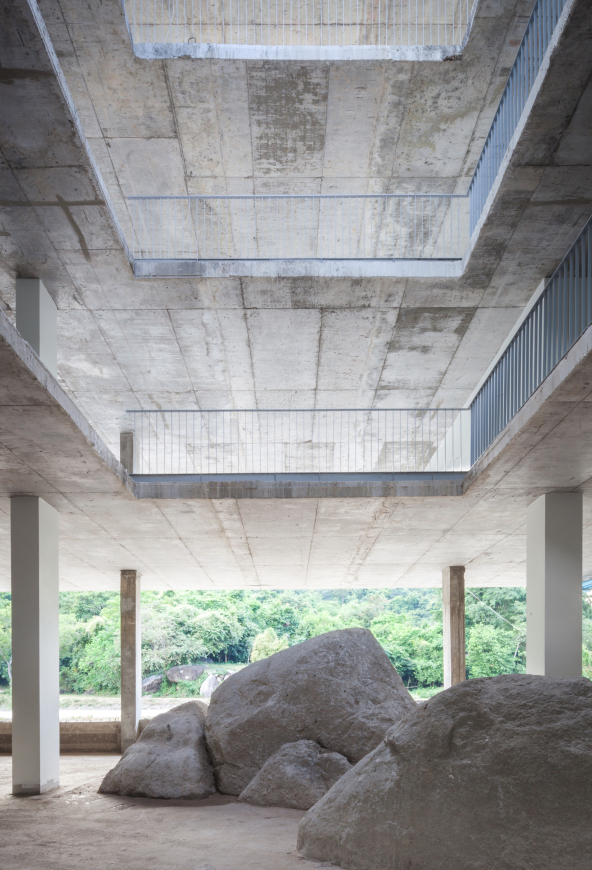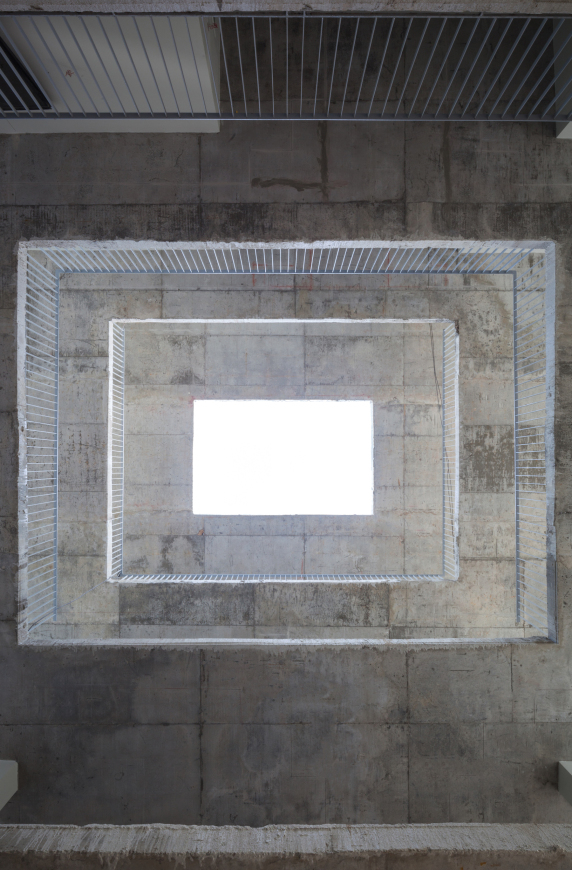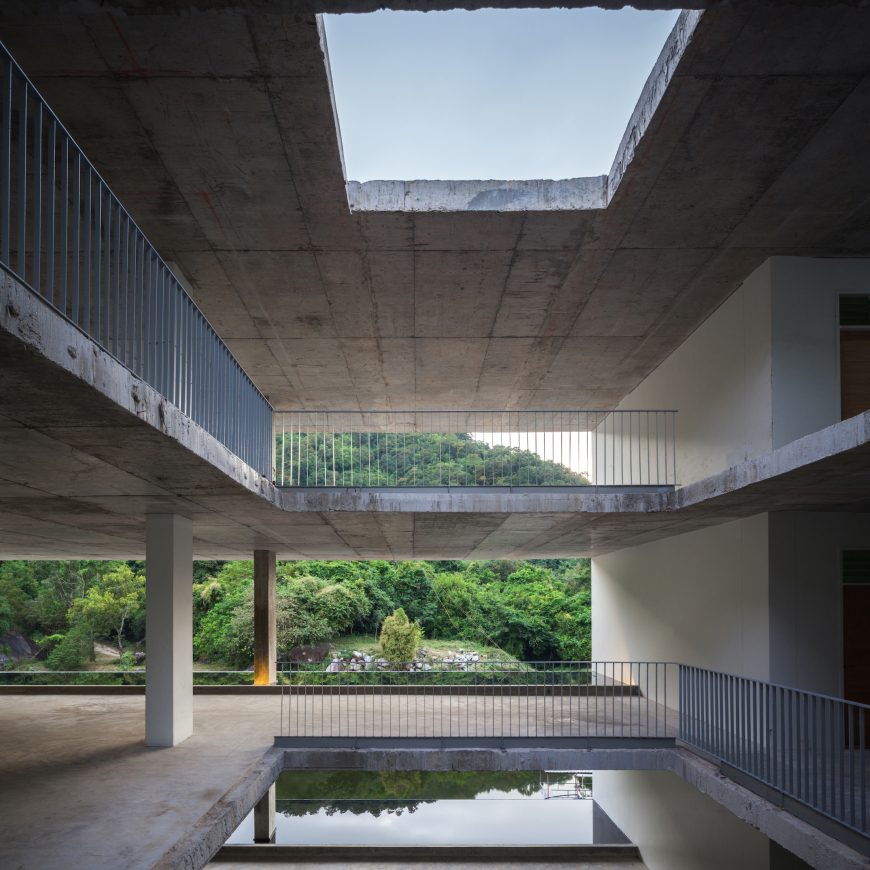 项目名称:女子宿舍兼冥想楼
完成:2018年
设计范围:12000 平方米
项目地点:泰国春武里省Wat Pa Watchira Banpot
建筑事务所:Walllasia Ltd.
公司网址:https://www.walllasia.com/
联系邮箱:walllasia@gmail.com
首席建筑师:Suriya Umpansiriratana, Walllasia Ltd.
设计团队:Panomporn Prompang, Charlotte Matias, Kunakorn Wangkanai, Phuris Kanjana, Jirawat Ponsamart, Chatchawal Tullayanit
客户:Wat Pa Watchira Banpot Temple
工程:Soontorn Kietkongsak, Pacharathorn Kampimol
现场经理:Nuttapon Nimlamai, Worawit Saikaew
制造商:Pongpan Ngamwongnoi
图片:Spaceshift Studio/ Pirak Anurakyawachon
摄影师网址:http://spaceshiftstudio.com/
Project name: Women's dormitory & Meditation building
Completion Year: 2018
Design Area: 1,2000 msq
Project location: Wat Pa Watchira Banpot, Chonburi Province, Thailand
Architecture Firm: Walllasia Ltd.
Website: https://www.walllasia.com/
Contact e-mail: walllasia@gmail.com
Lead Architects: Suriya Umpansiriratana, Walllasia Ltd.
Design Team: Panomporn Prompang, Charlotte Matias, Kunakorn Wangkanai, Phuris Kanjana, Jirawat Ponsamart, Chatchawal Tullayanit
Clients: Wat Pa Watchira Banpot Temple
Engineering: Soontorn Kietkongsak, Pacharathorn Kampimol
On-site Manager: Nuttapon Nimlamai, Worawit Saikaew
Manufacturers: Pongpan Ngamwongnoi
Photo credits: Spaceshift Studio/ Pirak Anurakyawachon
Photographer's website: http://spaceshiftstudio.com/
更多 Read more about: Walllasia