本文由 B.L.U.E.建筑设计事务所 授权mooool发表,欢迎转发,禁止以mooool编辑版本转载。
Thanks B.L.U.E. Architecture Studio for authorizing the publication of the project on mooool, Text description provided by B.L.U.E. Architecture Studio.
B.L.U.E.建筑设计事务所:项目位于北京东二环核心老城区,临近张自忠路的段祺瑞执政府,古老韵味与现代风貌交相辉映,别具趣味。
B.L.U.E. Architecture Studio:The project is located in the core of old town Beijing. Close to Zhang Zi-zhong road, the ancient charm and modern style of the government add radiance and beauty to each other, which is incredibly fun.
▼庭院俯瞰 The courtyard overlooking
驿栈由两间院子相连而成,从一面中式的朱红色大门走进院子,左侧为前台,右侧为室内影音阅读区。影音阅读区正对白杨前院,前院影壁中暗藏玻璃砖,为房间带来柔和采光。暮色时分,暖黄光影从玻璃砖映出,交错出现代感的光影矩阵。
The building is connected by two courtyards. Walking into a Chinese red gate, there is a courtyard. The left side is the front desk, and the right side is the indoor audio-visual reading area. The indoor audiovisual reading area is facing the front courtyard of the white polar. The glass brick hide in the front courtyard wall to bring soft lighting for the room. In the twilight, the warm yellow light reflected from the vitreous brick, interlaced with the modern light and shadow matrix.
▼大门入口 Gate entrance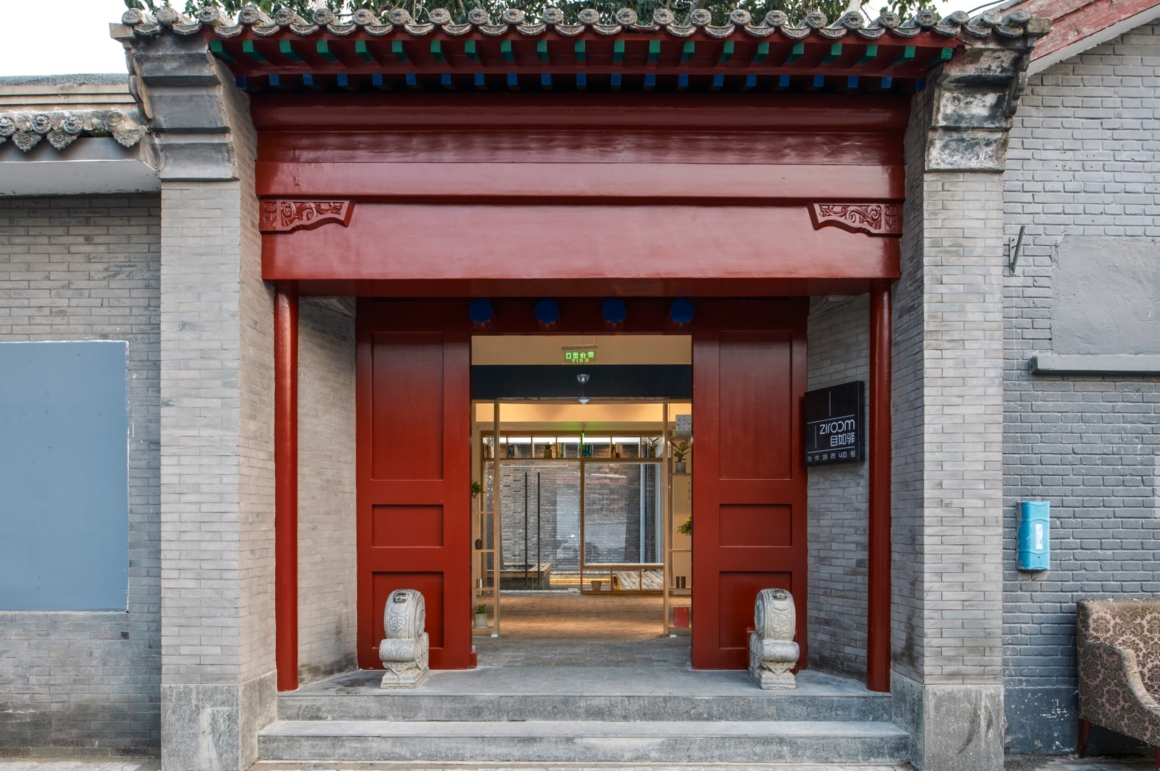 ▼前台 The front desk
▼室内影音阅读区 Indoor audio-visual reading area
前院东侧通道为可供休憩的共享廊道空间,这条公共走廊使城市和胡同的街道得以延长,形成"半户外街道"式的全新空间,灰砖与公共家具既成为连接着过去的桥梁,也将胶囊空间变成一个真正的"家"。整条廊道贯穿前、后院,利用落地窗,隔而不断,框取庭院风光。游走长廊时仿若置身悠长的胡同,原本陌生的游客、住客、邻里不自觉停驻于此邂逅交流。更能以具有流动性的书本为媒介,通过公共家具的引导带来别具趣味的"交流"。
The eastern corridor of the front yard is a shared corridor for recreation, which help extend the street of hutong and city, forming a 'half outdoor' new space. The grey brick and public furnitures become the connection of the past and present. The whole corridor runs through the front and back yard, using the floor-to-ceiling windows to get a beautiful view of the courtyards. The corridor looks like a long hutong, visiting tourists, guests and neighbors can meet and communicate here. And through the public furnitures bring a unique communication.
▼共享廊道空间 Shared corridor space
▼院中小景 The landscape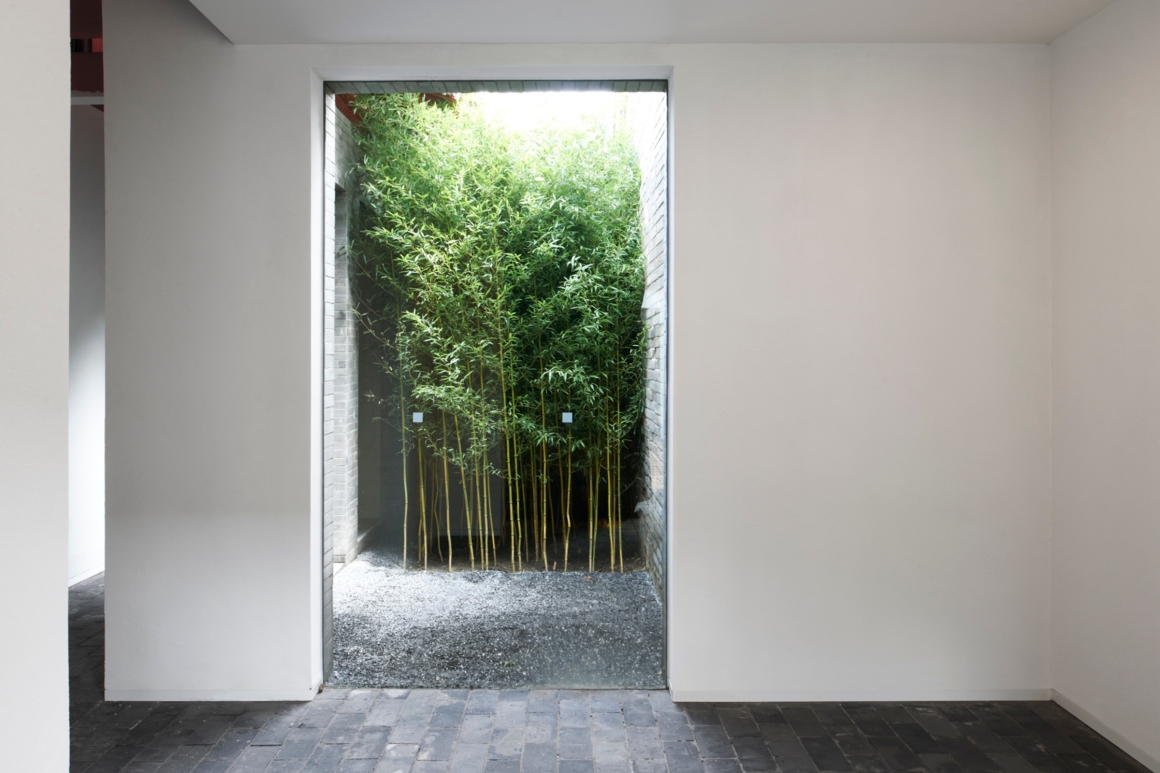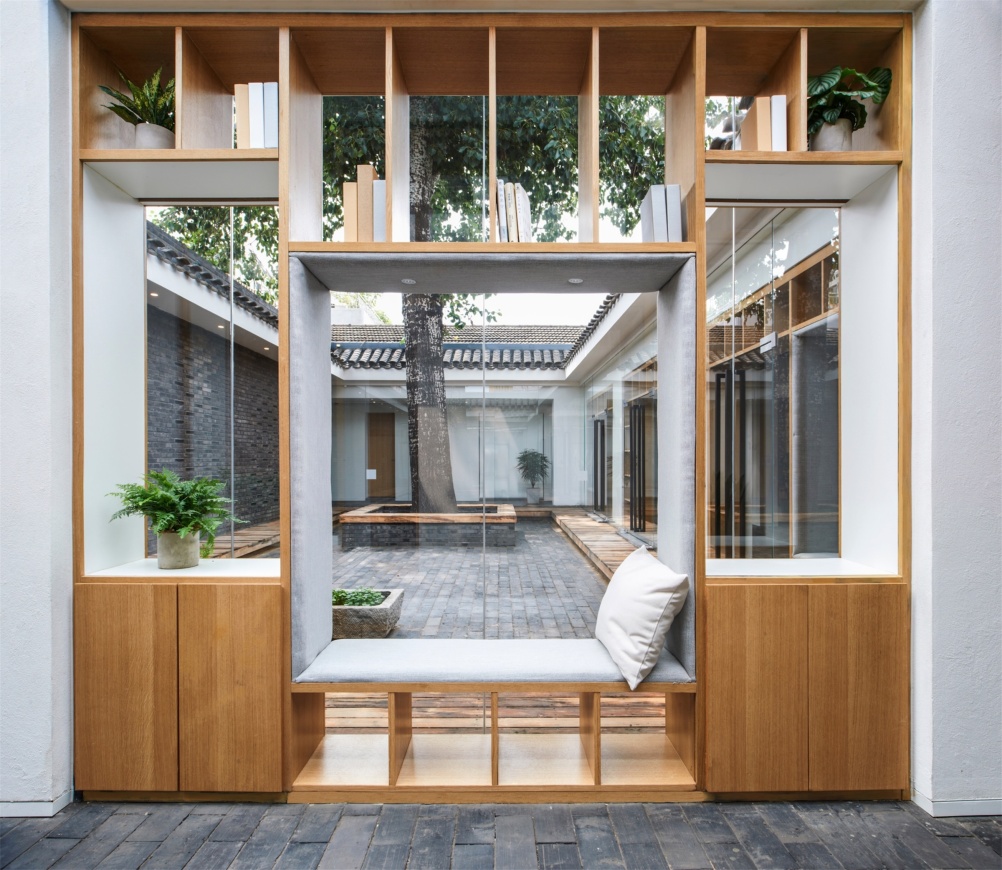 院子是"四合院"建筑的居住乐趣所在。顺着廊道来到后院,东侧角落坐落着一处被青砖包围的景观空间。穿过后院,通过南侧楼梯上到二层。二层的露台由一层廊道屋顶连通而成,形成坐于屋瓦之间、树荫之下的典型北京胡同文化体验:夏听蝉鸣,冬看白雪黛瓦。
The courtyard is the most interesting point of Chinese ancient building. Along the corridor to the backyard, the corner of the east side is a small landscape surrounded by green tiles. Through the backyard, we can go through the south side stairs to the second floor. The terrace of the second floor is connected by the roof of a corridor, forming a typical Beijing hutong cultural experience, siting between the roof tiles and the shade of the trees, listening to the cicadas in summer and watching the snow in winter.
▼后院景观空间 Backyard Landscape Space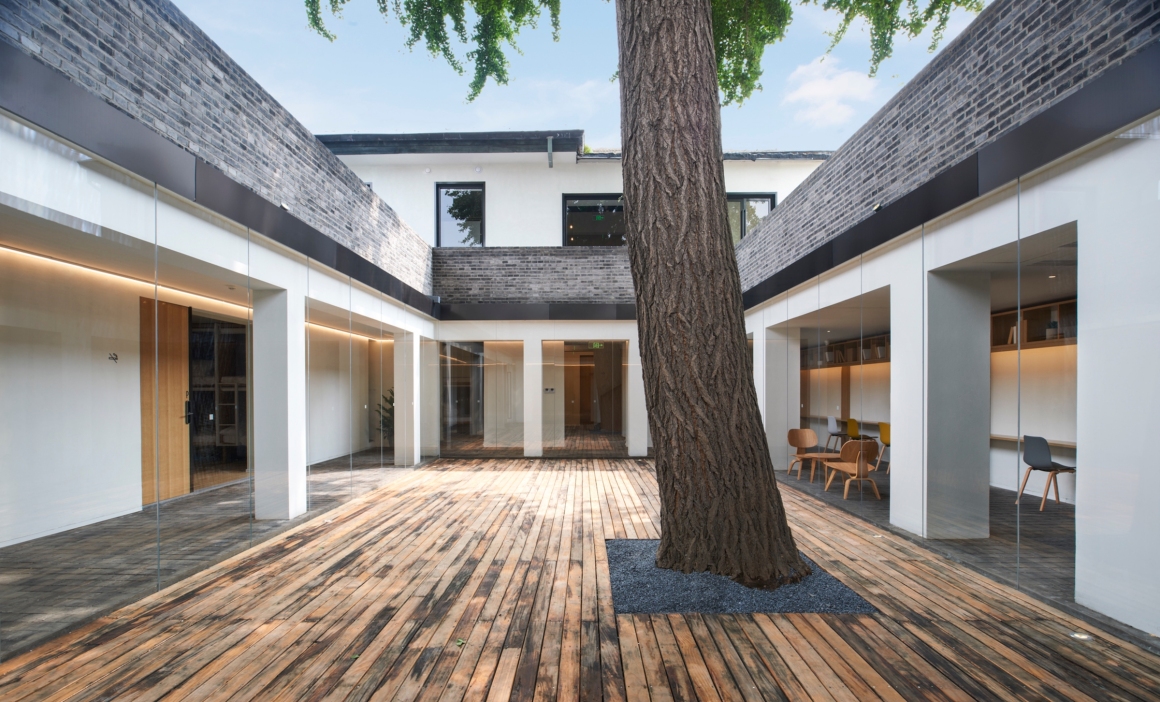 ▼景观空间四周 All around the landscape space
▼二楼露台 On the second floor balcony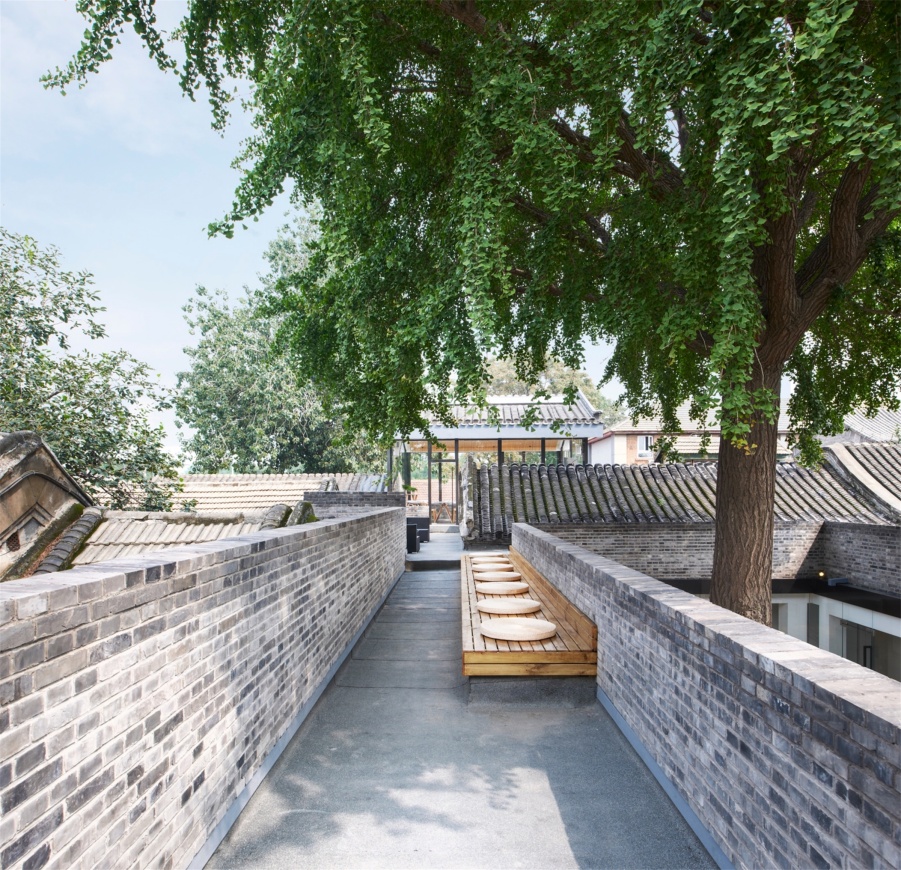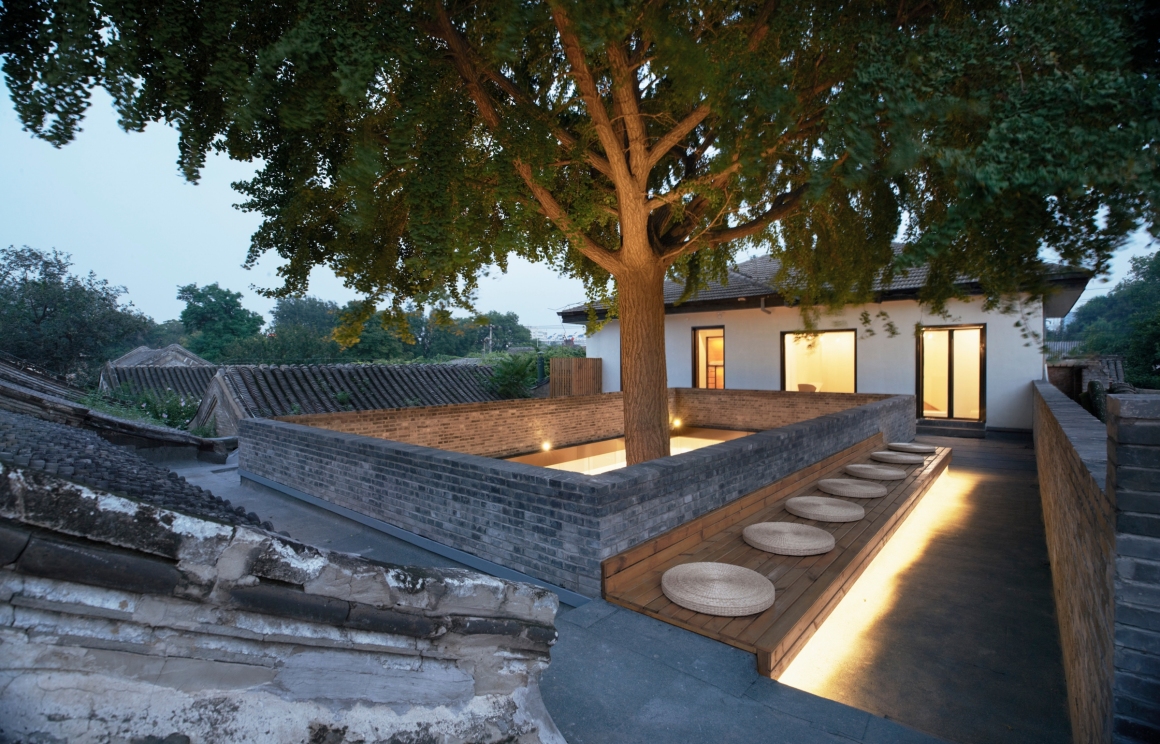 ▼屋顶空间 The roof space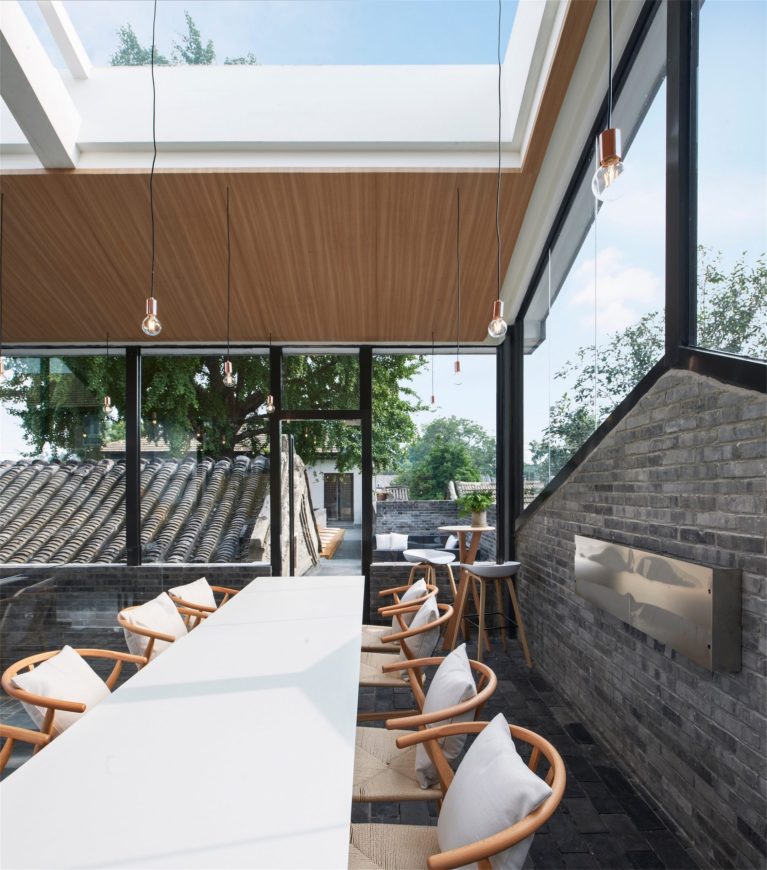 ▼庭院与灯光 Courtyard and Light
▼ 屋顶 The roof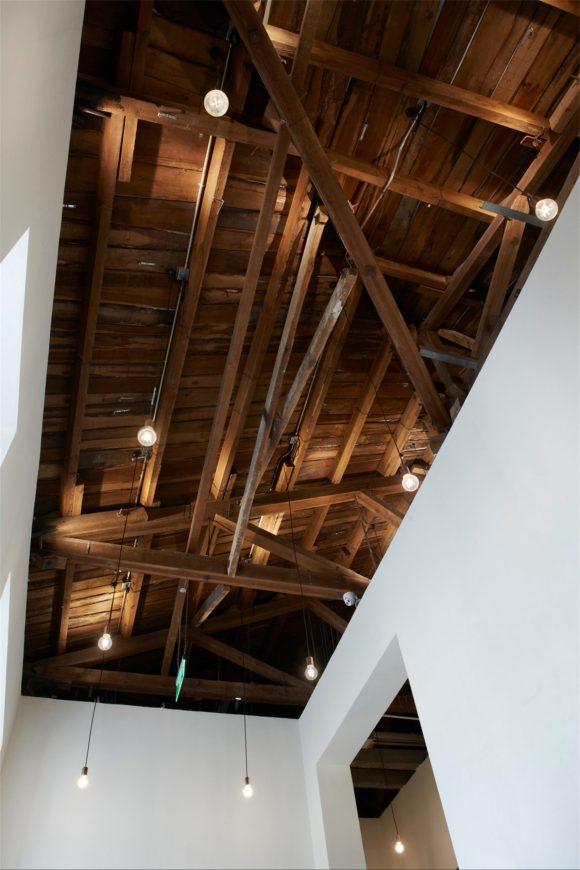 ▼客房 The guest rooms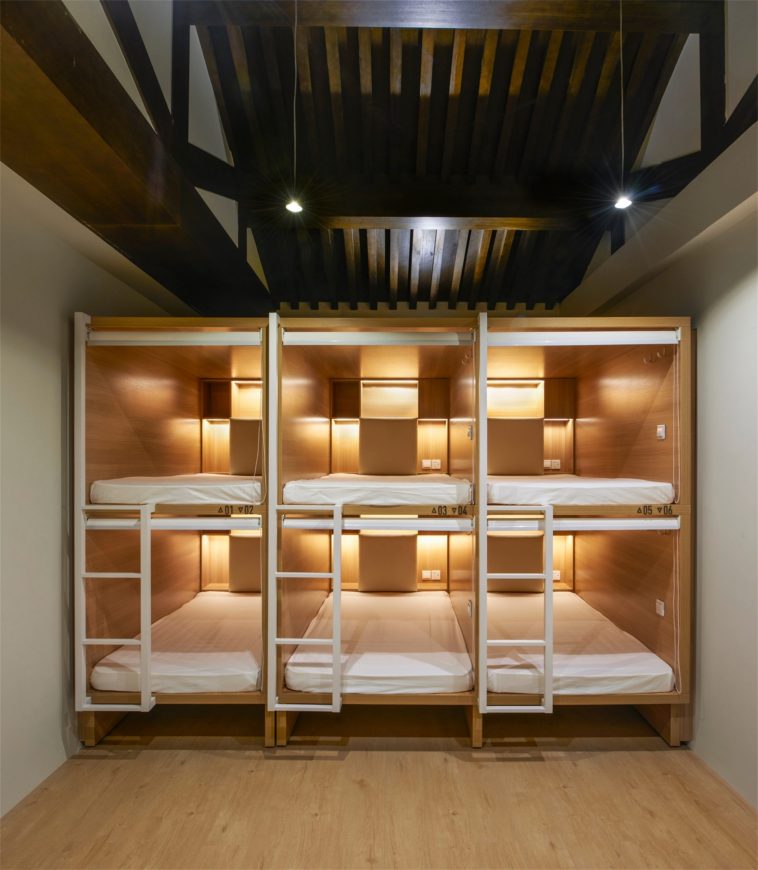 ▼一层平面图 Ground floor plan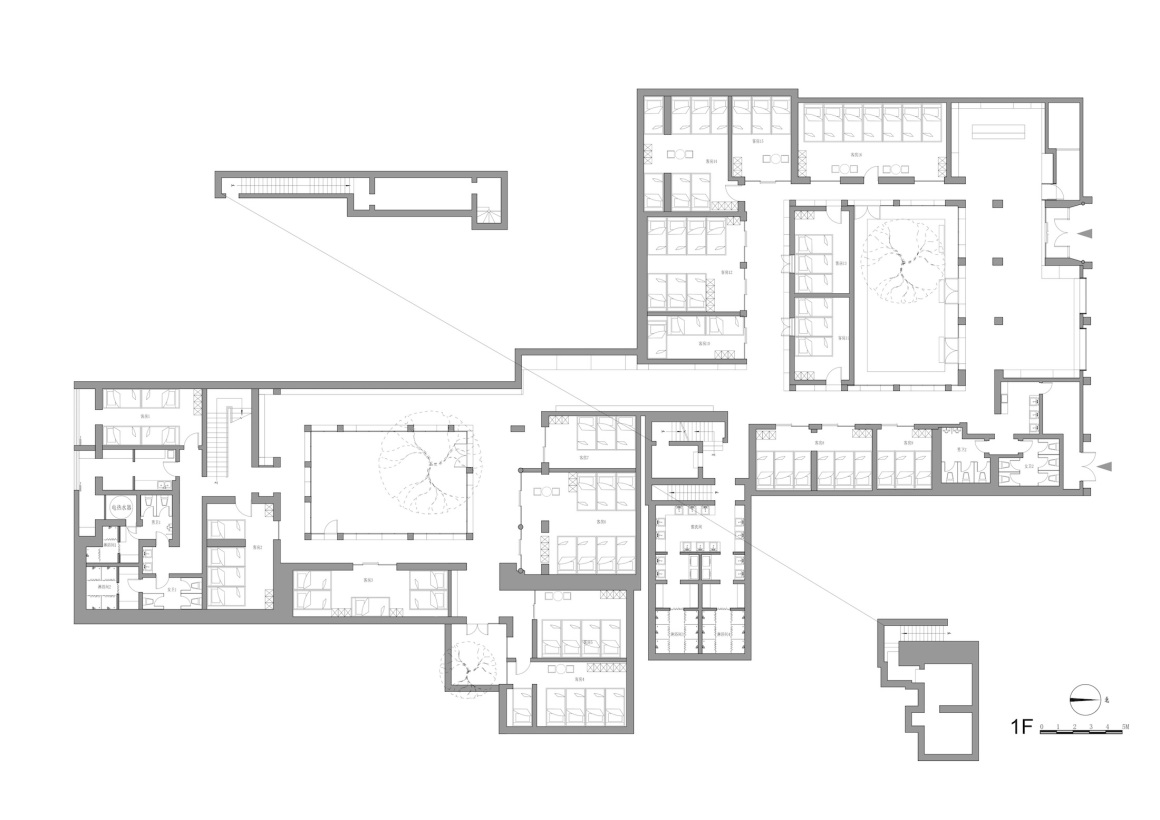 ▼二层平面图 2nd floor plan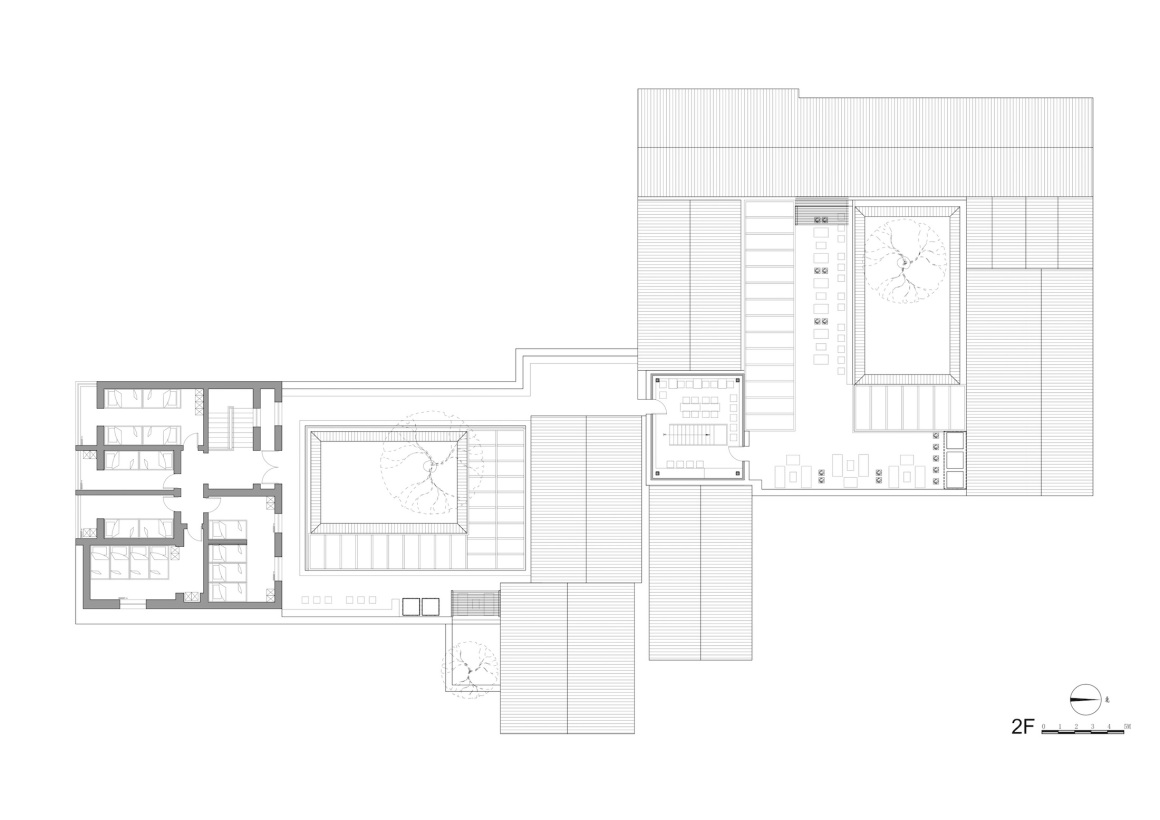 ▼路线图 The roadmap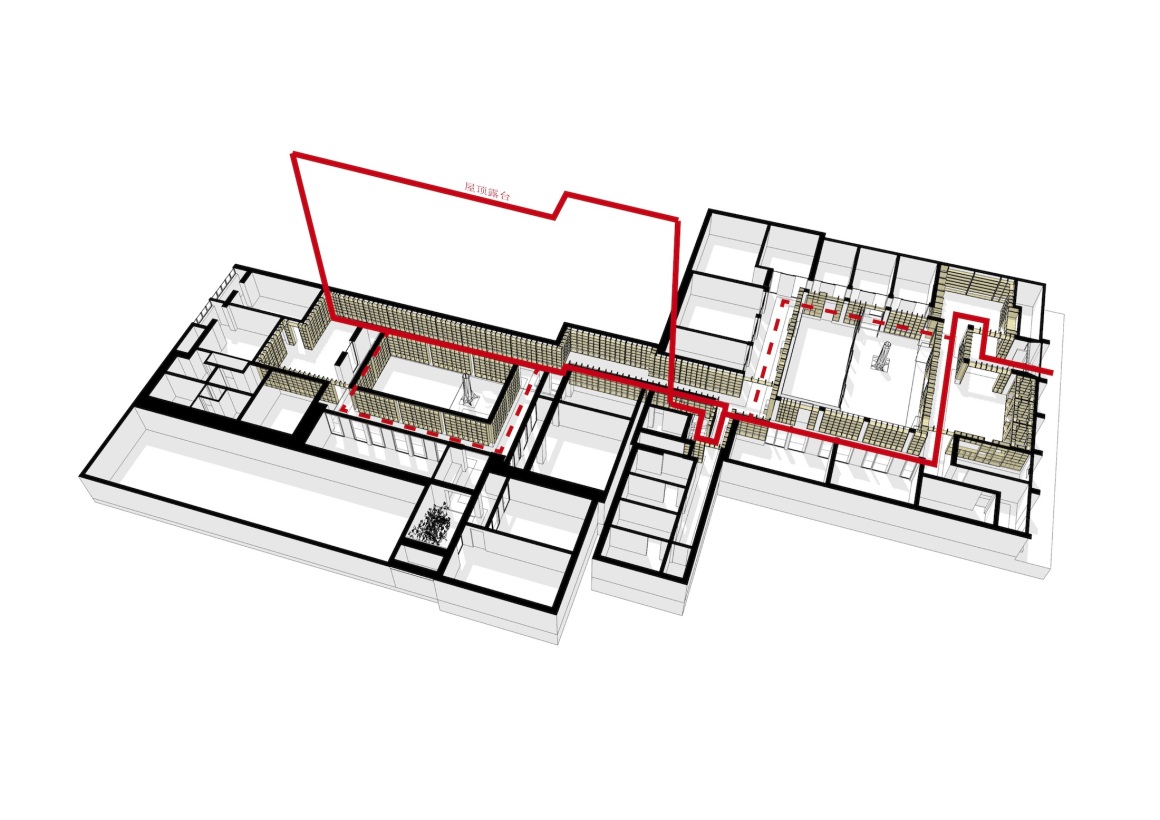 ▼轴测图 Axonometric drawing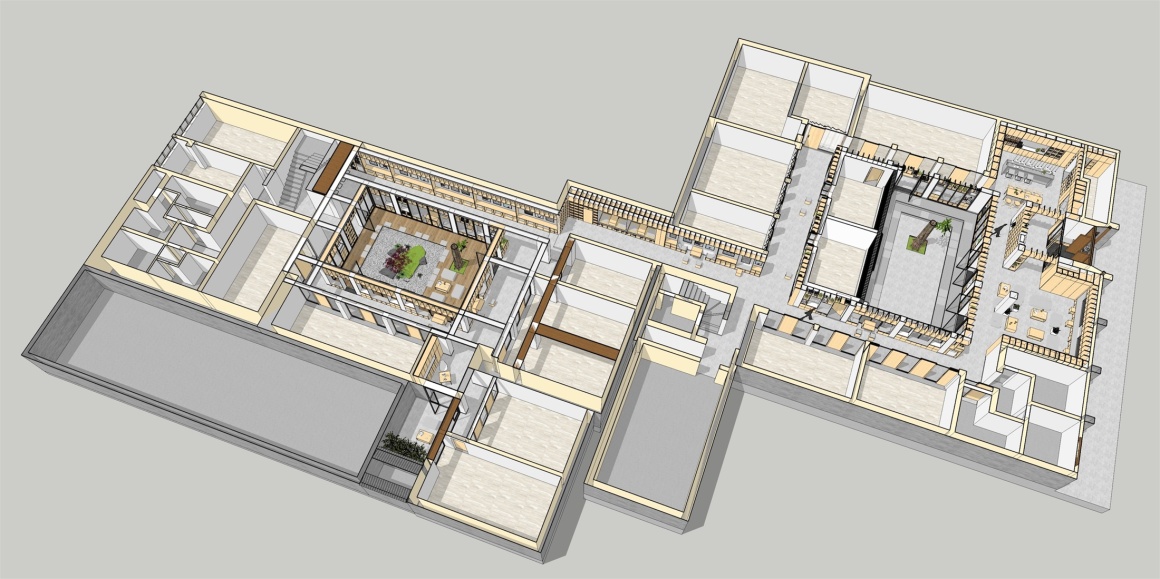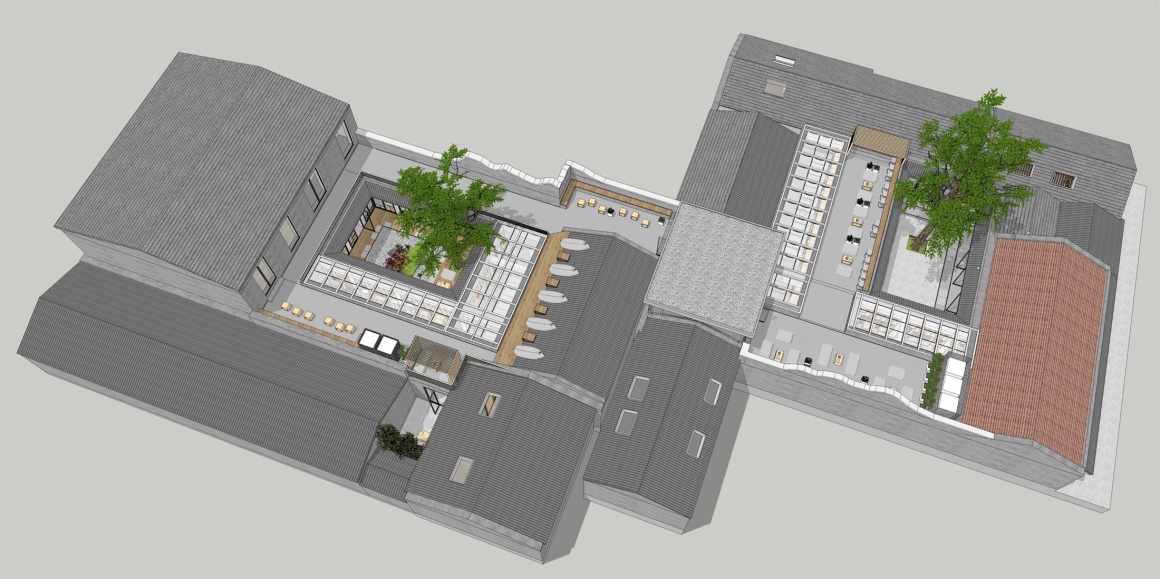 项目名称:北京协作胡同胶囊酒店
项目地点:中国 北京协作胡同
项目类型:胶囊酒店
建筑师:青山周平,藤井洋子,杜雷 / B.L.U.E.建筑设计事务所
业主:自如寓酒店管理有限公司
规模:2层
总建筑面积:1150平米
主要材质:灰砖,质感涂料(品牌:Ouxiou),木地板,木饰面板,大理石(品牌:CXUN),膜(品牌:LG),吊灯(品牌:本土创作)
设计周期:01.2017 – 03.2017
施工周期:04.2017 – 08.2017
摄影师:锐景摄影
Project Name: Xiezuo Hutong Capsule Hotel in Beijing
Project Location: Xiezuo Hutong No.44, Beijing, China
Project Type: Capsule Hotel
Architect: Shuhei Aoyama,Yoko Fujii, Lei Du / B.L.U.E. Architecture Studio
Client: ZIROOM Hotel Management Co., Ltd
Size:2-Story
Building Area: 1150m²
Materials: Lime brick, Texture paint (Brand: Ouxiou), Wood Flooring, Wood veneer finish, Stone (Brand: CXUN), Sheet(Brand: LG), Pendant lamp(Brand: Bentu)
Design Period: 01.2017 – 03.2017
Construction Period: 04.2017 – 08.2017
Photography Credit: Ruijing Photo
更多 Read more about: B.L.U.E.建筑设计事务所