本文由 Ministry of Design 授权mooool发表,欢迎转发,禁止以mooool编辑版本转载。
Thanks Ministry of Design for authorizing the publication of the project on mooool, Text description provided by Ministry of Design.
Ministry of Design:YTL总部位于吉隆坡武吉免登区,此前在多个不同地点设有办公室,这是第一次将所有拥有各自文化和业务的YTL部门(超过12个,包括1000名员工)集合在一起。
Ministry of Design:Previously occupying offices in different locations, this YTL HQ located along Jalan Bukit Bintang brings together for the first time, the entire suite of YTL departments (numbering more than a dozen, comprising 1000 staff members), each of which have developed their own culture and operations.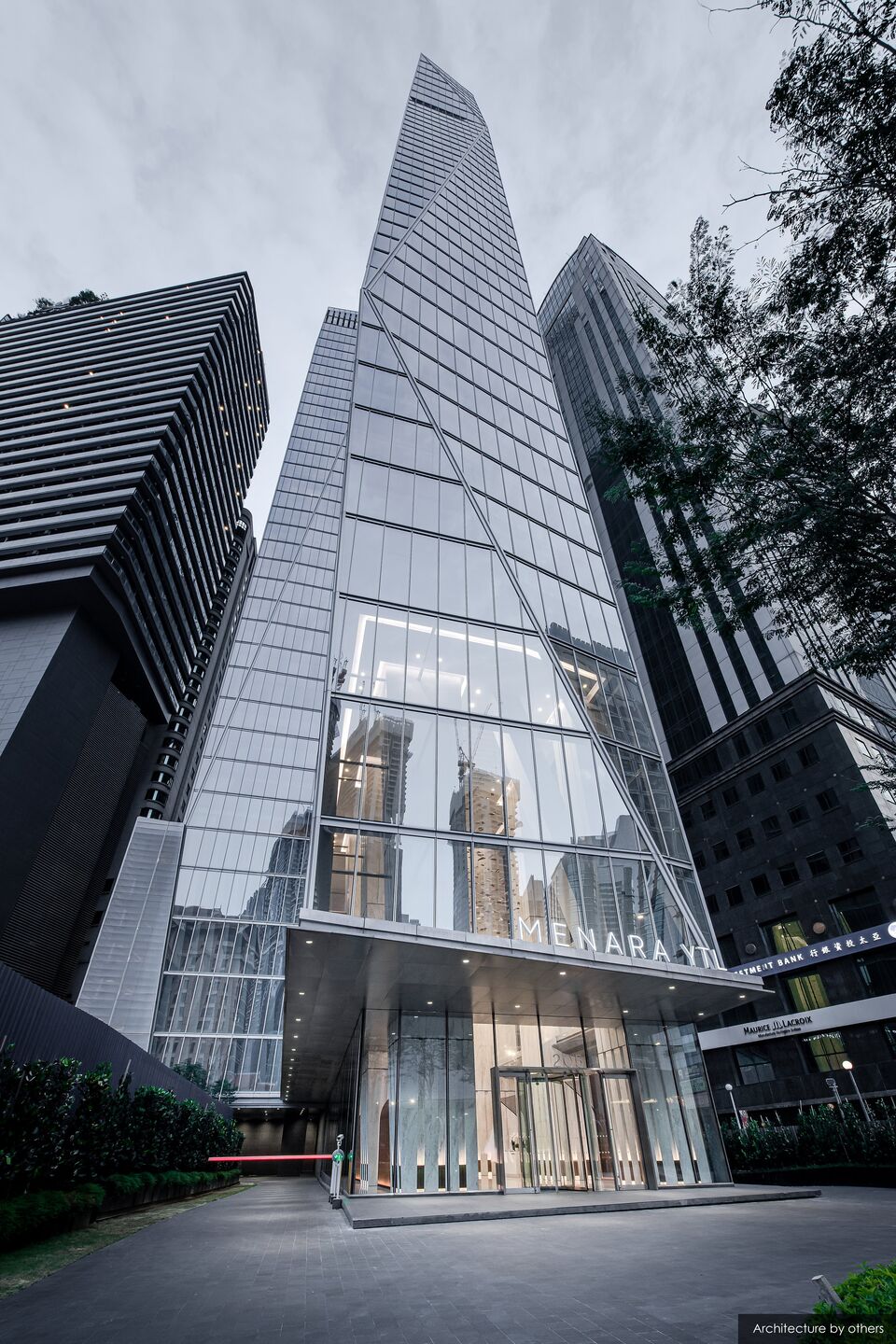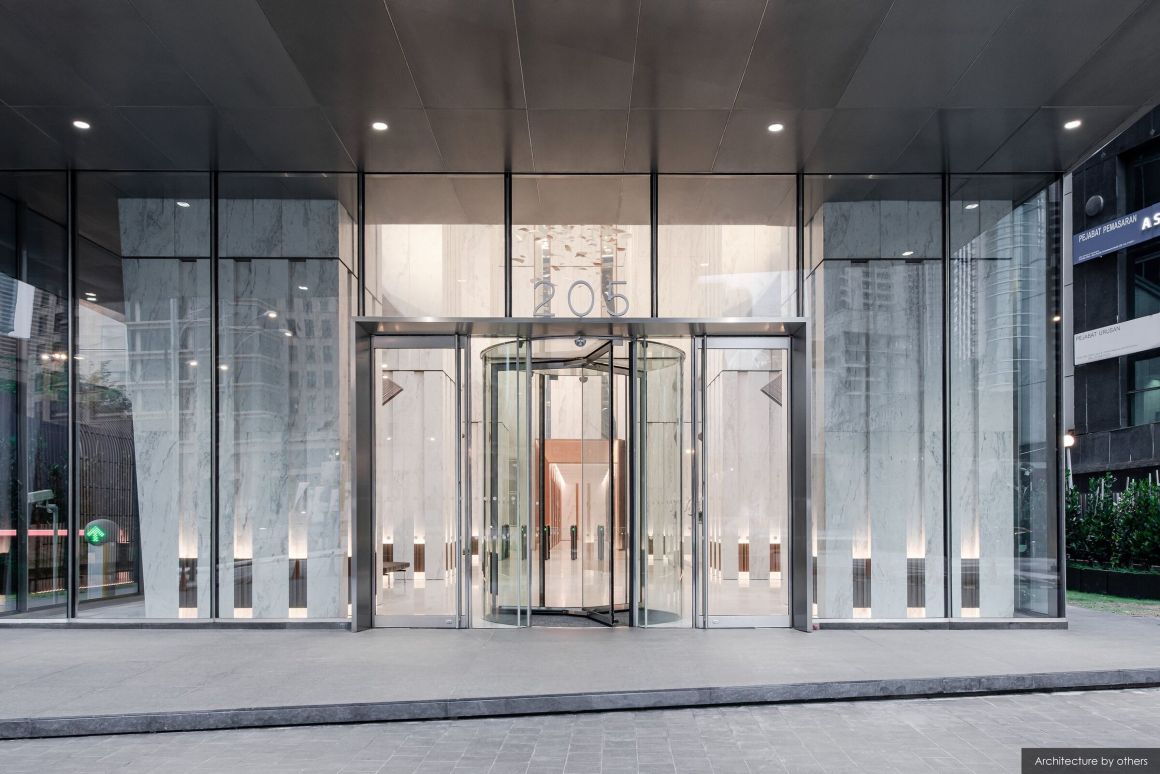 MOD此次的目标是为这些部门设计一个共享公共区域,即底层大厅和8-10层空间,并呈现统一的品牌标识系统。因此,设计师致力于创造一系列精心设计的空间体验,旨在平衡YTL的企业专业精神和拥抱日新月异的未来的态度。
The brief for MOD was to design the public areas shared by these departments, i.e. Ground Floor lobby and Levels 8-10, and present a unified brand identity under one roof. As such, we sought to create a series of choreographed spatial experiences which aim to balance YTL's legacy of corporate professionalism with a future-forward attitude that embraces change.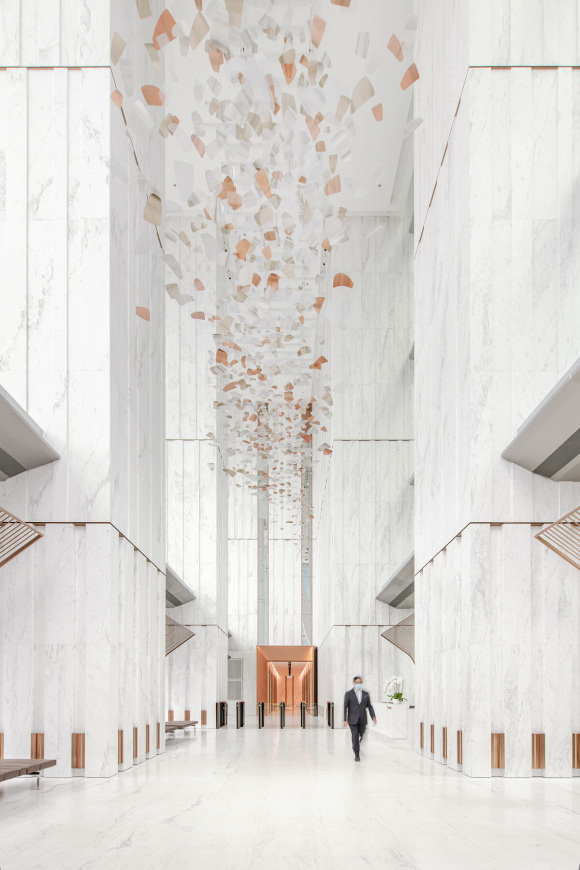 在底层,迎接游客的是一个垂直的洞穴状大厅,跨度超25米。MOD所遇到的设计挑战在于如何提高空间的宏伟品质,同时又不使人的尺度感受相形见绌,创造一个受人欢迎的入口空间。由此,大厅可以说是一个主研究比例、光线控制和材料使用的精致空间。精心设计之后,这一高耸的空间在白天时透亮清明,晚上,又会像灯笼一样发出温暖的光芒。
At the Ground Floor, visitors are greeted by a vertically cavernous lobby which spans more than 25-meters in height. The design challenge for MOD, was how to enhance the majestic quality of the space, yet not dwarf the human scale and provide a welcoming entrance. As such, the lobby is a study in proportion, light control and a disciplined use of materials. The soaring space has been designed to capture the rays of light in the daytime, and glow like a lantern in the evening.
白色Bugatsa大理石包裹着柱子,其底部的节奏韵律更加密集、坚实,然而顶部的设计却越来越轻,给人以上升的轻盈感,尤其其中青铜色的水平条纹,在视觉上营造出了浮雕感。座位区设计成了建筑亭式的小生境空间,而非普通装饰性的长椅,为游客提供标志性的巴塞罗那沙发,方便人们坐在上面,欣赏大厅宏伟的洞穴感品质空间。
大厅中闪闪发光的艺术装置像云一样盘旋在亭式座位区上,在这个巨大的空间中提供了一种人类尺度的对比感受。该装置名为"叶子",由Sawada设计工作室完成。
We designed the white Bugatsa marble-clad columns such that its rhythm is denser and more grounded at the bottom, yet getting lighter towards the top, giving the impression of ascending lightness, and inserted horizontal striations and ridges using bronze accents, to provide visual relief rather than a continuous ascension to the top. We designed the seating areas as architectural pavilion niches rather than mere decorative benches, providing iconic Barcelona couches for visitors to sit on and admire the lobby's majestic cavernous quality.
A glittering art installation hovers like a cloud over the pavilion niches, which provide a sense of human scale in this vast space. Titled "Leaves", this was completed by Studio Sawada Design.
大楼8至10层设有咖啡厅、多种类型的开放式和封闭式会议空间和一个可容纳122人的多功能厅。这个公共区域可以看作是大堂区域的延伸,用作YTL员工与外部游客和顾问之间的接口点。为了让8层和9层之间产生连接性,设计师引入了一个新的空间和一个特色螺旋楼梯,楼梯的垂直杆由粉末涂层青铜金属制成,立在黑色砾石上,由此形成了十分引人注目的动态笼状楼梯。
Levels 8 to 10 comprise a café, multiple types of open & closed meeting spaces and a 122-pax function room. This public zone is conceived to be an extension of the lobby area, and is conceptualised to be the point of interface between YTL staff and external visitors and consultants. To introduce connectivity between Levels 8 and 9, we introduced a void and a feature spiral stair, designing an arresting and dynamic cage-like stair with vertical rods made of powder-coated bronze metal, sitting on a bed of black gravel.
8层的核心是咖啡馆漂亮的灰色花岗岩柜台、青铜货架,以及橡木木材天花板和墙壁。这里不仅有新鲜烘焙的糖果和芳香的浓咖啡,还有咖啡馆柜台垂直设计的粗糙边缘裂开面花岗岩,以及光滑的黑芝麻抛光花岗岩水平面。
The heart of L8 is the handsome grey granite café counter with bronze shelves and oak timber ceilings and walls. Serving up freshly baked confectionary as well as aromatic espressos, this café counter is designed with a rough-edged split-face granite on its vertical surfaces and a smooth black sesame polished granite for the horizontal counter.
设计师在这里创造了无数的会议空间,从休闲咖啡馆风格的桌子、半封闭的房间、隔音的私人房间和大型多功能会议室,这些空间都采用了温暖而复杂的色调设计,并配有青铜粉末涂层金属、温暖的橡木木材、漂亮的灰色花岗岩、银貂皮大理石地板和皮革触觉家具。
We created a myriad of meeting spaces. Ranging from casual cafe style tables, semi-enclosed rooms, acoustically private rooms and large multi-function conference rooms, the spaces are designed with a warm and sophisticated palette, with bronze powder coated metal, warm oak timber, handsome grey granite, silver mink marble floors and tactile leather furniture.
咖啡馆、宴会厅和座位均采用德国索姆&维巴赫创新面料,该公司的"magic"系列以高品质面料为特点,易于使用和维护。桌子上还有醒目的黑色尼禄玛奎纳大理石或优雅的白色卡拉卡特大理石。
The café, banquette and booth seating are upholstered in German-based innovative fabric from Saum & Viebahn whose "magic" range features high quality fabrics built for high-usage and easy maintenance. The tables feature either striking black Nero Marquina marble or elegant white Calacatta marble.
项目名称:YTL总部大楼
室内设计:Ministry of Design
建筑概念设计:KPF Associates
摄影:David Yeow Photography
地点:马来西亚吉隆坡
建筑面积:3045平方米
土地面积:2600平方米
建成:2020年
Project name: YTL HEADQUARTERS
Interior design: Ministry of Design
Concept Architectural Design: KPF Associates
Photographs: David Yeow Photography
Location: Kuala Lumpur, Malaysia
Built area: 3,045 S.q.m
Land area: 2,600 S.q.m
Built: 2020
更多 Read more about: Ministry of Design