本文由 OA设计 授权mooool发表,欢迎转发,禁止以mooool编辑版本转载。
Thanks Oneself Alliance for authorizing the publication of the project on mooool, Text description provided by Oneself Alliance. 
OA设计:玉溪是一个地形特殊的城市,山地面积占到总面积的90%以上,可谓是"山的海洋"。站在高处眺望正前方的场地和远方的市区,整个场地就像从山脉蔓延到城市的起伏绿浪,那是一种野蛮生长的,未经修饰的生命力,在云南热烈的阳光下毫无保留地舒展。
Oneself Alliance: Yuxi is a town with unique terrain. More than 90% of its area is hilly area. The site looks like a wavy green sea of hills from afar. Under the sun and blue sky, the green extends freely and vigorously, unfolding its power of vitality.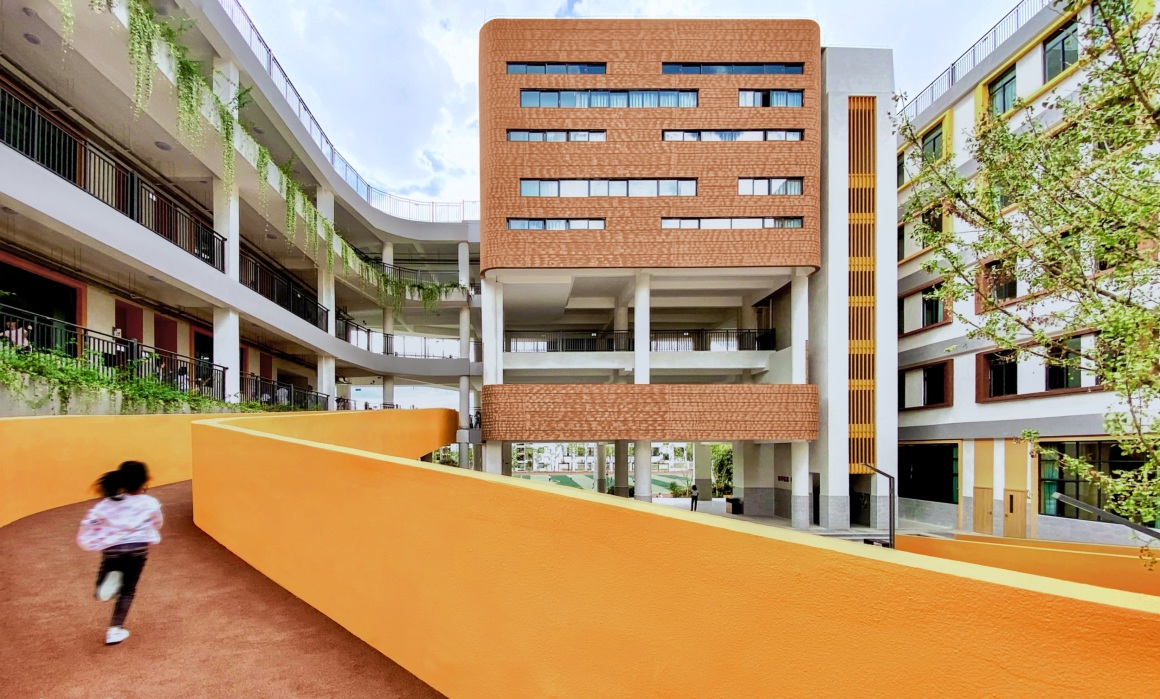 山地策略 Hilly Strategy
设计不希望用冰冷的建筑覆盖场地中这片生机勃勃的野林子,同时希望原始场地中呈现出的生机和趣味能够延续到未来的校园生活中。
In the design we tried to avoid presenting a cold artificial structure, inviting in this hilly wildness and letting it be part of our design instead of just destroying or taking over it.
▼场地原貌 Original site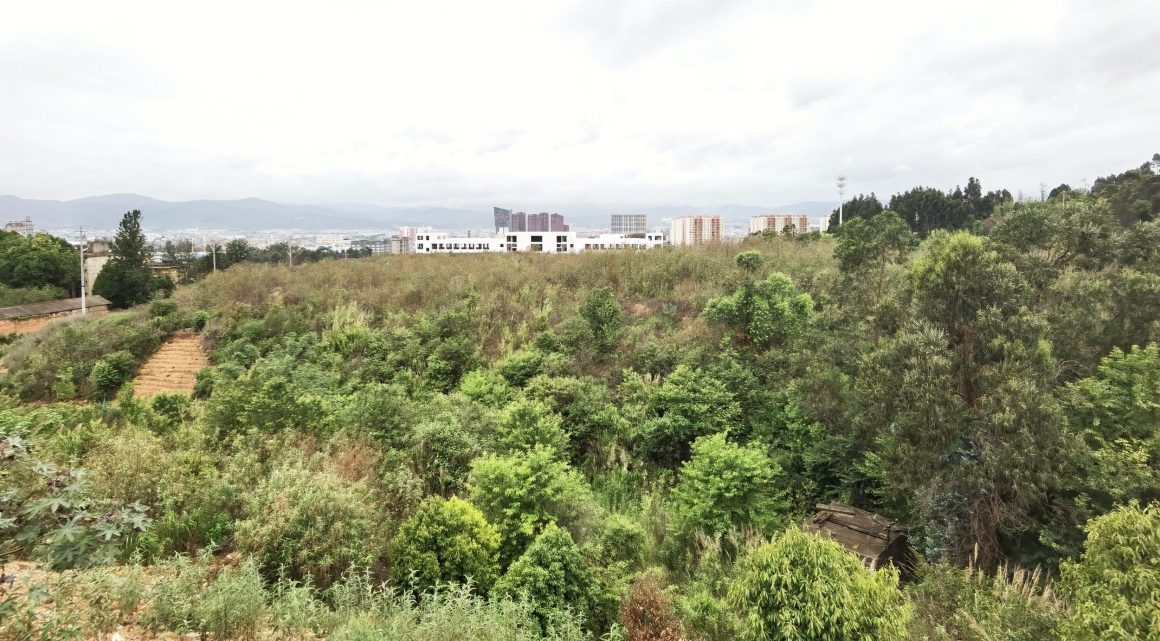 场地长向有10米多的高差,设计延续了原始地形的基本趋势,打造了一个多孔的空间结构来灵活处理地形高差、绿化景观、功能以及空间尺度关系。
There was a height difference of more than 10 meters alongside the plotted building. The design did little to this original morphology and created a porous spacious structure to coordinate the relationship between morphology, landscape, functions and space sizes.
▼轴侧图 Axonometric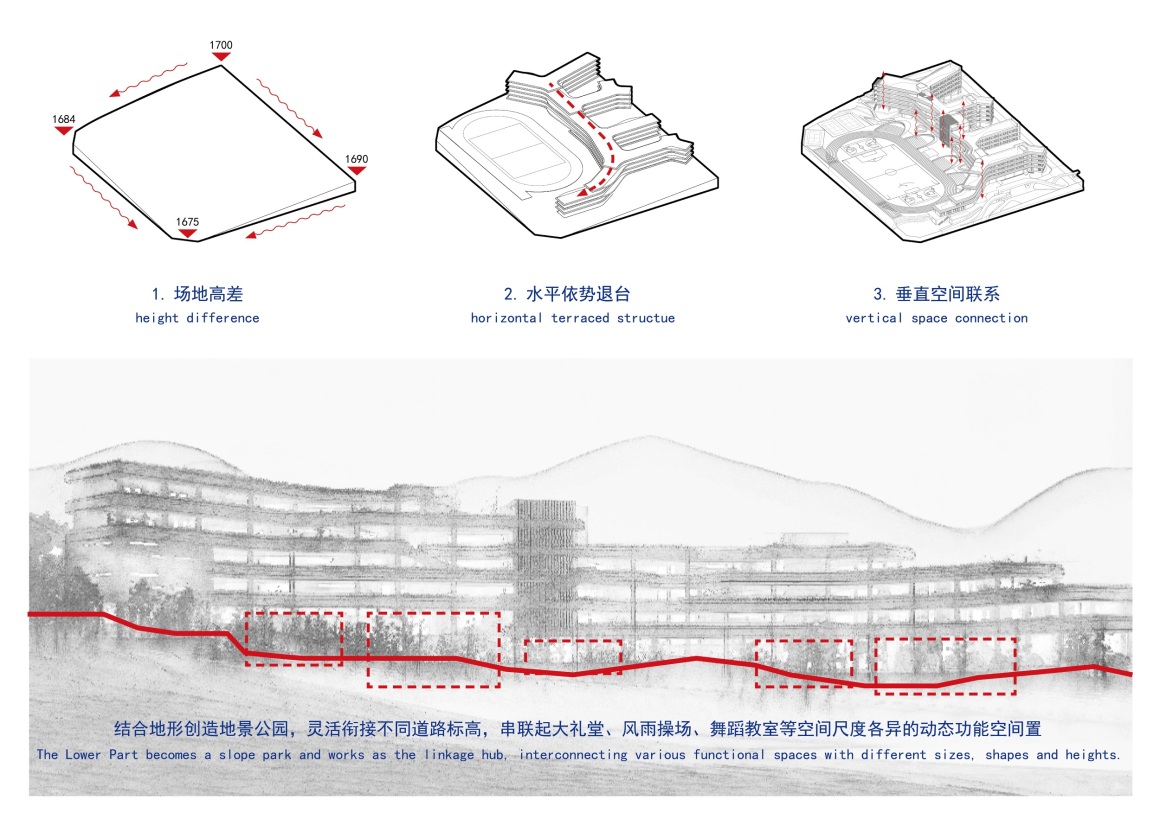 ▼功能分析 Functional analysis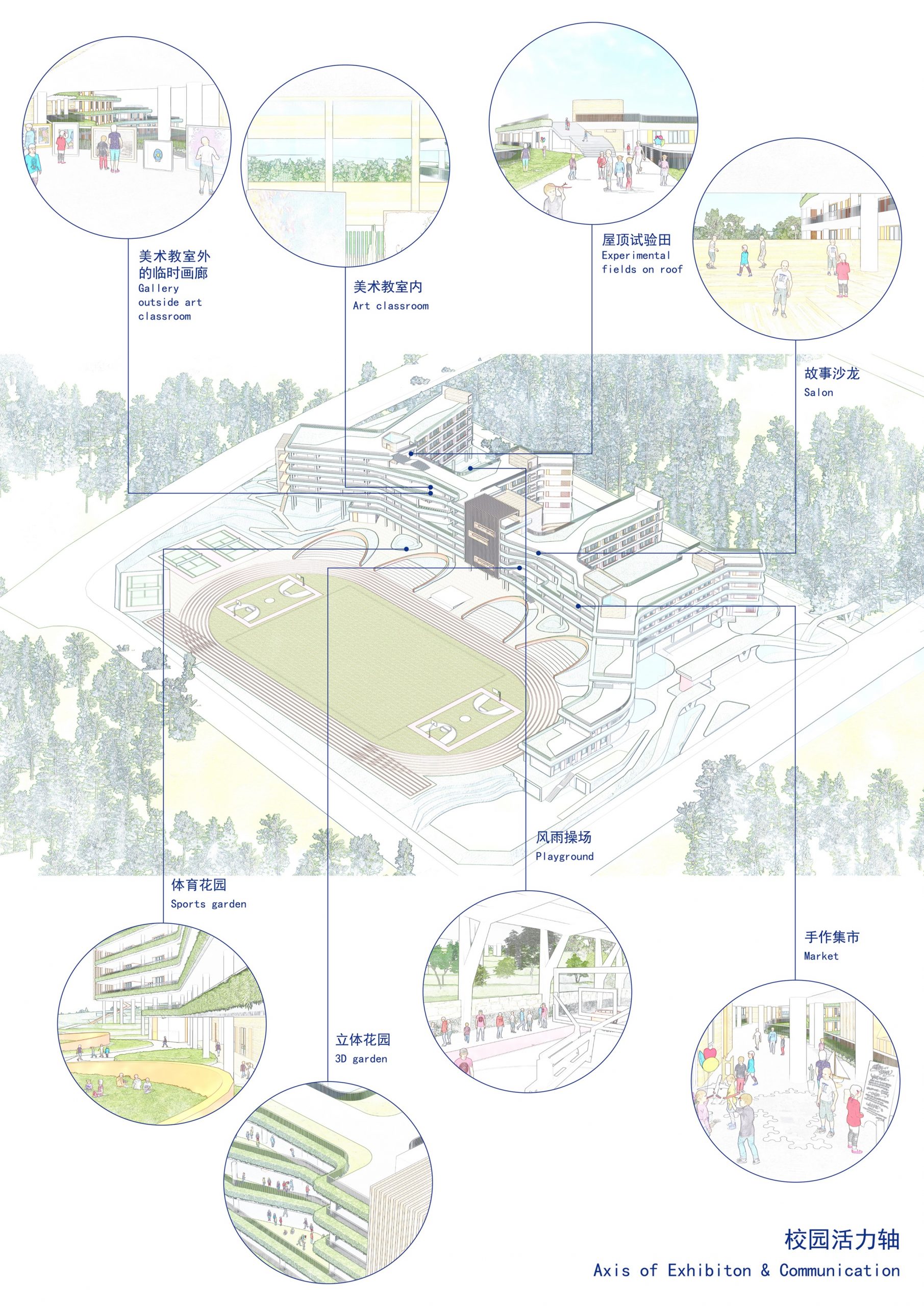 "垂直分区"——整个校园分为上下两部分空间,下层空间为地景公园,可以灵活衔接不同的道路标高,串联起大礼堂、风雨操场、舞蹈教室等空间尺度各异的动态功能空间,结合户外穿插设置灵活多变的游戏空间;上层空间为立体花园,空中绿化池环绕教室布置,教学空间围绕绿化中庭形成多个安静独享的组团,屋顶顺应地势形成层层退台,容纳天文观测、种植实验田等功能,在视觉上成为山体的蔓延,形成城市山林风景的一部分。
Vertical Partition——The Lower Part becomes a slope park and works as the linkage hub, interconnecting various functional spaces with different sizes, shapes and heights. It links together a ceremony hall, an outdoor playground, a dance studio, and other dynamic areas with various sizes. Between those functional units there embedded various open-air nodes for relaxing and playing. The Upper Part becomes a 3D garden, and contains isolated education units. Roofs formed a stepped terrain, where are terraces for an observatory, experimental fields as well as other workshops, preserving the original morphology of the site. In this way it looks like the hills along with their plants find the way back again in the structure and become part of it.
▼项目鸟瞰 Aerial view
"水平分区"——教学空间采用了水平的分区方式,靠近操场的风雨走廊上布置更具有互动展示功能的美术、书法、手工教室等,由"动"到"静"过渡到安静的班级教学空间。
Horizontal Partition——At horizontal level education units are arranged from the static district to the dynamic one. In the static district are distributed the classrooms. And in the farthest end is the open-air playground. All the way from the playground area to the classroom area locate spaces for their occupants to learn by interacting together and exhibiting their accomplishments, like handcraft workshops.
▼学校主入口 Main entrance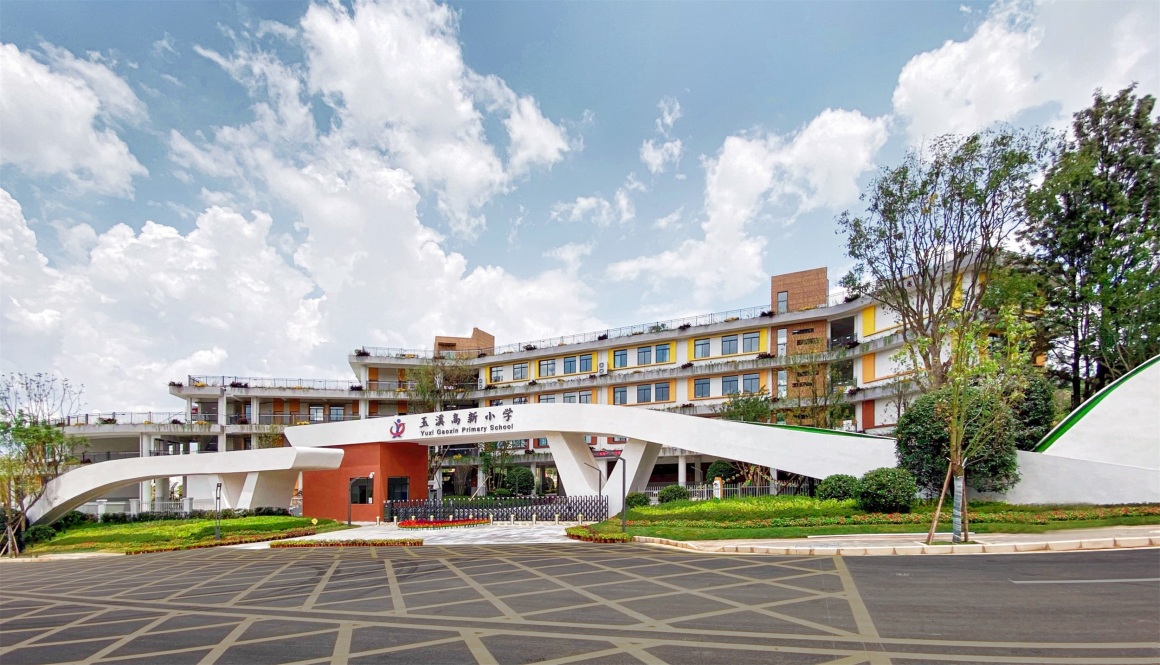 ▼教学空间水平横向排开 The teaching space is horizontally arranged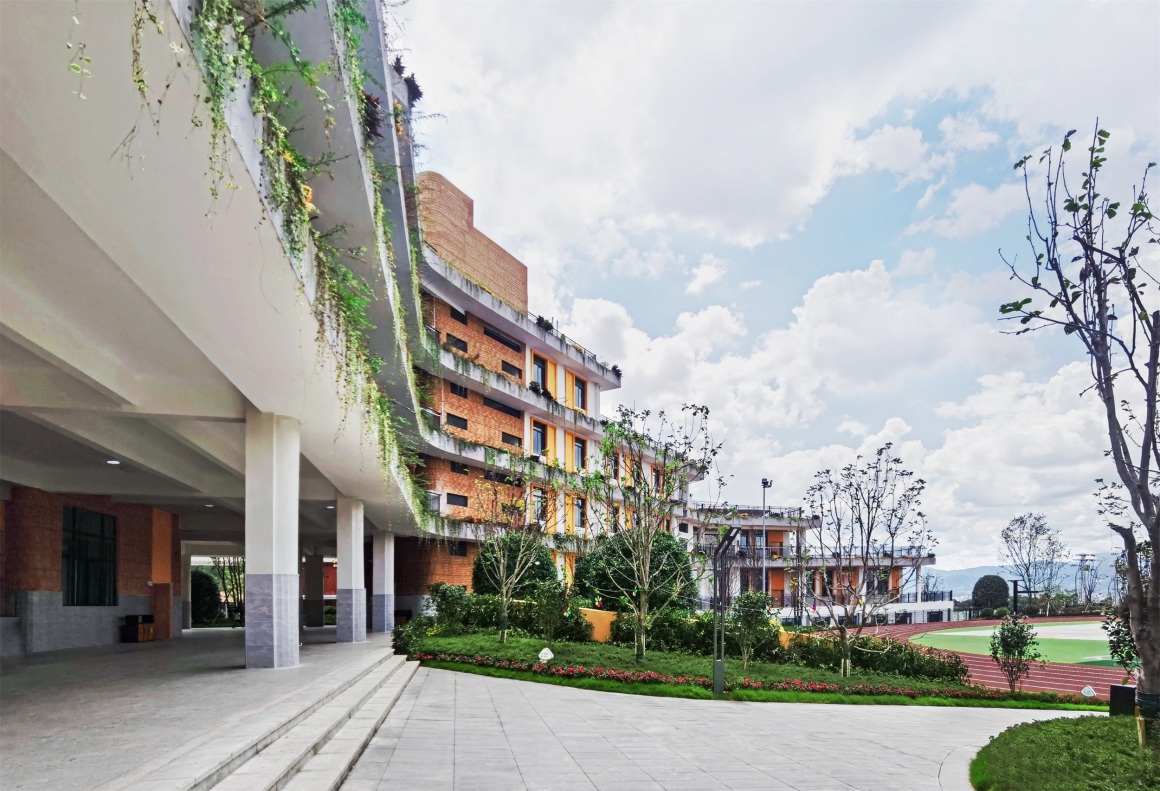 ▼首层架空空间 Overhead space on first floor

植物在这个多孔结构内自由生长,贯穿整个校园,使整个小学成为一个立体花园。活动与环境相互渗透,整个空间结构就像是一个想象力的迷宫,去容纳那些野蛮生长的纯粹的生命力。
Plants and the seasonal magic they bring are always filling into this whole porous structure and make it breathe together with the environment around and grow in green and let green extend and stay to the school.
▼空中立体花园 Three-dimensional garden in the sky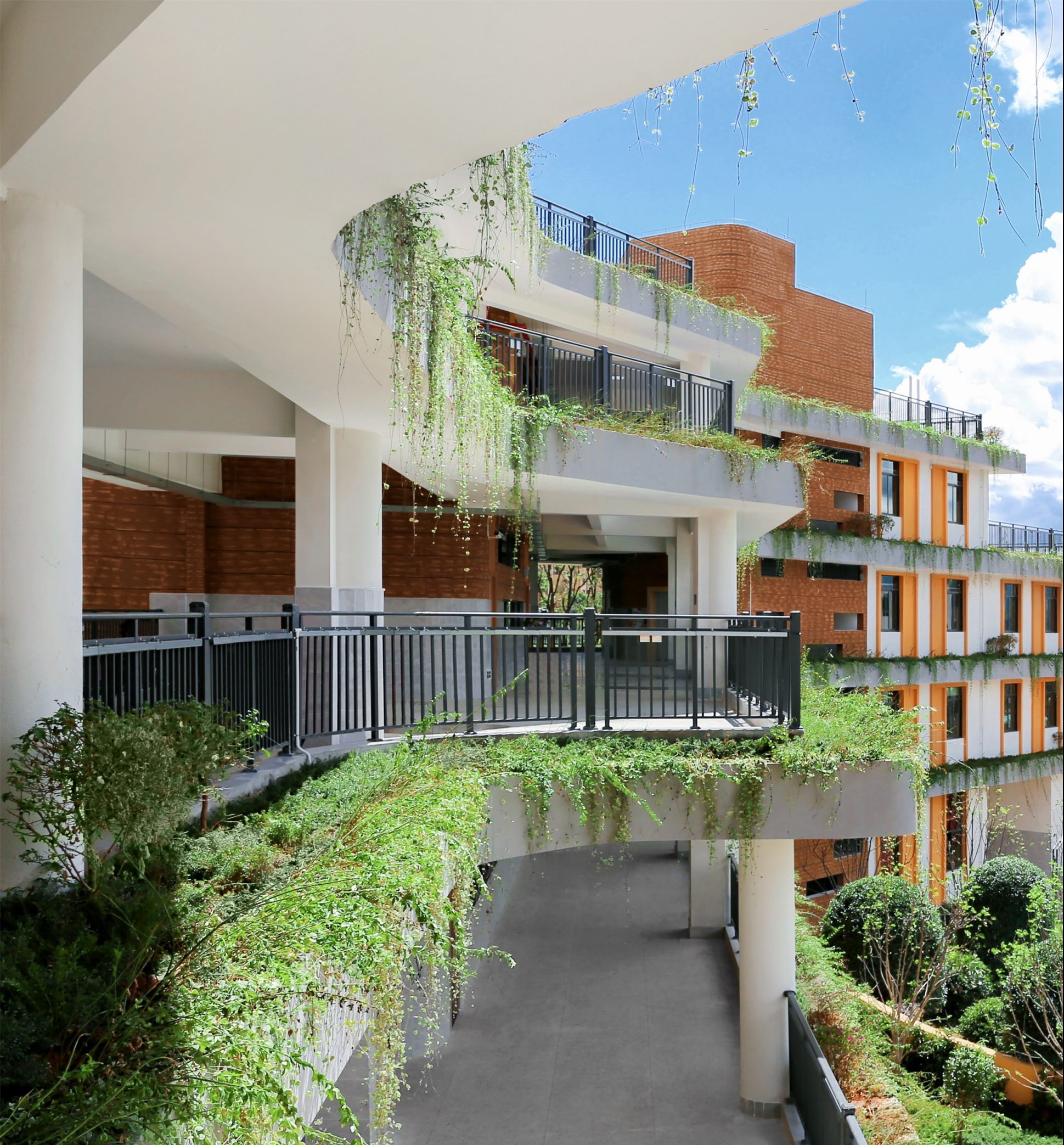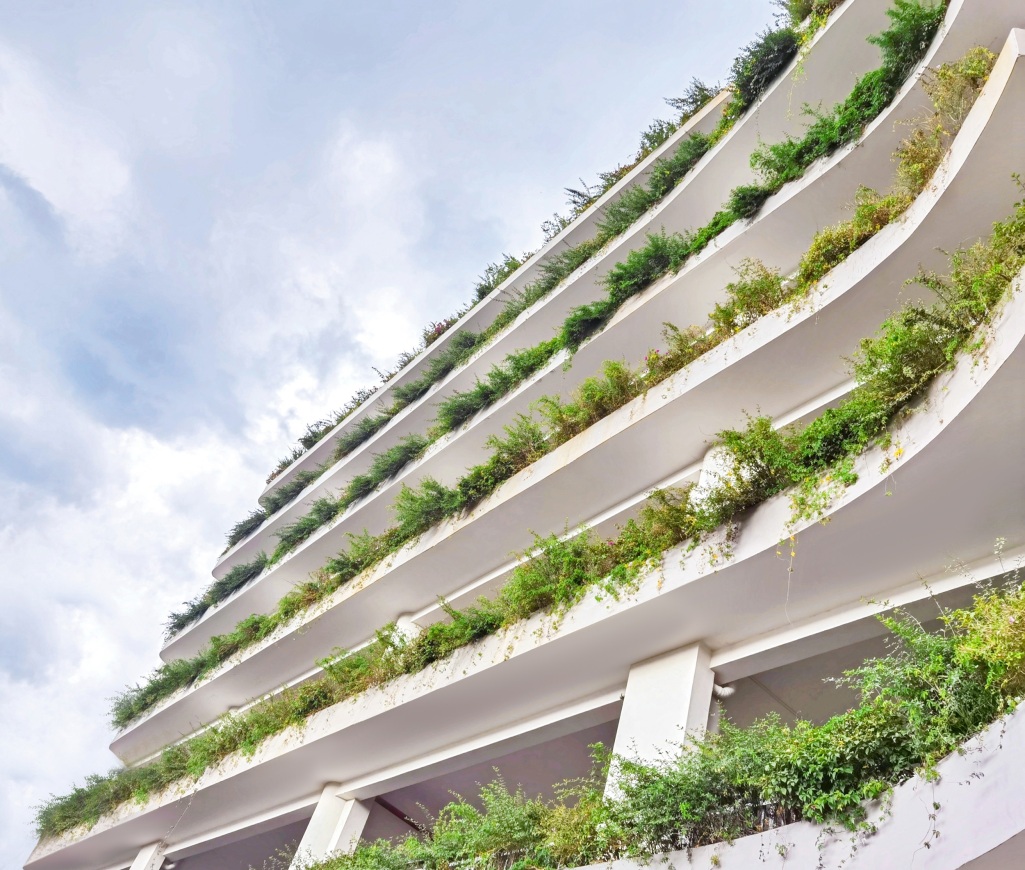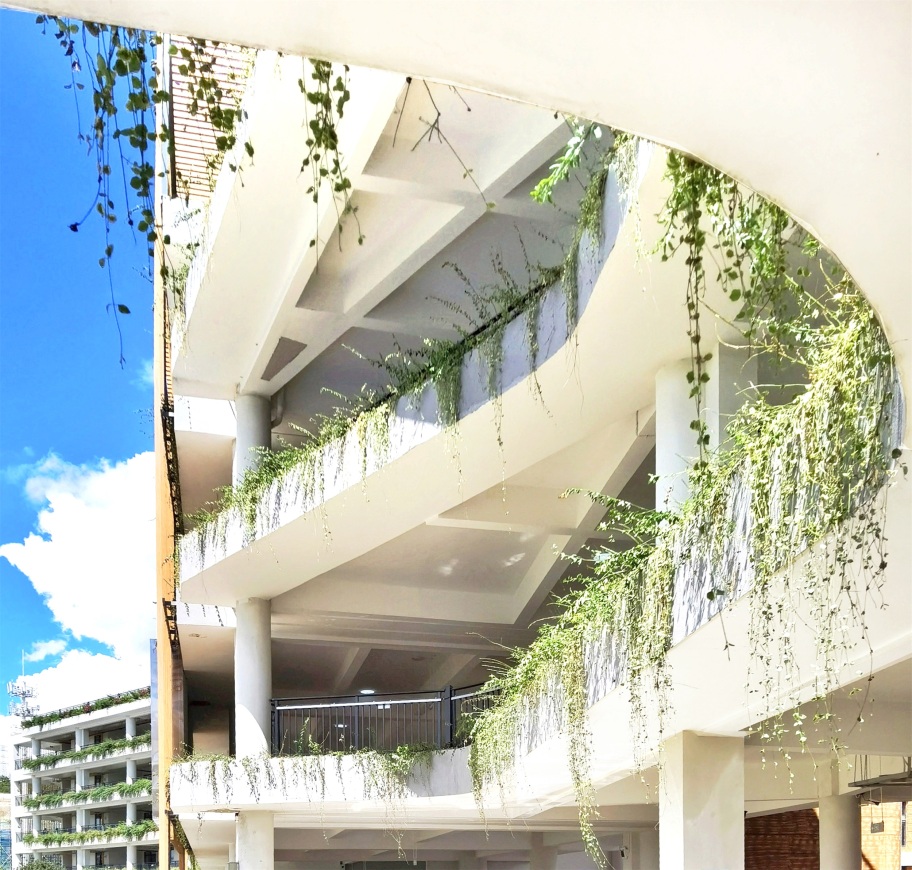 ▼教室外的闲置空间栽种植物 Idle space for plants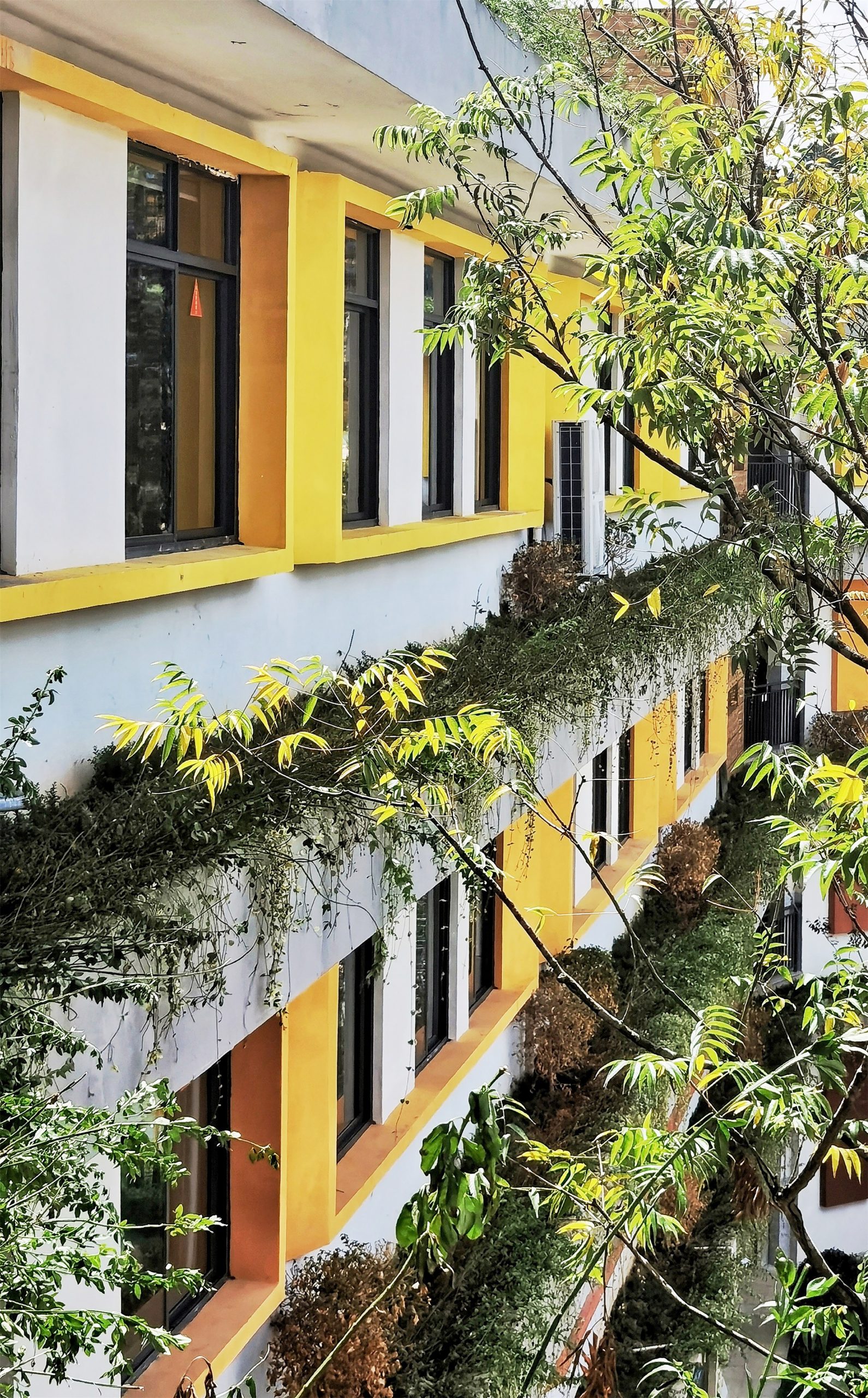 "多余"的空间 Surplus Spaces
在整个校园中,除了基本的教学空间外,设计还创造了一系列"多余"的空间:
"不像走廊的风雨走廊"——走廊不再是一个纯通过性的空间,而是一个可以被赋予各种复合功能的活动空间,如课间小型的游戏场所,美术教室外的展廊空间、手工教室外的手作集市等等。教室内的功能打破盒子延伸到风雨走廊上,鼓励了更多的交流、展示和参与。
The Surplus Spaces are not 'Surplus', actually, by being created to be multifunctional.
'Not just an outdoor corridor'——The corridor was designed to be multifunctional for various activities, like a temporary play yard between breaks, an outdoor paintings exhibiting hall for drawing classes, a market for the handcrafts from hands-on workshops etc. It encourages and fosters interactivity, reciprocal learning and participation.
▼多功能走廊空间 Multi-functional corridor space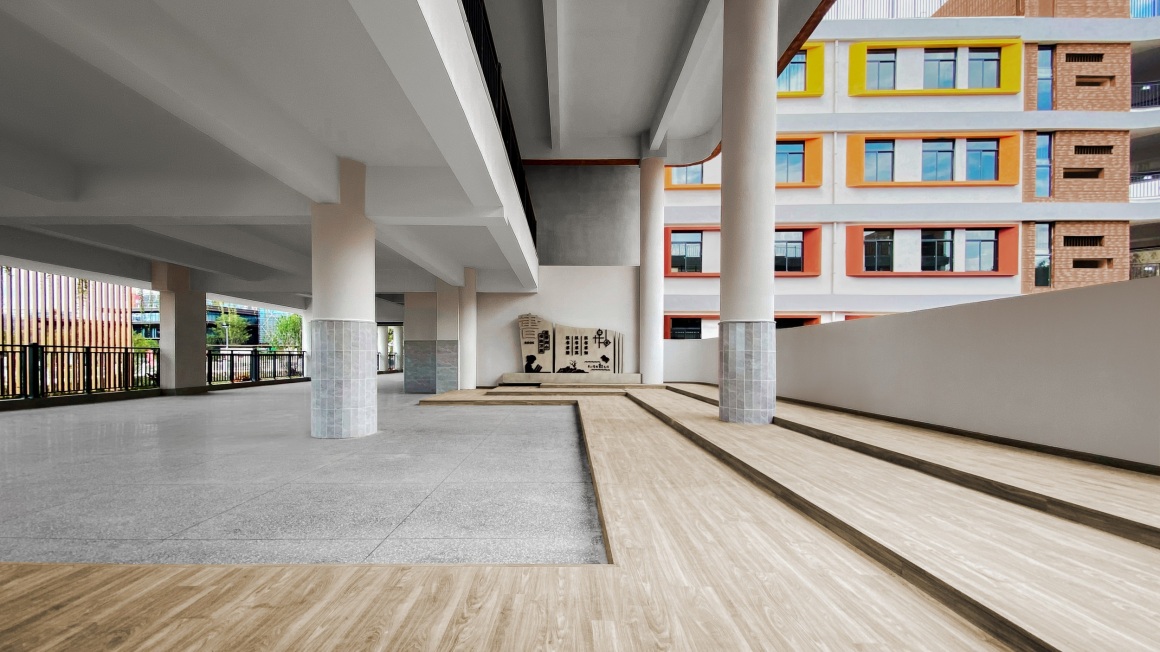 "盘旋而上的彩色坡道"——这是一条最远的垂直交通,却也是孩子们最愿意去走的一条路,路上独特的风景和体验让"绕路"变得趣味盎然。
The colored spiral ramp——It's a vertical personal transit, the farthest but the favorite for students and staff. When they take the ramp to get where they want to go, they are taking a detour for the unique sightseeing and experiences.
▼趣味盎然的彩色坡道 Interesting colorful ramps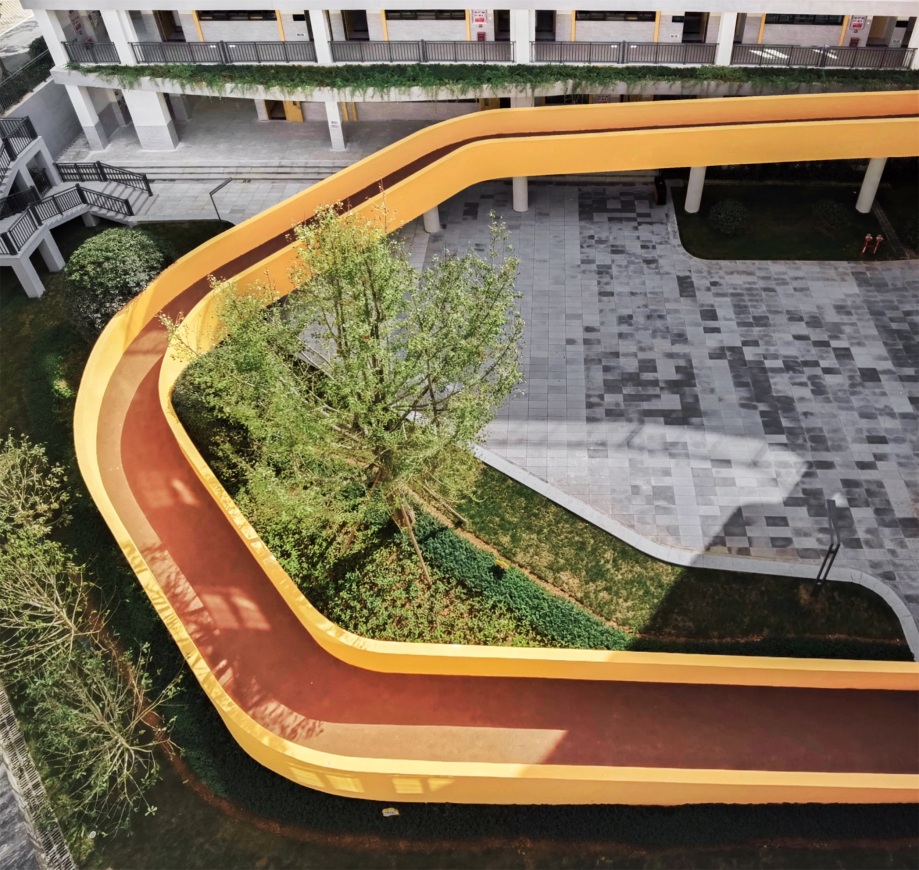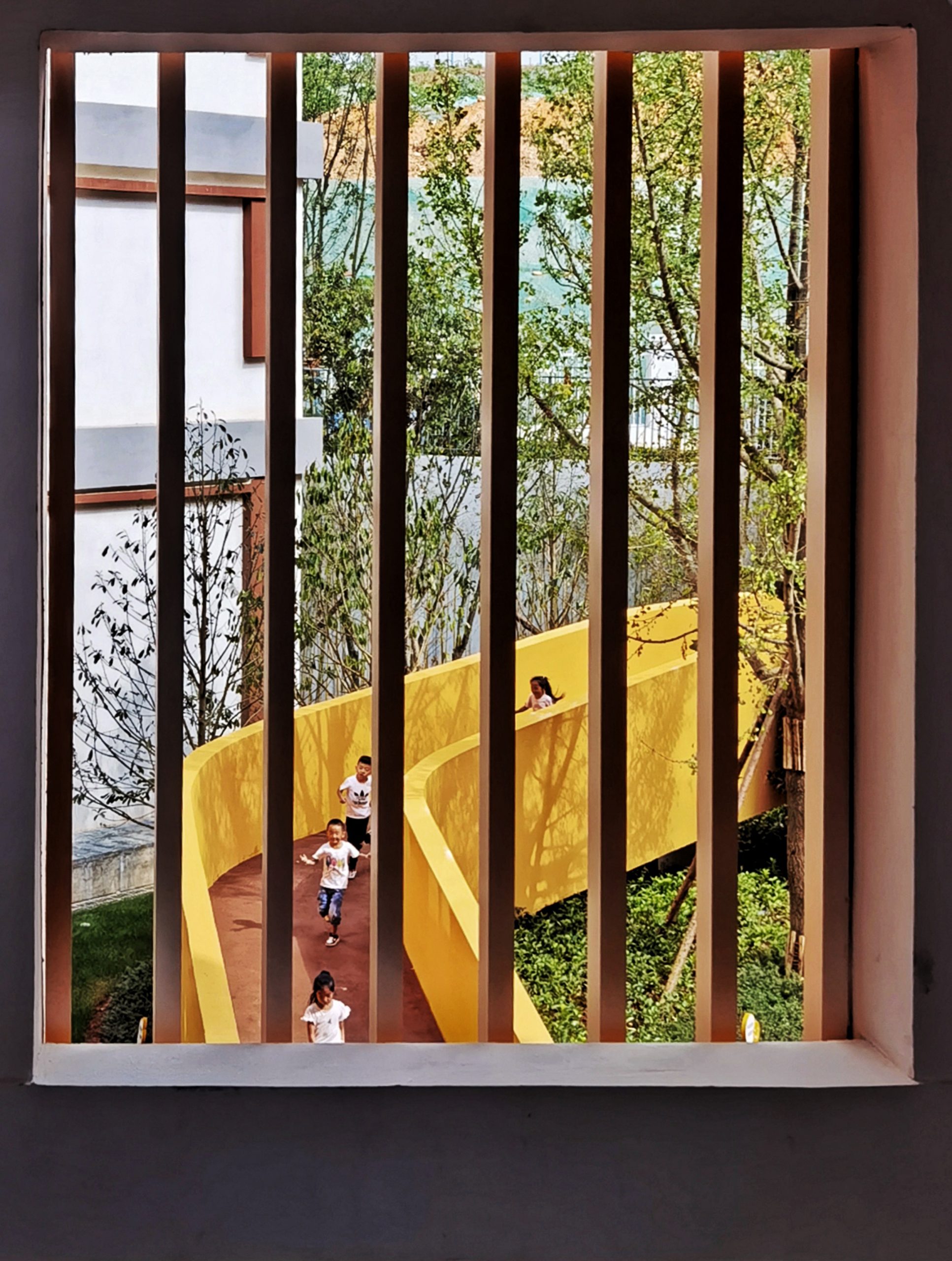 这不是一个被精心规划到极致效率的校园,这些"多余的空间"为未来的校园生活提供了生长的空间,也包容了更多的想象力与好奇心,我们很期待他自由生长的每种状态。
It's not extremely effective for a school. However, it's the margins that provide more possibilities for tolerance, imagination and curiosity. As architects we tried our best to make it happen for kids to choose their own favorite way to study and progress when it's possible.
阳光和色彩 Sunshine and Color
云南的阳光仿佛一直都是灿烂的,自由而热烈,直接而通透,设计希望将阳光的属性延续在校园中,我们选用了跟阳光的性格直接呼应的橙色作为主色调——灿烂、热烈、自由慢慢溢出,弥漫整个校园。
Yunnan is well-known for its warm sunshine, transparent blue sky scattered with clouds and shining and bright colorful lives under the sun, which inspired us a lot during the design. We couldn't help but set the color orange as a key tone in our design and let all the characteristics that color represents, the passion and freedom, slowly overflow and fill the whole campus.
▼教学楼外立面和局部 Teaching building facade and part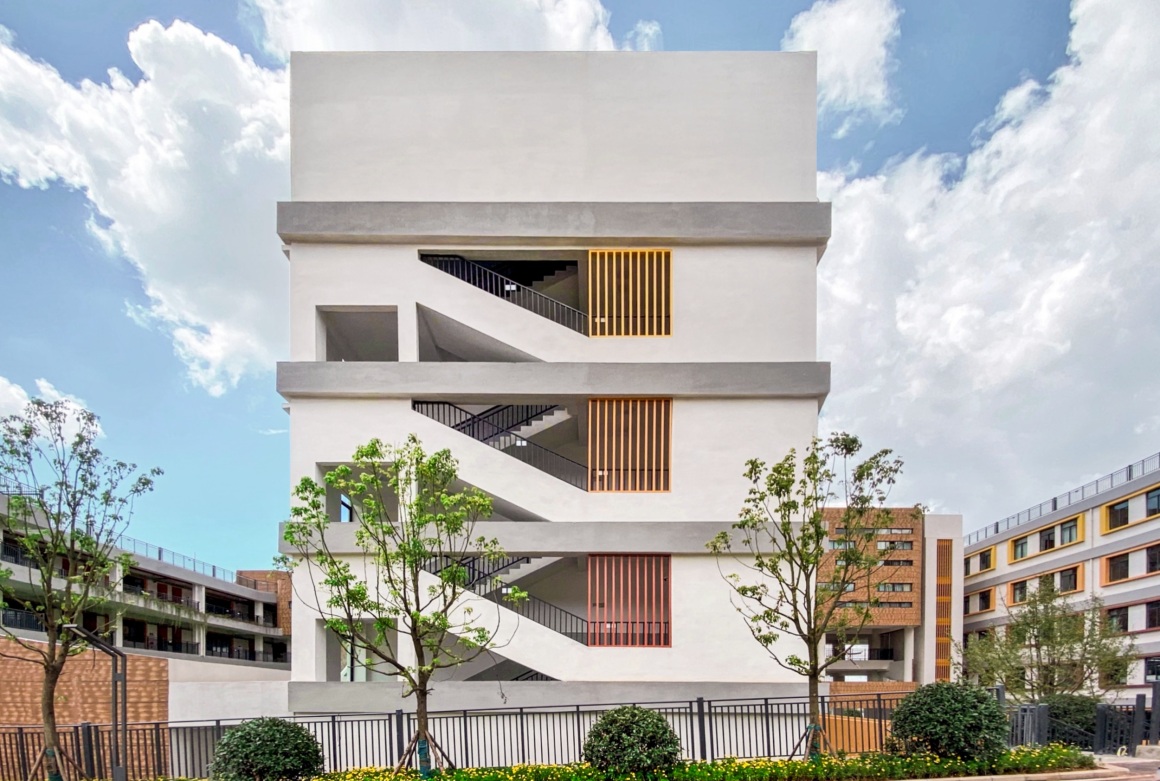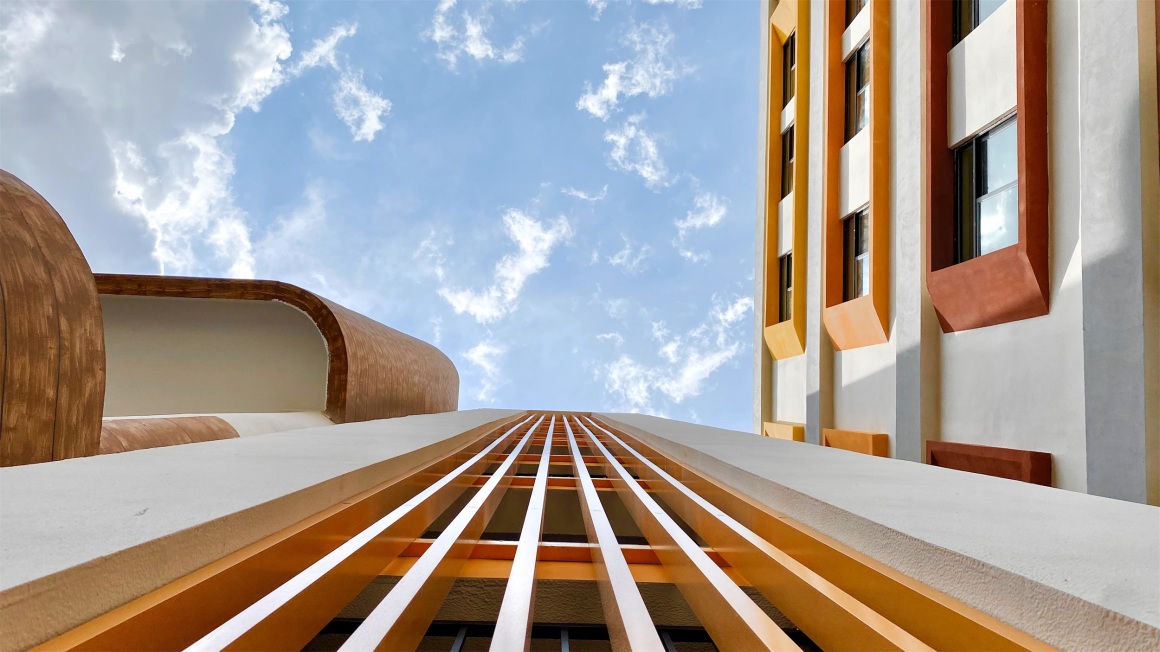 ▼橙色作为主色调 Orange is the dominant color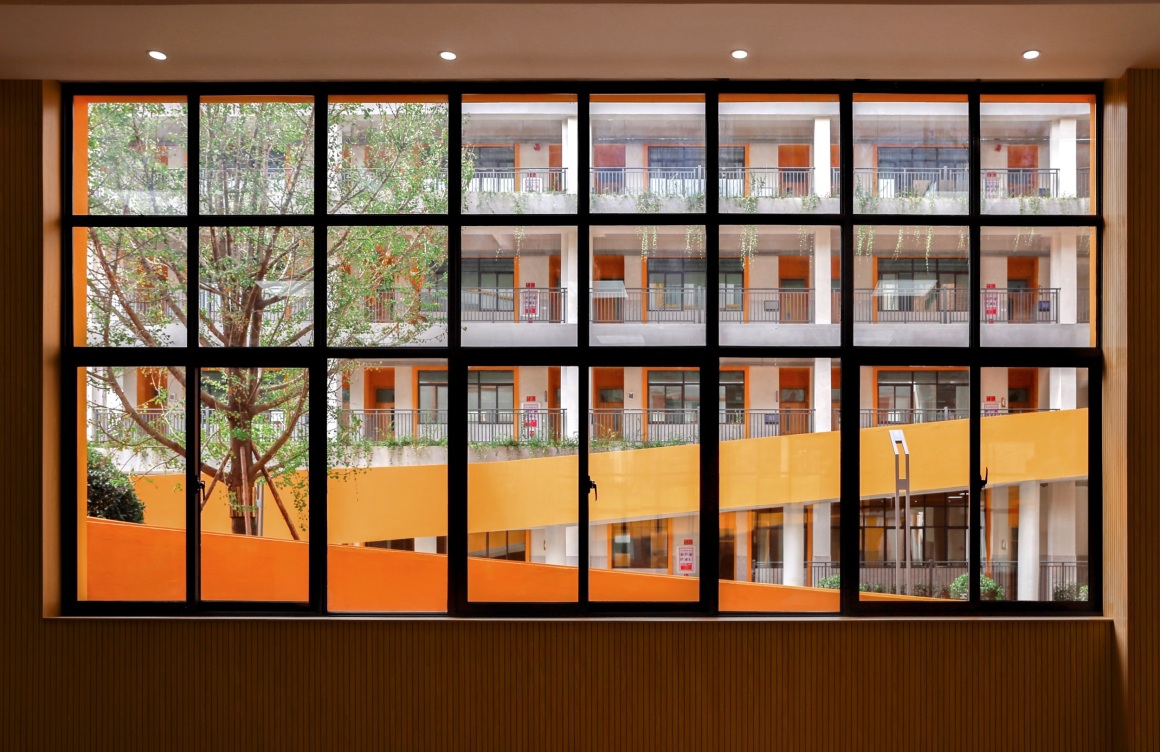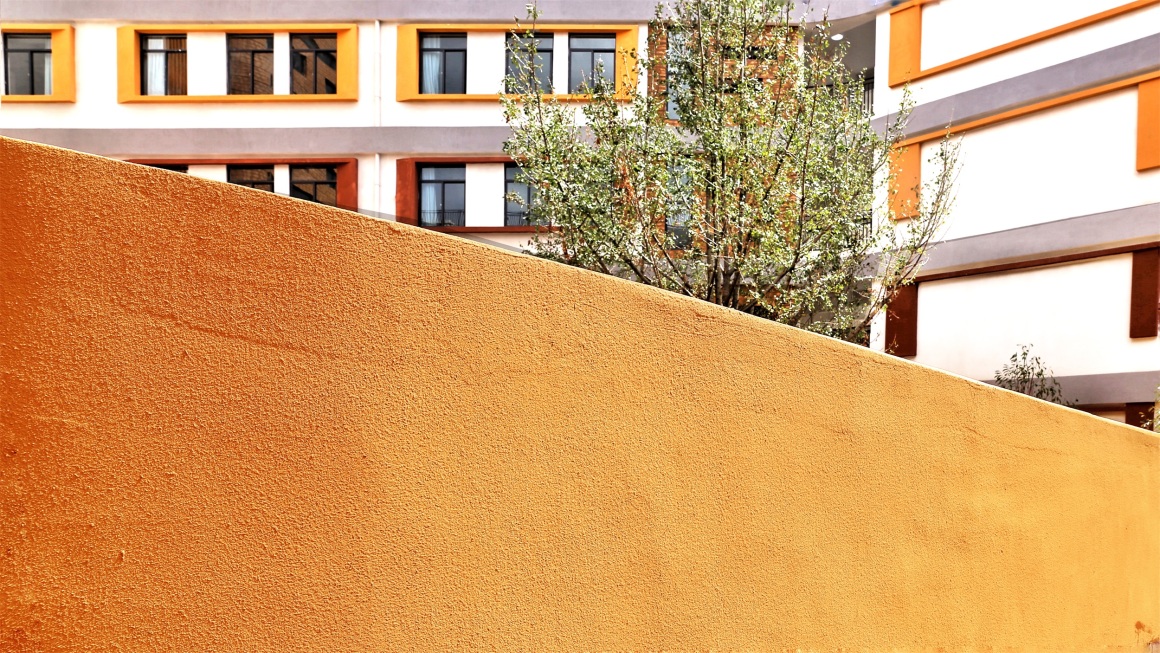 野蛮生长:不止于建成 Vigorous Growth:More than a Built Structure
学校施工仅用了10个月,以不可能的速度被建成,带着各种不可控与意外,雨季前后种植的绿化状态截然不同,木纹涂料效果不佳,空中庭院的绿化花池漏做、因为缩短工期导致的供应问题使用了与设计不符的格栅尺寸、栏杆等等。这些细节的失控让我们焦虑和遗憾。
开学后来到学校回访,漫步在建筑的每一个角落,设计之初希望打造的"多孔空间结构"展现出生命力,漫步的感受是自由而通透的,空间呈现出延伸的张力,眼前呈现的画面就像是一幅徐徐展开的画卷。
"多余"空间已经被赋予或还未被赋予功能,孩子们在坡道上奔跑嬉戏,后移植也已经逐渐适应并展现出生机……有太多空间吸引人去探索,充满惊喜、回味和未知,那一刻,失控的细节也显得没有那么重要,校园不只是建成时的一栋建筑,我们相信,肆无忌惮的童年时光会在这片立体花园中野蛮生长……
Within as short as only 10 months, the whole building as well as its landscape, has been completed at such an incredible speed. Predictably, there're some uncontrolled 'surprises'. The construction went through a rainy season that led to the greening plants existing at different growing stages. The coatings on the outside walls didn't show their beautiful natural wooden textures that were supposed to be. The flower pond wasn't there at all. The grid racks were all wrong in sizes, shapes and styles because of some shortages of supplies. All the details left us in some anxiety and disappointment.
Later, at the beginning of this new semester we revisited the campus. Wandering inside, at its every inch and every corner, we found and felt that what we wanted in the first place, the strength of thriving, mutual extension between architecture and wildness in this porous spacious structure, like a scroll of pictures slowly moving and unfolding before us.
the kids were playing and running on the curvy corridor, plants have taken their roots where they stand and are taking their own shapes, and prospering. Those surplus spaces always allure their occupants in, wondering, exploring, meditating, and growing up. At that moment in there, those unexpected 'surprising' details seemed to be insignificant anymore. A school is much more than a few built structures but a breathing living creature, who grows and develops together with its occupants, as we believe.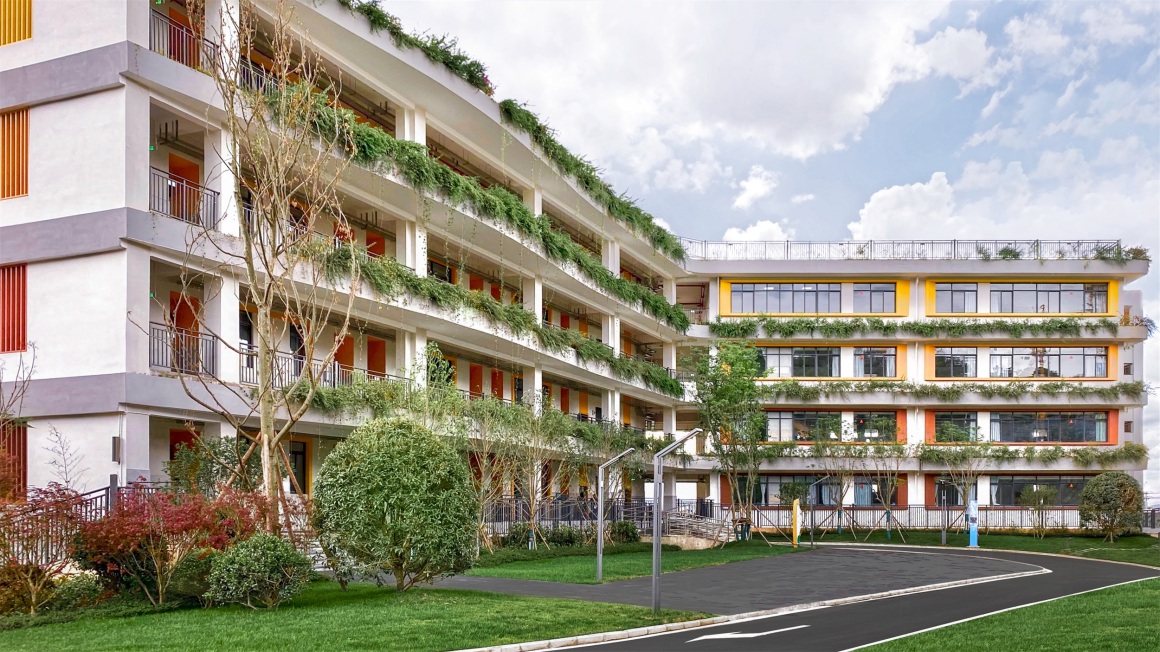 项目图纸 Project drawings
▼总平面图 Plan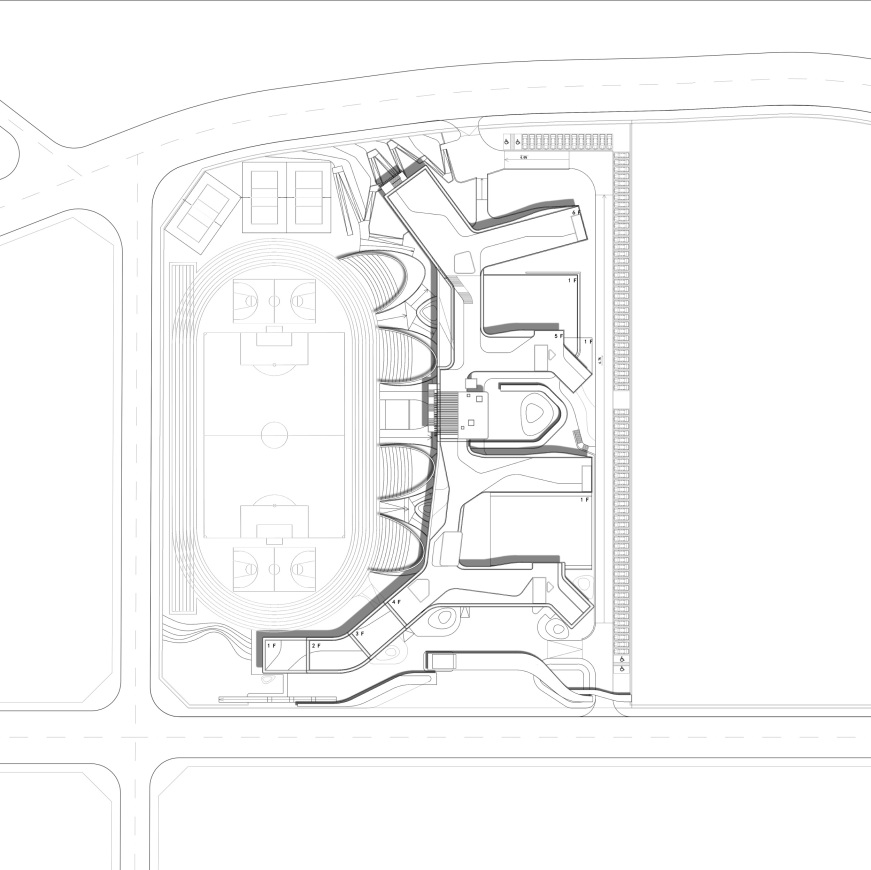 ▼首层平面图 1st floor plan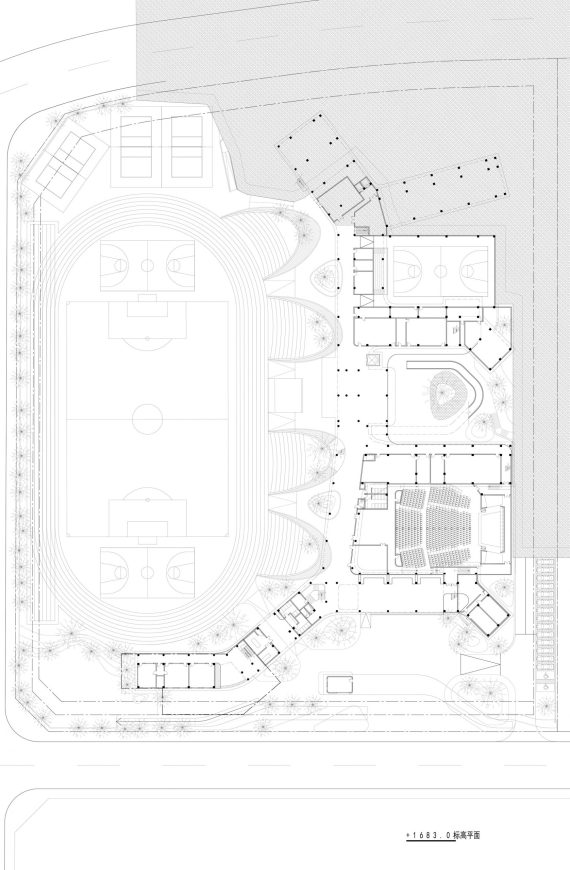 ▼二层平面图 2nd floor plan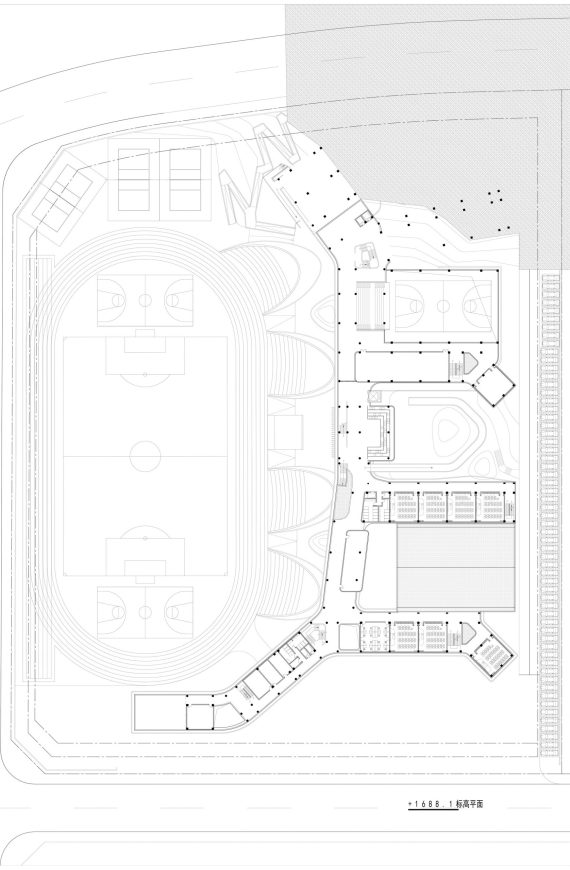 ▼剖面图 Profile

项目名称:玉溪高新小学
设计公司:OA
主持建筑师:刘嘉阳
设计团队:葛俊、车轩
结构设计顾问:蔡研明
施工图设计:中森华创建筑设计有限公司
景观设计:云南木森城市景观规划设计工程有限公司
室内设计:深圳市蒂冉建设工程有限公司
施工单位:贵州大鑫建设工程有限公司
业主单位:玉溪高新区投资管理有限公司
代建单位:富康城控股(玉溪)有限责任公司
项目地址:云南省玉溪市红塔区创新路
建筑面积:约22000㎡
设计周期:2020.07-2020.11
建设周期:2020.10-2021.08
建筑摄影:安南、高恒宇宇、刘嘉阳
Project Name: Vigorous Growth——Yuxi High-tech Primary School
Office Name: OA(Oneself Alliance)
Office Website: oneself-alliance.com
Contact email: 623150906@qq.com
Firm Location: Shanghai, China
Design Year:2020
Completion Year:2021
Gross Built Area (m2/ ft2): 22,000 ㎡
Project location: Chuangxin Road,Hongta District,Yuxi,Yunnan Province,China
Program:
Lead Architects: Jiayang Liu
Lead Architects e-mail: 623150906@qq.com
Design Team:Jun Ge, Xuan Che, Yanming Cai(structural design consultant)
Partners: Falcon Group Holding (Yuxi) Co., Ltd
Clients: Yuxi Hightech District Investment Management Co., Ltd
Photo Credits: Annan,Liu Jiayang, Gaoheng Yuyu
---
" 教学楼上爬满绿植,校园生活充满了生机与趣味。"
审稿编辑:任廷会 -Ashley Jen
更多read more about:   OA设计