本文由metrostudio 迈丘设计授权mooool发表,欢迎转发,禁止以mooool编辑版本转载。
Thanks metrostudio for authorizing the publication of the project on mooool, Text description provided by metrostudio.
迈丘设计:重庆以"山城、雾都"著称,中冶·铜锣台项目就位于重庆铁山坪生态区内,生态区资源丰富,人文景观、山、水、林、泉、峡相映成趣。景观设计从此获取灵感,提炼出"云上花园"的设计理念,精巧构思,云外有山,山中林语,林间音渐,让生活回归本质,让居住融于自然,营造一个舒适惬意、有艺术感的生活氛围。
Metrostudio:Chongqing is famous for "Mountain City, Fog City", the project is located in Chongqing tieshanping Ecological Zone, rich areas of resources, human landscape, mountains, water, forests, springs, gorge a contrast. Landscape design from this to get inspiration, refining the "cloud on the Garden" design concept, ingenious ideas, clouds outside the mountains, the mountains of forest language, the forest sound gradually, so that life back to nature, so that living in nature, to create a comfortable and enjoyable, artistic atmosphere of life.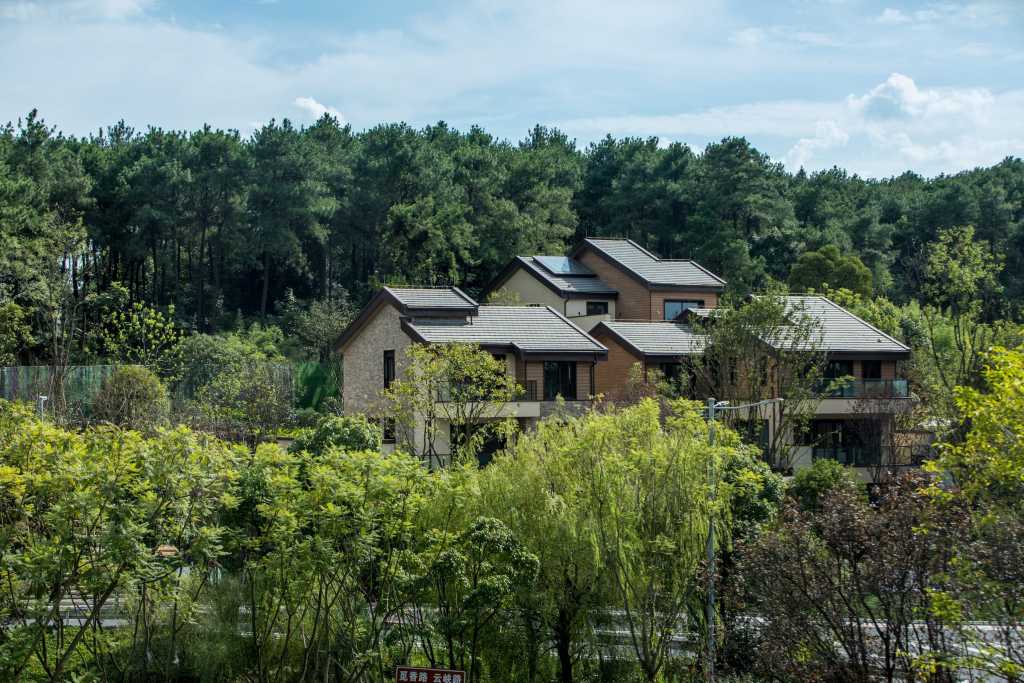 总平面图  Master Plan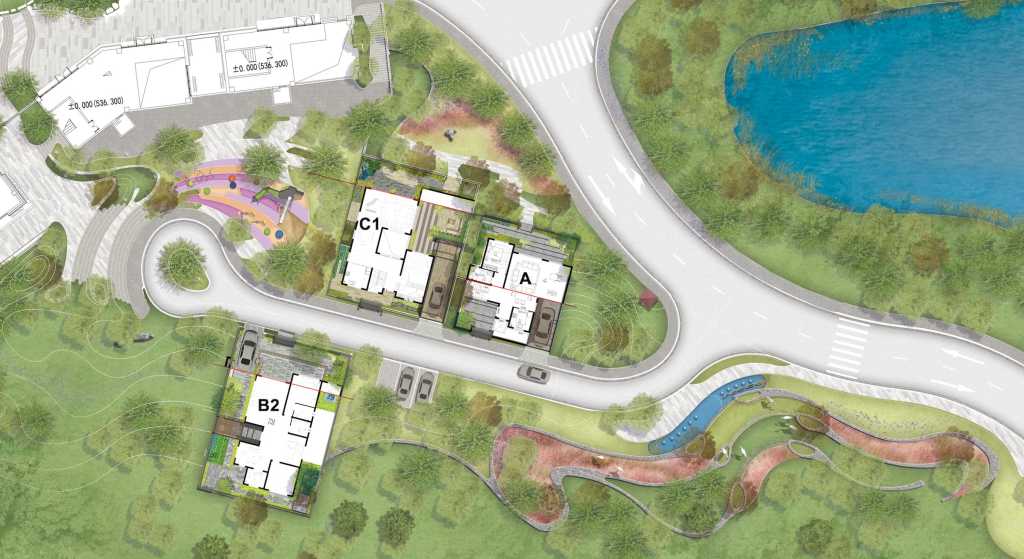 设计草图 Design Sketch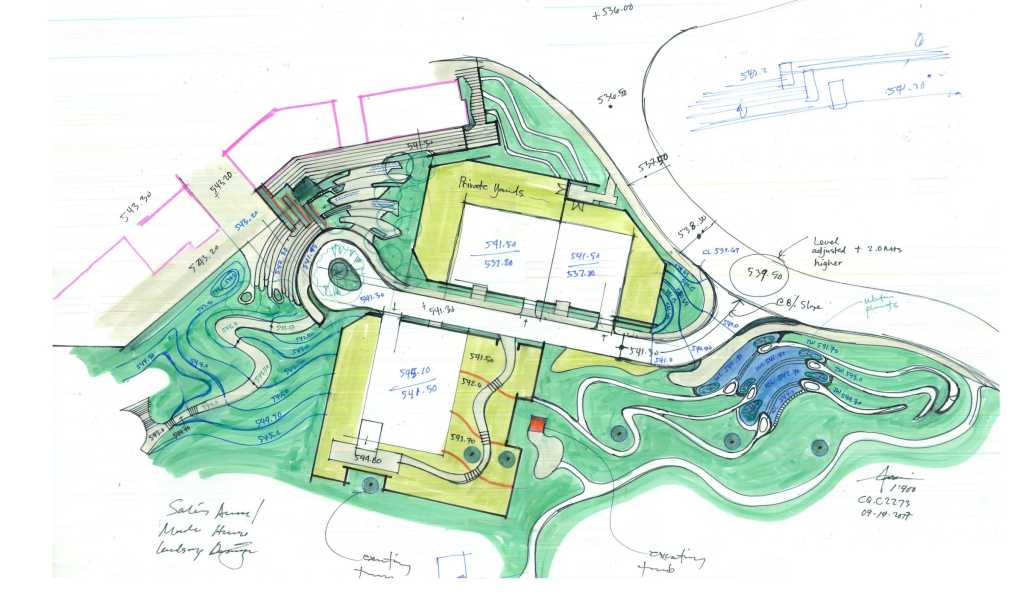 拂着清风,闻着花香,沿着山路蜿蜒盘旋而上,入眼看到别墅掩映绿茵之中。建筑设计采用北美建筑风格,整体色彩以米色石材与木材为主,配以局部木色格栅、深色涂料等材料元素,形成立面上有机的韵律感。
Blowing the wind, smelling the flowers, winding up the mountain road and seeing the villa covered with greenery. The architectural design adopts north American architectural style. The overall color is mainly beige stone and wood, and is matched with local wood color grating, dark paint and other material elements to form an organic rhythm on the facade.
拾阶而上,绿树成荫,袅袅花语。韵律感十足的台地景观,合理消化场地的高差,搭配错落有致的植物,营造仪式感而不失细节与自然的景观效果。
The trees are shaded. The platform landscape with the sence of rhythm can reasonably digest the height difference of the site, match the plants in good ways, and create a ceremonial feeling without losing details and natural landscape effect.
粗旷、自然的建筑形态,搭配野趣十足的植物设计,闲情安逸,表达对"素颜、乡愁、寒舍"的理解,营造"小隐隐于野"的氛围。在绿意的映衬下,窗内的房间和窗外的自然交相辉映。闲坐露台,仰望天空,逃脱城市的藩篱,用细腻的心去连接自然万物。
The natural architectural form, together with the wild plant design, is leisurely and comfortable. Against the green background, the room inside the window and the nature outside the window complement each other. Sit on the terrace, look up at the sky, escape the barriers of the city, and connect all natural things with exquisite heart.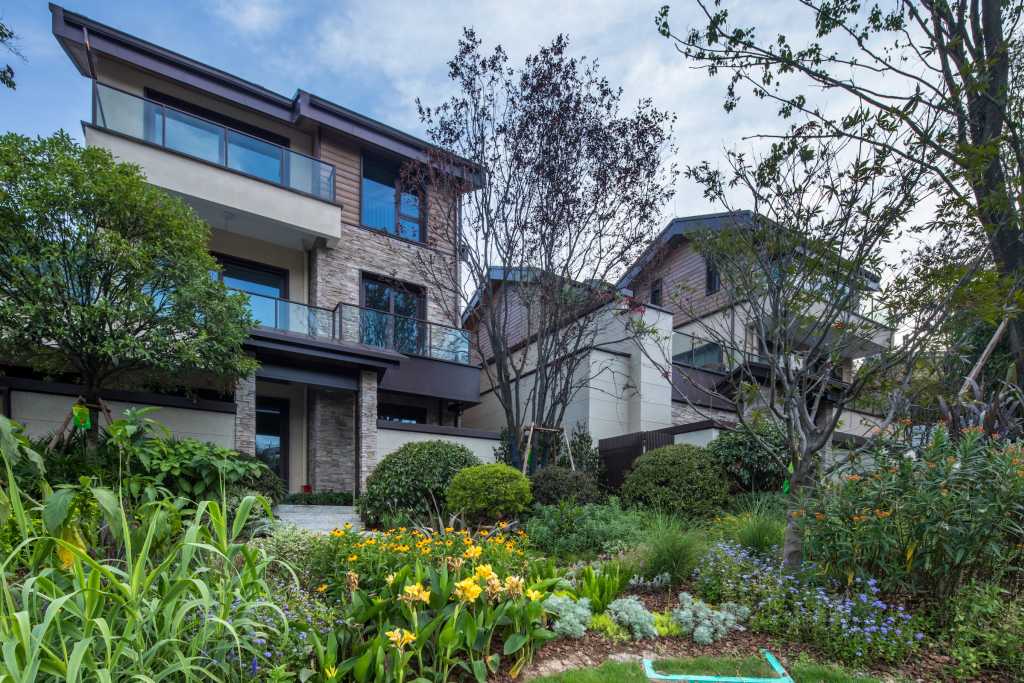 庭院内部,采用自然、多彩的种植手法,配以色叶或开花的自然线形地被,构建体验丰富的院落空间,在喧嚣的城市中营造具有格调品味与韵味诗意的空间。
Inside the courtyard, natural and colorful planting methods are adopted, matched with colored leaves or flowering natural ground covers, so as to construct a unique courtyard space and create a poetic space in a noisy city.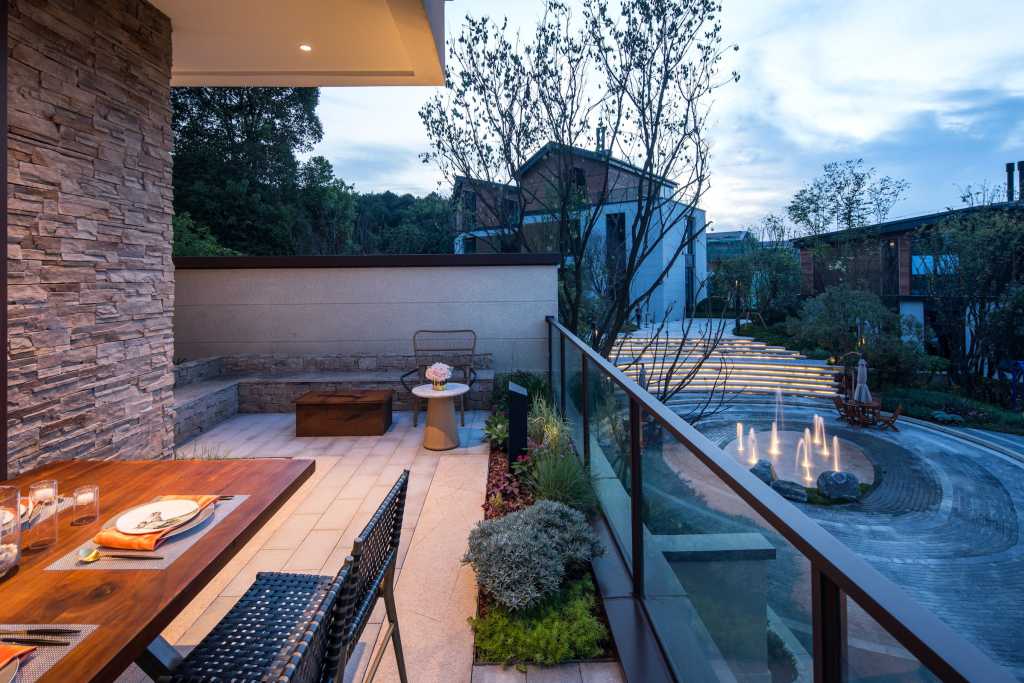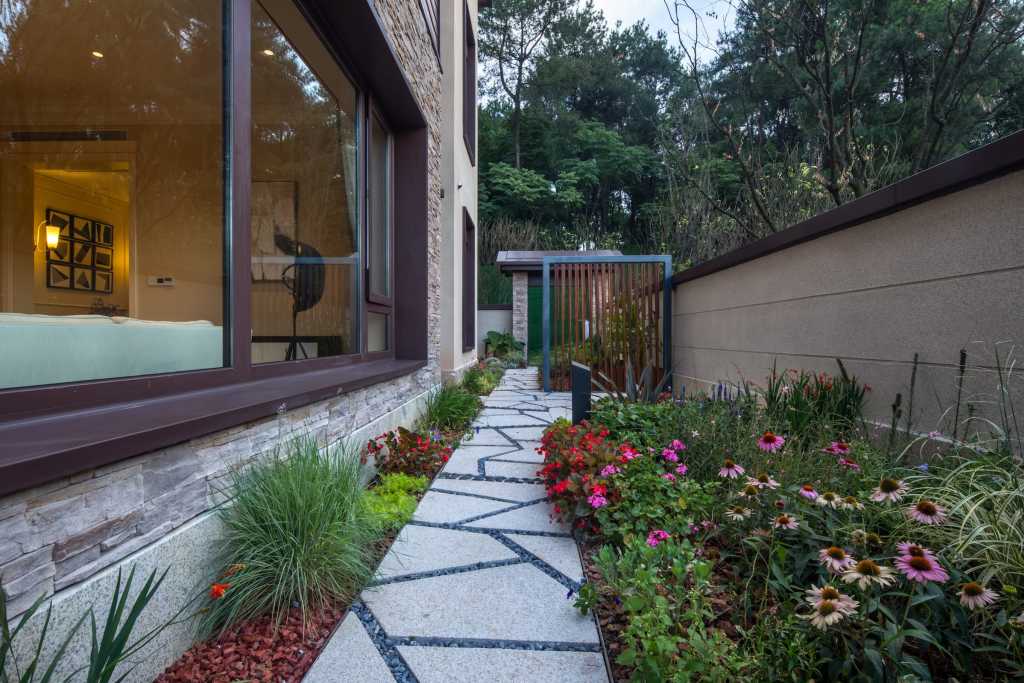 沿着环岛设计放射状的趣味儿童活动区,鲜艳活泼的铺装、创意的桌凳,为孩子们创造一个自然、创意而充分情趣的开放空间,成为本项目的一个亮点。
Radial interesting children's activity areas, bright and lively paving and creative table stools are designed along the roundabout to create a natural and fully interesting open space for children, which has become a highlight of this project.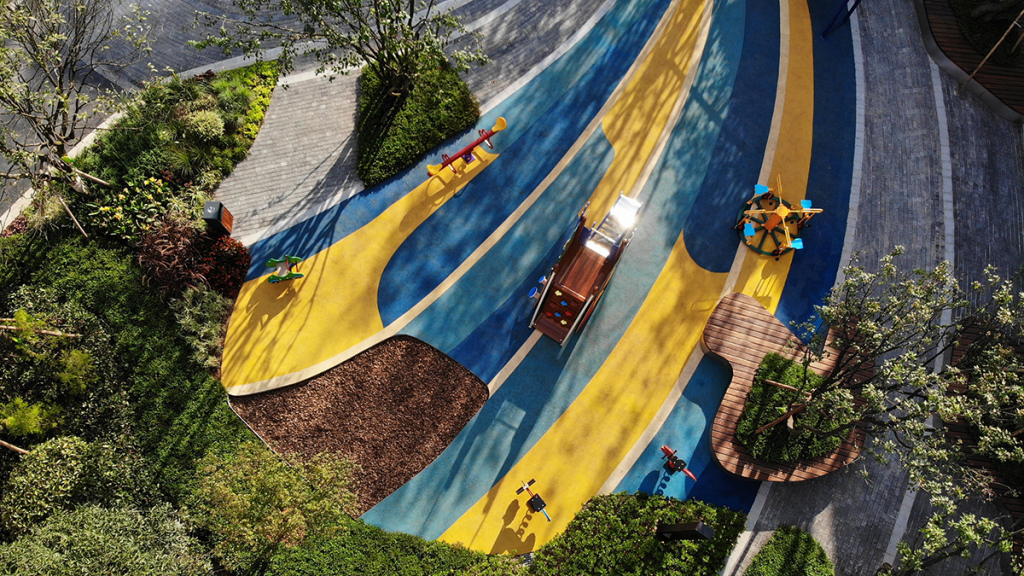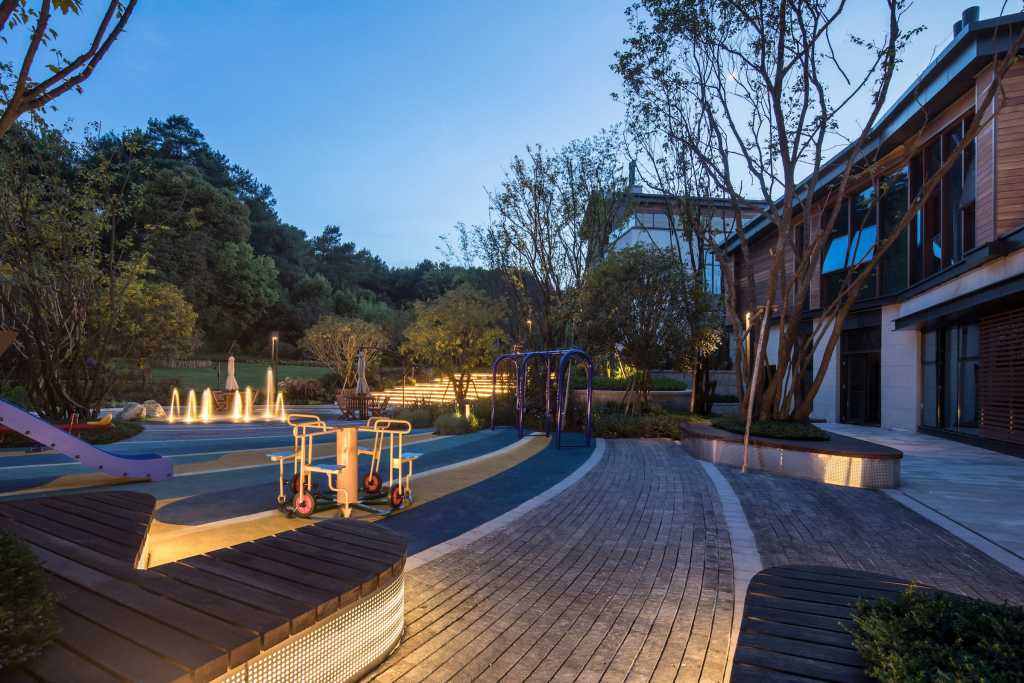 散制质朴的野石,与喷泉相映成趣,朴素,大方,让人与自然互动起来。
Scattered and simple wild stones, set against the fountain, are simple and generous, allowing people to interact with nature.
景观设计:Metrostudio 迈丘设计
地点:重庆市江北区
客户:重庆中冶红城置业有限公司
景观面积:展示区3800 sqm  大区80000 sqm
年份:2017年
摄影师:林绿
Landscape design: Metrostudio
Location: jiangbei district, Chongqing
Client: Chongqing MCC Real Estate co., ltd.
Area: display area 3800 sq.m., region 80000 sq.m.
Year: 2017
Photography: Lin Lv
更多More:Metrostudio 迈丘设计