都市森林项目位于Prawet郊区曼谷东部边缘,离苏凡纳布国际机场约6千米处。一个生态再生项目被设计成户外展览空间,培养人们的环保意识,教导游客关于当地森林生态的知识。该项目位于被遗弃的区域,目的在于回收利用2公顷的土地,应对郊区扩张趋势、城市热岛效应和洪涝区发展问题,种植当地低地热带树种。
The Urban Forest Project is located on the eastern edge of Bangkok in the suburb of Prawet, about 6 kilometers from the Suvarnabhumi International Airport. An ecological regeneration project is designed as an outdoor exhibition space to foster environmental awareness and teach visitors about local forest ecology. The project is located in an abandoned area with the aim of recycling 2 hectares of land to address suburban expansion trends, urban heat island effects and floodplain development issues, and planting local lowland tropical species.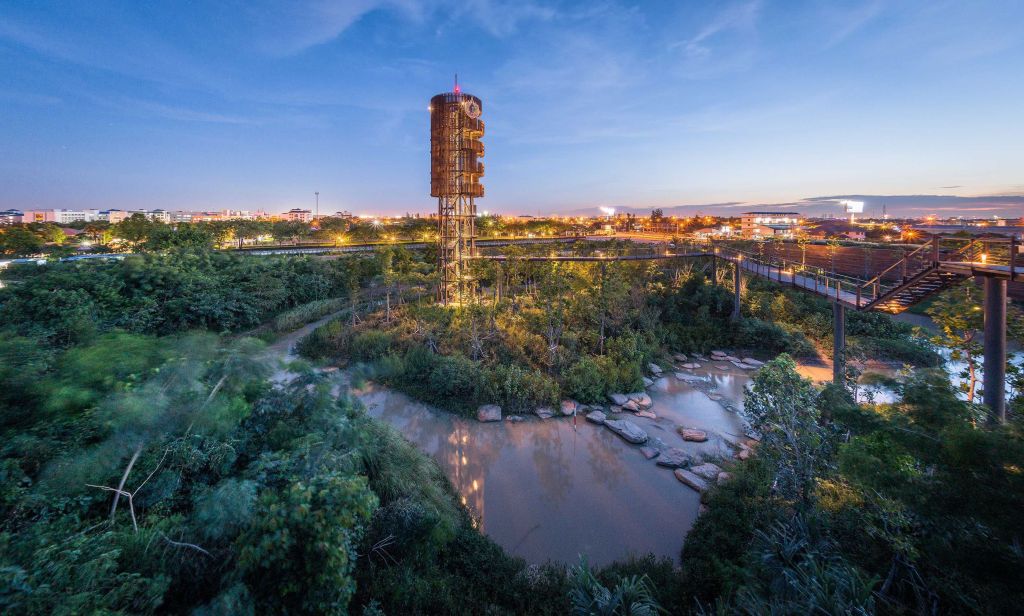 被遗弃区的初步分析显示出土壤挖掘的迹象,挖坑用于非法垃圾倾倒场。在2012年早期,泰国国家石油管理局森林再造机构委托景观设计师设计林地再造空间。在泰国石油管理局总裁制定的举措以及纪念皇室公主MahaChakriSirindhorn对森林保护的努力下,他们想要建造反映泰国之前景观的生态森林,用于公共教育和休闲娱乐。在19世纪中期人们选择树苗用作初始植被,因为它们在曼谷周边建立起了区域,那时候许多区域都以区域最突出的种类命名。
A preliminary analysis of the abandoned area revealed signs of soil excavation and digging for illegal dumping. In early 2012, the National Petroleum Administration's Forest Recycling Agency commissioned a landscape architect to design a reforestation space. Under the initiative of the President of the Thai Petroleum Authority and the commemoration of the protection of the royal family MahaChakriSirindhorn, they want to build an ecological forest that reflects the landscape of Thailand before, for public education and recreation. In the mid-19th century, saplings were chosen as the initial vegetation because they established areas around Bangkok, when many areas were named after the most prominent species in the area.
2013年5月开始建造,引入大约3.7万立方米的土方工程,与6000立方米的种植土壤一起分层设计,建造出人工护堤,为新的城市森林提供适宜的种植介质和地形。另外,这些护堤在这个相对较小的空间内创造出多样的小生态。
Construction began in May 2013, introducing approximately 37,000 cubic meters of earthwork and layering with 6000 cubic meters of planted soil to create artificial berms to provide suitable planting media and topography for new urban forests. In addition, these berms create a variety of small ecology in this relatively small space.
项目名称:泰国曼谷都市森林
项目类型:生态公园
位置:泰国
完成年份:2016
设计公司:LAB
Project name: The Metro-forest
Project type:Ecology park
Location: Thailand
Completed: 2016
Designer: LAB