本文由 Fletcher Studio 授权mooool发表,欢迎转发,禁止以mooool编辑版本转载。
Thanks Fletcher Studio for authorizing the publication of the project on mooool, Text description provided by Fletcher Studio.
Fletcher Studio:亚历山大屋顶花园占地2万平方英尺,为科技行业客户提供了多种户外空间。该项目和铺路系统的设计灵感来自Gee 's Bend的棉被,这是一个位于在阿拉巴马河沿岸的非洲裔美国社区,以其色彩斑斓、几何形松散的棉被而闻名。因此,对该地棉被的相关研究调查为各种规模的空间、小型私密的会议空间、群体区域以及各种相遇、合作和活动的大型集会空间的设计提供了信息。
Fletcher Studio:The Alexandria Roof Garden covers 20,000 square feet and provides a variety of outdoor spaces for a tech-sector client. The design of the project and paving system is inspired by the Quilts of Gee's Bend, a community of African-American quilters who lived along the Alabama River and were famed for their colorful, geometric, and loosely constructed quilts. A careful study of the quilts informed the design of a variety of scaled spaces, small intimate meeting spaces, areas for groups, and a large assembly space for a variety of encounters, collaborations, and events.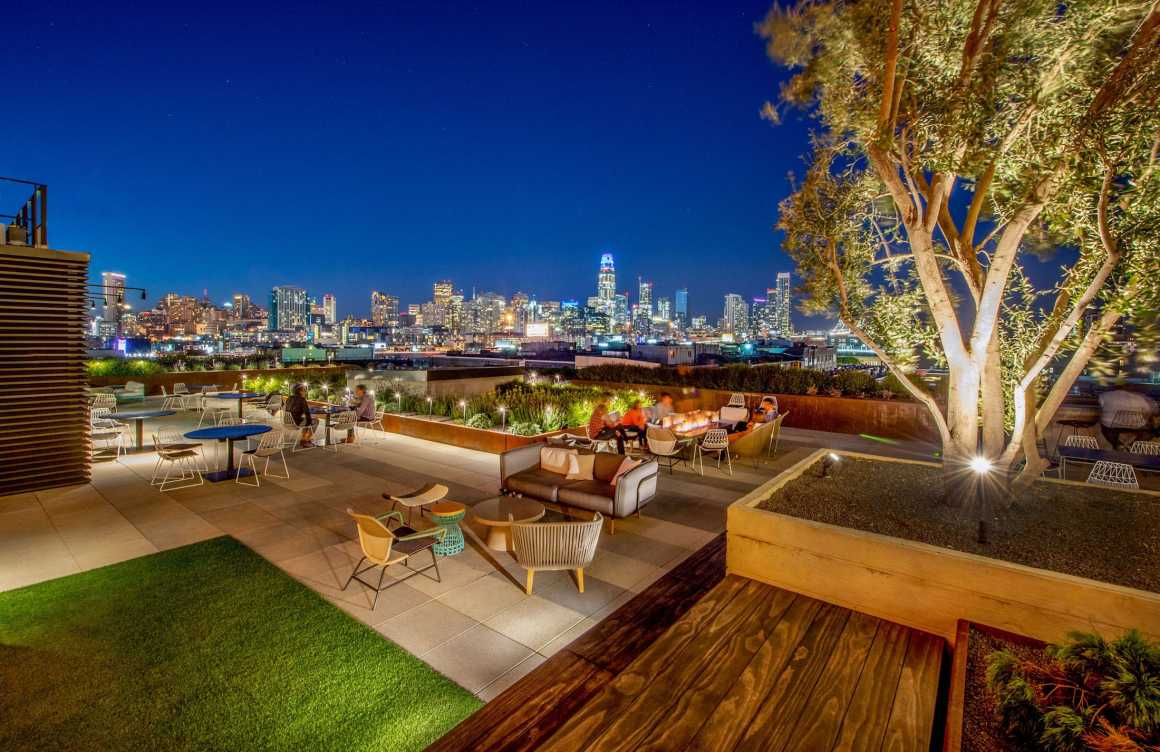 屋顶花园划分成了一系列不同的区域:一个有多肉植物和仙人掌的活雕塑花园,一个根据屋顶条件而设计的有机草本花园的授粉者花园,以及一个充满活力的千变花园。由4 ' x 20 '防裂钢板组成的系统连接铺装基座系统,用种植系统划分和组成各种功能区域。在某些情况下,大型种植体相互连接,作为种植60英寸长橄榄树的大型种植区的挡土墙,有时与底层土壤玻璃纤维铺面系统相结合,创建了连续和较轻的土壤剖面,以保证大型橄榄树的持续生命力,大型中央种植园也有一个沿着线性人工草坪延伸的圆形剧场空间。
The Roof Garden was divided into a series of distinct zones: a living sculpture garden with succulents and cacti, a pollinator garden to support the roof's organic herb garden, and vibrant protea garden. A system of 4' x 20' steel breakform panels were utilized to tie into the paving pedestal system. The planter systems divide and delineate program areas. In select instances the large planters tie into each other to double as retaining walls for large planter areas where 60" box Olive Trees were placed. In conjunction with a sub-soil fiberglass decking system, continuous and lighter soil profiles were created to ensure sustained vitality of the 15' Olive trees. The large central planters also created an amphitheater space running along linear artificial lawn.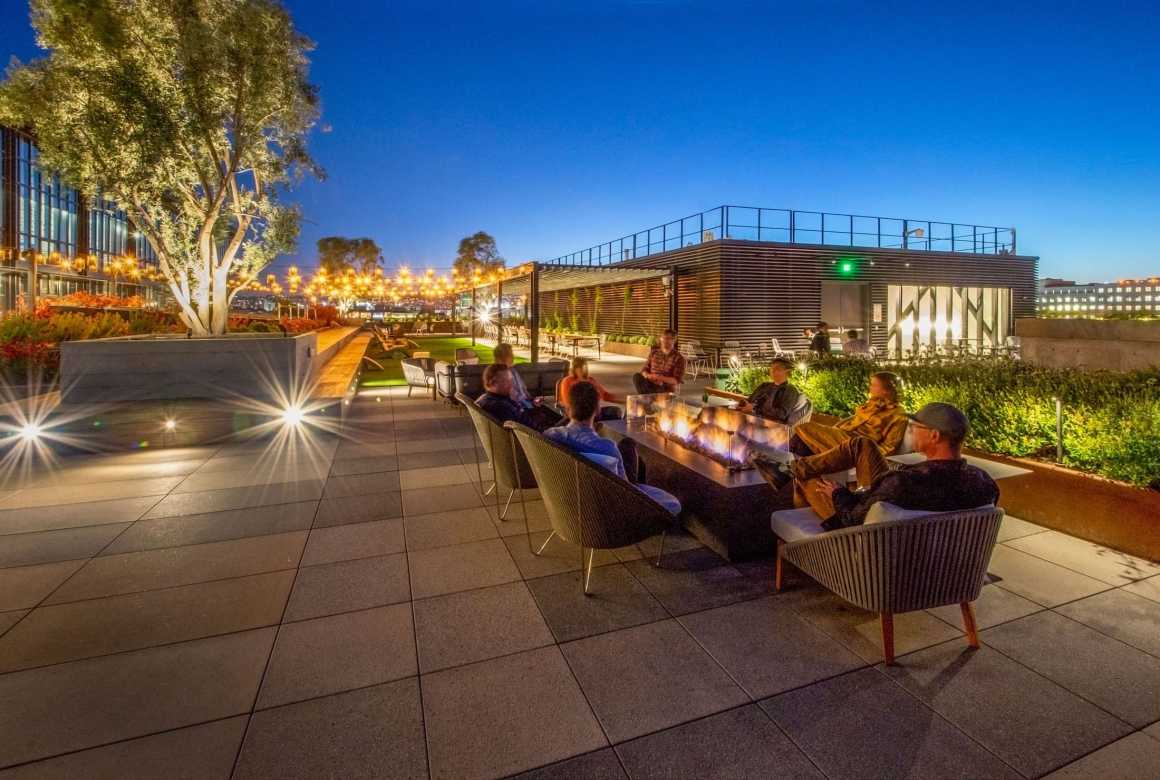 屋顶的铺装系统采用2 ' x 2 '铺路规格,使之与种植池的尺寸相匹配,而为了使主要聚集区域的地面多样化,主聚集区使用了2 ' x4 '铺路规格。为了使其与钢筋混凝土材料相对应,整个花园采用了正交布局,铺设的人工草坪和带有重叠钢缆的大型定制藤架可进行大型群体聚会活动。草本花园旁的棚架区还有一个功能齐全的厨房和酒吧区。
The roof's paving system uses 2' x 2' pavers and tie into the dimensions of the planters. To help diversify the ground plane at key gathering areas, 2' x 4' pavers were used. To counter the orthogonal layout and steel and concrete materials, an artificial lawn and a large custom vine trellis with overlapped steel cables allow for large group gatherings. The trellis area also contains a fully functional kitchen and bar area, that is supported by the herb garden.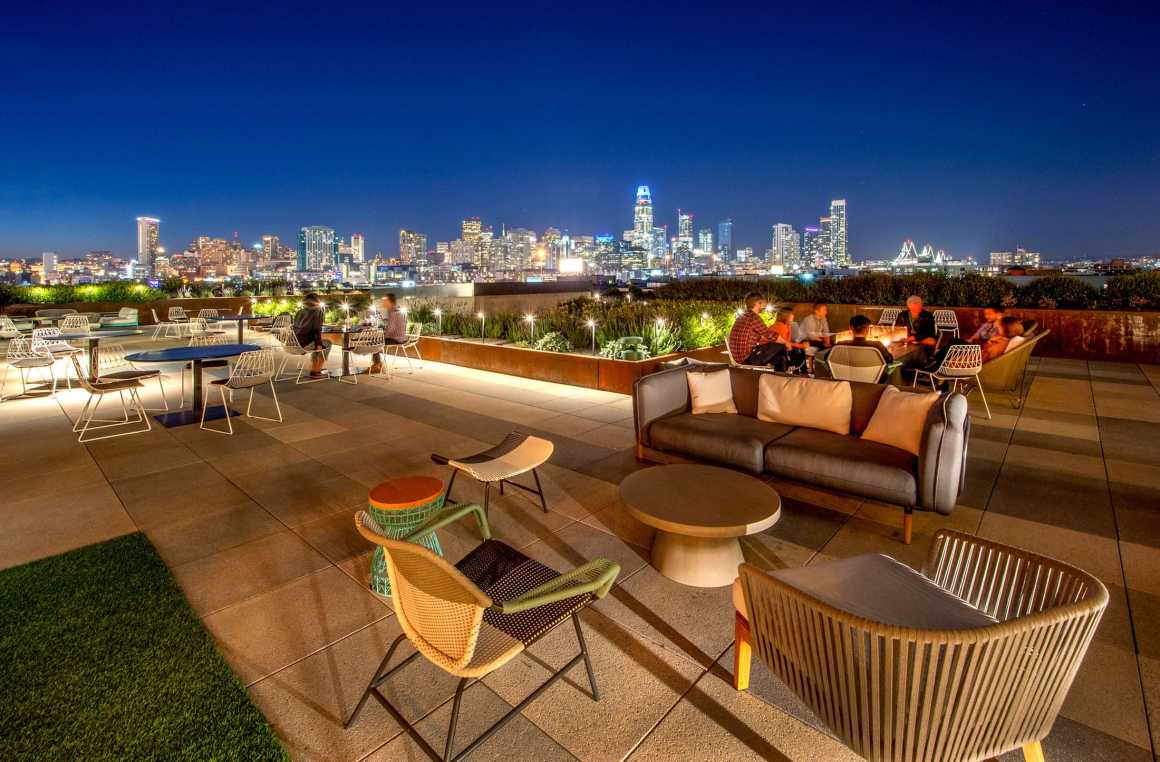 ▼施工过程  Construction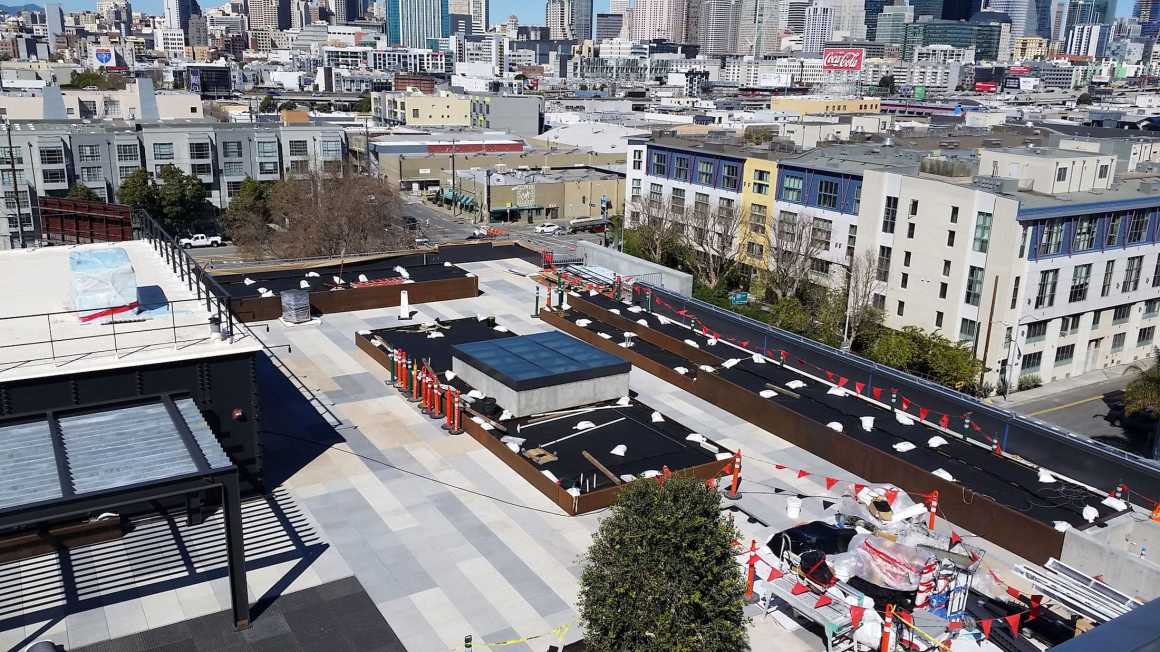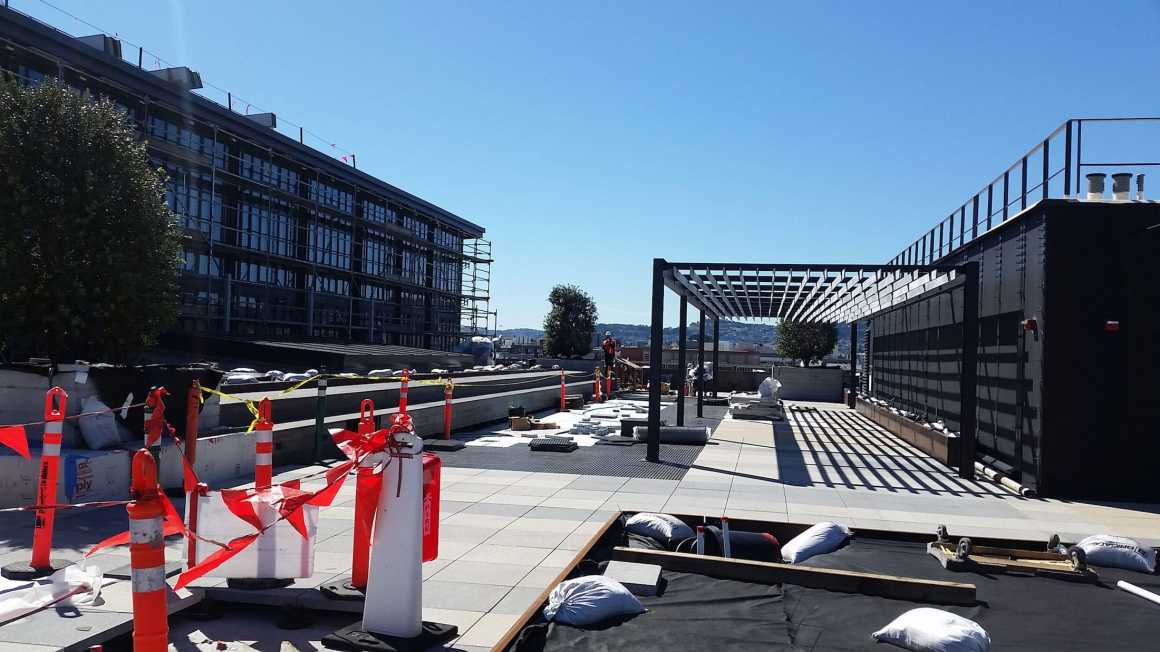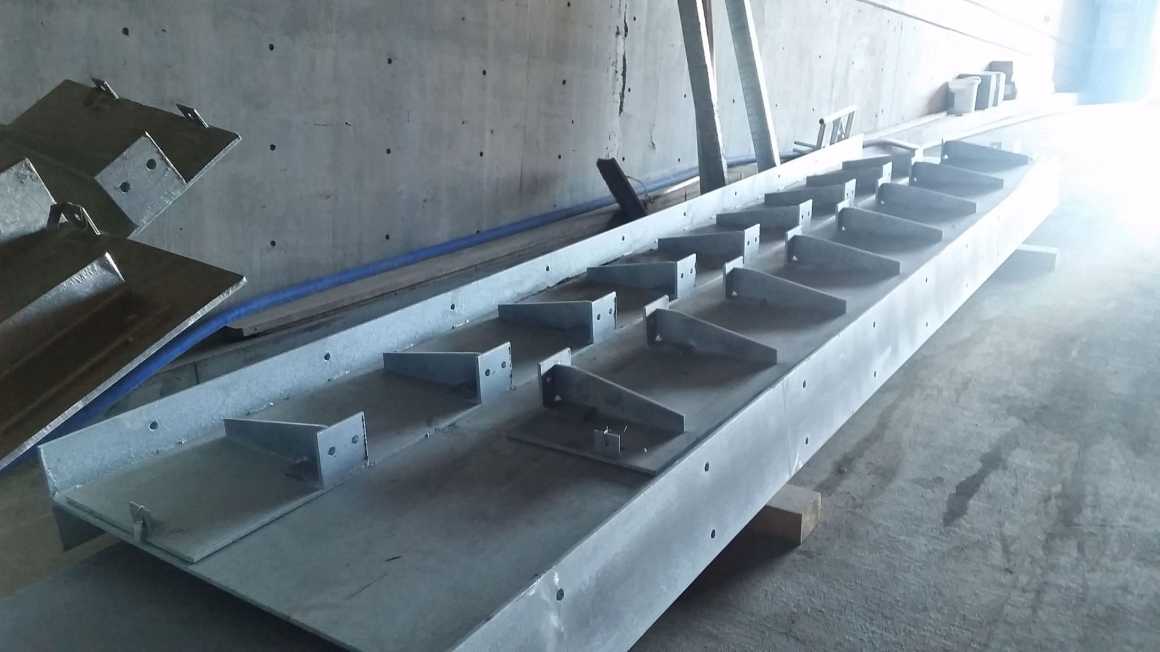 项目名称:亚历山大屋顶花园
设计年份及竣工年份:2014-2018年
主创设计师:David Fletcher, Cory Hallam
项目地点:旧金山SOMA镇汤森街510号
景观面积:2023.428平方米
图片:Craig Cozart
合作伙伴:Studios Architecture
客户:亚历山大房地产
Project name: Alexandria Roof Garden
Design year & Completion Year: 2014-2018
Leader designer & Team: David Fletcher, Cory Hallam
Project location: 510 Townsend St, SOMA (South of Market), San Francisco
Landscape Area: 2023.428 sqm
Photo credits: Craig Cozart
Partner: Studios Architecture
Clients: Alexandria Real Estate
更多 Read more about: Fletcher Studio